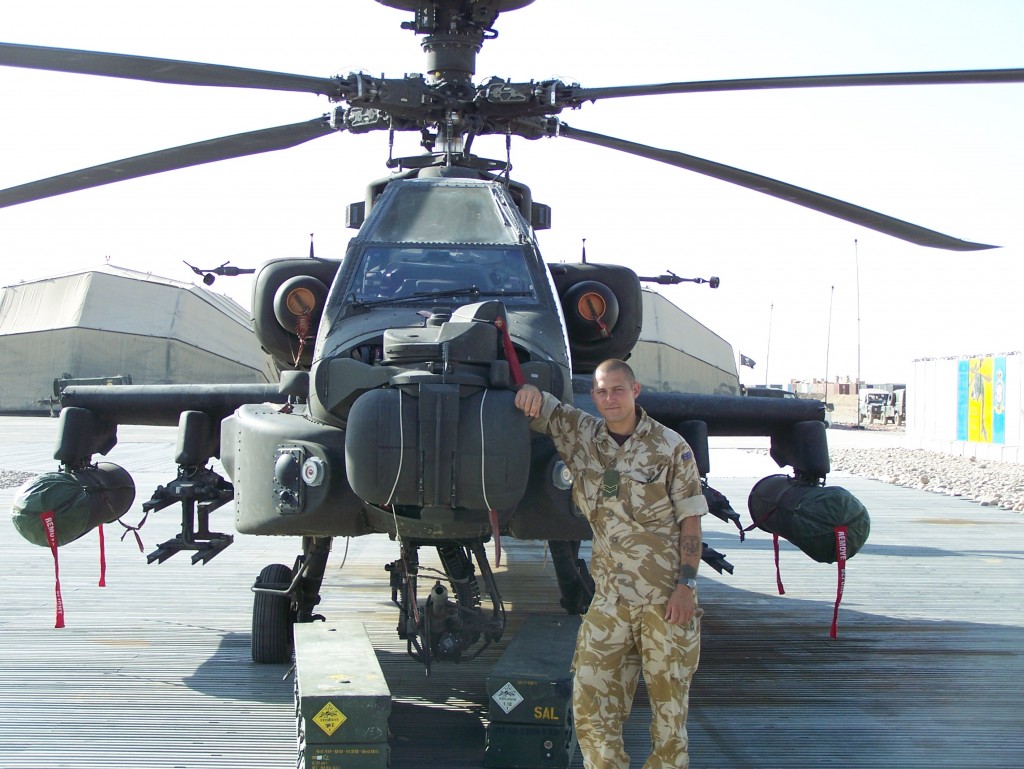 My name is George Pas, I was born in March 1975 in the maternity unit Taunton, Somerset. At the time, my parents were living in Chard, Somerset. My Dad was an aircraft engineer at the local Naval Air Station and my mum was a full time mum. When I was the grand old age of one, my parents bought a house in Ilminster approximately five miles from Chard, and this is where I grew up. My mum would take me to toddlers at the Methodist Church hall and when I had reached the school age, I attended Greenfylde School in Ilminster.
I stayed at this school from the reception class to my final year and left when I was nine years old. From here I went to the second school in Ilminster, Swanmead School. Here I had made up my mind that I wanted to serve in the military, and at the age of twelve joined the local Air Training Corps (ATC). I was excited about being a part of an organisation, in a military uniform having to practice drill movements, discipline and pride, and all of the opportunities that went with it. Flying, gliding and shooting. Drill competitions, swimming and athletics competitions, rugby and football. I strived to be the best I could be and was promoted to Cadet Corporal. I stayed in the ATC for the remaining year at Swanmead and then moved school to Crewkerne, seven miles away from Ilminster to Wadham Community School.
I had a part time job at a car wash in Ilminster which allowed me to save for trips with the ATC, one of which was the Nijmegan Marches in Holland which I completed when I was fifteen. One Hundred miles in four days, what an achievement, and this only strengthened my desire to serve in the military. I applied for the Army Air Corps and spent my sixteenth Birthday on a parade square in the pouring rain at Bovington Camp as an insight in to military life as part of the Junior Leaders. Unfortunately for me, after an orienteering course the creases in my arms became very red and, after a further medical, was stopped from joining. I went back to school and rethought my career path. Needless to say, I hadn`t factored in the failure of the Armed forces route and so went door to door, factory to factory to find employment ready for when I left school.
I eventually found employment in a meat factory where I worked as many hours as I could, as well as going from there to my exams and then returning to work after the exam was over. I had always been taught that you should work hard for your pay and that was what I intended to do. I did not spend too long working at the factory as I always wanted to try new things. I had done butchery and wanted new things to learn, since that job I have been a stone finisher, a labourer, had a cleaning business and trained elephants at a wildlife park. A diverse career I`m sure you`d agree, but very enjoyable. In 1994, my first child was born, as my fiancé was very career minded, (and smarter than me), it was decided that I would be the house "husband" and take on the role of raising our son. Probably because we were young, the relationship broke down and I applied for custody. At the age of twenty one, I was a single parent with custody of my son but this did not stop me working to provide for us.
I met my wife at the wildlife park we were working at in 1997, she was not phased by the fact that I had custody of my son and a relationship between the three of us blossomed and in 1999 we were married with my son as a page boy. We bought the house we had been renting together in Ilminster and it became our project to revamp the house, and eventually convert the loft in to a third bedroom.  It was in 2001, my eldest daughter was born and also at the age of twenty six that I applied to join the Rifle Volunteers, a Battalion of the Territorial Army. I had never lost the desire to be in the military and the T.A was bought to my attention. I was accepted and so my training started, I completed my combat infantryman`s course in the Ukraine and on return to the U.K attended different courses to earn various qualifications. After only a year of joining having completed a promotion course, I was promoted to Lance Corporal.
In 2003, three months prematurely, my second son was born. I had volunteered for a tour of Afghanistan in Kabul working alongside the Ghurkha's. It was one thing to wear the uniform, but I believed then as I do now, if you are willing to wear the uniform and be paid for doing so, you must be willing to serve. After talking things over with my Wife, we mutually decided that she had ample support and it was decided that I would continue to do the tour.  Sadly, due to a suicide bombing, one of our T.A soldiers was killed and three were injured on that tour.
After several more courses, trips away, training exercises I was promoted to the rank of Corporal. I took every opportunity to do things with the Army, to the point that I signed on with staff agencies in order for me to have the flexibility to attend more courses and exercises, including Georgia (Russia), Canada, America and Cyprus. Not discounting the exercises in this country. In 2006 I volunteered for another tour of Afghanistan, this time in Helmand Province. I was attached to 42 Commando Royal Marines for five and a half months of the six month tour and enjoyed every last minute of it. I learnt new skills, was entrusted with various tasks of responsibility and met some fantastic guys. It was on this tour that units were amalgamated by the government and we, The Rifle Volunteers, changed to Sixth Battalion The Rifles (6 Rifles).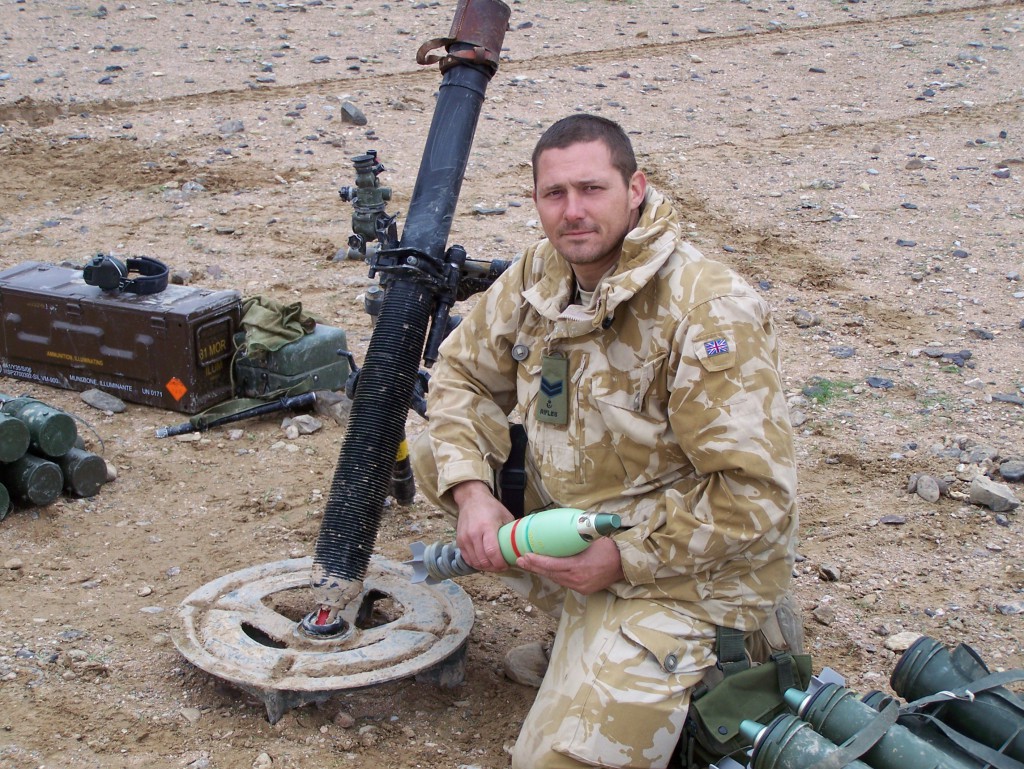 In 2009 my second Daughter was born, my Wife had been working part time at the  Cricket St Thomas hotel, which used to be the wildlife park where we met. I had been doing the agency work which was lorry driving, delivering anything from frozen food to famous fast food outlets to steel, parcels on pallets to steel girders in civilian life whilst for my military career I had attended more courses and continued to take part in exercises and was promoted to the rank of Serjeant, then, in early 2011 I volunteered to go on exercise with 3 Rifles to Kenya. They required a lorry driver and as that was what I did in civilian employment I decided to try for it. When we got to Edinburgh however, I was given the news that I would actually be participating as one of the Platoon Serjeants!
The exercise was a real test for me, and an invaluable learning experience, I was presented with a Colonel-in-Chief`s commendation for my efforts and was invited to join 3 Rifles on their next tour of Helmand Province, Afghanistan which I accepted. I would recommend the Territorial Army, if The Army is not your thing then maybe enquire to the other Forces Reserves. To be part of such a large family, to travel, the challenges, the rewards and let's not forget the extra pay each month. Look up your local Reserves unit, pay them a visit, don`t blank it completely, maybe give it a try. I`m so glad I did, and why will become clear later. On returning from Edinburgh, I started working at a recycling company in Weston Super Mare as a lorry driver and recycling collector, a job which was strangely satisfying, a good couple of blokes to have a laugh with and providing a service to boot! Sadly, in July of 2011, only a few months before I was due to go back to 3 Rifles for pre tour deployment training, whilst riding my motorcycle back from Weston Super Mare to Ilminster, I was involved in a collision with a motor car.
The collision was sub 40mph, and despite having the correct leathers and protective pads and back protector as integral parts of the clothing, as well as a decent full face crash helmet, I sustained some substantial injuries. The traffic Police were sat outside of my home waiting for my wife to return from shopping, they had called her on the phone to say that she needed to come home immediately and that they would even drive to meet her on the road from Taunton which was where she was heading back from. Luckily my Mother in Law was with her so as soon as they arrived at our house, she was able to leave the children, she was raced to Frenchay Hospital and was directed to the families waiting room. When she was finally shown to the Intensive Care Unit and to my bed she was met with a sight she could not have prepared herself for. I was in a coma, with pipes and tubes attached to my body, in my throat and I was hooked up to various pieces of equipment. The hospital tried to make her aware that I was in a very bad way, that they were unsure if they would be able to bring me out of the coma and if they did, there was no guarantee I would know who she was assuming I knew who I was. They could not be sure if I had brain damage, the situation was not good.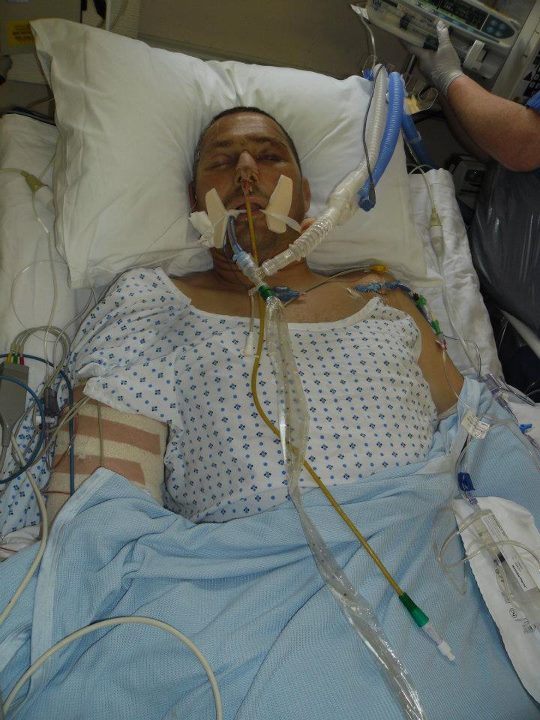 There were many very serious injuries and some other less serious injuries but the worst thing of all was that my spinal cord had been damaged and has left me paralysed. Suddenly, the active part of life was over. I spent eight weeks in Frenchay in both the ITU and High Dependency Unit until I was transferred to a spinal unit. After only a further 13 weeks I was out after having another operation for my right wrist dislocation again. I have since been trying desperately to learn to live life at a much slower and less active life. I have been learning to dress, learning to get from bed to wheelchair. Learning how to cope with the frustration of life in general. No longer can I simply change the light bulb if it blows. I can not go and fix the fence or clean the filters on the pond.
I used to do pretty much everything at home, I dry lined, did the carpentry of fitting doors and skirting, plumbing and built my own pond including block work. I would try anything then. Now, I have to rely on others for so much, it's a real pain. I keep myself occupied with various things including model making and `st-rolling` to keep as fit as I am able. I do have a lot of time to think about things though until I am at a stage where I hope to be able to return to some kind of work, this unfortunately gives me ideas.
I would like to visit school sixth forms and colleges and maybe open days/evenings at Motorcycle shops with what is left of my motorcycle, a mannequin dressed in my destroyed leathers and crash helmet and a presentation for them to view. Maybe pictures of me on tour, days out with my family generally showing how I used to be before my accident. Then maybe offer people to look round the bike and leathers and then show a picture of my collision with a list of injuries and see if they can guess how fast I was travelling on my big sports bike. Hopefully, the true speed will then cause them to think about what they wear when out on their scooters and motorcycles. To know that I sustained these injuries wearing all the correct clothing including a spine protector may make them think before getting on the scooter or motorcycle in flip flops, shorts and tee shirt with no gloves and most importantly of all, maybe they will fasten the crash helmet strap. I mentioned earlier about why being part of the Military had been important and now you will see why. The commitment I showed over the years did not go unnoticed. I am doing various "challenges" to raise money for the charities that have helped me and my family,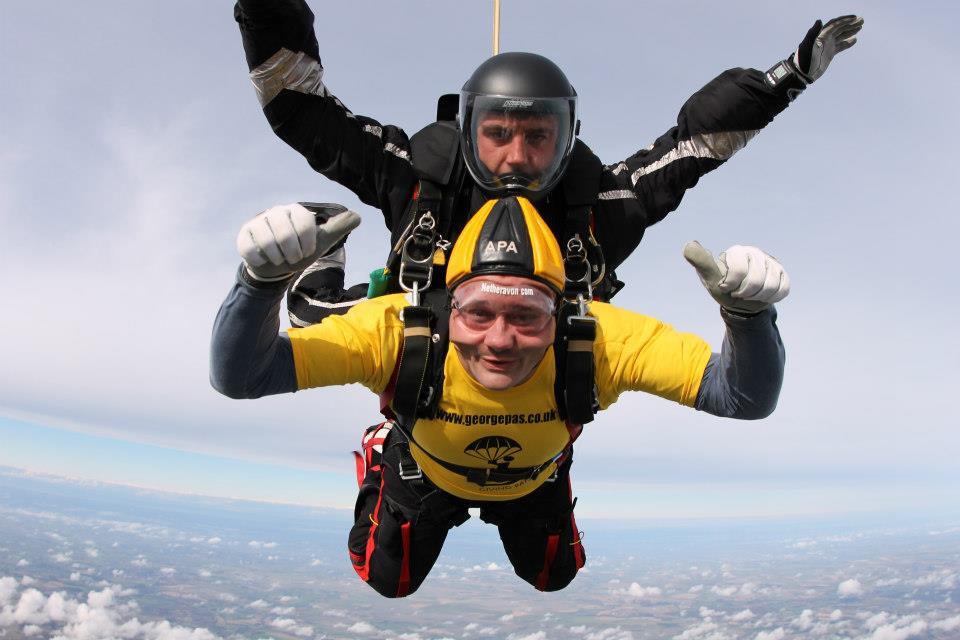 charities who I would not have been helped by had I never worn the uniform and served in the Forces, Reserve or Regular Forces, if you have shown commitment and served the Country they are available to help if you are unfortunate enough to need them. As well as raising money for these charities I am also raising money for an off road wheelchair. It is important for me to give back to those charities in order for them to help others. I write a Blog which lets people see how I'm doing and may help people understand that not being able to walk is not the end of it. Also, I hope that it may help to shed people's unknown fears of people in wheelchairs. It amazes me how many people avoid me when I have to ask someone for help such as opening a door for me if it is spring loaded. You never know, it may work.
My relationship unfortunately broke down in December of 2013, just after Christmas where by although we were in the same property all be it different rooms, my Wife and I separated. It was not until May of 2014 that my Wife was able to find an alternative property to rent and move in to. It was her and the kids who had to move as the bungalow which we were all living in had been adapted for me to be able to live in.
Although my Wife and children moved to another house, my Wife would call and help me every day. She would call me last thing before she went to bed to check all was OK even after coming down to help me get in to bed. She would change my bedding and come down after dropping our kids to school. The obvious stress of my condition, frustration and embarrassment clearly played a major part in our separation and where she was being my carer somehow changed the relationship. In the February of 2015, after spending time together, including an incredible holiday abroad, my Wife and children moved back in to our family home.
I hope that you will read my diary, maybe go back to the beginning and work through some of it. I hope that you may sponsor my challenges or donate to the charities so they may help others but most of all, I hope that you will learn from the occasional gripe that I may write, such as where people park. I was the same when I was able bodied, did not know how much of an inconvenience something as simple as parking over a dropped curb could be because no one ever told me. No one ever told me about dropping down to the same level as the person in a chair to stop them straining their neck so I hope that I will be able to educate people in these seemingly insignificant things. Thanks for reading.
Kindest regards.
George