Maralyn came over on Friday for my acupuncture appointment as usual, and we couldn't have the normal treatment session without having the Jeremy Kyle show on in the background which was hilarious as usual. The best story this time had to be about the guy who was trying to destroy two other guys relationships suggesting that they had been involved in a foursome with this girl. He knew about it as he was there but had not taken part, REALLY????? Now I have to wonder how this will turn out as it was allegedly one of the lads girlfriends from what I could make out, and this troublemaker bloke wanted to get with her. Why the hell you would want to be with a girl who your so called mates have already been through, at the same time and with each other, assuming it was just the girl who was getting it, beggars belief. Anyhow, the lie detector tests came out and the guy who had started everything failed all of the questions making himself look as much as a dick as the people he had come to accuse, BRILLIANT! Needless to say that Maralyn and I were almost wetting ourselves laughing at it all, unbelievable entertainment, nothing short of brilliant as you really could not write some of the stuff that goes on. Appointment over we made the date and time for the next treatment and had a quick chat before she left. Her surgery in Chard has gained more people for treatment and I believe she has only three slots left for next week, (correct at time of writing!), which I am so pleased about. I hope that she will be able to tell me next time that she has filled all of the slots for the week, she works hard and deserves to have the Chard venue be successful. I think that I am right in saying that she is also looking to open somewhere else for another day a week, something which I know will do equally as well.
After Maralyn had left for her next visit I got dressed and into my wheelchair, this is getting easier and easier now, while I do struggle with my right leg still as the simple thought of trying to put my shoe on sends the leg in to spasm, I am slowly figuring out the best way to do it. This is a marked improvement and whilst it may seem insignificant to most, to me it is another small step closer to normality. The days of chasing my legs round the bed and having a spasm which would throw me backwards and keep me locked there for five minutes are now so few and far between, I no longer dread the task which for me is an amazing feeling. Weird how such a small thing like dressing can make you have such a huge sense of achievement, God I've changed!
I was somewhat late in having breakfast by the time Maralyn had gone, I had got up and squared away and had done the few things I needed to do before my Physio arrived, and when the door went I was only half way through my bowl of porridge. When I answered the door there were two Physiotherapists that had come to see me, my usual and another. I put the kettle on and made tea's for the Physio's while I quickly finished my porridge and then said to my usual Physio, "So I'm losing you then". This was unfortunately the case. She has been moved to a different area which I am absolutely gutted about. We have such a laugh but at the same time she encourages and sets goals that we both work towards, she knows how to take my sense of humor which she joins in with and just generally fits in really well at our home. She introduced me to the the new Physio who seems really nice and I don't think that she will have any trouble fitting in at all. I think she must have had a really good brief from my regular Physio explaining that things are a bit different at mine. Whilst professional, there is no Political Correctness at my place. I work hard, my Physio works hard but an important thing for me is that we have a laugh while working as for me some of the things are really tiring and some bits quite difficult. The first thing we did was to put me in my standing frame so that my new Physio knew what parts I could do myself and the bits that I needed help with. Then it was explained what exercises or movements I had been doing while standing in the frame to give an idea of what we were trying to achieve. After a short while in the standing frame I sat back down in my chair, again showing how we did this and the all important pulling up of my trousers to cover my arse back up, then I showed how much my strength had improved by lifting myself in to the practically upright standing position. I was really chuffed with this as it in itself can become an exercise for me to carry out. After this I moved to the sofa and transferred to the end seat. With my wheelchair removed my Physio rolled out the non slip soft mat and took my exercise step from under the sofa and set it up in front of where I was sitting. I lowered myself under control to the step and then to the floor where I would then reposition myself to lift back up on the step and then, using the sofa and my wheelchair, I tried to lift myself directly back in to my wheelchair. This was a goal that my Physio and I had set weeks before and had been working to achieve. As yet I had only managed to get on to the sofa as I could not gain enough height to get in to the chair. As this was the last time I would be visited by my Physio as she would be replaced by the new lady, I was determined that together we would accomplish the goal we had set together.
I lifted on to the step which is not as easy as you would think, with no stomach muscles to call on or legs to assist me, it is all about upper body body strength and technique, which I am having to discover, learn and practice on my own and with my Physio. I managed this after only a couple of attempts after trying different places to sit to try. Once the position was sorted I could lift on to the step, not easily, but on to the step none the less. Next was the hard bit. I lay my slidy board on the sofa so as to give me a hard surface to push on, with my right arm I would push on my wheelchair cushion and try to lift myself high enough to get enough of my ass, (which is a large area so I would hopefully stand a reasonable chance!), on to the cushion to enable me to move my hand to a wheel to lift myself fully in to the seat. This was the plan. I tried a few times which was really tiring, sweat was actually beginning to go from beads to beads rolling off of my forehead. My physio said for me to just go to the sofa but I wanted to try some more. My regular Physio was guiding my ass in the right direction while my new Physio was aiding me by blocking my feet meaning that I did not have to worry about them kicking or sliding away and result in me losing my balance and hitting the floor. Whilst I can only fall as far as the floor it is not ideal.
I again tried to lift which I did manage, but the step needed adjusting, for this to happen I had to hold myself up while the Physio changed it around. I told them that I was ready and that if I began to struggle to hold myslef up I would warn them. I lifted myself, and held myself up while the step was adjusted and just in time, I was given the all clear to lower myself back down and rest. Another couple of attempts and the strain was now at a point that I could not hide it, the sweat beads were rolling off of my forehead and my arms and body were shaking under the strain of my trying to lift myself. My regular physio again told me to forget the wheelchair and to sit back on the sofa as I was clearly getting tired, I have learnt in my time instructing with the Army that it is important to always end any instruction or practice session on a high or a positive, much the same I would imagine that my Physio would have been taught, if I failed in my attempt to get on to the chair and was unable to then get on to the sofa it could potentially stay and be a negative start to the next session. I wanted to try again to get on to the chair as it was a goal that when I completed, I wanted it to be with my Physio who had worked so hard with me. I would be setting new goals with my new Physiotherapist, but I desperately wanted the working relationship with my regular Physio to end with both of us having the satisfaction and knowledge that all of our hard work had paid off. I tried one more time, dug as deep as I could, gritted my teeth and gave every last ounce that I had and lifted, my arms and body shaking, the sweat beads rolling. I lifted above the height of the sofa, kept pushing and with my Physio guiding my arse I managed to perch some of it on to the seat. I had to reposition my hand to get my arse completely on to the chair. My Wife stood behind the chair stopping it from tipping backwards, my new Physio kept my feet from moving, if I was going to spasm in my legs, from now would be the time it would happen, she was giving words of encouragement as was my regular Physio. I had to get my hand from the cushion to the wheel and then once on the wheel I would have to quickly move my other hand from the sofa to the other wheel. This I managed with a little support from my Physio's and finally, with one final lift, I was sitting in my chair. The goal was accomplished, and I was physically knackered.
We packed the mat and step away, wrote the next appointment for my new Physio in the diary and then said goodbye to my regular Physio. Whoever is going to now have her as their Physio are very lucky people, I just hope that she has had a laugh with me and feels that we accomplished lots while she has been visiting, also I hope that her new patients make her feel as welcome as we have here and that they too want to have fun while undertaking their Physiotherapy. I am looking forward to my next appointment to set new goals or continue with the goals we have already set with my now old Physio. I have been contacted by the gym to arrange an assessment which I will be attending with my new Physio who will advise the gym on which exercises I need to concentrate on to isolate certain muscle groups. With the Physiotherapists gone, I got myself sorted out and after a very short time Alison arrived. We had a cup of coffee and then set off on another walk to Ilminster, not for a meal this time, but for me to have some more exercise and also to collect the Chucklebus from having tyres fitted earlier in the day. We only took Jack with us on this walk, and we took the road to the cycle path instead of getting straight on it. Believe it or not, it is easier on the road missing out the very first part of the cycle path despite the bridge and the fact that it is not flat. We made really good time and despite the hour plus workout I had with my Physio appointment, I was propelling myself up the slopes on the cycle path without stopping to rest. Upon reaching Ilminster, we went directly to the tyre place, loaded in to the Chucklebus and headed back to the bungalow for another cuppa.
Alison stayed around an hour and then headed off, my Wife came back after helping Tabatha with some stuff and I got in to the jet bath to again massage my muscles and prevent them from seizing up. I admit I may have definitely fallen asleep in the bath for an hour, but when I woke up, after topping up with hot and bathing, I got out, got dressed and went in to the front room. My two eldest kids had gone to London with my Mother in Law to a family party which we were unable to attend as it was in a venue up two flights of stairs and no lift. My Wife had to get up early to do some cooking for her Brother for a party being held for his Girlfriends Mother and so she and `Pickle` went to bed. I decided to stay up and play a little on the games console with Darren on line which again we got carried away with and did not finish until a little past one in the morning which is when I went to bed.
Saturday morning saw my Wife rise early and start cooking, she got me up earlier than I would have liked but we had a busy day and for us to stand any chance of being on time, I needed to get up and bath `Pickle` and get ready to go. My Wife continued to do her cooking and I had the task of making sure the food was hot, of course the best way to do this is to try it, oh well, if you insist! The morning progressed as planned and then we had a visit from my Wife's Uncle, my mate who I used to go riding and 4×4 driving with. We had coffee and a really good catch up which would have been nice to continue with, but with us now running a little late I had to cut our chat short and so we arranged for us to go out for a beer in the week and headed in our different directions. We arrived at Darren and Tabatha's around three parts of an hour later than we had expected but fortunately we had still beaten their other guests. Today was the day that they were having a joint Birthday party for their two girls and they had friends and family coming around to celebrate. The important thing from their point of view was that I get in before everyone else due to space.
The visitors began arriving not long after Darren had got me in to the house. I am unable to do this on my own due to a couple of steps which I can't as yet manage, but it is something that I can aim for. My Dad and Step Mum came from Bournemouth, my Step Sister and her Girlfriend came and some of the friends that they had from back in Bournemouth also came with their children. It was great to see the kids excited to see each other and also Darren and Tabatha seeing their friends. I was introduced to their friends, some of which are part of a club called the "Dorset Troopers", they go to various locations when requested to fund raise. "Dorset Troopers" raise money by walking around the locations to which they are invited, or "Troop" while dressed as characters from Star Wars, and the costumes or "armour" are incredibly well made, alot have been made by the club chairman who clearly has an eye for replicating the costumes from the films.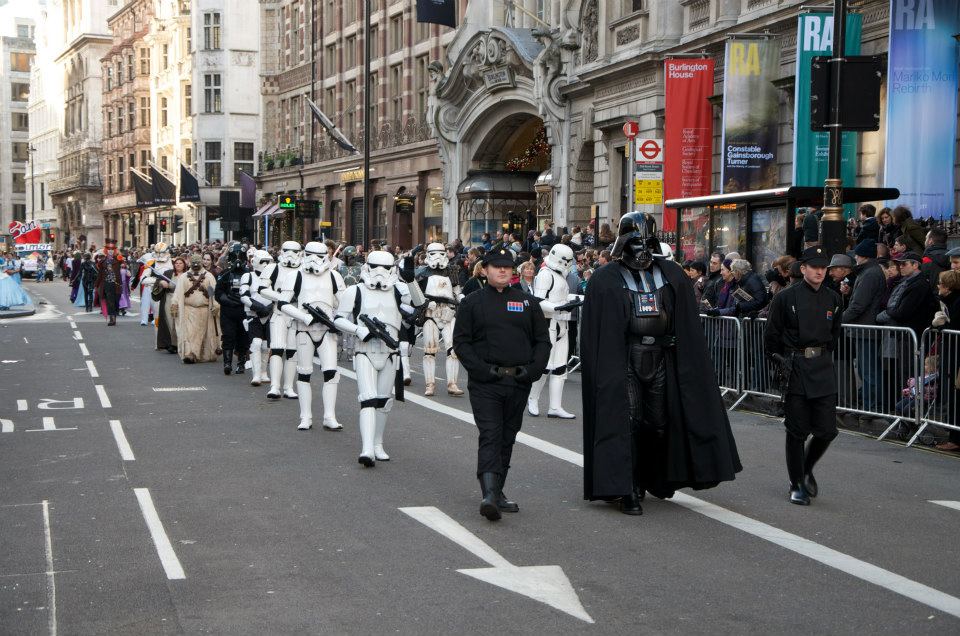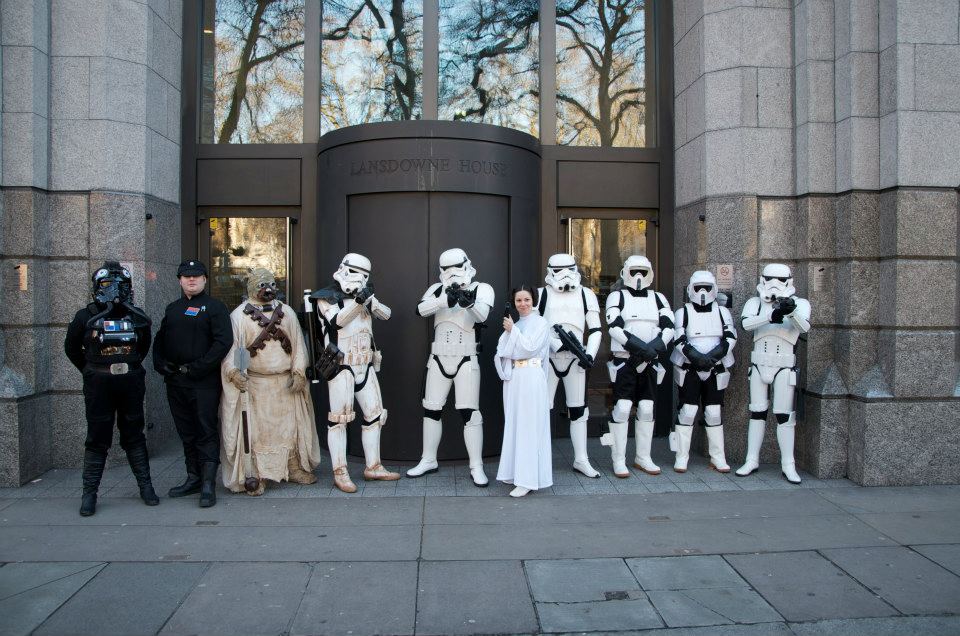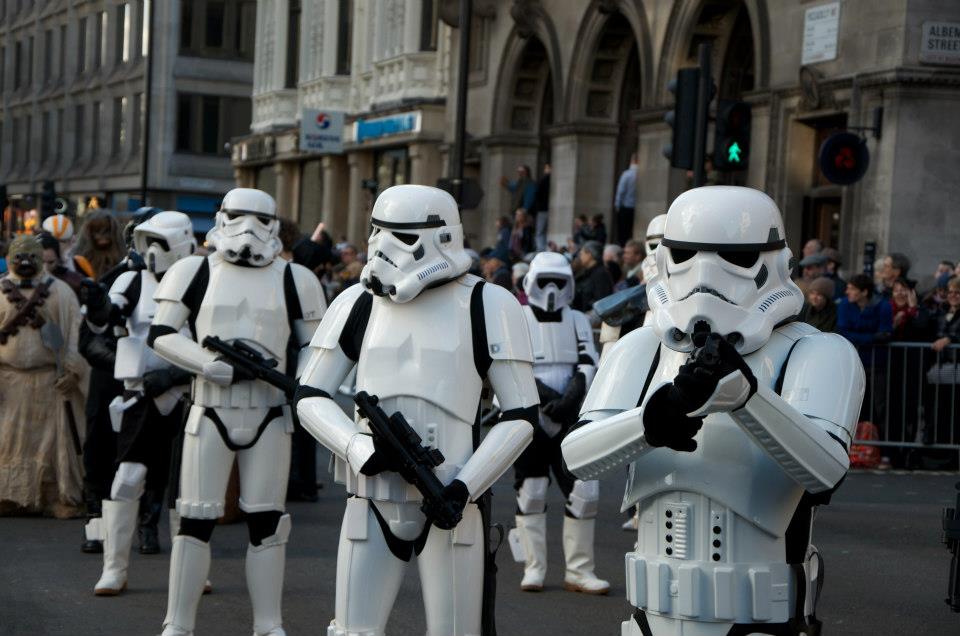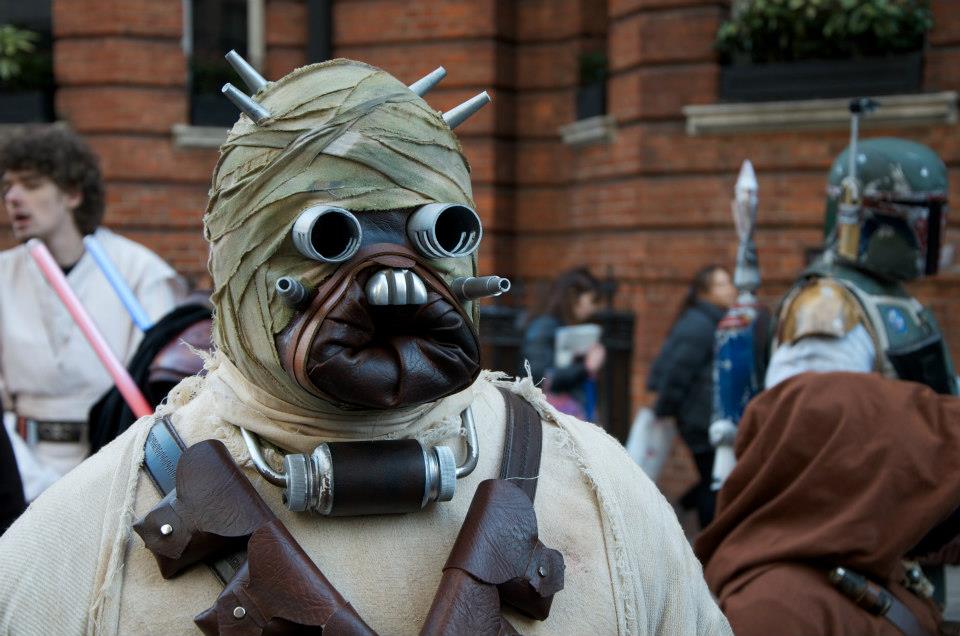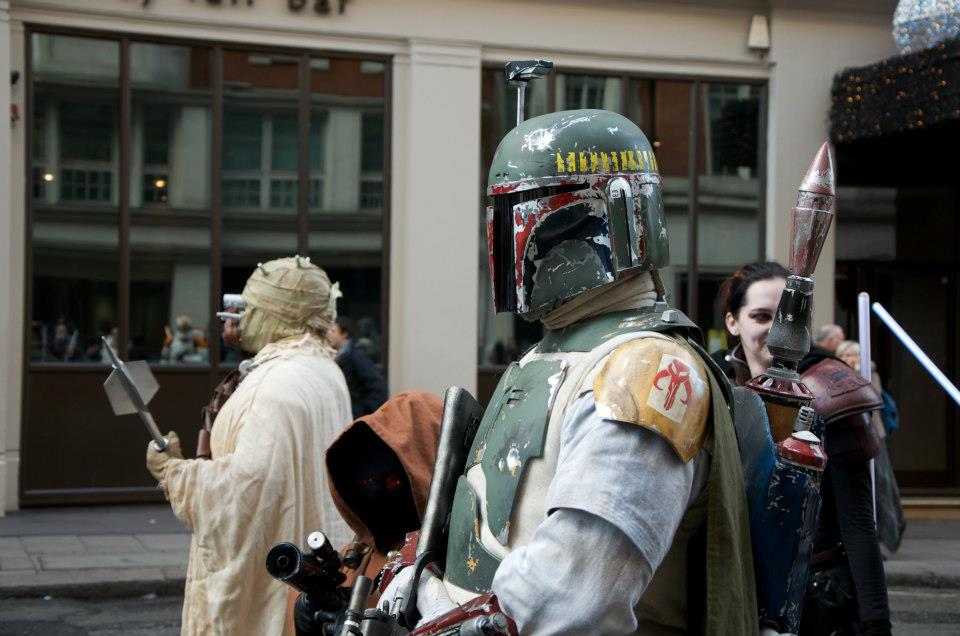 As you can see, the costumes are incredible. Check out their website. www.dorsettroopers.weebly.com
The day went really well, I met some of Darren's friend's and spent a long time talking to one in particular who is a Paramedic. He is a really interesting guy who is clearly very knowledgeable about medical procedures as you would expect and who clearly does not just regard his career as a job, he is truly passionate about what he does and it was abundantly clear to me that the Ambulance service and the people in the area he covers are both very fortunate to have him, his family are lovely as well and I am glad to have met them. With the evening for us needing to come to an end as `Pickle` was getting tired and my Wife needing to call in to Tom's Girlfriend's Mother's Birthday party, we had to leave. We said goodbye to everyone and headed off, and after calling in to the Birthday party we finally arrived home. My Wife watched a little television and had a bite to eat before taking `Pickle`, who was by now asleep, off to bed leaving me to write my Blog entry and watch a little NCIS.
So that was the last couple of days, during which I have worked hard on my rehab and accomplished a goal of which I am really proud and have spent a day with family and what I hope will be new friends and acquaintances.  For now my Blog entry is finished, and with it already being Sunday morning, I am going to end, watch the finish of my NCIS episode and then get to bed. I hope that you have had a good couple of days and that you enjoy your Sunday.
Goodnight all.