Today was a day of rest. I think that they smash the patients all week and then let them rest at the weekend, this is also when they encourage some of the patients to go home if their home allows, to help with the rehab process. I was speaking to one of the patients here about the timescales and from what I make out you are admitted to the NSIC and rehab starts. No later than 6 months later the time has arrived for you to be discharged having learnt all that you need to be able to do, your equipment, physio help, all of the things associated with your adaptations and the general things in place you will need to be able to live in the world sorted. WOW! Jackie, one of the patients here (you know that she is here believe me, lovely lady who just makes me laugh although a certain amount of head shaking is taking place while I am laughing I do admit!), was telling me of the things that the centre have squared away in readiness for her upcoming discharge date. What I have heard is incredible, although here it would be called normal I expect. No matter how hard I try by rolling it round in my head, I can not comprehend the contrast between this centre and the unit I was in two years ago, amazing.
I started this morning with the normal daily routine of waking up, getting dressed and in to my chair then off to the bathroom. From now on I have to use the toilet and not my shower chair which involves the transferring to the loo and then of course back on to the wheelchair when finished. Today then was the first day of a new routine a little closer to normal daily life. Obviously I am not going in to details but I was unable to attempt transferring in to the manual chair without  having a nurse in the room  in case of any problems, I was absolutely knackered. I decided not to have a shower this morning but it is already arranged for me for tomorrow and I will have to do it with a little less help, not that I had much anyway but if I am to be able to do more for myself then I need to push myself to make sure it happens.
Last night I was watching a gig recorded around three years ago of stand up comedy by Russel Howard. It is no exaggeration that I genuinely damn near pissed the bed! I was struggling to see the small screen of the television due to the tears running from my eyes and I had on more than one occasion to cover my face with a pillow to keep quiet. The guy was so bloody funny, I honestly can not tell you how very close I was to pulling the red cord for a nurse to come and change my sheets, brilliant. After the titles had finished they announced that his first gig tour in three years is due to start in Bournemouth in February 2014 and I want to go. I have got to get in touch with the booking office to find out about wheelchair and carer as I will need someone to go with me but I have to go. If his new gig is even half as funny as the one I watched last night I will need a bloody leg bag or I will spend the entire night in and out of the toilet and miss the majority of the show. So on Monday I am going to call the ticket line if I can find the number and call or if not I will e mail, either way I really want to go.
I spent this morning reading and doing some transfers from chair to bed and back and just in my chair lifting. Then Andrea messaged me to see if I fancied going out for the afternoon, well it would make a nice afternoon to go and get some fresh air so I said yes. Lara is not well so she would not be joining us but Andrea and I were going to go for a `st-roll` up on some Downs, the name of which escapes me, happens a lot that doesn't it? Have you noticed? Memory of a sieve! And no I do not owe you any money before you jump on that one! Andrea arrived and I wheeled over to her car, now it was just a case of a simple transfer in to her Renault Clio. Hang on, a Clio, correct me if I am wrong but was it not a Clio that was the reason I was in the wheelchair in the first case? Hmmm, well, if we were to go out then it would have to do! I transferred in to the passenger seat which I don't think Andrea had seen me do before, and she collapsed my chair with my instruction and put it in the boot. With us both strapped in to the car we set off to the Downs; at least that was the plan.
After around ten minutes of driving and chatting, Andrea informed me that this was a lovely place to be, very rural and that she actually could not be sure if we were deinitley heading in the right direction but undeterred we carried on. The next major place that gave us an indication of where we were was a roundabout and as she had predicted, we were absolutely not going to the Downs as we were in fact heading in completely the opposite direction. On one of the road signs it said the name of a town which was only a few miles away and as neither of us had been there before we decided to head in that direction, (and the fact that we were in the lane to go that way!).  One of the roads we were travelling on has got big accident imminent written all over it. It is almost identical in width to the A303 Ilminster bypass near me. It was, until recently exactly the same as this road I am writing about but, after copious lives were lost due to the exact same standards of driving I witnessed today, they have finally changed it to alternate one lane and two lanes on the opposite and then changing after a couple of miles to two lanes and one on the opposite side and so on. I will admit that there are still the occasional accident on there where somewhat idiotic and stupid people choose to ignore the road layouts and endanger others by barging through as, after all, it will not be them that get hurt in the event of an accident, so why would they care? I took a picture of such driving to show you.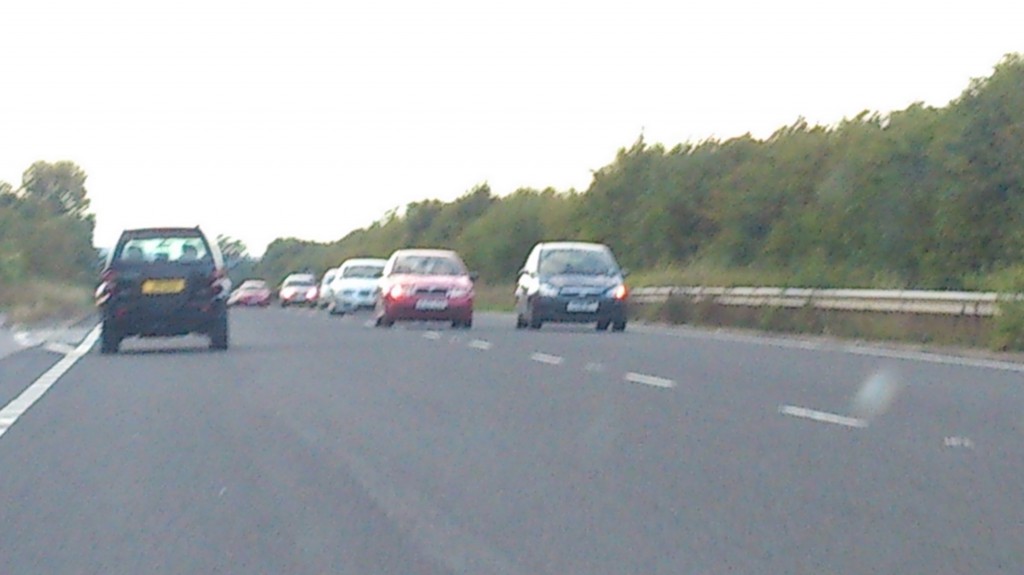 I know that immediately you will say that there is loads of room and so what is the problem. I will explain the problem I have with it using the pictured cars shown and describing to you a possible scenario, like this. If you are the black vehicle on the left in this picture then it is your legal right to sit just off of the centre white line as you would do on any road that was not this wide, but normal road positioning would put you in the centre of the left side of the road and not tucked over to the left as this car is, after all, it is not a dual carriageway. The red vehicle coming in the opposite direction will still overtake if the black car was near to the centre line or not as the oncoming car will simply expect the black car to move. Whilst no one wants to have an accident, what if the black car decides that the red car will not actually overtake as he must be aware that the black car is there. Next thing, red car goes expecting the black car to move, black car doesn't move as he is frankly in shock that the red car has decided to overtake and then the only outcome happens…crash….road closed….air ambulance….Police visiting family to tell them that a family member will never be seen again. Exaggerating? It has happened on the Ilminster bypass on so many occasions you would not believe, which is exactly why they have changed it. I have witnessed an articulated lorry overtaking an articulated lorry while the pair are being overtaken by a white van with a large goods vehicle coming in the opposite direction with a slightly smaller truck overtaking it, no bullshit, fact. Because people are stupid! My friends in the local Fire and Rescue Service have had to deal with the horrific accidents and then have to forget about what they have seen so as to not go mad. So think about the emergency services who have to deal with the carnage when the decision that the stupid driver has made goes wrong. I am living proof of that. Anyway, hopefully that has given you something to think about and may have enough of an impact to prevent you from making a bad decision or maybe you will stop someone doing the same if you are a passenger.
Andrea and I reached a lovely little town, your guess will be as good as mine as to which one is was but the first thing I noticed was a park with a pond or river right next to the road and the park was packed, WITH DUCKS! Loads and bloody loads of ducks. It was like a Stephen King film, the ducks had well and truly taken over. More ducks than I have ever seen in my life in one place, it was like a duck convention.  A meeting as to whether they should allow the people in to the park or not. So just to recap, A LOT OF DUCKS! We parked the car up and Andrea re assembled my chair, I positioned myself to be able to get out and in to my chair but the bucket seats were making it hard work, causing me legs to spasm where my nerves were obviously being trapped by my having to sit on the upright part of the bucket to be able to get out. It took a little longer than usual but I was in the chair and with the car now repositioned to look more like parking than abandonment (just to give me room and not because she is a crap driver), we headed in to town. The town centre reminded me of the centre shopping precinct of Poole, there was a traditional market today with the sellers telling you what they had and then something caught our eye.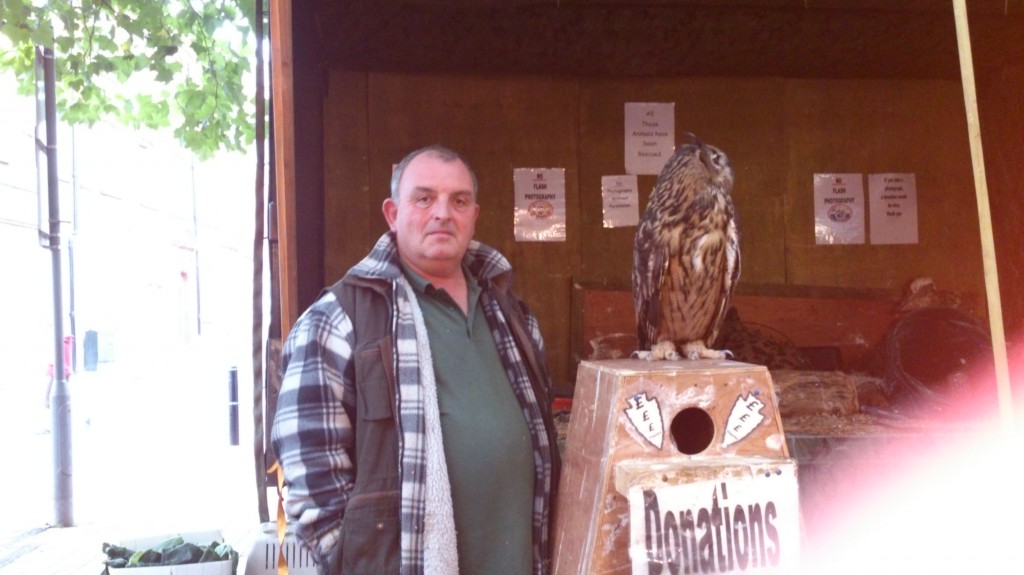 The guy in the picture is Terry and he is one of the founders of Pets Corner, they have set up to rescue pets but predominantly Owls and Ferrets. I was astounded to learn from him that you can actually buy an Owl to have as a PET, what the hell is that about. Owls are incredibly strong and intelligent. You should not be able to simply go and purchase an Owl but our Government lifted a law that was in place to stop exactly that happening and now many of these magnificent birds are seriously mistreated, kept tied on a short tether and kept specifically for breeding. What most commonly happens as Terry was telling Andrea and I, is that someone will buy the Owl which will get big, then they buy a puppy. Owl sees puppy and naturally sees prey, Owl attacks and sometimes kills puppy and then Owl has to go. They have an extraordinary number of various Owls which they house and care for at the moment, I could not believe how the Eagle Owl (pictured with Terry) followed his every move. The Owl even closed its eyes and `snuggled` up to Terry's head for a cuddle. The obvious trust and affection that the birds had for Terry was incredible and as I used to work with slightly larger animals, that being Elephants, I knew just how much time, effort, patience, respect and enthusiasm that Terry must have for the Owl to behave in this way. Please have a look at the website, www.owlandpetrescue.co.uk and read about what they do, they will rely on donations so please, if you are able, help them. Terry really was a great guy to talk to and told me some very interesting things about the birds.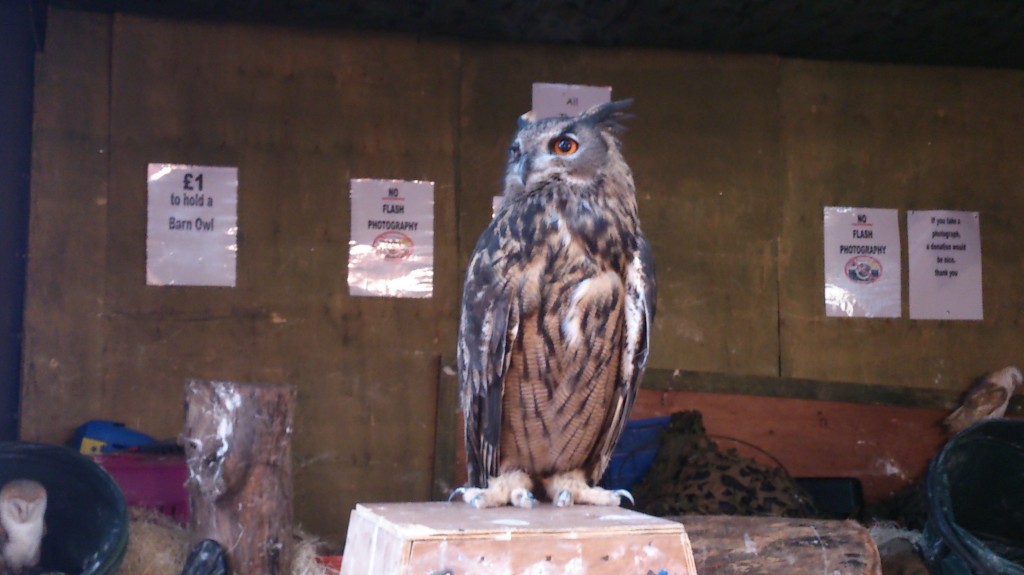 From here we had a look round and as we were heading down through the shopping area I spotted something; a restaurant , a restaurant which is part of a franchise with a name that I had not seen since I was around eleven years old.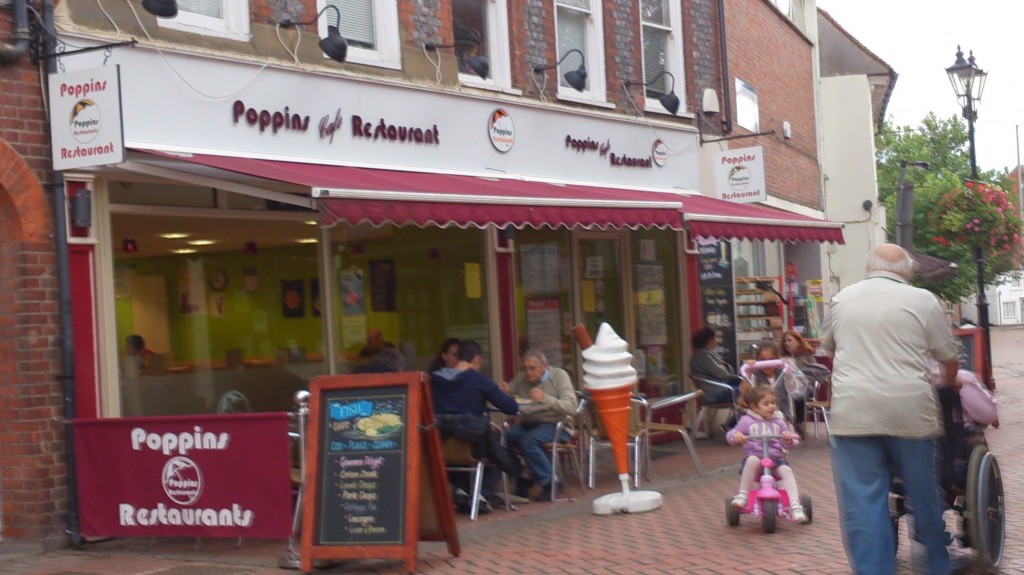 As a child, on our weekly shopping trip to Taunton, we would regularly pass the restaurant and every so often we would go in as a family and either just have a drink or sometimes have some lunch too. It one day just disappeared from the building that it was in and I thought that it had just collapsed. I did not realise that it was a franchise business and so for the first time in around twenty seven years, I saw the name sign.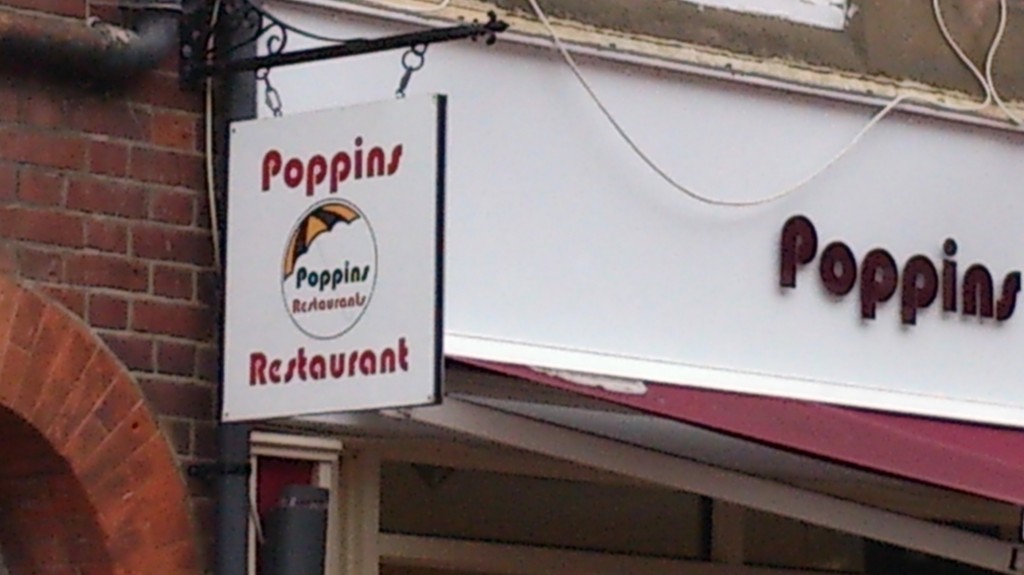 The uniforms as far as I can remember seemed to be the same and the smell of the place registered as familiar, a smell I am unable to describe but a good smell. This is where Andrea and I would have the cup of coffee that we had promised ourselves before we had even got out of the car, even if it was supposed to be on the Downs!
We stopped off in a collectors shop on the way back to the car having finished our hot beverages, so many old toy cars I recognised as toys I had owned as a child and then I saw some models, Airfix models; so now would be a very good time to leave. Clearly that did not happen and I started to look through them and then I saw one that really caught my eye. H.M.S Ark Royal from the second world war. I picked it up to have a look and underneath was one of Great Britain's finest and unrivalled airframes which has yet to be matched and I personally believe that this would be the exact reason it was grounded indefinitely, the model? An old, (guessing 1970's) British Airways Concorde. I looked at the box which had obviously aged as it was not in cellophane, inside the box the transfers had also aged but were all there as were all of the parts on the sprues. So how much would the guy be asking for this model? Dare I ask? Do I really need another model? I decided to ask the question and the answer shocked me. "Is it written on the bottom of the box mate?" the shop owner asked. "No mate, nothing there", I replied. "Tenner I reckon mate", he said. Oh crap. It was a good sized model and I know it would have looked nice all done and transferred up but I really did not need to have another vintage model that I would end up trying to decide if I should or should not build due to it's age so I placed the model back down, spoke some more to the shop owner and with great restraint and a sensible head, rolled out of the shop and back to the car with Andrea.
Upon return to NSIC we had a hot drink and a chat, I had my tea and after both of us had enjoyed having a chat with Ryan who is another patient here, it was time for Andrea to head on home having had a good afternoon in a town which I can not remember. On my bed was my timetable for next week which I am pleased to say is a busy one, kicking off with a session in the Hydro pool on Monday morning and then sports and other activities following on for the rest of the week. Check it out.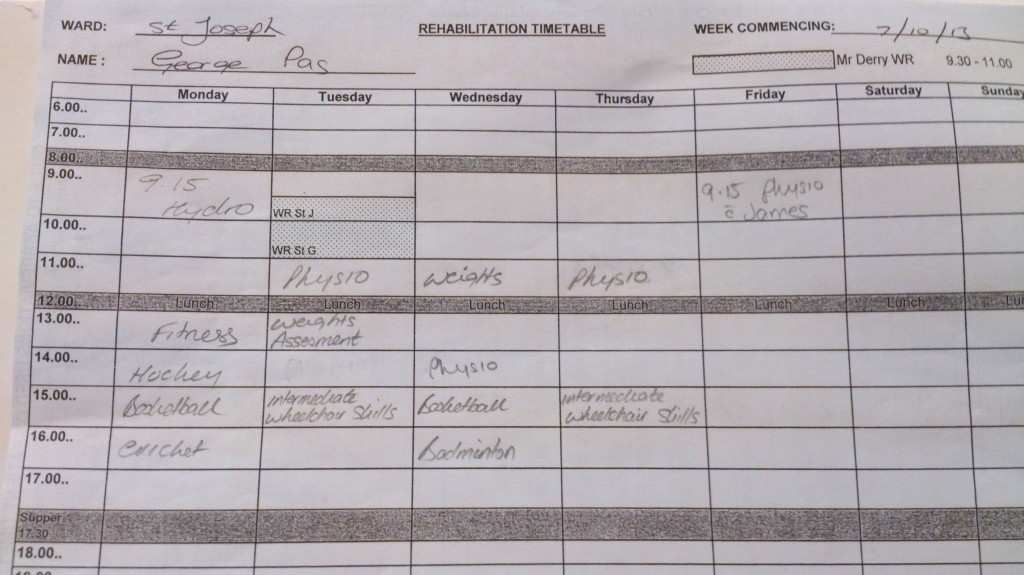 This evening I intend to read a little, not too much as my eyes are a little tired and then to watch the tele in bed until I feel like I need to turn it off. Tomorrow morning will be a shower so I will be up around seven. No Andrea or Lara tomorrow so a quiet day where I will probably just practice lifting in my chair and moving along on my rear wheels. I hope you have had an enjoyable day and that your evening and the rest of your weekend is equally enjoyable. Until next time.
Goodnight all.