The dig at Cyprus went well, aside from the Archaeology it was great to meet new people and for new friendships. An avionics engineer form the Royal Air Force Typhoon ground crew at Akrotiri approached me as I was watching the aircraft flying around in the clear blue sky and asked if I wanted to go and visit the aircraft on the airfield. Opportunities like this do not come along very often but I could not go. I wanted to go and find out more about the aircraft but I could not go for two reasons; firstly as I explained to Hayley, the avionics Sergeant, was that I was unable to get in to the four wheel drive that she was driving on my own. Secondly, there was no way I could go and take this opportunity without the others on the dig. There were only eight of us and so I did ask Hayley if this would be a problem. She told me she would ask her boss and would catch up with me later and so she took my number, I was hoping she would call but was prepared for her to be told no by her boss and as such would not be back in touch. I heard nothing for the day but understood that there was a chance that this would happen and so thought no more about it and carried on with the rest of the day.
Breakfast the next morning was simply cereal for me as normal, I so wanted to have a fry up like the old days but have to think about the circumference now and so I refrained, stayed disciplined and had the Bran Flakes instead. I went to the main lounge of the Sergeants mess and had a coffee, then Hayley came over to me and told me that we were ok to visit. She had tried to text me but the number was missing a seven. This is common when people take my number and so she added the number and said she would check the flight times and would see us later. We went to the dig site as usual and at the normal time we returned to the base for showers and lunch. I had as yet not received the call or text from Hayley but now lay a little confusion. She had told me she needed to check the flight schedule and I had said that we generally aren't ready before three in the afternoon for visits or afternoons out. I could not simply tip up at the flight line on a whim and so I had to wait. Through whatever confusion we did not get to visit the Typhoon's which was disappointing but a lesson was learned, basic really, a comms check would have helped here. I should have either taken Hayley's number or got her to call me a when we changed the number she had to make sure that she had the right number and that she could actually call. Never mind, I hope that she did not think that I was ignoring her or that I was not interested in her offer as this was not the case, in any case, thank you for trying.
In the evening we went to a restaurant for our final meal on the island and to take the site manager of the dig site out to say "Thank you" for allowing us the opportunity to dig on their site, it was a lovely evening but as I put the final fork full of food in to my mouth I was suddenly very aware that the four weeks I spent eating salads and participating in Georgie and Kirsty's fitness and sports sessions to lose the 4kg I had lost, had potentially just been ruined, bugger.
On return to my room I packed up the remaining things that I would not be needing, leaving only the things I would need for the night's sleep and the morning's wash kit and whilst I was doing this I had a visitor scuttle across the carpet and attempt to force its way under my suitcase, I was not massively happy with this but with my moving the suitcase and dropping things in to it as I packed I think I may have accidently caused its demise.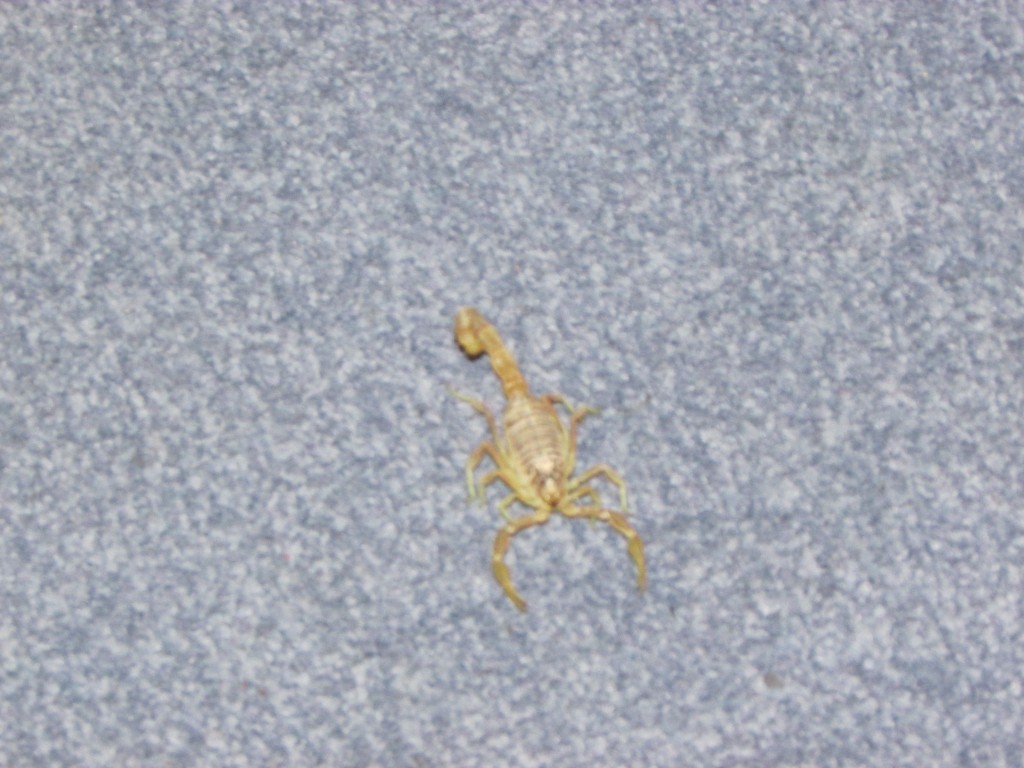 I moved the suitcase and secured it by zipping it closed, the visitor was motionless and remained that way for the next hour or so. It was at this point I decided that I would go to bed, I could not remove the visitor as I required both my hands to move myself and open the doors and I really did not fancy simply putting it on my legs and so I left it where it was on the floor.  When I awoke in the morning though, it had gone! I have no idea where it went, but when I had finished with my wash I packed the rest of my stuff and went for my final breakfast in the Sergeants mess.
After breakfast we loaded all of the cases and my power chair into the vehicles and we headed off to get the said items booked in for the flight. With this done we had around three hours to kill before we had to be back at the lounge to wait for the aircraft back to the UK. So what would we do for a few hours, in the sun on an R.A.F Base? Some lunch and an afternoon of refreshing drinks, whilst discussing the weeks digging and visit to Paphos. Eventually though the time had run out and it was time to get back to the departure lounge. We made our way in whilst the vehicles were checked back in to the MT pool and I headed out side to watch the aircraft come in, we would again be flying on the Voyager it would appear as it taxied on to the hard standing in front of the departure lounge.
Whilst in the lounge I bumped in to two of the soldiers from my unit which was nice, and after a chat I headed inside to meet back up with those who I had been with for the week. After a short time I was approached by an R.A.F guy who asked me to call my party as they would get us checked through security and then on to the aircraft before the remaining passengers. It was the catering truck which again lifted my chair up to the doors of the aircraft and again it was the R.A.F fire crew who lifted me from my chair in to my seat and with this done, and the senior rank of the cabin crew having introduced himself to me and letting me know that if I needed anything to simply ask, the remaining passengers boarded the aircraft and with everyone seated and briefed on the usual safety we took off for the UK.
Seeing firework displays from above the fireworks is interesting and definitely not as impressive but this is what we saw as we descended for our landing at Brize Norton. With us safely down and everyone off of the aircraft, the fire crew entered the cabin with my wheelchair and lifted me in to it while the catering truck positioned itself for me to be lowered back to the ground. Les and Michelle stayed on the aircraft with me which was nice of them and they also reconnected the batteries of my power chair and retrieved my case. Les helped me in to my power chair from the manual chair which I would need to be in for the journey home.  Finally through the security checks, I met with my Dad and Step Mum who had come to collect me, I introduced them to Les and Michelle and after a brief chat and I had said "Goodbye" to them, my Dad took my manual chair and case and we headed to the car park and on to the Chucklebus. It was around half past one in the morning by the time we got to my place and around two in the morning before I got in to bed, sleep was needed as I had to go to an awards ceremony in Wells on the Sunday which my Dad and Step Mum were going to take me to and attend.
The ceremony was around an hour long, it awarded several members of the reserve forces and several of the cadet forces with awards from the Lord Leiutenant, the award is one down from a national award and as such is definitely something to be proud of. The award which I collected was the Certificate of Meritous Service to the Reserve Forces. I am extremely proud of the award and of the citation that was written by my Commanding Officer, the things that were written were just me being me, I had no idea that they were being viewed in such a light. I hope that I may have made people think about their own lives and maybe given their get up and go a little kick in the ass.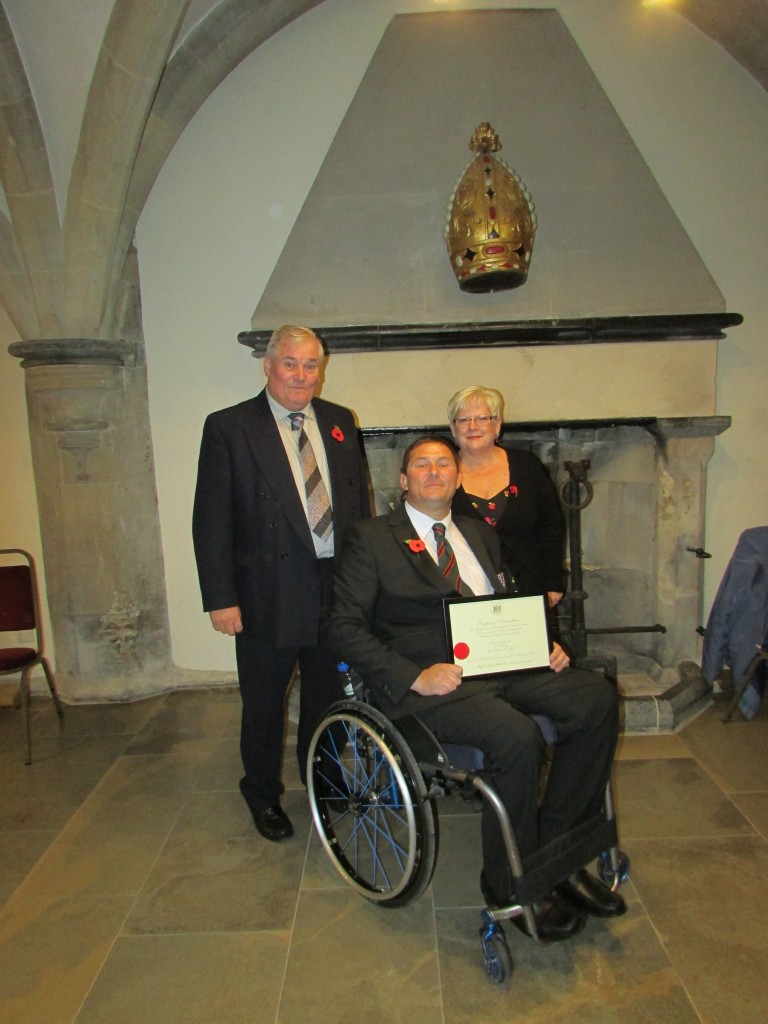 That's almost it to be honest. I have sent and received e mails from the people I met on the dig and also I have exchanged e mails with a lady who approached me in Brize Norton's departure lounge and asked me to mail her on my return with regards to flying, so we shall see how that goes. All that now remains is for me to share a few pictures with you of my trip.