After leaving my bungalow at 03.30 hours and collecting "Reedy" en route, we finally arrived at the lovely little village of LLanberis in North Wales at around 09.30 hours. The weather was sunny, the skies were clear and there were already many people walking around the village dressed in their walking gear with their different sized daysacks on. After a short while the Overlander had been unloaded and I had transferred in to it, all of the things we would need for the day were squared away and we were ready to rock and roll. A final check and we headed out of the car park and towards the village centre looking for the road or lane that would take us to the start of our aim….to get me to the top of the highest mountain in Wales, SNOWDON.                       www.virginmoneygiving.com/Giving-Back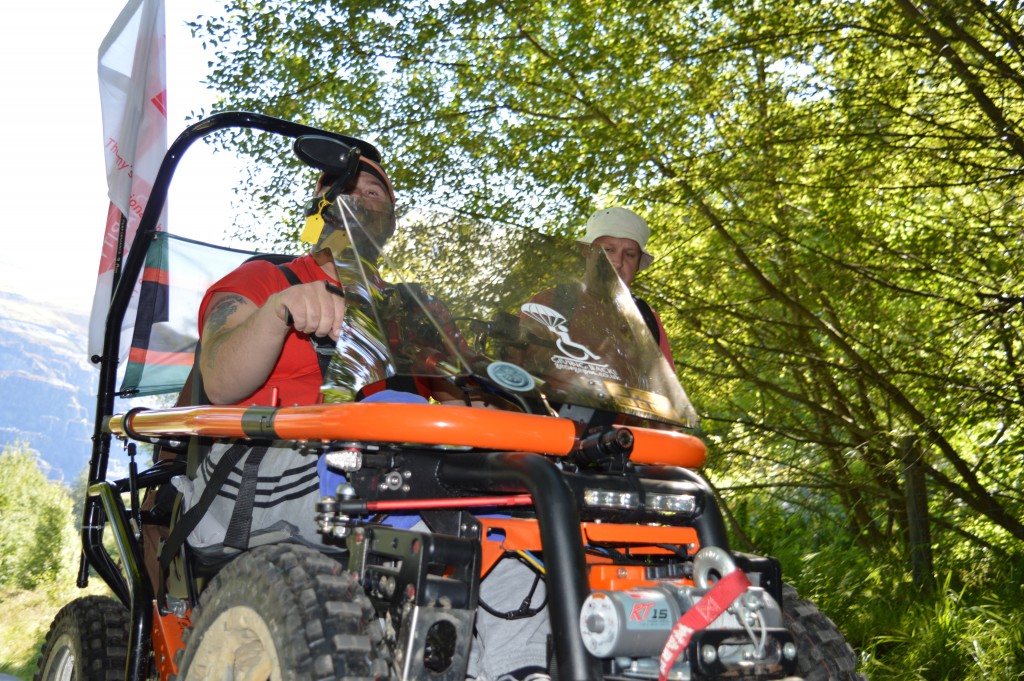 The first part of the ascent was tarmac road but it was steep. At the top of this it went to gravel and rock and it was here that the rough terrain started the spasms off, it also showed the gradients that we would be dealing with. I was well strapped in to the Overlander's seat so I knew that my spasms couldn't actually straighten me out like they normally do but knew that this was going to be an uncomfortable day and that the Overlander would be having to give all it could.                                     www.virginmoneygiving.com/Giving-Back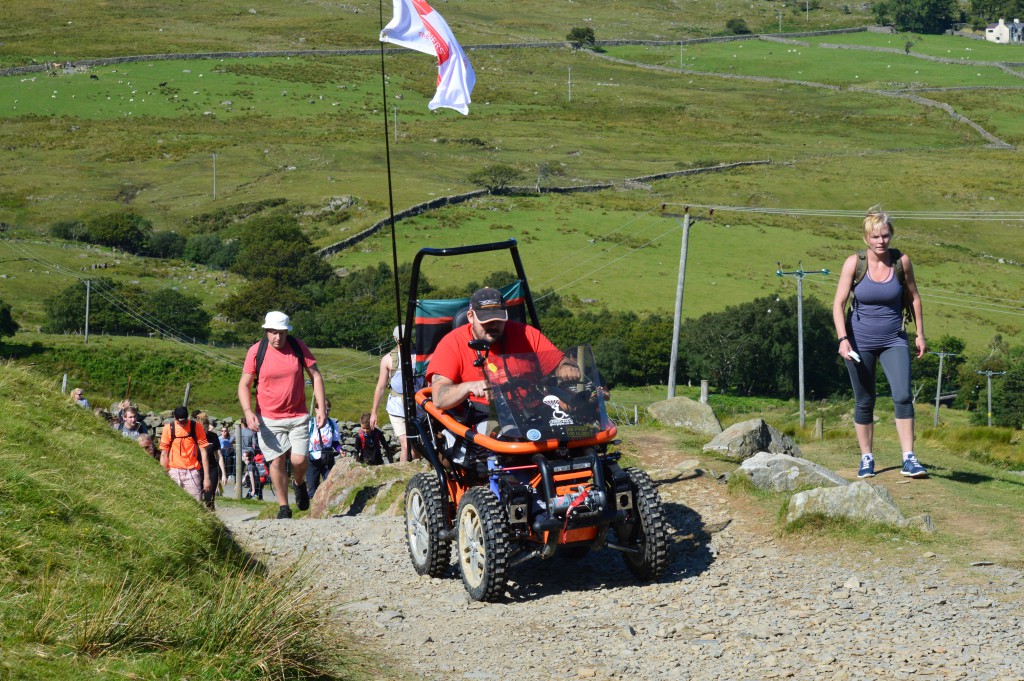 The terrain very quickly changed from rough gravel to larger rocks which were obviously uneven. I was putting great strain on my wrists and I could feel my arms really having to work as the uneven boulders were wanting to take the steering from me, this was made worse by the constant spasms caused by the bumps, I was having a great time though and I was determined to crack on.                                              www.virginmoneygiving.com/Giving-Back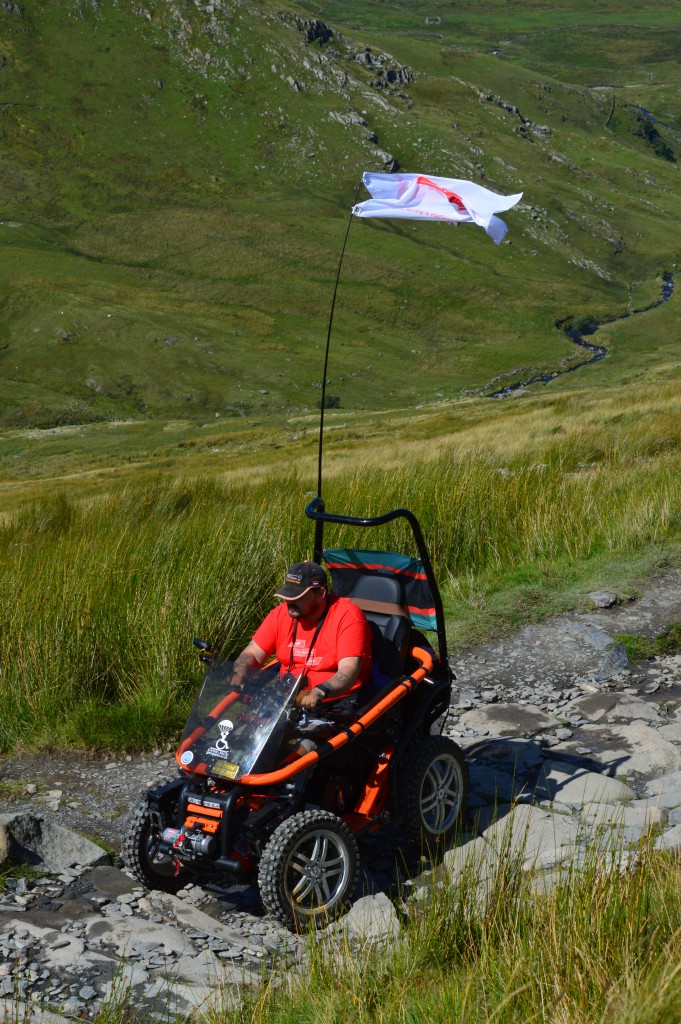 We had only been going for a short while but I had waited over a year, having had many set backs through no ones fault and more bad luck than anything else to attempt to get to the top of this mountain, and so nothing was going to stop my attempt today especially as the weather was so good. You don't have to have made your way too far up Snowdon to get some fantastic views.                                                            www.virginmoneygiving.com/Giving-Back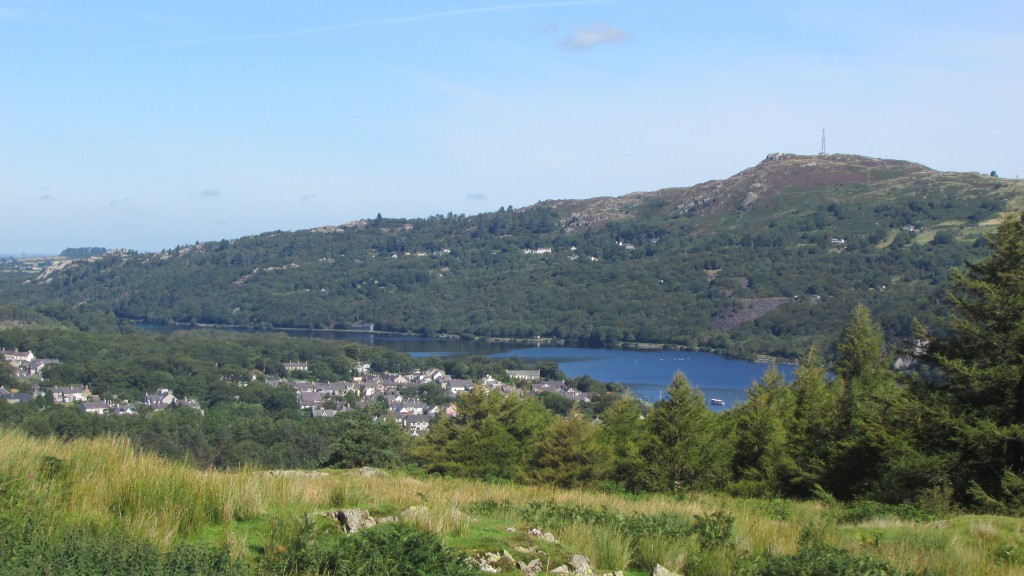 The further we made our way along the path to the summit of Snowdon, the worse the terrain got. The ground was more and more uneven meaning that I had to really read the rocks and try to plot routes over the gaps, anticipating how much camber it would be and the potential of the Overlander tipping not just on to its side, but backwards also. As a precaution though I had people behind and beside me at the unsure times just in case, they would only assist if it became absolutely necessary. After a few hours of fighting the terrain we reached a building commonly referred to as "The Halfway house" which is actually more than half way up the mountain. We had already decided that it would be here that we would stop and have some lunch. It gave us time to look at the beautiful views and for me to sit (obviously) and look at how far up we had come. It had been hard work and it was not over yet, the big question for me was how much worse would the terrain get?                                                                                          www.virginmoneygiving.com/Giving-Back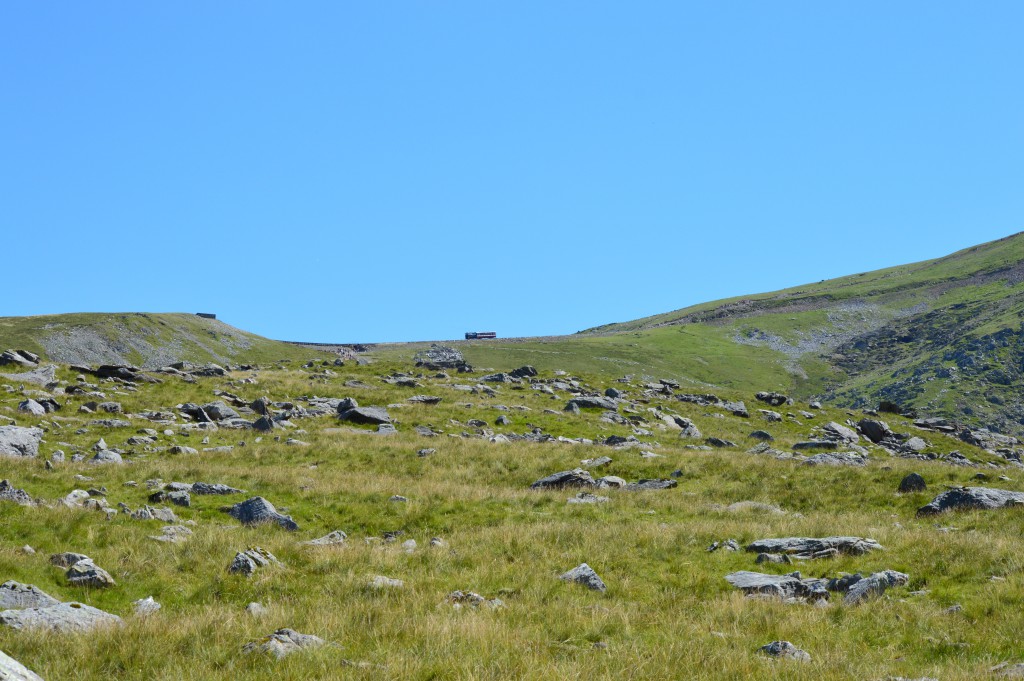 On the way up the path I had been stopped by many people who were interested in if it was a sponsored `walk`, what had happened to me for me to be in the Overlander and why I had decided to try to conquer this mountain in the first place. I was shocked at how many people wanted to talk and surprised at how many wanted to donate money there on the walk. I had not had the foresight to think of collection buckets for us to take but of course it is weight that someone has to carry, and I never for a second thought that anyone would want to put money in a pot while out for a walk in the mountains. The thought is now in my head because whilst people want to donate, it is difficult to remember anything about websites to look at when you get home. I will think about it for the next walk maybe. After a break and a spot of lunch in the sun overlooking some amazing scenery we headed off again with voices wishing us luck as we left the area of the building. It was only a few meters before the terrain took a very different turn, and not one for the better. The pathway had now become extremely rough and uneven and it was now stepped, and the steps were not your average step in to a building. Here I had to have my friends behind me not only to stop the Overlander from tipping backwards but it was more to give a shove due to the "steps" being at such a height that the wheels would not grip the ground. Indeed one such attempt at me getting up the step left me rocking on the chassis of the Overlander. There was no end of people who wanted to assist in a bit of a push or to hold the front down if I tipped too far backward, it was quite incredible, at one point we had gathered a bit of a following with people interested in talking with us. Granted, not all of the people in this picture were those we had been chatting with.                                                  www.virginmoneygiving.com/Giving-Back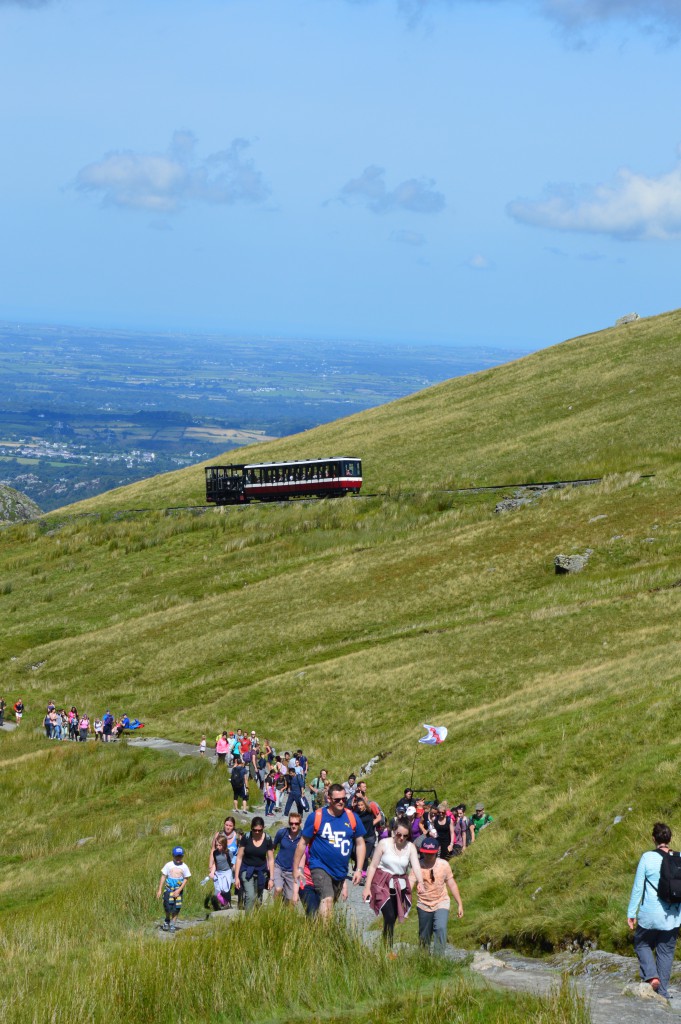 Further along the path and people who were returning from the summit who had already made it, were stopping and congratulating me for getting so high up but they had concerns about my chances of reaching the top. I was determined though, as were my friends, that we would do our utmost to get there. We slogged on for a while longer but the steps were getting bigger and the Overlander was needing more help to get up the steps, this came from a shove from behind but became more of a push simply because the wheels had nothing to grip to. The push though lifted the rear end giving the front wheels a chance and it would pull itself then, with a little help, up over to the next one. Unfortunately the next step came sooner and sooner and as the hard work was being done by "Me Val" and my Daughter, we would rest a while before heading off again. It was during one of these 5 minute breaks that two wardens spoke with me. They were shocked but pleased that we had got so high but warned that the current terrain would last for another 300 meters at which point it would level for a short time but then the steps got much bigger and that there was no way we would get over them. Determination is one thing, and as disappointing as it made me feel, I had to take the advice of not only the Wardens but the public who were returning to the bottom. A group of people who were on their way to the bottom having completed their trip to the top stopped during our conversation with the Wardens and agreed that having seen us work so hard to get up the steps so far, that we would not get over the steps further up. They helped turn the Overlander round by lifting the front end as there was no way it was wide enough for me to do it on my own and walked the 50 meters down the path to a better place for me to wait until my Daughter and friends had reached the top and returned to me. We had been told since the "Halfway house" that the terrain got worse and that we would be lucky to get another few hundred meters but we had done much more than that.                       www.virginmoneygiving.com/Giving-Back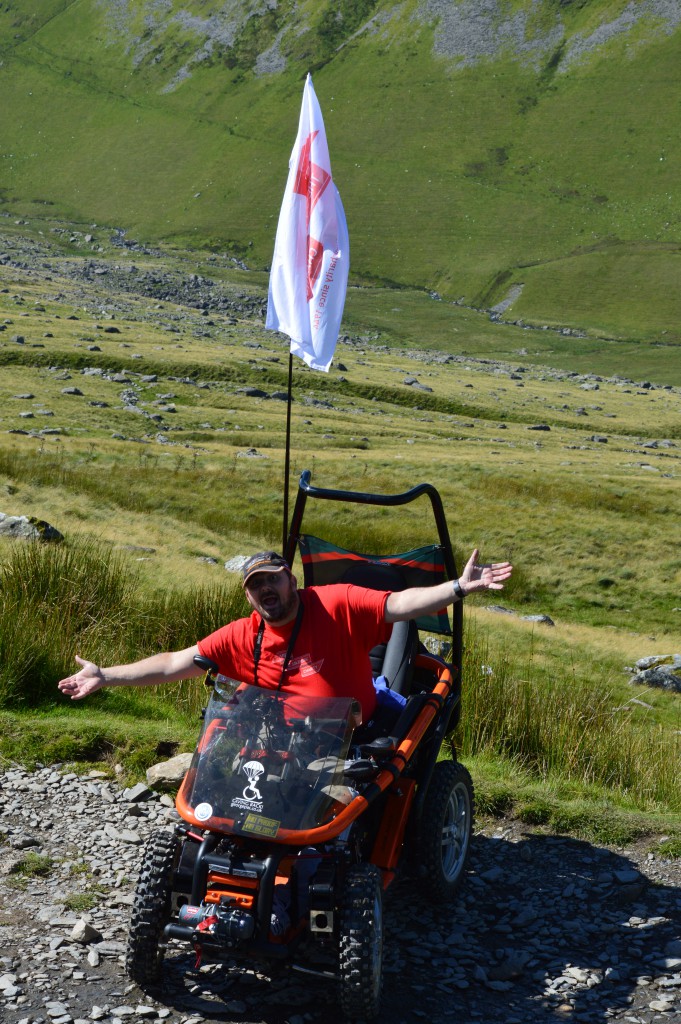 I had set out with an idea to use the Overlander to raise money for three charities that have helped me to purchase it. I have tried in the past to explain to people what the Overlander allows me to do, to give me the ability to get back out in to the fields, forests and hills. This post will show people how important this piece of equipment is to me. There is no way that I would be able to get up on a mountain like this to see these amazing views without it. I didn't manage to get to the summit of SNOWDON but does this mean I failed? My answer is NO. No I didn't fail in anything, why? The reason is because I got higher up the mountain than anyone who was walking that day thought I would. I got within 1 km of the summit (as the crow flies), 2 kms as the path travels. The pathway is 14.5 kms long so there is no way I failed in anything in my mind. I am so proud of not only myself or those of my friends who helped me on this incredibly long day, but I could not be prouder of my Daughter who wanted to reach the top and so after making sure I was ok where I was, continued up the mountain right to the top accompanied by "Me Val".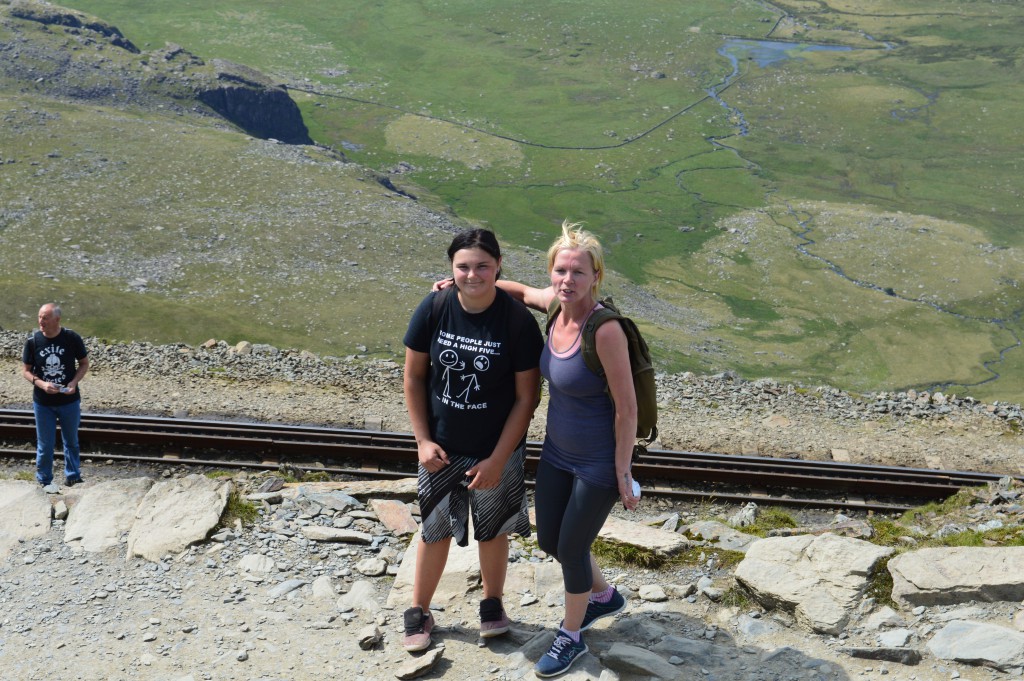 Thanks to "Reedy", "Jimmer", "Me Val" and my Daughter for accompanying me on this trip. There is no way I could have even got to the mountain with the Overlander without you and certainly would not have got as high up as I did either. The next challenge is to get as high up Ben Nevis and Scafell Pike as I can which I will be doing before the summer ends. You never know, I may see you there! As I previously said, I am doing this to raise money to "Give Back" to three charities that have helped me. ABF The Soldiers Charity, SSAFA and Care for Casualties. Whilst I know I cannot give back the amount they have helped me, I can at least give something back so that they can help others so PLEASE, if you haven't already clicked on one of the many links I have posted in this entry, then do click on this one www.virginmoneygiving.com/Giving-Back and donate as much as you are able for me. I don't expect anyone to know or understand how much pain and discomfort attempting to reach the top of Snowdon caused me and I am not angling for a sympathy vote to try to get anyone to donate, I knew it would be difficult but the smile on my face says it all. It was worth EVERY single minute of discomfort to be able to see those incredible views and show able and less able'd people that you should get out there and challenge yourselves.                                                            www.virginmoneygiving.com/Giving-Back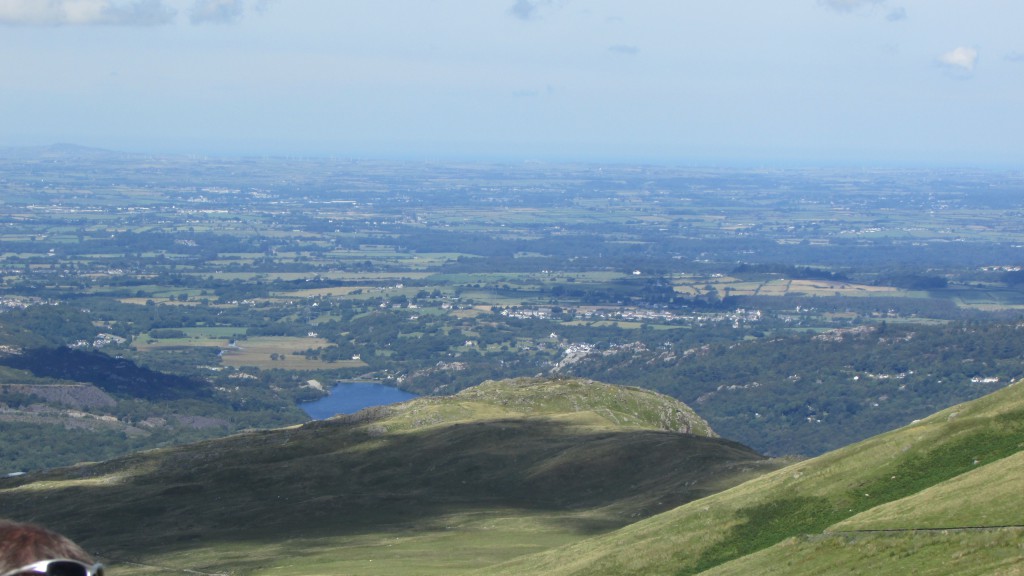 On the way down it was much more difficult for me. Dropping down the steps was much more difficult as I had to really fight the steering and as it was downhill it was a lot of extra strain on my wrists and arms.                                                                        www.virginmoneygiving.com/Giving-Back
If walking to the top is not for you then you could always take the train!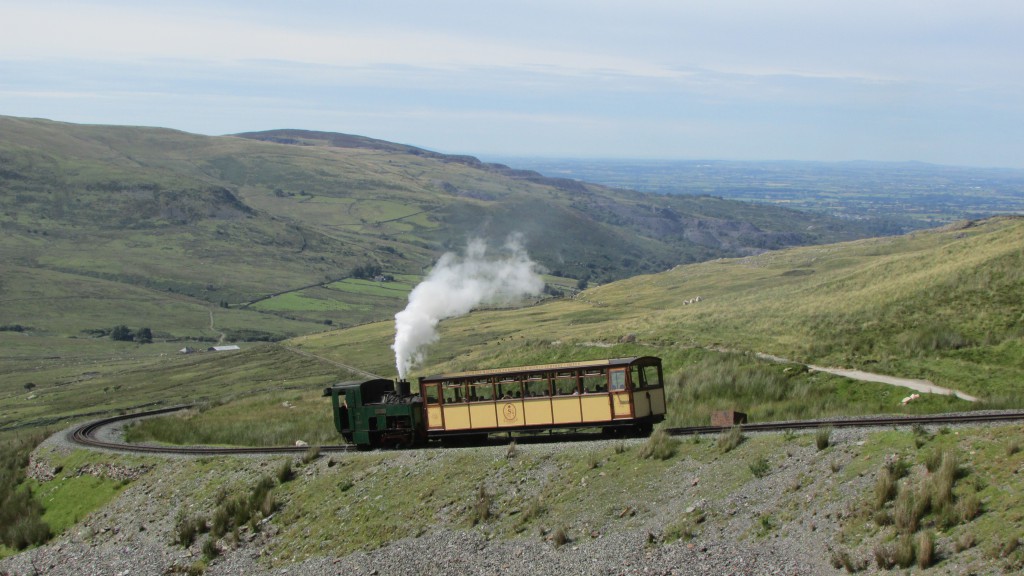 Thanks for reading, and thanks for donating.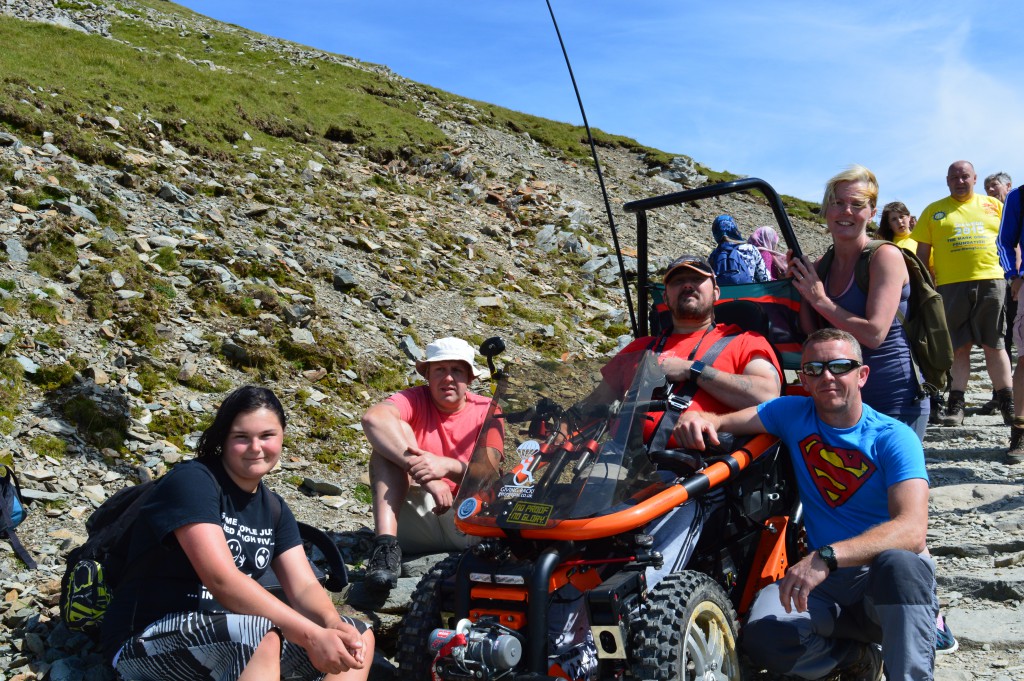 Goodnight all.