Another early start on Saturday for a trip to RAF Fairford for the Royal International Air Tattoo or RIAT. I had been offered complementary tickets to go to the air show by Care for Casualties, I had never been fortunate enough to go to the air show which is massive. Lots and lots of static aircraft and a really full day of flying in fact I don't think there was any point during the day that there was not something entertaining the crowds. I had asked my Dad to drive and spend the day at the air show, something which we had not done together for years. As a kid I used to go to the air day at Yeovilton as he worked there as an aircraft engineer servicing Hunter aircraft, I always remember the days when we would sit outside of the crew room on the grass and watch the air displays, it was therefore the perfect opportunity to spend the day with him just like old times. He arrived at half six in the morning from Bournemouth and helped get me in to the "Chucklebus" after checking the oil and water and making sure that we had everything we needed for the day. With me strapped in and everything good to go, we set off for Fairford.
Dad gave me a magazine to look at on the way, it had the Sea Vixen on the cover which was something else Dad had worked on when he was in the Navy, and inside stories were several stories which he knew I would be interested in. The Vixen, the BAC 1-11 which he used to work on at Bournemouth airport and a real surprise which to be honest was perfect timing. It was an article about the Blue Herons. Some may know who the Herons were but most people will probably not, to that end I will enlighten you. The Blue Herons were an aerobatic team that had been put together using four Hunter aircraft to essentially fill a gap, a gap that was simply that the Royal Navy did not have an aerobatic team. The Blue Herons were the only aerobatic team where military aircraft were flown by civilians. They first flew as an aerobatic team for Yeovilton air day, as this is where they were based, back in 1975 which was the year I was born. It was great to read the article and to see some of the pictures that they had used, pictures from their poster which I am positive I still have in a box. The magazine is the July/August edition of JETS. Pick one up and have a read.
Anyway, back to the day out. The traffic was so light on the way up it could have been the middle of the night but the same could not be said for the opposite side of the motorway. It seemed that every person and their dog were headed south for the holidays! We had left the bungalow with it hot enough even at seven in the morning to make you sweat and not a cloud in the sky but as we were getting closer to Fairford the clouds became more and more until when we arrived at the air base at around a quarter past nine in the morning, the cloud completely covered the sky. As it was this was not a bad thing as it kept the heat down but I was a little concerned at how this may affect the flying displays. I had already figured out that the cloud base would be too low for the Red Arrows to show their full display but we would see how the day developed. We parked up and headed in towards the many static aircraft for a look round.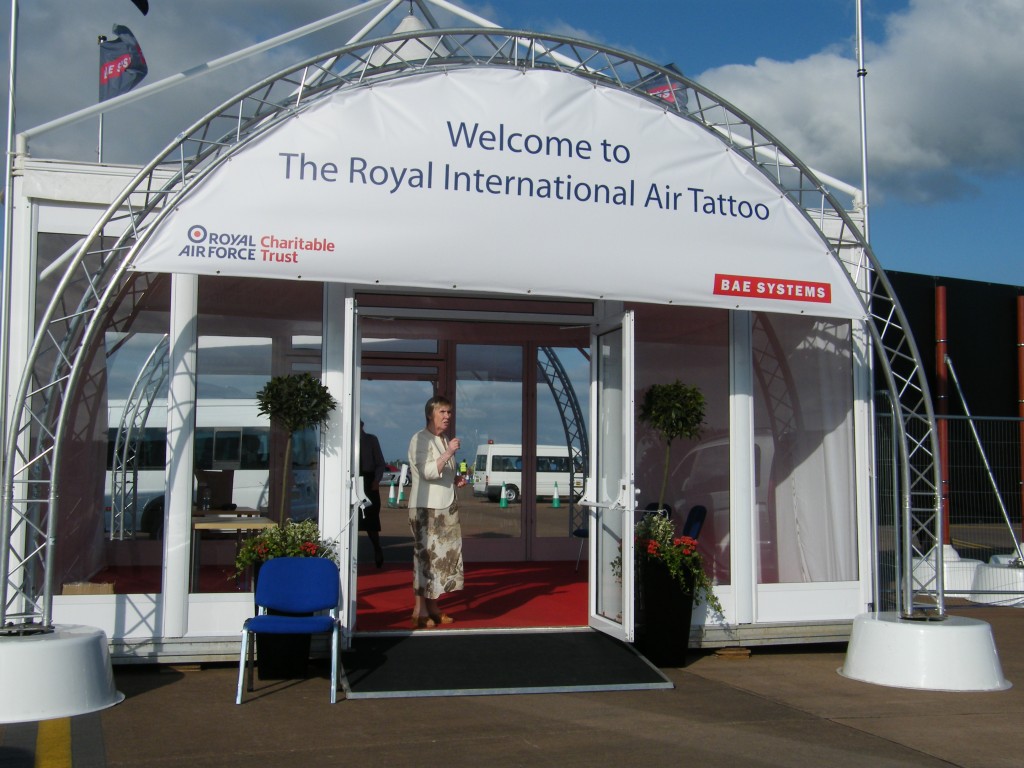 There were many different aircraft from a good selection of countries including the Dutch, the French, the Hungarians and the Royal Air Force of Oman.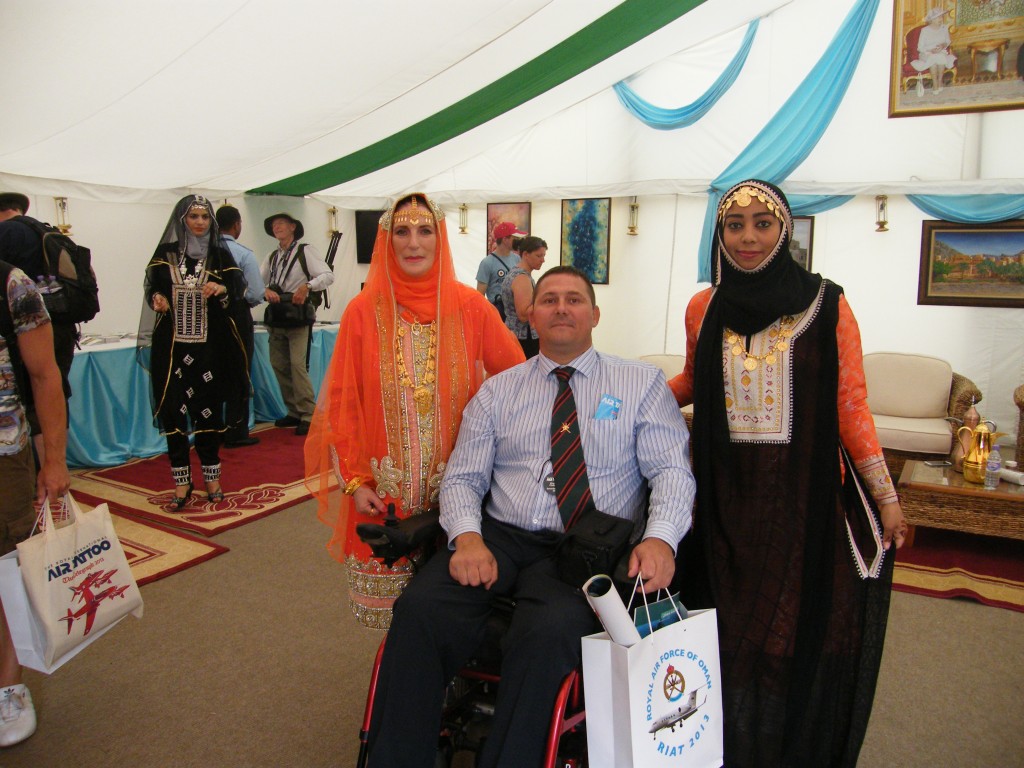 My Dad used to service the Bac 1-11 of the Royal flight and knew the lady on the left in the picture. Her name is Veronica and she now holds the rank of Squadron Leader. The young lady to my right in the picture is also in the Air Force but both of them were dressed in the traditional clothing which was nice to see. We spent a good while in the `tent` chatting with Veronica who last spoke with my Dad some twenty three years before but she had not forgotten who he was. It was great to hear them talking about old times and what she was doing now. I was not going to go in to the `tent` but Veronica had insisted and I am very glad that I did. After some time spent talking we said our goodbyes and headed off to see some more aircraft.
It was a little after eleven when we, just like eighty percent of the people at the air show stopped in their tracks as we all heard an aircraft power up to get her display under way. The ground shook as the four powerful engines thrust the big aircraft forward down the runway until she lifted in to a steep climb and then performed a hard left turn and I must admit, whilst being hugely impressed by the turn I said to my Dad that I thought the pilot had overcooked it a little and while the aircraft was more than capable of performing the turn, her ageing airframe may not like the stresses like she used to, never the less though the display was as good as ever and I got some more really good photographs, but what of? Let's see, almost every one stopped in their tracks meaning it could only be…..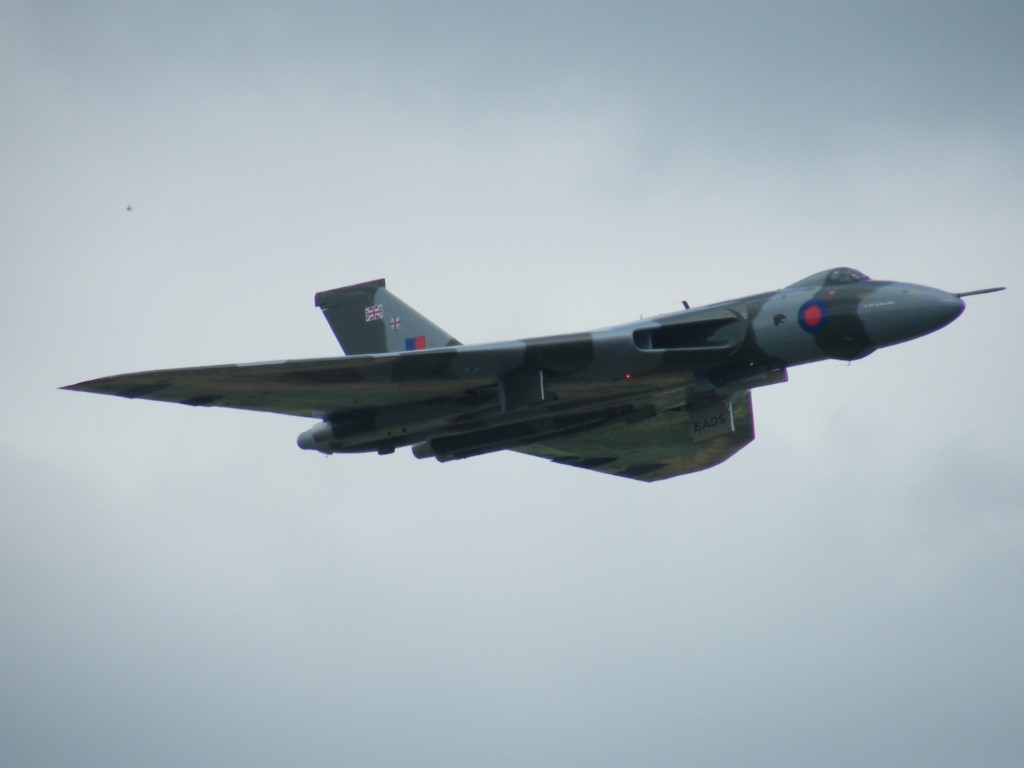 Dad and I decided that we would head to the hospitality chalet as it would be more than a little ignorant for us not to go, being as we had been invited, and more than that, it would be rude not to say thank you for the tickets. I had no real idea what to expect when we headed to the hospitality area, I certainly was not expecting what I was greeted with.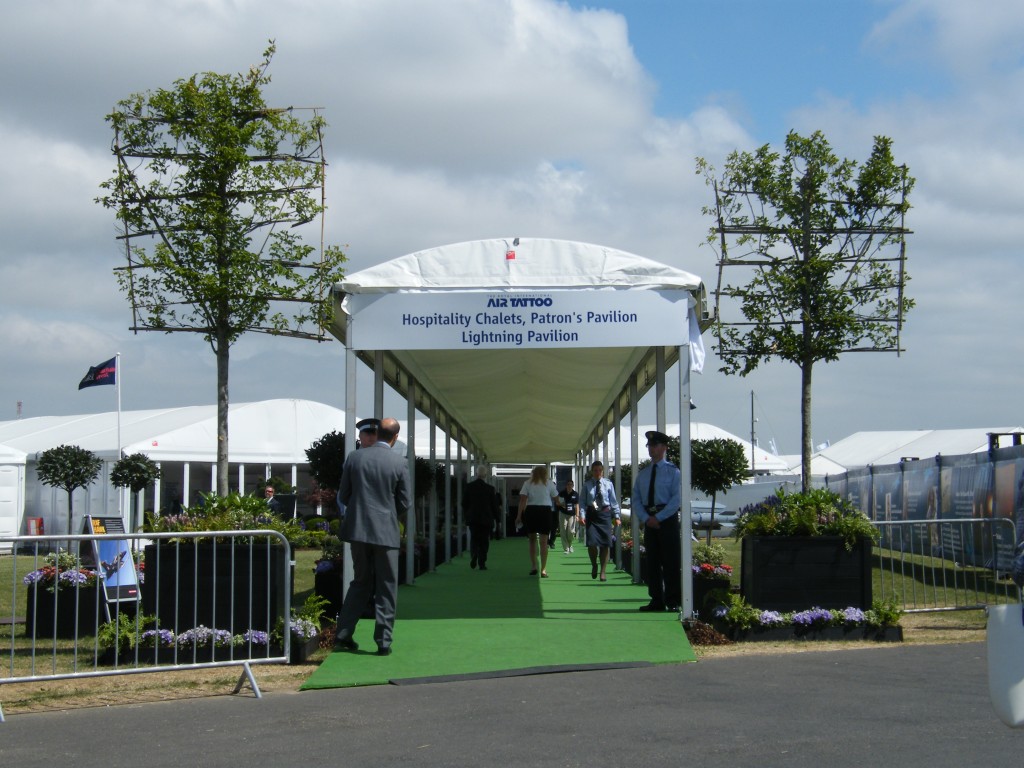 Wow, this is posh, should I be going in here? We went along the covered walkway and in to a large reception area, in front of us was a posh board with the names of many different companies and an arrow to show where they were located. We looked for the name of the company who had invited us, DynCorp, and headed off to our right in search of the chalet. There were many framed pictures on the walls with the artist in the immediate area if you wanted to buy one, but as I had not come to purchase any fine art for my humble abode we continued down the corridor. A gentleman approached us and asked if we were ok and happy where we were going. We told him that we were heading to DynoCorp and he told us to follow him. He was one of the people associated with DynCorp and escorted us to the chalet. Upon entry we were welcomed and asked if we would like a drink, we were informed that they would be serving lunch in a short while and that they would be delighted for us to eat. The room was nice and cool with an air conditioning unit monitoring the temperature, and waiters and waitresses serving hot or cold drinks. This was a different world to that which I had been used to an air show, and I rather liked it! Dad and I took our drinks outside where they had reserved a table for me which would allow me to sit and watch the displays giving room for my wheelchair, which was very thoughtful. I said to my Dad that I wish that we had come to the chalet sooner as we would have had an amazing view of the Vulcan but also, with hind sight, it was probably a better idea that we had not as we would have been quite close. But how close? Check this out!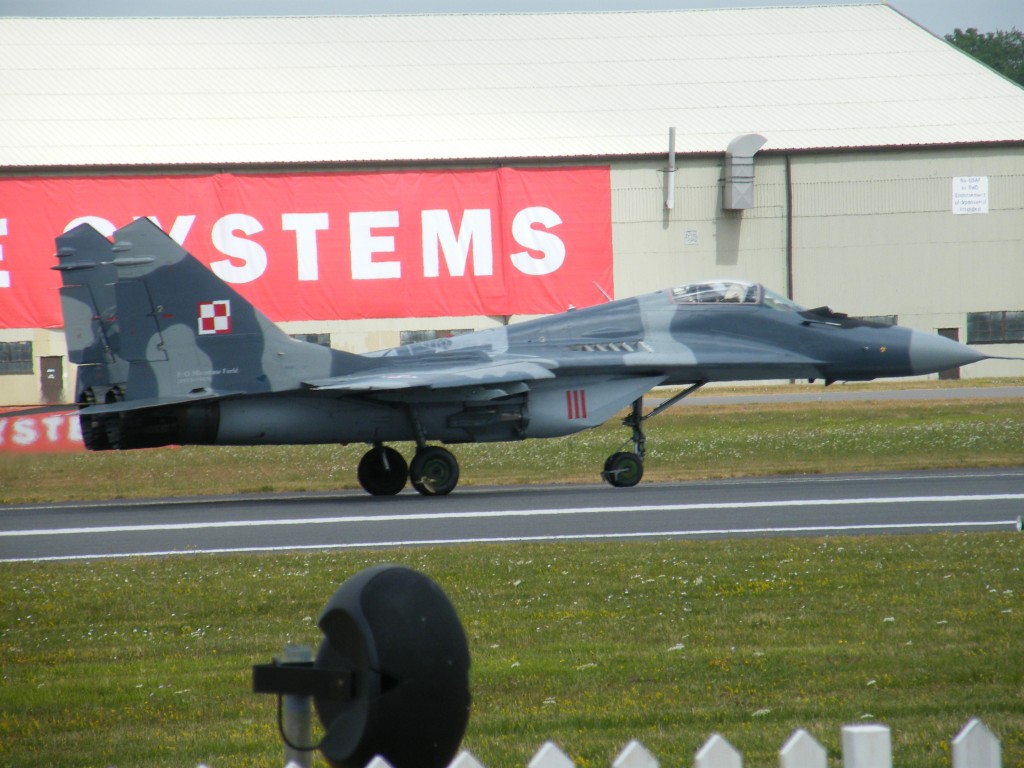 The white pointed top fencing was the edge of where we were sitting watching the displays, close enough? Now imagine the Vulcan thundering down this close in front of you and pulling up in to a steep climb, LOUD me thinks!
This did give us some amazing views of the display aircraft from the Mig 29 seen in the photograph above, to the older generations such as the beautiful Corsair, B-25 and B-17.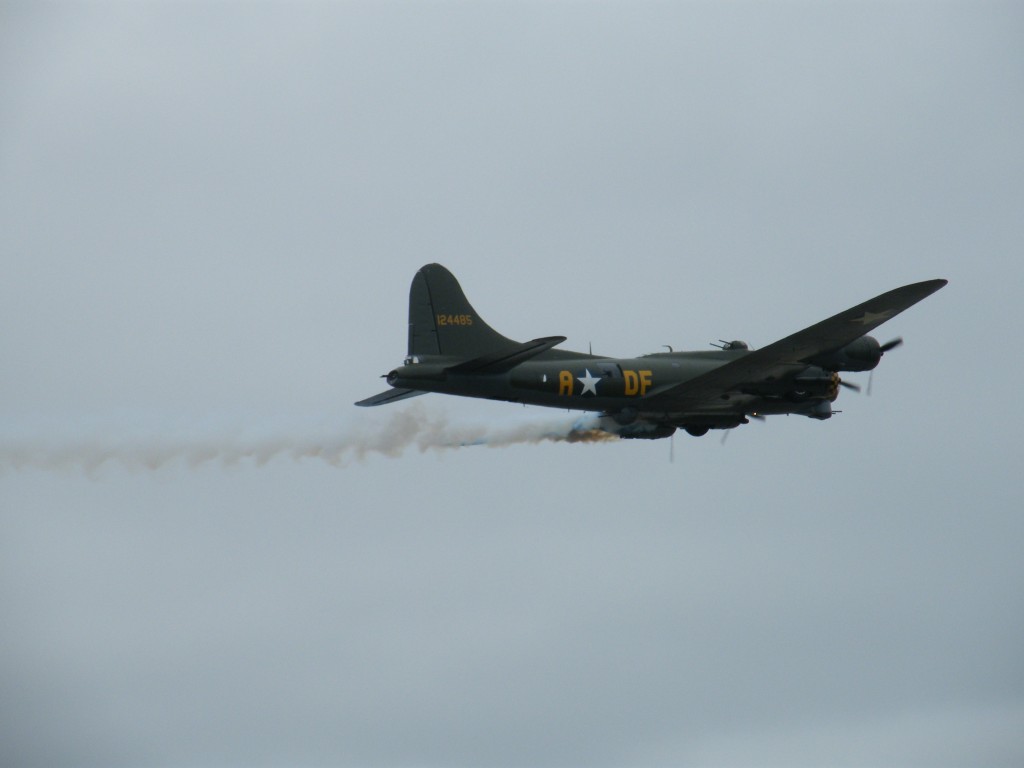 It was great to be able to have the aerobatic displays perform directly in front of you with no need to keep moving around people to be able to see.
And to be able to watch the formation take offs.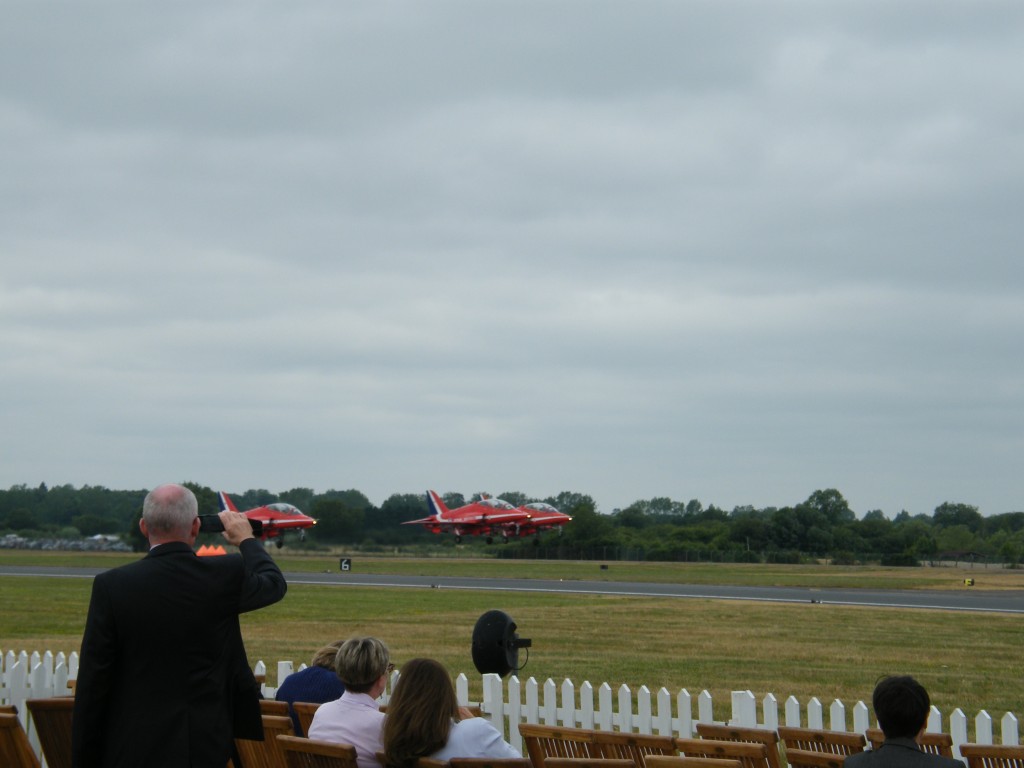 We sat at a table inside for some lunch, the DynCorp staff had offered us a table just inside the door meaning that there was plenty of room for my power chair. We were sat with some delightful people, a couple and their Son were the people who we were speaking to during lunch which was lovely, and somewhat entertaining. I am not going to go too much in to one part of the conversation but it involved their drive down, and a Police officer! After some amazing food, we left the table and headed back outside ready to watch the Red Arrows perform, they were unable to do the full display but the display that they put on was, as you would expect, simply breathtaking. A well as the display we were given a real treat.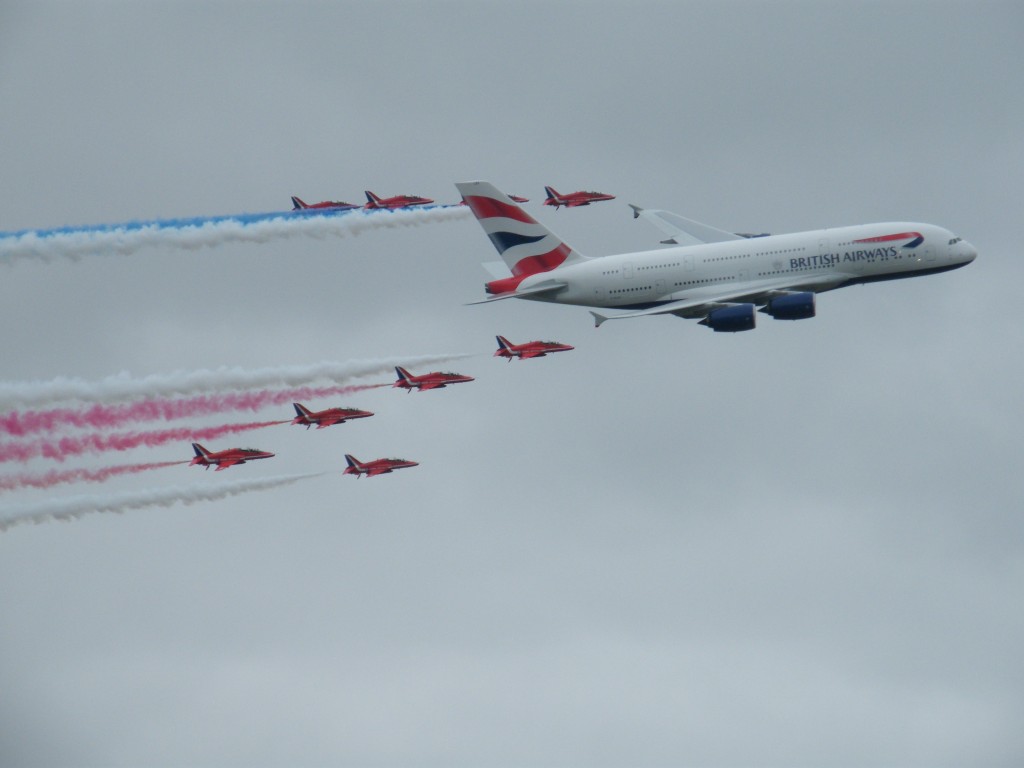 This photograph was just before the main display where they did several fly pasts with British Airways latest aircraft, a truly amazing thing to see.
After watching some more displays, Dad and I headed out to the static display aircraft once more. A really good selection of aircraft were present for people to see.
It was nice to see 617 Squadron had painted a tribute to the Airmen who flew the Lancaster bombers and carried out the raid on the Dam during WW2 and celebrating where they had come from.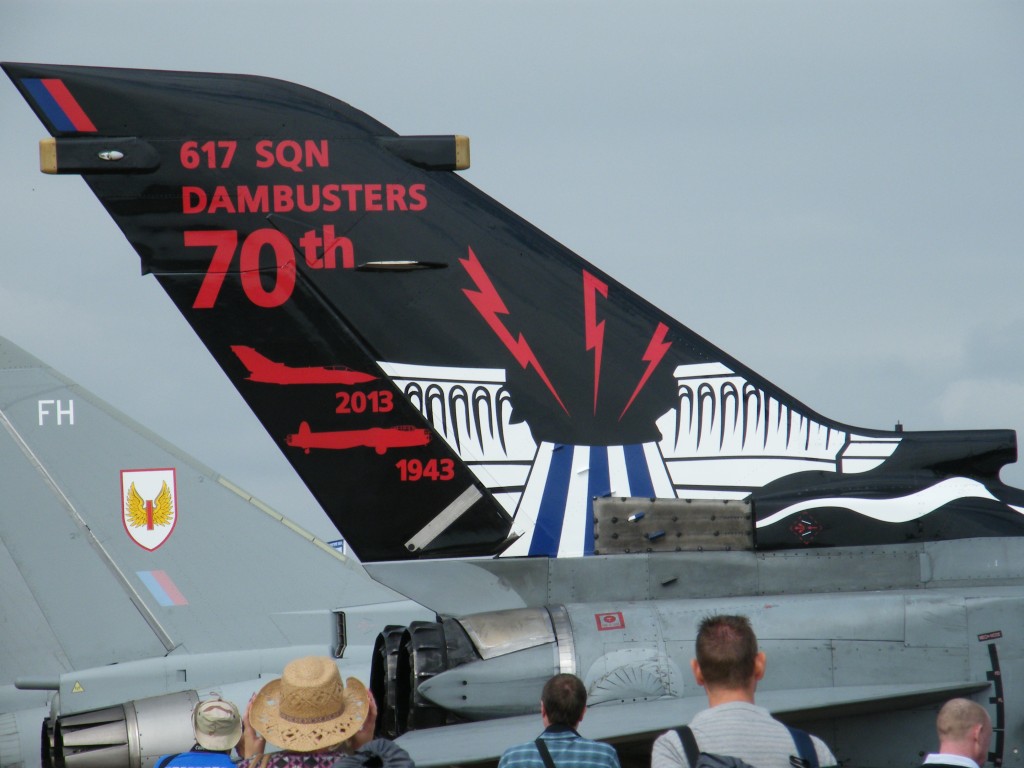 And a really rare treat for us all, a fly past with the very aircraft that made them famous.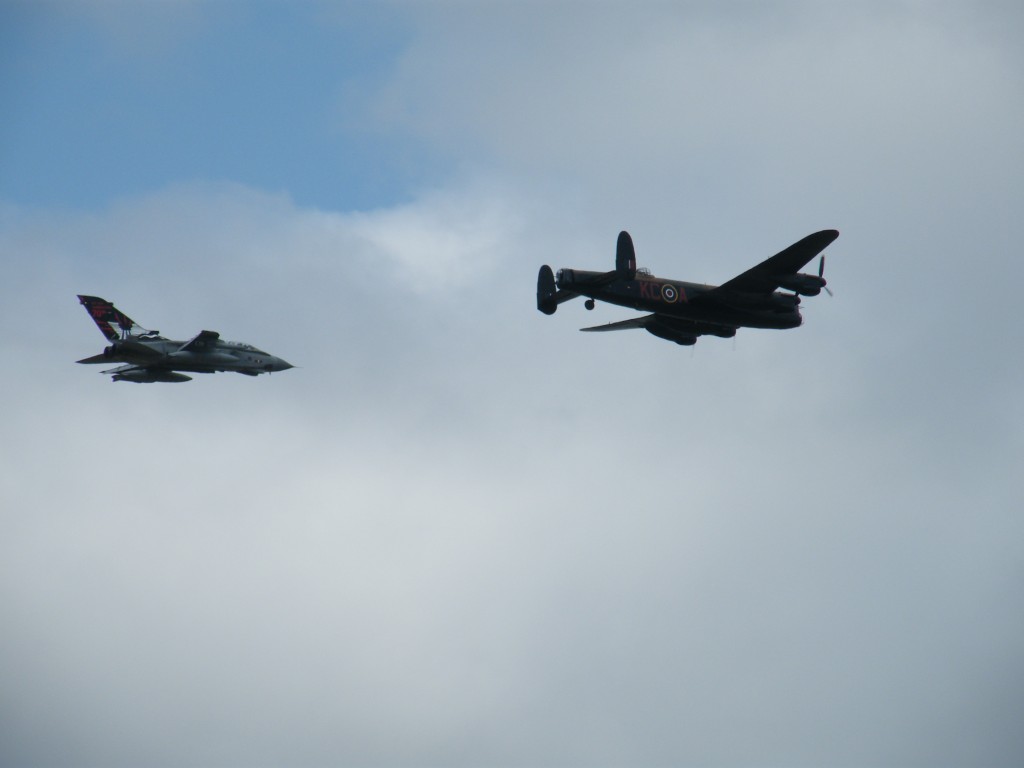 On our wonder around the static displays we came across something that would definitely mess your day up if you were on the receiving end!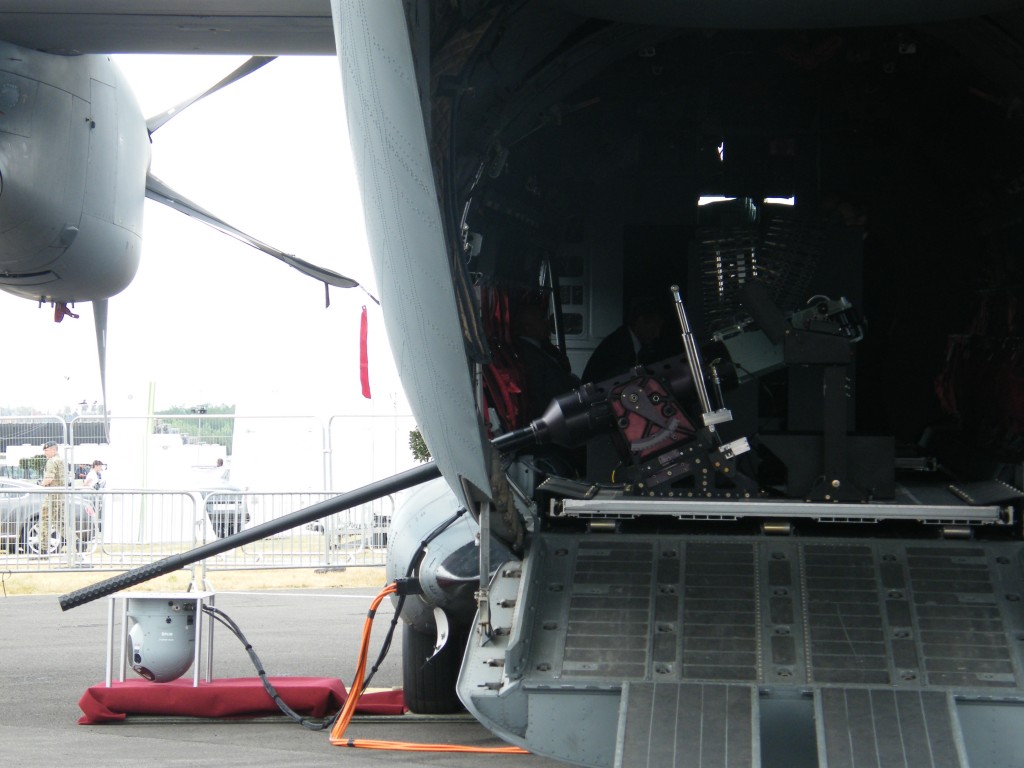 Having looked around the rest of the aircraft we headed back to DynoCorp, I wanted to thank them again for the hospitality. On the way in I noticed a Pilot who had his name patch and Vulcan display pilot embroidered on it. I stopped and spoke to him for a while and asked him if he had maybe over cooked the turn on take off. He told me that he had been told that he is not trying hard enough when he flies her and so he pushed her a little. He did say though that he does not like doing it as he does not want to put too much stress on the airframe. A really nice guy who was more than happy to to talk about the Vulcan and flying her. One thing he said made me chuckle a little. He said that they have two crews who fly her, and that they take it in turns. He said that he could not fly the Vulcan all the time as he had a day job, imagine your boss asking if you can work the weekend and being able to say; "Sorry Boss but I'm flying a Vulcan this weekend!", Brilliant.  As soon as we re entered the chalet we were offered a drink, and once we were outside we were approached by a different gentleman who worked for the company. We spoke about so many different things and were joined by another gentleman and a lady. I am going to apologise for not naming the people, it would not be fair as two gave me business cards with their names on and I can not recall the other names which is really bad as they spent so long talking with us. I wanted to know more about what the company did and so they spoke to me about it. It was quite interesting and enlightening on some of the areas, I have taken this as a direct quote from their web site, http://www.dyn-intl.com/, to show just one of the things that the company do;
"From daily aircraft maintenance, modification, and overhaul to flying missions and comprehensive airfield operations, we provide the services that ensure safety, reliability, and performance."
Have a look. The company representatives that were there on Saturday were fantastic. I could not have been made to feel more welcome. I was at no point smothered, made to feel anything but welcome and the way the staff were with both myself and my Dad made you feel almost like they were work colleagues. I simply can not thank DynCorp enough for donating hospitality tickets to Care for Casualties which enabled me to go to this fantastic air show, or to the staff who spent time talking to us and making us feel so welcome. The thing that I could not get over was that they were thanking ME for going!
We did not leave the hospitality chalet until it was about to close because we were having such a good time talking to the DynCorp staff that we all lost track of the time. The lovely lady who we had been talking to walked with us as we were leaving as she too was heading off, and so we said goodbye to her and made our way back to the "Chucklebus" having had an amazing day. If you have never been to RIAT then I can definitely recommend it to you, I believe next year it is Farnborough Air Show. Fairford and Farnborough alternate yearly and I know that Farnborough is very big also, although it is more base around civilian aircraft but still worth going to as the military stuff is still there. The traffic on the way back was equally as good as it had been on the way up which was nice, and slowly on the way hiome, the closer we got the cloud was less and less. I don't think I would have been as happy if it had of been el scorchio like it was at Yeovilton the previous week, as it was it was perfect while we were there.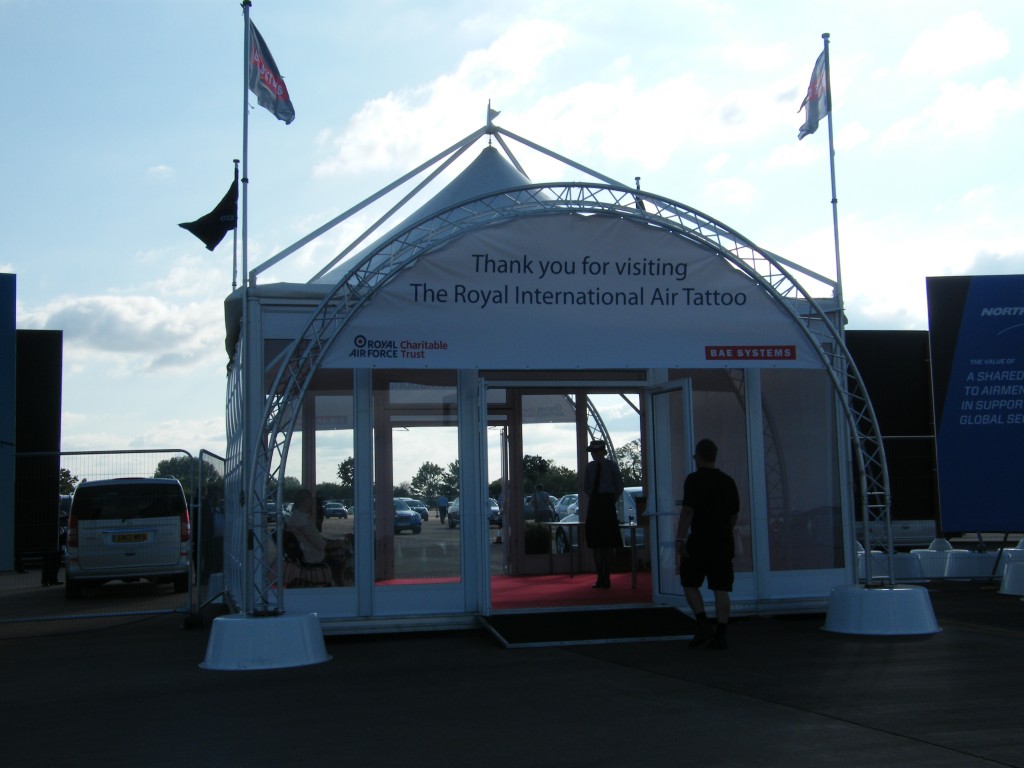 Thanks again to DynCorp for the tickets and Care for Casualties for selecting me to be lucky enough to go and of course for the extra ticket for my Dad to be able to take me.
So many fantastic aircraft flew on Saturday, but I will leave you with this little gem.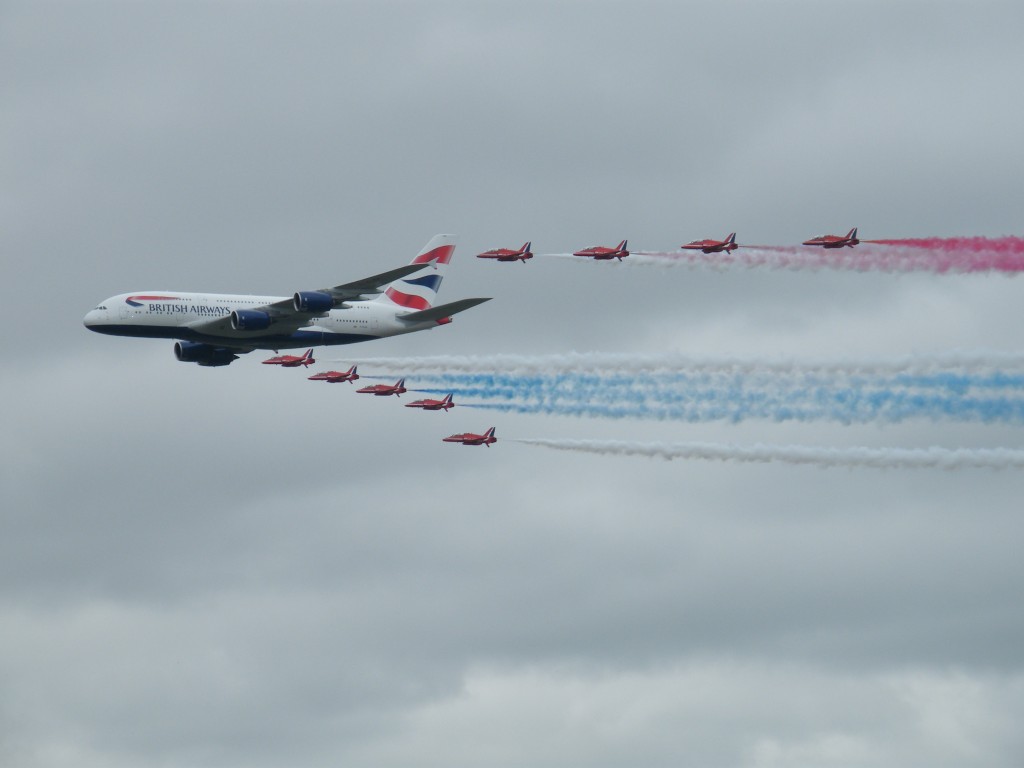 Until the next entry.
Good evening all.