June the 6th is the anniversary of the D Day landings, when allied forces undertook the largest invasion of all time with the purpose of taking the ground fight to the enemy and liberating Europe from German occupation. Every year, people make the journey to Normandy to pay their respects to the fallen or to simply visit the areas where so many brave souls played their part in the invasion. To do this, people will either book a tour which includes accommodation and travel or will book their travel and hotels months in advance.
This year was the 75th anniversary of said landings, it was to be a HUGE event and as such many people had booked their travel and hotels over a year in advance. It would be the final landmark number of years that any veterans of the landings would be well enough to attend as slowly they depart this life. This is a sad truth, and one that really stuck in my mind. It subconsciously must have played on my mind more than I had realised as one morning in the last week of February I woke with it firmly at the front of my mind. I got up, carried out my normal morning routine and went downstairs to the kitchen where my (long suffering some would say!), Wife was stood making me a cuppa.
"Moorrrrrrniiiing!" I said, (right away she knew I was about to say something stupid). "Sooooooooooo, I'm gonna go to Normandy for the 75th anniversary of D Day because it'll be the last time that Veterans will be there on a big anniversary." "Oh right" she said. "And I'm gonna do it in a World War two Jeep!" "Oh right" she said followed closely with "Best of luck with that!" and so the challenge was on!
I would need to be able to transport the Jeep, that was a given, so I got right on the tinterwebber and in no time I found a trailer for sale and arranged to go and view it. http://www.willysjeepuk.co.uk The Gentleman was a Jeep fanatic and dealer and was extremely helpful in talking me through what to look for in a Jeep to avoid being ripped off. He would be someone I would come to speak with many times with questions and advice. The trailer was perfect, it had been serviced and was absolutely spot on for towing a Jeep which is exactly what the Gentleman had been using it for . While I was there I saw that he had a 1947 trailer for sale which whist was a couple of years post war, would accompany my Jeep and complete the look, so I bought the both of them.
When I returned to my home I immediately got on to the tinterwebber again to find a company that could come to my house to fit a tow hitch, that's right, I had bought two trailers and had no way of bringing them home! With the tow hitch arranged I organised a time to collect the trailers from the Gentleman I had purchased them from and my friend Simon said that he would go with me, he could check the load straps and be there with me in case of any problems on the way home.
The search for a WW2 Jeep was a bit of a nightmare, I asked Simon if he would like to accompany me to see the Jeeps and go out for a drive in them to see what he thought. He too had been spoken to about things to check by the Gentleman that I had purchased the trailers from and so he was happy to help. To cut a long story short, after travelling some two thousand miles across England, I purchased one from Peterborough. It ticked the boxes of additional things that I was looking for and seemed to drive OK so the money was handed over and we bought the Jeep home.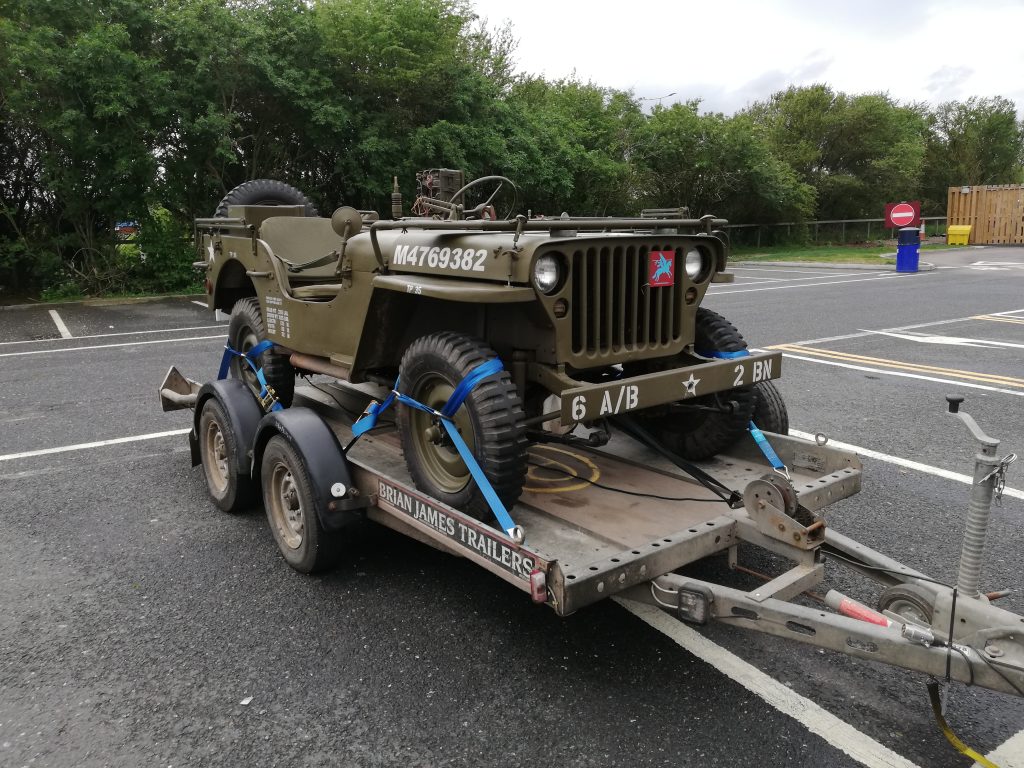 It is three weeks to our departure date and I finally have the Hotel and Ferry booked. I have two mates to go with me to help me and I have the Jeep. Now I have to be able to fit my mate and also just as importantly, my wheelchair in to and on to the Jeep so after looking through a book of Jeeps in WW2 and also a picture that my friend Darius had put on his social media, I discover something called a "Bustle Rack". I take to the tinterwebber once more and find a place in the Netherlands that manufacture them, https://staman.nl/ and so after contacting them and being told the delivery would be just a few days, I ordered one. Now there were just a few canvass bits I would like to have for the Jeep so I placed an order with www.canvasco.com and I am told that they will do their very best to get it made and sent to me but that they cannot make any promises. To be fair it is short notice and I would definitely not be the only Jeep owner asking for things in time for Normandy so I accepted that it may not be ready in time and would wait and see.
A couple of weeks later and I take the Jeep to an archaeological dig in a place called Aldbourne, where EASY COMPANY of the 101st Airborne were based. It was EASY COMPANY which was made famous by the screenplay series "Band of Brothers". Op Nightingale, https://www.facebook.com/operationnightingale/ were there with injured veterans uncovering the living quarters of the soldiers. They uncovered the sleeping quarters of the Platoon Sergeants, this is where the famous Dick Winters would have slept, remarkable to see.
Whilst there, a friend of mine took some of the Veterans around the village in the Jeep. The comments were that they got a real feel for how it may have been back in WW2 as the soldiers would drive around the village. Unfortunately after three or four journeys, a problem or two developed. There was a horrible 'clicking' noise on full lock from the drivers side front hub and the gears are missing, by that I mean, the gears were simply not there anymore. My friend managed to find 1st Gear and took the decision to put the Jeep back on the trailer and I took her home. It is five days until we depart for Normandy. I put out a desperate call for help amongst my mechanic friends via social media and both hope that I may get a reply but also try to figure out who would be able to book the Jeep in at such short notice.
Now I have to admit, there is a degree of panic about me now. Five days to go and I have a Jeep that effectively isn't going to allow me to keep my promise to myself that I will be at the 75th anniversary in a WW2 Jeep. What the hell am I going to do??? Now thankfully my local Ford Garage, Brakes Motor Company, https://www.brakesmotorcompany.co.uk/ , agree to squeeze the Jeep in as an emergency to have a look for me knowing that I am going to Normandy in four days. They drain and replace the engine and gear box oils for me as requested and they look over the Jeep to see if they can find out what the problem is. They call me later that day to tell me they have discovered a couple of problems and they are very clear with me that they don't want to chance taking it to bits to investigate too heavily in case they can't get the bits to fix it and then be able to put it back together with the fault in case something is broken. They have done what they can and have pointed out a couple of items that can be done at home in my garage which both saves me money and allows them to continue the works that they had kindly pushed right slightly to help me with my Jeep. They are very clear that if I was thinking of driving it to Normandy then they would advise against it but as it will be going on a trailer and the driving in Normandy will be limited, then they hope that it will be OK. That is one thing with Brakes Motor Company, they are honest and have never made promises to me they cannot keep. So having been wished "Good luck" after the mechanics loaded it on to my trailer and strapped it down for me, I transported it back to my house.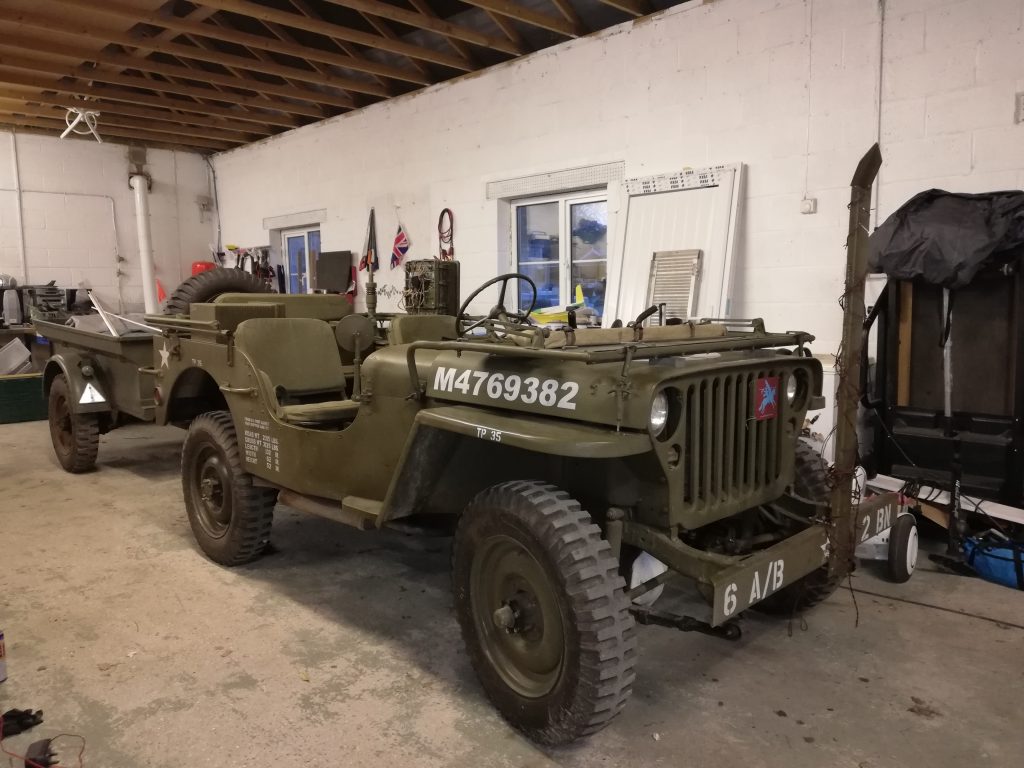 Four days to go and I have to put an order in to www.dallasautoparts.com for some spare parts. Some to be fitted before we leave for Normandy and some to take with us. The order went in very late in the day but they told me they would do their very best to try to get the parts to me. I have to be honest, I was not holding my hopes out but with just three days to go until we sail to Normandy the deliveries arrive not just from www.dallasautoparts.com but also www.canvasco.com which is amazing.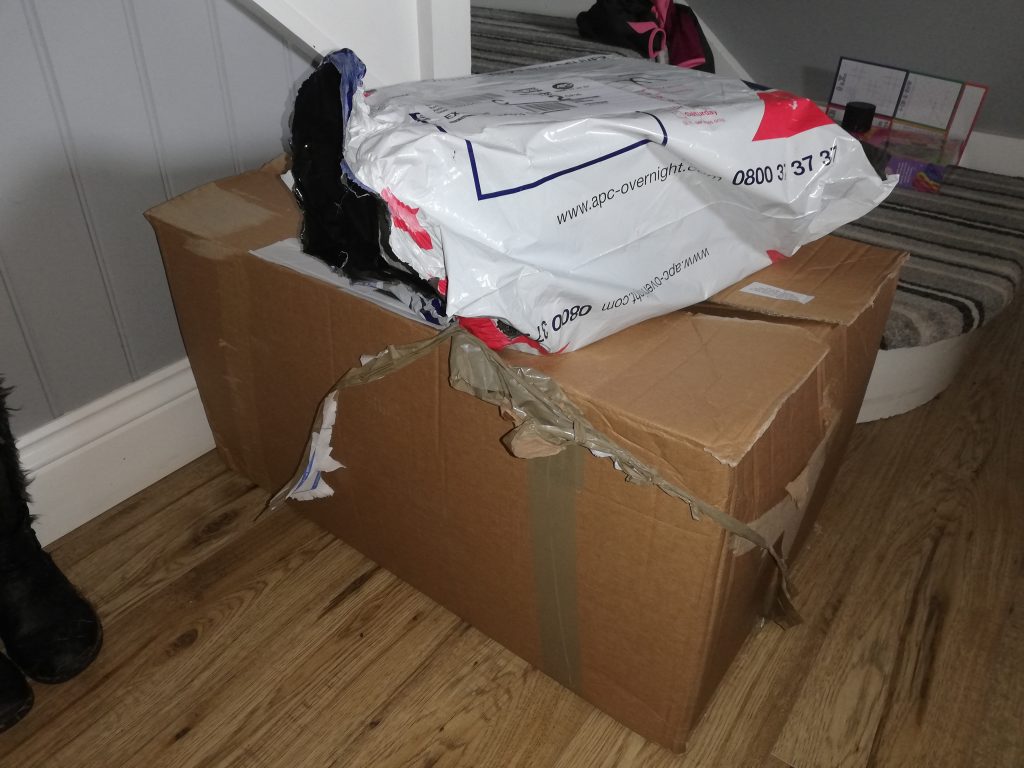 I was unable to do anything to the Jeep that evening so with just two days until we sail, it is time to keep calm and try to fix the couple of bits that can be done in my garage. The problem is, I am the only one that can try to do anything to the Jeep as my friends are working. I speak to my Brother who is a qualified mechanic although no longer works in the motor trade, but he is working away and also to another friend of mine, Richard, to see if he may be able to have a look at the Jeep for the second fix as I simply cannot do it in my wheelchair. He agreed to help me without hesitation which was such a help it is untrue. Two days to sailing and instead of the Jeep being on the trailer, it is like this…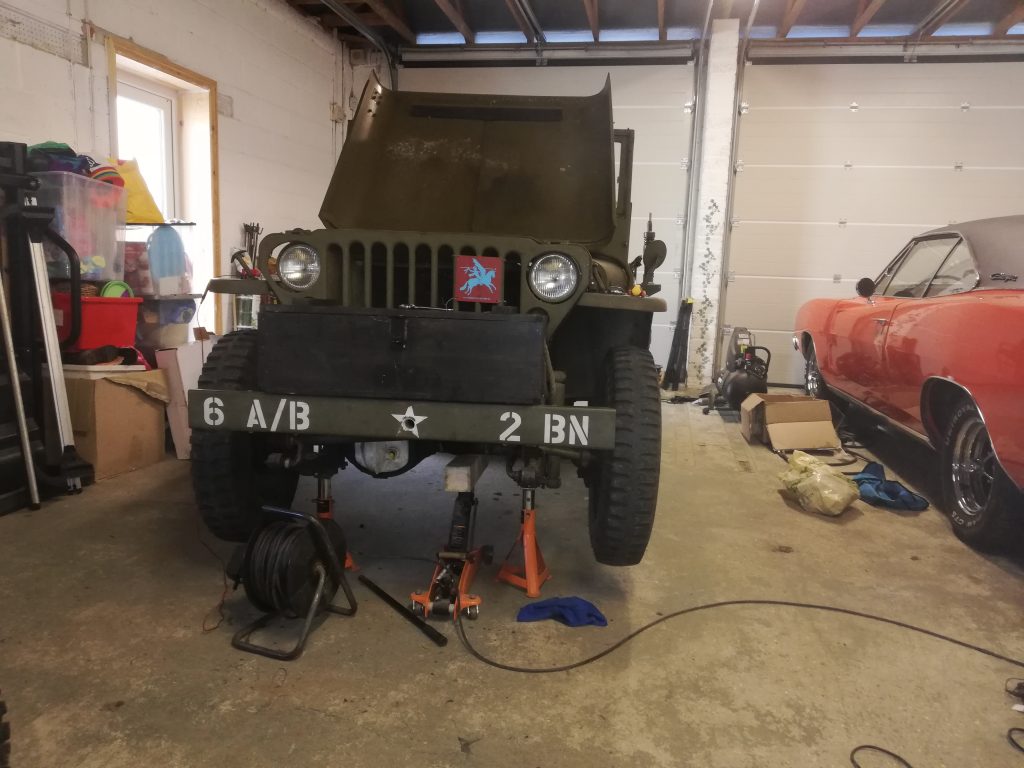 I manage to change the broken track rod end which ordinarily would take around 15 to 20 minutes however in my chair it took me a little over an hour and a half. VERY frustrating but weirdly a real sense of self achievement, despite MUCH swearing mainly down to frustration. Although it is nearly eight years since my collision left me paralysed there are still a lot of times that get the better of you as you remember how much easier jobs were before life in the chair. That was as far as I could go though on the fixing so I started to put the canvass, rope and various tools and spares on to the Jeep and in to the spares box which I had now fixed to the front.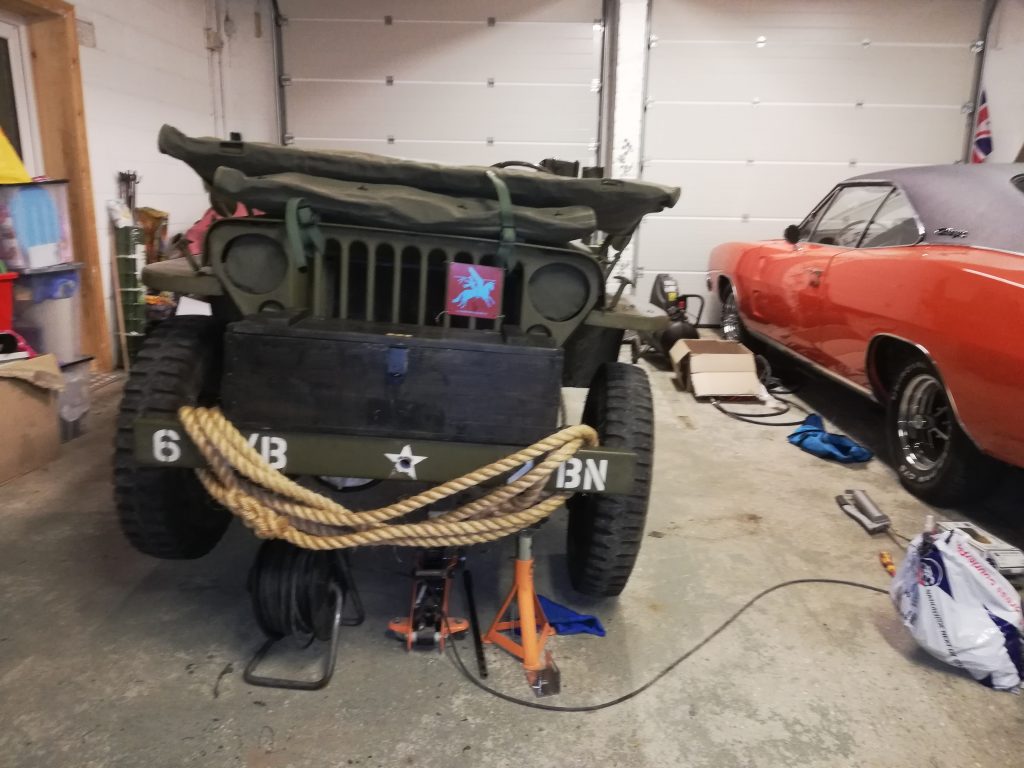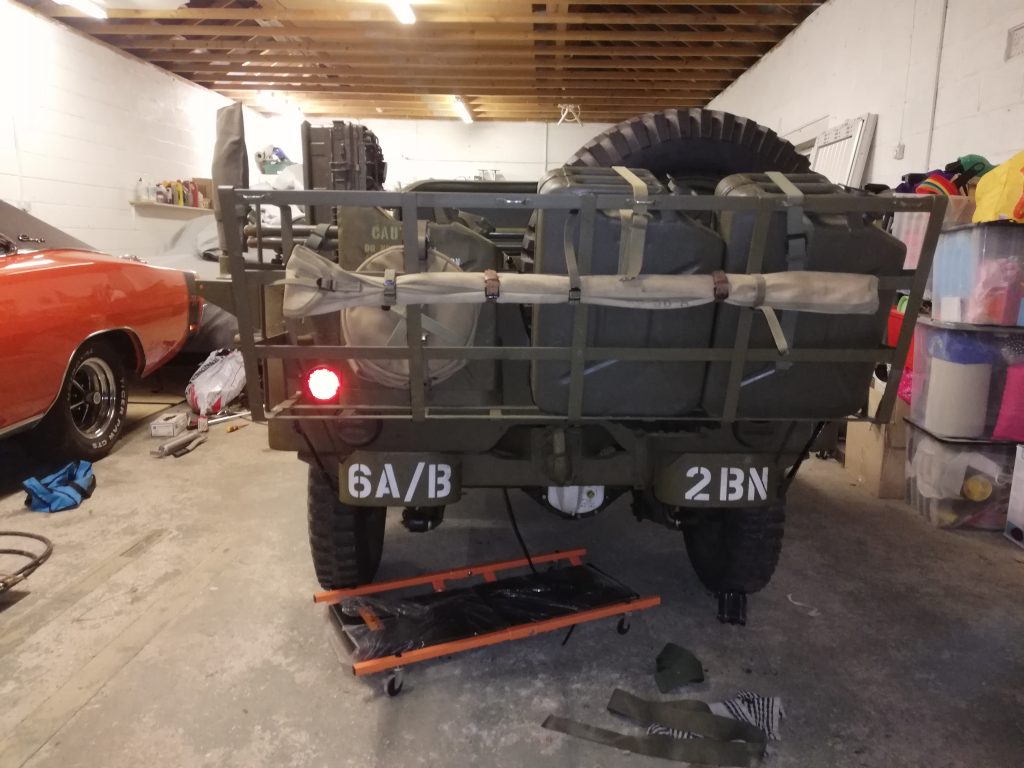 My friends Richard and Simon came round and helped to sort out another problem. There was still the trouble with the gears. Earlier I mentioned the Jeep enthusiast who I purchased the trailers from and had also been advising me about Jeeps. Well I thought I would email him to see if he could shed any light and he came up trumps. I had purchased spare parts for the clutch, and one of the things I had bought was a clutch cable. An inexpensive part but purchased as a precaution. As it was, the clutch cable had somehow "unwound" itself and as such it was not operating the clutch sufficiently. A few turns with a spanner and hey presto, we had the ability to select gears again. Now they were not perfect, but it was working. All that was left was to check we had everything we could think of that we would need and load it up. It was a little late at night to be doing that though so it would have to wait until the following day.
It is the 3rd of June. We sail tomorrow. Simon comes over after he finishes work and goes through everything with me to check that we are good to go. Just some last minute things to put on the morning which cannot go on until then. We load the Jeep on to the trailer, secure it with straps and lock up for the night. It has been a task but overall…we are as set as we can be. Tomorrow, we will drive to Portsmouth and sail for Normandy!