There are as you will know many charities that you can donate to and that ask for your help. It could be for helping animals or helping to find a cure for Cancer. It may be to help those in need in a foreign country or the blind here in the UK. Since World War 1 our armed forces have been in conflict all around the world and there have been charities to help those service personnel who find themselves in need. Iraq and Afghanistan saw more charities born and I am not ashamed to say that I have myself needed the help from those charities who were started specifically for military personnel, indeed I am proud to say that they have helped me. There is one charity in particular that I want to tell you about, and I will do so by "duplicating" part of their own website.
"Just Rifles began with solicitor Bryan Fugler reserving two seats in the box at Spurs for every home game, specifically for Riflemen and women. He did this in memory of family friend Lance Corporal Thomas Keogh who was shot and killed in action in Sangin, Afghanistan. Amongst those who joined Bryan in the box, a conversation about the everyday needs of ex-soldiers began. Bryan wanted to do more to help, and the seed of the Just Rifles idea was born."
Some of you may remember that I desperately wanted to get back out in to the outdoors when I was early on in my life as a paraplegic and I tested different mobility "scooters" to find one that would allow me to do just that. Of course I didn't just want to roll across a field, hell I was using my power chair on Salisbury Plain during stints with Operation Nightingale so it definitely needed to be capable of more than that. I wanted to go places where it would be a real test. I wanted my local forests, Snowdon, the Pen-y-Fan, the beach in fact anywhere that able bodied could go but if it wouldn't get me there then it would have got me closer than I would be able to in my wheelchairs that I had and wouldn't be through lack of trying. It was during the testing phase that I found the Overlander. A cross between a mobility scooter on enough steroids to kill a small country and a castrated Land Rover, THIS was the one, this was going to get me back out and I wanted it but it was going to be costly and I had to find ways to pay for it.
So 10 months after I left hospital I started raising funds to purchase one by falling out of a perfectly serviceable aeroplane, attached to someone who actually does it for fun, at thirteen and a half thousand feet. It seemed like a really good idea to raise money, after all, it needs to be something that people will think "what a knob I would never do that" and to be honest as I was already paralysed, what is the worst that could happen. If I was unfortunate enough to break a leg I would just stay off it for…oh hang on a minute! The skyfall was a success and raised a good amount to start off the saving plan.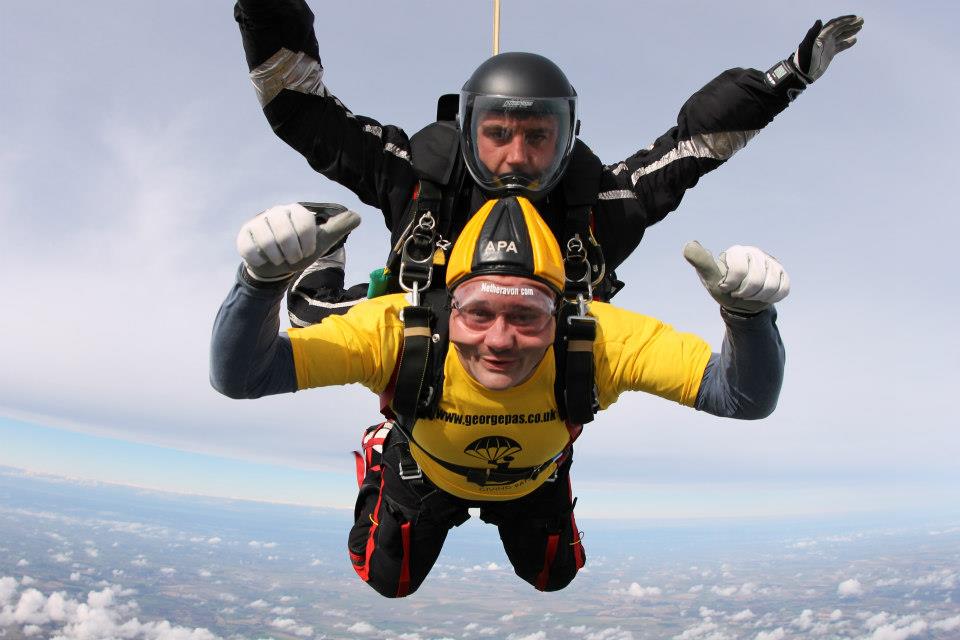 Several other things helped to add to the fund. A couple organised a 60's dance night with raffle which raised a good amount, the Rotary club in Ilminster raised some money for me and the Lions club of Ilminster also donated some money to add to the fund, a friend drunkenly agreed to a skydive and as he couldn't back out of it he also raised money for me amongst other donations and fundraising things. Despite trying really hard though I did fall short of the amount to purchase this amazing piece of equipment and so I admitted that I needed help to make up the short fall and wrote to several military charities to ask them if they may be able to help me. I am someone who doesn't EXPECT anything, and I certainly didn't expect what I did receive. Three charities made up the entire shortfall, one of which was….no prizes for guessing, JUST RIFLES. After a short wait, it arrived.
And before she got too big, I took my Daughter "Pickle" for a ride in the fields.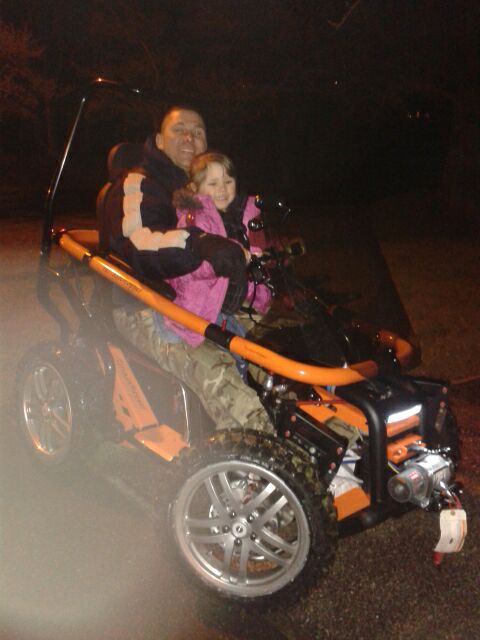 But this was only a small part of what I wanted to be doing, HUGE because I could get back out in the fields and forest with my family of course but I wanted to be out further, and so….
…but I wanted more, so some friends went with me to the Pen-y-Fan…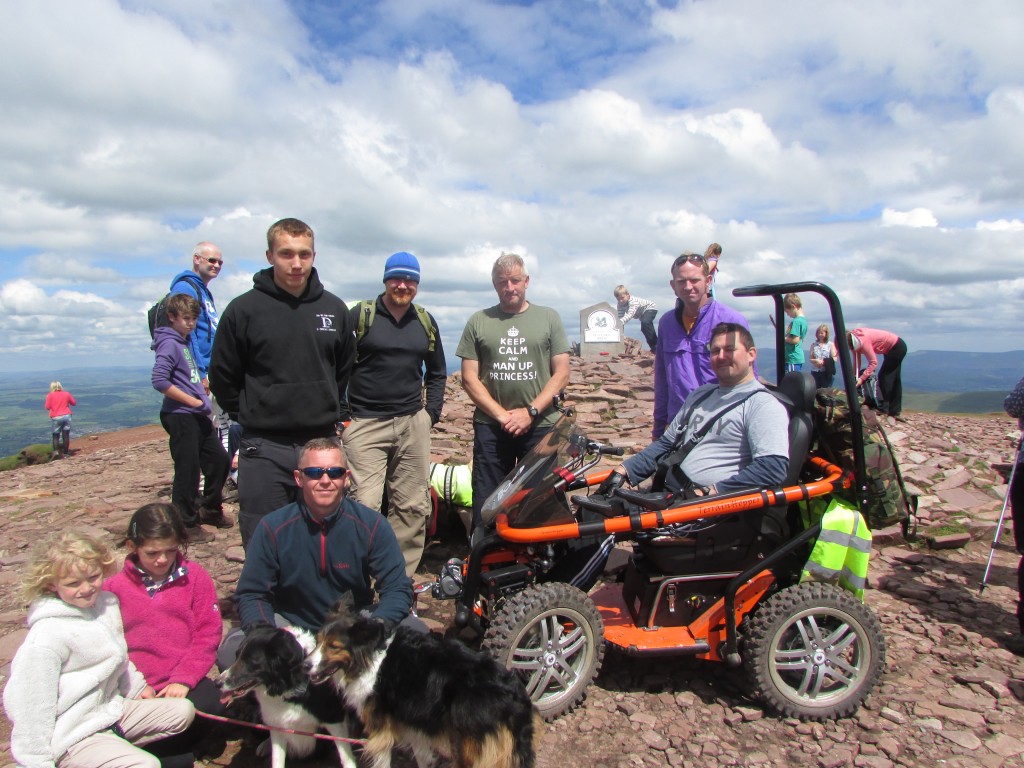 …but there is so much to see so we went to Snowdon…
…and so nearly got to the top. None of this would have been possible without the financial donation that I received and for that I am eternally grateful.
On Thursday (29th of October), "Me Val" and I travelled to London to attend the Just Rifles annual ball as guests. I was so pleased to have been invited and don't mind saying how taken aback I was when I saw the amount of people there. I met Bryan, the gentleman who started the charity and saw his Wife again whom I had met when we were invited to 10 Downing Street last Christmas time. I met many other people who wanted to talk to me which was nice, two people in particular spent quite a while talking to me about a project that they started which developed over a five year period involving many volunteers for the labour and which gave a finished product of a resort in the Algarve specifically for people with special needs and severe disabilities. It was amazing to hear how the project had run and to see pictures of the finished product. They donated a large amount holidays to Just Rifles for injured soldiers which was such a massive thing to do it was truly humbling.
It was a real shock to meet a guy who was in charge of the training team when I did my Combat Infantryman's Course in the Ukraine in 2001. I recognised him immediately and spent a while talking to him although he was very busy. Through the night there were opportunities to take part in auctions for many different things from racing experiences to works of art and signed pictures of stars. The bids that were going on the auction were incredible and too rich for me but it showed me that the people who had paid to come to the ball knew that the money would be helping wounded, injured and sick soldiers and veterans of the Rifles regiment, the largest regiment in the British Army, and they were only too happy to give money for the charity to do exactly that. It is because of the generosity of those who attend these balls and undertake challenges to fund raise that I was able to purchase the Overlander, the places that this has allowed me to go and visit, the views I have been able to see would not be possible in my wheelchairs and for that I thank each and every one who has donated.
The evening was simply amazing. Fantastic setting, wonderful food and brilliant people. A  "Thank you" just doesn't seem enough to Bryan and Carol not just for the invite but for the charity itself. If you have read to the end of this long entry then I thank you for your time, please visit the Just Rifles website by clicking the name and also have a look at the resort website that I spoke about, centrealgarve again by clicking the name.
Goodnight all.