Today I was one of a few military personnel both serving and ex who with Op Nightingale were privileged enough to have spent the day working with the Jon Egging Trust. I am going to steal some of the website text to let you know what it is all about, (I have been given permission by the way!). Thanks to Dr Emma Egging for allowing me to use her text.
The trust was set up in honour of Flt Lt Jon Egging, who tragically lost his life on the 20th August 2011 whilst completing an air display at the Bournemouth Air Festival; he was coming to the end of his first year with the world-famous Royal Air Force Red Arrows aerobatic team, flying in the Red 4 position.

Jon was passionate about inspiring young people through a love of flying and enthusiasm for teamwork. The Jon Egging Trust has been set up to realise his dream by Jon's wife Dr Emma Egging, his mother Dawn Egging, childhood friend James Godley and Red Arrow's pilot Ben Plank.

The Trust has developed an exciting and unique youth engagement programme – Blue Skies – which provides new opportunities to help disadvantaged young people achieve their full potential.

Following the huge success of our pilot scheme, in 2013 the Jon Egging Trust's Blue Skies programme is now reaching out to Lincolnshire, Norfolk and Dorset, providing nearly 50 young people with new opportunities to help them be the best they can be.
Today we worked with children who the trust are encouraging and giving opportunities to in order to help their development. There were some real characters there today, names will not be disclosed but one spikey haired young lad in particular did make me laugh on several occasions, he was a character with no mistake but very polite and keen to be a part of the archaeology. You could tell that all of the kids, in fact I am going to describe them as I found them to be and so they will from now not be referred to as kids but instead they will be referred to as young adults, were all extremely grateful for the opportunity that the Jon Egging Trust Blue Skies project was giving them. I took as many photographs as I could between logging the finds, being in the finds tent with my friend Cpl Paul Turner and the young adults who were washing the finds and placing them in to trays and the various media crews whom I seemed to attract.
Here is part of the press release from Wessex Archaeology telling of them teaming up with JET.
Teenagers dig deep on Salisbury Plain
to expand Blue Skies horizons

Wessex Archaeology, one of the largest heritage companies in the UK, are delighted to announce a partnership with the Jon Egging Trust, a charity set up in honour of Flt. Lt. Jon Egging ('Red 4'). Jon sadly lost his life whilst participating in an air display with the Red Arrows at the Bournemouth Air Festival in 2011.

The Jon Egging Trust are expanding their Blue Skies Programme through which selected young teenage students are 'provided with a unique opportunity to build confidence and self-esteem, foster ambition and achieve accredited training in work and life skills'.

Youngsters will also benefit from expertise provided by the Defence Infrastructure Organisation (DIO), whose innovative work with The Rifles in using archaeology to boost the recovery of soldiers injured in Afghanistan helped inspire the partnership.

Wessex Archaeology's involvement was initiated by Jon's cousin, Kirsten Dinwiddy who is one of the company's Osteoarchaeologists. With such an obvious link to Jon and following discussions with the Jon Egging Trust's founder Dr. Emma Egging, Kirsten was eager to connect the Blue Skies programme with the highly successful DIO and The Rifles' Operation Nightingale.

"Getting involved in Archaeology is exciting and rewarding but it is also pretty tough. It wakes up brains and bodies in a way that can be really good for you and can be great fun. We have seen the difference it can make to the health of returning soldiers. We hope the young people involved in this new programme will feel the same results and perhaps learn that asking questions, working with your team and finding things out for yourself can make the world a much more interesting place." Chris Brayne (Interim Chief Executive, Wessex Archaeology)
Here are some more photographs for you to see.
Unfortunately, all good things must come to an end and so the group were gathered together to have a debrief on what had gone on during the day, what they had found and to get some feedback from the young adults.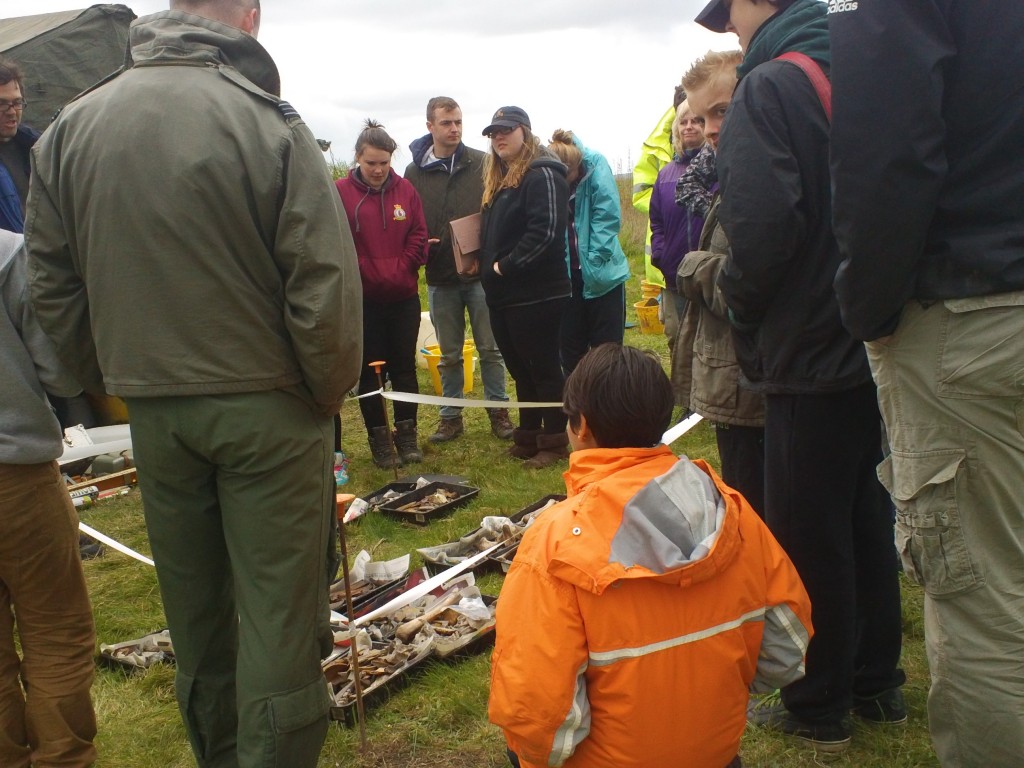 With the young adults debriefed and goodbyes said, all that was left was to collapse the site, which I supervised really well though I do say so myself!
It was great to see people who I have been on other digs with in the past, even Mr Winterton despite his very squaddie like behaviour while I was having some problems with one of my wheels on my manual chair, (you know exactly what I am talking about Steve!). Oh, my manual chair, why was in my manual chair? Well, we took my power chair in the trailer and had it charging all the way to the Plain. Paul got it out of the trailer and I got in to it. It had a new tyre Yesterday (Thursday) because the brand new tyre had come off of the rim. So this was new tyre number two, within an hour and a half of being in the chair on the grass, the tyre came off of the rim again. I unfortunately now have no faith in the tyres for this chair and may have to have a rethink of having solid tyres. Fortunately I decided to take the manual chair and the off road pack that I bought which as it turns out was a lucky move or my day would have ended very early.
Today I met a double amputee who also had a TiLite chair with the same off road pack as I. I spent a long time talking to him about how he does things as he gets out of his chair, moves himself around and then gets back in to his chair. Admittedly he has no legs, but I discussed with him at length his techniques for getting in and out. I explained problems I had and he said the same thing as I have been thinking, it is harder with legs that don't work because they are a dead weight, more of a hindrance unless you can utilise your spasms, but to do this you need to know how and be able to cause them to spasm on demand. I got a great deal from talking to him today, and that is something which Op Nightingale can bring. It gives injured personnel a chance to talk to each other, some may not wish to speak at first but generally people will talk and share experiences. I want to thank the guy publicly on my Blog for the talk today. I have thanked him personally just before he departed the site but I want you, the reader to understand how Op Nightingale has helped me in this instance as I have met someone who I have been able to converse with about similarities and differences in our lesser abilities. I hope that this will highlight to those who are unaware of Op Nightingale, of just how important it is.
I met a number of media personnel today and observed whilst the young adults were interviewed, a couple of the interviews I was fortunate to hear on the way home in the car. I met the young adults who are benefiting from JET who made me smile with their appreciation and enthusiasm and of course I met Dr Emma Egging who is a lovely lady who is doing wonders with and for the young adults. Please visit her website, the website of the Jon Eggin Trust (JET) at http://joneggingtrust.com/  Read about what they are doing and how this lady and the team and friends have been raising money for the trust. If you are able, please donate, I can tell you first hand and I have no doubts in my mind that it would be backed by all of the Op Nightingale guys, that the work JET are doing is fantastic. If you could have witnessed the young adults today, then you would also appreciate as I have just what JET are doing.
I had a really good day today, despite the big fella upstairs throwing another funny at me in the shape of ANOTHER BLOODY FLAT TYRE, which I did laugh about. That is pretty much what I do with all shite news nowadays, just as well laugh because it 'aint gonna go away! I hope that you have had a good day today and that your weekend goes smoothly. I am hoping for some better weather to crack on with the `Picklemoble` but we shall have to wait and see. Unfortunately I have not heared back from the letter I wrote with regards my next challenge and fundraiser so I may have to go to plan B. I don't want to waste too much time waiting as I want to have the maximum possible time to raise the money, anyway, that is for another time, for now though.
Goodnight all.