Wednesday, my penultimate day. Time is running out quicker than ever for me to learn the things I have wanted to learn during my stay here, but when I look at how much I have ticked off the list I am really proud of not just myself, but my physio Jo and my Sports Therapists Kirsty and Georgie. When I arrived I had taught myself the things that I had needed to be able to do, the things I had come across in everyday life. I could get from my bed to the chair, chair to the car, car to the chair and chair to bed. I could swap from chair to chair and I could balance on the main wheels. I could go down curbs backwards and had even taught myself to go down steps. But there was so much more that I wanted to be able to do and so today I thought about the things that Jo had taught me.
Whilst the way I had taught myself to transfer in to and out of my manual chair worked, it could not have been more dangerous for my skin, this has been sorted and I can now transfer properly without going from my chair via the wheel to the bed or car etc. I can now use the toilet by sitting on it in the conventional way as opposed to using my shower chair; I wonder if it may actually seem a little weird using the shower chair now. I can get in to and out of a regular bath, I am not sure if I would do it on my own yet for a while but I know that I have done it and as such, means that I am a little more flexible if we were to go away. I can complete split level transfers, not really big ones but I know how to do it and to that end I can practice at home. I can lower myself under control from my chair to the floor as long as I have someone or something behind me to prevent me from falling backwards. Again though, I can practice this at home. Today I was doing more floor to chair work. I have the technique in my head now so it is a case of repeatedly having to practice. I can almost get on to the chair without the cushion on it which is ok if there is a park bench or something that I would be stable and safe whilst sitting on it to replace the cushion and then get back in to the chair. Jo has also assessed my wheelchair and after speaking with Andy the wheelchair wizard, they have correctly set up my chair making it easier for me to use, has calmed my spasms down when I am in the chair and has improved what I am getting out of the chair for the effort I am putting in. Also she has shown me how simply laying on my front can stretch the spasms out and also we have discovered a `coping mechanism` for the spasms which seems to work reasonably well. And other bits and bobs besides, a huge thank you to her for all of that.
Kirsty has taught me to push along on the main wheels of the wheelchair which is handy for rough ground, gravel or if you want to cut across a grass verge for instance as well as other uses. She has taught me to go up curbs in the wheelchair so as not to have to go to find a dropped curb which inevitably someone will have parked over anyway. She has shown me another way to get down steps which is slightly more controlled than my way but my way is acceptable, I just feel a little safer with both hands on the hand rail rather than one. She has shown me how to go up steps in the wheelchair. I have to be honest here and say that there is no way I will have sussed that before I leave because firstly we have no more advanced wheelchair skills lessons and secondly I can't reach over my belly to the wheel in order to do it so that will have to be saved for another time! She has enabled me to practice rolling down slopes on my main wheels, and to practice all of the things she has taught me without the worry of falling as she will stop that from happening. She has also arranged sports sessions with and sometimes without Georgie such as table tennis, basketball, hockey and "crickers". All of these sports mixed with the fitness sessions have helped me to lose weight while I have been here and that is such a great feeling for me who has been trying to lose weight for a long time, so a huge thank you to her for that.
Kirsty and Georgie have taken me swimming in a big public pool. They have supervised and offered advice while transferring in to a hoist chair and then how to get out of the chair when I am in the pool. Georgie has then been in the pool to help while I have been swimming and has offered advice on how to swim on my back and my front, encouraging me to try different ways, even though I still swim on my back in a kind of butterfly stroke she has still stuck with me and helped me to try those other ways. She has also come to my rescue on the couple of occasions that the spasms have caught me by surprise and although I was not going to sink, in my head I did not know this and so a wave of uncertainty and to a degree worry falls over you.  I now know that I can go for a swim with my Wife and that we can actually swim together instead of her having to watch me. And not forgetting of course Kirsty. Having to help me when the whole changing thing has not gone well. None of the things I have learnt with regards the wheelchair skills or the swimming would have been possible without them so another thank you goes their way.
So you see, this is what I have learnt, practiced and/or achieved in four weeks, four quite full on weeks. I have put out of my head what might have been had I have come here first but then it may be that it would have been no different after my surgery. The fact is that I didn't and I can do nothing about it to change that, what I have been able to do is to make every second possible here count and work hard. Work hard to learn and to practice even if some of the recent stuff has almost reduced me to tears with the pain from my leg. I have had to suck it up and crack on to get the most benefit from the sessions, then rest afterwards. Tomorrow I have another weights session, followed by another fitness session and then my final physio session with Jo, the final physio session will be on Friday morning just prior to my departure with a different physio.
Today there was a cake competition, the various departments and wards made a cake and took it to one of the wards where they would be judged. The winner would be announced and then there would be a cake sale to raise money for a trip to a third world country by some of the physiotherapists to teach and help for a brief period. The cake by the physio's was a little crazy. I have to be honest, it was not the prettiest of the cakes there but it should have got points for entertainment value alone. I followed them up to the ward trying to push trolley upon which the cake was sat, through the corridors. They would have to stop and then guide round wheelchairs and people and then there were the doors and all of the patients on the ward itself. I personally found it very amusing which is why I followed them. They did really well to get to the ward with the cake in one piece to be honest. With the cake delivered we all headed back to the physio department to start my session which I have already written about. They were calling for George's and three other names to be judges but I did not make it there as I was trying my hardest with the floor transfers. I got to the point in the end where I could no longer get up off of the floor and so with the last few inches of lift being helped by the physio's and me back on my chair, we called it a day. I physically could not do any more and so with Jo and I both very happy with how my session had gone, we went to find out the results. I don't know who won but there were some very well iced cakes that had been entered, as you have probably guessed, the physio department did not win but they certainly had a great laugh just getting the cake to the ward.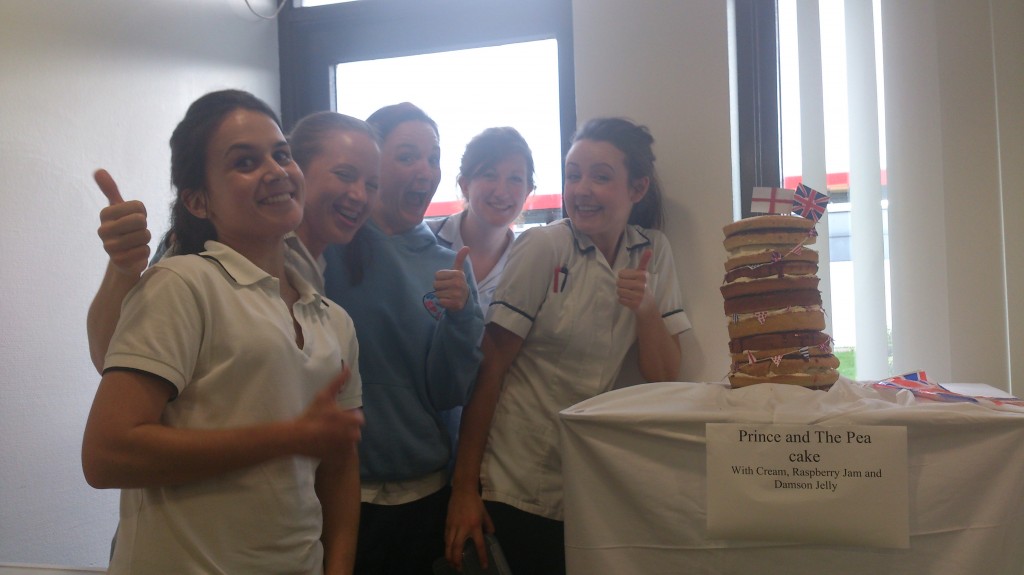 Andrea came over for the last time tonight, it is sports night tomorrow and I really want to do it so she came over tonight and we played Rummicub. 3 games…1st game to Andrea….2nd game to Andrea…3rd and final game….TO ME!!! I'm going to miss our games in the evenings and it has been nice to spend time with Andrea and Lara. I have seen more of Andrea obviously, she's my Sister, and as we live so far apart I think I can safely say I have seen more of her in a short space of time in the past four weeks than probably …ever actually. We have had a proper good chuckle to be fair and so a big thank you to them for taking the time to pop over after work on their way home. There was no way I wanted my Wife coming up every weekend, it is a long way for her to come and with Andrea and Lara visiting there has been no need to visit, phone calls have been good enough.
Goodnight all.