The Pen-y-fan was a huge success for me as I now know that the Overlander is capable of some pretty serious stuff. There is no way that we put it through anything that was close to it's maximum ability which is great to know but has also set my mind in motion of wondering exactly how far you can push it. As I said on my last Blog entry, we are now planning our Three Peaks Challenge which I want to try to film. I want to try to get on camera how as a paraplegic, I cope with the travelling. How different it is now that I can't just drop off to sleep in a vehicle as an able bodied person would. What I have to do to enable me to undertake such an `adventure`. I think that some people may be interested or curious to know as most people, (and this applied to me until I learned from experience), do not understand just how different it is for myself. I am singling myself as no two spinal injuries are the same. Although I may have the same injury as someone else, we may have different abilities or sensations which is difficult enough for us to take on board let alone an able bodied person. It would also be an excellent way to show the capabilities of the Overlander and demonstrate the freedom that the equipment gives. We do not of course know if the challenge is even possible which makes it all the more exciting.
I received almost 40 more `likes` on my "George Pas Blog" page on FaceBook since my accomplishment which is amazing and the number of people who have gone to read the posts that I have put on the page has been a real eye opener for me which I am so pleased about. I have received some messages via my website also, one of which was very humbling and at the same time showed me that what I have been trying to do since I was convinced to start the web page and my Blog, has actually been accomplished on more than one occasion. I am not going to publish the e mail and although I have e mailed the person back I want to say "Thank you" to him on this post. He will know who he is, and the "Thanks" is for the fact that although he would not have known it, his `letter` was another confirmation that my desire to show others that although you may not be as able as you once were, you are (to a degree depending on the seriousness of your disability) limited only by how much you allow yourself to be limited.
This week I have been e mailing various magazines and people about my accomplishing the Pen-y-fan and my desire to take on the Three Peaks Challenge to find if there is any interest, and people to try to make it happen including sponsorship, also I have spent time with my Son. The Saturday and Sunday of last week, (before the Pen-y-fan excursion) we had really good time building things. For many years we have had a large box of Knex that I bought for my eldest Son when he was around two years old. It has been messed with by the kids over the eighteen years that we have had it but I have never actually sat down and played it with them, that changed this week though and I may have got a little carried away. We started off by looking through the book to see what we should build. My Son told me that he would do what he could and that he would help by finding the pieces needed to construct the item that we would decide on together to build. So the first thing that we went for was a simple dragster, not too taxing but a good start but most importantly, the first toy that my Son wanted us to build. We were chuffed with how it turned out.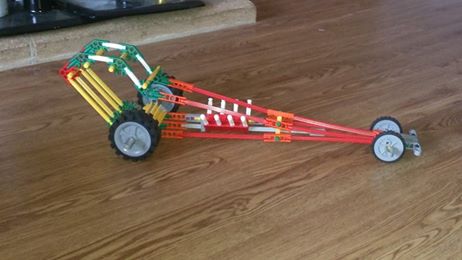 Happy with our relatively simple construction my Son looked through the book and chose our next build. A little more complicated but we went for it anyway. He had chosen a tow truck to rescue his dragster if it were to break down.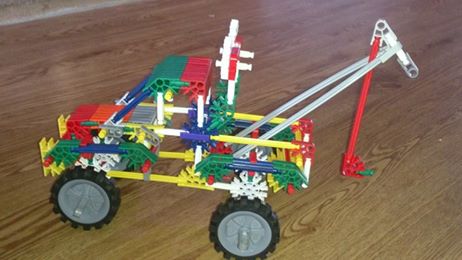 My Son put the tyres on to the wheels and then the wheels on to the axles. He then put the pieces on the end of the axles to hold the wheels on, a real help which finished off the build and allowed him to play with the two that we had built but also gave him something to be really pleased about. After a short while he wanted to build something else, this time I got the impression that it was a bit more challenging as he said; "Daddy, have we got enough to make this?" I had been sitting on a padded mat on the floor for an hour and a half or so by this point. My legs were really painful but my Son helped me by straightening them out for me and putting a cushion under my butt to offer some more padding. Having had my legs stretched out for ten minutes or so, I crossed them again and asked my Son to show me which model we were building next. He did not show me right away but said that he would help look for the bits and would help me build it which made me think that it was going to be a bit more of a challenge. I looked at the picture and looked at my Son who simply grinned and said; "So what do you want first Daddy?" After a couple more hours later and the build was finished…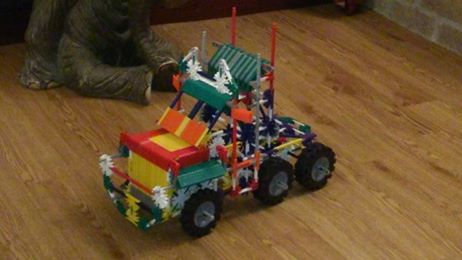 ….or so I thought. "Daddy, could we build a trailer for it please?"
I simply could not stay on the floor any longer and spent the next 30 minutes getting from the floor to the sofa and then to my wheelchair. It was time for my Son to go to bed but while he was sleeping I simply had to build him something else that he had been looking at, a surprise for him for the morning when he awoke.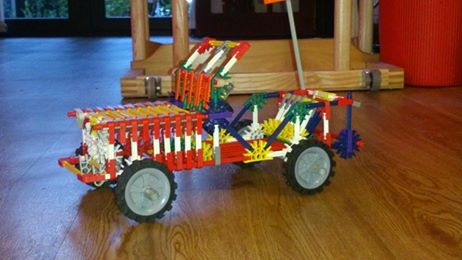 I did build him a trailer from the book which was a simple flat bed but I was not happy with it and having learnt how the various pieces could connect to form ways to build, I attempted to make something more worthy of the word trailer and something which would put a smile on my son's face while he drove his lorry around the bungalow, the question was, would I succeed? As it goes, I did good.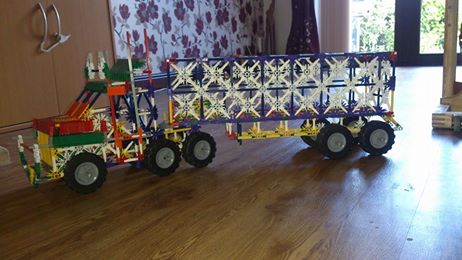 My Son has been building small things while he has been here, learning about how the pieces fit together and I am looking forward to us building more things together.
You may remember me writing about a guy called Rob who joined us on the Pen-y-fan excursion, I told of how he was undertaking the Three Peaks Challenge this weekend with a group of his friends, to raise money for Diabetes UK. I can tell you that they have completed Ben Nevis and are about to attack Scarfell Pike any minute now. Here is Rob at the top of Ben Nevis.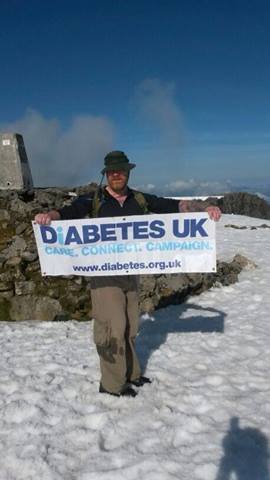 Here is there Just Giving page if you feel you are able to help them raise money for this charity. You may have to copy and paste the address but please do.                                www.justgiving.com/Robert-Ross3/2
Finally, you will have seen how my Overlander has given me an opportunity to get me out to enjoy more aspects of my life, by my conquering the Pen-y-fan. I hope that I was able to show in words, pictures and video's how this piece of equipment has been a huge boost to my independence and my ability to enjoy the outdoors with my friends. I hope also that you can appreciate how important my Overlander is to me and how it is, to me irreplaceable. To that end I want to ask you to be aware of the following request for help. It has been published on FaceBook by Terrain Hopper, the manufacturers of the Overlander. I have shared it on to my George Pas Blog page and I would really appreciate it if you are able to get on to my Blog page on Facebook, to share this and encourage your friends to do the same. I can only imagine what this man is going through by having the freedom that the Overlander has given to him, taken away and I want to do what I can to get the word out in the hope that it may be recovered. For this though, I need your help.
Hi everyone. A customer's TerrainHopper has been stolen from his garage. There's only one other TerrainHopper that's been made in the UK that's this colour and we know this customer is not selling his! So please watch out for this product being advertised for sale as it will be the stolen one! It would be great if we could get this back to Stewart asap as his condition (MND) is limiting his life expectancy. Everyday is a blessing to him and he deserves his freedom back that he had with his TerrainHopper. Please spread the word.
So that's about it for now. I will continue to plan and arrange the Three Peaks Challenge and will of course keep you in the loop. For now though, I will leave you to enjoy your weekend.
Good night all.