I have sprayed the main body of the `Picklemobile"! After five tins of pink and a lacquer coat the main body is finished and whilst I had hoped it would be brighter, it has an interesting finish, and irrespective of what I or any one else may think, `Pickle` loves it and that is what counts the most. Tomorrow I need to buy a couple of tins of chrome colour and a tin of white to finish it off and then I can reassemble it so `Pickle` can drive it.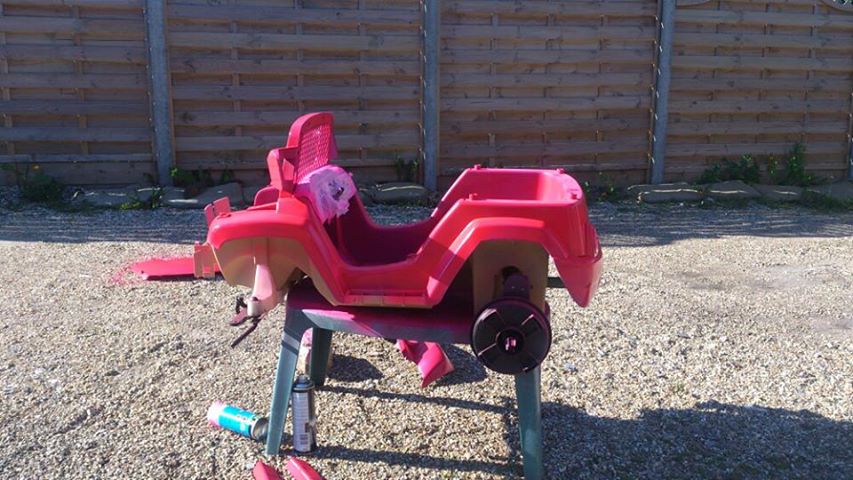 I know it doesn't look like much but hopefully the photo's that follow will show it better. I have sprayed a jeep that I bought and modified for my Wife a few years ago which was obviously full size and that was much easier to spray than this, it surprised me at how much more difficult it was to spray in the wheelchair. It made it almost impossible for me to get to certain angles and so there are a few things that I am not 100% happy with but for the most part I am. The thing is, is that it is the first time I have undertaken a project like this since being in my chair and so I knew it would not be perfect. I have decided though that my vehicle body repair shop is going to sit on the back burner for a while!
I have been repeatedly trying to download a form from the Tax office website since I went to see them in the week, if you remember the unbelievable aggravation I had trying to sort it all out with them and then the helpful guy David found a form on line. My new laptop running Windows 8 would not read it. It therefore had a link to upgrade the Adobe reader. This I downloaded meaning that I now had Adobe reader 11, the very latest edition and guess what? It wont read the form. So I went and bought a wireless adapter for the home computer which runs XP, it would not read the form either so I again upgraded the Adobe and still no joy. The next step was that Alison called Steve who managed to get right on to the form. Perfect….or not! To show how ridiculous our Revenue and Customs website is, if you can get in to the form you can not print it out until you have completed it. This is great, filled in on line what a time saver….or not, you see you then have to print it out and send it through the post. What in the name of shit sense does this make, I have tried and tried to figure it out this week and the only thing I can come up with is that it is designed to drive you to the point of madness and decide not to bother to fill out or chase any of the things that you were looking to do and by not doing what you need to do to keep honest, they can then screw you later for not filling out the forms that you needed to fill out in the first place….and breathe!
Tomorrow I am going to see if Alison can access the form on line and maybe if she does not mind, fill it out for me over the phone. Failing that, I may have to go to Taunton to the Tax office and explain the problems I have been having and see if they are able to help, should be interesting. Tomorrow is a great day for Darren, it is his first day at a new job. Ironically   enough, it is the first job since he left school which is normal 8 till 5 as he joined the RAF when he left school, so I will take this opportunity to wish him luck on his first day and hope that he enjoys it. In the morning my Daughter goes away for the week on a school trip, out of the blue two weeks ago she asked if it was possible to go with her friends on the trip. We asked at the school but did tell her that it was a bit of a long shot. Fortunately the school said that it was possible as there was still room for her and so we frantically had to get her the things that were on the kit list, but now, she is ready. It is quite funny actually, she has been back in to the front room asking about if this has been packed and is this ready bless her.
I am waiting to hear back about if permission has been granted for me to be able to do my latest fundraiser, I have fingers crossed but just have to wait at the moment. I worry that this year may go wrong and that I may not be able to raise to any money but we shall see. On the subject of fundraising, a new friend of mine is running to raise money for the ABF, the Army Benevolent Fund. This is a charity who help soldiers past and present so please if you have a spare pound then support Rachel with her fundraising. https://www.justgiving.com/Rachel-Webster2/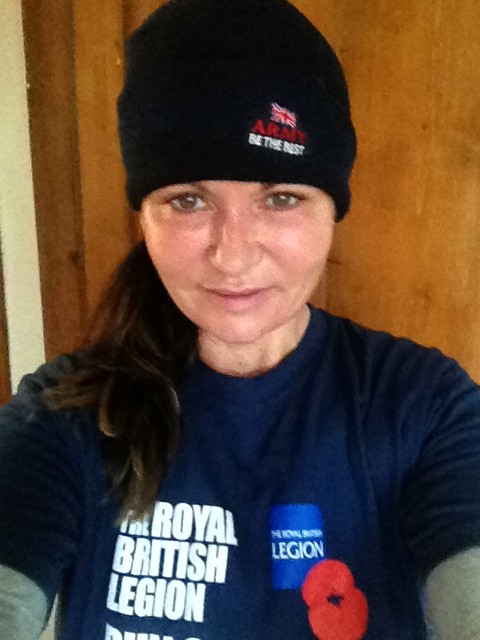 And that really has been it for the last few days, not hugely interesting but then day to day life is not always as we would hope it would be, interesting leaving us with things to talk about. I hope that you have been enjoying the sun, maybe make the most of it as that could potentially have been our summer if our weather patterns are up to their normal standards. "Me Val" is coming round tomorrow for a coffee and a catch up, really looking forward to her visit as we really do have a laugh, and of course I have not seen her for a while so I am looking forward to finding out how the new house is going and how the kids are getting on at school. For now though, I am off to bang my head on a table for a while before I try to tackle the Revenue and Customs website again. I'll let you know the outcome of how that goes, as well as displaying some more and better photo's of the `Picklemobile`. Until then.
Goodnight all.