Yesterday (Tuesday) I had another appointment with my solicitor with regards to my accident and had some things to do just prior to the appointment as the places I needed to visit would be closed by the time my appointment with the solicitor had finished, to that end I had to catch an earlier bus. Being in Taunton from half past two in the afternoon is not a problem but I had to be in uniform for the evenings TA parade night. On the couple of occasions I have had similar appointment times on a Tuesday I have simply been in `civvies` for the parade night and have told my Serjeant Major prior to the start of the evening. It is not great unfortunately in this day and age to be in uniform around town for any length of time unnessesarily but yesterday I had no real choice.
There is a bus stop just at the top of the road where Iive which is really handy for me as it means I don't have to push myself too far to be able to get on the bus. It also means that my Wife can help me to cross the road and help me get up the ramp on to the bus with out needing to go too far from home. I crossed the road and got on to the pavement the other side to make my way the short distance to the bus stop, there was unfortunately a bit of a problem with me doing this, something which I took a picture of to show you. I hope that by showing this picture it may help others in wheelchairs or indeed with push chairs to avoid such things because you the reader, will think about leaving enough room for us to pass your vehicle if you have to park with your car slightly off of the road. More than that, I hope that you would make others aware if you were to see someone parking on a pavement. As you will see, I had to pass the cars by wheeling on the road, which is quite a busy one, and then get back on to the pavement down the road at a dropped curb. The problem then was, that the trailer attached to one of the vehicles was right where I would normally get up the ramp on to the bus.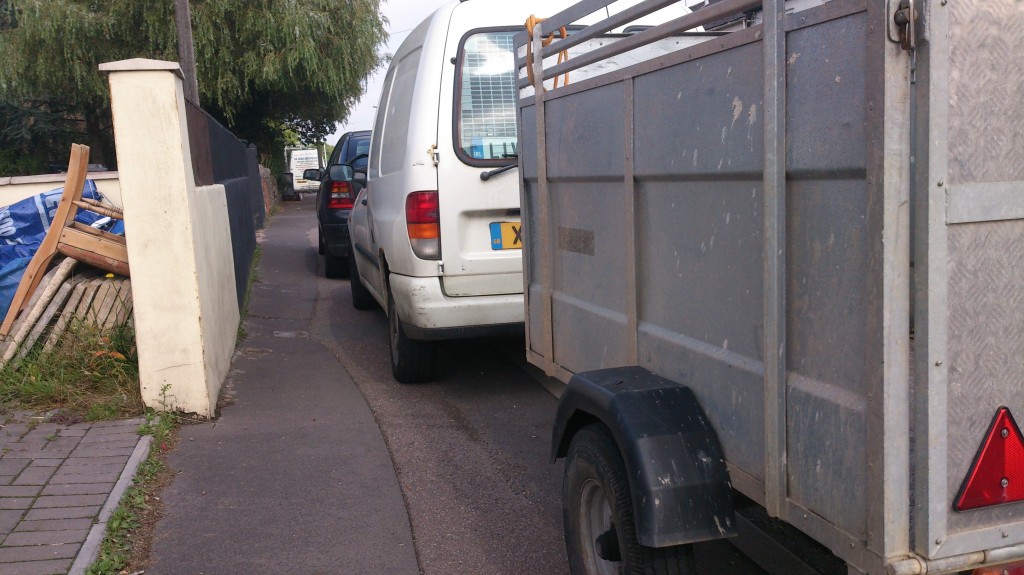 This not being enough; the driver of the van and trailer then proceeded, while I was waiting for the bus, to reverse and keep reversing. I released the brakes on my wheelchair as the driver clearly wanted me to move but before I had actually been able to, the trailer was against my left foot it turned me slightly to the right until the van drove off  down the road. I think that I would be hard pushed to say that I have experienced such ignorance for a little while now but no doubt this will be beaten in the not too distant future. Effectively the van driver simply expected me to move while he was reversing even though I was as far on to the pavement as I could be. Oh well, another experience to tick off of the list that just gets bigger.
The bus was as ever quiet, I am not sure if I would have enjoyed being a bus driver. Lots of seats filled by lots of people and yet deathly silence. Upon arriving in Taunton I set about squaring away the few little tasks I had, pushing myself around the town to get to the few places on the list. The streets were not too busy to be honest which was nice as it meant I would not have people tripping over me (which is obviously my fault!) and meant also that I would have more of the pavement to use to fight the cambers. Before too long I was on my way to the solicitor appointment. My appointment was another long one, over an hour but I left feeling like we were definitely making some headway. Knowing that I had to push myself half way across town to get to the college where I would be meeting with my TA Company, I decided to grab some food. The obvious place for me was back to Subway. The sandwhich would be enough for me for lunch and tea and I could wash it down with a coffee, this time of course I asked if they would be kind enough to take the tray to the table for me!
Having finished my food I began the trek to the college. The pavements cause problems, with the broken tarmac and the cambers but I had a good amount of time to get to the college so there was no rush. A couple of times I stopped for a rest and just watched the people driving to get out of the town heading home. How some poeple have not written their cars off is beyond me. The chances some of them take to simply gain one place is frankly ridiculous. On my way again, I arrived at the college with plenty of time to spare which gave me time to find out exactly where we would all be meeting up. Eventually I found the rest of the Company and a couple of the lads came to get me on to the field so I could hook up with everyone else. There was a large gathering of the general public at the field as well as the local Air Cadet Squadron who had all gathered to see our visitors who were inbound and arriving shortly. In preparation for the arrival of our visitors, one of the visitors who had already arrived spoke to the public informing them that they were at the field to see us, `B` Company 6 Rifles but that the public were all welcome to talk to the remaining visitors as they arrived. He made it clear that he would appreciate the publics cooperation in ensuring that they did not get in the way of us talking to the visitors who were just minutes away.
We talked amongst ourselves and then in the distance we heared our visitors arriving. Within a couple of minutes the first two had arrived and then, a short time after, the third and final visitor made it's appearance. I was hoping that I would have some photographs to show you but I was unable to get any decent photo's on my phones camera so I will simply tell you who our visitors were. First to arrive was the Apache helicopter closely followed by the newest helicopter in the forces arsenal, the Wildcat and then very shortly after saw the arrival of the classic and trustworthy Lynx. The helicopeters had been brought in for us to look around and meet the crews as the Army Air Corps is growing.
As of April 2014, `B` Company of 6th Battalion The Rifles will cease to be. Our platoon in Exeter will be absorbed in to or attached to the Headquarter Company whilst our two platoons in Taunton will split. We will regain Yeovil TA Centre and one of the Platoons will go there whilst the other will stay in Taunton. They will not be called platoons but will instead be called Flights and so collectively we will embark on a newly formed Squadron. 675 (The Rifles) Squadron Army Air Corps. The lads will retrain and qualify in things associated with the ground aspect of the helicopter from fuelling to re arming however they will also be responsible for the recce, security and defence of any Helicopter Landing Sites. Tuesday evening was not only a chance for us all to meet some of the Pilots and crew but for the Commanding Officer of 6 Regiment Army Air Corps to address us to explain the future events and opportunities that 675 Squadron would offer and to answer any questions that any of us had. I was quite disapointed by the lack of questions from our lads but then to a degree, I will put it down to them inwardly digesting the information that they had been presented with. A presentation that was quite informative but did also leave questions to be asked; with the presentation over and with no further questions being asked, my OC took the floor and invited all to go upstairs to our bar area where there was food laid on and offered a more relaxed environment for the lads to ask questions in a less formal way.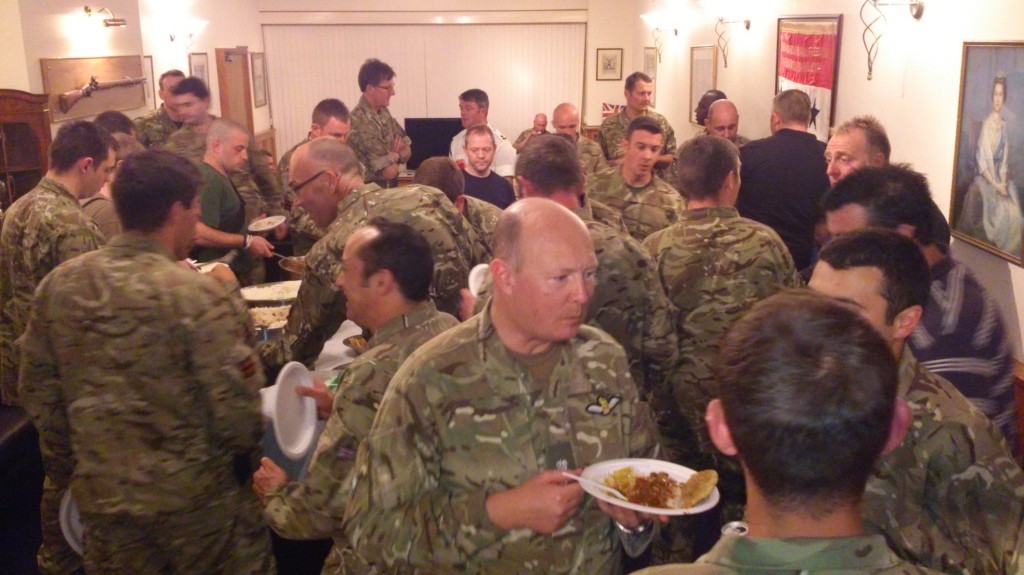 I did ask on a personal note if they had any desk jobs which did raise a laugh from the lads but was a genuine question from me. The response I got was encouraging but I will obviously have to wait out to see what happens. The opportunities that have been presented already to the Company are from my point of view, exciting opportunities, many of which could actually transfer in to civilian employment opportunites. The Company members now have the information to digest and use for them to make the decision about which path they wish to take. Do they want to transfer to another Company to stay as 6 Rifles or do they want to take the opportunity to be part of a newly formed unit. I can remember in 2007 whilst in Afghanistan having to change my rank slide from the gold banded Light Infantry rank slide to the dark banded rank slide of The Rifles. That was the day we ceased to be The Rifle Volunteers. Now in 2013 we have been told we will be changing to 675  (The Rifles) SQUADRON Army Air Corps. The new cap badge will still have our beloved Bugle in it and the AAC have acknowledged the pride we have as Rifleman, infantry, and are eager to keep as much of our history as possible.
And so all that remains is for the lads to decide what path they will take. For me it is out of my hands, I really do hope that the AAC will be able to find me a desk job, but more than that I hope that the lads will think carefully. I have spoken to a few and hope to speak to some more on my return from hospital. I have told those whom I have spoken to not to follow their friends but to follow opportunity. There will be some teething problems when the changeover happens but this is to be expected. They need to move across and give it a minimum of 6 months, a year if possible. If after training for that period of time they do not like it then they should either transfer to another Comapny or leave the uniform. This is a choice they will have to make at the time but what I do not want them to do is listen to someone throw the toys out of the pram about having to change and follow them. I will happily admit that I am jealous of the lads, the opportunity that has now presented itself with this newly forming unit is amazing, opportunities that I would love to grab with both hands but in my condition since my accident I am simply unable to do so, but I hope that they will take the time to think before jumping ship. I am proud to be a member of The Rifles. I am one of the many who were there at the start, the day we changed to become The Rifles and I really hope that I will be around to be there at the start of this new unit. It is not about no longer being The Rifles, we always will be infantry and this has been acknowledged by the title of the new Squadron, it is about being part of something new and exciting.
For those who read my Blog and are local to Taunton or Yeovil, the AAC, as are we, are looking to recruit heavily. If you think that you would like to be a part of this new and exciting unit then please call the Army Air Corps or our office. The AAC will have a senior NCO in our building very soon. You can also go to your local Army recruitment office, however our Company offices are at Bishops Hull in Taunton. 01823 354570  Give them a call and they will give you the information you need to apply. I'm back in to hospital as of Monday where I am hoping for a few weeks of intense working on rehab, finally after two and a half years I will be taught how to do things, and the things I have taught myself will hopefully be "tweeked" to show me easier ways. My intention is to tell you how I am getting on and the things I have been doing. It will also serve as a kind of a log for me to look back over, something I wish I had done right from the beginning since my accident. Had I done this I would have been able to read about my time in Frenchay Hospital, as I have no memory of this. To lose eight weeks of your life is actually quite hard to get to grips with, my Blog would have made it easier to remind myself of those weeks. After my discharge from hospital I am due to go to Operation Nightingale again, not an aircraft this time but by the sounds of it  something even more incredible. So I have a busy couple of months and I hope that you will share those couple of months with me.
Until next time.
Goodnight all.