Today (Wednesday) was a day for Wifey to take part in a day organised for the Band of Sisters, it would give her a chance to meet others from the Band of Sisters and hopefully make some new friends. This would be the first event that she had been invited to that she was able to attend and participate in. The event was hosted by Supacat, for those who are unaware of who Supacat are, they are a company who are local to where I live who design and build off road vehicles, many of which have been bought by the military.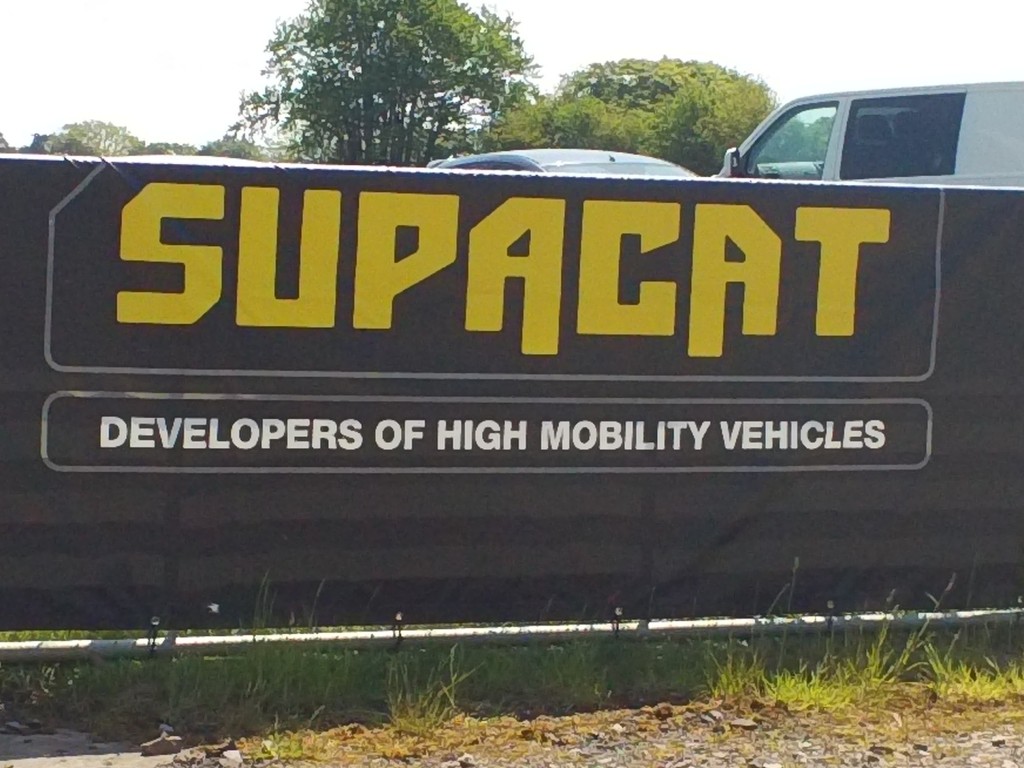 We arrived unfortunately an hour later than the planned start time due to both my and my Wifes mobile phones going tits up. I had checked on the location of the venue the previous evening and was happy that the navigation app would clear up any confusion should I have any brain farts about the location on route. My mobile was the first to go, it had an unfortunate bottle of beer two days ago when the bottle exploded, this resulted in the entire bottle contents ending up in my crotch, which is exactly where my mobile was. I thought I had managed to dry it with the hair dryer quick enough but seemingly not as this morning, when we needed it most, it gave the proverbial middle finger and simply died. I then grabbed my Wife's mobile and hit the navigation app, no joy. The venue was somewhere that we used to go to walk the dog and mess about in the Discovery that we used to own so we knew where it was, however it is close to three and a half years ago since we were last there and so it was a little hazy exactly where it was. It ended with us having to go to Taunton to get fuel as we had buggered about so much back and forth trying to find the venue. Fuel purchased we headed back out to the area in which we knew we were close, as it was, we had been driving the road that ran parallel to the road we needed. It was my Wife who eventually recognised something that made her take the road which took us to the Supacat event. There was a bit of a helping hand in the shape of A4 signs with Supacat and an arrow on them, but still, she has to get the credit for getting us on to the adjacent road in the first place. (Bugger!)
At ten o'clock this morning then, we eventually pulled in to the car parking area of the venue and we got out of the `Chucklebus`, my Wife now really excited about the day ahead and the chance to meet others from the Band of Siters.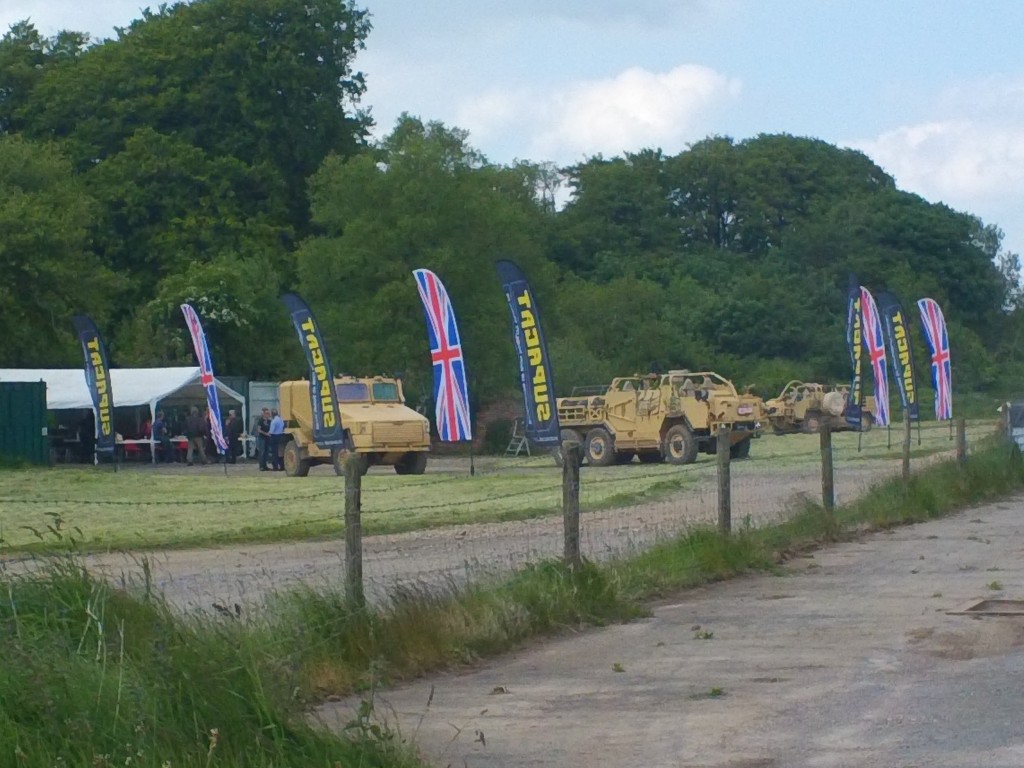 We `st-rolled` over to where there was an obvious meeting area which also had refreshments. Here we met with my old OC and now friend Major Richard Lupton. He is now an employee of Help for Heroes as a co-ordinator and had come to the event as it is not far from where he lives, I personally liked the fact that Help for Heroes had a representative there, it helped that I knew him admittedly but he was so busy cutting around and chatting to the Band of Brothers, Sisters and Hasler Company that I waited for a convenient time to catch up with him. In the mean time though, my Wife and I took a look at the vehicles that Supacat had bought along for the guests to play with.
Employees of Supacat drove those who attended today around the tracks that they have at the venue, much dust was kicked up which meant you could see where the various vehicles were and really added to the whole large vehicles speeding around on gravel activity. My Wife took no time to go and meet some others from the Band of Sisters.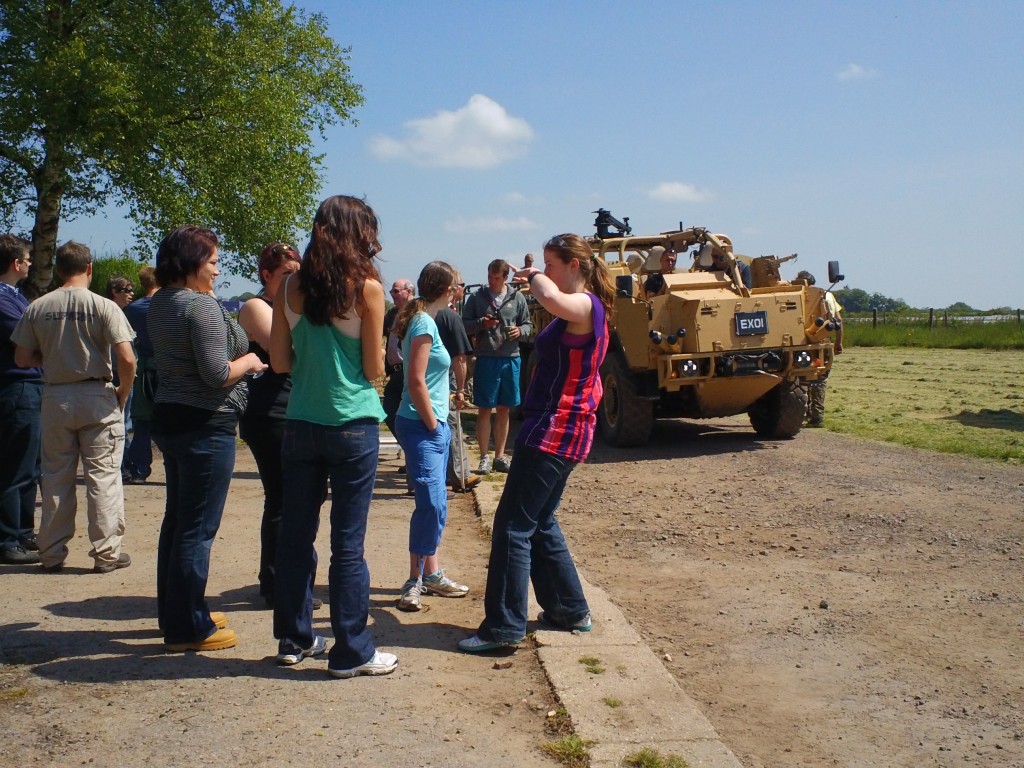 I spent some time talking to members of all of the services, some were from Hasler company and others were from the Band of Brothers and I met some very interesting people whilst my Wife was being driven around in the various vehicles and that in itself made my day extremely worthwhile. After the guests had been raced around for a few hours it was time for the vehicles and drivers to have a rest and lunch was called.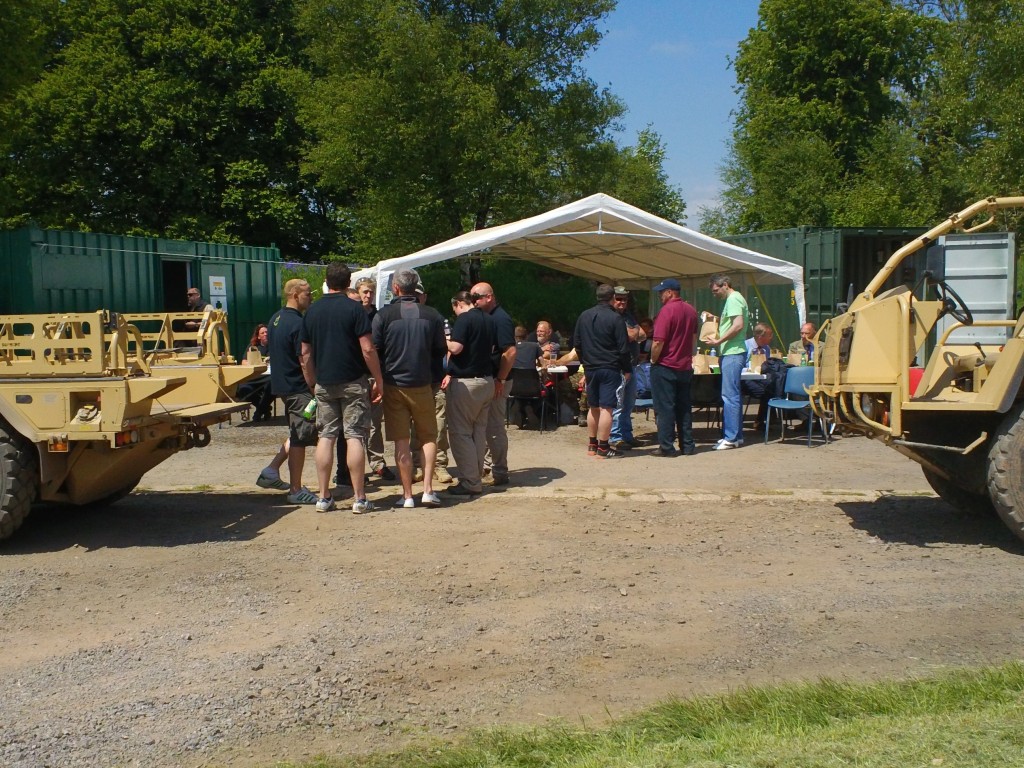 A brown paper bag with a packed lunch for us all including a soft drink or bottle of water or of course, a cup of tea or coffee served by the beautiful tea ladies. This is not their regular jobs, one is in charge of ensuring any changes are made to the vehicles and the other works on the customer support team.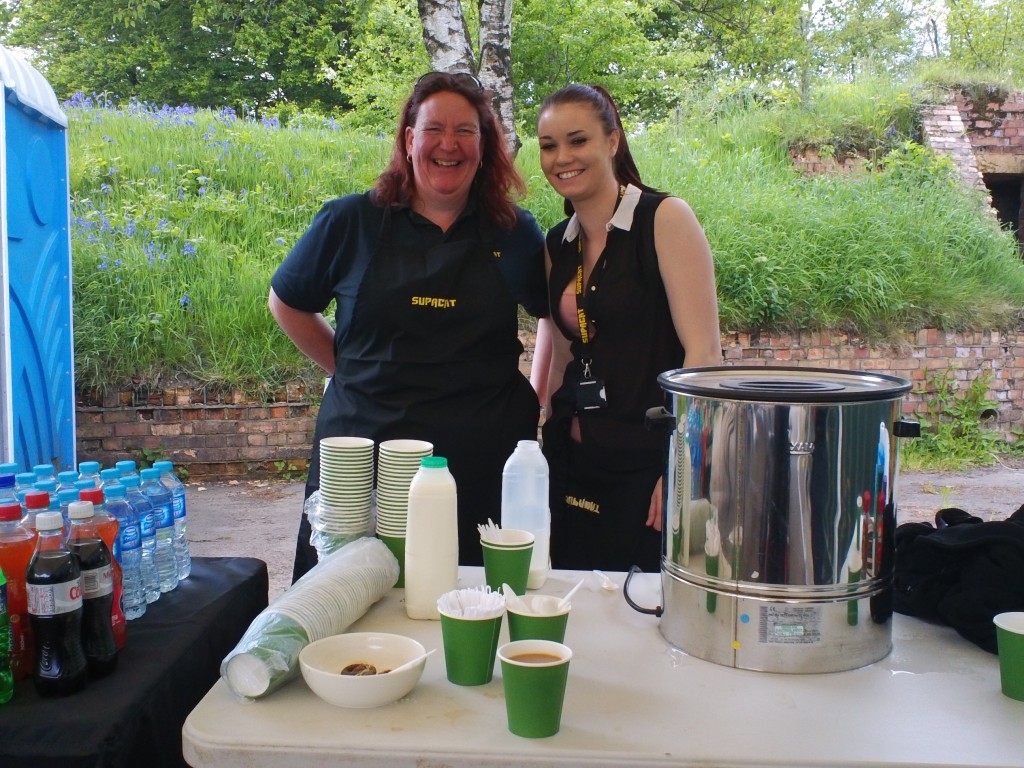 I spent some time talking to them after lunch, a couple of really nice people, really pleasant and interesting. And they both make a brilliant cuppa! Thank you ladies.
After lunch had finished the vehicles again came to life. The Supacat staff had been asking me all morning if I wanted to go for a drive on any of or all of the vehicles, this was really nice of them. They said that there was no reason for me not to be able to take part as they had plenty of staff to lift me in to any of the vehicles. I declined the offer and explained that today was my Wife's day, this was a day where she would be able to tell me about her experience of being driven around in the vehicles, vehicles that I have not yet been in. They understood what I was saying and for my reason but also made it clear that if I changed my mind then just to let them know. I did however reiterate to the guy that this was my Wife's day out and that I wanted her to get the very most out of it, he immediately said to my Wife, "Right then young lady, I'll be back in a minute." 
Less than two minutes later he came back over to us and told my Wife to follow him…..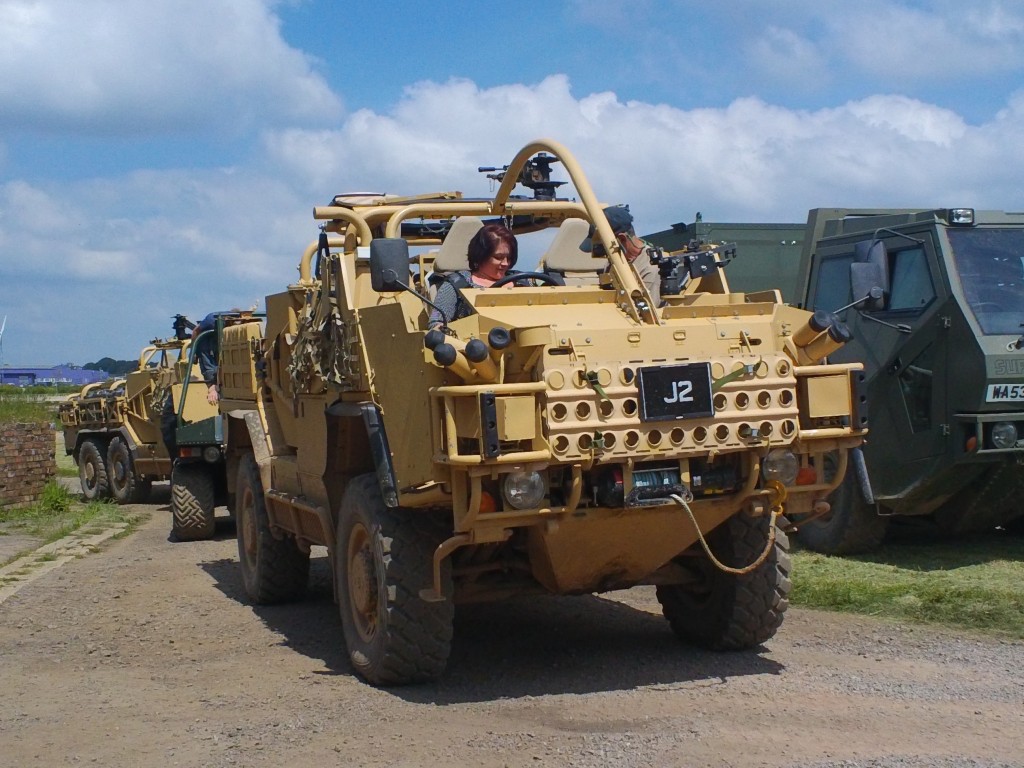 Initially she was not heading for the drivers side of the vehicle, but with myself and a guy called Paddy heckling she eventually gave in and climbed in to the drivers seat.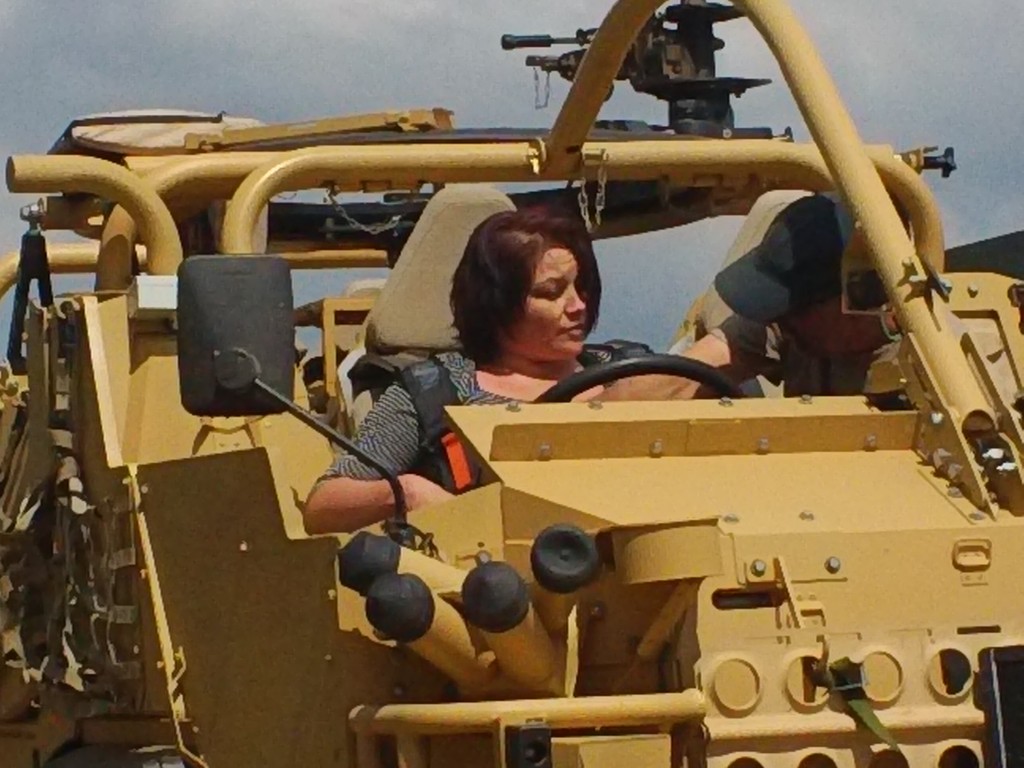 After a brief chat from the Supacat staff member she was off and on her way, with a somewhat undecided look on her face, undecided as to whether she was comfortable with driving it or not. She disappeared off in to the distance driving up over the large mounds and then down out of sight to the main high speed track, it was around ten minutes later that she drove around the corner back to the area in front of the tea tent….with a huge grin on her face.
She came over to me and I asked her about how it went, and did she enjoy the driving experience. She was telling me how it was quite scary in so much as when she drove up over the large mound all she could see was the sky and had no idea which way she should be driving, she knew she had to go forwards obviously but could not see the ground had to trust the staff member next to her. There were a couple of bits around the fast track that she said she had been a bit wary of as the drop off of the track was quite large, the staff member did complement her though on the fact that she had negotiated one bend in particular that she had travelled around better than most of the people during the day which she was particularly pleased with, as was I. So after telling me about what she had just been doing I asked if she was going to drive anything else, some calling of her name from a staff member and….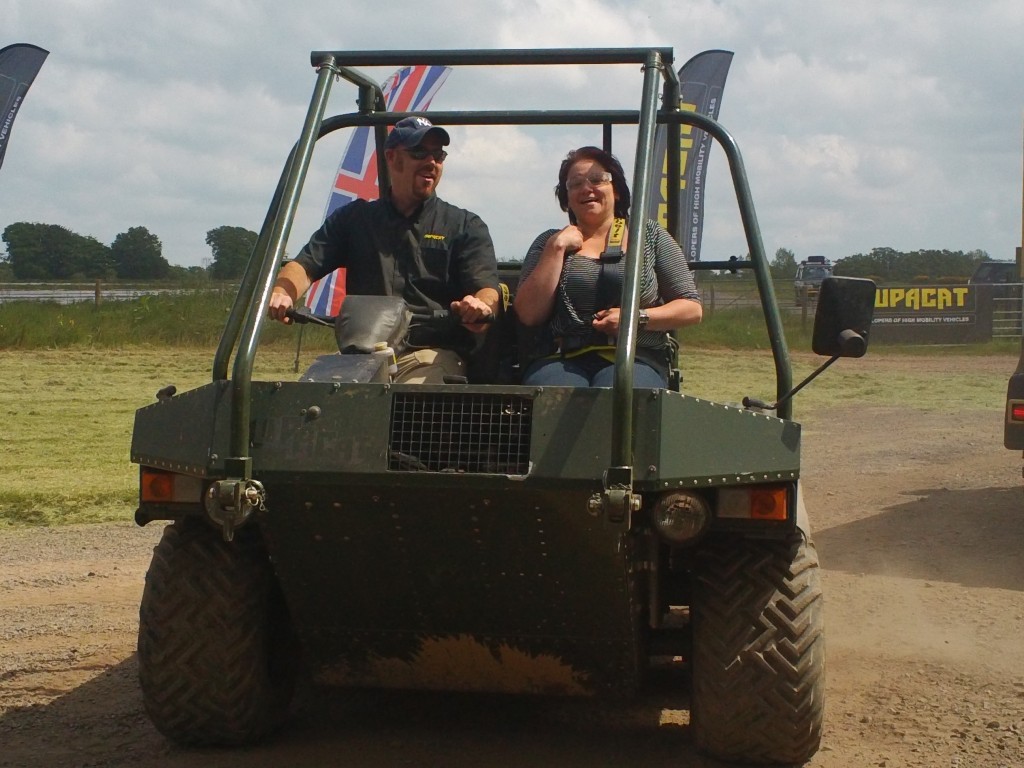 A brief demonstration from the staff member and then….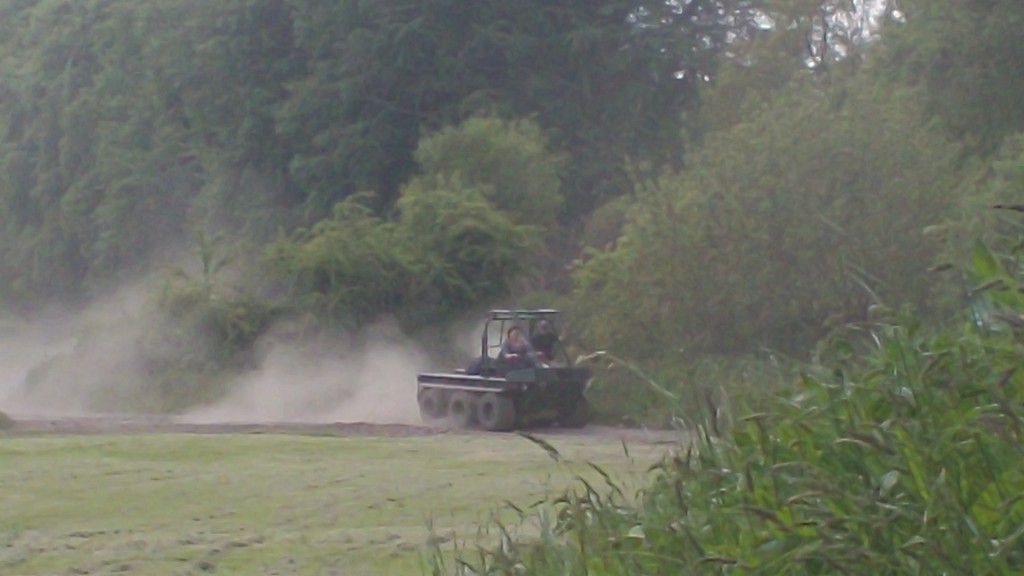 An equally big grin on her return to the area in front of the tea tent.
People started to depart, time was approaching half past two in the afternoon and some had travelled a reasonable distance. Two of the people we had got on really well with, they waited until my Wife had returned from driving as they wanted to say goodbye to her, we had all got along really well and I really hope that we will become good friends, only time will tell. Having said goodbye to them we got to talking to the Supacat staff members about the vehicles and future events, with the intention of a quick chat it was almost a quarter past three before we had to tear ourselves away, say our goodbyes and thank you's for the amazing day they had put on and try to get back in time to collect the kids from school, but not before collecting our Supacat tee shirts. And so, with me loaded in to the `Chucklebus`, we headed back to Ilminster, very aware that although my daughter had her mobile phone that she has to call us if there is a problem or if she gets worried if we are not there on time, we had no mobile phones for her to call. We arrived at the car park where we collect them and they were stood waiting, good as gold having been in to the shop to get some sweets. As it was they had only been out for ten minutes when we got there and so they were not concerned.
So an amazing day for my Wife, a chance to meet others from the Band of Sisters, to drive some vehicles that even some of the regular forces have not even driven and to have made new friends. She has had many e mail invitations for events for the Band of Sisters but thus far has been unable to accept any invites or put her name forward to apply for any, as this was so close to our home it was an ideal event to go to for the first one, and I hope that she will be able now to take up the opportunity to do more.
So thank you Supacat for a wonderful day, and for giving my wife the chances to experience some of the vehicles that are in use in the military today, and thanks obviously to the Band of Sisters for the invitation. Can't wait for the next event.
Goodnight all.