The weather has not been great over the last couple of days I think that all in the UK would agree, we have gone from hot temperatures which we do not usually have to our usual familiar summer drizzle, grey skies and rain, just in time for the kids holidays from school. This however was great news and perfect timing for me (selfish I know) because I had been offered a real treat by the wonderful Band of Brothers. I had been chosen by way of a draw, to have a fantastic day out watching a television show being filmed. Unfortunately though I would need to have someone drive me as usual and this time it fell on the shoulders of my Brother in Law, Tom. I had not asked my Brother as I knew he would not be able to help me as he is now the only person in his department which also means he has to work at the weekend until such time as another is employed and he trains them. This is also a pain as there are things I would like to do and events I would like to go to with him but obviously I am unable to do as he has to work, one of which is this weekend coming.
It was not such an early start for this little excursion, Tom arrived at around half past eight so we could have a coffee before we got me all strapped in and on our way. We had a chat and I showed him the directions that I had, we compared this to the SatNav app on his phone to see if it would take us the same way and finally at around half nine we loaded me in to the `Chucklebus`, strapped the chair down and me in and headed for the A303. The traffic was good and free flowing, the sky was overcast with the occasional drizzle patches and a couple of showers but on the whole we made our way up the A303 towards London without any hold ups or serious weather. It took only around an hour to reach the location of one of the UK's tourist attractions, sat in the arse end of nowhere, Stonehenge. The road has been altered here to prevent any traffic joining or leaving the A303, instead they have to use a roundabout just before or after the attraction depending on which direction you are travelling. This has been a good idea as far as I can see, it allows the traffic to keep moving as well as it can on the A303, without emerging vehicles or vehicles crossing causing hold ups or having collisions. With us past Stonehenge, we continued towards London down the A303 until eventually we joined the M3 motorway.
The motorway traffic was lighter than we expected, running smoothly and as a result we had made such good time we stopped in the services at Fleet and had a cup of coffee for a half hour or so to kill a little time until we we decided to continue on our journey. From here it was only around twenty miles to our destination and we had over an hour to do it in so if we did happen to cock it up we would have time to get it right, the bottom line, we could not be late for this treat or we WOULD NOT be allowed in. Following the directions I had pulled from the internet and with back up directions printed from the e mail sent by the Band of Brothers we went through various villages and towns, then down a narrow road and eventually arrived at our destination.
We spoke to the security guard on the gate and gave my name, in return he gave us a wrist band to myself and one for Tom. We were then directed where to park the `Chucklebus` and that was where we headed, on arrival in the car park to which we had been directed we were spoken to by another security guard who explained what was going to happen, where everything was and that when called we would be moved to another car park that was closer to where we would watch the television programme being filmed. It was in this car park that I met up with others of the Band of Brothers. We spoke to the lads about various things, treatments and other things and then we tried to establish where the Band of Brothers representatives were that we were going to meet. In their defence though we were told that they would be there at one to one thirty and we had all arrived before that, two of the lads arrived well before that. At a little after one though, we were approached by two ladies who were our representatives.
They could not apologise enough for not being there when we arrived which we took full advantage of and wound them up a little. With what was likely the first round of piss taking over, we got a group photo.
As you can see, the tickets for the filming were extremely limited and whilst I knew I was lucky to have been drawn out to receive a place,  it was only when I found out that this was the whole group that I realised just how lucky I really was. We sat and talked, (some sitting a little more comfortable than others!), until the security guard came over and told us it was time to load up and move to the next car park which was a lot closer to the studio and so this is exactly what we did. With our vehicles moved and us unloaded we followed the able bodied people who were going to watch the filming also. Then they were all held by the security guards which was when we, as were other disabled people, were called forward and told to carry on in to the studio for us to find where we would like to place ourselves. We were directed by the studio crew to an area which would give us a really good view of the presenters, don't get me wrong, we were not told that this is where we had to be, but it was a really good place and so that is where we decided to stay.
In front of us was the "main stage" if you like, where the presenters would be sitting and although they would be moving around the studio throughout the filming, we would have a reasonably good view, as if we were unable to see the presenters as they moved, there were three televisions in front of us to see what was going on. To prevent anyone moving too close to the stage there were tape barriers, we had the barriers immediately in front of us but this was not a problem as we had really good views. The people behind us were clever, they also got a really good view as they could see right over the top of us. The studio staff also were incredibly quick to get a chair for our BoB member who was on crutches, really thoughtful crew who could not be more help.
After a short while of waiting the floor manager came in and gave us a briefing on what would be happening throughout the afternoons filming, do's and don't s, fire exits and other safety things. Also he told us of cameras moving and warned us of the wires that would be around on the floor. I told the people behind us that in the event of a fire it would be George, women and any children first, (but that there should not be any children), in that order. The gentleman behind that I had just spoken to informed me that I should not worry as he would simply make another exit so between us we pretty well had it covered! Next the floor manager informed us that stripy shirts and bright colours would cause problems and that if we were wearing these items that we should not be disappointed if we were moved. With all of the briefings done, including a lot of other information which I do not need to tell you, the lights were checked and then dropped right down. Then there was an announcement from the floor manager, he introduced one of the presenters and the lights went up, the applause and cheers were deafening and this was only the introduction of one of the presenters.
The presenter then gave us another briefing similar to that which we had heard but a hell of a lot funnier and then he introduced the two co presenters to another bout of really loud applause. The three of the presenters spoke to us and then, at almost three o'clock, we were told to switch off phones and cameras and at three o'clock the filming started.
The first thing I noticed when we made our way in to the studio was how small it was compared to how I have seen it on the television, it looks like a seriously large area when watched on the television but it is no where near as big when you actually see it with your own eyes. The temperature in the studio was comfortable, if it had been the temperature outside that it has been lately then I think I would have struggled with dealing with the heat, but as our summer has returned to normal, it was fine. The filming started as I previously said and it was great to see how things were done, I did wonder if seeing how the programme was made would shatter my thoughts of how it was and stop me from enjoying it but that was definitely not the case. As the filming started  the barrier in front of me was removed and the floor staff told myself and the other BoB's to move ourselves forward right up to the "main stage", right next to me was a camera and I now saw, with the other camera positions, how the shots I saw on the television were gained and which camera took them. It was really good to see it all working and being directed, and then there was a little voice in my head that said to me, you are actually watching something being filmed that you will then watch, amazing.
We watched the interview with the special guest, which was really funny, and we got to see how the presenters interacted with the audience. At around half way through the filming we were told that there would be a break and that drinks would be served outside. I took the opportunity to have a bathroom break and then went back in to the studio to look at some of the other areas. The presenters were outside for a short while signing things for the people who were lucky enough to get to talk to them, I opted to stay inside though in the hope that I may have the opportunity to meet them later. If the opportunity would not arise then it would be something that I would just have to accept, but I didn't want to try to get the attention of the presenters amongst all of the people outside and more over, I did not want the people outside to think that I was playing a "poor hard done by disabled" card to get to meet them. After a short break everyone was called back inside ready for the filming to recommence.
The three presenters did the part of the show which requires them to be on the "main stage" and then they had to move to another part of the studio. This was where one of the presenters stepped down off of the "main stage" and came straight to me. I believe he recognised me from where I was fortunate enough to meet him before, he asked me about another person from Tedworth House I believe, and asked how I was and after shaking my hand he carried on to the next area where he would be filming. The show I can tell you will be a good one, as always, and is the last in the series. The three presenters were jetting off immediately after the show had finished being filmed to do some more filming, so have you figured out which show I had been fortunate enough to be able to go and watch being filmed?
Here are a few pictures of where I was and who I got to see.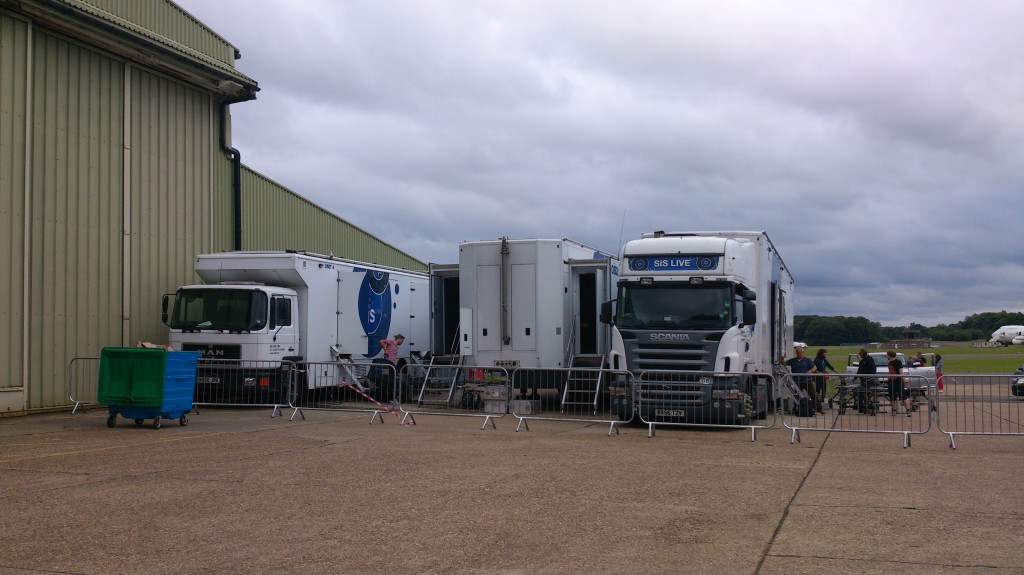 So it had a large open area, not much of a clue….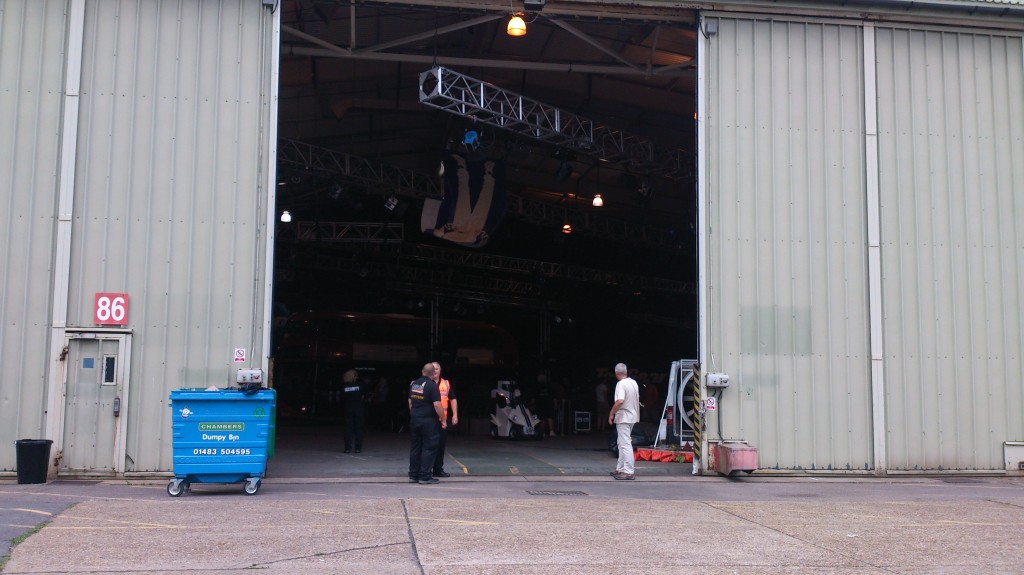 Definitely a clue in there….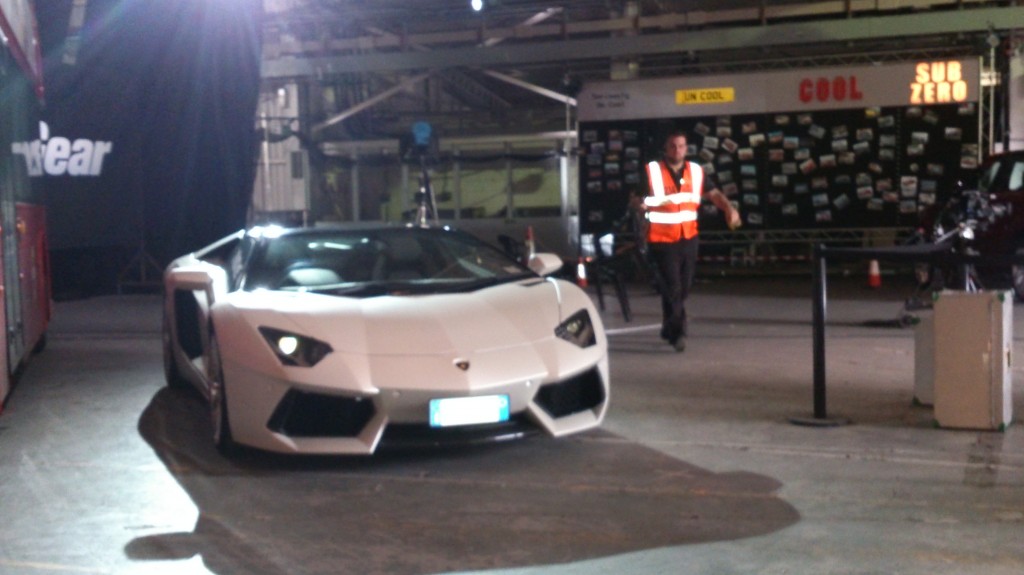 Fast car and a famous wall…..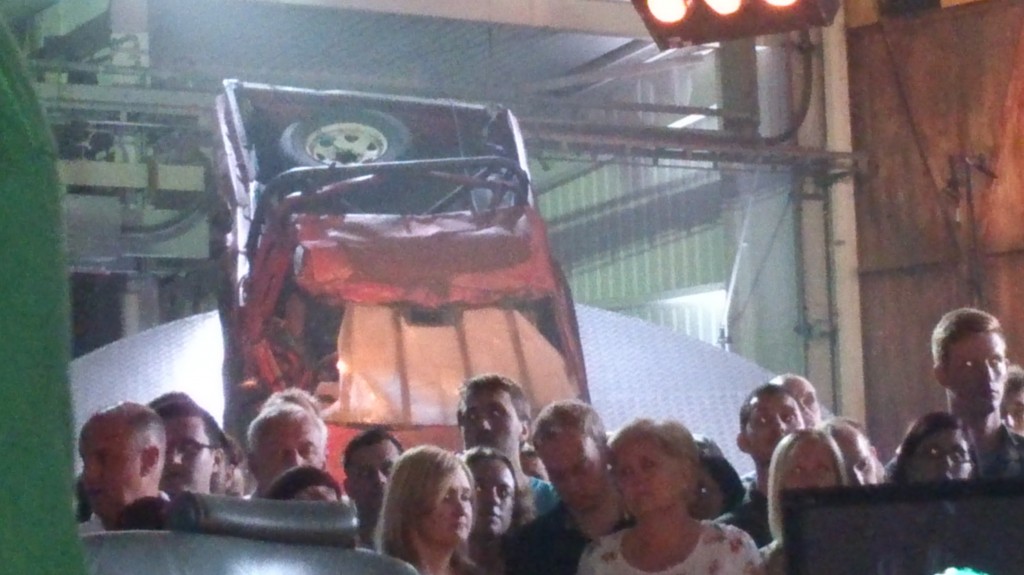 You must have it now….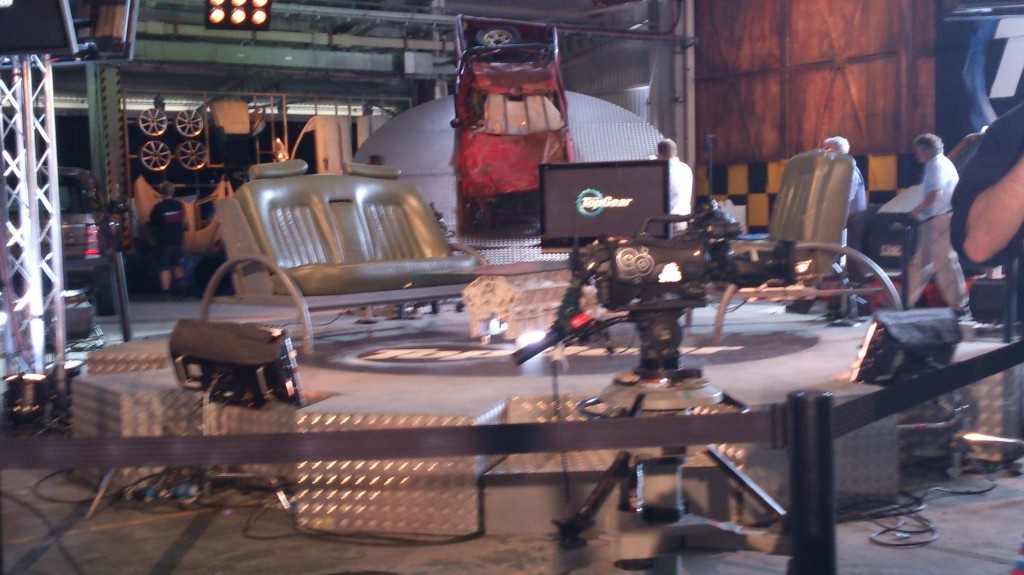 There is no way you have no idea now…..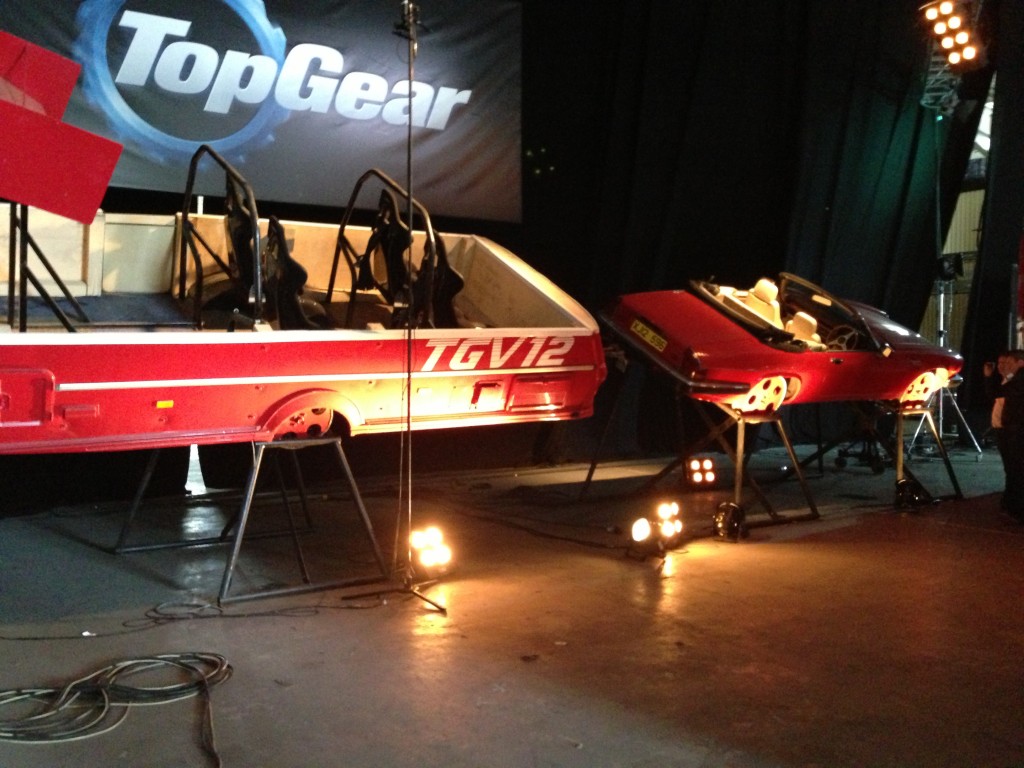 That's right….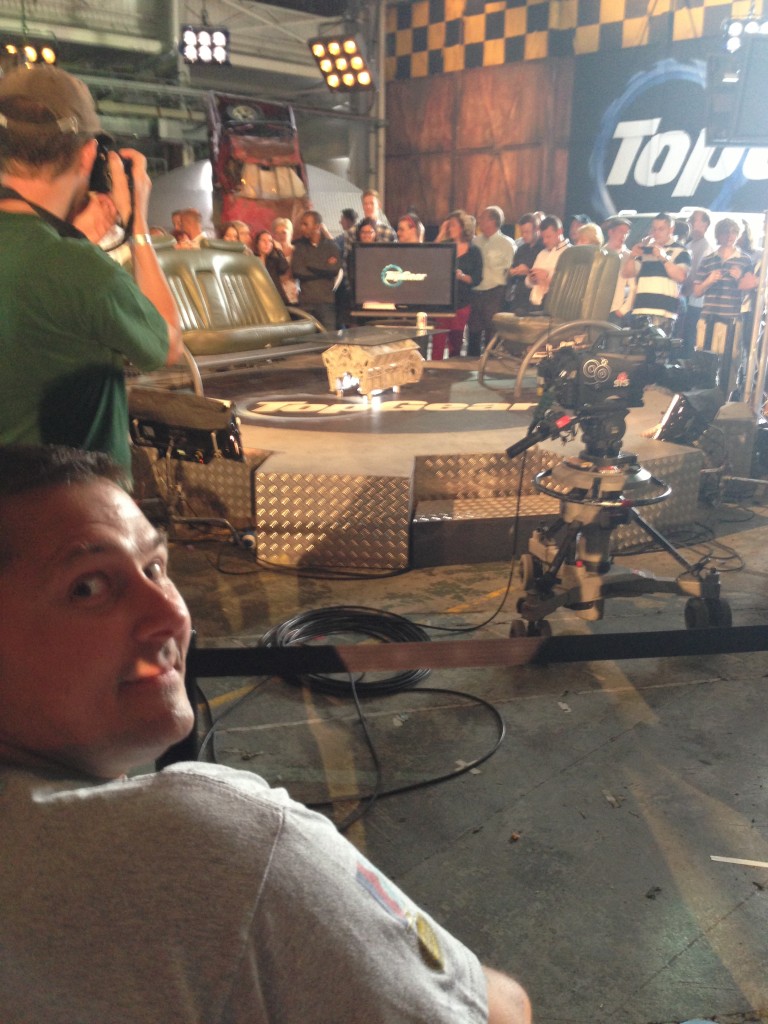 This was close, but then they dropped the tape barrier and pushed us forward to the point I was against the "main stage". So how good a view did I get?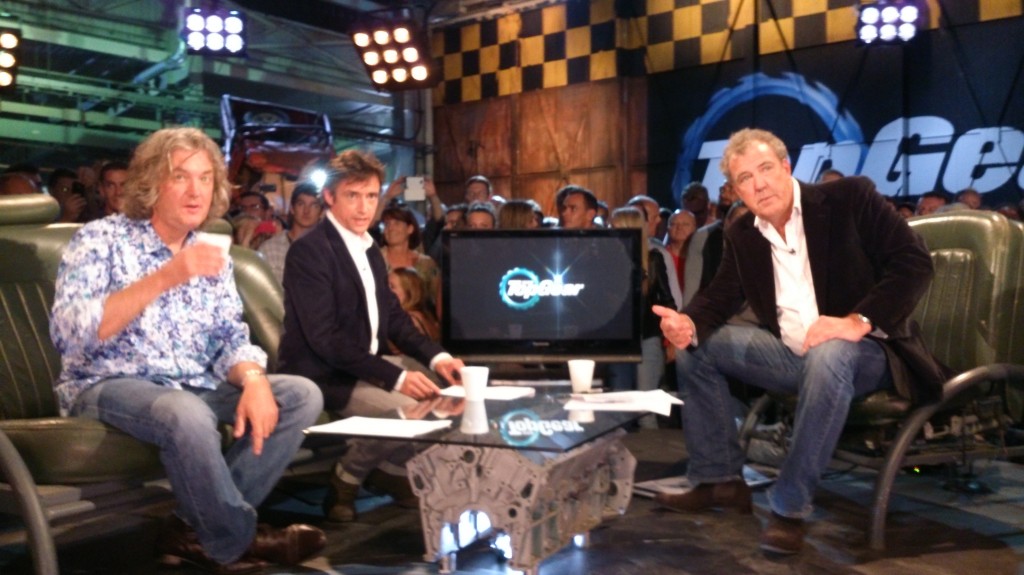 Close enough I reckon, this was taken just after the news had finished, just before the next part of filming started.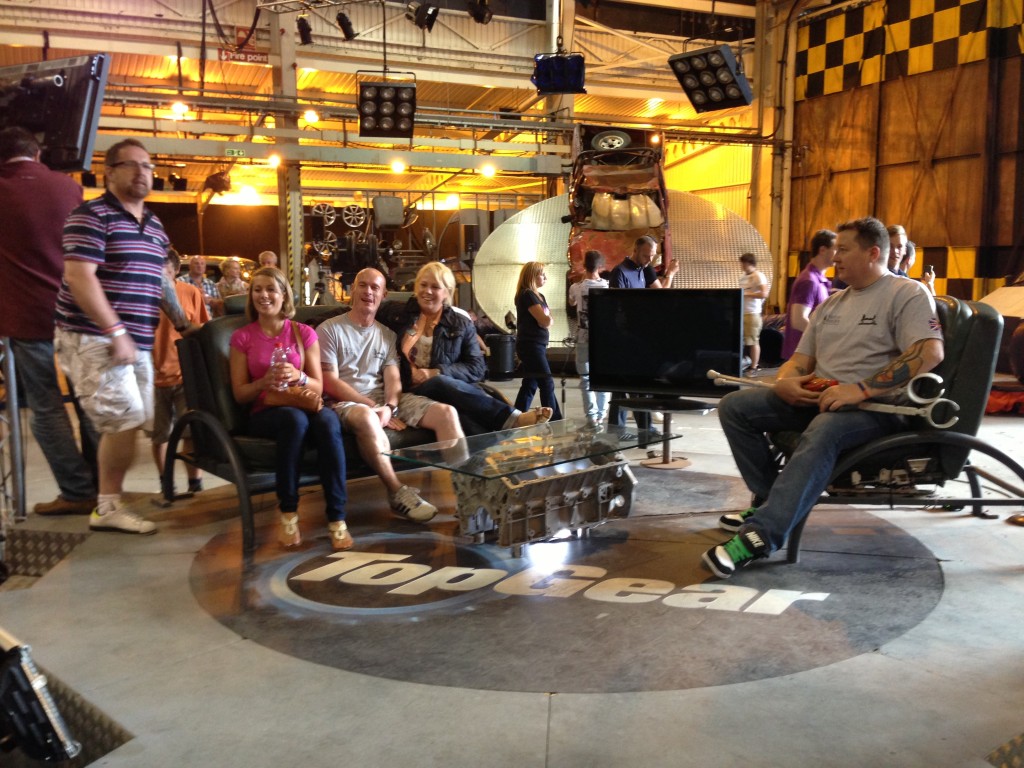 I did not get on to the famous sofa as I could not get up there, but the security guys did offer to get me up there for a photo, could not be more helpful but I declined as I did not want to be the reason for bad backs!
Such an amazing day, and although I did not get to meet May or "The Hamster", it was great to watch them presenting the show and the laughs that you do not get to see on the television.
It was a pleasant drive home, not too busy and weather not too bad either and so it was a good end to a brilliant day. I met some great guys, and spoke to some brilliant people who were standing behind us. Great to meet the hilarious Dee and see again the wonderful Sam from the band of Brothers, thank you so much for sharing this day with us and thank you to the Band of Brothers for giving me the opportunity to go and watch the show. Thanks of course to Top Gear for the hospitality, the laughs and the invitation to go and watch them do what they do. Maybe I will get to meet May and "The Hamster" another time, for now though, I have the brilliant comments and one liners in my head which still make me chuckle.
I would like to just take the opportunity to thank those new readers who have clicked the like Blog button, I appreciate it and hope that you enjoy what you read. Also a big thank you to two specific people who have decided to take time out of their days to read my Blog and keep track of what I am up to and how I am getting on. I am flattered that your curiosity gets the better of you and that you take the time to read my Blog.
Until next time, enjoy the weather (whatever it may be like), look after yourselves and each other and, if you are stuck for something to do this weekend, come to the Castle Hill car festival near Barnstable, Devon. http://www.castlehillcarfestival.co.uk/ Nearly a thousand cars of various ages, stunt flying and a whole heap of other stuff. I will be there with Mission Motorsport, http://www.missionmotorsport.org/ come and find out more about them and meet some of the guys, it sounds like a brilliant day out so give it some thought. Hope to see you there!
Goodnight all.