Castle Hill car festival was an event which was taking place near Barnstable in Devon over the weekend, the organisers had invited Mission Motorsport to attend and would be the sponsored charity. This gave Mission Motorsport the opportunity to spend the weekend in Devon at a large country estate and promote the charity. I had spoken to James Cameron back when I had been invited to Donnington Park to watch the team race, he had told me of the event and as it is only around an hour from where I live I had told him that if I could be of any assistance then to please ask. He was unavailable to be at the venue due to other commitments that the charity had but had asked if I would be able to go along and help the guys that were going to the show, this I of course said "Yes" to. I am lucky enough to be invited to events that Mission Motorsport arrange  or are given tickets to and as a result I have seen some good racing and have been raced around tracks in a variety of cars, the least I could do was to go along on the weekend and tell the public what the charity does and what they have allowed me to experience. Whilst I would love to do something sponsored for the charity, I have other charities that supported my family and I whilst I was in hospital and also when I was discharged which I need to give back to first but something that I can do for Mission Motorsport is give some of my time, and so this is what I gave to the charity this weekend.
There is of course still a problem. Although I am happy to give my time to the charity I am still unable to drive myself, therefore my willingness to give my time is great but if I am unable to get to the place which I am needed it is not much use, and could be viewed as a hollow gesture with an easy get out of jail card. To that end I asked a few people if they would like to take advantage of a day out with only a few conditions, those being that they needed to drive my bus, take me (but did not have to spend the day with me which is a big plus!) and not bugger off with  my van leaving me stranded. I had a phone call from a very good friend of mine from the military who was wanting to arrange for us to hook up for a coffee and a chat. We chatted and were sorting out a day when I suddenly thought that they may enjoy a day out, so I asked her. She agreed to drive me which was great, it  meant that not only could I join Mission Motorsport and help to promote what they do but my friend would be able to take her two kids to see all of the cars and have a day out. So transport for me on the Saturday was sorted.
We left at around half eight and headed to Taunton to join the M5 motorway Southbound. We had to go down two junctions and then leave the motorway for the road to Barnstable, easy. "Me Val" (my friend) and I were chatting, laughing and joking and generally catching up which was brilliant, I always have such a good laugh with her and on this occasion it was no exception, the problem though was when I took a moment to look at where we were and realised that we had been chatting so much that we had actually travelled nearly four junctions and were almost at Exeter. Oh well, off at junction 29 and back down again to J27 it is then! We finally got ourselves on to the road to Barnstable and made our way up the hills and down in to the valley and back out like a giant roller coaster pushing through the horrendous down pours until we pulled up in to the parking field. It did not appear to have rained very much at the venue which was encouraging and so we all got out and started to make our way in to the show. This was when the rain we had driven through decided it liked us and it started to chuck it down, luckily though I always keep a couple of umbrellas in the "Chucklebus" but there were four of us, I took one or I would have had a wet crotch for the day, gave my jacket to "Me Val's" girl and her lad got the other umbrella, he was sharing it with "Me Val" but I have to say that she did not do a very good job and got suitably drenched bless her. After entering the site we made our way to Mission Motorsport's stand for me to meet up with the guys who had been asked to go along to promote the charity and for me to introduce "Me Val" and the kids.
I spent the day meeting and greeting those who were paying an interest in the vehicles which had been brought along and explaining what the charity does and giving them a leaflet to read about Mission Motorsport drawing their attention to the web address in the hope that they would look at it when they had five minutes."Me Val" and the kids wondered around the show looking at the various different cars that were in attendance and having a picnic. Aston took "The Pointy Thing" to take part in the Hill Climb which got a large amount of people watching, this was ideal.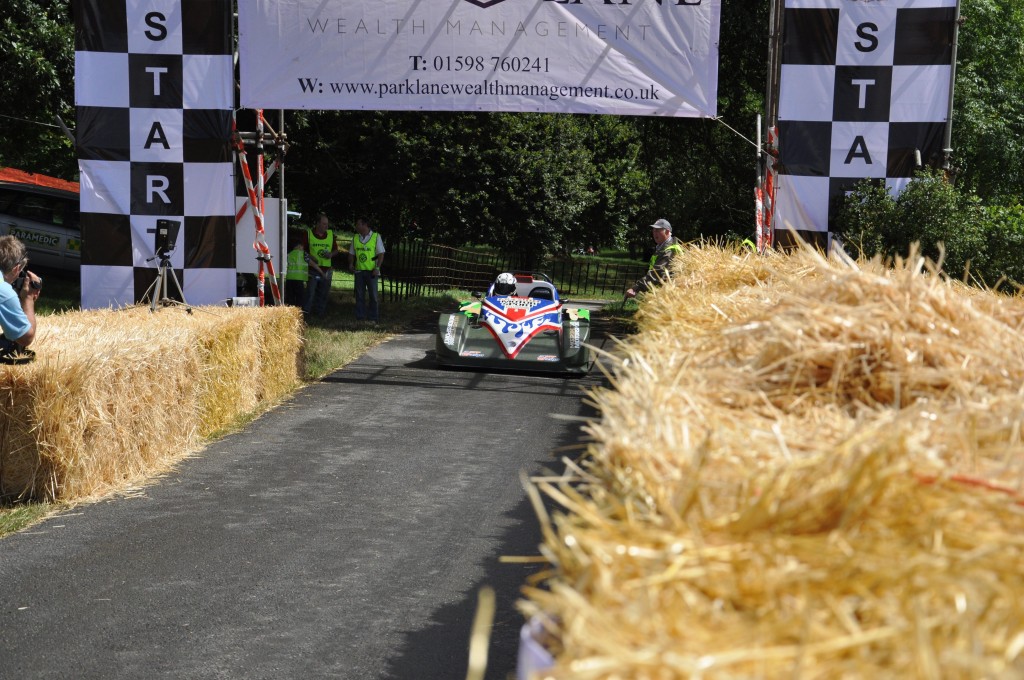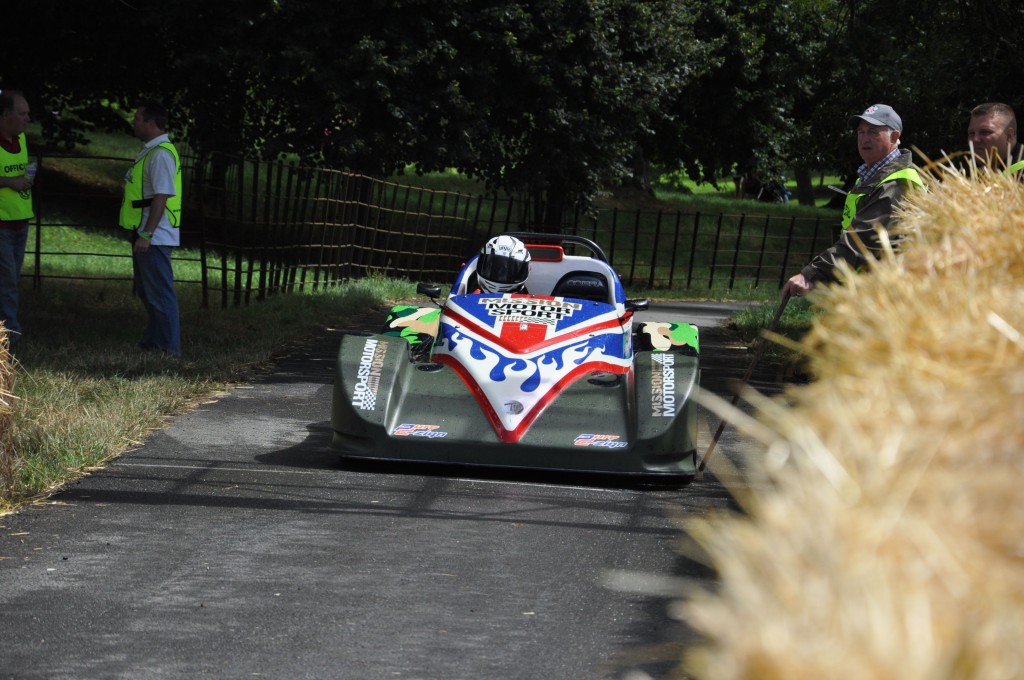 Aston and "The Pointy Thing" managed a respectable time on the hill climb despite the gear linkage failing and it only having one gear, this was something that the guys set about fixing when it returned which again grabbed peoples interest which gave me more people to talk Mission Motorsport to.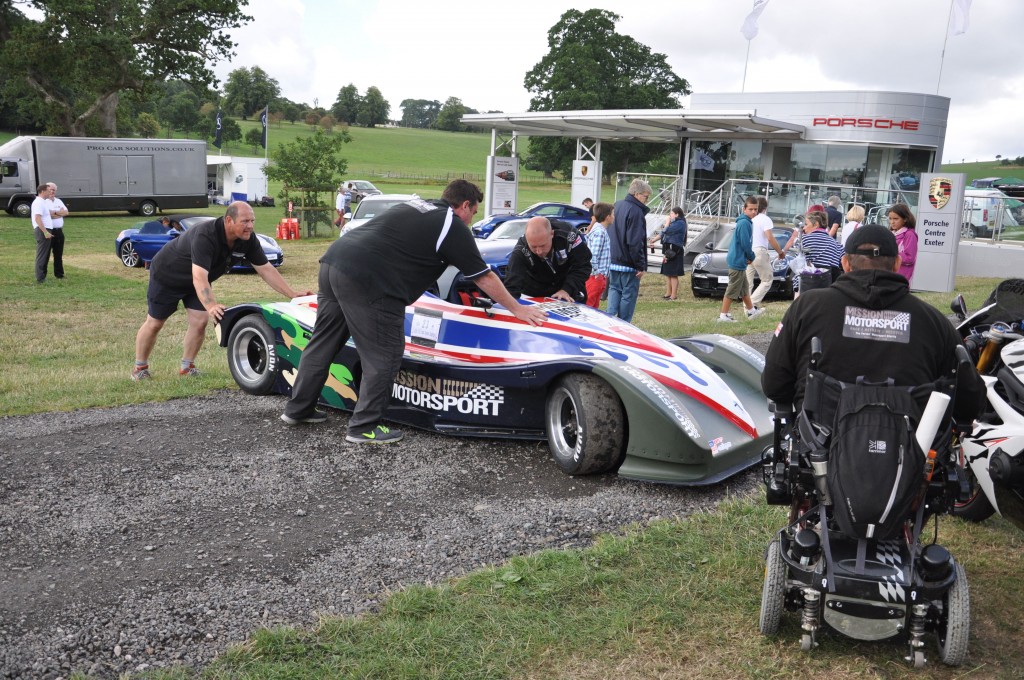 Half way through the day there was a display put on by a stunt pilot, I have seen many different aircraft flown by many different pilots over the years and have watched in awe of some of the things the pilots have made their aircraft do but this pilot was something else. I spent some of the display wondering if the aircraft was out of control or if it was part of the flying display, the fact that the pilot flew away when he had finished told me that it was part of the display but by God, you had to see this pilot to believe it. After his display had finished I then found myself trying to establish whether or not the pilot was an idiot or a genius….verdict…..an idiotic genius! I am well aware that the likely hood of this pilot reading this Blog are slim to sod all but if they are, or someone who knows who the pilot is, is reading then please pass on my congratulations, hats off to you, an aeroplane should only do the things that you were making it do for one of a few reasons;
a) It has been shot down.
b) The pilot has suffered a heart attack and there is no one actually flying the plane.
or possibly
c) The pilot has foolishly tried to fly through a twister and has failed miserably!
The weather was on and off through the day but stayed mainly dry thankfully.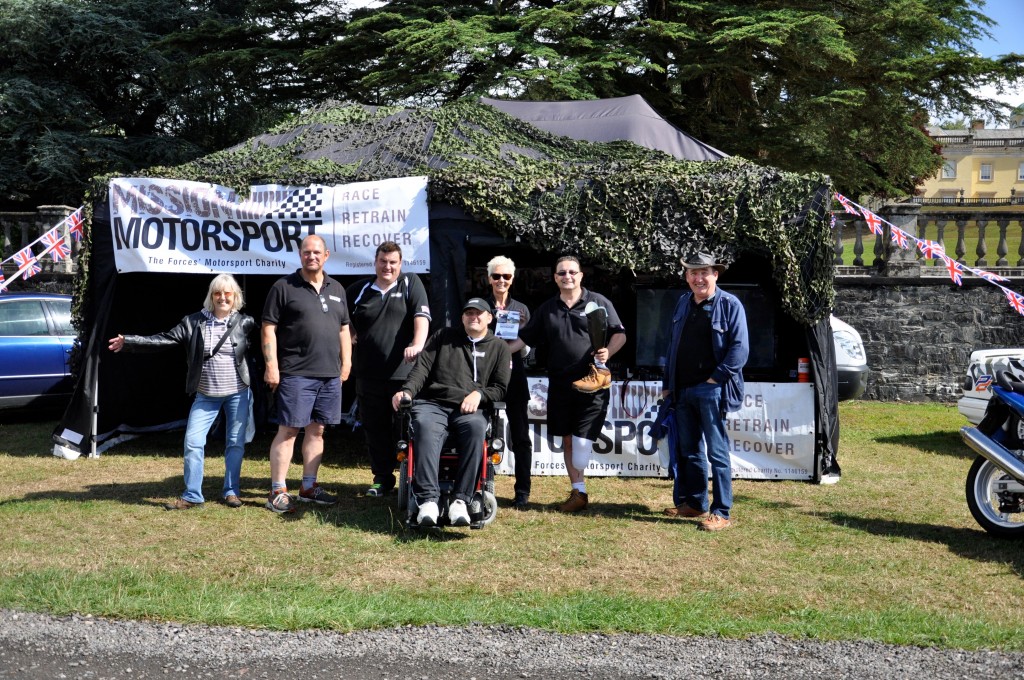 At around four in the afternoon I left the guys of Mission Motorsport and headed back to the "Chucklebus" with "Me Val" and the kids. I could not have got to the site had "Me Val" not driven me and so a massive "Thank you" to her and also to the kids for keeping interested until we left. The rain on the way home was in almost exactly the same places as on the way up which was strange but was not enough to cause any problems with traffic and so with not missing any turnings on the way home, we were back in really good time.
On Sunday my Wife agreed to drive me to the site and so that she did not get bored walking around with the kids looking at cars, she was accompanied by my Mother in Law. The rain was terrible when we were driving to the site and it was obvious that the site had suffered with a lot of rain as the main entrance to the field was a mud pit. It came as no surprise that the classic car owners did  not want to take their cars through the mud but this caused problems, they wanted to turn around and drive back out, as a result the marshals had to reverse cars to allow them to do this which blocked the road completely. No vehicles were allowed to enter the field as they would get stuck but there had been no other way to get vehicles in, problems then.
After around fifteen minutes of the marshals pacing and asking people to move their vehicles to try to alleviate the problem which failed on a scale of such disaster it was laughable, a guy with a radio came running up and spoke to them which stopped them from doing anything while staff covered the muddy entrance with straw. This at least allowed us to get in to the field and park up.
My Wife and I made our way over to the Mission Motorsport stand and I introduced my Wife to the guys. The weather was still rubbish but my Wife decided they would stay and look round the show, the weather would obviously depend on how long they would stay as my youngest, "Pickle", is only three and keeping her entertained in the rain would be a nightmare potentially although she is pretty good really. In any case, it would be the last minute possible before we would go. My Wife headed back to the "Chucklebus" to get the rest of the tribe and look round the show and I looked to engage in conversation with people about the charity which funnily enough did not take too long when the rain came down. I had no problem with people seeking shelter in under the Mission Motorsport stand but they had to listen to me talking about the charity, can't do it? No problem, you may simply walk away out in to the rain!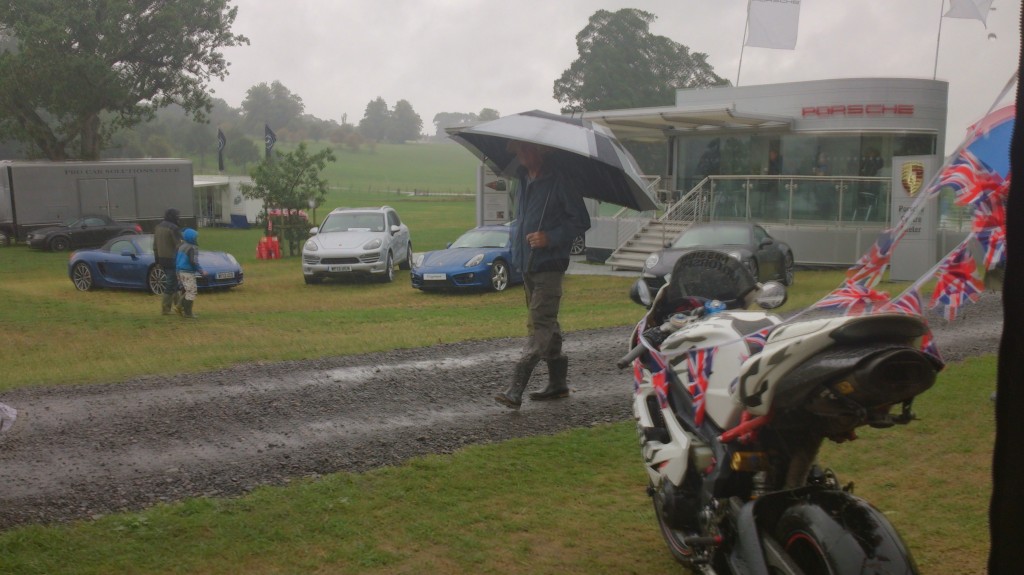 Fortunately, the weather brightened up in the afternoon which encouraged some people to go along to the show and in fairness it was busier than any of us expected. Aston and "The Pointy Thing" entered in to the hill climb again on the Sunday, with the shocks adjusted and the tyres deflated a little to give more of a footprint on the ground.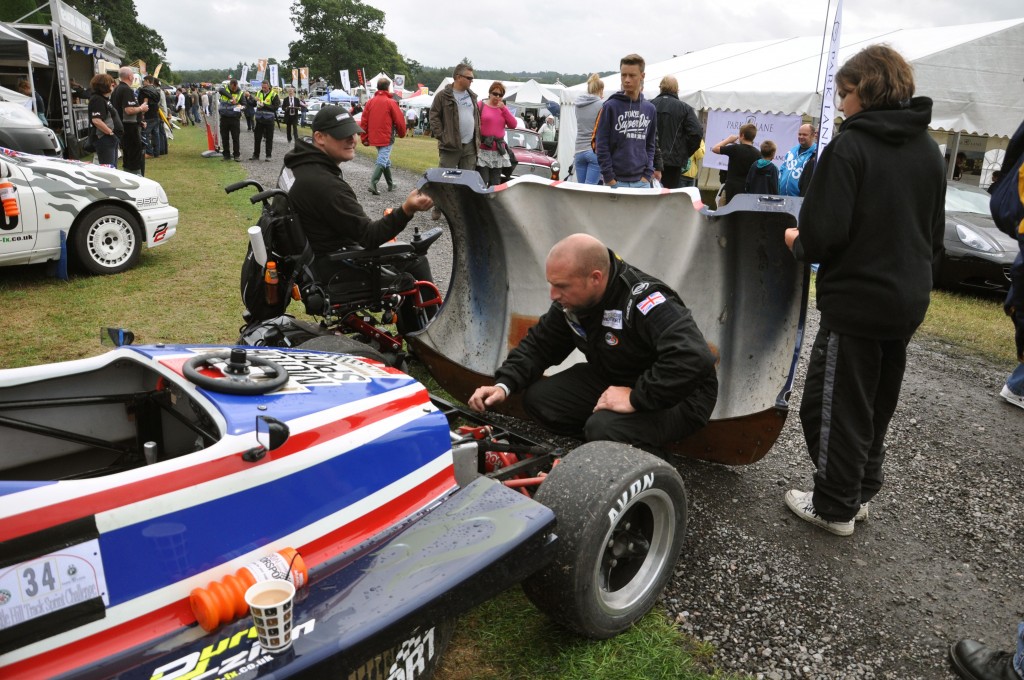 Unfortunately due to the rain and slick tyres they did have a chat with a bank and "The Pointy Thing" suffered a little damage on the front cowling but nothing that can't be fixed thankfully.
It was around three in the afternoon when it threw it down again and after speaking to the guys, I decided that now would be the time to take the family home. It was a good weekend from my point of view, hopefully I have sold the charity enough to people for them to have a look on the internet and visit the Mission Motorsport website www.missionmotorsport.org and collected a reasonable amount of donations in the collecting pot.
I did not look around the show, I thought I would have a look round for an hour on the Sunday with the family but I decided against this because I had visions of me getting bogged in on the grass. As far a I can make out it was the first one this year, I hope that they have learnt from it. A contingency plan for the wet weather, a few more bits for the kids and advertise the event a little better and next year could be a really good day out. It was good though, and I hope to see Mission Motorsport again soon . A massive "Thank you" to my Wife for giving up her plans for herself and the kids for the day, in order for her to drive me to the site on the Sunday. They did enjoy the day despite the rain, but I could not have helped on the Sunday without her driving me, so "Thank you" again. x
Thanks for reading.
Good afternoon all.