Friday was a day which would change my life.
An extreme thing to say?
For you, "Yes" would be the answer but for me….
So what could possibly be the reason for this rather bold statement, have I miraculously started walking or won the lottery, has my case been settled or something equally as important? "No" is the answer and as I said before, for you it will seem insignificant but for me it is a tool that has opened a whole new range of opportunity and independence. A tool that I will slowly get to grips with and as such will take some of the pressures from my Wife and give her some down time. It is something that will take time for me to be able to do on my own for long periods but even shorter periods of time will seem a lot longer than they actually are. So what is this tool that I am raving about and talking about with such excitement. You may think this sad but I don't care, because a few months ago my Wife and I spoke at length about making a change, we then subsequently did a great deal of research and visiting various establishments to follow up on and continue the research. After making a decision, we had to wait, but on Friday the wait was over…..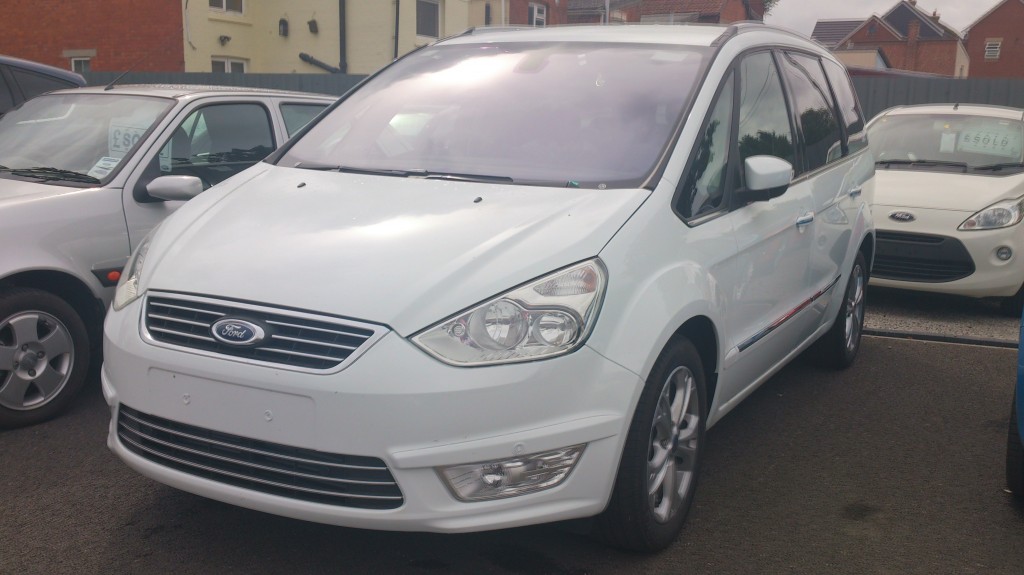 Now, I know that you are sitting there looking at the picture and have maybe even scanned back up to the start of this Blog entry to re read what I have written and looked again at the picture. You have called me several unflattering names, and can not for the life of you figure out what is so exciting about a car, how does this car possibly relate to the wording above it? I am now going to try to explain.
If you have been reading my Blog from the start or indeed if you have gone back over the various entries, you will know that my life was far from relaxed. My civilian employment was LGV driving, driving rigid large goods vehicles for various companies at various locations. So I spent all of my working day driving to different places to deliver different goods. To get to the employer that I would be driving for was anything from five to forty miles one way every day and to get there I would either have the car if the weather was icy or at all other times, irrespective of weather I would ride my motorcycle. When I finished my day work I would go for rides on my motorcycle or would make alterations to my house or maybe help friends with jobs they needed help with. If I was doing neither of these then I would be parading at or on exercise with my Territorial Army unit, on exercise with the regular Army or on Tour in Afghanistan. As you can appreciate, when I had my accident and became paraplegic everything had to stop. If I wanted to go anywhere since my accident then I had to ask someone to drive me. I have been unable to go to many places as I need a driver, in short I have had very little independence.
I have had bits of independence back slowly as I have taught myself to do things, my vision improved significantly meaning I was able to go in to town on my own in the power chair. Until this point I had to have someone walk with me as I would struggle to be able to track vehicles, to distinguish how fast the vehicle was travelling whilst trying to cross the road even down to "drop curbs" being too high or the pavements being too steep. Both of these problems have resulted in my falling out of my power chair and requiring assistance to get back in. One of the times which was a steep pavement saw me fall backwards and in to the road where I was unable to do anything except hope that I did not get squished. Thankfully the public have not been backward at coming forward and helping me. Then came the time where I could do it on my own, a milestone and a degree of independence given back to me.
Next I was given a bus pass, a bus pass which would enable me to travel, it would allow me to go to Taunton on my own to not only visit my new friend Stuart who is also a "wheelie" whom I met in hospital but then wheel myself the short distance to the TA centre enabling me to have a bit of my working life back. I would still need a lift back as the buses do not run that late at night back to my town, and I fortunately have my good friend Paul who has always been happy to do this for me. Before I got my bus pass he would drive over to my bungalow and drive me in my "Chucklebus", this would obviously put him out massively but again, fortunately he did not complain. When I taught myself to transfer it opened the door for me to travel in other vehicles giving a little more freedom of movement in friends cars but still requiring me to have a driver. But now we had a car that has been fitted with hand controls, this would hopefully give me a whole load more independence but there was a problem. My license had not been returned from DVLA, would this now stop me in my tracks? After a call to DVLA, I was happy with the information they had given me in answer to my question regarding driving but to cross the "T"'s and dot the "i"'s I called my Doctor and waited for the return call.
Meanwhile we went to the dealership, Brakes Motor Company of Ilminster, where the gentleman who had helped us throughout was waiting to complete the process. Well, I say gentleman, is that too nice a word for Bruce? Joking aside, he was an absolute diamond. I know a salesman needs to be friendly to sell you a car but he was someone we clicked with immediately. A real sense of humor yet proffesional to the last, a guy who would go over and over options to ensure you got the correct vehicle and set up for your needs. I can recommend a visit if you are looking for a new or nearly new Ford car. Anyway, we had paperwork to complete and warranties to have explained. Service intervals were told to us and we were assured that if we needed anything checked over to just call in and they would help. Bruce opened up the bonnet and I made sure I knew where the various fluids were and where to check the levels and again Bruce told us that if I could not reach something to check, then his workshop would gladly look for us. At no point in time did I feel I was being spoken down to or made to feel that I could not do anything for myself, a trouble free experience from the start of our enquiry to the collection of the vehicle. Unfortunately though my Wife had to drive the car as I had not heard back from my Doctor, something which she was obviously very upset about.
Bruce had explained and demonstrated how the pedal guard worked, the hand controls and the various modes on the computer. Not forgetting of course all of the standard things that you would need to know about like switches and starting etc and checking we were happy we shook hands and got in to the new car. I did not drive all of Friday but I did receive a call from my Doctor giving me some cracking news, to that end, I did my first bit of driving on the public highway in two years on Saturday and it was such a great feeling. For the first time in two years I felt like I was in control of something, felt like things were getting back to some sort of normality although I know that things will never be as they were, this was the closest that they had been since my accident. Now though I had to learn to drive in a different way, but thanks to Mission Motorsport giving me the opportunity to drive an adapted car with hand controls on the track, I was comfortable with driving on the road with my Wife next to me. In the evening I also took Tom and Danielle out for a drive which was great for me. I have found better ways already for me to do things whilst driving, using the cruise control being one of them and on Sunday I drove us to Yeovil to go and see the trucks at the show ground in Yeovil. I hope that this has explained to you why this is such a great thing for me, and although I know I am a little way off being able to drive myself on my own, just knowing that I can drive my family allowing my Wife to have a day off is such an amazing feeling for me, and whilst I have tried to put it in to words, I know full well that only people who have been in my situation will understand.
Yesterday then, (Sunday), we went to the show ground in Yeovil to the truck show where we saw a variety of different makes and models of trucks some really old ones…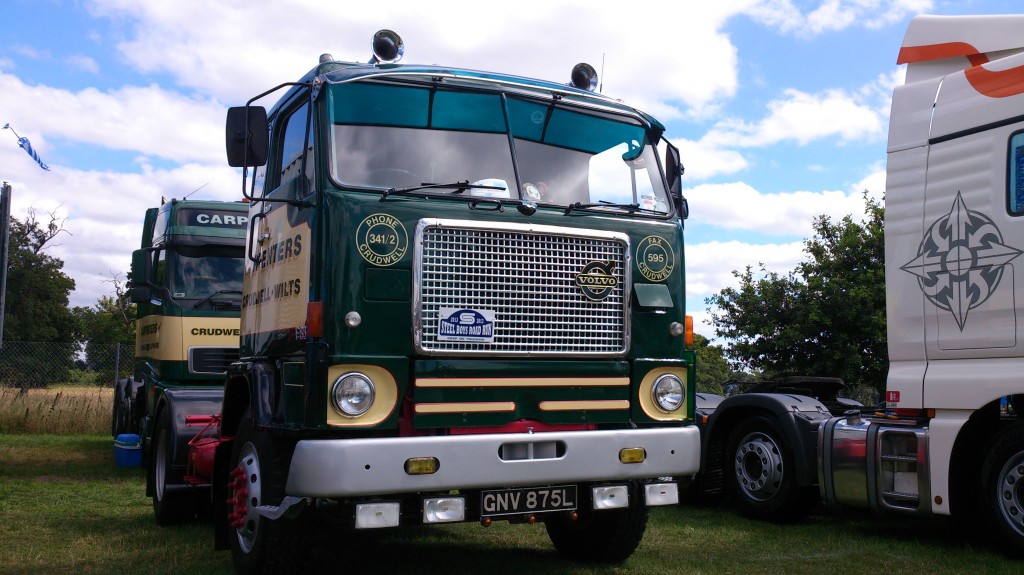 and some brand new awaiting delivery to our local haulier….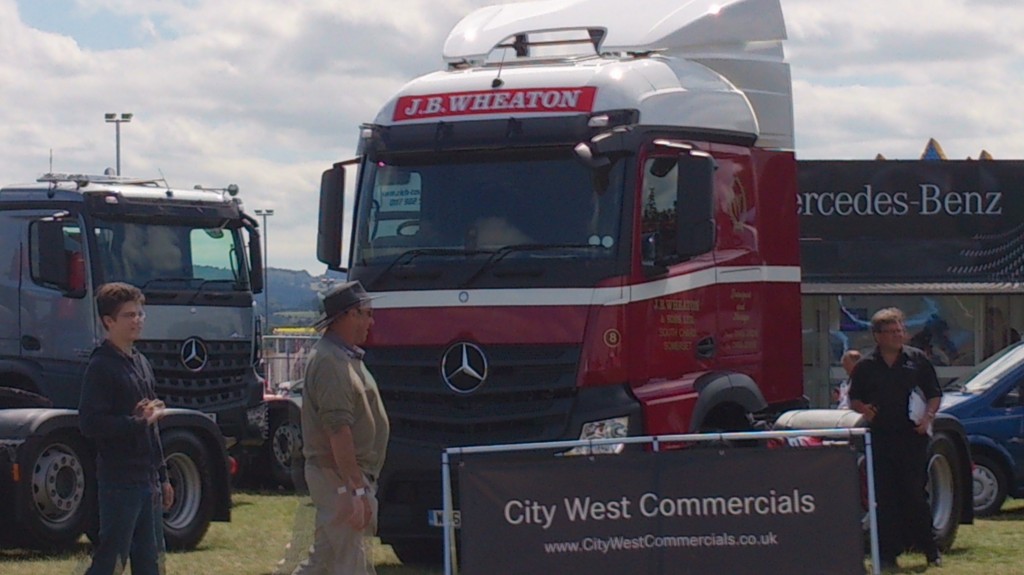 Some had lots of chrome…..
and some had lots of lights…..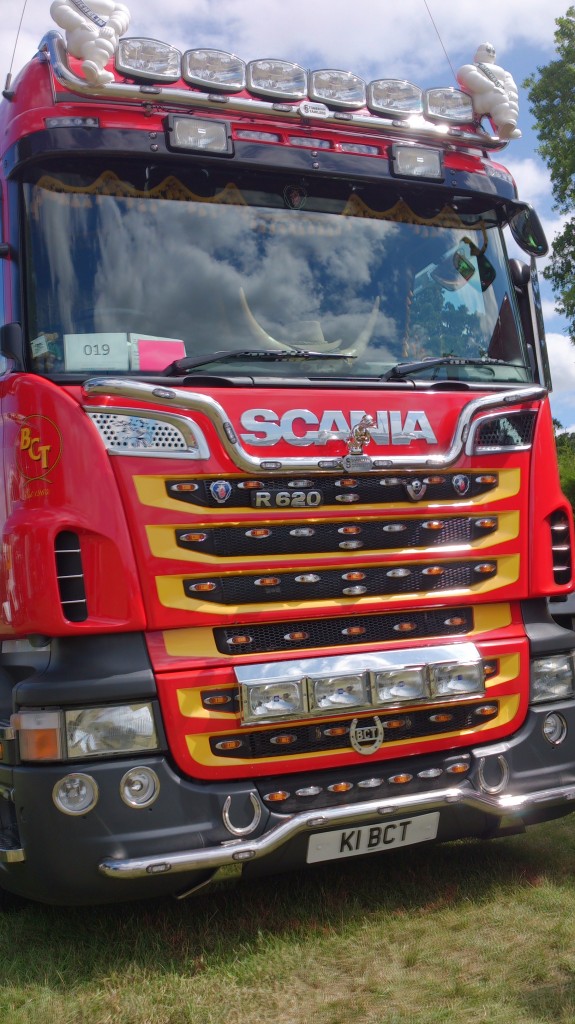 but then there were some which had been turned in to works of art…..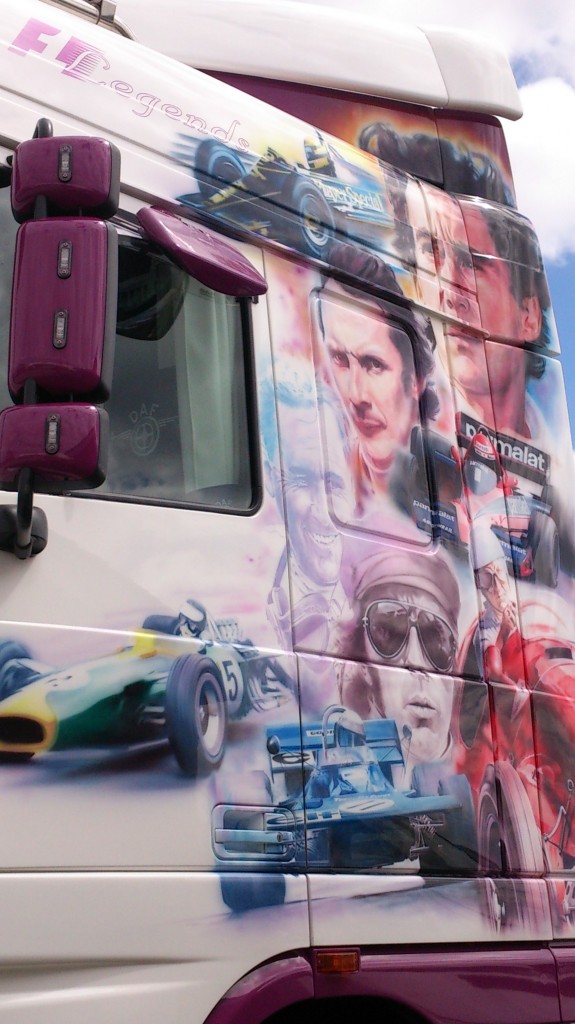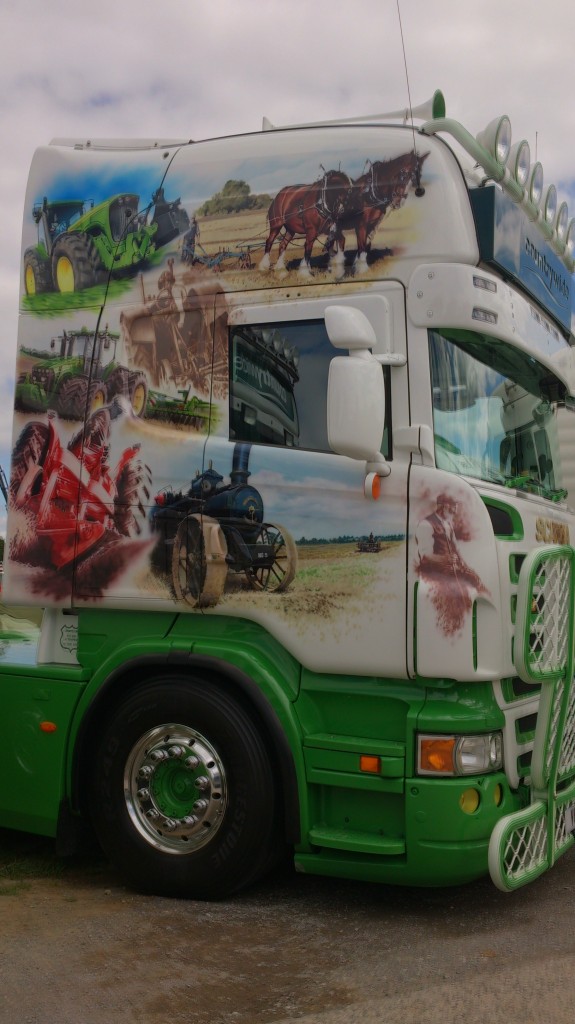 Collectors bought vehicles to show…..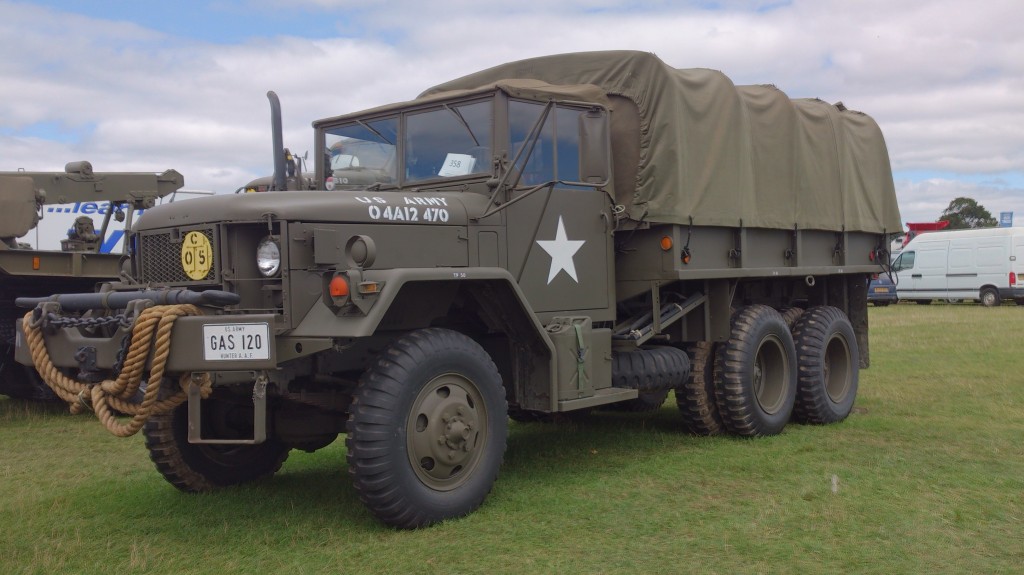 There were trucks that were dedicated to individuals…..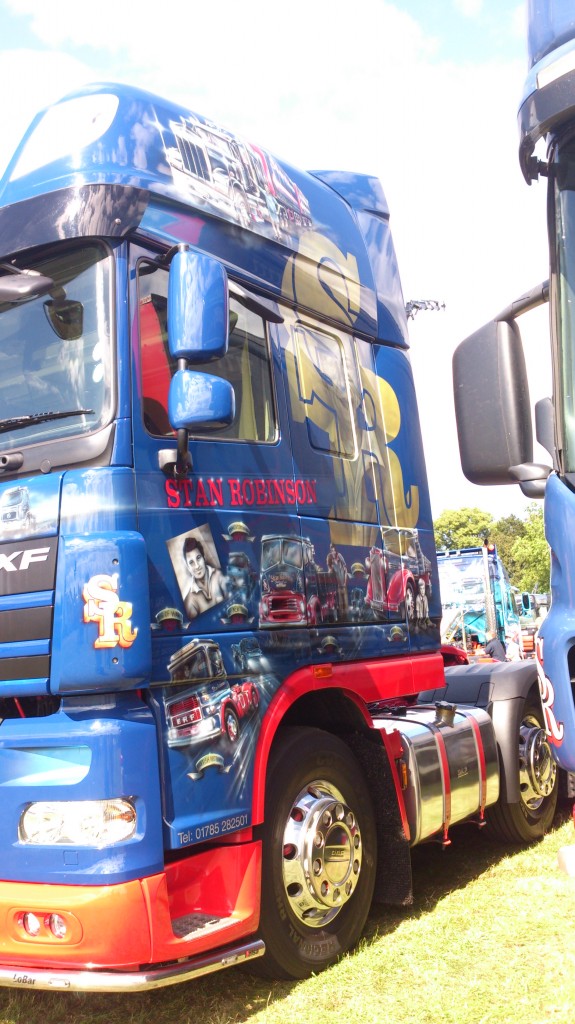 and charities…..
We stumbled across two trucks parked side by side that you could not have arranged…..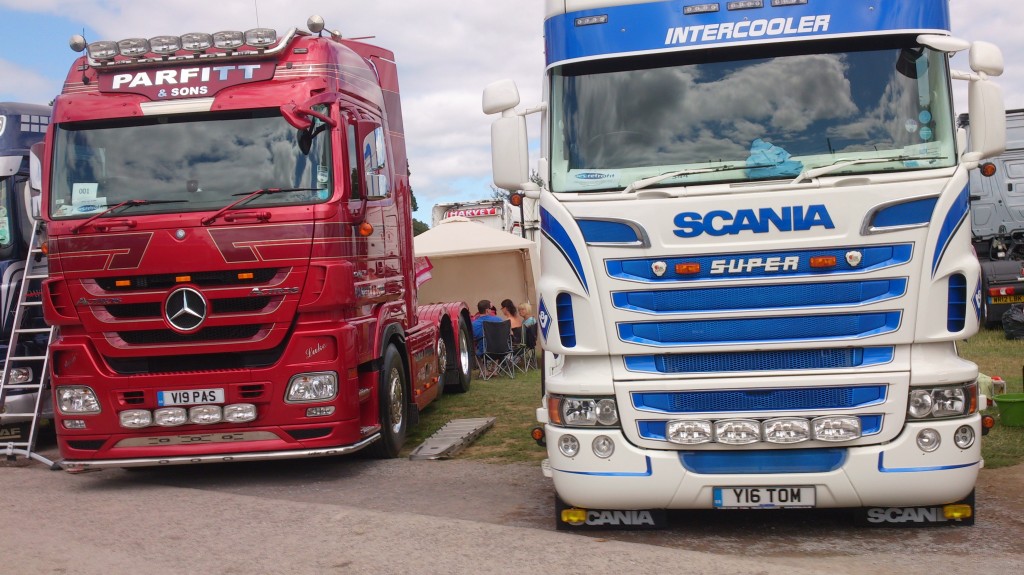 Note the reg plates. PAS and TOM, my surname and my Brother in Law's name.
We saw the local aggregate firm's trucks who are around a mile from our bungalow…..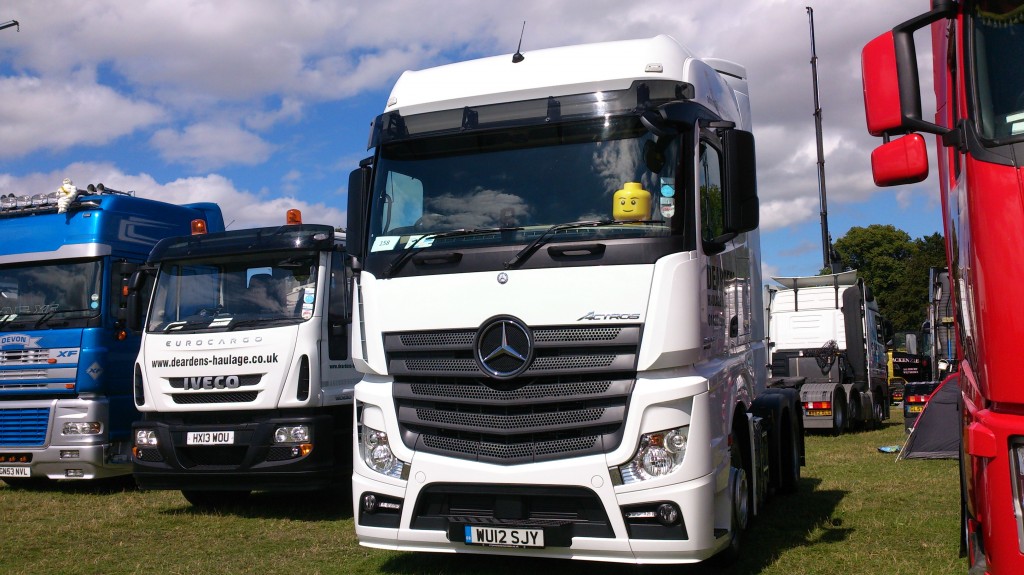 And then we found my good friend "Buzz's" truck…..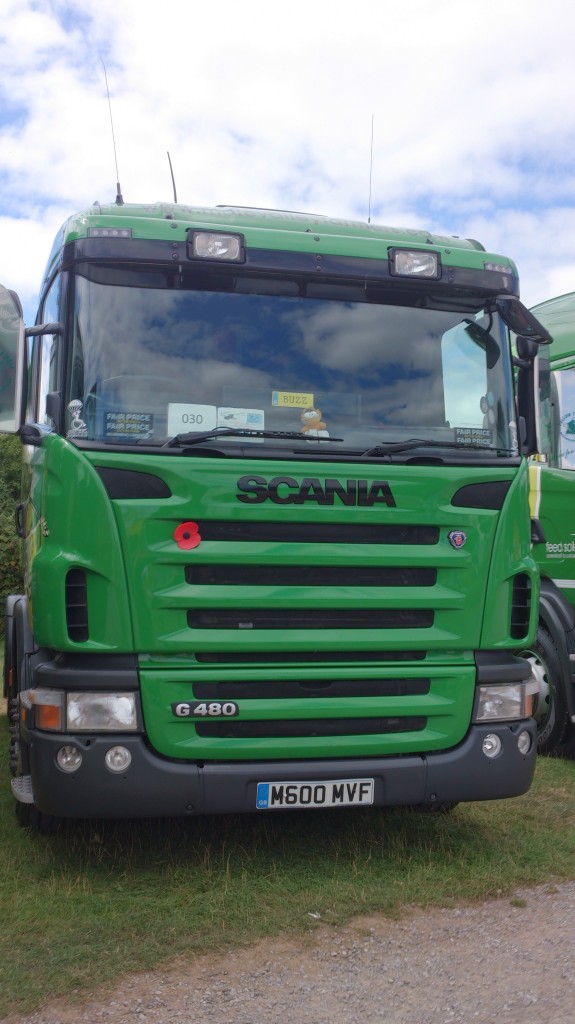 Note the stickers in the windscreen.
"Buzz" was in my unit and did his tours until he wanted to concentrate on lorry driving. It was great to catch up with him and to meet one of his friends and co workers, Paul. They were great with my Son and let him sit up in their trucks which he absolutely loved. Incidentally, we received a message on Sunday evening letting us know that all of Paul's hard work cleaning and polishing his truck had paid off as he had won first prize in his class, so well done Paul! We stayed chatting for around twenty minutes or so and then headed off. We passed one truck that caught my attention.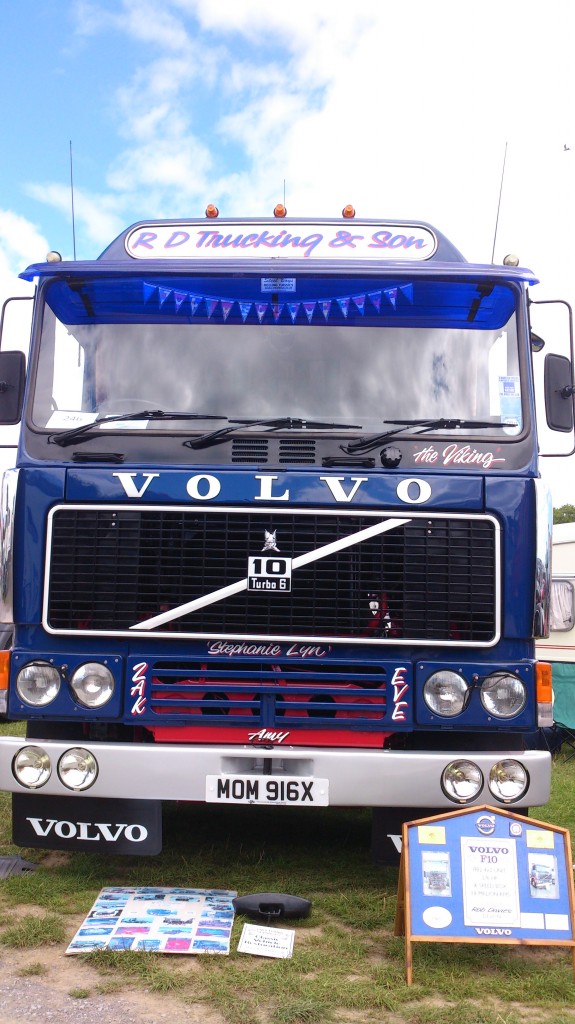 It was incredibly clean for the age of the truck and then I read the display board, this truck had done a colossal amount of miles. It was testament not only to the build quality of the manufacturer but to the care, attention and respect that its owner had for the truck. To keep it so well serviced and up together takes dedication, and the dedication of this owner shone through.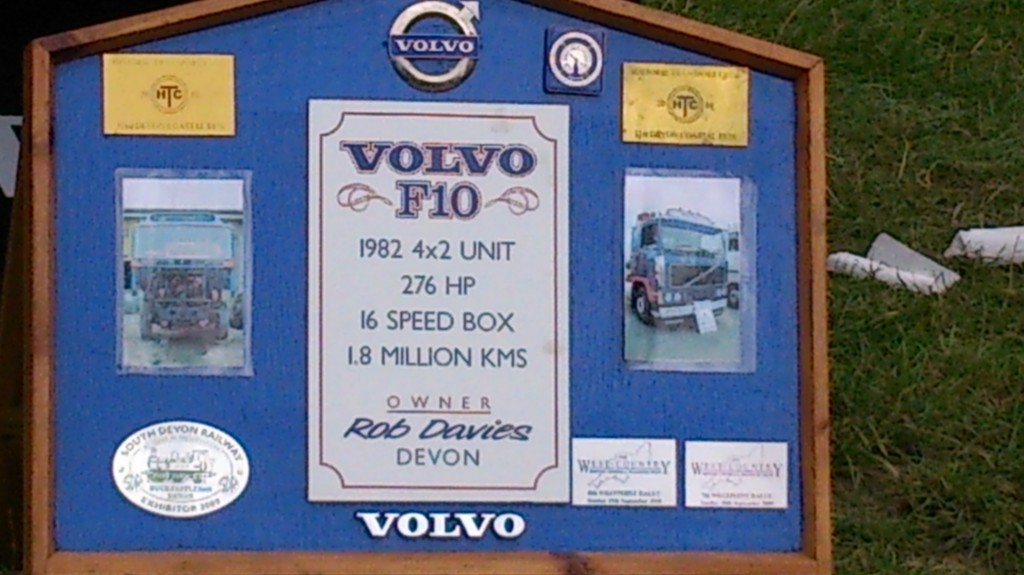 We had a great day out which was more for my Son than the rest of the family, my Daughter and her friend enjoyed themselves having gone on some of the fair rides that were there, and then the day was finished off with my Son going on the bumper cars with my Daughters friend…..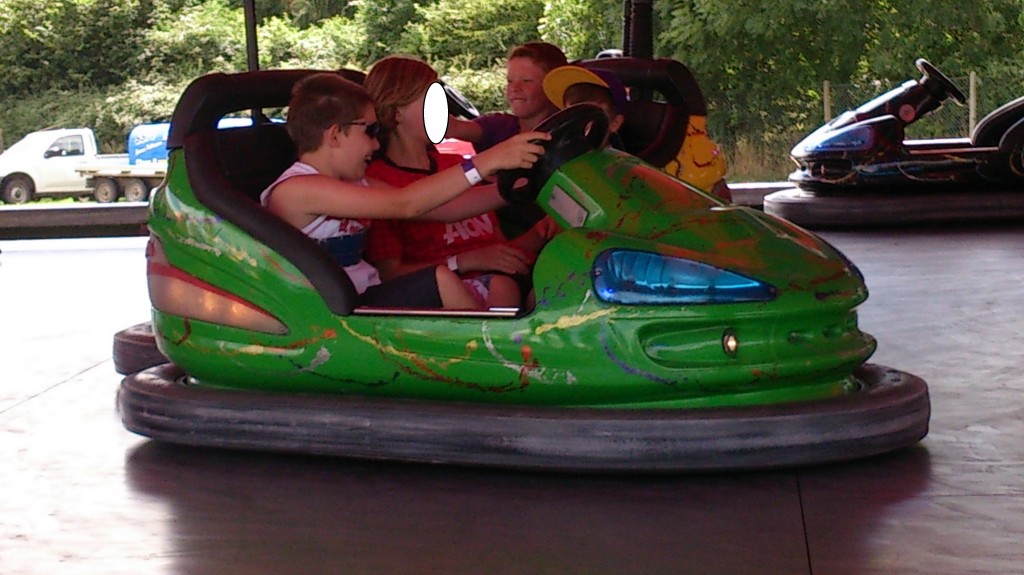 and "Pickle" going on the bouncy castle….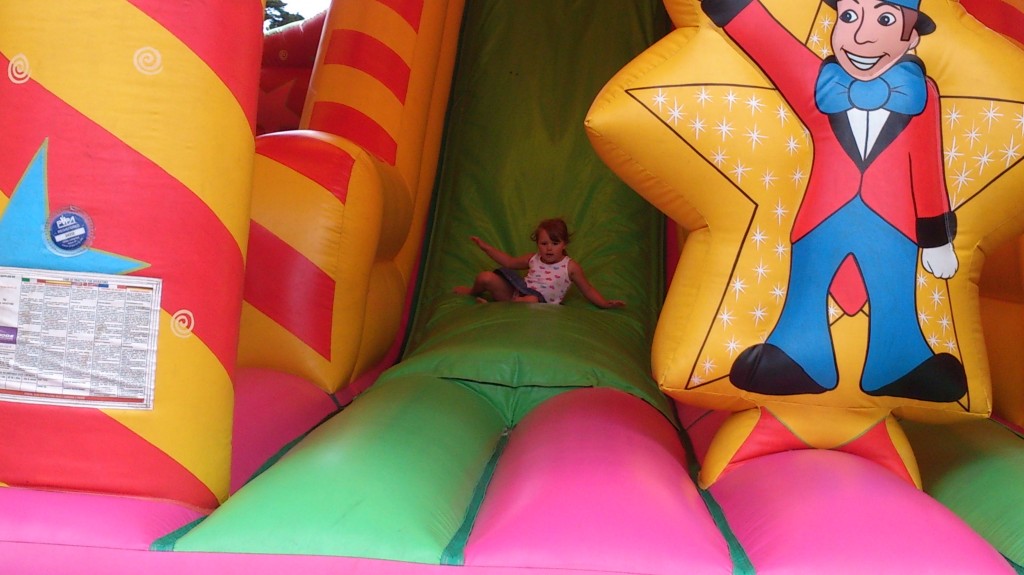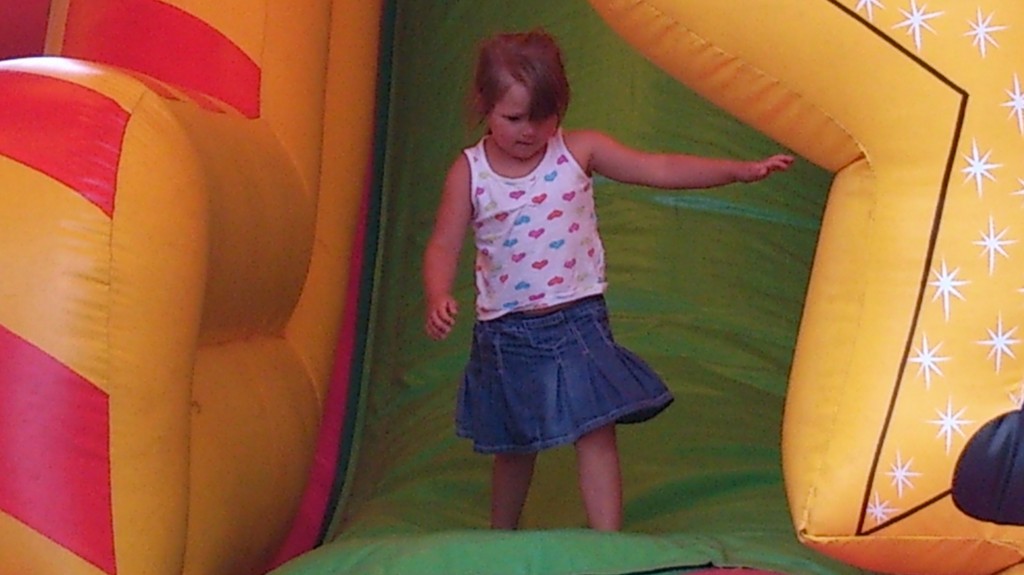 I didn't drive back home, think Wifey wanted to drive the new car again! Now I need to practice transferring in and out, mainly out as it is a bloody nightmare at the moment and then of course I need to practice being able to dismantle my wheelchair and get it in to the car once I am in. Until I can master all of these things then I will still need someone with me, I very nearly fell out of the car trying to get out and in to my chair at the truck show. The driving is ok, night time driving I will be doing over the next few evenings and I will be practising the transfers and wheelchair dismantling on the driveway until I get it sussed. Until then though, at least I no longer have to be a passenger all the time and I have regained a little more control over my life. A great feeling!
Have a good day all.