Had acupuncture on Friday morning with Maralyn, the last one before Christmas but not her last treatment before Christmas by a long way. She had a very busy day ahead of her with appointments all over the place. She was telling me about her plans for the weekend and asked me about mine. As always it was a very pleasant chat with some really good laughs about various things and at the end of my treatment `Pickle` came in with a Christmas present that we had got for Maralyn, wished her a Merry Christmas and then Maralyn left. Dressed and in my chair I spent the day in the house as it was, to my absolute shock, raining again. As I had nothing desperate to do in town I decided there was no point in going out and getting soaked for no reason.
`Pickle` went to nursery as usual and then my Wife collected her at the normal time, the two older ones were collected by my Wife's Uncle and brought home to the bungalow. He often collects them on a Friday, normally with Wifey's Auntie, and they come in for a coffee and catch up, the kids look forward to it as well which is nice. They had visitors coming on Friday night and so unfortunately he could not stay but it was nice to say hi in any case. Shortly after he had left, Wifey got home from a quick drive in to town for a couple of bits and we went over to the supermarket in Ilminster to get some things that we needed as well as deliver some cards to friends in Ilminster. Thankfully this shopping trip did not take too long and we headed back to the bungalow ready for our visitors to arrive. We had arranged this a couple of weeks ago with the sole intention of having a takeaway night as we would not be getting together over Christmas, and I was absolutely starving, so them arriving could not come quick enough.
Alison and Steve arrived at around six, they came in and sat down and we spoke about the weeks events, my time in the standing frame and how it worked, we then decided on tea, ordered and Steve and my Wife went up to collect it. Meanwhile, Alison and I continued to speak about the frame and how it felt to me when I was stood and what benefits it would have. In no time at all, the food arrived and once it had been dished out, the wine was opened and the meal was complete! After the food was finished the kids were given a Christmas present each from Alison and Steve and were told they could open them as they would not be seeing them over the Christmas period. `Pickle's` face was a picture when she tore off the wrapping paper and found a large box with a Father Christmas in, but not as much of a picture as when he was removed from the box for her to realise he was made of CHOCOLATE!!!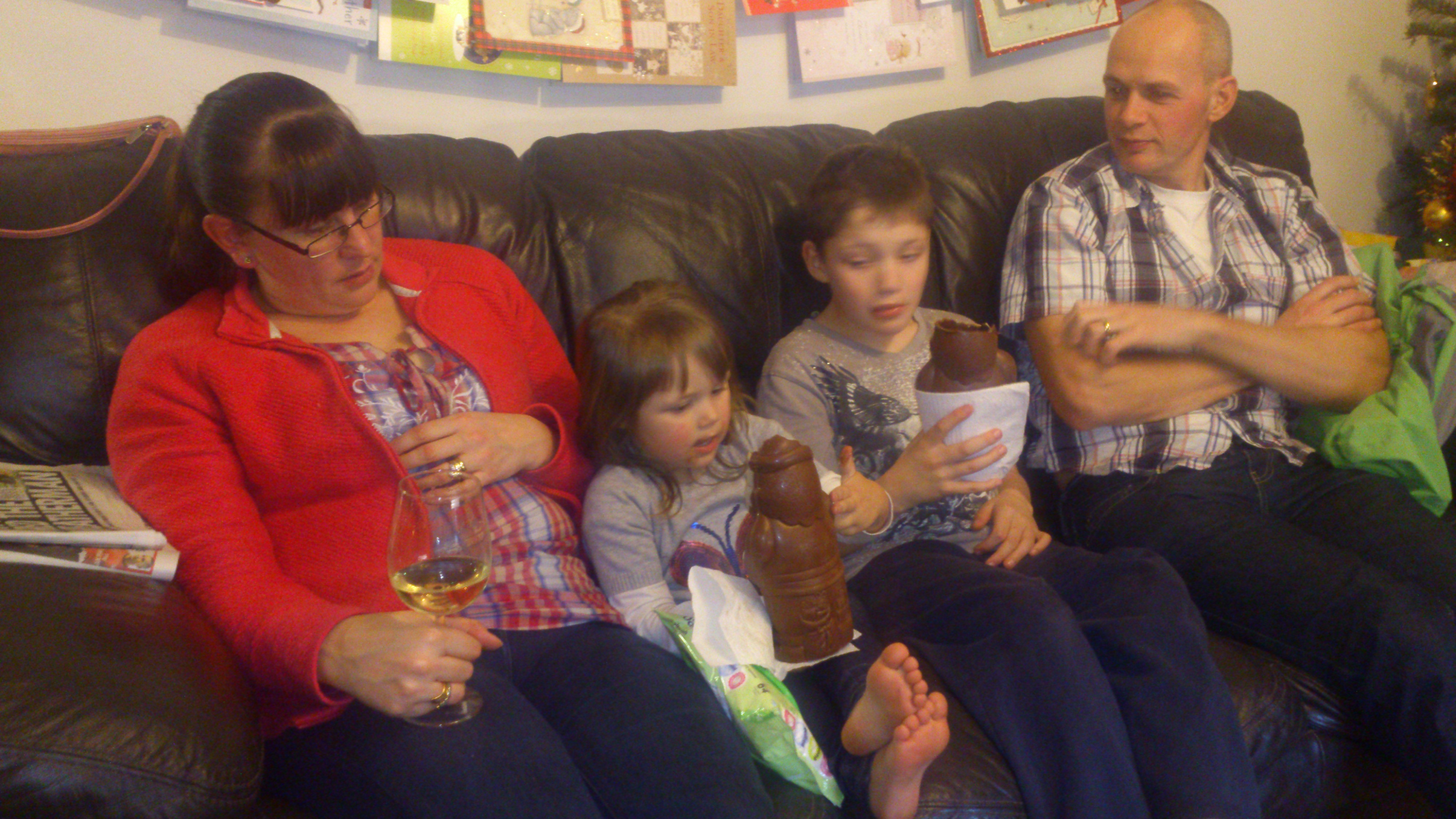 She did not have a clue where to start eating it, she would look at his feet and then his head and then his feet again until after what seemed like a lifetime of deliberation, she bit in to his face. She ate as far as his shoulders and then said that she wanted to save the rest for later and put him back in to his box. Her little face was covered in chocolate but after a trip to the bathroom sink and wash she was clean again. It was quite late when Alison and Steve left and therefore quite late before the kids, Wifey and I went to bed but it had been a really good night with some good friends so the late night was warranted.
We woke this morning to yet more bloody rain and very quickly Wifey went to check the water levels in the toilet, fortunately they were normal so for the minute at least we were safe. We all got up, washed and dressed and got ready to go out. Today we were going to go and visit Father Christmas. This year `Pickle` would be so much more aware of what was going on, she would be able to talk to him and interact with the animated characters that are at his grotto, this was going to be a really good day for her and all of us. Whilst we were all getting ready there was a knock at the door, it was Bob, a friend of ours who I worked with years ago at the Wildlife Park and who I had employed to put in the fence and pathways at the bungalow and also some similar work at my Mother in Law's house after the winds had bought her fences down.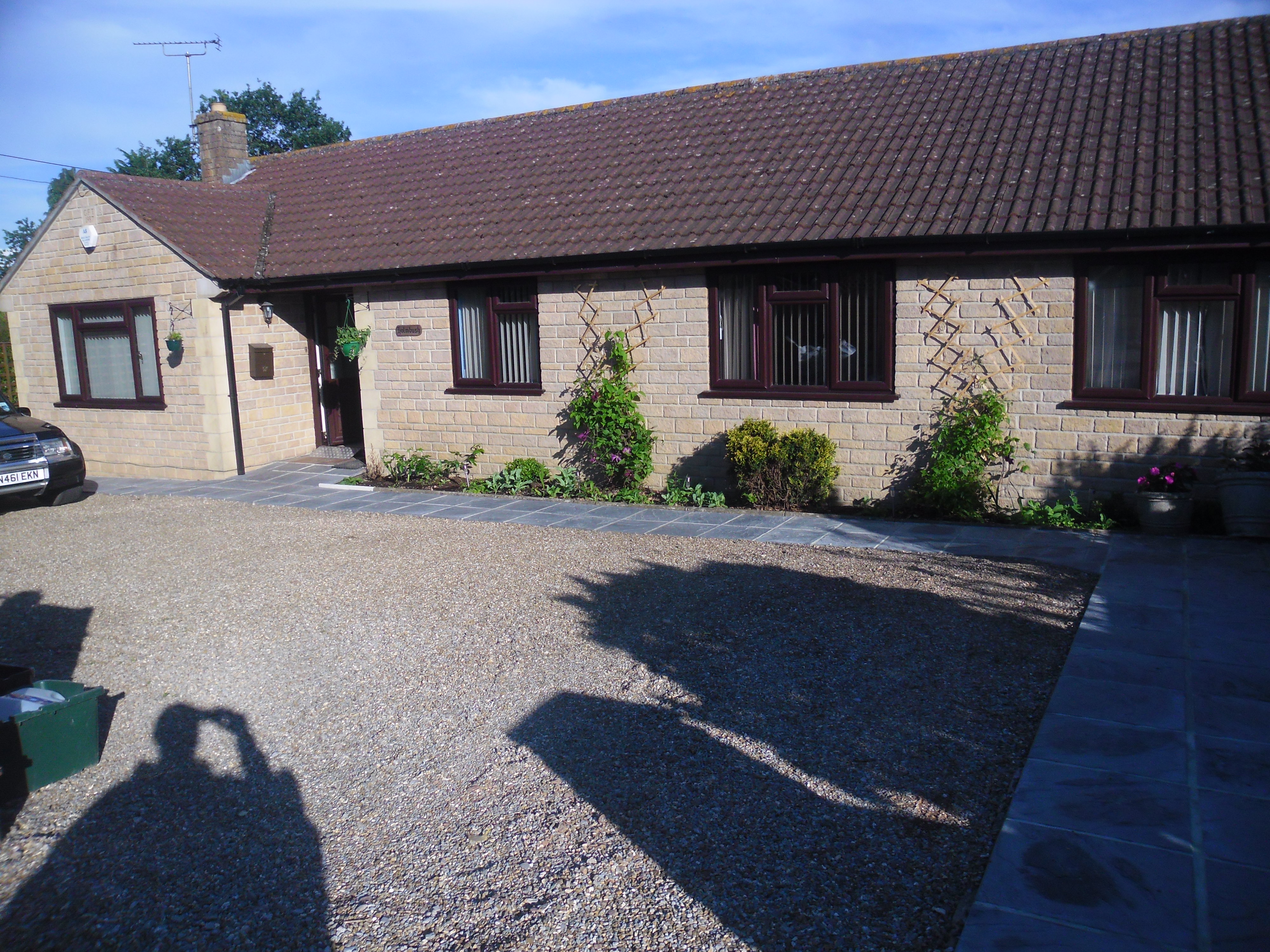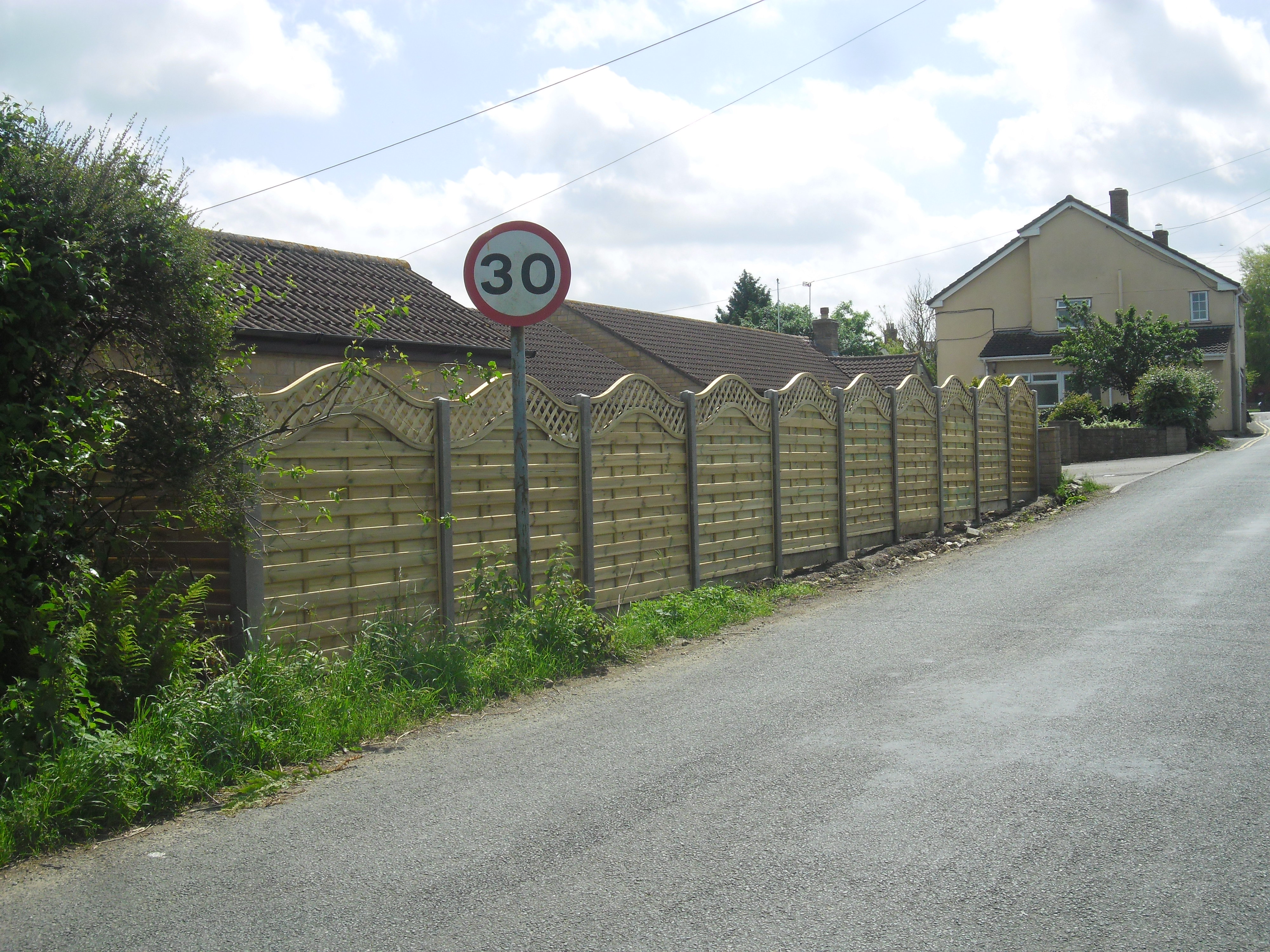 It was good to see him and hear what he had been up to since I last saw him a couple of weeks ago, and he was interested to hear about the standing frame. We had a drink and chatted for a while until he then had to leave to continue his task of delivering his Christmas cards to others in the area, really good to see him just before Christmas and I really hope he will call in over the festive period.
A short time later we loaded in to the Chucklebus and drove round to collect the Mother in Law for our trip to see Santa. The rain was still falling and showed no signs of letting up and despite our brief chat about possible flooding on the way, we decided to head off and see what happened, after all, if we were at home we would be worrying all day about the septic tank so best to try and enjoy the day so we proceeded with our plans. The roads were not that bad, there was surface water but surprisingly, no floods to speak of and people were actually driving sensibly in accordance with the road and weather conditions and even driving with head lights on, amazing.
We arrived at our destination, Otter Nurseries, we did some shopping for some last minute Christmas presents and then, after we had paid we went in search of Father Christmas. They have such a good Santa's Grotto every year that it compels you to return the following year, which is better than the previous year and so you go the following year and so on and so forth. This year was no exception, you walk through the entrance to the Grotto and it is illuminated with lots of different coloured festive lighting.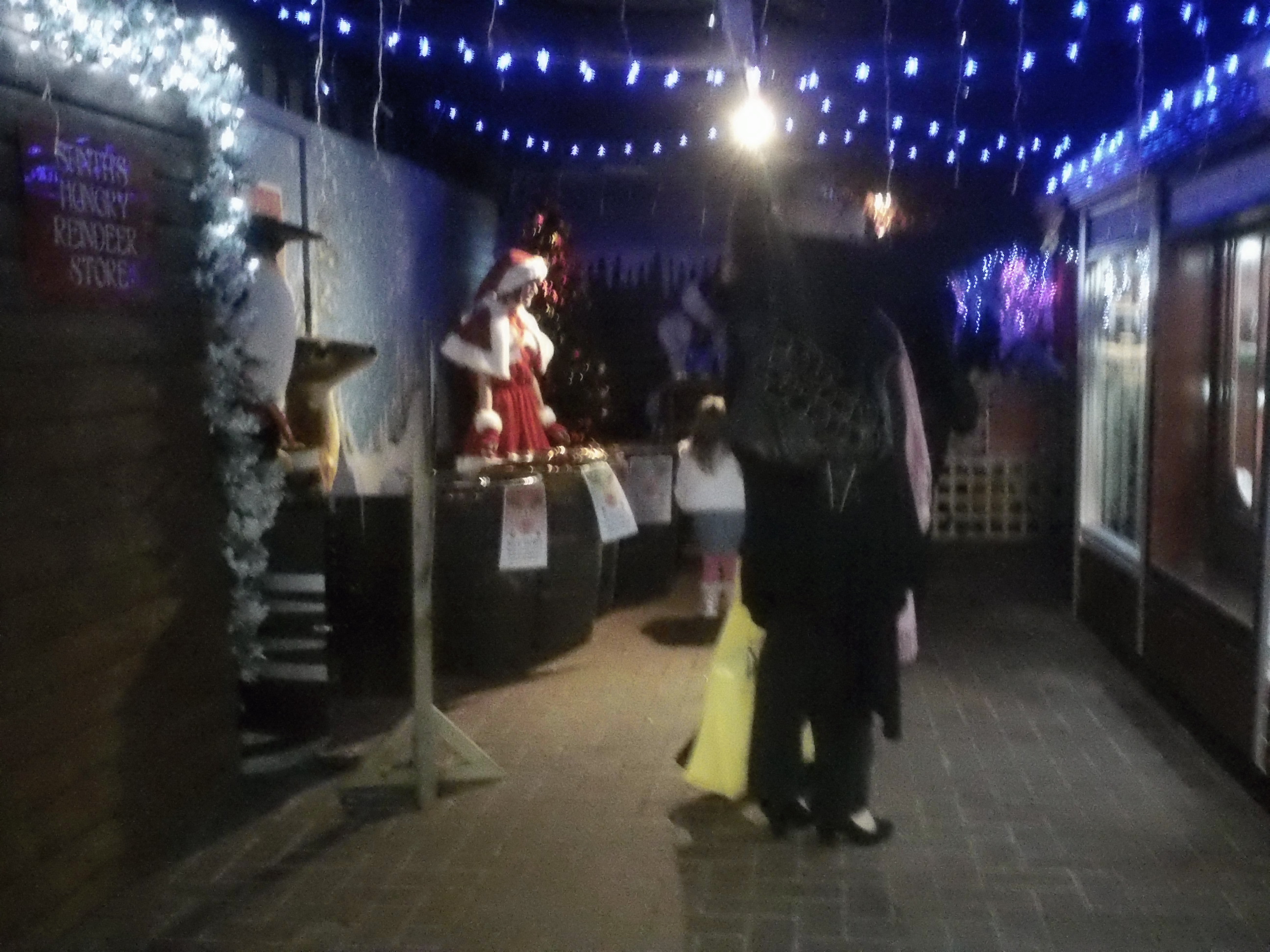 As you walk through, the first stop is to get your reindeer food.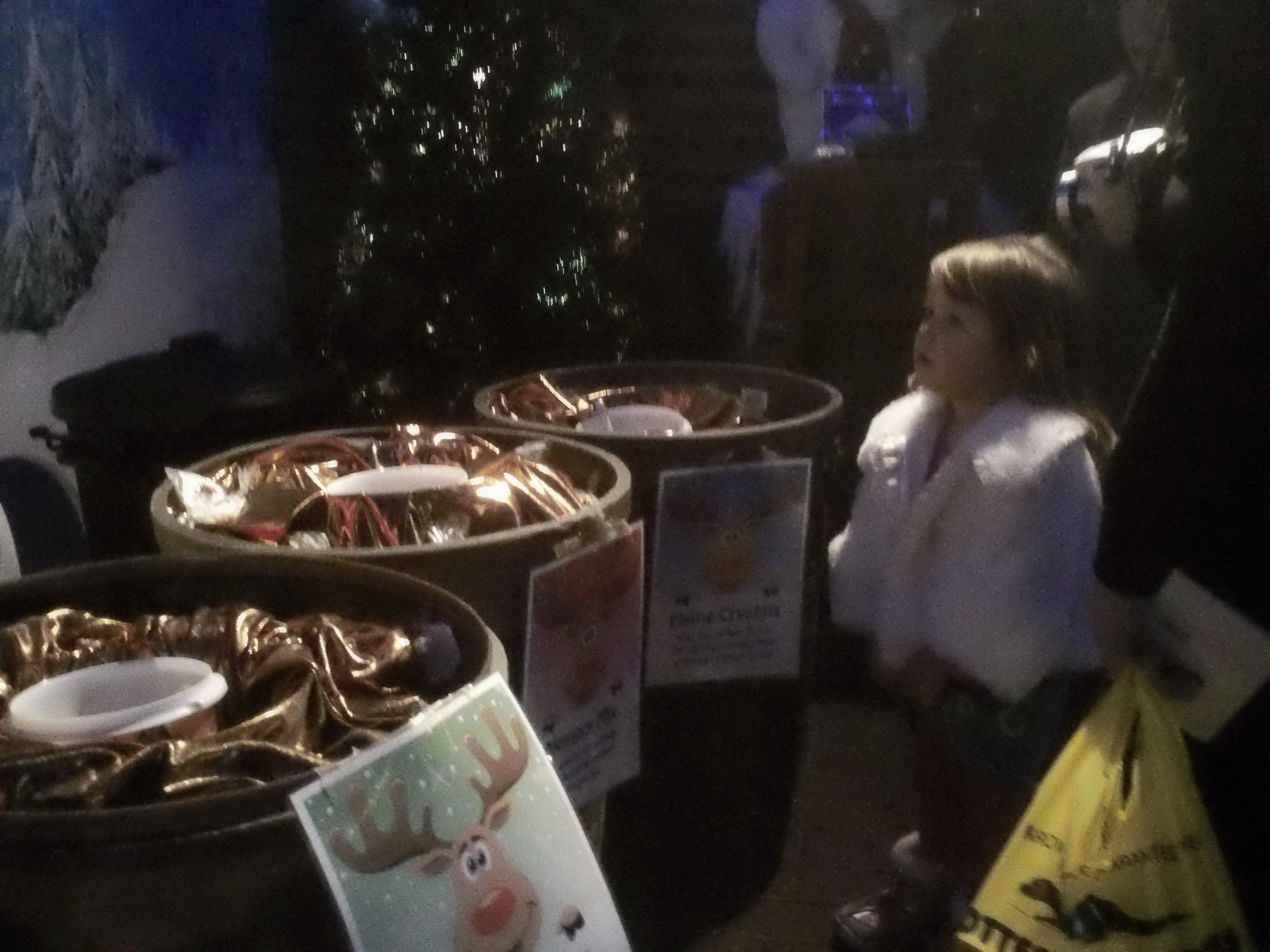 There are different animated characters, Reindeer and penguins it is lovely to see the kids watch the characters and ask parents questions.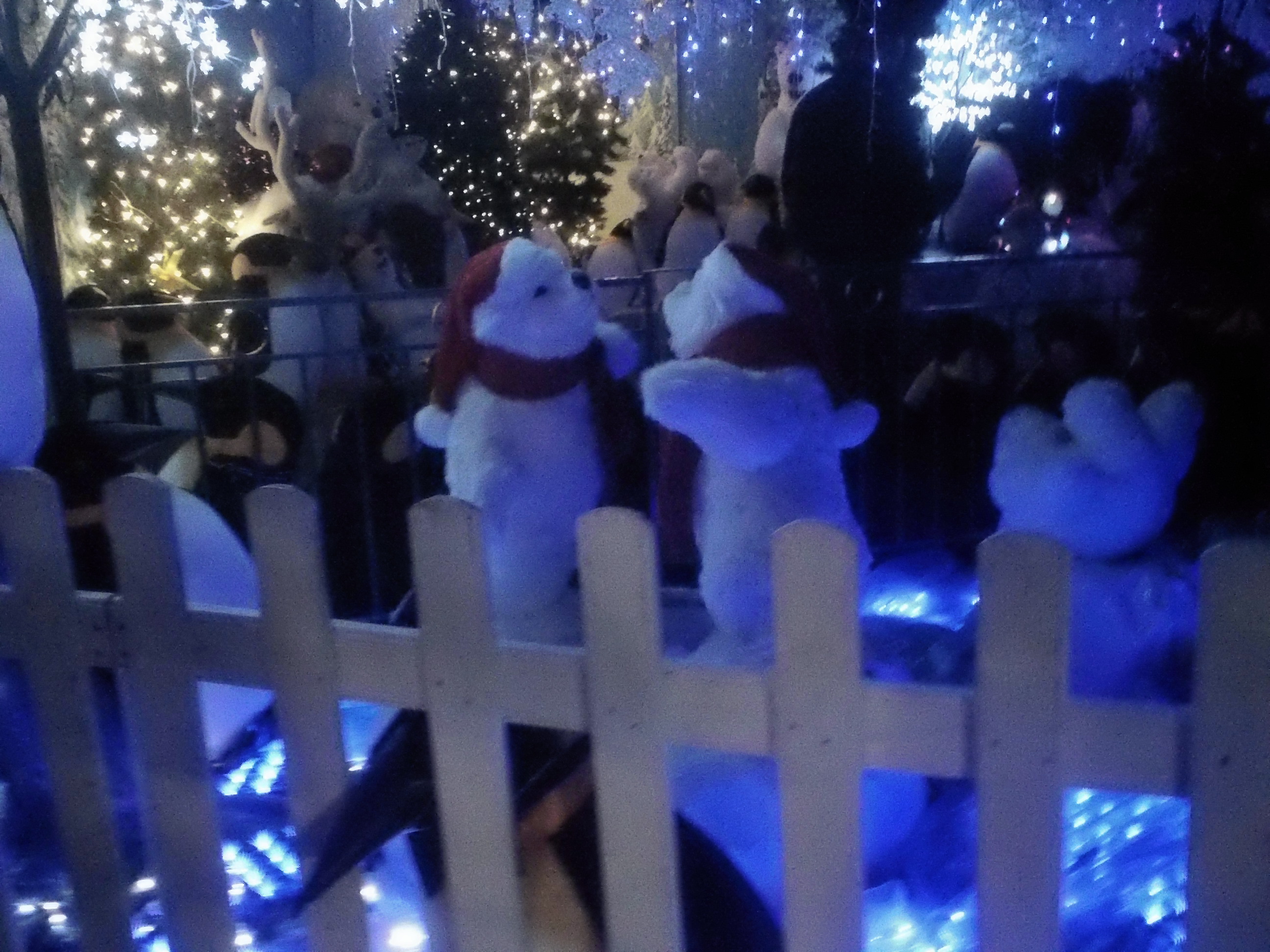 There are even two singing reindeer which `Pickle` loved and watched for ages.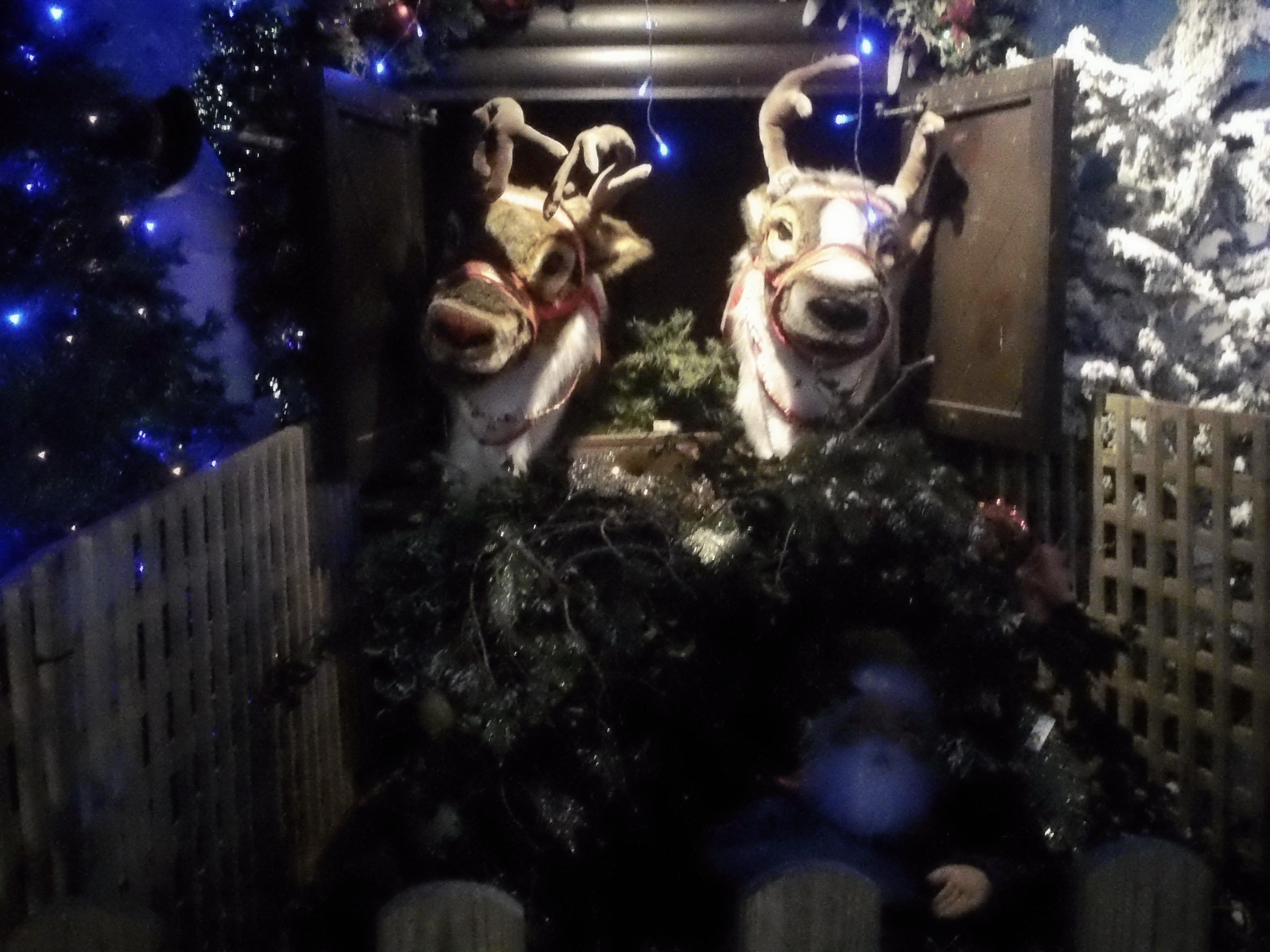 Just before you reach Father Christmas's door you just have to say goodbye to the Penguins.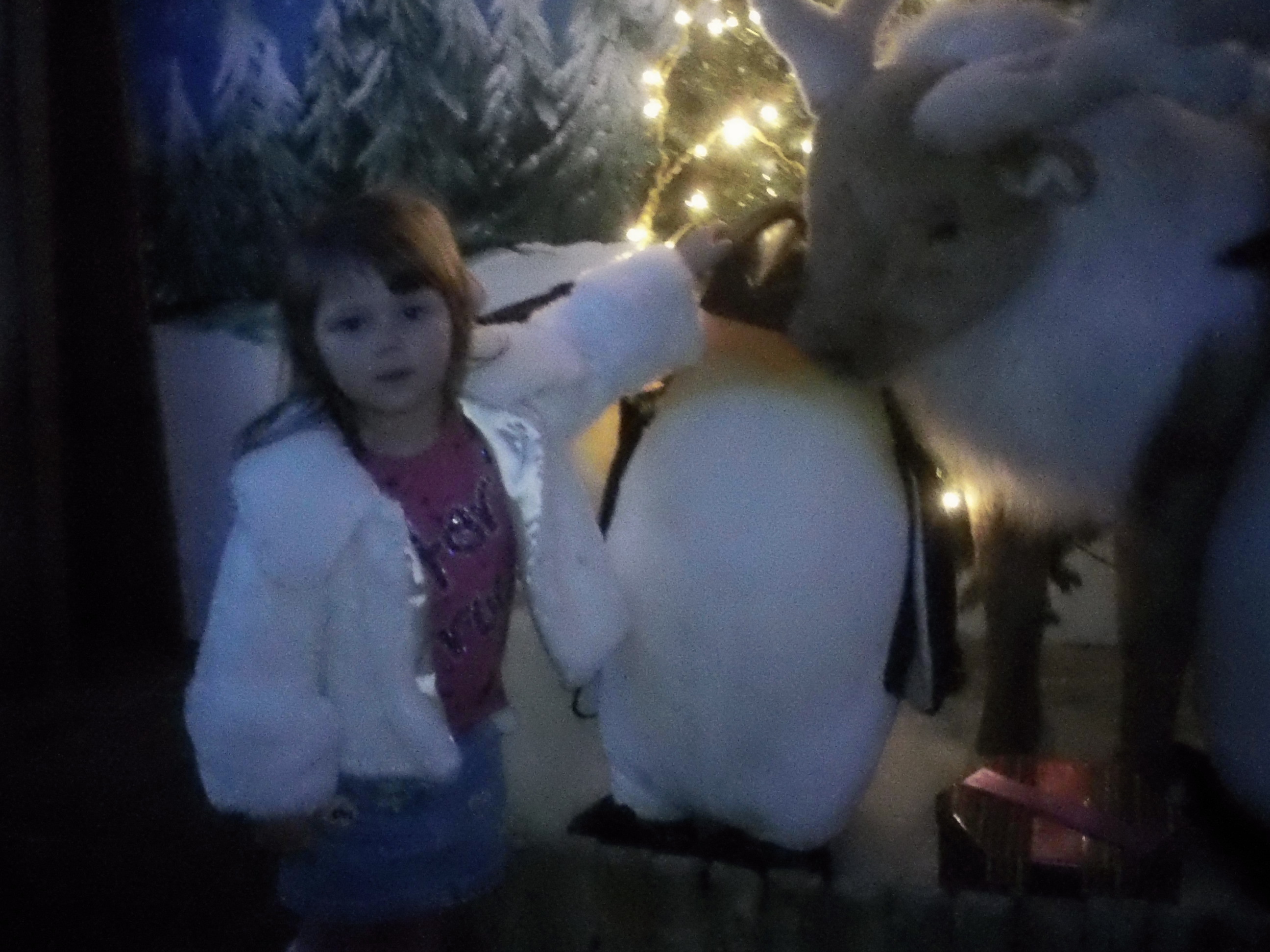 And then it's in to see the man himself.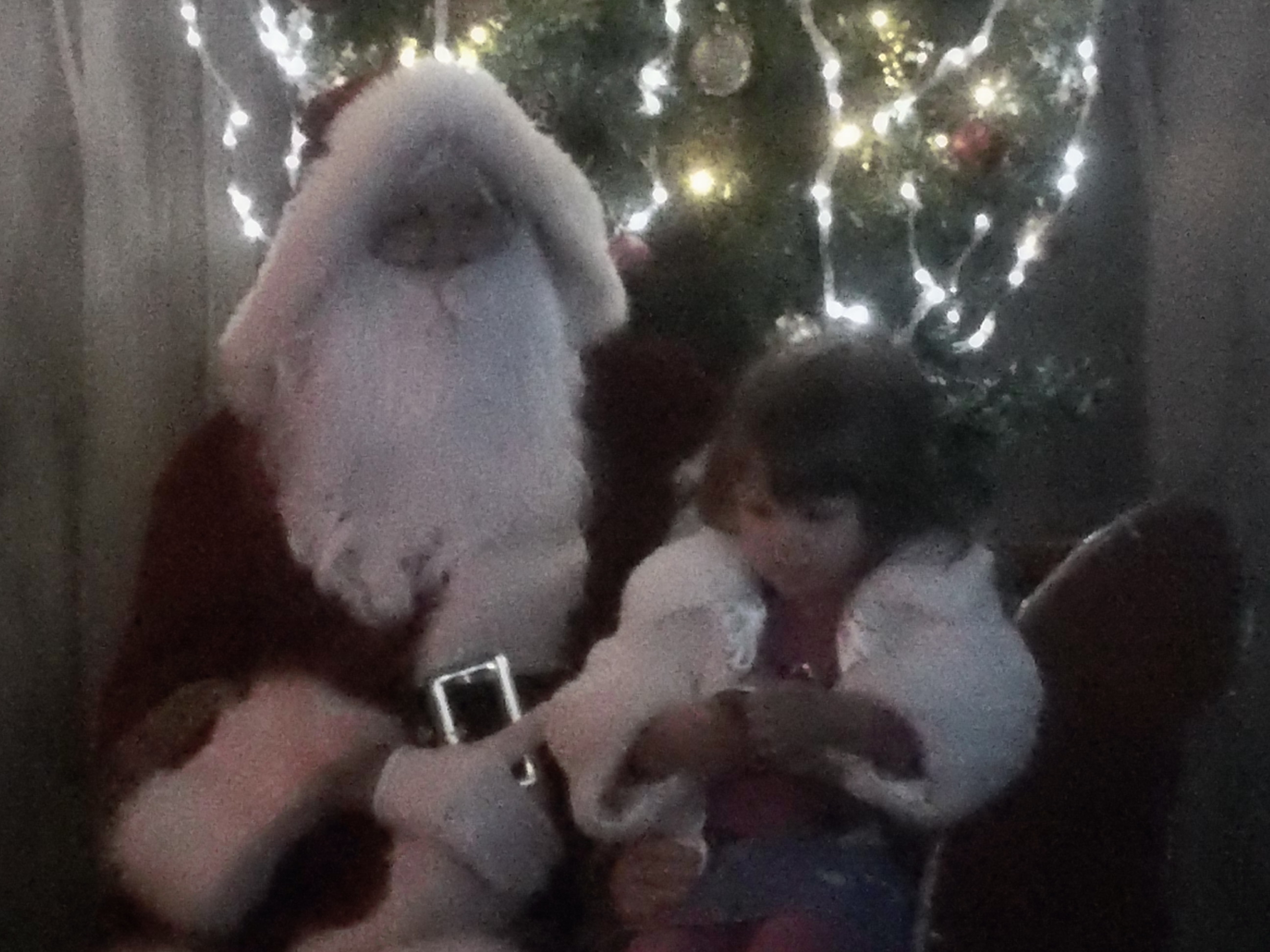 A very shy little `Pickle` was not sure about going and sitting with him but eventually she did and when asked what she would like for Christmas she simply replied, "Peppa Pig Please."
Father Christmas told her to continue to be good and he would see what he could do and then told her to go to the fire place which was on the opposite side of the room. She did as he said and looked in to the fireplace, it was empty but then a present fell from the chimney with her name on it. It made her jump, but then she laughed and picked the present up, there was in fact one for each of the kids, all named. We were shown by Santa the way to the exit and when we got to the door, `Pickle` remembered her manners and said "Thankyou Father Christmas". No sooner were we outside of the Grotto, she opened her present and took great pride in showing us what she had been given.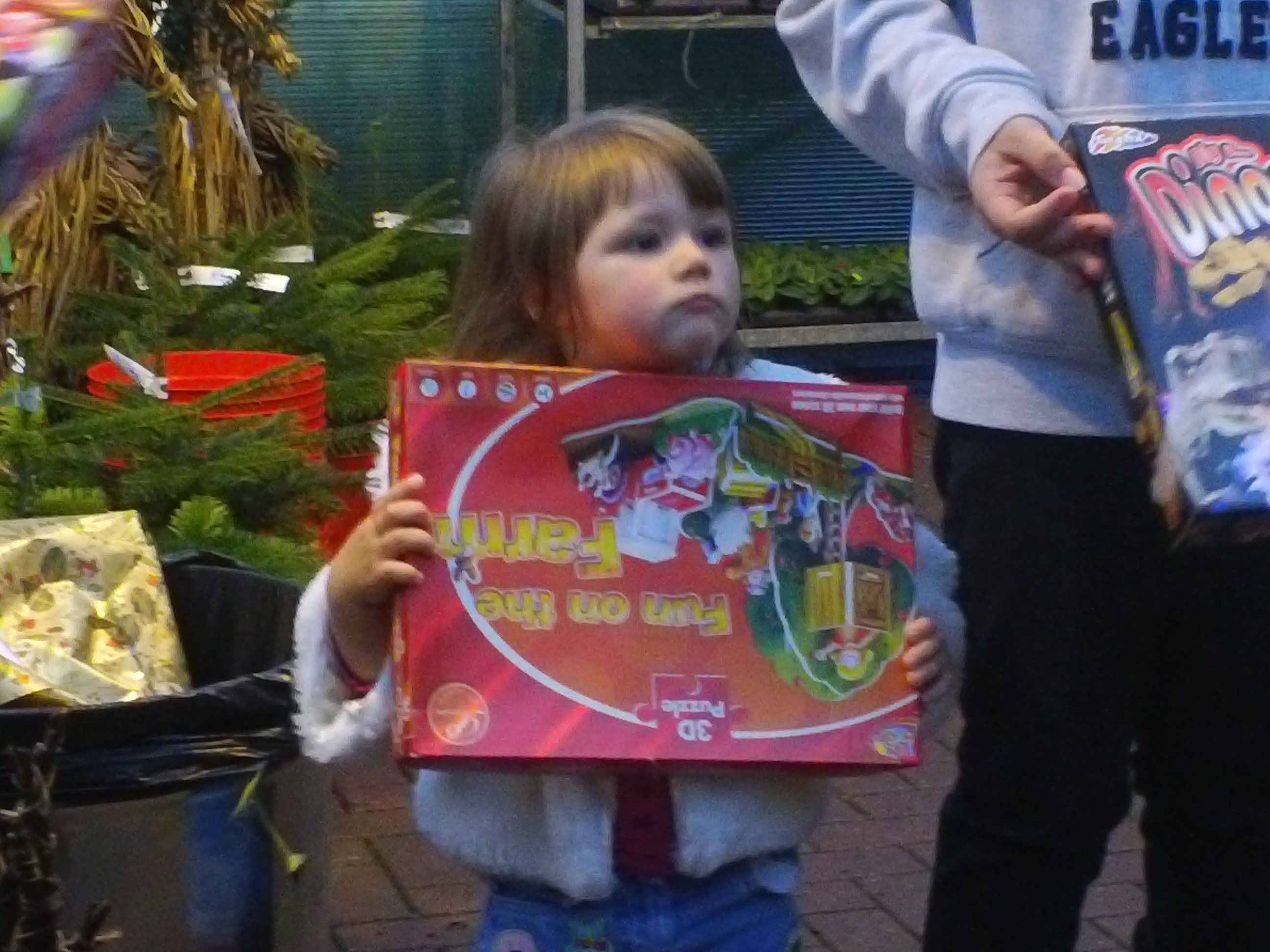 We left the Grotto and headed back to the Chucklebus and once loaded, we drove off heading for home. We had intended to eat at the restaurant at the Nurseries but we could not interest the kids and so we decided to stop off on the way home in a Little Chef. Here we had no problem in getting the kids to choose and after a short while, the food was on the table, very good sized meals too. The food was lovely, piping hot, tastey and plenty on the plate. At the end of the meal, we settled the bill and headed outside in to the rain once more to load in to the Chucklebus and head for what we thought would be straight home. This however was not the case as we diverted to Taunton to do the last lot of shopping for food and drink. This would ensure that it was all done, and we would not have to be trying to fight our way through other last minute shoppers on Monday.
I really didn't think we had that much to buy, but it seemed to take forever. It was one wheel forward then two back as people with their trolley's would fail to notice me, if I didn't move then I would simply be driven in to. To lengthen my life expectancy therefore I took the kids to the CD, DVD and Games section where we stayed out of the way for a good half an hour or so until finally we had to enter the chaos again and find the Wife and Mother in Law who were somewhere constructively gathering the items we needed whilst dodging other trolley's. We made it through the mayhem and continued with the shopping taking care not to be separated or squished by the carnage that was the Christmas shoppers! Finally it was over, we had successfully paid for the shopping and got out of the store with no injuries and the team complete. We got back to the Chucklebus, loaded up and headed for….another supermarket….NOOOOOOOOO!
We had to briefly stop in for the Mother in Law to get something that she could not find in the previous shop, for this though, the kids and I would stay safely in the Chucklebus. `Pickle` had been so worn out after the mayhem in the last place that she had opted to go to sleep to try to recover and probably forget the whole experience. Finally, the items had been located, collected, purchased and loaded in to the bus and we were finally heading back home in yet more rain. What would the water levels in the toilets be doing if it had been raining all day, until we got home we would just have to guess.
We dropped the Mother in Law home with her shopping and drove back to the bungalow, fortunately the pump had managed to cope today and the toilets were okay for us to use, we just hope that the rain will hold up for the night to continue to give the pump a fair chance of keeping the levels down but we shall have to see. As it was late when we arrived home I was regrettably unable to get in to the standing frame today but I am expecting a visit from my Brother and possibly my Dad tomorrow, if this does happen then I will get one of them to help Wifey get me in the frame for an hour.
I got a message today with a picture of a balloon figure that my Step Brother had put together as well as some other stuff. I'm going to put the pictures on here because I think it is very festive as well as being pretty cool, clever little bugger. I struggle to draw a straight line with a ruler and I am definitely not as creative as him. What do you think?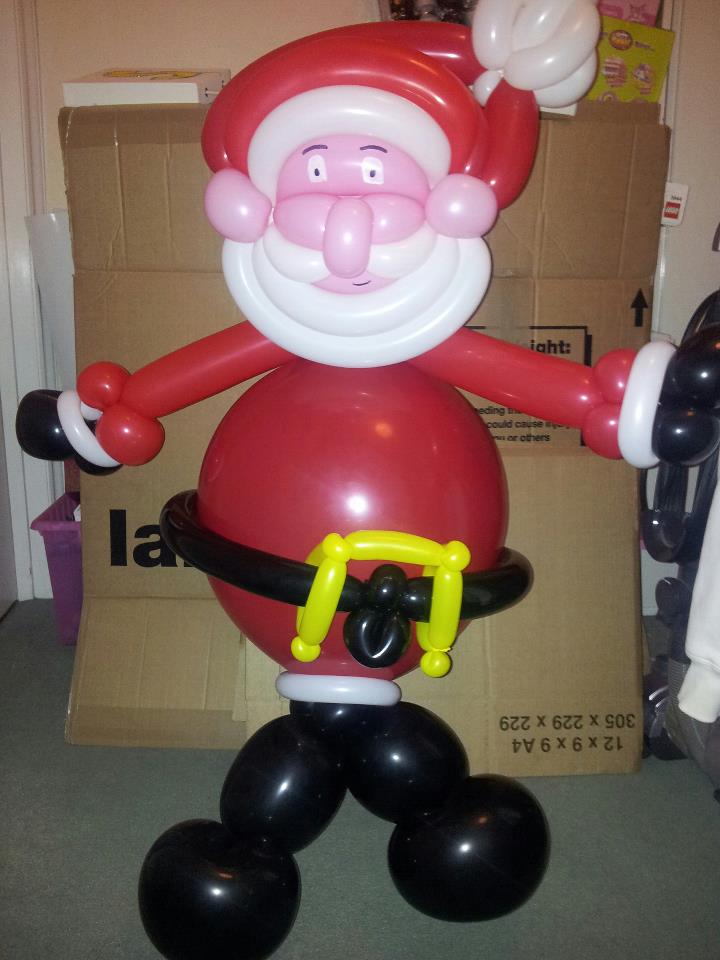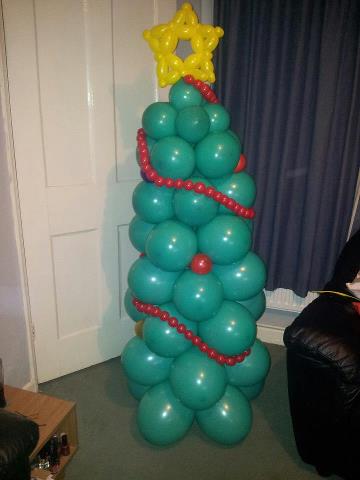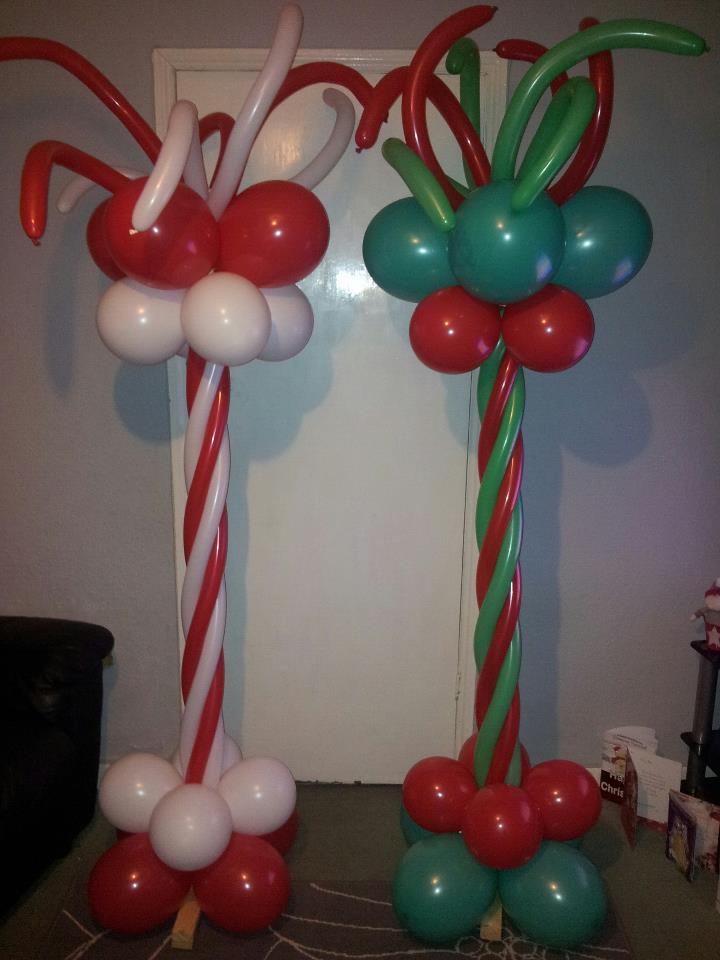 And so, with it now being Sunday morning in the early hours and everyone in my home being tucked up asleep apart form me, I am going to finish up and get in to my bed.
Goodnight all.