I woke this morning with a feeling of excitement. I got myself dressed and transferred in to my manual chair as quietly as I was able. I did not want to wake `Pickle` who had decided that our bed was much cosier than her own and had at some time during the night left her own bed and climbed in to ours. I struggle to understand why she would do this as she spends her entire time in our bed kicking the covers off, however; I can understand the feeling of safety that she would feel being snuggled up between Mum and Dad though. I managed to roll about pulling my tracksuit bottoms up without waking her and despite the involuntary `grunts`and `yelps` I make when my body spasms, I was able to successfully get in to my chair and out of my bedroom without her as much as stirring. Already I was running through in my head a checklist of things to do and remember to take for today's activity and the more I thought about it the more I was looking forward to it. I had my breakfast and then changed chairs to use the bathroom still running the checklist over in my head. It was as if I was checking off in my head before an exercise but the list was so much smaller and to be honest nowhere near as important. If something was left off or forgotten it was not the end of the world but this morning it WAS important in my head and so the checking continued. I swapped back in to my manual chair and set about doing the final checks, collecting the very few things that I needed until I was confident that I was ready to go; all that remained was to wait for the time to leave.
It was a little before ten o'clock this morning when `Duke`, my Retriever went apeshit barking at the door, this is good in a few ways as the reliability of my doorbell can only really be likened to that of a babies arse but `Duke` knows full well if someone is outside and to that end we don't discourage him. I hoped it was Andy who had agreed to be my driver for the day and so I wheeled to the door, opened it and on seeing that it was indeed Andy, invited him in for a cuppa. We chatted over the plan for the day and with our cups empty, made our way to the "Chucklebus" where Andy strapped my chair down and made sure that I was belted in before closing the back up and jumping in to the driver's seat. With the SATNAV set we pulled away and started our two and half hour trip north, destination; Royal Air Force Station Brize Norton.
I had a text conversation on the way up to Brize about arrival times and to check all was well and also with `Pux`, again regarding arrival times. `Pux` would be meeting us at the main gate where we would book the "Chucklebus" in and then he would escort us to where we needed to go, first though, we would go to the air terminal and get a cuppa and a bite to eat. It was good to catch up with `Pux` as the last time I spoke to him was just after our Spitfire dig on Salisbury Plain. We spent around three quarters of an hour at the air terminal until it was time to get back in to the vehicles and make our way to the venue of my activity today, the Joint Air Delivery Test and Evaluation Unit or JADTEU.
We followed `Pux` driving around the base, crossing the runway to the far side of the airfield until we pulled up outside of a large hanger. The sign outside of the hanger confirmed that it was JADTEU as well as the building number. I had received a text message from the guy I would be meeting here to let me know where he was giving me instruction to send him a message when we arrived which I did. Andy, or Reedy as we call him, helped me out of the "Chucklebus", he collected a couple of things for me from the front of the bus and then we followed `Pux` in to the hanger. The hanger was massive, housing several mock ups of transport aircraft, a Chinook helicopter and several fuselages of transport aeroplanes used by the RAF and this was just on the floor. I don't feel it is my place to explain everything that they do here but something they are responsible for is parachute training, this is not what I was going to be doing today and so to move on to another thing that they teach, fast roping. Fast roping is used to insert troops in to areas by helicopter without the need for the aircraft to land and is generally done from around forty feet or so, no harness, just hold on and slide down the seriously thick and heavy rope. This is something else I would not be doing, for a few very good reasons and so it brings us to the third thing that is taught….ABSEILING!
Earlier this year I tried in vain to arrange an abseil to raise money for another charity who has helped my family and I since the accident which left me paralysed, to tick something else off of the list of things I have never done and probably most important of all, to show others that within reason life as a paraplegic is only limited by the amount you limit yourself. You may remember that I wrote to the Royal Navy to ask if I would be able to abseil from one of their helicopters and although the Commanding Officer of the Squadron was keen to be a part of it, his superiors were unable to grant permission. It did not come as a complete surprise and I appreciated the effort that was made as well as the reasons for the decline. I e mailed several large buildings to seek permission to abseil from them and was either refused or ignored which was disappointing and so after more e mailing and research following suggestions from friends, I visited an abseil centre to discuss my desire to abseil for charity. The meeting went well and we had all but set a date, the centre just had to check with its insurance company that they had no problem with a paraplegic abseiling. For some reason the insurance company, like anyone else I approached regarding an abseil, shit a brick and refused. An actual abseil facility unable to allow me to abseil, if this was the case then there was, it would seem, no hope of me being able to achieve my new challenge. On our Spitfire dig though I was talking to a guy I met on the B-17 dig and who I have come to regard as a friend, Graham from the Royal Air Force. He spoke about looking in to something for me and in a short time contacted me about something he had arranged with a Royal Marine who was the chief instructor at the JADTEU hanger. I had conversations with this gentleman and we arranged a date pending clearance from his superior. Whilst I waited to hear if the permission had been granted I had a niggling in my mind that it was not going to be a favourable result.
After only a week or so I received a text message from Bobby, the Royal Marine instructor to confirm that permission had been granted and that he would contact me a week before the date of the arranged abseil instruction to confirm that I was still ok to proceed and at the same time he sent me the paperwork that he had filled out detailing the safety procedures and timings of the proposed day for me to check over and confirm with him. With this done, all that remained was for me to wait eagerly for the day to arrive. That day was today, Tuesday, and I was really excited that I would not just be doing an abseil as I had previously been trying to arrange, but I would be spending the afternoon being taught by a highly experienced professional how to abseil, and I was looking forward to it like you would not believe.
Reedy and I were taken by `Pux` to an open area in the hanger beneath a platform some forty or so feet above. The platform was a simulation of the rear of a Chinook helicopter and this is where I would be receiving my training and conducting my abseiling. We were very quickly joined by Bobby and the team that would be assisting and ensuring that all would go without problems. Bobby first gave me a briefing on what would be happening and ran through what had been done prior to my arrival, he then showed me the equipment that I would be using and explained how I would use it. Next came the part where I had to put my harness on, this was going to be interesting and immediately my thoughts turned to when I did my tandem skydive, that really was an epic task to get me in to the required equipment but this actually served as a reminder of how best to do it this time. Firstly my feet were put through the leg holes and the harness was pulled as far as was possible to the tops of my legs. Next, I put my arms around two members of the team and they lifted me to a relative standing position allowing the harness to pulled up over my arse and then I was lowered back in to my chair. Another part of the harness was then lifted over my head and Bobby then ensured everything was tightened where required. He then explained that I would be winched up to the platform via an electric winch which I think was at a simulated door of the `Chinook. I wheeled over to the hook attached to the end of the chain that had been lowered from the winch and Bobby hooked me up. There were two points on the harness which the hook could be attached to and so Bobby first hooked to the top point and I was lifted up to see how it was.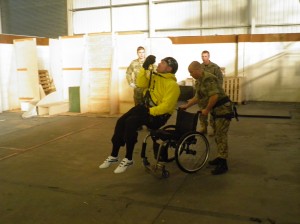 He decided that the lower point would be the more comfortable and suitable and so this was the one we used throughout.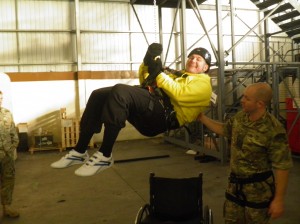 I was hoisted up to the platform where several team members were there to secure safety lines to me while I was pulled on to the platform where my chair was sitting for me having been carried up the several flights of stairs.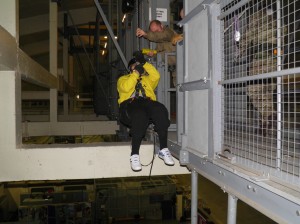 With me in the chair and rolled away from the edge, the safety gate was shut, the safety line disconnected and I wheeled through the `Chinook` fuselage to the end of the platform which was the simulated tail ramp.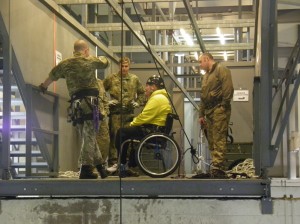 Here more safety lines were attached to me and also to the rear of my wheelchair as well as the team members who would be at the edge of the platform assisting me in my decent.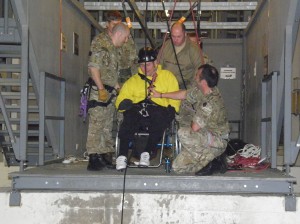 Bobby again explained to me the two ropes. One I would be controlling and the second would be the safety line which would be fed out so that I would be descending under my own control but the safety rope would be controlled by a team member ensuring that I would not be able to fall if anything were to go wrong or if I were to do something wrong. Next Bobby explained how I would control my descent by the positioning of my arm and I mimicked what he was telling me whilst sitting at the edge of the platform.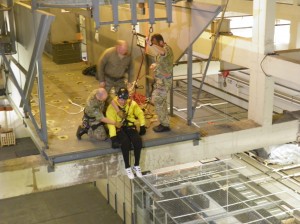 After a final check to see if I was ready to go, the safety line was pulled taught and checked and then Bobby and another member of the team helped me over the edge.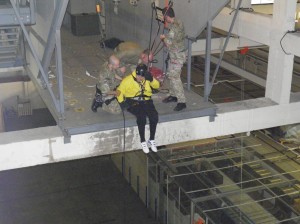 I was now hanging forty feet or so above the hanger floor with only one way to go….down.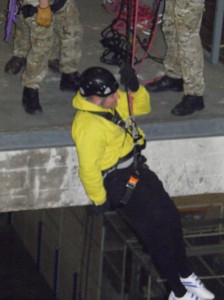 Bobby again asked if I was happy and checked the position of my arm. For me to remain at the height I was I would have to make sure that my arm was tight in to my side with my hand under my arse, the "thumb up bum" position as Bobby called it. His instruction was clear and concise because he, like me, tells it how it is so that you know exactly what he is on about with no mistake. With my confirming that I was happy he instructed the safety guy to slacken the safety line and with this done he told me I could descend. The first descent was not brilliant. It was a little juddery and I was using my left hand slow my descent as well as my right arm. The left hand should be simply to run down the rope freely to keep you from aimlessly spinning round but as my muscles in my torso do not work I was having to also use the left hand to pull on the rope to a degree in an effort to keep my body in the seated position. My chair was carried down the several flights of steps and positioned beneath me and so I lowered in to it.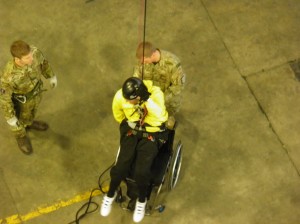 Once down, a member of the team removed my safety line and abseil rope and I made my way back to the winch chain where I was connected back up to it and hoisted skyward to the `door` of the `Chinook` and the process to hook on the safety lines and pull me on to my chair which had again been carried up the stairs for me to get in to so I was able to go to the `ramp` to abseil again.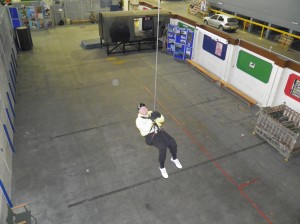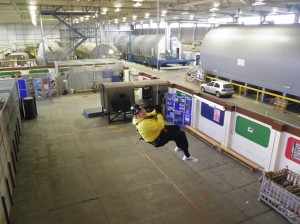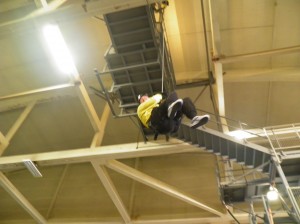 Throughout the afternoons abseiling I was given pointers by Bobby on the technique and each time I descended I grew in confidence. Unfortunately for the poor team member whose job it was to move my chair around, as my confidence grew, so did the speed at which I descended and therefore the time it took it me to get down was less and less.
I had a Royal Marine instructing me on how to abseil, with his team who were various ranks of Army and Royal Air Force including an officer who I think was the officer commanding the JADTEU unit, all of whom were extremely good guys. Nothing was too much trouble and they were genuinely happy to be able to have made this happen for me, and if this was not enough, I had also been joined by `Kat` who was an RAF photographer who took countless pictures of every part of the afternoon. From me having a briefing and signing the relevant forms, being kitted out, my being winched up and my descents. Again, nothing was too much trouble for the abseil to be documented. I must have gone up and down ten times or more during the afternoon until we finished. I don't think I stopped grinning like a little kid from the minute we started and certainly until after I got home. When the afternoons abseiling came to a close and I was de kitted, we spent a while talking with the team who had made this afternoon possible for me, and `Kat` took a final group photograph which was great. Bobby also presented me with my gloves, karabiner and (the name escapes me of the last bit) the part which the rope slides through, (Christ my memories crap!), which I really appreciate. They also told me to stay in touch and that if they were able to help me again they would which again, I really appreciate. I am now really looking forward to receiving the disc of photographs that `Kat` is going to send through to me. When I get those, I will post them on here for you to see but until then I have some that Reedy took for me which I have used to try to show what we have been up to.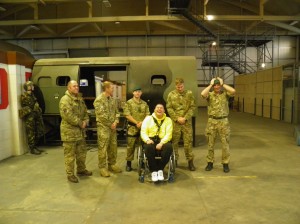 After Bobby and the team had packed away and we had said "Thank you" and "Goodbye", `Pux` showed us around the JADTEU facility and explained what they did which was really interesting. Then, with our tour over, we got back in to the vehicles and we followed him to his work area for a quick cuppa before `Pux` escorted us to the main gate.
I had an AMAZING day today. I have the confidence to undertake an abseil from a greater height and will now be trying to sort out a venue to do exactly that. I hope that I will not have any such problems as before and as such be able to try to raise a good sum of money for a charity. If I do manage to find somewhere that will give permission than I will without hesitation let Bobby and his team know in case they may want to watch or get involved. All that remains for me now is to once again do the "Thank you's".
"Thank you" to Graham who took the time to arrange this for me, I'm gutted you were not available to be there my friend, but I know that work commitments would not allow.
"Thank you" to `Pux` who escorted us today, showed us around the unit as well as helping Bobby on the abseil.
"Thank you" to Bobby and his team for the fantastic opportunity, instruction, and number of abseils that I did today. It goes without saying that I appreciate beyond words how much effort you all put in not just today but also in arranging, setting out and the paperwork you had to do to make this happen. You have no idea how great this has made me feel today.
"Thank you" to `Kat` for the running around you have done this afternoon, taking photographs. They will be something that I have, to show I can do it and to remind me of the fantastic day I had today.
"Thank you" to the Royal Air Force Station Brize Norton's JADTEU for the use of the facility and staff, it has been brilliant.
And "Thank you" to my good friend, Andy `Reedy` Reed who did not hesitate to offer to drive me to the abseil today, and who has helped me with a few things that I was unable to do myself. Much appreciated buddy.
And so that was my day today, Tuesday the 17th of December 2013. I do not know what you have been up to but whatever it was, if it was even a quarter as good as the one I have had then you had a good day. Need to sleep now.
Goodnight all.