On Friday my Son joined Alison, Jack and I for a "st-roll" to Ilminster which unfortunately only went as far as half way as my Freewheel malfunctioned causing it to steer me tot he right the whole way. As a result my Wife had to come and get us in the "Chucklebus". In the evening though, Alison and Steve came round for a cuppa and a chat as I had spoken to Alison about the Bournemouth air festival. As Steve has been working out of the country and the other commitments they have had, Steve has not managed to go to an air show yet this year and he had mentioned to Alison about the show at Bournemouth. After chatting we decided that we would go as I enjoy watching the displays and it would also give Steve someone to go with. Done deal, we would leave at 9 am. I spoke to them about the call I had received that day from someone who said they were a manager at the charities department HMRC. They clearly have more than one then or the woman who told me she was the manager was telling porky pies! Anyway, he told me that the letter I sent to the department had just been given to him (finally) and that he wanted me to tell him what had happened. I started to but then he said he knew what I was telling him (so why bloody ask then?) and then started to quiz me on what I was trying to do. I explained which he said was commendable and then asked why I did not apply to be a charity. I told him that his department staff had told me I could not as I was not guaranteed to raise the minimum five thousand pounds per year and therefore had to be a not for profit organisation. This he told me was false! I could be a charity but not registered with the Charities Commission. So now he has told me different to what his staff have. Then he said about the not for profit organisation, he told me that to do this I had to start a company, with bank accounts and then the tax office could declare me NFP organisation. He questioned me on different things about the charity which I think he may have been doing to try to fill out a form or write notes perhaps but then asked me what I wanted to do. At this stage I was more confused as he had told me different to what I had already been told. It was this point he told me that if I did not know what I wanted to be then how could I be applying to be anything. This was the point that I lost my sense of humour, patience and will to converse with the charities department all together and told the guy that I simply wanted to do various things to raise money to offer opportunities to disabled people, to help them do things that they would not normally get the opportunities to do but that I had nothing set in concrete on who, where or what until I had researched and spoken to some people from various businesses. In short I wanted to help others but that if this is the aggravation that the charities department of the HMRC give you when you want to do good, then I dread to think what it is like when you are going. A few raised voice sentences later and I told the guy to just forget it and I hung up. Very frustrating, very annoying and a bit upsetting that I have seemingly wasted eight months. Some time to think now as to what I will do and then make an informed decision.
So back to Saturday. Steve and I left at around five past nine which was all but bang on time intended, the extra five minutes wouldn't make any difference at all. With roads pretty clear we got to Bournemouth just off of the beach at around twenty to eleven. The air displays would start at mid day, opened by the Red Arrows. We wanted to be parked and down by the sea front ready for this. We were looking for the disabled parking which we had been told was signposted but alas no signs were seen by us. The car parks we went in to were full and so we picked up the signs for the park and ride, following them was easy enough but it was not long before we stuck in the traffic trying to get to the same place. Eventually we were waved in to the field where the vehicles were parking, to then walk to the bus. The attendant waved us in and pointed for us to follow the vehicle who had been in front of us. Steve wound his window and down and asked the attendant if there was somewhere a little closer to park as I was in a wheelchair. The reply he got was this; "I'm sorry, Sir. But there are no buses here that can take a wheelchair. We have no disabled buses." UN-BE-FRICKIN'-LEVABLE! So we asked if they were joking, there were NO SIGNS to advise of this and so we had to ask where we could park. We were told of another park and ride that did have disabled access buses which was at the football ground. They gave us directions and we headed off. We had left the bungalow at a little after nine to give ourselves plenty of time, it was now twenty past eleven and we had around three miles to get to the next park and ride location, in all of the traffic. Suddenly it was not looking likely that we would see the Red Arrows which was not huge for me as I had seen them twice already this year but Steve had not seen them at all.
When we got to the next location at the football ground we parked up and got in to the queue for the bus. We had been stood for around twenty minutes and no bus had come in, we could hear the people in the queue commenting amongst themselves that it had been over thirty minutes since the last bus. I looked at the amount of people waiting and roughly worked out in my head that it would be at least five buses before we got on and that there was a high probability that the air show would be over by the time we got to the sea front, to that end we decided to "st-roll" down instead. Unfortunately, just as we had decided to make our own way down to the sea front, the Red Arrows started their display and although Steve caught some of the high altitude display, he basically missed it, so thank you Bournemouth Council for wasting our time. If you do not have the facilities for disabled people to ride your buses at the park and ride it is really not a problem, JUST BLOODY USE THE SIGNS TELLING OF THE PARK AND RIDE TO TELL PEOPLE to stop them wasting their time in queues.
The sea front was packed as you would imagine, we had "st-rolled" a good half an hour to get to the sea front and had managed to miss only the opening display which whilst it was the biggest and the main one we had wanted to see, we did at least not miss any more. Trying to get through the people was a nightmare, I had expected it to be difficult and not much fun but my God. I lost count of how many people walked in to me, tripped over me, stopped for no reason in front of me causing me to have to pull the joystick control in to reverse to stop me from driving in to them and then the best one is when the people walk in to you or trip over you, or even when they actually tread on your foot plates and then shoot the dirty looks as if it is your fault! Seriously, God gave us eyes to see with, and whilst mine are not brilliant any more since my bang on the head and there are others whose sight is missing or badly impaired I am pretty sure that those on the sea front today who trod on me or walked in to me had eyes that worked, if not then I need to open an opticians in Bournemouth!
The displaying aircraft flew some great displays and with the clear blue sky (with one or two little clouds) over the naval vessels and other boats on the sea as a backdrop I got some quite nice pictures. It was around twenty past seven last evening when we got back to the bungalow having had a really good day. The weather had been great, and hopefully will continue like this for a little while longer, whatever you were doing yesterday I hope that you enjoyed it and that the rest of your weekend will be as good. I'm going to leave you now with some of my pictures of today.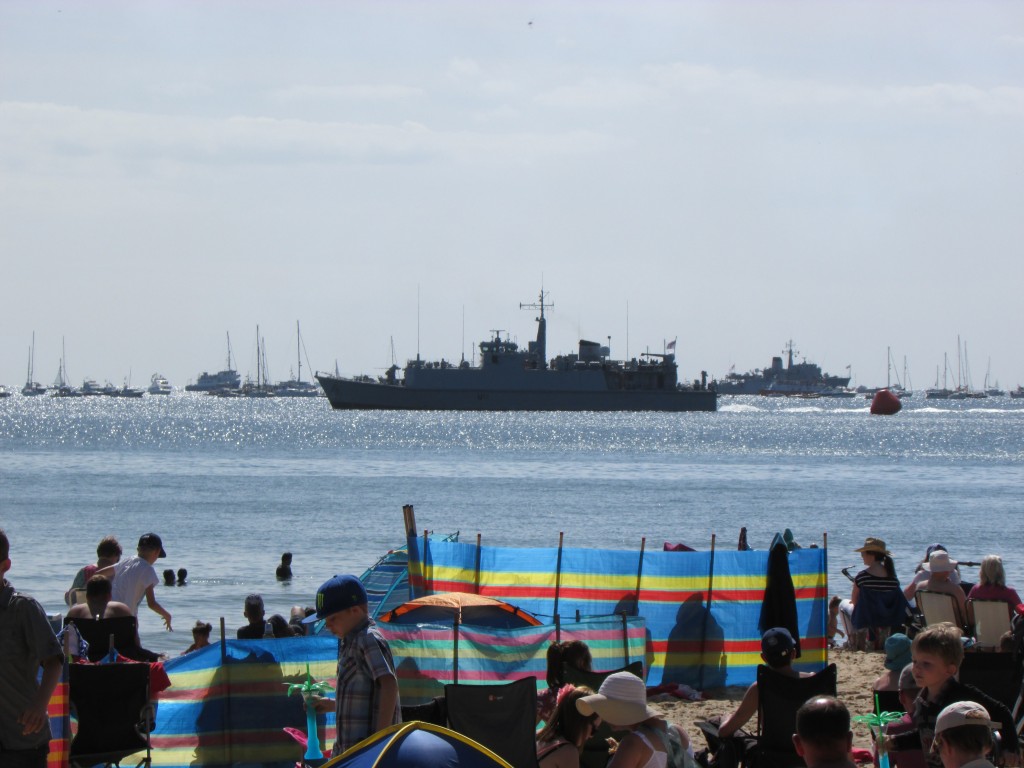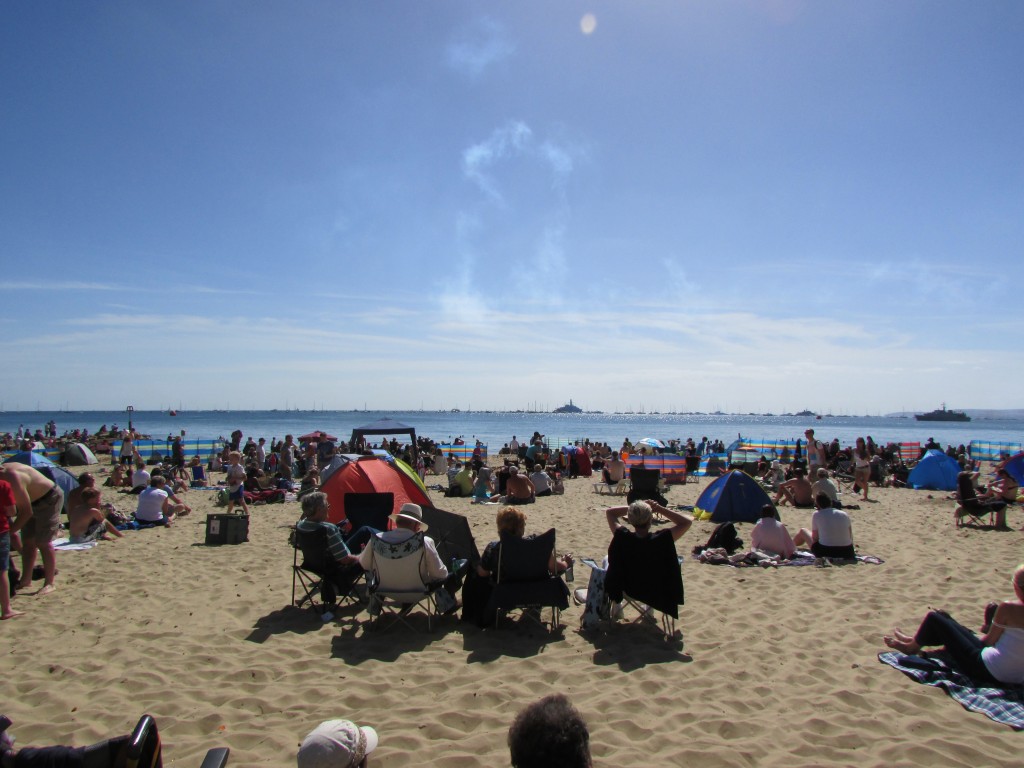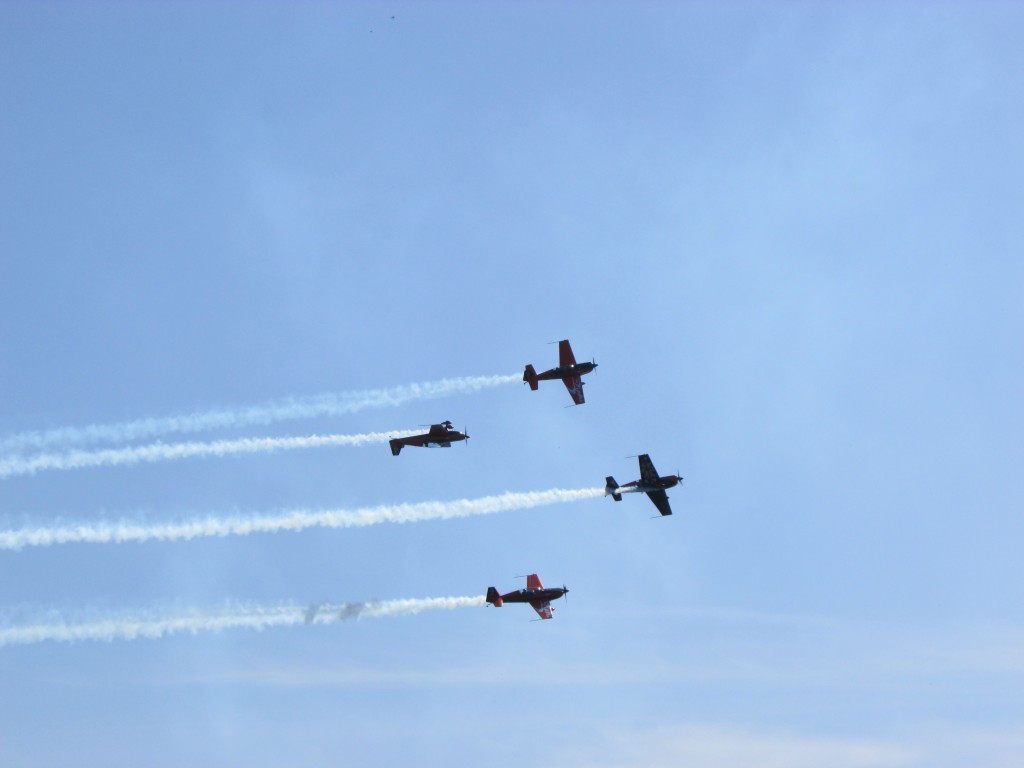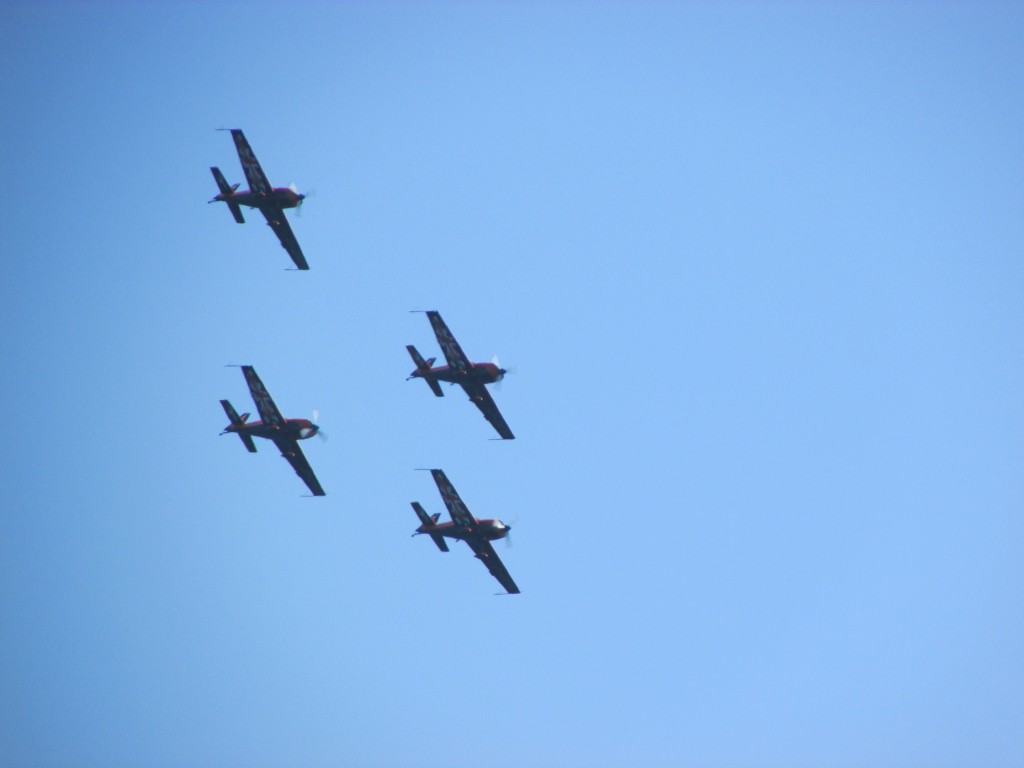 It was a shame not to see the Vulcan there and also that the Vixen was delayed until the night but on the plus side I did get to watch and admire Miss Demeanour dancing in the blue sky.
It was a shame I did not manage to get the last picture in complete focus but still shows the beautiful colour scheme she wears.
Parachutists from PWRR jumped in.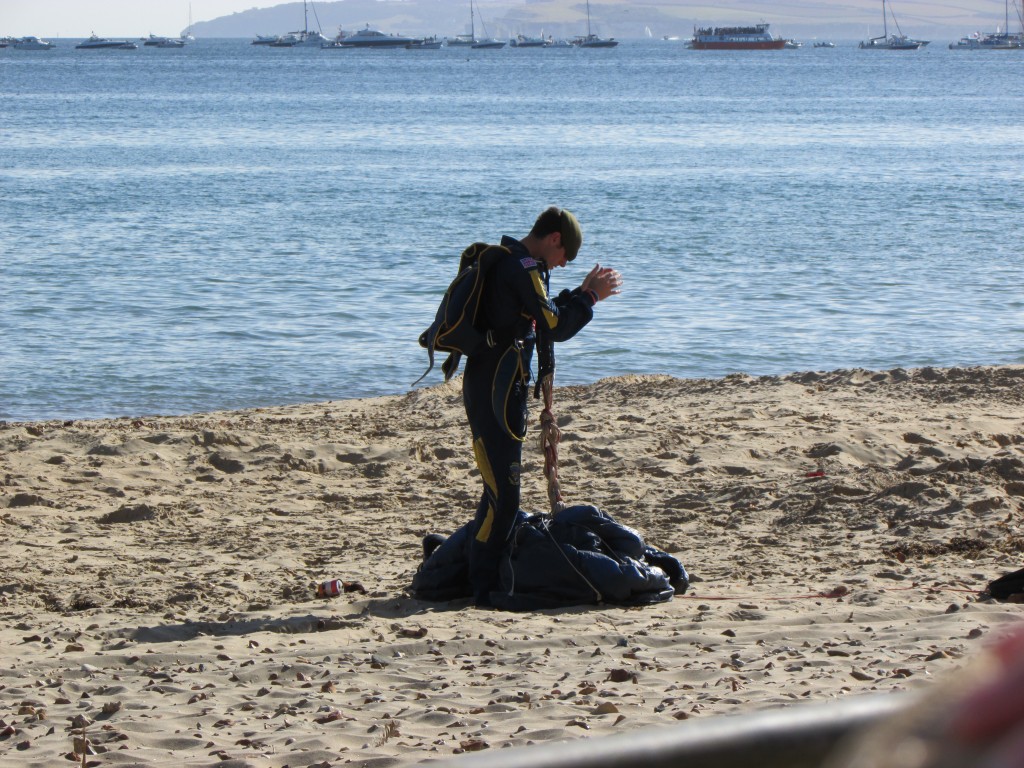 "Sally B" releasing smoke as a mark of respect to those brave aircrew who never came home.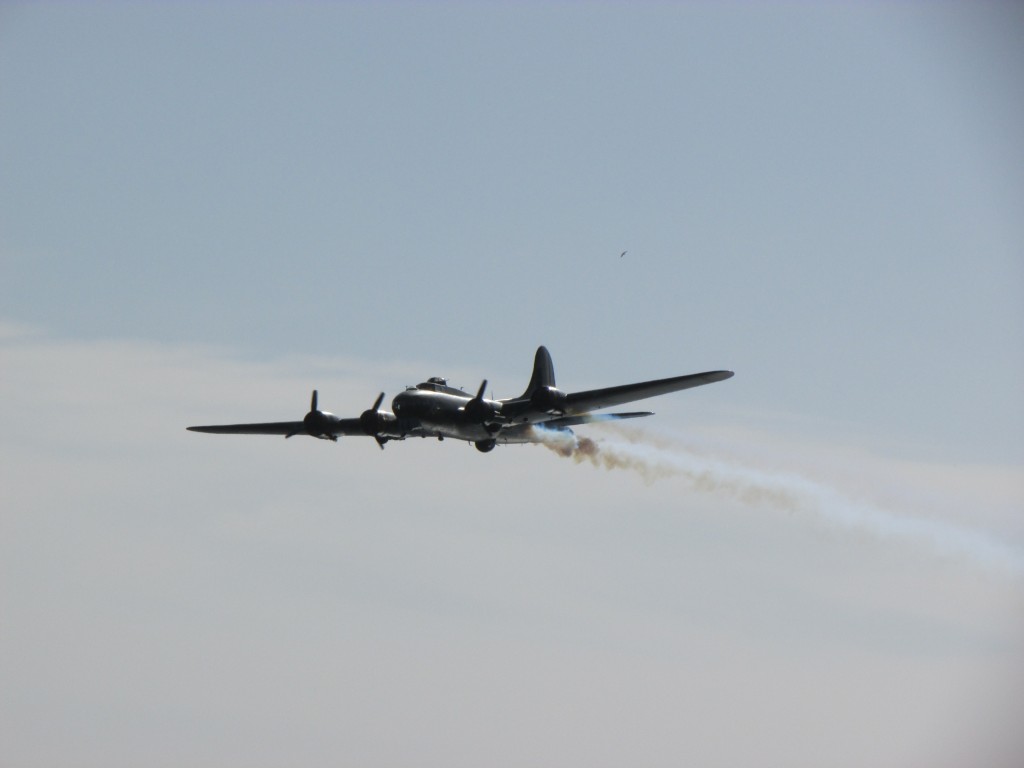 The final aircraft of the day display noised things up a bit, the Typhoon.
I'm getting to grips with our new camera, not an expensive one but better than the one we bought in 2006! I hope you enjoyed the pictures as much I enjoyed trying to take them. Should have some interesting Blogs over the next week, I am off with Operation Nightingale again to dig up something, what it is, you will have to read to find out!
Thanks for reading and until the next entry…
Good afternoon all.