A little while ago I received a telephone call asking how I would feel about attending a garden party at Buckingham Palace. A bit of a shock to say the least but I politely said that if I was fortunate enough to be invited then I would gladly accept the kind invitation. I thought no more of it and then I was informed that I needed to go to Winchester to be measured for new dress uniform, as I am a serving soldier I would need to be in dress uniform. Darren drove me up to the tailors on the Winchester barracks and she measured me up. With the sizes written down she referred to her size chart. I knew that I had gained a certain amount of circumference since I gave up running, walking and physical exercise in general but was unsure of how much, until the seamstress came back. The sizes I had been measured at meant that I needed a special size, this would need to be made to order and would unfortunately take around six months to arrive. It was only two and a half months until the garden party, this was a problem.
I took the sizes back to my Company and spoke to the QPSI, I had been told by the seamstress to see if anyone had recently left any of the Rifles Battalions to see if they could get a close match which could be altered for me and then the rank badges added. This also drew a blank, but not to worry, I had not actually received any formal invitation as yet. A few weeks ago though an envelope was delivered addressed to Serjeant and Mrs George Pas. A sturdy, thick envelope with the Queens ER stamp in the centre at the top. Inside was a solid card invitation amongst other paperwork and parking permit, also do's and don'ts and security information. As well as this there were maps and personal entrance cards.  Suddenly it was real, we were going to Buckingham Palace to a garden party hosted by Her Majesty The Queen, wow!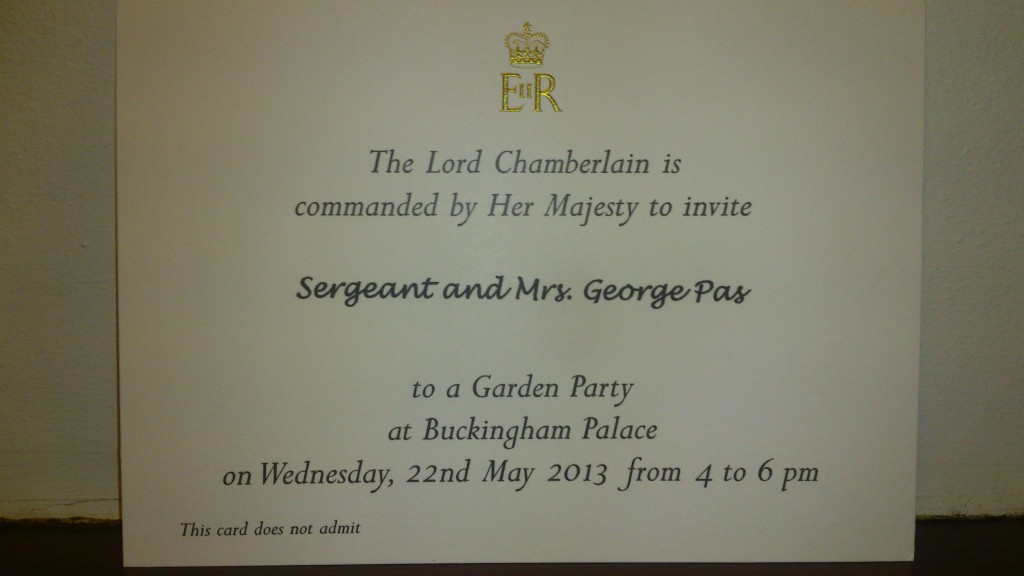 Darren had agreed to drive us as my Wife, although born in London, moved to Somerset when she was twelve and was not happy about trying to drive in to London town to the Palace. This was not a problem, Darren was more than happy to go as he could wonder round London which is something he would be unable to do normally as he would have Tabatha and the kids. You may remember a couple of posts ago that I told you about the fact that Darren had been offered work with the possibility, however small of it becoming permanent. This he took obviously but left us without a chauffeur, until that is, my Dad called on the same day that Darren had been offered his job. Dad said that Darren had got a job which I already knew, and we spoke for a few minutes about how pleased we were for him, then Dad said that this meant Darren could not drive us, but he would. This was great news, my Wife need not panic about the prospect of having to drive and I did not need to worry about trying to find a driver. Dad was happy because he could also look round a couple of places in London, every one's a winner so to speak.
My Wife had sorted a dress and a hat, I had my suit, and purchased a new collared shirt so I could wear a normal tie and we were set. Dad came from Bournemouth on Wednesday morning at around a quarter past ten. It had taken him around an hour and twenty minutes to get over to us and the plan was to leave at between ten and ten thirty to allow ourselves plenty of time. We had got me strapped in to the `Chucklebus` ready to go just as Dad pulled on to the driveway. At almost exactly ten thirty, we pulled off of the drive and were on our way to the M5 motorway at Taunton. Dad had decided to go M5, M4 on the way up as it was easier to keep a constant and comfortable speed, it also offered us motorway services should we need bathroom breaks or want to get drinks. Fortunately my Wife had packed some snacks and drinks and we only needed one stop for the bathroom on the way up.
We got in to London and the traffic started, or rather stopped. Bumper to bumper, bikes, scooters, pedestrians and motorcycles cutting in and out of the vehicles, horns sounding and the occasional shouting was heard. Welcome to our Capital City, welcome to London. Dad impressed me to be honest, he was really calm and un-phased by the vehicles cutting across and random bikes appearing in front of the bus, he really was not bothered. We followed the Sat-Nav and eventually we came across a Police man on the side of the road which a lot of vehicles were stopping and talking to, he would then point in  various directions. We decided to stop also and ask if he was aware of where we would be parking for the Garden Party with disabled permit. As luck would have it, where he was, was the exact area we were to park in. We pulled off of the road and followed the dust track to the end where we were directed to park facing the wall in front of us. Here we displayed the badges and permits and exited the `Chucklebus`. We thanked Dad for driving us up and arranged for us to meet afterwards. He told us not to worry, he would be at the `Chucklebus` for six in the evening and that he hoped we had a good time.
He strolled off to catch a bus to go to look at some shops he wanted to go to while my Wife and I headed over to the Palace. My Wife told me to stop so she could take a picture of me with the Palace in the background. No sooner had I stopped when a lady asked if we would like for her to take a picture of my Wife and I together in front of the Palace, a really kind offer which we accepted. The lady took a few pictures, she said she would keep taking them so that we could delete which ones we did not want. Thank you was said and as quick as she had stopped and offered to take our picture, she told us that she hoped we had a fantastic time and went. We crossed the road and headed over to the HUGE cue of people waiting to show their invites and enter the Palace grounds. This would take an extremely long time, but from a selfish point of view, at least I was sitting down! We did not have to go to the back of the cue though, wheelchairs were cueing seperately and had been pulled to the front, what a winner. Suddenly being in a wheelchair had a benefit!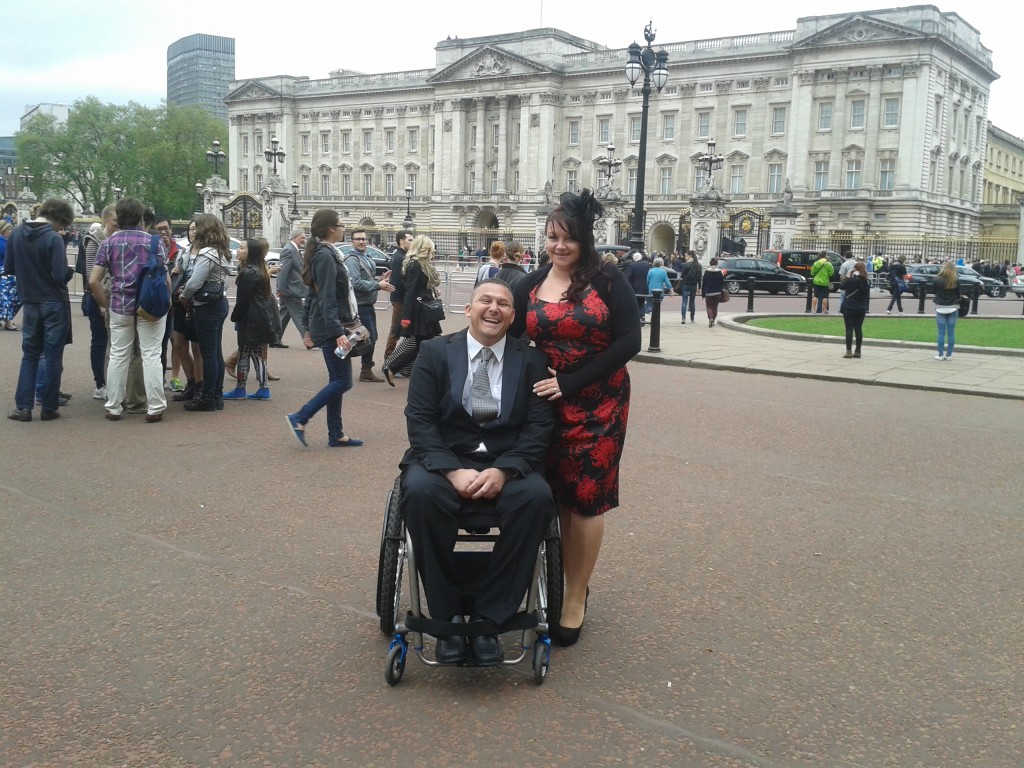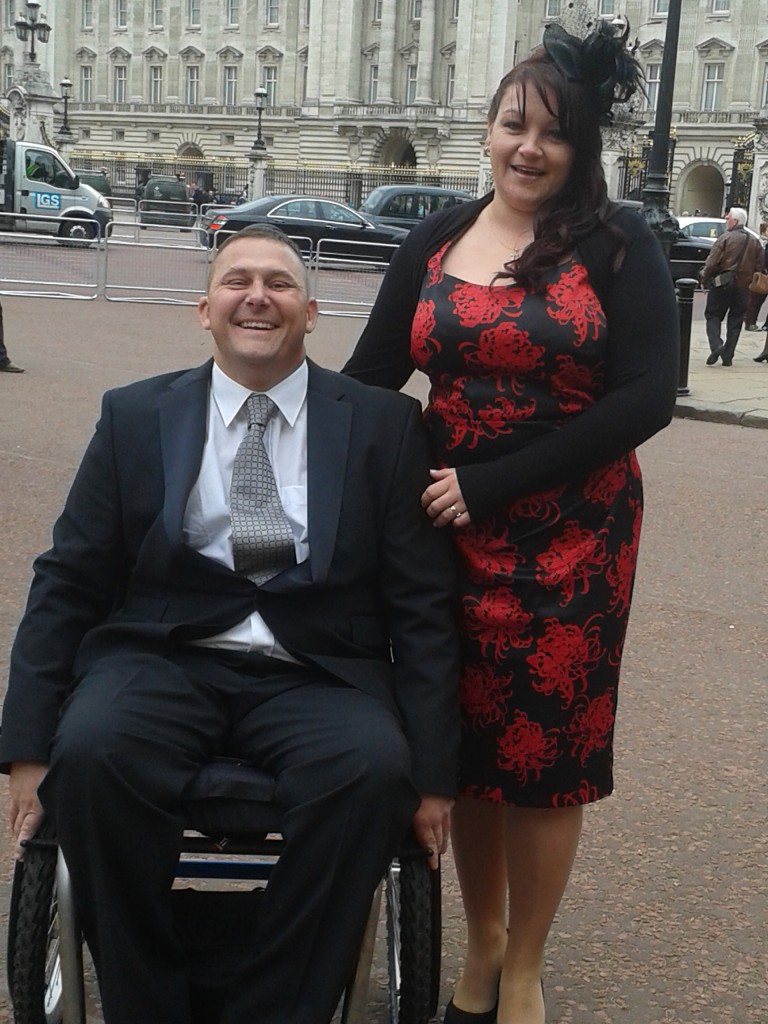 We showed our invites and entered through the gates and on to the gravel to the front of the Palace. I had been sure to fit my off road wheels to my manual chair as I had no idea what the ground would be like, and although I had taken my third wheel I had decided not to fit it as it would be sods law that if anyone was going to trip over it, it would be a high ranking officer…or worse! We made our way across the gravel heading along the side of the Palace to the garden at the rear. The gravel dust was very light coloured which posed a problem with the black suit jacket, the dust was all over the cuffs and lower arms of my jacket and the wheels, being wider than the standard ones, were making my jacket dusty. Can't be helped, but I did not have to push myself all of the way as my Wife was using my chair to keep her balance on the gravel! We eventually made it to the lawn at the rear and headed toward the tea tent to secure a seat for my Wife. Tea and cake was not important straight away, we just wanted to sit and admire the Palace from an area which we would not see again in our lifetimes. The garden was obviously pretty big, and whilst I looked around me, looking at the lake, the trees, the size of the garden and the amount of rooms in the Palace a thought popped in to my head. I thought of Princes William and Harry as children running around as all kids do and wondering exactly how many times they were chased around by people trying to find them.
We were joined at our table by two gentlemen and a lady, they had been invited due to the organisation they worked for. We spoke briefly and then they went off to get some tea and cake. They returned after a short while which was when my Wife and I decided to head off to locate the disabled toilets and then head in to get a drink. On our return we lost our table, it was there don't get me wrong, but it was engulfed in people. Realising quite quickly that it was not me that these people had come to see, I figured that Her Majesty must be looking to come out from the Palace and the people had swarmed over to try to get to a point where they may be able to see her and the members of the Royal Family who were joining her on this day. My Wife was explaining to me what she could see. See described what Her Majesty was wearing and who else she thought she could see until they moved down the steps and on to the lawn. We took a `st-roll` down toward the lake which was also where the Royal Tea Tent was located. We hoped that we may be able to catch a glimpse of the Royals after they had walked around the guests and retired to the Royal Tea Tent.
We saw the Beefeater's marching around and taking up their positions of guard and I just managed to catch sight of Her Majesty as she entered the area that was cordoned off around the Tea Tent but that was it. As people departed form around the Tent we progressed forward again hoping that we may catch a glimpse of the Royals. Realising that this was probably not going to happen I suggested to my Wife that we make a move over toward the Palace. My thinking was that just as the guests had made a `corridor` for her to walk through when she came from the Palace to the Tea Tent, the Beefeater's would create a similar `corridor` of guests for when the Royals were due to leave. I hurriedly started to wheel myself toward the Palace from where we had been waiting to see the Royals, only to have my Wife ask me to slow down a little, she needed to push me as it was helping her as we were making our way across the lawn. We got towards the edge of the lawn but as we approached and got closer, the `walkers` filed in behind those already there. In some areas on the way up through it was eight people thick but undeterred I told my Wife to keep heading up the lawn. At last we reached an area which had only one row of guests. I really wanted for my Wife and I to be able to catch more than a glimpse of Her Majesty and so I asked the gentleman in front of me if he would mind if we squeezed in. "Of course not" he said, "We will be able to see over you much easier than you over us". He also made sure that my Wife was able to stand and see which was lovely of him. I was now happy that we would have the opportunity to really see Her Majesty The Queen and which ever of the Royal Family that had accompanied her.
We had not been still for more than sixty seconds when a gentleman in top hat and tails approached us and asked if we would mind dropping down on to the gravel path and wheel alongside the Palace where there were other wheelchairs and mobility scooters, he told us that if we could park up alongside the said scooters, the Royals would like to greet us. Oooooooooooh My God! (Cue giggle Gagan!, private joke sorry). I had struggled to get to a vantage point to catch a glimpse of the Royal Family and now, I have been asked to move to a fantastic area where I would not only be able to see Her Majesty with no obstructions but as it turned out I would be less than two meters away from her. We parked up and my Wife stood with me, both of us patiently waiting to see Her Majesty and there she was. She walked slowly down the line of chairs and scooters, saying hello to each person as she walked, but not just a hello in passing, she actually faced the people she was speaking to. Slowly she walked, speaking to each person, slowly she was making her way along the line and then we spotted the members of the Royal Family who had been with her on this day.
Step by step Her Majesty approached us, closer and closer. She looked amazing, so bright and healthy. I had obviously seen her on the television during the Queens speech at Christmas and other engagements and she always looked bright and healthy on the television but with her less than two meters to my front I could see with my own eyes, Her Majesty in the flesh and she did look amazing. Never in my life did I ever expect that I would ever be any where near to The Queen and yet here I was, in the grounds of Buckingham Palace saying "Hello" to her face to face. This for me was a real honour, I had hoped that I may be able to catch sight of her but what was actually taking place was beyond anything I had ever imagined.
After Her Majesty had passed and continued on her way greeting the remainder of the guests who were in chairs or scooters we shook hands with Prince Philip who was lovely, then we shook the hands of Prince Charles and Camilla who were also lovely and then came a huge Royal bonus. Dressed in yellow, spending time talking with each of the disabled and less able'd guests in our line with what can only be described as a radiant smile, it was the Duchess of Cambridge, Kate. She looked extremely well and had obviously settled in to her Royal role with little effort, she looked so comfortable greeting and conversing with the guests. My Wife commented on how well the Duchess looked and that pregnancy was obviously agreeing with her, it looked increasingly like we were also going to have a brief conversation with her but then, she was approached by a staff member or aide. She apologised as she said "Hello" to us, she said that "I am sorry I can not speak, it seems I talk too much", with her radiant smile and beaming healthy glow she continued her way along to join Her Majesty and Prince Philip, and Price Charles and Camilla.
We were spoken to by one of the staff, and the top hat and tailed gentleman who had invited us from the lawn to join the other chair and scooters and then a lady came and spoke to me, she asked me who I was part of and who had invited me. I told her that my Battalion had put me forward to which she replied, "Which Battalion would that be?". I told her that I was a member of six Rifles, her eyes widened and her voice changed, almost excited. She told me that she was the Royal Colonel of seven Rifles and that her husband was the Royal Colonel of six Rifles. This started a conversation as I had worked with elements of seven Rifles when we deployed to Kenya on exercise with three Rifles. We spoke for around five minutes, which was lovely, she had spent the time to talk to both me and my Wife, and having a common interest both being part of The Rifles, all be it different Battalions was incredible. The lady who was a delight to talk to was the Duchess of Gloucester.
With all of the Royals safely away, the top hat and tailed gentleman came over to us again and told us that as soon as the Royals were on their way the gates would be opened and that we would be given the `thumbs up` to allow us to get a bit of a head start before the `walkers` also made their way out of the Palace gates. We watched the Royal car and it's security detail leave and then, around three or four minutes later we were given the `thumbs up` and the wacky wheelchair racers began across the gravel. I had insisted that my Wife walk back to the lawn to walk with the majority of the `walkers` back through the Palace. It is not something that she is likely to be able to experience again and so I wanted her to walk through the two rooms of Buckingham Palace to get from the rear to the front of the Palace. Once she had emerged from the Palace, we met back up and took the opportunity to have our photo taken in front of the guardsmen.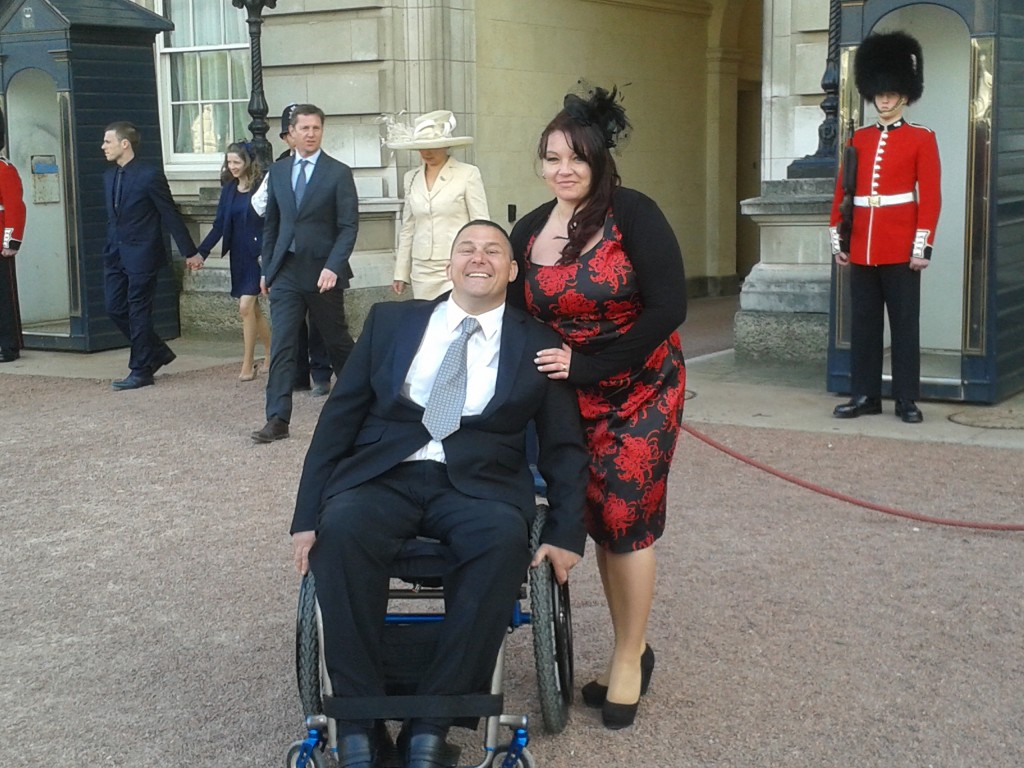 Having had an amazing afternoon at the Palace Garden Party, we headed back towards the `Chucklebus` where we hoped to meet with my Dad. We did indeed meet with him, we got me in to the back of the bus and strapped my chair down, with my seat belt secured to the floor and me belted in, we started our journey home. It had taken four hours to get to London and park in our designated area. It was six in the afternoon and the traffic was horrendous as you would expect, but never the less, we were heading home after what had been a long day. My Dad headed out of London and we got on to the M3, he had decided that the M3 then A303 was the way he wanted to travel back, probably as it would be more varied roads rather than the boring motorways. We spoke about what he had been up to and he asked about how our afternoon had gone. I noticed that he had bought an Airfix box set. The Battle of Britain Memorial Flight. Three aircraft, a Lancaster bomber, the Hurricane and of course the Spitfire complete with display stand. I asked him when he was going to build it and he said he wasn't. He asked if I thought I would be able to build it, to which I obviously replied that I believed I could at which point he told me that it was the right answer and that he had bought it for me, from Hamleys no less.
We stopped off for some tea on the way home in Fleet services, by the time we would get to the bungalow it would be too late to cook and and my Dad had to drive a further hour and twenty minutes to get back to Bournemouth from us, so it would definitely be too late for him to eat, especially as he had to be up at five thirty in the morning to be at work for seven. Dad did not stop for a coffee, he quickly said "Hi" and "Bye" to my Mother in Law and then headed off for home, which he reached at five to midnight.
We had an amazing day, shook hands with members of the Royal Family, shared a greeting with The Queen, spoke to a Royal Colonel of our second TA Battalion who was lovely and saw the Duchess of Cambridge, looking extremely well and comfortable as a member of The Royal Family. This was a day and experience which neither my Wife or I will ever forget. I want to take this opportunity to thank my Battalion for putting me forward for the invite, my Dad for taking the day off to chauffeur us for the day, my Wife for going with me, helping me and looking fabulous and my Mother in Law for looking after our children until we got home.
Goodnight all.