Went for my `st-roll` with Alison and Jack on Wednesday with my new wheels. The off road wheels had arrived last week but I did not get out as I was busy with something else. We fitted the new wheels which have mountain bike type tyres, on to my wheelchair and left the bungalow, at the top of the drive I fitted the third wheel and we set off to the Stonemasons. The road is downhill slightly from the bungalow until it then climbs, up over a bridge and then down slightly the other side until it levels off and is flat (ish) the rest of the way to the cycle path. On the down slopes I tend to go with it without holding myself back and then Alison generally catches me up. With my standard wheels fitted I go on at a reasonable rate but it is fair to say that Alison is not a fan of the new wheels as they seem to cope with the road much better, which means I go faster and further not to the amusement of Alison. The wheels travel over the cycle path terrain much better as well. Alison is now arguing that it has got too easy and that I should go back to the standard wheels and castors, and I did think that she had a point….for around half a second until I realised that life is difficult enough without adding to it so I told her to think again and that she should get a pushbike! The weather really brightened up when we reached Ilminster, it was really nice to sit out in the sun and eat as opposed to having to wrap up warm.
After lunch, my Wife came and collected us after picking `Pickle` up from nursery and drove us back to the bungalow. We had been back only around ten minutes or so when there was a knock at the door, my Physio's had arrived. I had not seen her for two weeks and had much to tell her so a coffee was made "with only a little milk, dairy farm girl, sell every drop!" and we sat in the front room while I told her of the exercise I had been doing and what I had been practicing. My cot bed was still up in the front room and so I did a couple of transfers from chair to bed and back. This was quite easy and so I went from chair to sofa. The sofa has been lowered because I have taken the risers out to raise the height of my cot bed and despite this I got on to the chair in two attempts. My Physio's were well impressed, as was I, technique is coming along which makes the hard work worthwhile. Darren and his friend came round while my Physio's were working with me and after they had left, Darren introduced me to his mate. He had done some printing and cutting for me creating a vinyl sticker which I am really chuffed with. I want to try to get people to look at the Blog, I hope that the website will be up soon and this will be where people will be able to read about the fundraising that I have done and am doing in the hope that they will be interested enough to donate to which ever charity they chose from the advertised charities on the site. To that end I have had some car stickers made, one, which is the Blog header which goes on the inside of the window and the latest which is a vinyl sticker which you can put on whatever you want to if it will fit. Really pleased with how they have turned out and the price was really good too. I just hope that they do generate interest in the Blog and the website when it is up and running.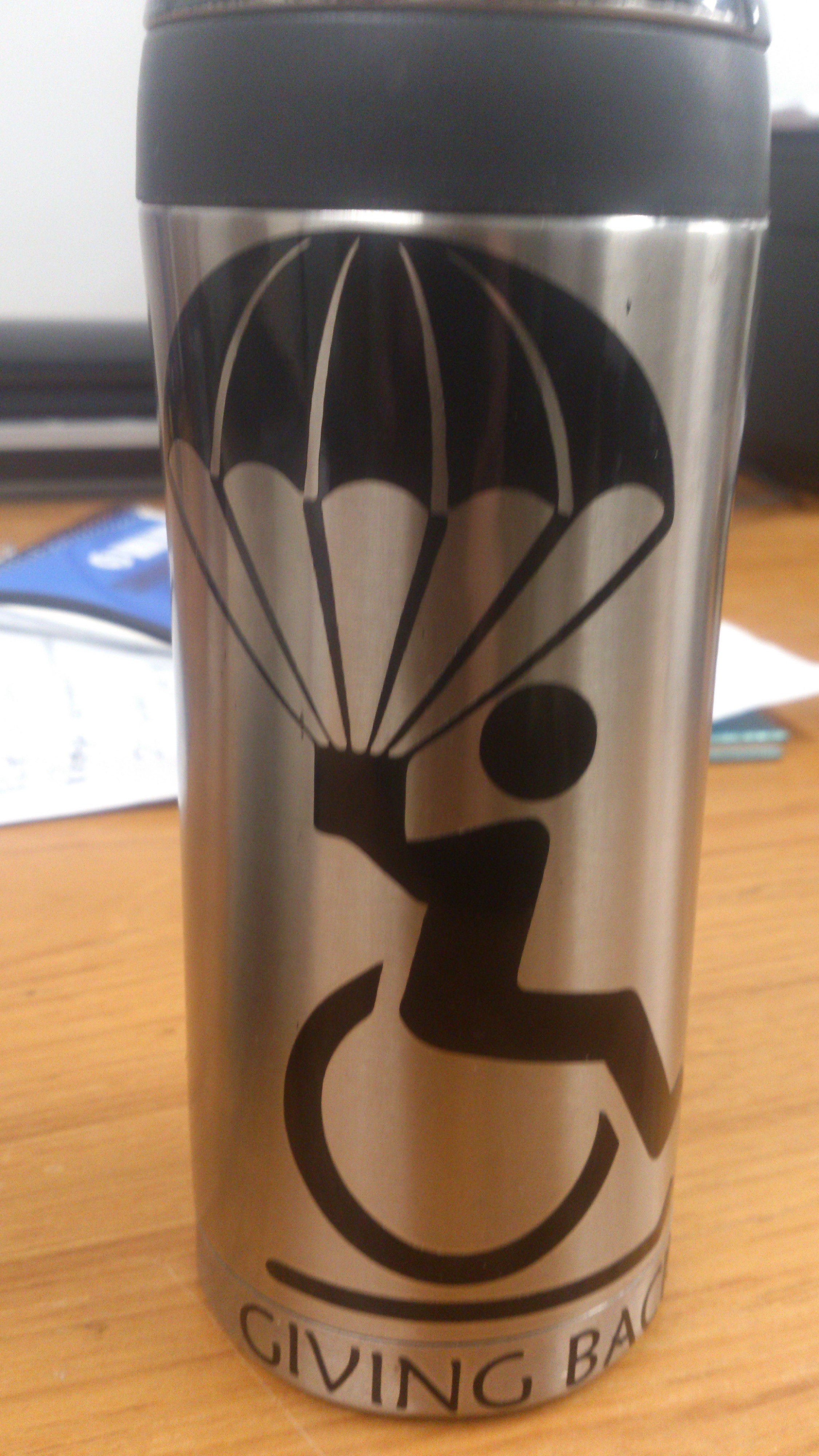 I also had Paula come round for my massage on my legs, I have reduced her visits to once a month now although I had to postpone her last time as we had an illness in the house so it was six weeks since I had last seen her so we also had much to talk about. It was really great to catch up as she, like Maralyn have been treating me for so long now that they are more like friends, we have a laugh, we talk shit, we take the mickey out of each other and talk about other things, it is really nice how things have turned out.
Thursday was a day of sorting out the things that I will need to take away and squaring away paperwork that has been building up, it is ridiculous at how much the paperwork builds up, where the hell does it come from???  I also received the letter I had been waiting for from the Department Work and Pensions with regards to my disability award, it has come back as indefinite which means that we can look around at different cars and pick the one which is best suited for us and order it. Then after a short time it will be delivered with the relevant adaptations for me to be able to drive, this is going to give me back such a massive part of my independence and in addition to that, it will mean that I will not have to rely on family and friends to drive me around.  I had spent another night on the cot bed on Wednesday and this also went well, confident that I would be ok as I had not been uncomfortable on it on the couple of nights that I have slept on it but then my Physio came round with an inflatable type mattress overlay which should massively reduce the risk of any pressure sores. She said that she did not want pressure sores or major discomfort to be the reason I could not stay away for the full term and that she hoped that it would give me the best chance at completing the stay away.  I slept in our bed though as I will be on the cot bed for two weeks and I don't want to push my luck.
Maralyn came over on Friday for my acupuncture, she is back from her break and was telling me about it, she had also had four new patients at her clinic in Chard which is now really going well, she had three more call her while she was on holiday, so starting her clinic in Chard was a really good move. I am so pleased for her because she is very good at what she does, in so much as I have experienced a massive difference since being treated by her.  I had a surprise visit from three of my Aunties from Plymouth which was lovely, there is only one of my relative's houses that I am able to get in to, my Cousins, and that is only in to the back garden and so to that end we see them when they come down. It is not ideal having to have others make the effort but unfortunately there is little I can do about it. They stayed for a catch up which was really nice and then headed off back to Plymouth, I used to see one of them most weeks as I used to deliver to the store at which she worked when I drove for a delivery company. They did manage to see the kids as they were still there when the kids came home  from school which was nice, `Pickle` came running in giving her hugs which were very well received. Eventually though they had to head back, it was really good to see them, it's just a shame that they could not stay longer.  In the evening the cake I had ordered for my Dad's 65th Birthday arrived, it was amazing. I can only imagine what his face will look like when he sees it tomorrow, we are having a surprise get together for his Birthday which I will unfortunately miss but I hope that the food that we have all clubbed together to get and the cake that my Wife and I have got for him will be sufficient for him to forget that I am not there. I will make sure that I call him tomorrow on his Birthday assuming I am able to get any signal. The cake was made by a lady called Heather who's company name is Fancy that. You can check out her website www.fancythatcakes.net you can e mail her at fancythatcakes@talktalk.net the cake she made for my Dad is a train as it is a real interest of my Dad's, check this out, it is AMAZING and a really good price. I had just had enough time to see the cake before I had to load in to the Chucklebus and leave for the training area in Wales for Op Nightingale.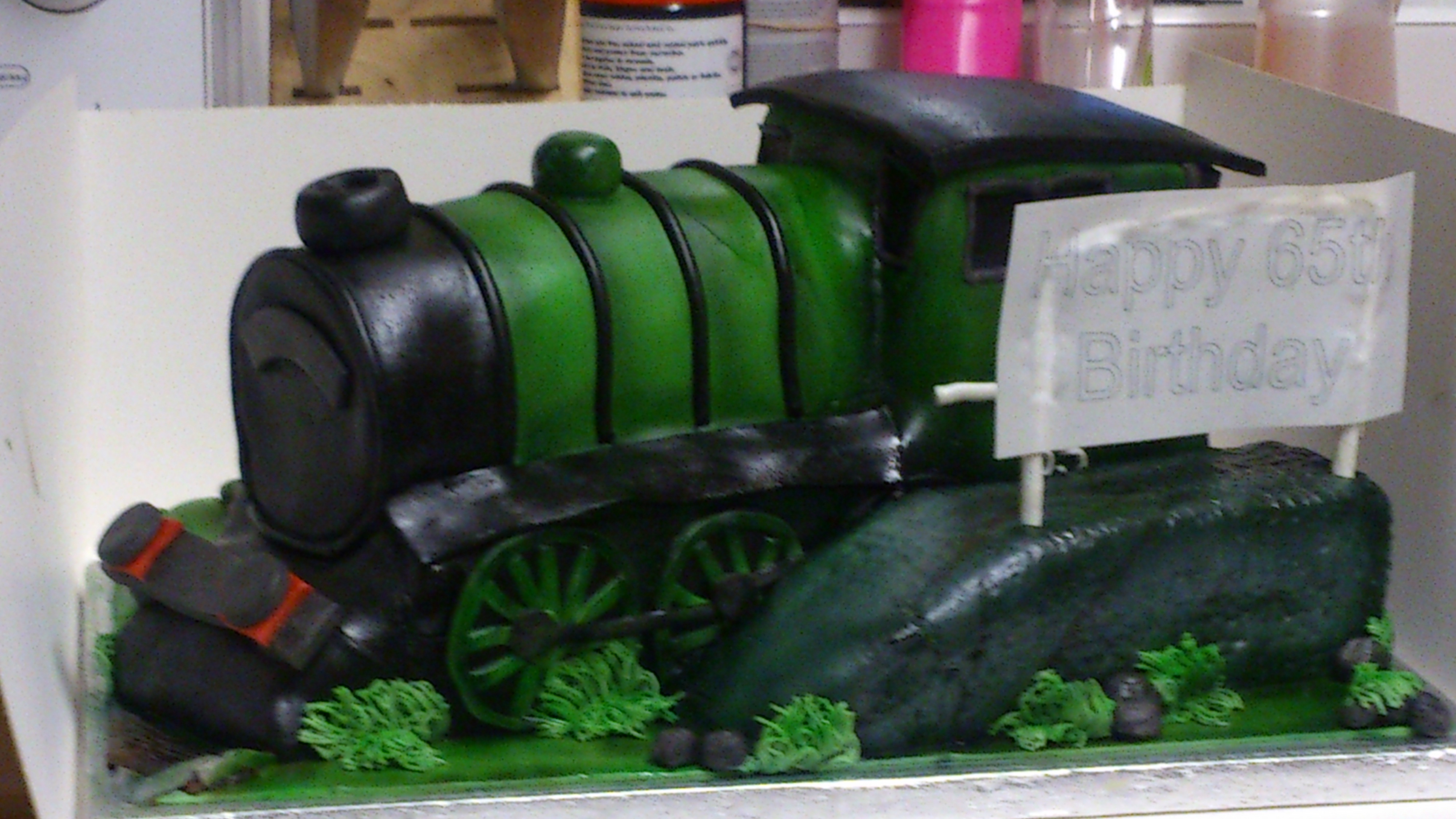 We stopped off at the services off J25 Taunton to collect my friend Dave, he is in the picture I posted of myself, him and Paul at the last Op Nightingale we did digging up the WW1 field guns on Salisbury Plain. I had received a call from him earlier in the week to see if he would be able to catch a lift up with me which was no problem. He loaded his stuff in to the Chucklebus and got himself in, then, we were off! The traffic was ok on the way up, it moved at a constant speed despite the rain. We arrived at a little after seven this evening at the pub just down the road, we had to call in here to collect the key to the gate in order for us to get on to the training area. Once we had the key we went straight to the accommodation where Paul and Dave unloaded my stuff and put it in to the room in which we would be staying. We spent an hour sorting things out and setting up the beds, getting the living area squared away and then the office area, with this done we headed back to the pub to meet everyone. We did not stay for long as I had some more things to tend to and when we got  back to the accommodation I received a brief on various things. This took a while as we discussed various things about the two weeks but more importantly the next few days.  To cut a long story short, it is 01.20 and I have just had some more paperwork put on the desk in my bedroom which has doubled as my office. This is the room in which Dave and Paul are also crashing in. These two weeks is a huge test and opportunity for me which I am really looking forward to. The internet service here is nonexistent but there is a pub around a mile away that has internet connection, I will write what has been going on and hopefully post pictures but you will have to be patient as it will be as and when I can get to the internet, which may mean that there will be more than one entry posted at a time.  For now though I have some more paperwork to do and then get myself in to bed for a couple of hours sleep before I have to get up at just before six in the morning to fire up the burners to get breakfast on the go for everybody. I'm going to love this couple of days before the chef arrives. Well, not the best Blog I have written but I hope that the entries will get more interesting.
Goodnight all.