I have not written any entries to my Blog for almost a week and the reason for that is because I have been locked in a battle with AJW Cars, a sole trader whom I purchased the Vectra from. We purchased the car on the 24th of January this year as my Wife needed a vehicle for when I am out in the Chucklebus and she needs to collect the kids from school or general running about. Darren drove the car to see that it ran and there was no OBVIOUS signs to suggest any problems and as no OBVIOUS sign was noticed by him, we purchased the car. Having been sold our first C shape Vectra by a sole trader who failed to inform us that it had been written off in the past, and when it was unfortunately hit by a woman reversing out from a parking space, it was discovered that it was dangerous and had not been repaired to a satisfactory state. Because of this, the insurance company would only pay half of what we paid for it and we therefore lost a lot of money. We then purchased a second C shape Vectra from another sole trader, after only a few weeks, it developed a major problem but we had been sold it with warranty. We contacted the guy who told us to call a number which he gave us. It turned out that it needed replacement parts and upgrades which some the warranty would cover and others they would not. We spoke to the guy and he said that he would pay the extra as we had only had the car less than a month. My Wife told AJW Cars as she was handing the money over and filling in the paperwork. He kept reassuring her that the car had been checked out by his mechanics and that there were no problems. The car was actually one that he did not want but had to have as it was one of a bunch of trade in's from a garage and he was obliged to take the bunch, not selected vehicles from that bunch. As it was, my Wife likes how the Vectra drives and offers good space and so we had searched for another, this was the one we bought.
My Wife drove the car home and then we had to sort out full insurance as we had purchased temporary insurance for the journey home. With the insurance sorted, and Darren driving me in the Chucklebus for the day on Salisbury Plain digging up field guns, she drove her car, which was exactly why we had bought it, to ensure that things did not have to stop because I had the Chucklebus. Only a couple of days later, having not used the car for a couple of days, while returning from taking the kids to school, the dreaded `engine management` light came on.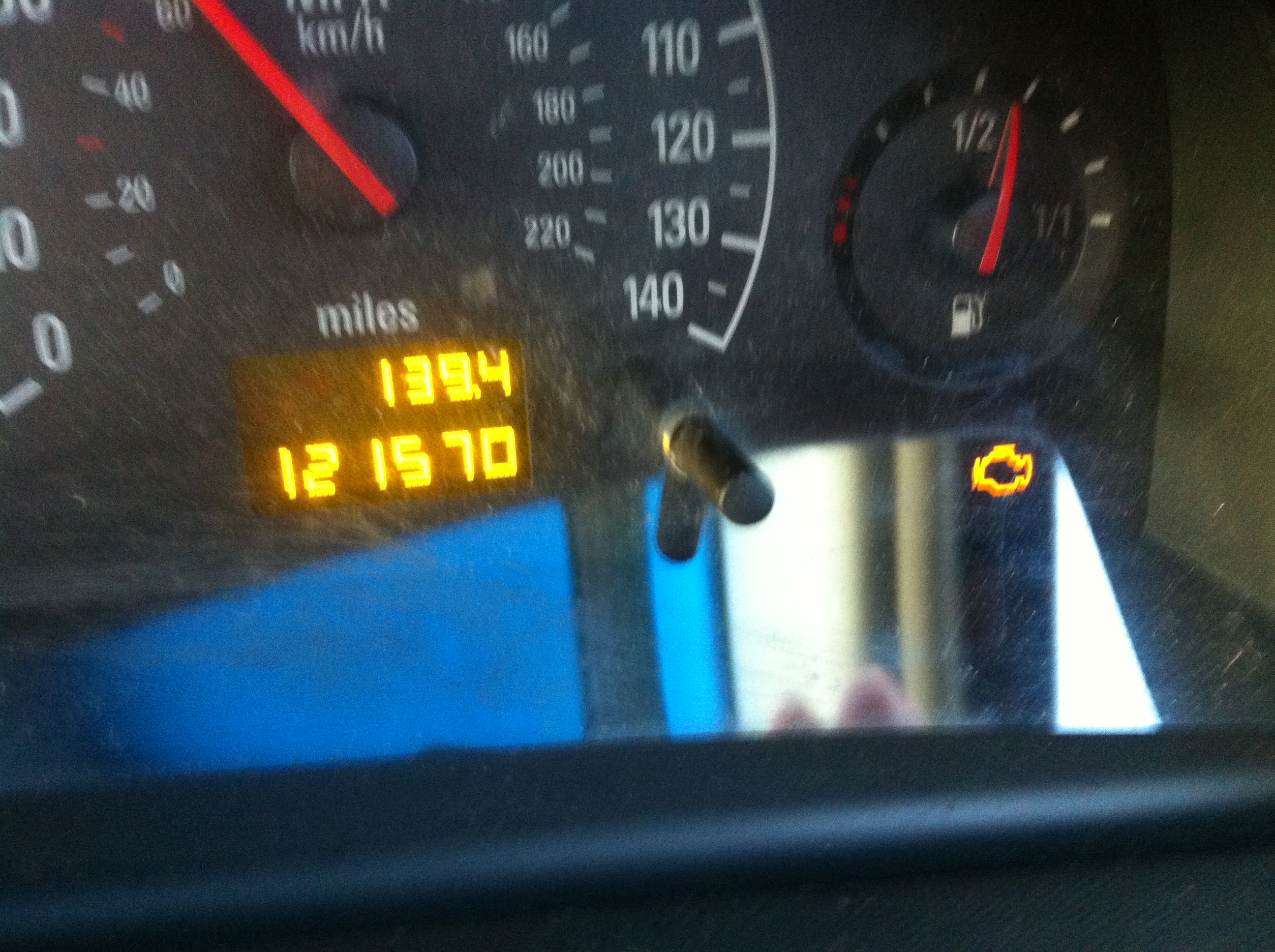 (Photo taken by me using wifey's phone in case you were looking at the speedo!)
After less than 150 miles, the light was on. My heart sank, I called my Brother, a qualified mechanic although he now is a `desk jockey`, and asked him for advice. He told me it would need to be plugged in for a diagnostic report which would tell the problem. I called Tom, my Brother in Law as he is friends with a large local garage, and he said he would pop round to see if he could see anything obvious. True to his word he came round and took the car down the road to see what he could tell. The car would only operate 2nd and 5th gear and had therefore gone in to a `limp mode` to protect the car. I called Rowcliffes Vauxhall of Taunton to explain the problem we had encountered and asked for their advice. They were really helpful and told me that it would need to be plugged in to their diagnostic machine which would say where the fault lay. The cost of this was around £65.00 which was the diagnosis and an hour's labor to investigate. As Taunton was only around 13 miles from our bungalow I called AJW Cars to report the problem and ask if he would be willing to pay for the diagnosis which I thought was reasonable as the car had covered less than 150 miles since our purchase and he was a Trader. The response I got was him informing me of his legal right to have the vehicle taken to a garage of his choosing and that we were to return it to him some 40 miles from our bungalow. Never the less, he was going to get it taken to the garage.
I expressed my concern to AJW Cars about the fact that to get it to him we would need to spend £148.00 on 6 months car tax as the tax would have expired before we could get it to him as we needed to get others to drive due to my being in a wheelchair, if it turned out to be a major problem then this would be a waste of tax. AJW Cars said that the gearboxes were bulletproof and that it was very unlikely it would be a major job and so, on this information, we taxed the Vectra. We had just walked through the door from getting the car tax from the Post Office when the phone rang, it was AJW Cars asking if we had taxed the car yet to which I replied `Yes`. He informed me that he had purchased a warranty for the vehicle but we would need to change the date of sale on the vehicle documents to the 1st. As this was impossible due to the Post Office retaining the documents to send to DVLA for change of ownership, we were simply told that should the warranty company contact us, we were to tell them that we put a deposit on the vehicle on the 24th January and that we had been testing it for the week and on the 1st of February we had decided to buy it, then the car developed the problem. I did not quite understand why or what he was on about but I suppose at least the car had a warranty and the car would therefore be sorted out. I guessed this was to save him some money but as long as the car was fixed I was not too interested. Finally, on the 3rd of February, we took the car back to AJW Cars. It took three of us to drop the car off back to AJW Cars, me, as I had to go and talk to the guy, my Brother who drove the Vectra and Darren who drove his car to come back in as my Wife was using the Chucklebus. My Brother drove using the `Triptroncic` option on the gearbox, ensuring that he would be pulling away in 2nd and then driving in 5th. These were the only two gears that were working, but at least he could be sure that it would not try to pull away from standing in 5th. We eventually got to AJW Cars and spoke with the guy who said that he would take the car to the garage he uses and would be in touch.
We were called a couple of days after leaving the car to say that on the way to the garage, the gearbox had dumped all of it's all and wrecked the gearbox but the garage would investigate the damage. A couple of days later we received a call from AJW Cars informing us that the gearbox is cooked and that it required a new one, no problem as he had of course put warranty on the car, or so we thought. A short while later I receive a call from AJW Cars informing me that the warranty company will not replace the gearbox but that they will pay £250 towards a replacement, he will also pay £250 towards the replacement, would we be willing to put in £250 for labor. I explained immediately that we had no money to throw at the car, and that if we had extra money to throw at the car then we would have looked at a slightly more expensive car in the first place. Bearing in mind that as a bulk buy of trade in cars he probably paid no more than £300 for it, it would seem logical to simply refund the money paid for the car by us and sell it with a problem and either break even, maybe make a bob or two or worst case, lose a couple of quid although breaking the car would make more than the £300 anyway. I reiterated that we had NO MONEY to throw at the repairs and the call ended saying he would keep in touch.
The next day we were told that a gearbox had been located and that it should arrive within a week and then it would be fitted. I thank AJW Cars for the update and let my Wife know that it sounds as if the car should be fixed quite soon to which she says that she hopes so as she is having to ask people for lifts when I am out in the Chucklebus which defeats the object of having the car. Never the less, she waits, safe in the knowledge that the car is being fixed. A few days later we receive a call from AJW Cars to say that he has not heard from the garage to say if the gearbox has arrived or not but as soon as he knew, we would be informed. Understandably my Wife is getting pissed off now, she has purchased a car, driven it three times and now being two weeks since the car was dropped off, it is no closer to being fixed. Six days later a call from AJW Cars informs us that the gearbox has been fitted and the garage has been driving home and in to work in the morning to test it, so it has been tested which is good. My Wife is happier now as it has been three Weeks since dropping the car off and she is finally going to get it back, or so she thinks.
AJW Cars inform me that the car is fixed, the warranty company would not pay as it was classed by them as wear and tear and that if we want the car back, we have to pay £310 which we clearly do not have, and have actually said this BEFORE the repairs have been done. At this point I am wracking my brains as to why anyone would pay nearly the amount that you sold a car for, to fix it when you could simply refund the money and sell as is or break it. In any case, we again inform CJW Cars that we have no money to throw at the car; this is where the threats start. If we do not pay the £310 then we will not get the car back, or he will take the gearbox back out and we can get it fitted ourselves, or he will take the gearbox out and sell it on e bay leaving us to sort the car out. So now, AJW Cars are going to have a bill for the cost of the gearbox to be fitted, removed and refit the original gearbox which is going to cost double what the current bill is??? In any case, I inform AJW Cars that we wanted to get the problem diagnosed only a few miles from our bungalow but he insisted the car go to him, when we left the car it was driving and that it actually packed up when he was driving it, if he was going to return the car to us it would at least have to be in the same state as when we left it, driving in 2nd and 5th gear. Apparently not though, according to AJW Cars, we cooked the gearbox when we took it to him, even though it was a couple of days before he drove it to his garage.
My Wife talks to him and tells him that she had sat in his kitchen and told him of the problems we have had with dealers in the past and that he knew we had lost almost everything due my accident. She told him that we simply did not have the money for repairs as I had lost two jobs and she could not work as she had to care for me, this did not interest AJW Cars as he simply said that "We all have a sob story love". This upset my Wife to the point that she handed the phone to me, went in to the front room and began to cry. I took over the call and reminded AJW Cars that I had categorically stated to him BEFORE the repairs had been carried out that we would have no money to pay for the repairs. Again the threats about not getting car back start. I eventually have no choice but to tell him that I have not the £310 to pay towards the repairs. AJW Cars then ask how much I can contribute. I let him know that I will have to see how much I can raise and get back to him.
On the 21st of February, three weeks after delivering the car to AJW Cars I call him to say that I can raise £138.67 and that is it. He says he will speak to the garage to see what they say as they have been fixing the car at night to eliminate the need to charge VAT on the work. I receive a call from AJW Cars later that day to say that the garage will only drop to £250 but that he will accept the £138.00 and make up the rest. I contact trading standards to ask for advice and help and I am informed that under my Consumer Rights as well as under the Trading Standards Laws, the trader is liable to either refund the cost of the car to me or repair the car without charge to myself. Under no circumstance am I to part with any money for the repairs to the car. I text AJW Cars with the following text message; A***, when you collect the Vectra could you put the old gearbox in the boot please making sure it does not drop oil everywhere. Also we would like a copy of the receipt for if we sell the car later and also acknowledgement of the 12 month warranty from the garage, and of course the warranty for the car. Thank you. G
I did not think that this was an unreasonable request, I could get the gearbox looked at to see what happened, a copy of the gearbox receipt would show the next owner it had received a replacement gearbox with half the mileage, the warranty from the garage which AJW Cars informed me was 12 months against their work, and the three month warranty he had put on the car which he said would cover the new gearbox. The reply I got was not quite what I had expected, it read; "Firstly the old gearbox I want to show the warranty company when an inspector can view it. Secondly the invoice is for my books and paid for by me so you are not entitled to it. My garage has done this work in the evening to save VAT. I have used them for over 7 years now and have never..Never had any problems with their work. The total bill is £835.. You only offered £138.. Think you should collect the car and be thankful I have paid for the repair when by law I didn't have to."
I was taken aback by this if I am honest. I thought I was being reasonable, I only asked for a copy of the receipt to go as part of the car history, and as the warranty company had refused to pay, I could not understand why they would want to see the old gearbox. Similarly, if the garage guaranteed their work for 12 months then that would also go in to the cars history. Anyway, I replied with this; I asked for a COPY of the receipt as I know you need it for your books. Why do you need the gearbox as the warranty company did not pay? I appreciate you use the garage a lot but I require the 12 month guarantee. Thank you. G
Again, I have tried to be polite. As it stands, I have no proof being offered that the gearbox has been replaced, I cannot see the old gearbox, or a receipt for the new gearbox and, as I have not seen any diagnosis for the fault, for all I know, it could have been a sensor and I am giving money for something other than I believe. Anyway, AJW Cars sent a reply almost immediately. It read; "This is getting silly.. Your car is repaired.. The bill to you is £310.. You have offered £138.. I have accepted that and your car is running. That's it.. If you are not happy with that then I will put a lean on the car until full payment for all the repair is made. The car will be ready for collection tomorrow from 11.30am. I have done far more to assist then I should have."
I have no idea what a lean is but again with the threats. I arrange to collect the car at 7pm on the 22nd as this is the only time I can get drivers. I text to confirm and receive a message saying "That's fine see you at 7" My Brother and Darren agree to collect the vehicle with me, and so we set off. We arrive just and just past 7pm and I call the mobile telephone of AJW Cars as it is an arranged time this should not take long, to my surprise it is a female voice on the end of the line. I told the voice I had come to collect the Vectra and she came out to meet us. My Brother drove the car to check it was working and then came back with the female. I asked where A*** was as I had arranged to meet him, she said he had gone out. This made me a little suspicious if I am honest, why would he go out, being a business man, without his phone? If he had taken it with him and I had called he could have simply said that he had needed to go out and that I could deal with the lady in the house. Anyway, I told the female that this had put me in an awkward position as I had wanted to talk to A***. She said that she had been told I was going to come and give her some money and then I would take the car. I informed her that I had been told by Trading Standards NOT to pay but as he was not there I could not talk to him, to this she said, "So you are not taking the car then?" "No, I will be taking the car, the thing now is that I am not comfortable leaving you with no money and no car, especially as you are female and there are three of us that are male." I could not believe that a man who knew that we were coming, and that there would be at least three men as that is how we took it to him, would leave a lady who was only of slight build, to meet with three blokes, in the dark on her own. I was concerned as to what was going to happen and immediately said to Darren that I was not comfortable with the whole situation. The female, who was his partner, said that whatever had been discussed, agreed or arranged was between myself and A*** and that she was not interested, she had merely been told that I would give her some money and take the car, also that I had to do what I had to do and that was that.
I spent around six minutes trying to figure out what to do and said that I had no proof that a gearbox had been fitted. She then gave me a receipt listing what had been charged; INVESTIGATE AND REPLACE GEARBOX £310. RPLACEMENT GEARBOX DONE 67K MILES £300. DELIVERY OF BOX £50. GEARBOX OIL (ATF) £38.51  =£698.51 PLUS VAT £139.70 =£838.21 PAID BY CUSTOMER £138.00 REFUND FOR WARRANTY £72 PAID BY AJW CARS £628.21
Why is still the question going through my head, why would you spend £628.21 for a car that you sold for £950 and potentially only bought for £300. Surely that is not good business sense. Anyway. As I felt so uncomfortable about the whole female and three men thing I gave her £100.00 and asked her to sign to say that I had given £100.00. The reason for the payment despite being told that I should not was because I was concerned that we may be accused of taking the car by threats or force, the reason for not paying the amount agreed of £138.00 is because I wanted to speak to A*** of AJW Cars and if I had given the full amount I would not hear from him. The lady returned to the house and we sat for five minutes while my Brother spoke to me about why the hell I gave any money. He did understand my reasons and then we decided to head home. Not more than two minutes after we drove past the front door of the house where the lady had gone, my phone rang; it was the mobile number of AJW Cars. He immediately said "You only gave £100, why did you not give the full amount?" I told him that I had wanted to speak to him but he was not there. He told me that he had needed to pop out and meet someone and see his mother and then started about the money. I was to take the car back to him, he would return my £100.00 and he would get the garage to print a receipt including VAT and then he would put a lein on the car for the full amount of over £900.00. More threats. I had noticed on the receipt he had given me that there was VAT. But for who, if the garage had done it after hours for cash, and he was not VAT registered, was the VAT for? I can only assume he is not VAT registered as the receipt for the car he gave us when we bought it had no VAT registered number. But if he is, why charge me VAT on work that was not carried out by him and especially after telling me that the garage had not charged VAT? Very confusing. In any case I said that it was not that I had refused to give the full amount, but that I wanted to talk to him. I told him straight exactly the same thing I had told the female, that being that "There was no way on God's earth that I would have let my Wife go and take my place on meeting three blokes in the dark", and that, "there was no way that he had just walked in to his house as we had not seen him go in".
We have the car back, I am a little lighter in the pocket, my Wife is not massively happy, I feel like I was set up and that I have been conned. However, as I cannot be sure that I have understood my Consumer rights or that Trading Standards have understood my explanation I have had to do what AJW Cars have told me to do.
As you know, I write the Blog as a diary, events as they happen, things that happen that remind me of things that have happened in the past. Funny things, not so funny things, painful things and things that have helped. On top of this I write about experiences that I have which may help others who read my Blog to avoid similar situations. I am hoping that this period where we have been without the car and the problem we have since had and found ourselves in may be a warning to others to know your Statutory Rights and your rights under Trading Standards. If my experience helps just one person in time of trouble, then my experience and the time taken to write my Blog entry will at least hopefully turn a negative for me into a positive for someone else. Good trader, bad trader, I am suggesting neither. I have however shared with you what I have been experiencing lately. I do however have my Wife's car fixed. But I have also told AJW Cars that if it goes wrong I will be going back although, I feel it will be a waste of time.
Be carefull all.