On Saturday my eldest Daughter and three of her friends went to Crealy for my Daughter's Birthday. 12 years old, growing too quickly. As `Pickle` is too small for the majority of the rides and I am unable to play, I stayed at home with my two youngest and then Darren with his two Daughter's came over. So as they did not miss out on a day of play, we decided to take them in to Ilminster to the park, we loaded everyone, bikes and `Pickle's` jeep in to the Chucklebus and drove the short journey to the play area. My Wife and I originally bought the jeep for our Son to help with his hand eye coordination which he struggled with badly due to his being born three months premature. The jeep gave him an enjoyable toy but also taught him that he had to move the steering wheel to turn in to the direction which he wanted to go, it also made him spatially aware and in no time at all he was driving between objects, sometimes causing us to close our eyes as the gaps simply didn't look big enough. Whilst `Pickle` was a full term baby and has no apparent learning difficulties which her Brother has, he is too large for it and so it makes sense for her to have it. We opted for the park in Ilminster as it is a huge open space and would therefore be a perfect area for `Pickle` to learn how her jeep worked and what the steering wheel did.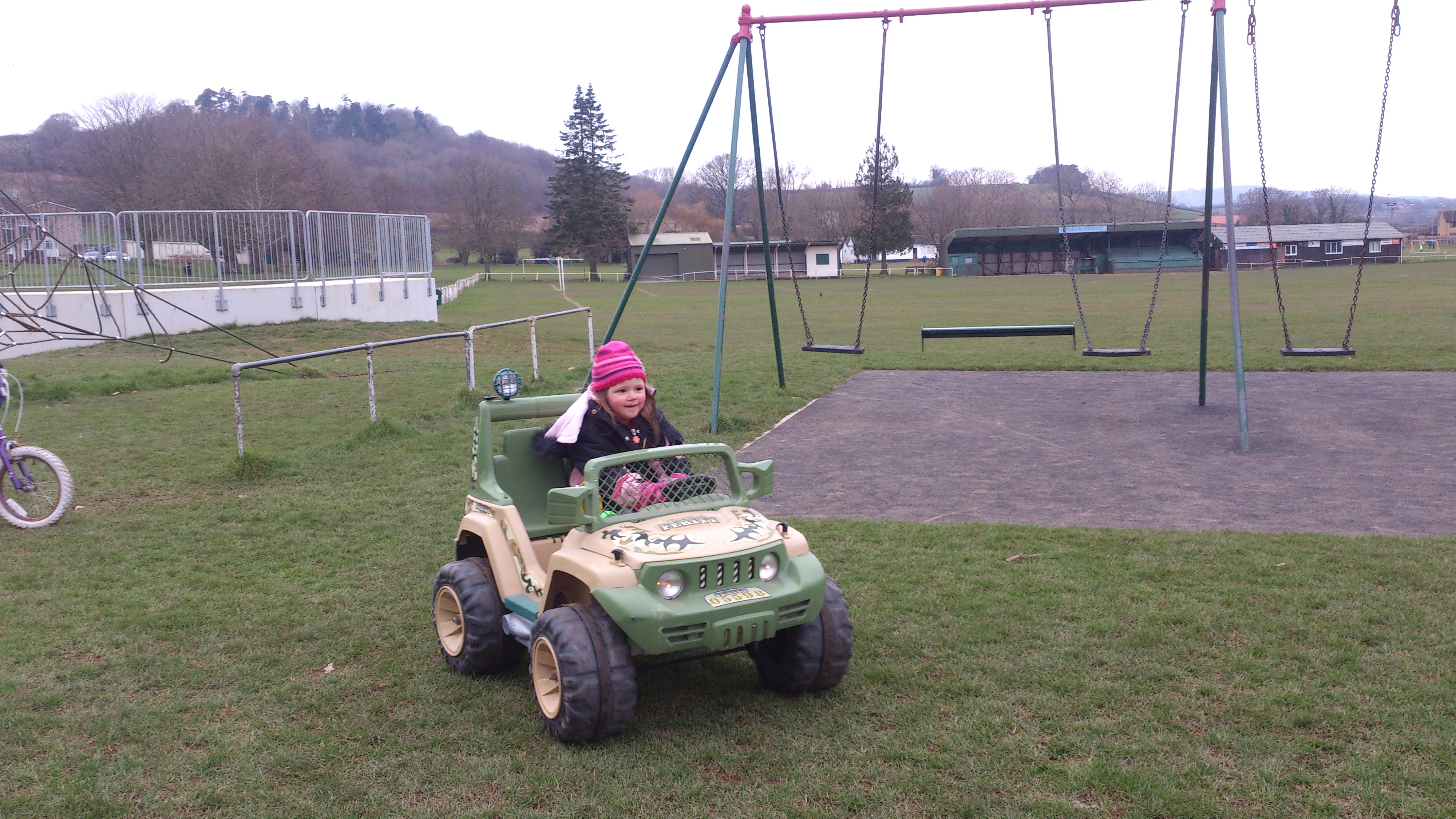 She did really well and in absolutely no time she had mastered it and was really chuffed with herself. The others played on their bikes and all of the kids played on the swings and generally ran riot until eventually it got so cold for everyone that we headed back to the Chucklebus and back to the bungalow, it had been two hours that we had spent in the park and the jeep was still going, despite not being constant use, it was on grass and she did spend the majority of her time in it, the next thing will be to take her down the cycle path with the spare battery and see just how far it will go. I am hoping that it will make it the whole way to Ilminster because then it would mean that we could drop the Chucklebus at the Stonemasons and then walk over, have some lunch and then load up in to the bus and head back. We would have done the distance test today but it is too cold for `Pickle` and she is not feeling the love for a five mile drive in her jeep, plenty of time though. The intention is to give it a paint job and `pimp it up` a bit to make it a bit more colorful for her, watch this space!
My Daughter and her friends had a really good time at Crealy, my Wife sounded like she had also had a good day and although she loves our Son and `Pickle` with all that she is, I truly believe that her spending a day with our eldest Daughter and her friends in an amusement park was absolutely the best tonic for her. Not having to deal with me, (most that know me would argue that it can end right here!!), to run around after `Pickle` and the break from our Son who can be hard work allowed her to just enjoy the day with no real distractions. She did look a little tired when they got home but it was evident that it was more from having a fun and relaxing day where her body and mind had actually been able to forget about the normal things she has to do on a daily basis. The evening was spent preparing food for a little get together we were having on the Sunday where family would be coming to see my Daughter.
Sunday mid day was the time that my Daughter went with my Wife to take her friends back to their houses and we continued to get ready for our visitors. The day went really well with `Me Val`, Sean and his wife came round as well. A really nice surprise was a visit, (a flying visit as they had lots to achieve), by Laura and Andy who were down from London for the day. Laura is a school friend of my Wife, who never forgets any of our children or our Birthday's and always without fail sends a card, something some of my family could really do with adopting. The food went down well and the kids all had a good time, (my Brother included in the kids category as he kept shooting them with the Nerf gun!). After the vast majority of the food gone along with several hours, everyone slowly left and it was time to square the kids away with baths etc for school and to tidy up.
It was a really good weekend, my eldest is another year older, we got to have a family get together and my Daughter was able to have a cracking day with her friends, as a bonus my Wife got a bit of a break which to me is a huge bonus. I hope that your weekend was equally as enjoyable and that your week turns out the same way.
Good evening all.