I went with Darren to Taunton on Monday as he had an appointment, I took the opportunity to go as I had some shopping to get and where possible I will transfer in to a car just as a break from sitting in the back of the Chucklebus. We got to the multi storey car park and then realised that the Blue Badge was in the Chucklebus as I had forgotten to tell Darren to get it. This meant that I had to get out of the car and in to the wheelchair and then Darren to park in a regular space, all this meant was that I would cause a little bit of obstruction when I was getting back in to the car as Darren would have to pull out of the the space and stop in the main driving area of the car park. While Darren was in his appointment I had headed off to do my shopping and have a look in a few shops. It still does not cease to amaze me at how ignorant people are, I had a gentleman step backwards a few paces and nearly end up on my lap, he had been looking at a shop window and then decided to move back a few paces, when he eventually reversed in to me he looked at me as if it were my fault. Seriously, if I wanted to have a random stranger park on my lap, firstly I would ensure the person was female and if it was deliberate by me then I would make sure they were attractive. It was not the only occasion that someone stepped back in to me, the other time was around thirty minutes after, the lady did not look at me in disgust, instead there was a "Sorry", I must stop apologizing to people when things like this happen, it is an automatic reaction for me now. I have had so many looks shot at me and heavy sighs from people when they have walked in to me that I just say sorry now, ridiculous really, as they will just assume that nothing is their fault, anyway, I had got round quite a bit when my mobile rang. Darren had called to let me know he was out and find out where I was so that we could meet up. Once we had met up we decided to do some important stuff, we went to the toy shops!!! Eventually, we grew up a little and grabbed a sandwich in the Subway shop and then, with the sandwich's devoured, it was back to the car and on to the bungalow. On the way down through the town on the way out of Taunton, we stopped in the Vauxhall garage to have a look at some cars. I am hoping to get the paperwork back soon for my disablement benefit. If they agree with the spinal surgeon that I will not walk again then I should have a longer or indefinite date on my award and will therefore be able to apply for a vehicle that I will be able to drive. To that end I am doing research now in to which vehicle would be good. I now have ideas from Vauxhall and I will see what other manufacturers have to offer. From Vauxhall it is between the Mervia and the Astra at this stage, but that may well change.
Tuesday evening was great, I really enjoyed it. Gerry came round to the bungalow and then drove me in to the TA Centre (TAC), something which he is unable to do next week but Darren has already said that he can help me out there. I had decided to do revision with the recruits on things that I think they would have covered and that I feel they should know to a good standard before they go off to do their confirmation course and become Riflemen. I was extremely impressed with their knowledge on some of the subjects I was revising but had to spend some time on some of the others which I was expecting. Using the understanding and answers I had received from the recruits I was able to plan for the next weeks revision period. It was good to be back instructing again, as I am no longer able to carry out the role of Platoon Serjeant any more I was worried about where I would be able to work within the Company and as I had trained recruits for four years or so previously, it was a role I am capable of doing, I enjoyed and whilst I would love to be out in the field at the business end of the infantry, at least for the time being I am able to pass on the knowledge I have to new guys. I am slightly less reliant on the lads at the TAC in so much as I roll myself to the rear entrance of the building and can get in through the door and I am also able to get down the five or six steps to the main level of the building once inside. I still can not get up the stairs to the bar at the end of the night or indeed down from there and outside on my own but I hope to give the main staircase a try in a while.
Yesterday I went for my `st-roll` with Alison and Jack to the Stonemasons. I have not been for a while as the weather has been rubbish and although it was cold on Wednesday, it was dry and so despite Alison and my Wife having concerns about the temperature, I said it would be fine and we went. Having had a break from it, it was again more noticeable to me (and I suspect Alison), that I was finding it a bit more work than normal. Never the less, we completed the `st-roll` and had lunch at the Stonemasons, I can recommend the Lasagne by the way. I had suffered with spasms in my legs for the first part of the journey which had caused me to stop on several occasions to try to calm them down and as a result our time was much longer than usual, aside from that though it was a good `st-roll` and after we had finished our lunch, my Wife came and collected us on the way to picking the kids up from school.
Today Darren and I decided to `st-roll` to Ilminster, second time for me in two days but I want to exercise to try to get rid of this belly I've acquired. I have always been slim but since being in my chair, even though I don't eat stupid amounts of food, and despite my doing the five mile minimum `rolling` in my a chair a week and sometimes more, I can not seem to lose the circumference which annoys me. So we left the bungalow and Darren told me to roll when I could and he would catch me up on the up hill bits, today we were going to see if we could beat the one hour and ten minute time that it now took me. All was going well, we had got past the sewerage works and to the turning on to Peasmarsh which is the main road between Chard and Donyatt in just over thirty minutes. I followed the road round to the right and past the B&B and farm type house to the gate that has been put in place to prevent cars from using it as a short cut. Through the gate and I noticed on the road that someone had cut the hedgerow bordering the field that was next to this part of the road, unfortunately, they had cut the hedge from the road and the debris was all over the place.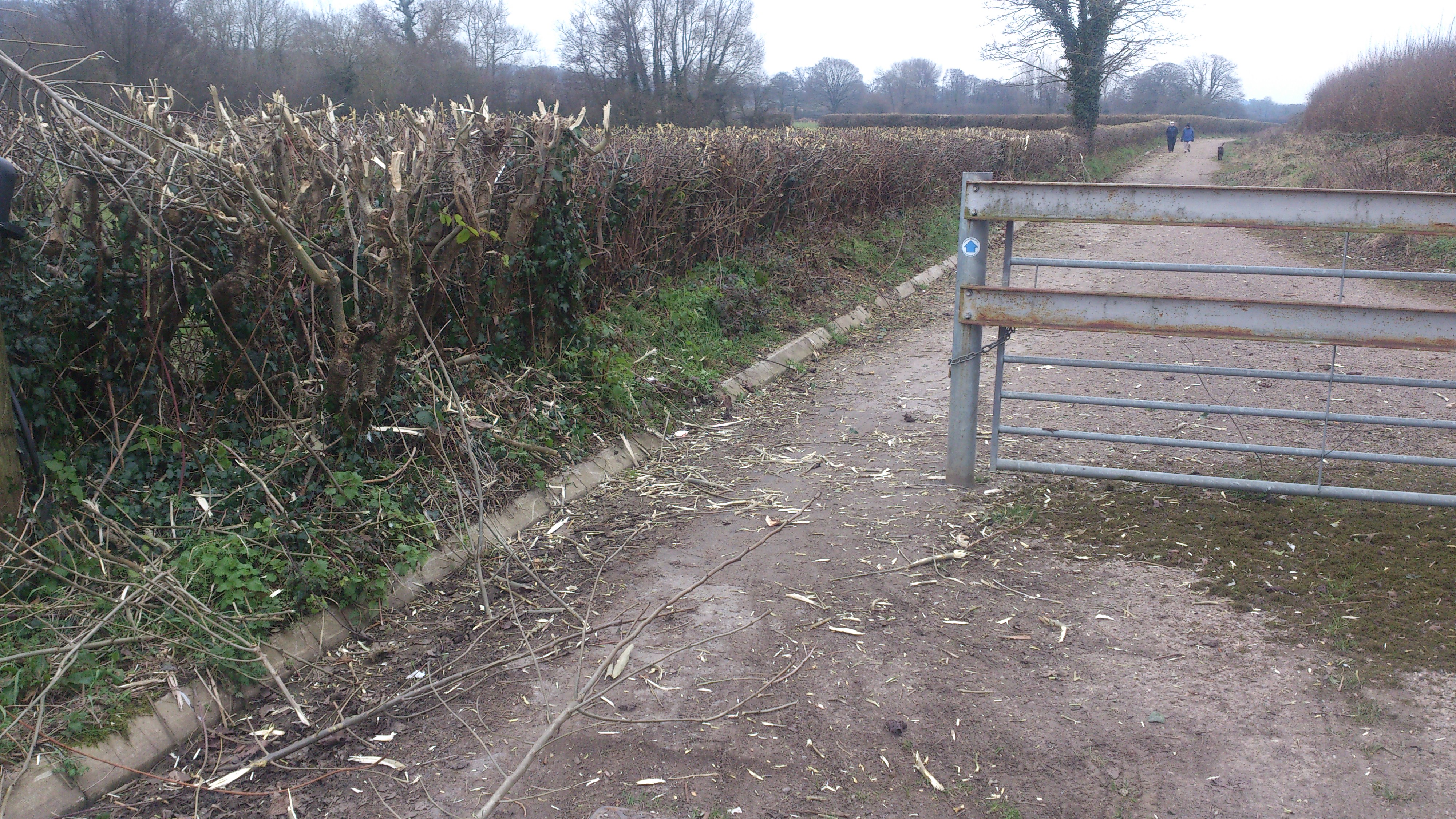 There was no way to continue without rolling over the cuttings, I got to the end of that stretch and crossed the road in to Watery Lane, as I was propelling myself I noticed my third wheel was flat. A real inconvenience but not the end of the world however it would be slower now on the Castor's. Darren and I continued on our way and just before the Bowling Club, Darren told me to stop. I had noticed it had become more difficult to propel myself but had put this down to me losing the third wheel, this was not the case though. I had another flat tyre, the problem is though, it is one of my main wheels. I was able to remove the third wheel and carry on but this was serious. Upon inspection, we found not one, not two but three thorns from the debris had pierced my tyre.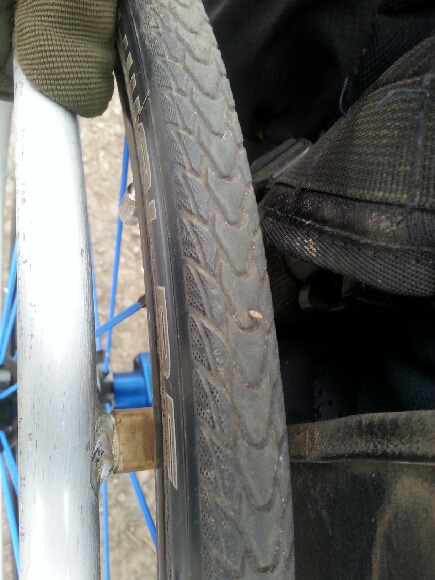 The picture shows just one of them. We could not continue and so I had to call my Wife to come and meet us with the Chucklebus back in Watery Lane. When she arrived, Darren went to the debris and took some pictures.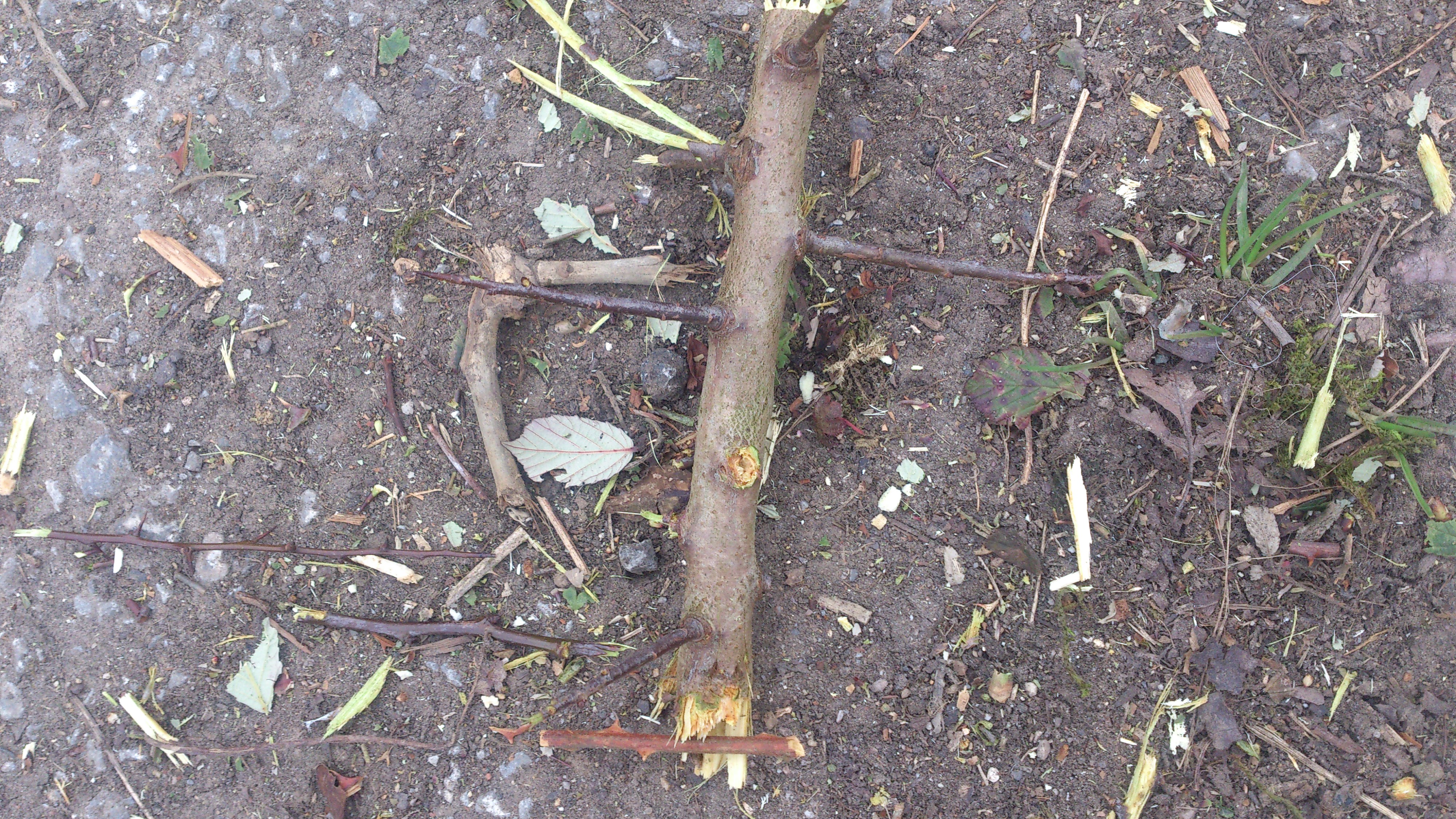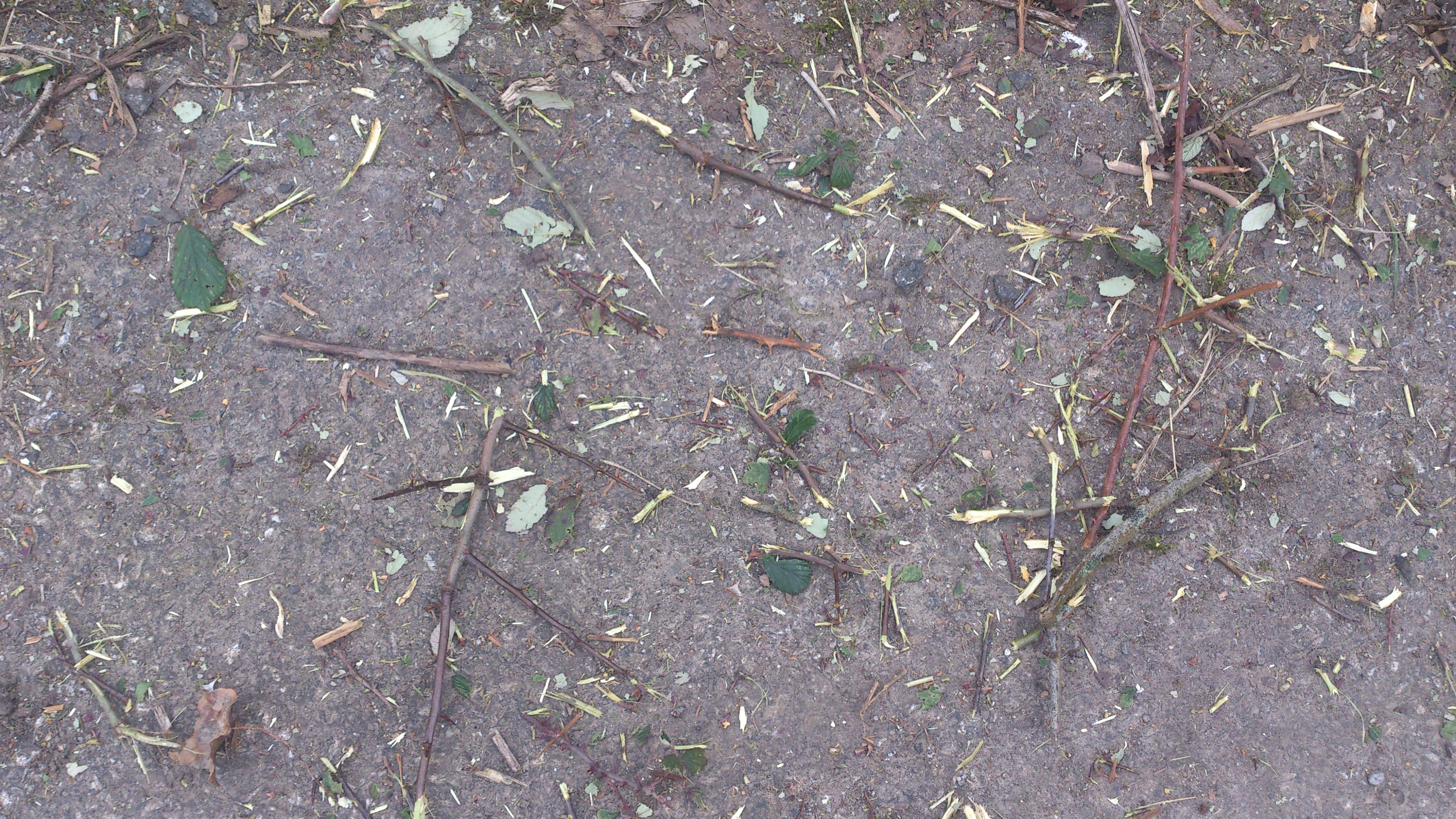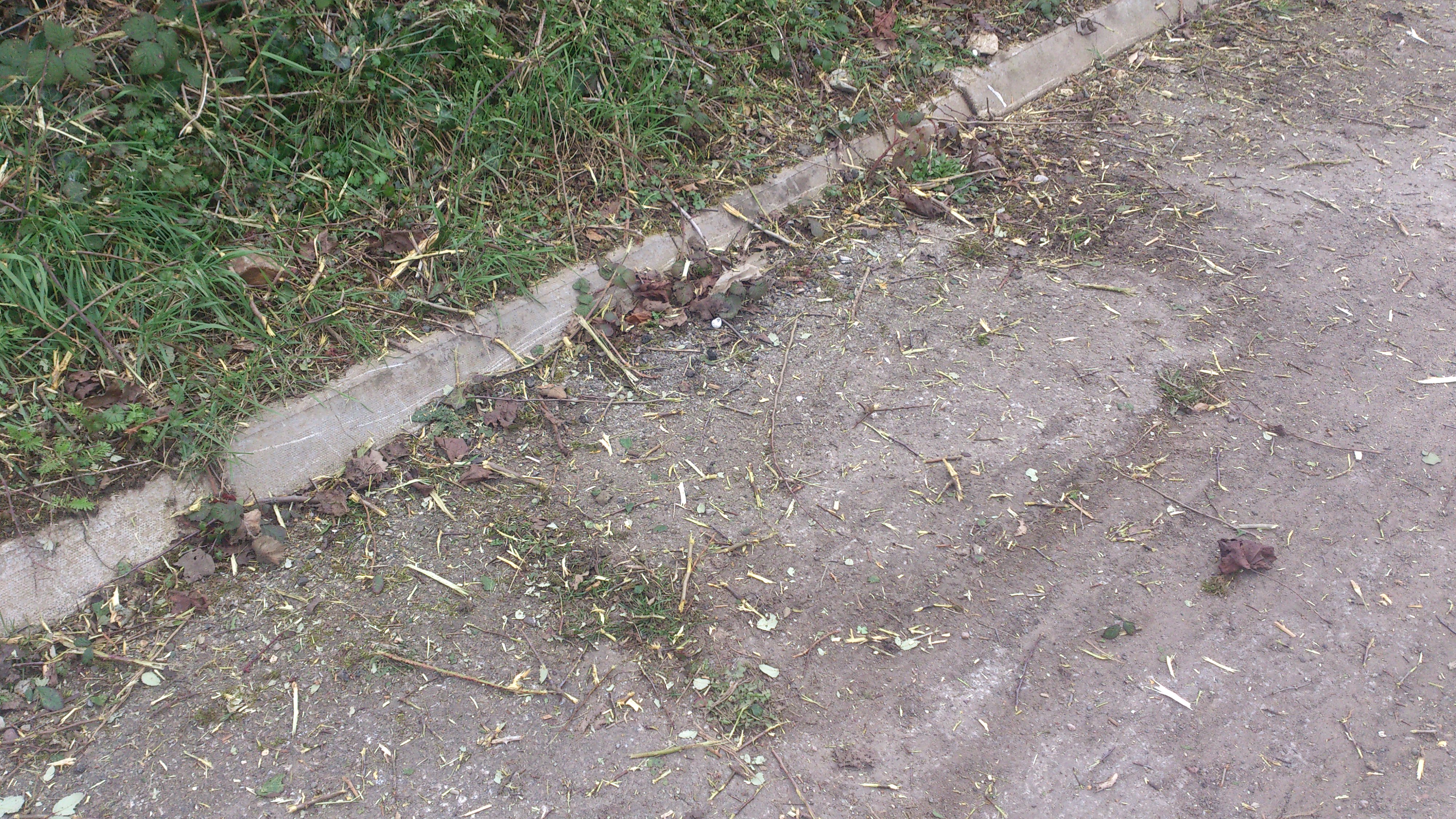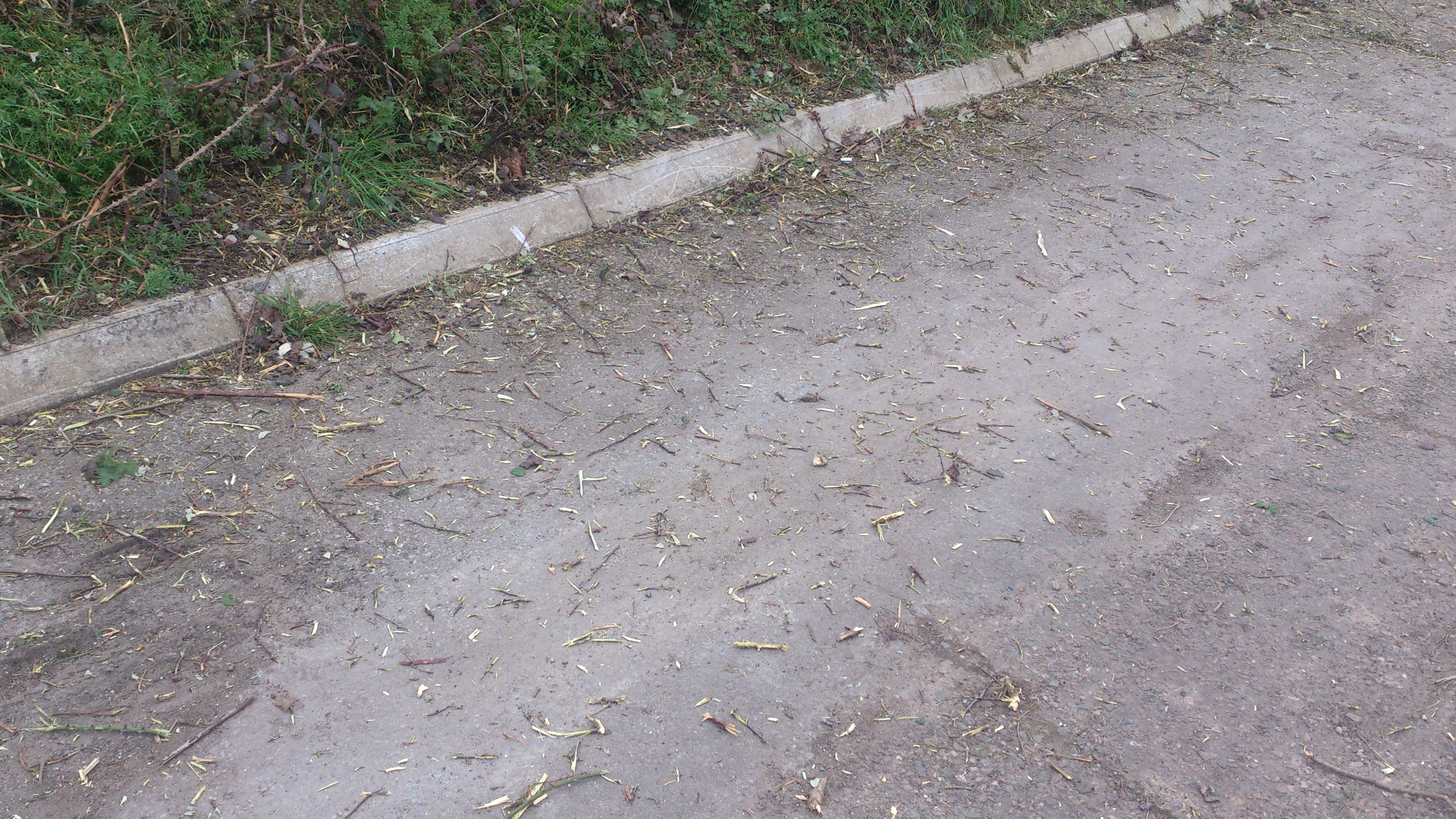 There was no way for me to avoid this debris, and no way for any cyclists to avoid it either. I applaud the idea of a network of cycle paths to enable people to safely move around without being at risk from motor vehicles, I applaud the funding which makes this possible, but if you are going to make these things you must ensure they are kept in a serviceable state. I wonder why highways build more roads when they are unable to maintain the roads we have and yet they still build more. Hedges need to be cut, but why leave so much debris on the road behind your work that it causes damage? I intend to `st-roll` to Ilminster tomorrow with Alison for the third, (or two and half), time this week if my wheels are repaired, but it will be impossible for me to use the cycle path the whole way. I will have no choice tomorrow when I reach the section of cycle path I have had the issues with today, but to use the main road which will be interesting, high vis vests out I guess!
I called County Hall after being told by the Council office that this was who I needed to talk to with reference to the cycle path, I explained the problem and asked who I needed to talk to regarding the fact that I had been left immobile and that I would now have a bill for the repairs to or replacement of two tyres which as far as I understand are not standard sizes as they are for wheelchairs. Something which I do not intend to have to fund myself. I was told that a complaint had been logged and that someone would call me back soon. Being as I am STILL WAITING for the return call from the Council regarding the fallen trees from God knows how long ago, I am not confident of them bothering either. So today has been a bit of a nightmare but has shown me that things have changed. People lack manners and basic common courtesy, they lack interest in anyone but themselves and respect for others, people are either too scared or too uninterested in others to help when strangers are in need. All too often you read in the papers or hear people talking about the youngsters of today lacking discipline and manners but when you live life at a slower pace as I now am you realise that youngsters learn from the older generations, and unfortunately it is the older generations generally thirty to fifty year olds that they are learning from because I can absolutely state to you that from my experience since being in the wheelchair that it is this very age group that contains and includes some of the worst, most disrespectful people I have ever met, not all members of this age group but this is the age group that has shown the highest number of people with the least manners.Maybe if people were to look further than the end of their noses and step outside of their own little bubble every once in a while they may have a more positive impact on the upcoming generations. Think about it.
Goodnight all.