On Friday morning at 07.00hrs there was a gentle knock at the front door, I knew who it would be and I was almost ready to go. My Brother had taken a days holiday from work, which he had some trouble convincing the boss to let him due to the staff who were already off. My Brother though did manage to convince the boss that they could manage without my Brother being there for the day and so he was able to drive and join me for a day out. I received an e mail from Mission Motorsport a week or so ago telling me of a day at Castle Coombe being raced around the track in various vehicles and that I was invited. I emailed back to say that I would love to attend, and that I appreciated the e mail inviting me. It would ultimately come down to if I could secure myself a driver, hence my Brother was now knocking on my door at 7 o'clock in the morning.
I got in to my Brothers car and while I put my seatbelt on and got comfortable for our journey to the track, he put my wheelchair in to the boot and made sure I had everything for the day and we  set off. I typed Castle Coombe in to my Nav app on my phone and we drove towards the Motorway. The weather was overcast but no wet stuff was falling from the sky and so to that end it should be a good days racing. It was less than an hour and a half before we drove in Castle Coombe, the Nav app had taken us right to it. A lovely little place with such beautiful buildings but I was immediately drawn to the immediate problem that the roads were more than a little too small for anything bigger than a radio controlled toy to race around, that's right, wrong bit of Castle Coombe. Really glad we went in to the village though because the buildings really are beautiful. We left the village and got back on to the main road, we were off to the race track and the weather was still good.
We arrived with around twenty minutes to spare before the official start time so my Brother got my wheelchair out of the boot of the car while I got myself ready to transfer across. At this stage I am still using my slide board to get from car to chair but in time I will master this without, bear in mind I am still teaching myself a lot of things, I got in to my chair and my Brother assisted in me ensuring my trousers were pulled up. This is something that you do not think about being able bodied but because we sit down all day and have the depletion of muscles, we have to ensure that any seam or ruffled material is not sat on as this can also cause sores. This done and car locked, we made our way across the area where cars were being prepared and headed to a building where there were a lot of people crammed inside.
Ok, Ok, I know what you are immediately thinking, not many cars capable of any speed here but don't be fooled by appearances. I can tell you now that you should think carefully about `racing` someone off of the lights next time you are driving because there are some things that you would laugh at that may well be capable of causing serious embarrassment.
As we made our way over to the afore mentioned building a "Tedworth taxi" arrived bringing a fellow band of Brohter who is residing at Tedworth House at present. I met him at Tedworth House when I was there meeting Jeremy Clarkson a little while ago, his and my other halves have chatted on the internet so it was good to see him and find out how he is getting on. Together we made our way to the building. Inside were the drivers having a briefing on flags and procedure to ensure the day ran smoothly without major incident. With the drivers briefed they headed off to their vehicles where they would go round the track and familiarise themselves with the corners and spotting the cones that are put out as aids to negotiate the bends, yellow for brake, red for turn and blue as the apex if I remember correctly. We got ourselves a drink and signed in which then gave us wristbands to show we were entitled to go in the vehicle as a passenger and waited for cars to arrive for us to get in to.
It was in this building that I met up with James and some of the Mission Motorsport guys who were chatty as usual. It is always a pleasure going to any of the events that Mission Motorsport invite you to as they always make you feel welcome and part of the event. Unless there is a problem where everyone is busy, they will always make you feel part of the day, if any Band of Brothers or Sisters or any one else who may be given the opportunity to attend a day with Mission Motorsport then I do not think I would be alone in saying that you should grab the opportunity with anything you can and go, they are always a great day out. As I sat chatting with my Brother and George which is the Band of Brother I mentioned, a Volvo car pulled in to the people loading area and asked if anyone wanted to go out on to the track. I looked at my Brother and George and they both said to go, so I reversed down the step and got to the passenger door which was opened for me. My Brother came over to take my chair away for me, he made sure that I was in ok and handed me the seatbelt before closing the door and taking my chair away. Then we were off.
The driver introduced himself and simply told me that if I needed him to slow down or I wanted to finish the session then to simply let him know. With the accelerator pedal firmly pushed against the floor of the car I was impressed with how fast this car was, it was a Volvo V50 estate, turbo diesel with an automatic trip tronic gearbox but it really did go well, and boy could it handle the corners. I was shocked at how this thing went and handled especially when I found out that it was less than an 2 litre engine that was powering us round the track. It was a real eye opener as Volvo are `labelled` as a car for older people. We pulled back in to the people loading area and my wheelchair was brought out to me. I thanked the guy who drove and headed back in to the waiting area. I had been in only a short while before a TVR turned up, I was curious to see how difficult it would be to get in to the seat if it would be possible at all. I reversed down the step and pulled up next to the passenger door where the owner of the car opened the door for me to see. It was a bit low but also tight as the door did not open that far. I told the guy that I may try later but for now I would wait, he understood and told me to simply give the nod if I wanted to try.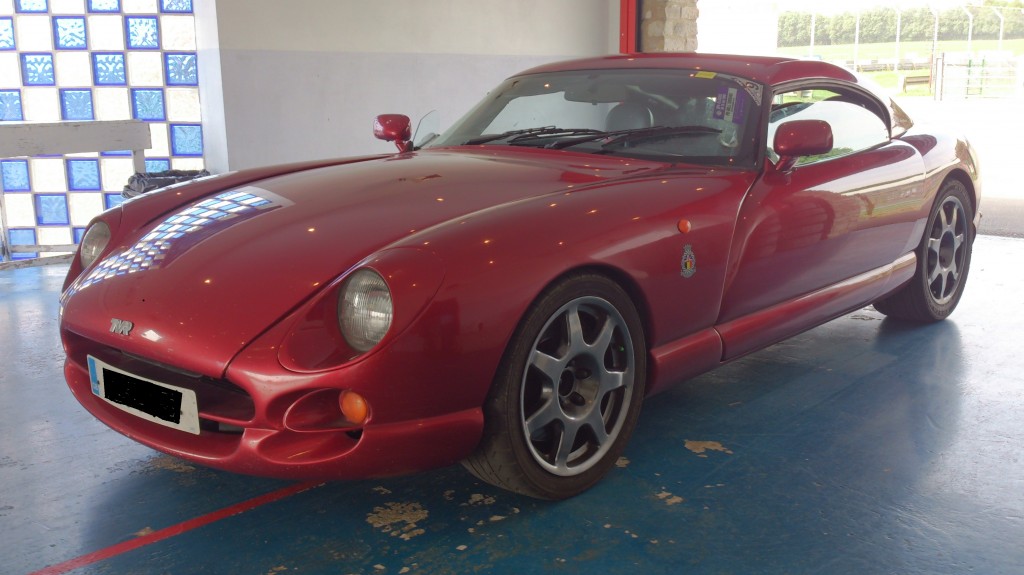 I no time at all another car turned up, I had noticed it in the car park when we turned up, mainly because my Brother had parked next to it and I had commented on how it looked like a fair bit of kit. So when it tipped up with the driver wanting a passenger I thought to myself, "Why the hell not" and got in. Again my wheelchair was taken away and I was off round the track again, a bit quicker this time and unsure of how the hell we were going to get round the bends as it was a rear wheel drive vehicle, but I guess the company that built it must know what they were doing because it really did hold the road well.
I had only just got back in to the waiting area when I was beckoned to get in to another car, there was no way I was going to get in to this thing, but the guy and some of the Mission Motorsport lads were adamant that I was getting in it to go for a drive round, with a fair bit of pulling me around and lifting me about I finally got in and then we were off.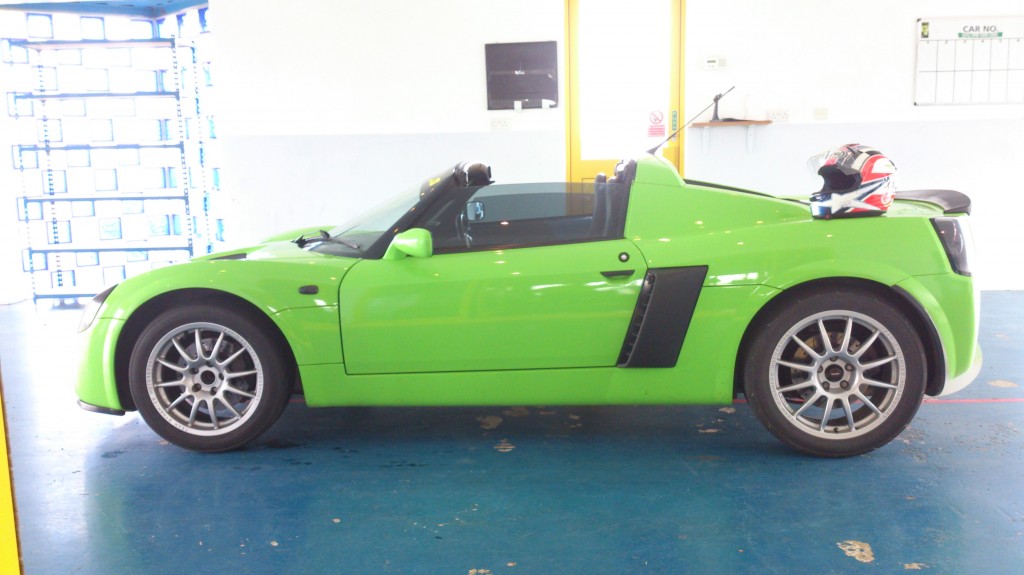 A Vauxhall VX 220, and by God this was a good bit of kit. It was almost as if it were on rails, it was so stable and was a lot quicker than I imagined it to be. Its owner really enjoyed throwing it round the track and you knew that he knew the capabilities of his car. He has his own businesses which I was asking about, things which may well interest you so here they are. PROCHIP UK professional re mapping services and PROTINT UK window tinting and car wrapping, he is based in Trowbridge. If you are interested in either services then give him an e mail at stuart@protint.co.uk or stuart@prochip.co.uk he is a great guy to talk to and judging by his own car I would say he knows what he is doing.
There was a break for lunch which had been laid on for those attending, which was really good food. The food had been put upstairs which was unfortunate for both George and I as neither of us were able to manage the stairs but before we had a chance to ask anyone to help, James and the Mission Motorsport guys had brought down three plates of food for us to pick at. Almost immediately some of the catering staff came over and told us they would also bring some down, before you knew it George, my Brother and I were sitting in the waiting area and briefing room with the Mission Motorsport guys. They had all been upstairs chatting with those who had kindly come along bringing their cars, collected some money in the `rattler` and then come down to sit with us as we were unable to negotiate the stairway. After lunch there was a prize draw from the raffle, but I didn't win so I am not going to talk about that bit, then it was back to the racing round the circuit!
Aston asked me if I fancied being driven round the track in the Beetle that was there, I had not thought about it if I had been honest but Aston headed off on a little mission, returning five minutes later with the information that they were just going to put a seat in it for me and they would be over. A short time later the Beetle pulled in to the people loading area and I reversed down the step and over to the car. The door was opened and there was the problem number one. There was a roll cage that incorporated side impact bars, when sitting in the vehicle they would be just below belly height. If I could get in, how the hell would I get out. Then there was the racing bucket seat, this would be a comfy fit, a shoe horn and lubrication may be required to get fat boy here in to the seat in the first place. Never the less, Aston had gone to the trouble of getting me a race round in the car and by hook or by crook they were getting me in. It was not the most dignified entry in to a vehicle I have ever done, but I was in and wedged. They helped me with the five point race harness although the way I was wedged in to the seat I was unsure if this was necessary, even so, rules are rules and safety is safety so the harness was done up and pulled tight. I was told simply to nudge the driver if I was wanting to slow down or stop or if I felt uncomfortable in any way. I refrained form nudging him before we set off even though I was not the most comfortable I had been all day as I was intrigued to know how this Beetle would go.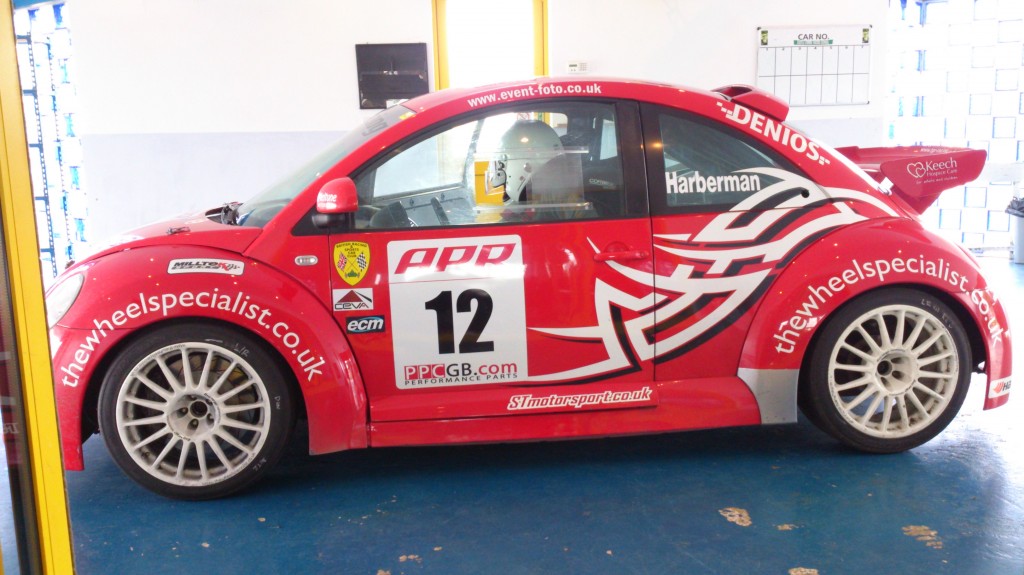 We had to wait at the end of the pit lane until we were given the wave to go, this is where the driver explained to me a bit about the car. It was purpose built by VW for the GT cup and had a 3.2 litre VR6 engine in it. It had nothing inside that it did not need, and was obviously fully race prepared. This thing was loud, fast and was essentially a go cart going around the corners as if they were no there at all. The driver took me out for 5 or six laps and then came in, keeping the time out on the track short it gave it time to cool down and for the brakes to recover. To give you an indication as to how warm the tyres got in the short time it was racing round the track, after a small team of lads getting me back out of the car, the Beetle drove off and took the paint from the floor with it where it had warmed the paint up so much it had stuck to the tyres! The only way the guys could get me out of the car was to drag me out as I tried to lift myself on to the side impact bar, which believe me is no easy tasking. I can not begin to describe how difficult it was for me to try to lift my legs up on to the battery cover inside the car on the floor and keep them there while trying to un-wedge myself from a bucket seat that was borderline requiring surgical removal. Eventually though they did get me out and then in to my wheelchair.
The whole day was fantastic as usual. I was surprised that more injured personnel did not take the opportunity to spend the day being raced around the track but I will state catagorically that if anyone does get the opportunity to go along to one of their days they should do it. They really give you a chance to do things that you would not ordinarily get a chance to do, George even drove round the track! With the day over I said thank you and goodbye to James and the Mission Motorsport crew and headed off to the car for the journey home. Thanks to my Brother for driving me for the day as well. Oh and I hope Aston got the Scooby back without having to push it! Until next time.
Goodnight all.