A busy few days doing different things, family day out and speaking to the public and organising my next challenge so let me share it all with you.
On Saturday my Wife and I took the kids to Weston Super Mare for their annual air show over the water in front of the beach. We were unsure if we would go as the weather had been a bit crap when we woke up. It had clearly been raining during the night and did not look too clever first thing, never the less we decided to see how the weather turned out. My old laptop was due to be collected in the morning before mid day anyway so we would see how the days weather shaped up and gave us any idea of what it was intending to do. Mid day it was bright and looked like the sun was threatening to shine so we decided that we would go and take our chances on watching the air show, to that end we loaded in to the `chucklebus` and headed off to Weston Super Mare. There have been times in the past when  I have thought about trying to find an armoured personnel carrier on e bay to purchase for trips to Weston Super Mare, after all, two tours of Afghanistan and despite some interesting moments where by I know that the lottery will not be being won by us as I have used the luck, I came home unhurt. Weston Super Mare is a holiday destination in Somerset and I nearly died there, dangerous!
We arrived at the car park and my Wife parked the bus, she got me out of the bus and I headed off to find out about parking charges. With the information I needed, I headed back to the tribe, we locked up and headed to the sea front. We had arrived just in time. I wanted to get there to see the Battle of Britain Memorial Flight (BBMF), to watch the Spitfire, Hurricane and of course the beautiful Lancaster flying over the sea and displaying these iconic aircraft in all their beauty was going to be as good as it always is. It does not matter how many times you see them, they fill you with a sense of immense pride. These were the tools used by so many brave airmen that helped shape the war, the sound of the prop engines and the way the display pilots show the aircraft off are worth any travelling. We got to the sea front and I checked the time of the display, any minute and they should appear in the distance, moving closer and closer until you hear the engines get louder and louder, then more and more in to view, any minute….no. Due to the weather they were not flying. Crap.
The wind had meant that the the parachutists were not jumping and the wind was also causing problems on the pavement above the beach. The wind was coming across from the sea picking the sand up on the way. We were sat on the pavement and wall above the beach and were getting sand blasted, it made it almost impossible to watch any flying as it would get around the sunglasses that we had put on to try to stop the sand getting in our eyes. This really was a nightmare. The kids had played on the sand for a while and we had managed to have a picnic, but then we decided to go in to the town a little way to get out of the sand storm for a while. We had a look round at a few places and popped in to a couple of shops and then I told my Wife that I would like to go back towards the beach ready for another magnificent and iconic aeroplane. I love seeing this aircraft fly, it has an effect on people that must be seen to be believed and on Saturday we saw it. With all that had been flying that day people were still walking around along the beach and the pavements along the front, until the Vulcan appeared and everyone stopped moving and looked skyward. She looked as incredible as ever, the pilot doing flypast after flypast but I knew that the display would not be a long one so I did not move, I stayed fixed on her as she flew showing her gear down and bomb bay doors open waiting for the sound that all who knew her would be waiting for, she took a wide turn over the water and then came in from the left, something in the way she was flying gave me the thought that this would be it. She came in from the left straight and level but then her nose pitched up a little and then the sound we had been waiting for, her distinct and prominent "howl" as she throttled up and pulled her nose up some more and banked gently to the left leaving us to be shaken by her powerful engines roaring, and then she flew off in to the distance. The BBMF not flying, the parachutes not jumping the sand blasting we had endured and the less than favourable weather had all been made worthwhile by watching the beauty and magnificence of the Vulcan.
We headed back to the `chucklebus` as the clouds were really black and threatening, there were also drops of rain falling and so we thought it best to haul ass before it chucked it down. The trip back to the car park was ok, no people to talk of that would hold us up we managed to beat and the drops of rain to the bus. We got in, strapped me in and then it rained, not really hard but hard enough that you would not want to be out in it. We decided to drive to the sea front to try to find somewhere to stop for the finale, Britain's finest, the Red Arrows were the final display of the day and you simply can not leave any air show without watching the incredible skill of the pilots as they move from formation to formation with such precision and perfect timing that keeps you watching. There was one part of the display this year which was definitely new that was really effective and impressive. It involved one of the Arrows `wrapping` the smoke of three other Arrows in smoke, very nice touch. With the display over we made our way home having had a great day out, despite the weather.
On Monday I went to a History fair on behalf of Operation Nightingale to talk to the public about what Op Nightingale do, it's relevance and importance. Paul came and collected me in the morning as he too had been asked if he would mind saying some words which of course he agreed to do. Both of us have benefited from Op Nightingale inviting us to join them on archaeological digs of all kinds and so it would not be polite to say no. I will give my time to promote and advertise organisations that have helped me and given me support, and Op Nightingale have given me the chance to not only experience something that I had never thought of trying before, but also to find and handle items that have not been touched, handled or seen for many, many years. On top of this I have been able to talk to other injured service personnel, to find out how they are doing and how they are progressing both in personal and employment. It has also allowed me to spend time with a friend who was on my first tour but was seriously injured as well as meeting others and making new friends. This was all important and needed to be shared with the public, and so  that is why we were at the fair.
We parked up and Paul got my chair for me, with me in the chair and us having what we needed for the day, we set off in to the fair to meet up with Richard and Kenny and find out what the crack was. We were met by a lady who directed us to a tent where we would be given a coffee and have the day explained to us, but this was far from a normal tent.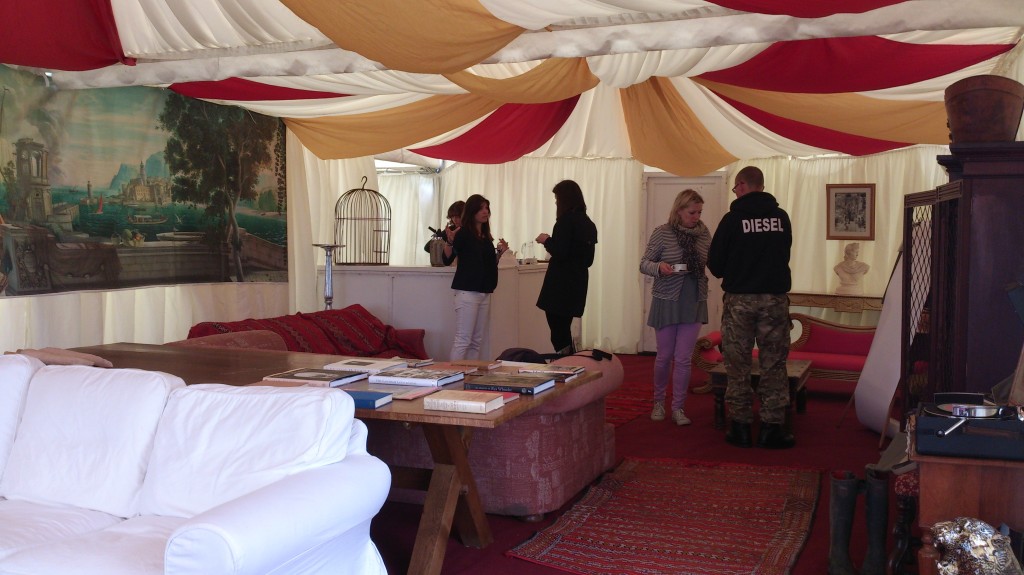 We were joined very shortly afterwards by Richard and Kenny. Richard is an archaeologist who works for the MOD and is responsible for Op Nightingale and Kenny is an ex serviceman who has benefited from Op Nightingale from a rehabilitation point of view, he is now doing a degree in archaeology. We spoke briefly about how we all were and how things were going and the timings of the day, we also decided on the best way to do our talk and then went for a look round. There were a selection of different stands all with something different to teach you from guns to bows and arrows, swords and shields to trench warfare of World War One, each as interesting and fascinating as the next.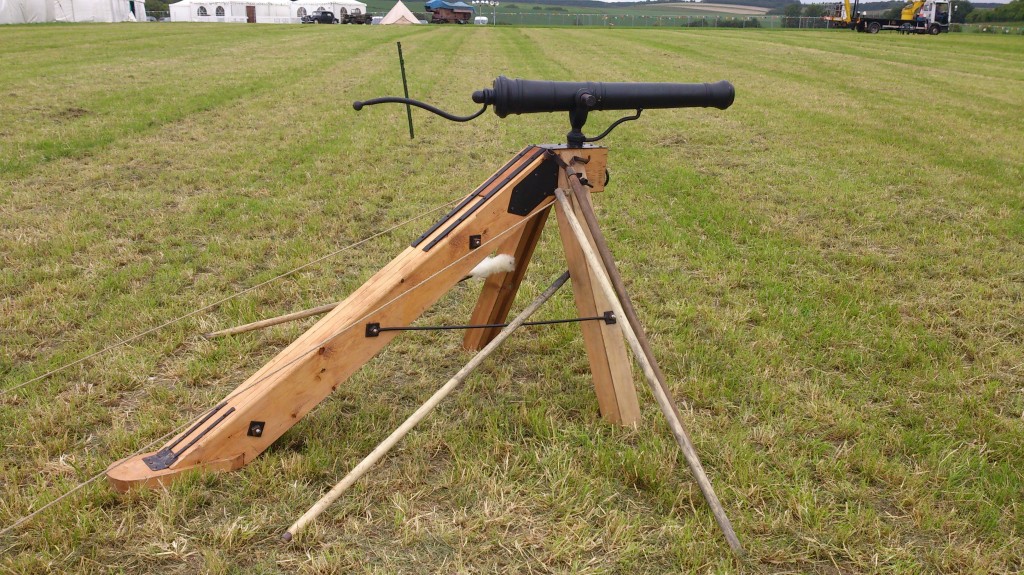 Richard and Kenny could not help themselves and simply had to duel!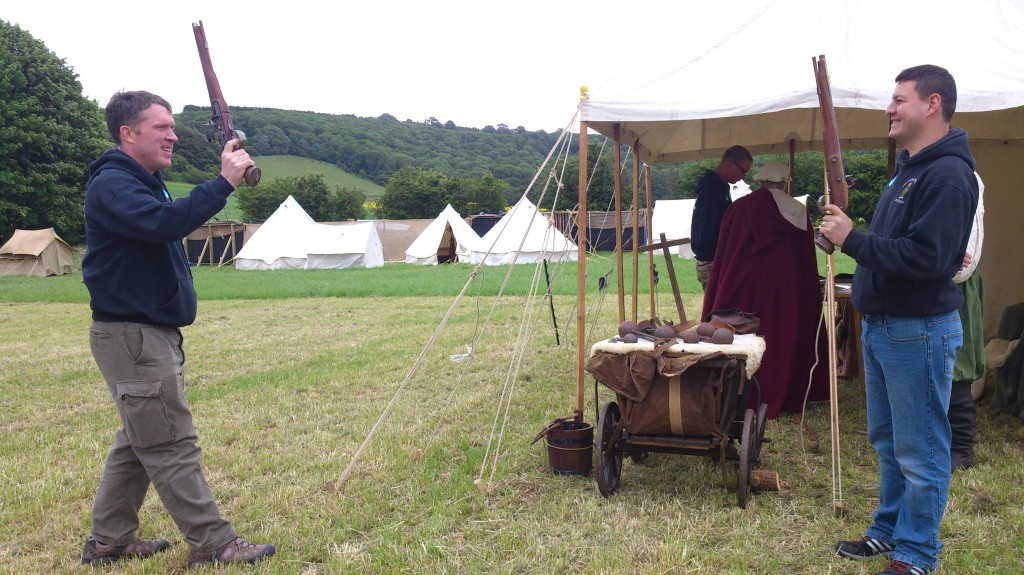 We left this stand and moved on to the reconstructed trenches of World War One which was cleverly done and really gave you a sense of how they would have lived, which was not pleasant.
They did a demonstration of things that were a regular occurrence in that time including sound the alarm for a gas attack, and blank firing weapon systems of that period to repel the enemy. All very effective.
Next we moved to swords and shields.
There was some pretty nasty stuff that would certainly ruin your day here and it gave you an idea of how strong you would have needed to be to fight in the olden days, but what happened if you got hurt, which you really would?
This was the medicine tent. It would travel ahead and be set up ready for the medic to then wait for the casualties and sick, treating with herbal remedies and even amputations!
The final stand we visited was bows and arrows, and boy did this guy know his stuff. After researching at great length he has learnt to make his own perfectly balanced arrows.
It was extremely interesting talking to the people on the various stands and I am glad that we took the time to venture around the various stands as I personally learnt a lot. With our walk about done it was time for lunch and then our talk which went really well. Richard, Paul, Kenny and I all had things to say about our experiences with Op Nightingale and I tried to portray the importance of it. Those who were in our talk were happy with what we had said and stayed afterwards to chat to us and to look at some of our finds from various digs. After we had packed down we loaded up the things in to the car, said our goodbyes and headed off. An excellent day that hopefully spread the word of Op Nightingale and what it does.
On Tuesday I had a meeting with an activity centre who were hoping to be able to help me with a venue for my abseil challenge to raise money for my off road chair and my next chosen charity. My Friend Paul came to pick me up this morning after my acupuncture with Maralyn, I had been unable to have my usual appointment on Friday as I was away on a day out with Mission Motorsport so we had arranged for the treatment on Tuesday. Exciting news from Maralyn as well, she has bought the Penhalagans hairdressing salon to combine with her acupuncture. She will have treatment rooms upstairs and the salon downstairs, but do not panic, there will be no staff changes on the hair dressing so fear not, you will still get the same excellent service as you always have. More will be explained later, and I will publish the website of Maralyn's new venture which will explain everything. For now though you just have to realise that your staff will be the same and that if I had not told you of what is happening, you would have been none the wiser!
Now, back to the abseil. Paul collected me and we headed off to Chepstow. My friend Louise gave me the details of the potential venue when my hopes of a helicopter abseil were dashed when the powers to be in the Royal Navy told the CO of one of the helicopter squadrons that they regrettably could not grant permission for me to do it. I put out a cry for help and some great leads came back and the lead from Louise came back as hopefull, I e mailed the centre and I was given a number to call which I did. A few messages back and fore and a meeting was arranged to sort out the best way if any to achieve the aim. So Paul and I took a drive up to meet the gentleman I had been in communication with as I had arranged, and what  day to go. The sun was hot today, the weather was fantastic but because people were at work and the kids are at school, the traffic was not in the slightest bit busy meaning we had a nice smooth run to Chepstow.
We arrived at the venue to find it locked, I called the gentleman I have been communicating with and he told us to wait five minutes and he would be there. The centre itself was closed but this meant we were able to sit and talk and discuss the plan. He arrived as promised in five minutes and we drove in and parked up. Paul got my wheelchair and bought it over to the car for me, we had taken my off road and third wheels as we were unsure of what the terrain would be like and we had made the right choice. We made our way over to the on site cafe and the guy brought us over a coffee and tea and sat down to discuss what and how we could do things. We looked at the abseil down the rock face which is 200 ft hight. He looked at ways we could do this, including being in my chair but due to the ledges and reveals it was far too likely to go wrong, this was not what I was hoping to hear but this is why we were having the meeting. They have a zip wire at the centre and this gave the guy an idea which would not only make this challenge a real challenge, but would be a first.
I am going to leave you to guess how I am going to do the abseil, and I will tell you later when we have gone firm on a date, but I will tell you the heights. I will be abseiling from a height of 150-170 ft. This is the height above the water below, the water is 250 ft deep so I will be around 400 ft above ground. Ground that I will not see but I know is there. Whilst in your head you may think, "Oh well, at least there is water below" you have to understand that I am unable to lie on my back and float as my legs will always sink. I have no working muscles in my stomach or legs to be able to lie and float or tread water and it has been proven already in a pool, I sink! I am really excited about this challenge, I have never abseiled before and I am not a huge fan of heights but this is why I am doing these challenges. I am asking for people to sponsor me to do these things, so the least I can do is try to do things that are not simple for someone who is paralysed, and is in fact a real test. At the same time I hope to show to others who are also paralysed or perhaps an amputee, basically anyone who is less-abled (I am not a fan of the disabled label), that they should try different things that they have not done before and tick it off of a list, show people that you are still intending on living life as full as you can, challenge yourself to different things you have not done before and make yourself feel alive again. I am already thinking about and planning my next challenge, why not plan one for your self?
I am going to leave with some photographs that I took of the centre to give you an idea of the height, I really hope that you will donate/sponsor me on this one, and maybe come and watch. Who knows, you may try the zip wire for yourself, I will be doing that just for shits and giggles. 200 ft high and 700 meters long, that is a challenge for able bodied people let alone less abled, do it, you know you want to! Watch this space and Facebook for the date and details, search for Giving Back on Facebook too, that is my page for this website where I post updates.
Until next time.
Goodnight all.