Went for a `st-roll` on Friday to the Stonemasons in Ilminster, something that I have not managed to get round to doing for a little while as Alison has been busy and consequently has had to work on the Wednesday which is our usual day for the `st-roll`, she has also been away on holiday and so as a result it must be three weeks at least since I had last made the trip. It has, to be fair, given my shoulder a chance to rest. It can not rest totally obviously because my arms are how I get up, move myself from bed to chair in fact everything involves using my arms, which funnily enough are attached to my shoulders and so there is no way that I can rest it, unless I spent all day every day in bed which would drive me nuts. I do not know what I have done to my shoulder but it has been bad for around five weeks now. I went to the Doctor last week just because I was a bit concerned that it is not getting better, I was never one for going to the Doctor but now unfortunately I am unable to simply ignore things, he has given me some gel to put on the shoulder but by his own admission has said that it will be a time game as I am unable to rest it. The only way I have been able to describe it is that if you were to pick up a pork chop that was ready to eat, hold the bone and pull the meat from it you would see strands of the meat pulling from the bone. How this looks is how it feels inside my shoulder with the added pain of the feeling of a hot poker being put against the muscle at the same time. This has been on going as I said for the last five weeks, it is quite good to that end that we had not been on our `st-roll` for the last few weeks.
This time it would not just be myself, Alison and Jack heading over as I had invited two extra people, one very good friend from the TA and my Battalion RSM who was given promotion to Captain when his posting with us was over. I only met him twice before my accident when he was our RSM, but he was an instructor on my infantryman's course when I first joined. Back then he was a Corporal. He would visit me when I was in hospital which from my point of view was nice of him to take the time to do it, after all, it was not military related. I forgot to invite him to our house warming not through ignorance but more because you generally don't invite the RSM to a private function. Anyway, as it turned out he was otherwise engaged and could not attend but I had e mailed him to say that I would like for him to come over at some point for a coffee. Unfortunately before I had found a chance to arrange a date for him to come over for a brew his posting came to an end, I thought that that would be the end of that and was worried he may thing me ignorant for not arranging a day for a brew. I got in touch with "Me Val" and she helped me sort out a day for us to get together and go for a `st-roll` and a catch up, the day was sorted, the time was arranged and on Friday at ten in the morning there was a knock at the door and when I opened the door "Taff" was standing there.
We shook hands and he came in to the bungalow, it was good to see him and was like I had only seen him a few days before. I showed him round and then we sat and chatted with a coffee waiting for "Me Val" and Alison to arrive which didn't take too long. It was really good to chat with "Taff", it meant a lot that he was actually round to chat and catch up as "Taff" and not as a Captain on a duty mission. It was not long before we all set off down the cycle path on our way to the Stonemasons for a bite to eat. Alison was pleasantly surprised that she was not left behind as we all disappeared at an Army pace, and I was pleased that she fitted in well with my two military friends. She has had a coffee with "Me Val" before when they were both at the bungalow visiting me, both "Me Val" and Alison are easy to get on with in any case and the same goes for "Taff", away from the military he is not greatly different to how he is as I remember him in the military, unless you have done something to piss off the wrong person in which case he will turn but this of course is his job. The weather was actually quite warm, warm enough for me to break in to a bit of a sweat on a couple of the slopes which made the pint when we got to the Stonemasons all the more enjoyable. The food was enjoyed by all which I expected as I have yet to have a bad experience with food there and then the `Chucklebus` arrived having picked up `Pickle` from nursery and was going to give us a ride back to the bungalow however, "Me Val" had a much better idea….apparently!
We set off on our `st-ruggle` back to the bungalow. The path back to the bungalow from Ilminster is very slightly uphill, that is not to say that it is simply a case of rolling from the bungalow all the way to Ilminster it is still work getting along the cycle path but it does allow you to get a rhythm, you do have to fight the camber in a number of places which is where you loose the rhythm but then get it back again. This is not possible on the return journey as you are constantly against the slight gradient and the camber making it incredibly hard work. It is good for a workout once in a while but really is tits on a fish if you are out with friends for a leisurely walk. As a result, it ended up with me being pushed a great deal of the way home, disappointing but unfortunately necessary. Upon our return we had a cuppa and my friends slowly departed. "Taff" enjoyed the walk and the chatting and has said that he wishes to do it again, maybe even next month which would be great. All in all a really good day which I really enjoyed, and was really pleased that I was able to catch up with people who I enjoy talking to, thanks to "Taff", "Me Val" and of course my `st-rolling` friend and partner in crime Alison. Oh, and let us not forget our four legged friend who also joins Alison and I, `Jack`.
Today, (Sunday), Wifey, the kids and I went to Pecorama in the beautiful seaside town of Beer for a Sci-Fi day.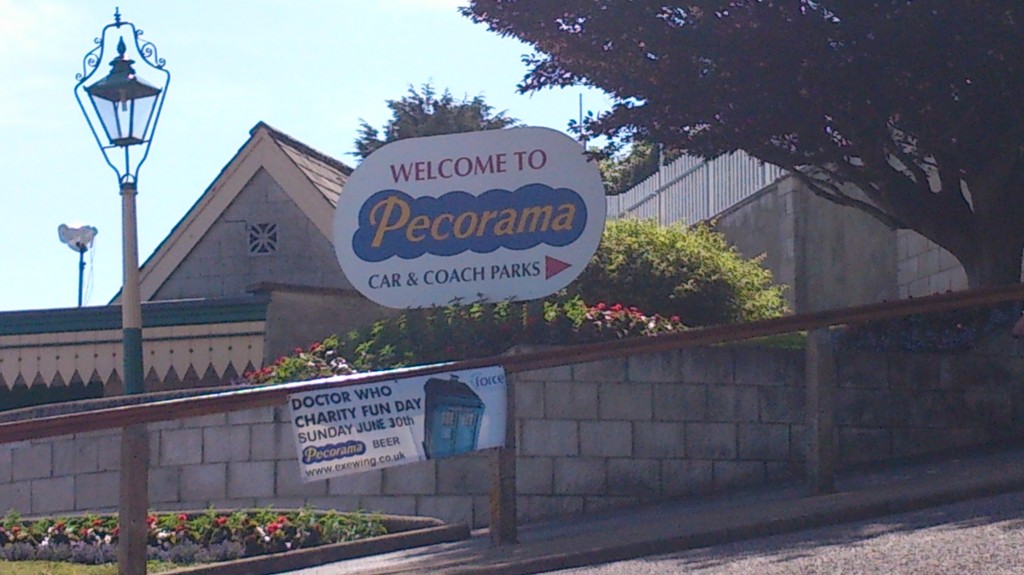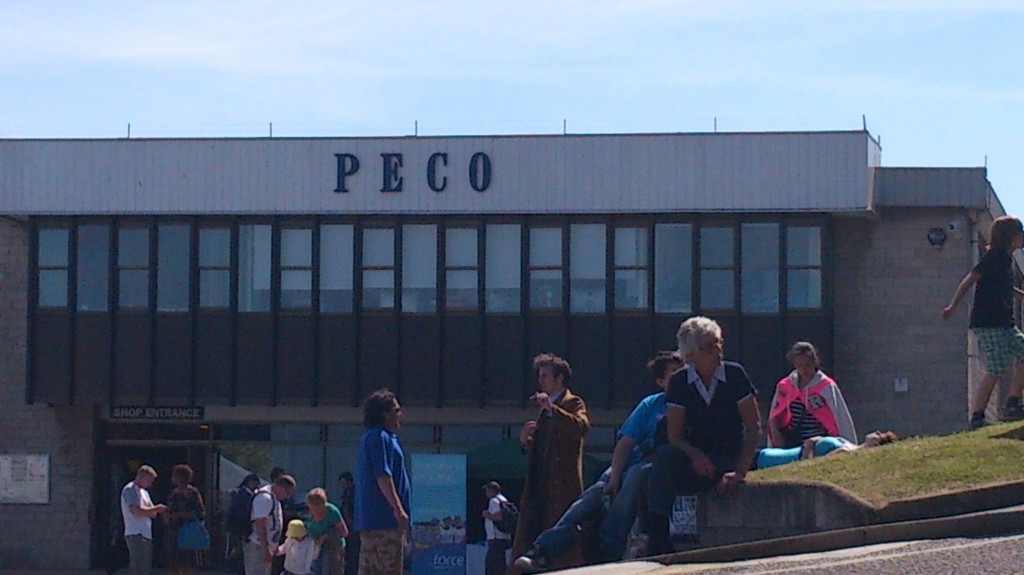 Characters from Sci-Fi programmes and films were at the Pecorama tourist attraction, it is where you can see model railway exhibitions which have been built by experts in replicated rooms giving big boys ideas to go back to their houses and spend countless hours convincing their partners that turning a specific room in the house in to a toy room with a huge model railway in it.
And if you are not allowed to build one inside the house…..
Back inside for if you need more ideas, they even have a suggestion for the shed.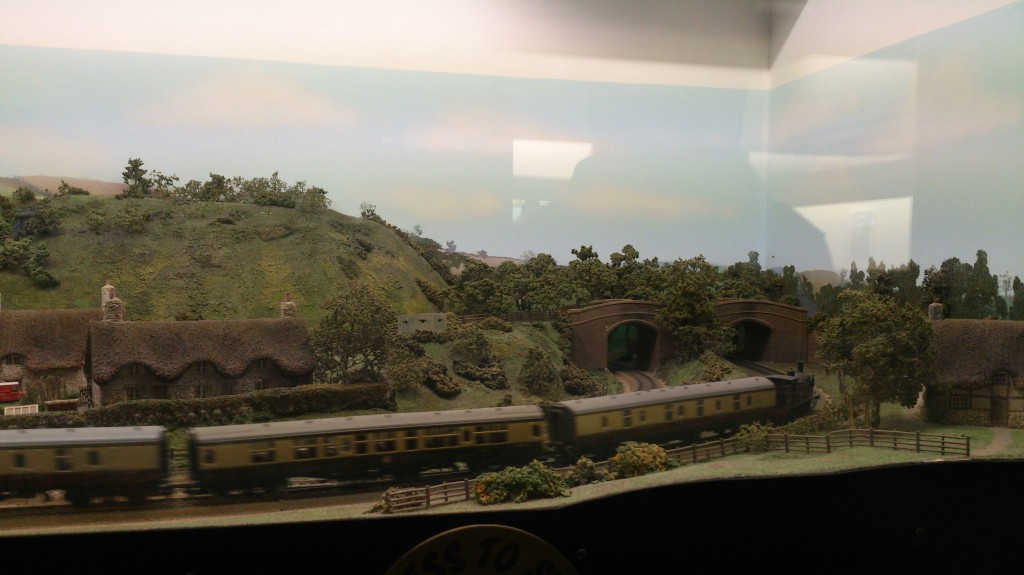 There was one that would go from day to dusk to night automatically.
Different gauge model railways and lots of made scenery.
The railway exhibition layouts are really something to see, I can not imagine how much time it must take for those employed to create the layouts and the scenery. The actual displays do not take all day to view, but they do have some outdoor ride on real steam miniature trains to take you round a track in their gardens which took around twenty minutes to do.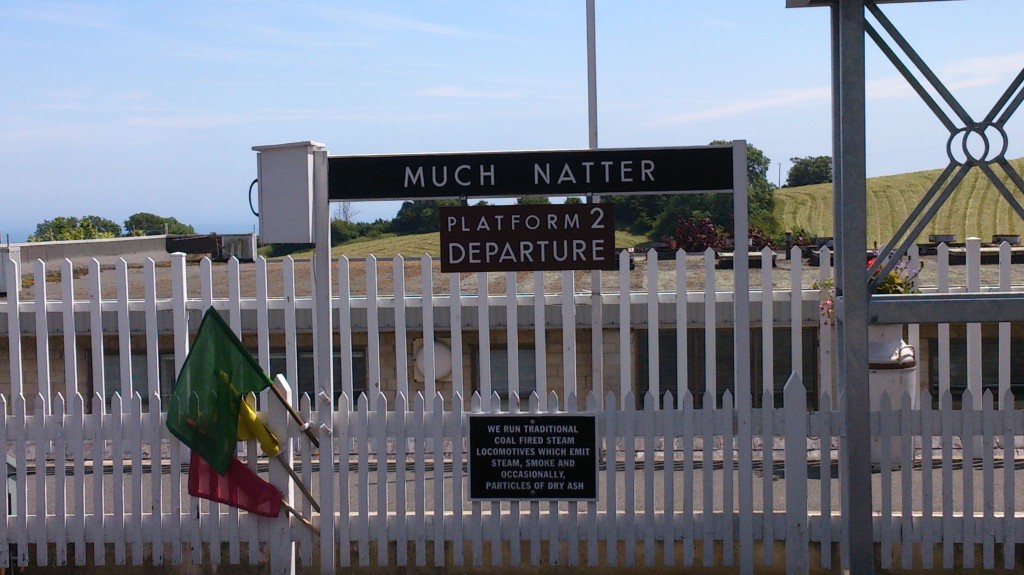 My Dad and Step Mother took my Nieces up, Darren was trooping today as part of the Sci-Fi characters.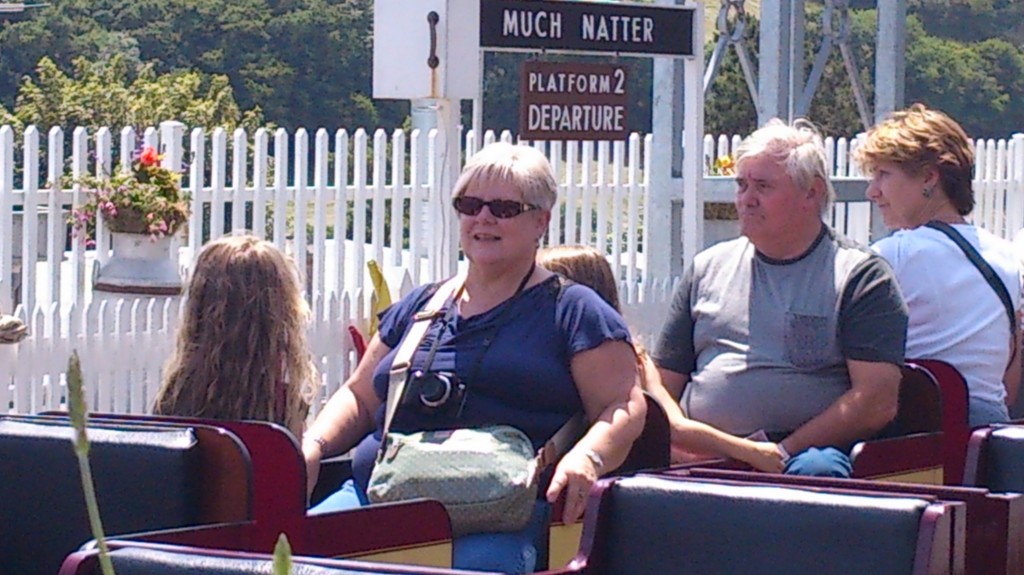 They have a lovely restaurant at Pecorama which we went to for some food and then went to see the Sci-Fi characters, some in costume…..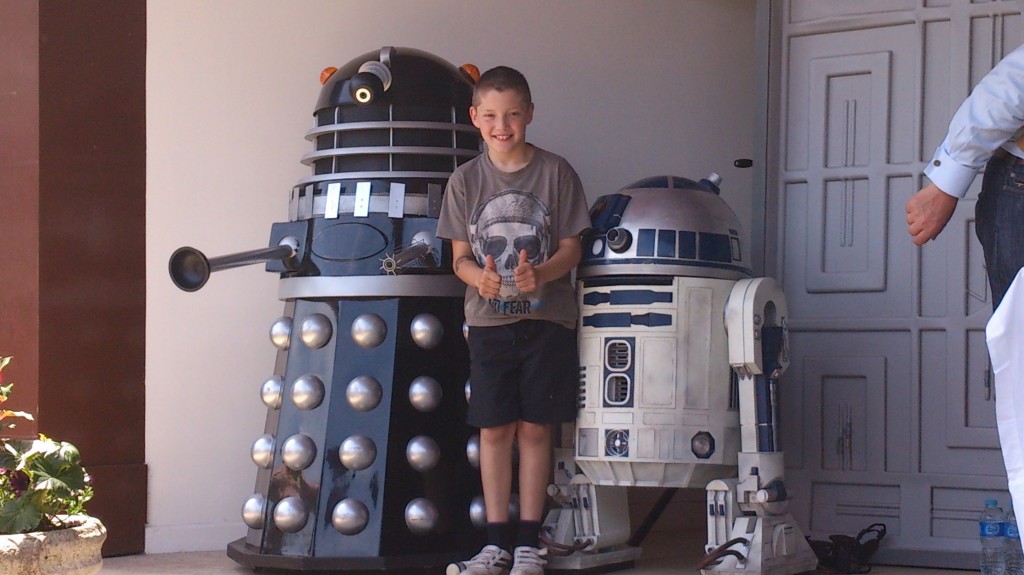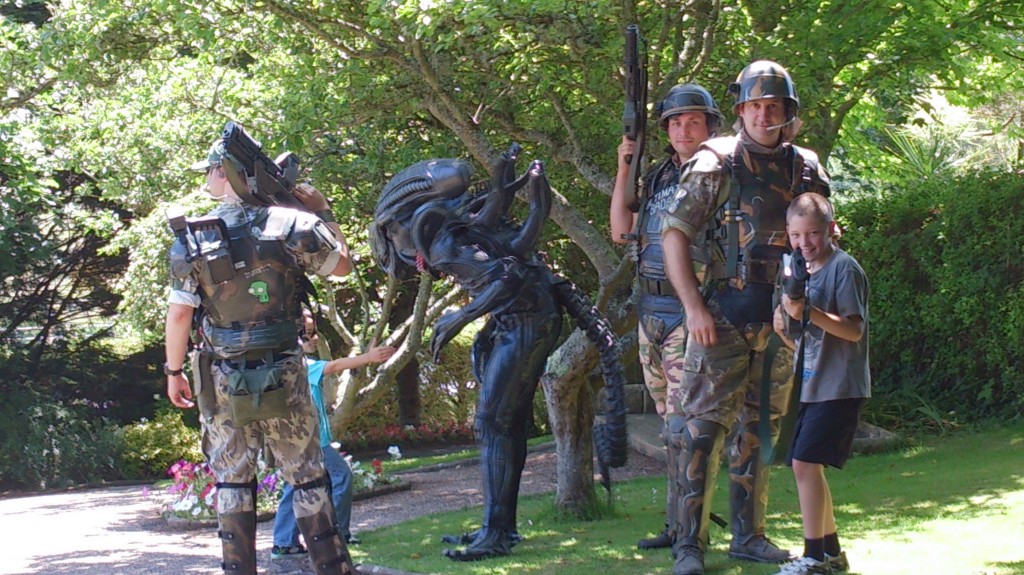 …..and others that you would not know who they were because they were in costumes in the films and television programmes.
"Boba Fette"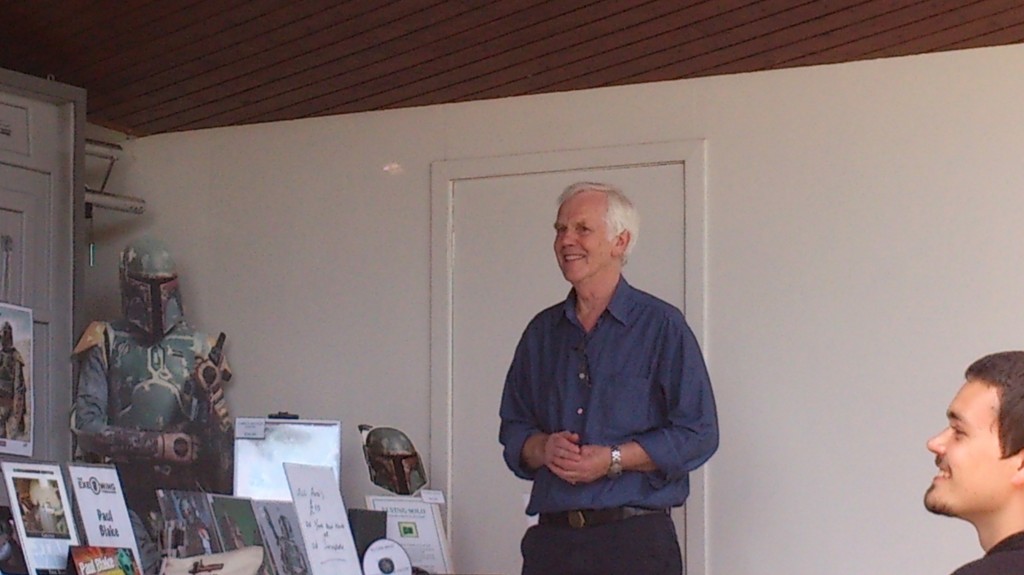 "Ace", Sylvester McCoy's sidekick in Doctor Who.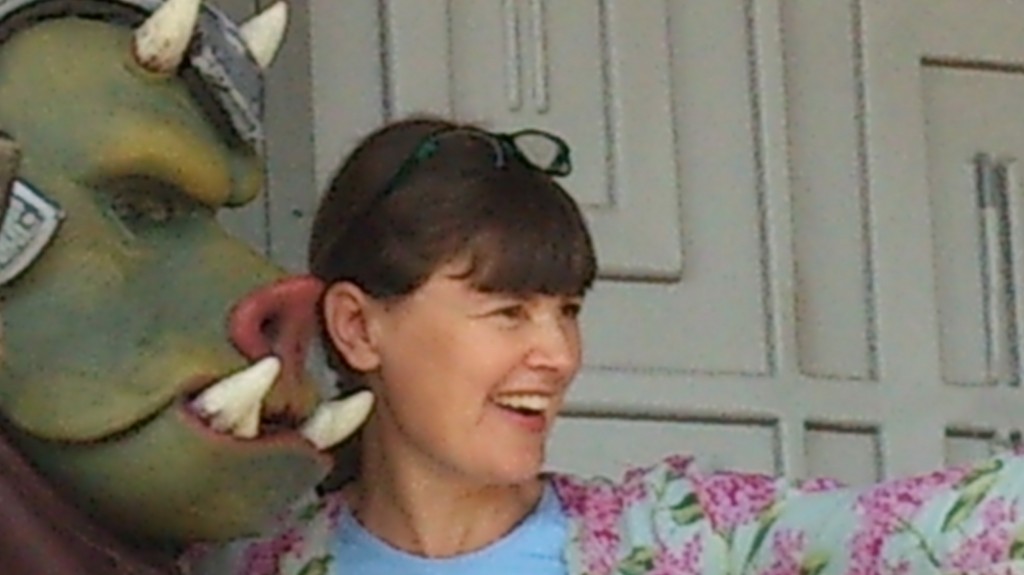 A gentleman who has played "Daleks" and "Cybermen" to name just two characters and "Greedo" from the original Star Wars film.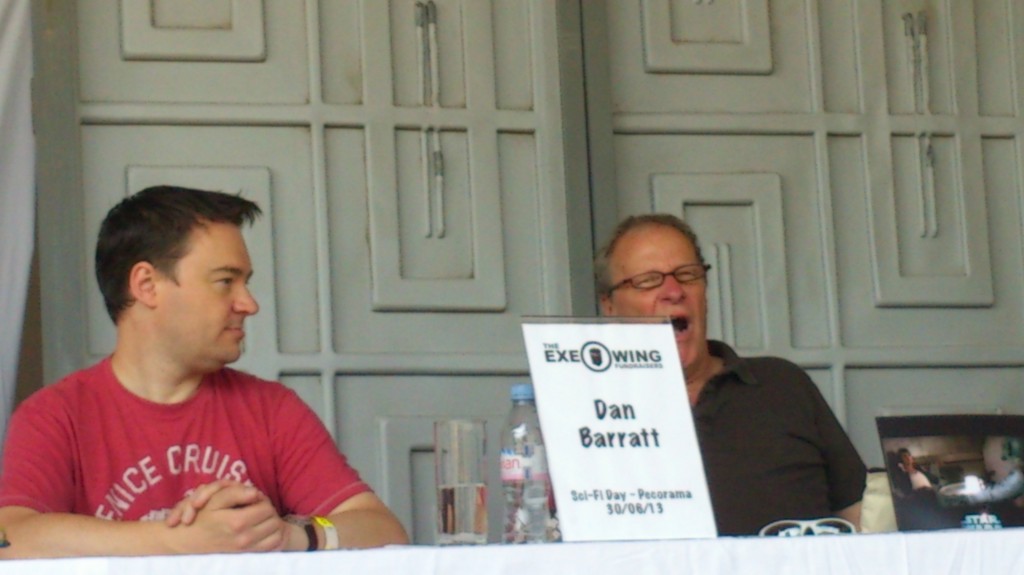 The views from the gardens are beautiful.
We had a great day, the sun was really beating down, a beautifully sunny and warm day. It nearly did not start though. Pecorama is on a hill, a big steep hill, in fact Beer in general is built on a steep hill. As we were coming down from the car park I was unable to stop my power chair due to the steepness of the slope and started to slide, I held the controlling joystick in to reverse but the wheels kept spinning in reverse whilst I continued down the slope on a collision course with a BMW, much to the shock of the driver who stopped. I swear I could hear him thinking "Please don't scratch my car!" A parking attendant ran down the hill and grabbed hold of the back of my chair helping me to the next slope where another attendant was aware of my potential need of assistance. The slopes in the gardens also make it very very difficult to get around in a wheelchair. I would not try to take my manual chair as the slopes would make it extremely difficult for any one to help push, and the power chair is ok but there were slopes in the gardens that I was not willing to attempt. In fairness to Pecorama they do warn disabled about the steep slopes. Personally I would not choose to return as the display railways that they have for you to see do not take long enough to warrant the money but I do stress that this is because I would not be able to go around the gardens and play areas because of the slopes. A good day out in the sun where we were able to catch up with new friends from the Dorset Troopers.
Goodnight all.