It has been a little over a week since I last wrote anything as there has not been a lot going on for you to read about. I did spend a few hours in ASDA supermarket in Taunton last Saturday morning collecting money for the Help for Heroes charity assisting a lady, her husband and some Army Cadets which raised a few thousand pounds, a very worthwhile few hours spent and then my Brother came to collect me after he had finished work and drove me in to Taunton town centre where I met up with members of my Company who were simulating rowing 300kms on rowing machines for St Margrets Hospice and Care for Casualties. Obviously as my legs and muscle groups below my chest do not work I would not be able to use the rowing machine, not just as I would not be able to slide forward and backward for the rowing action but I would not be able to get back to the upright position after leaning forward if I remained stationary. To that end, if I was to take part I would simply have to use one arm as the other would be used to hold myself in the upright position. There are many things that I have maintained during my time in uniform but one that I have always kept without fail is to never ask anyone to do something that I have not done or would not be willing to do myself, I was more than happy to sit and collect money from the generous members of the public, finding shady spots where possible and engaging in conversation with those who spoke to me but also, with the heat as it was on the Saturday and the fact that I am also still a member of `B` Company I felt that I should also make an effort to add to the total amount of meters rowed.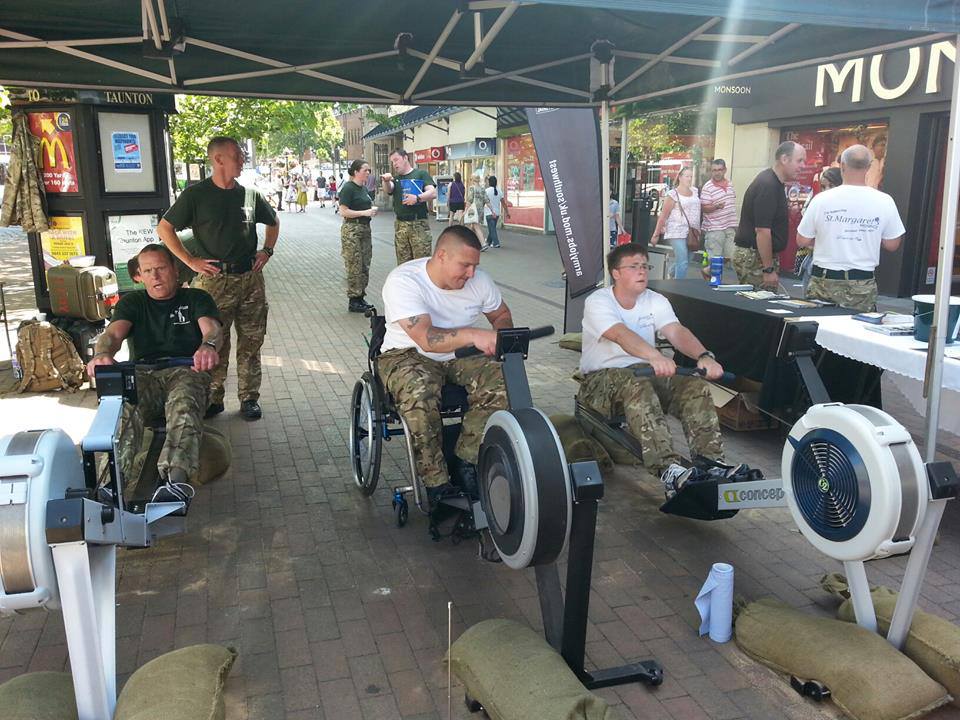 So Maj Webber (my OC) and WO2 Pinnell got a third rowing machine for me to use, they did not assemble the the seat part so I could have a go at rowing from the comfort of my own chair! The easiest way that I found to do the rowing was 100 meters with one arm and then 100 meters with the other arm and so on and so forth. Admittedly I only rowed 1000 meters and then had to stop and rest then later another 1000 meters. I could have done more but the time it would take to get to two thousand meters would have taken too long, therefore by freeing up the rowing machine, it meant that one of the other members of the Company could clock up some distance in less time than I can. All in all it was a good days fundraising. One thing that gave me something to think about for most of the day was the group who had set up next to us in the street who were calling for an end to our monarchy and believes we should elect our own head of state, ok, so we get rid of the Royal family who attract so many tourists each year and elect….WHO EXACTLY? I will not get political but needless to say, if people say that they can't get the Government right then how would we elect a head of state? That was not the bit that that I was thinking about for the best part of the day though. A guy from the group decided to talk to me, to be polite I engaged in the conversation after all, everyone is entitled to their opinion, this guy though baffled me. He told me he had served many years in the Royal Air Force and then more years in the Royal Australian Air Force, so let me get this right. You serve in Her Majesties Forces in the UK and then in Australia, both countries of which have the same Queen aso you would have pledged allegiance to the Queen for both countries and now you want her outed…REALLY? I thought about it and thought about it and still can not figure it out, now you can try!
I'm gonna write about yesterday, (Thursday) shortly, will probably post tomorrow so enjoy the sun and I hope you will read my next post then. Until then though.
Good evening all.