Well I hope you have all had a great day today where ever you have been and whoever you have been with. The kids day started at half seven when my Wife woke them up as she could not wait anymore. We all got up, breakfast was eaten by those who wanted it and then they opened the presents that were in their "stockings", these have grown over the years and they now have Santa sacks. They each dived in to the presents and began to open them, needless to say that `Pickle` took the longest but she was enjoying every little part of it. I guess this is the first Christmas that she has fully been aware of it and therefore is more involved.
When we asked the kids what they wanted this year the answers were very simple, a toy lorry, a Peppa Pig playground and an ipad. The ipad was not going to happen and this was made abundandantly clear and whilst a little disappointed, my Daughter understood and was fine. As the kids worked through their gift sacks the excitement was clear, it was brilliant to sit and watch `Pickle` tearing open the paper and not actually worrying about putting it in the rubbish bag. Santa had obviously read the letters from the kids as in a present from my Sons gift sack was a toy lorry, the exact one he had been asking for! He also got a couple of other lorries like this one.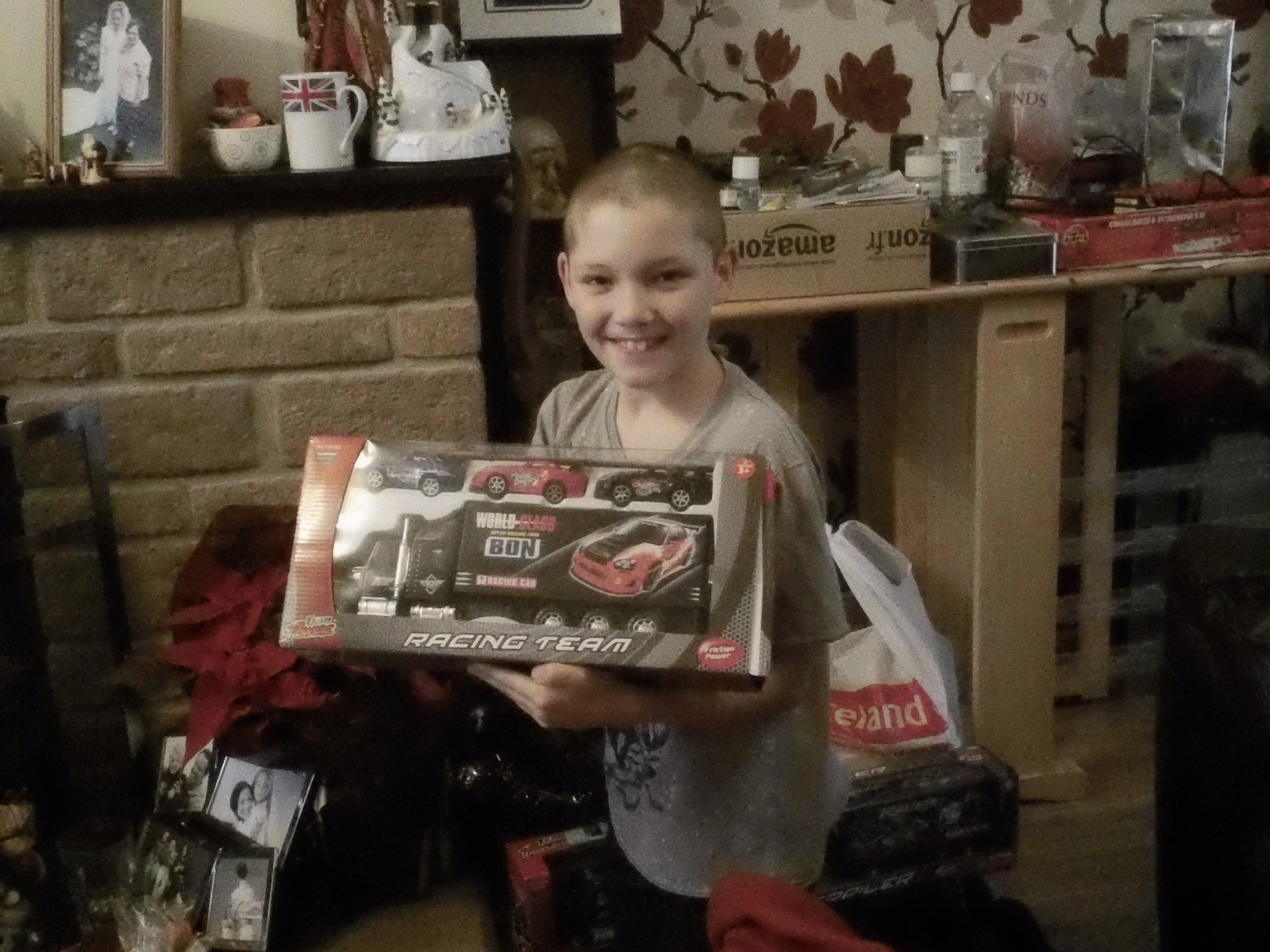 `Pickle` was working through her gifts and to much excitement Santa had read her letter too.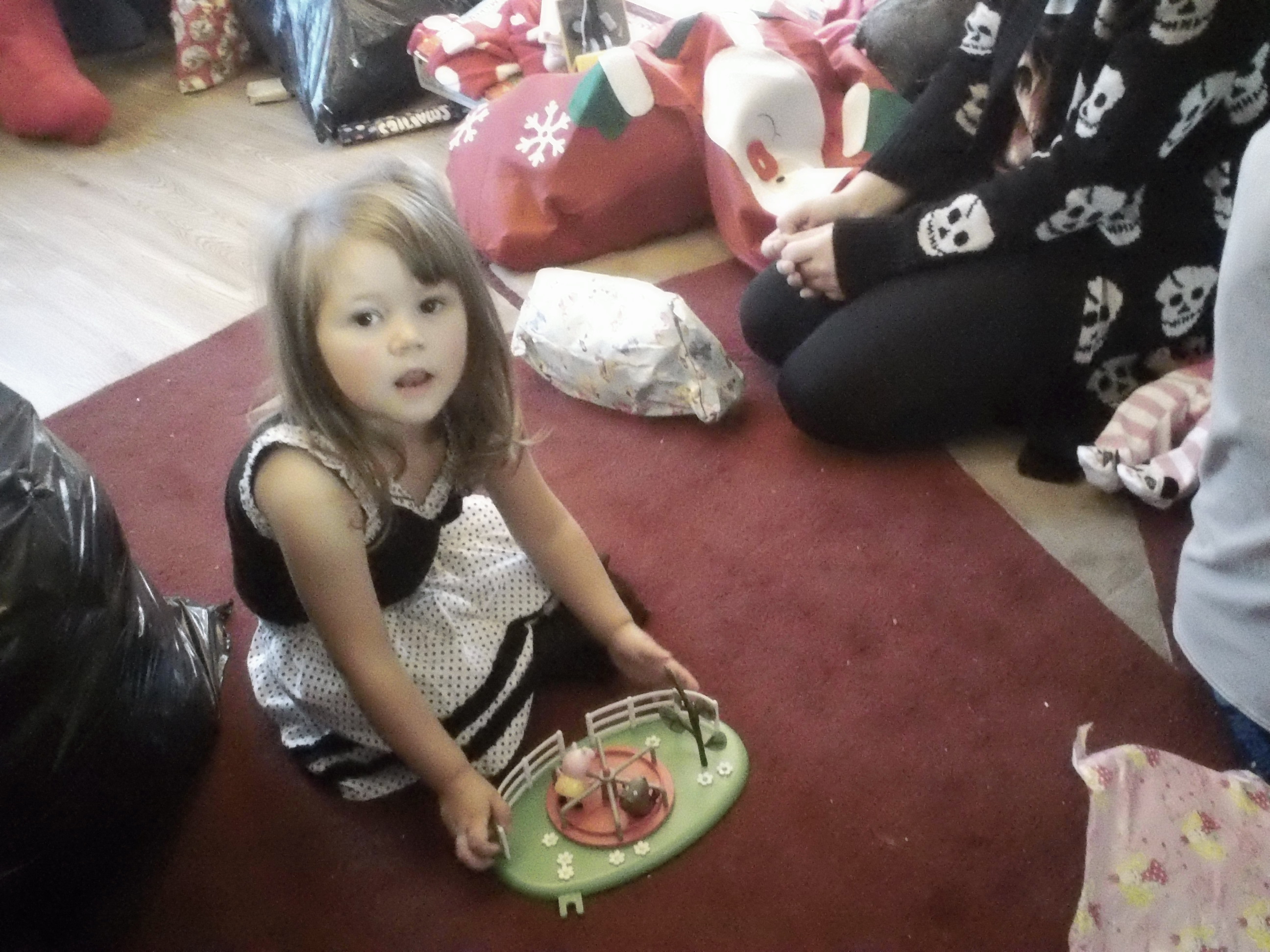 There were many other parts to this as well as many other presents and each time she opened a piece of playground she would shout out that it was Peppa Pig playground bless her. My Brother in Law and his Girlfriend came round at a quarter to nine so in the Christmas spirit I poured the Vodka and coke for them and Southern Comfort for me. Girlfriend was not going to drink as she was driving and so I managed to kind of persuade the Brother in Law to have a glass.
They stayed for an hour before heading back to his Girlfriend's house where he would spend the day with her family, the Mother in Law would spend it with us.  While they were here we exchanged and opened gifts which was nice, at least the Brother in Law would open some presents with his Mum on Christmas day. Some lovely gifts were given and received between us.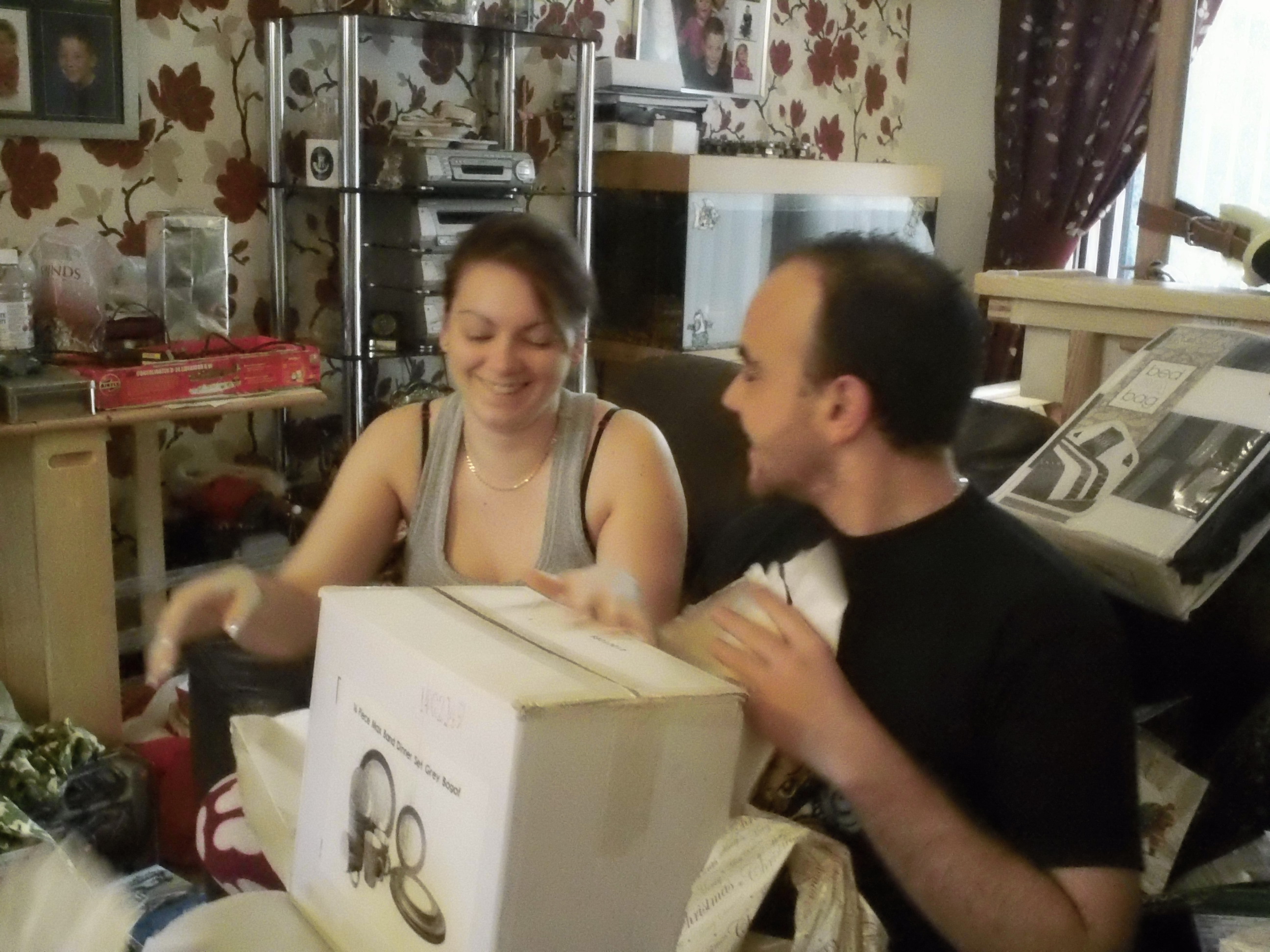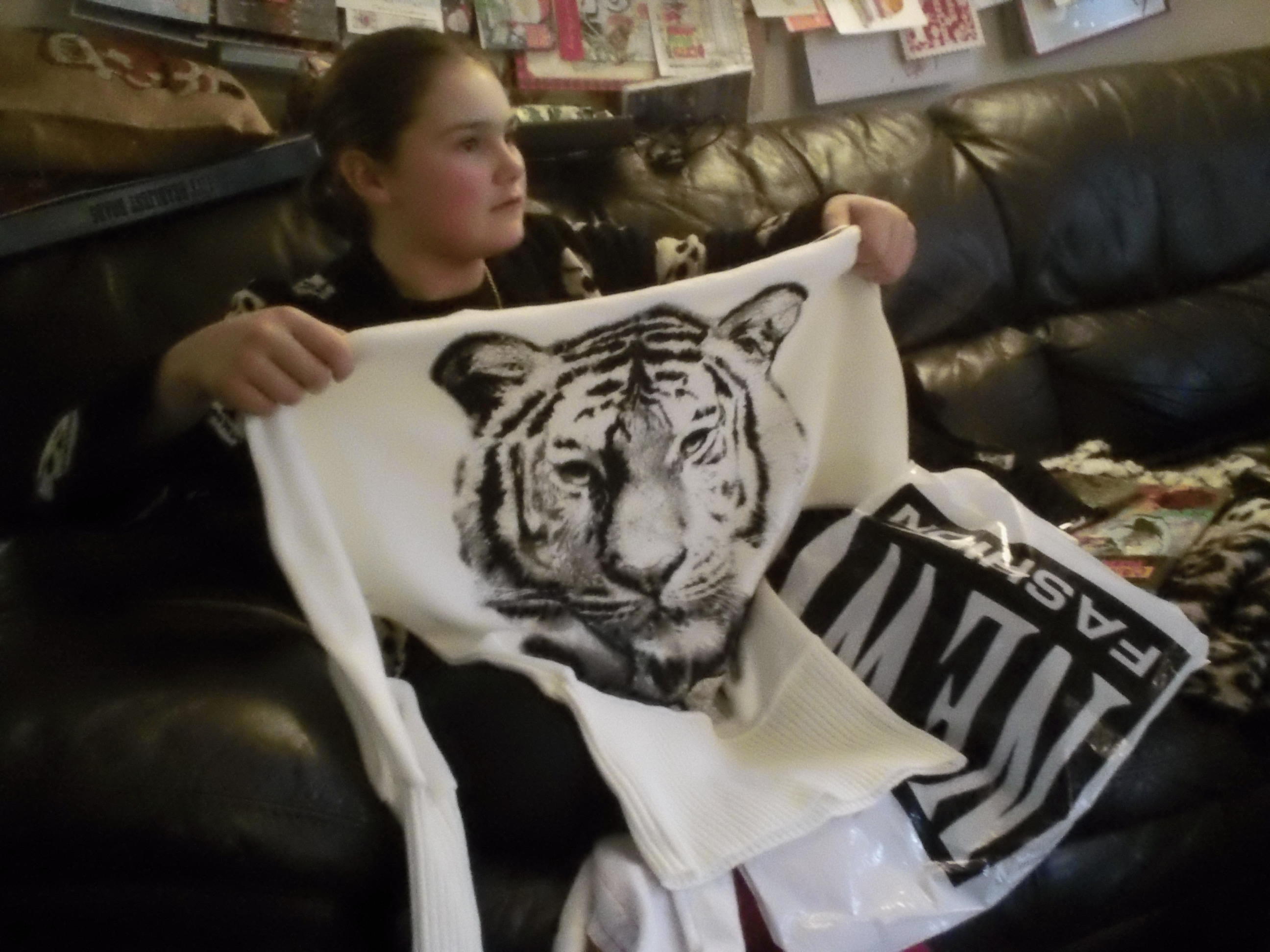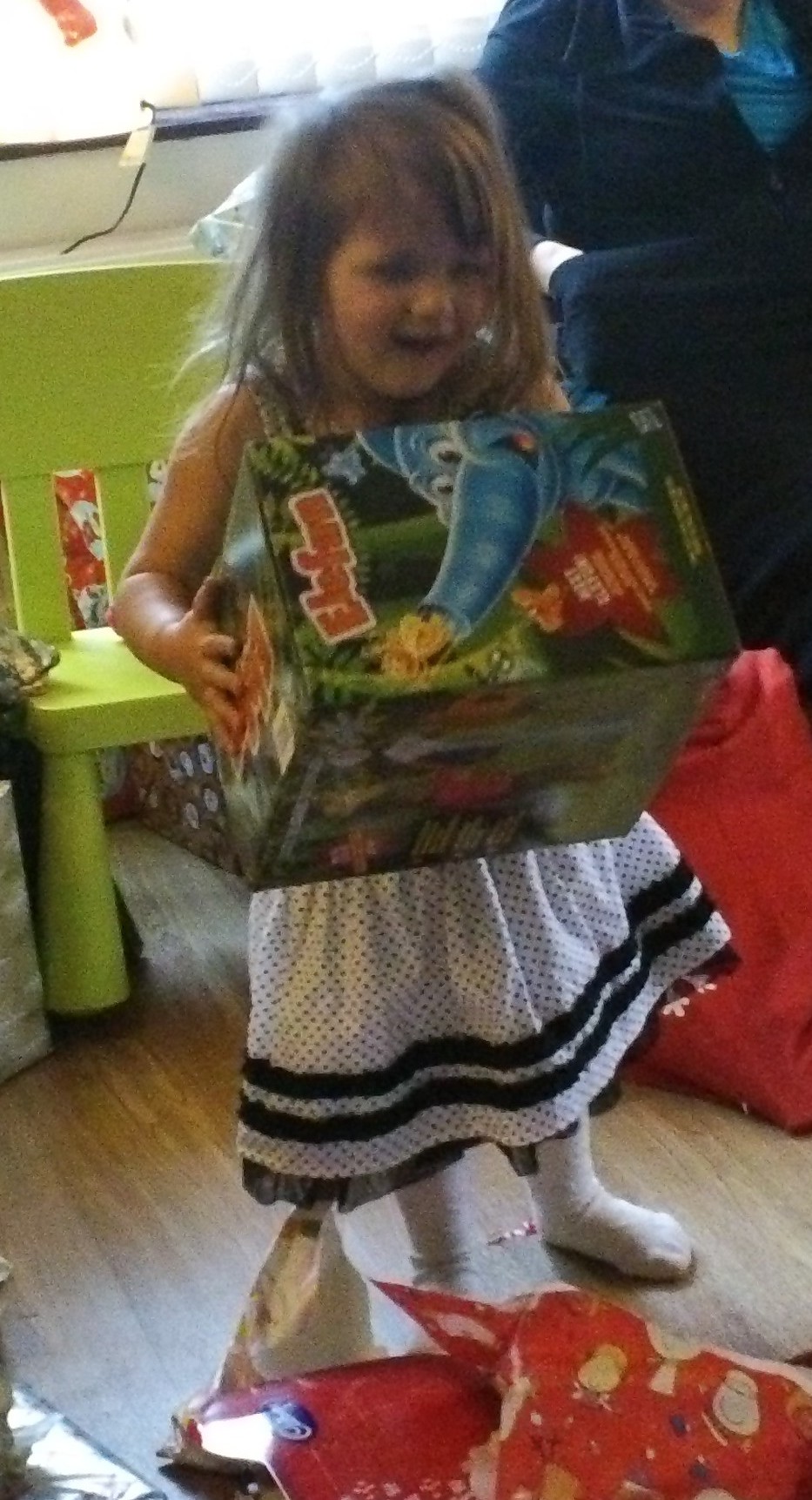 After all of these presents had been exchanged we gave out some presents from under the tree. There were a lot of presents under the tree and it took quite a while for us to get through them, and this was where the kids main present from my Wife and I would be. The gifts went down a storm, the reactions we got were brilliant, excited and and full of thanks `Pickle` and my Son were over the moon. My Daughter shocked us though, I had bought her a tablet, not an iPad but a tablet that would do the same things for a quarter of the price, I hoped that she would like it and to accompany it, I bought her a cover for it that had a built in keyboard, and so she opened the cover and looked a bit strange, then she opened the tablet and was so shocked that we had got her one after months of saying it would not happen, that she actually cried. I felt like a right bastard, I don't think I have ever made any one cry for a nice reason before. Despite her asking for an iPad and being told "No" we were getting no "but why?" questions coming back at us, and for that reason alone we decided she was growing up and could appreciate it. My Son only learnt to ride a pushbike about four months ago, I bought him a second hand bike to learn on which was only just big enough for him and so for Christmas we bought him a new bike. The kids had a wonderful morning of presents, as did we. My wife bought me a new model aeroplane kit to build, not sure she will think she made the right choice when it is built as it is a 1:48 scale Spitfire that is nearly a foot long. Add that to the 1:48 scale Apache helicopter and the 1:48 scale Sea Vixen and I think my new hobby may end as quick as it began. I got her a nice eternity ring and some perfume so all in all a very good day.
A short while after my Brother in Law and his Girlfriend went back to her Mum's house my Brother and his family arrived. It is quite difficult for me to get in to his house and they have to move furniture around for me to move about and so he came over to ours, this is going to be the norm now for most of my friends as I can not get in to their houses. We exchanged gifts for the kids as we don't buy for each other on the adult side, it's all about the kids. They stayed quite a while until they had to go home to start cooking the Christmas dinner. The thanks from the kids to us and our kids to them was lovely, big hugs and a thank you means so much when it comes from youngsters, manners cost nothing. I'm glad as well that my Brother and Sister in Law make the effort to get a little gift for the kids as they get nothing from my Mother or my Sister, which is sad really. A Grandmother who does not give gifts or even a Christmas card to her Grandchildren and an Auntie who does the same, we make sure that we buy for my Sisters kids and give them cards but it would appear that they have either been told to ignore my present, in which case I would like them back so my kids can have them, or just to accept the gift but not contact me to say thank you. I am hoping that this is the case or it means that they really are taking after their Mum which would be a real shame. Still, my kids are polite and so that should be all that matters.
Our dinner was beautiful, a selection of meats with veg and potatoes with all the trimmings, the size of my plate was no where near as much as it would normally be but I can't run it off any more so I have to cut down! Despite the reduction in size of food portion I still could not finish it, this did mean however that as Duke, (our dog), had finished his Christmas dinner, he was offered what I could not eat. It is a once a year tradition that he is allowed to eat a Christmas dinner, and as we are at home now because it is a pain the arse for me to get in to other houses, he is also allowed to eat with us. He was exceptionally well behaved as well so there is no reason he can not do it again.
I continued to drink Southern Comfort for most of the morning and meal time, apart from a couple of glasses of wine with the meal, and then just after we had finished clearing up, my Wife's Uncle and his family arrived with some gifts for the kids. They came in and we chatted and had a drink and then exchanged gifts with them. Again, the kids were all chuffed and after the thank you's they played while the grown ups talked and had another drink. They left after a couple of hours and so then it went in to the evening. I have to be honest now and say that I went and had a bath, not so much because I needed one, but because I wanted to watch the Battle of Midway on the tele, unfortunately I was the only one who did and I simply could not sit and watch what the Mother in Law and my Wife were watching. It's not me being nasty, it's just that I don't share the interest in programmes and I was in the minority. Occasionally you simply have to tactically withdraw to a different location, for a tasking that is simply a cover for the real mission!
And so, after the bath I decided to write the Blog entry for today and leave them to watching the television programme that they had been watching. While I am writing about the television, please take a half hour out of your day to watch Sky channel 410 at various times through the day all week. The first timing that I know is 07.30 tomorrow morning. It is the story of the injured service personnel who participate in the Dakar rally, the toughest rally in the world as part of the RACE 2 RECOVERY initiative. The injuries they have to overcome, the training, the troubles the camaraderie and the journey that they had to simply be able to enter. It shows just how determined injured service personnel are, how strong willed and mentally capable they are. It also shows the importance of charities who support this kind of thing to help the injured. It is well worth a watch if you can spare half hour, and would certainly help to raise awareness of these challenges.
Anyway, today I have shown myself something. I appear to be able to hold my drink better now that I can't stand. And, you can drink as much as you like because you are already on your ass and can therefore not fall over. You see, there are some benifits to being in a wheelchair.
Merry Christmas and goodnight all.