On Thursday Darren, Tabatha and their kids joined my Wife, myself and our kids for a trip to the Donkey Sanctuary near Sidmouth in Devon. As it is the school holidays we wanted to make sure the kids had a least one trip out to a place of interest with us. They recently visited the Natural History Museum in London with my Mother in Law when they went for a family party which my Wife and I were unable to attend, but we wanted to do something. It gave Darren and Tabatha a chance to see a bit of the area as well as they have only recently moved here. I wondered how we would get on as we had unfortunately had a power cut which meant that my power chair was not sufficiently charged for me to take it. Never the less, we cracked on with our plans and headed off for our day out.
It did not take long for us to get to the Sanctuary as the traffic was surprisingly clear and when we got there, the weather was also surprisingly good, a slight breeze but by no means cold. The Sanctuary is perfectly placed surrounded by green fields with a view out to sea. They have their own hospital which cares for Donkey's outside of the sanctuary as well as the resident Donkey's. They have some information boards dotted around which are interesting to read. They inform you of the history of the Sanctuary, it's founder, where the other sanctuary's are, how many Donkey's they have cared for and how many they currently have as well as the foster programme. The kids are able to stroke the Donkey's which are more than happy to come to the fences and see the people, the kids were really happy with this especially `Pickle` who also found the noises they made very funny.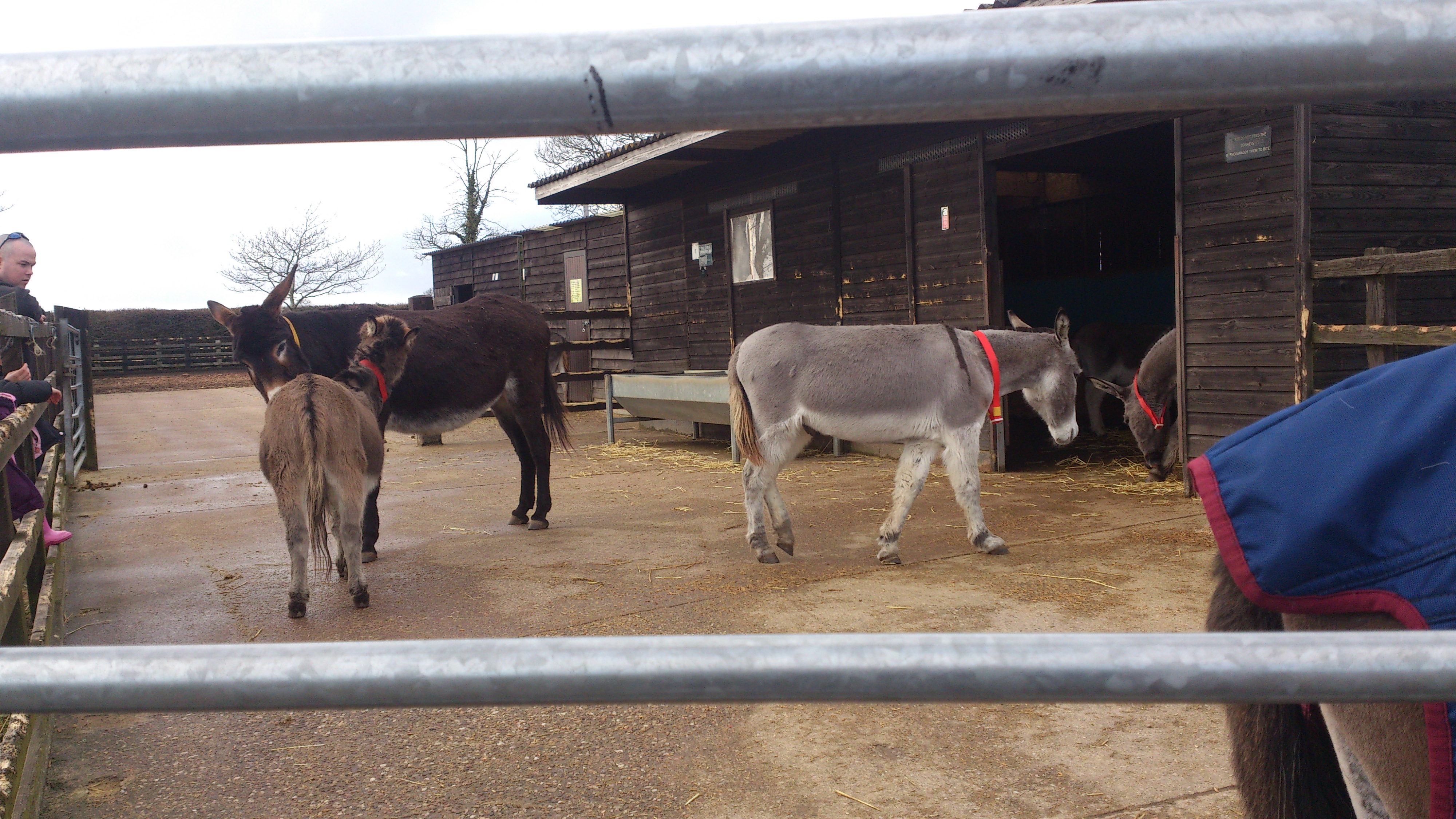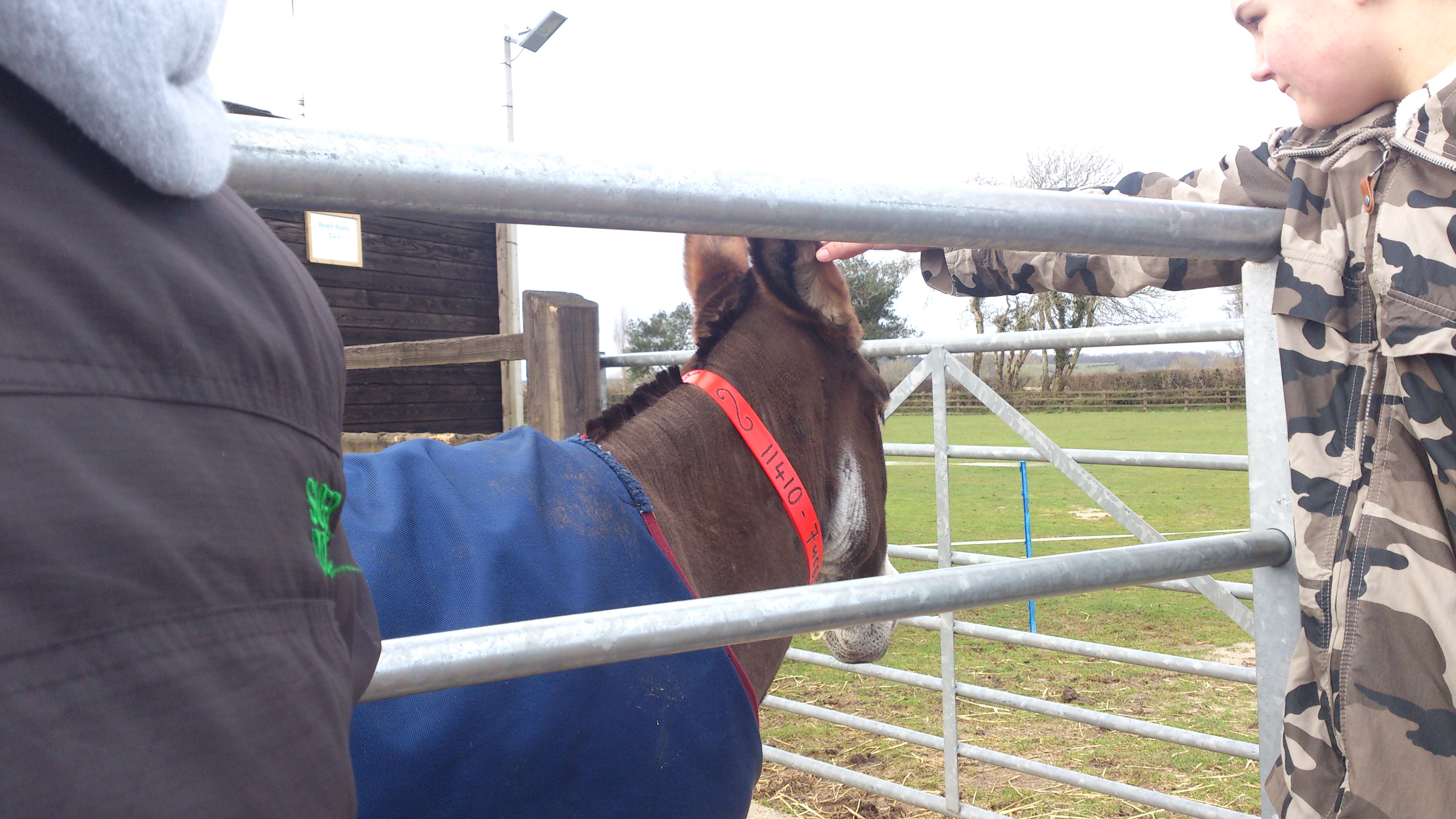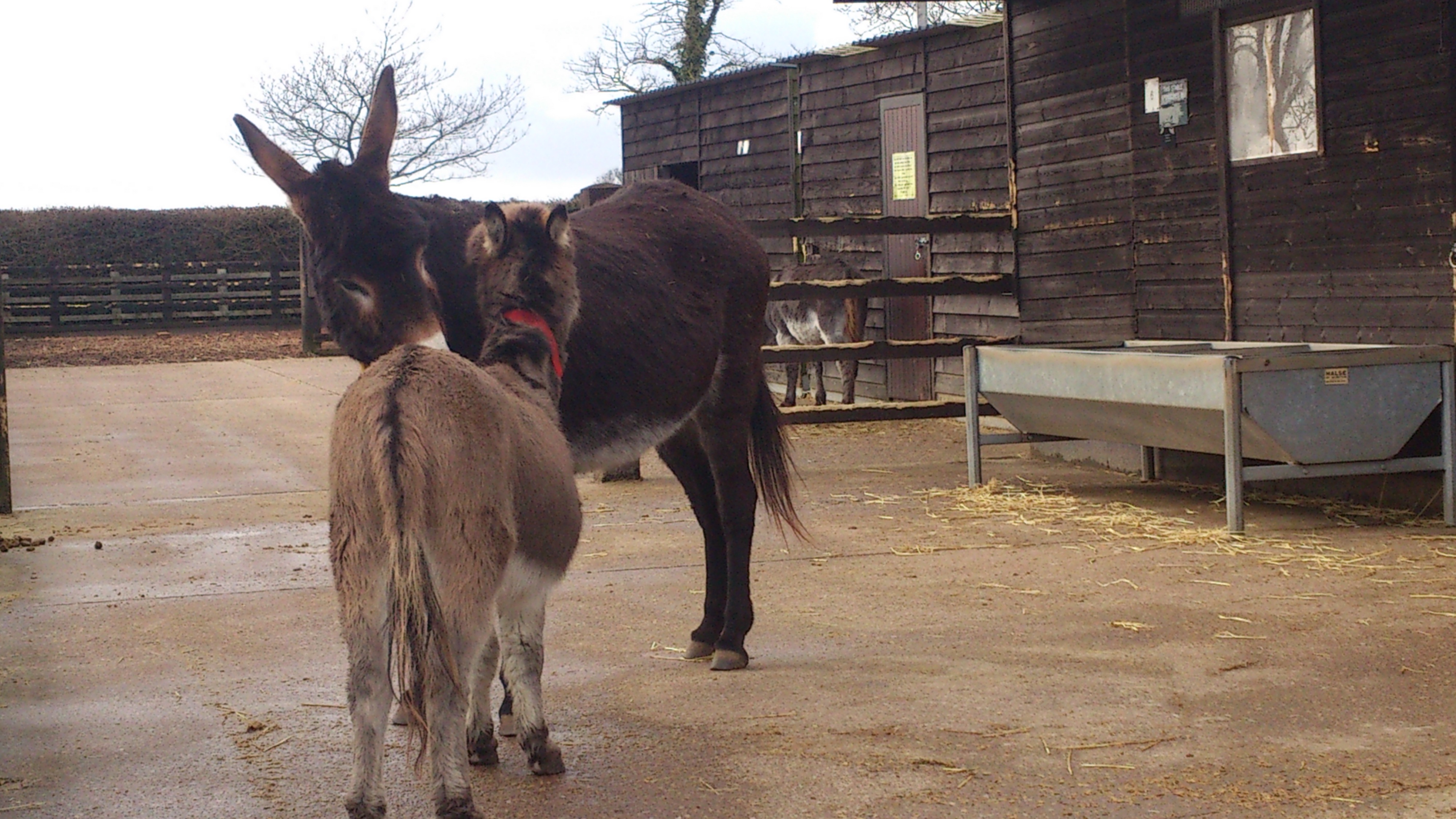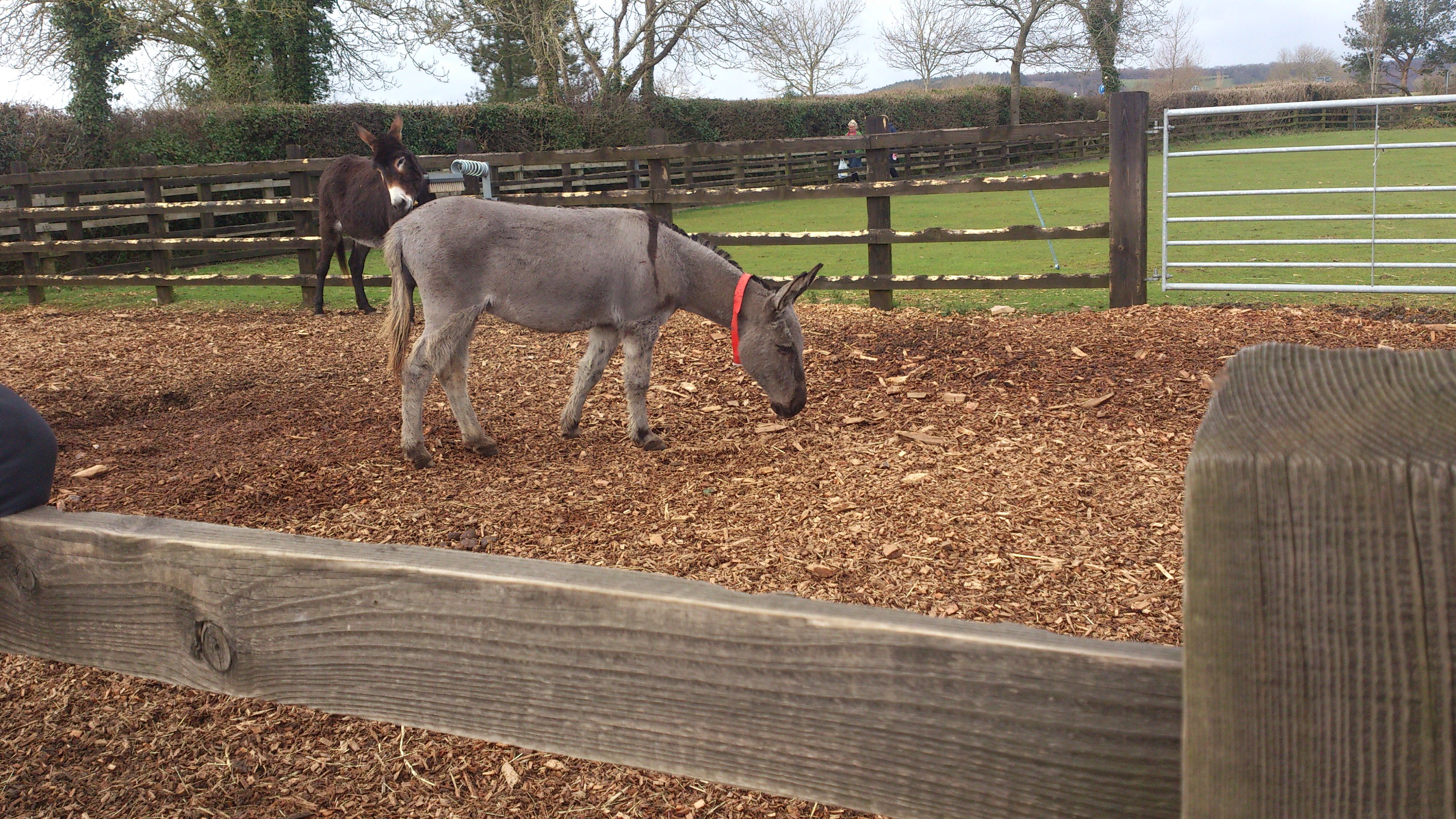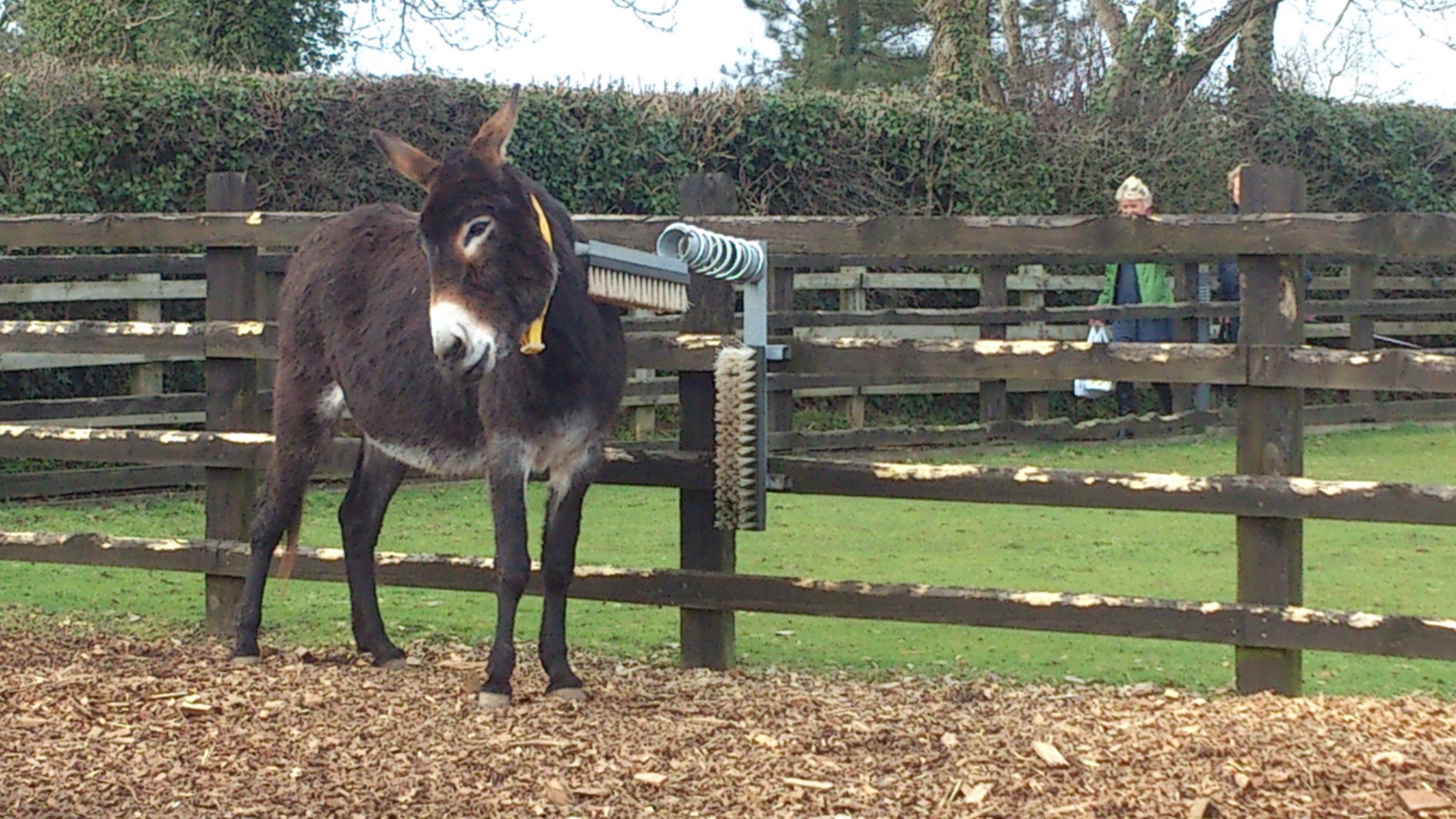 As well as being able to walk around the various field areas where the Donkey's spend day times, there is also a maze for you to walk around. I had my third wheel fitted and was still able to make my way around it. I would have had room to do it in my Power chair as well so to that end it really does mean that you can take part if you rely on a wheelchair.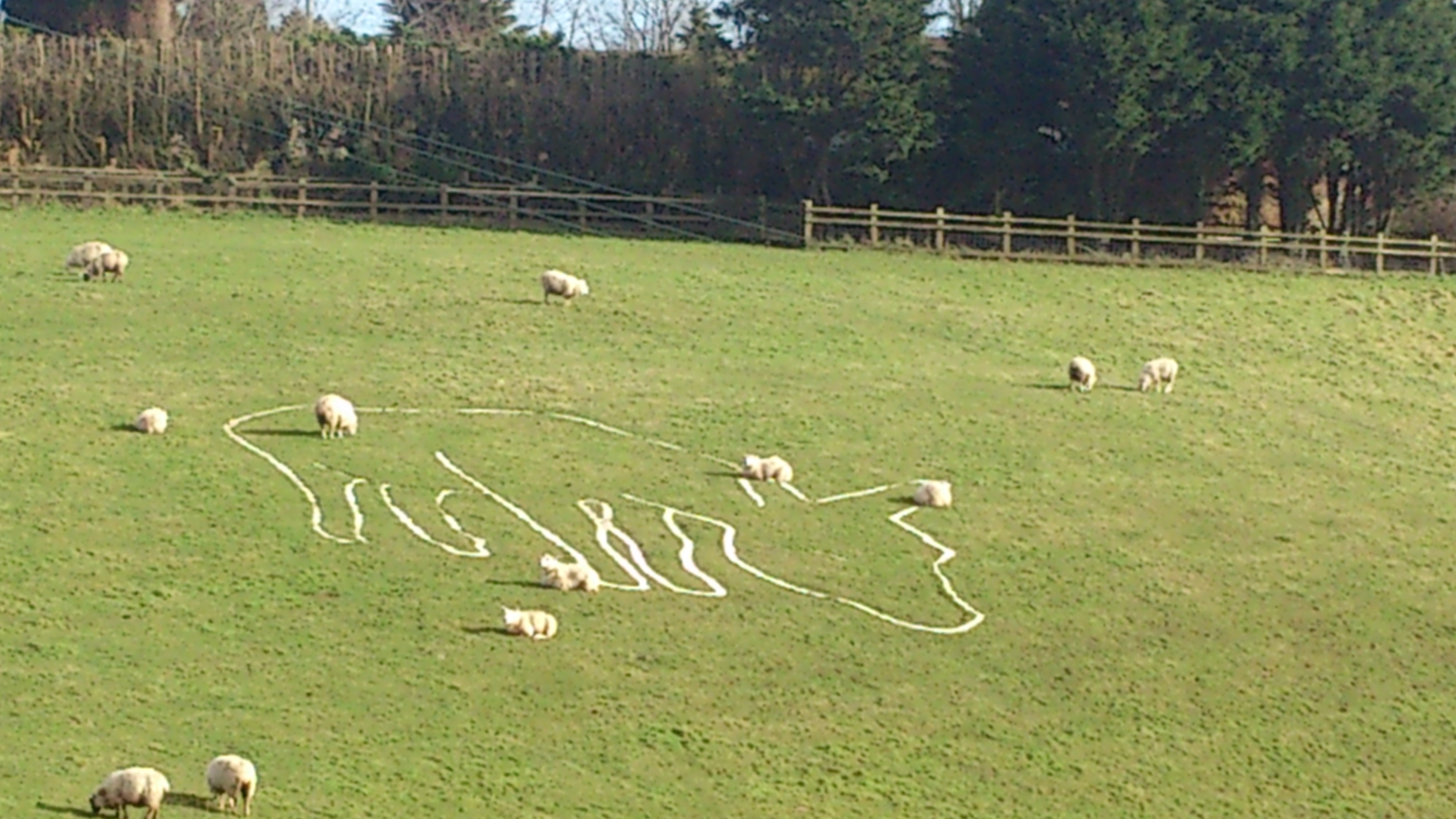 Just before we decided to head off we visited the shop where you can obviously purchase souvenirs. Even with my third wheel on I was able to go in to the shop and manoeuvre without the risk of knocking anything down or over. They had made sure that the shop was welcoming to wheelchair users.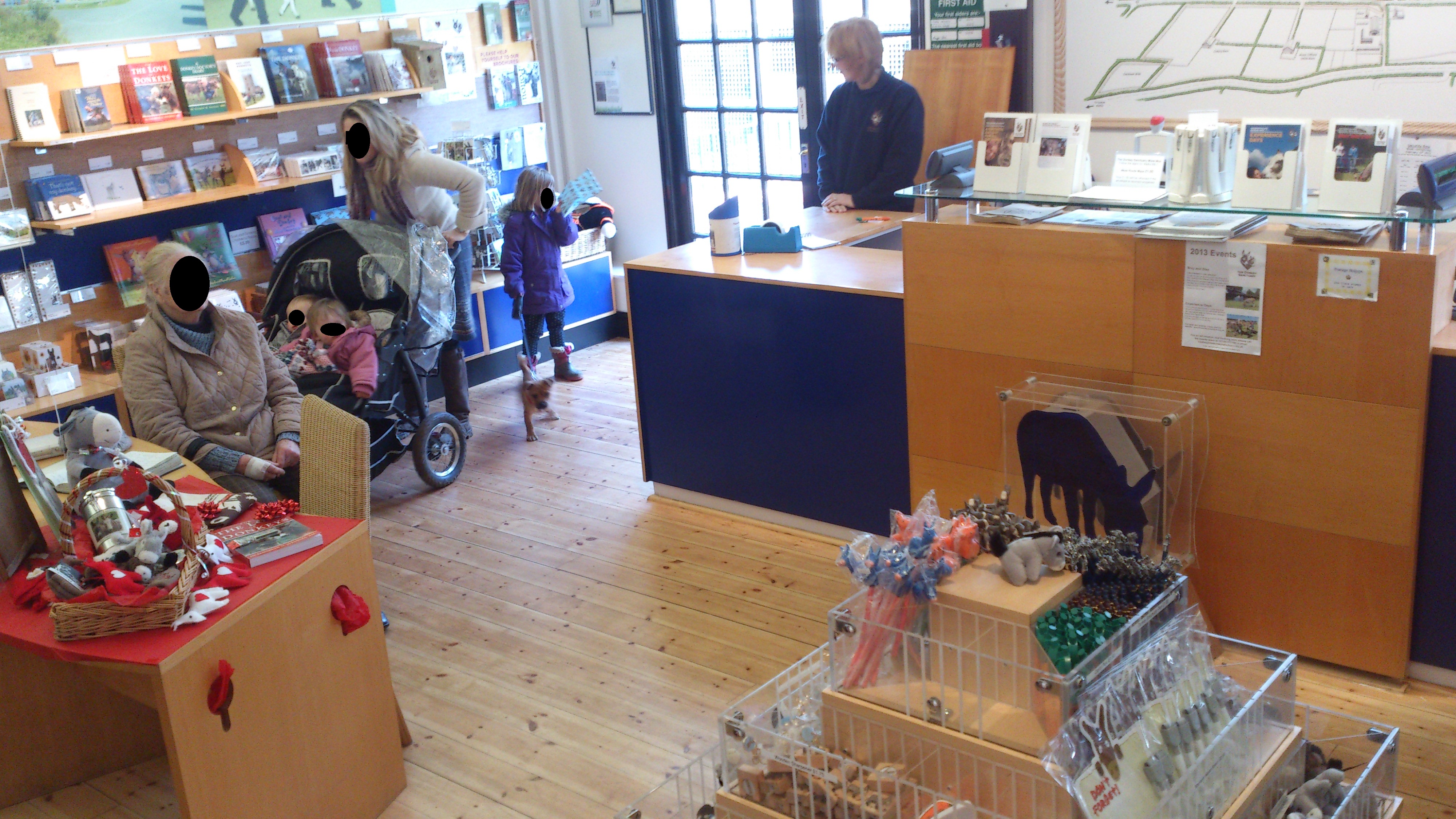 From a wheelchair point of view, there are some steep slopes which would be hard work and would more than likely require a manual wheelchair user to get help to get up them but there was no place that I could not get to if I wanted to. There will always be somewhere you can not get to if you are in a wheelchair but I had no problems while visiting this place, so if you are looking for somewhere to visit while in the area, then the Donkey Sanctuary is certainly one you can visit if you or a relative rely on a wheelchair. All in all a pleasant visit, from here we went to Seaton for a walk and to visit the shops, the sea defences had been closed which meant I was unable to roll across the walkway on the sea side of the defences, but we walked around the town and went in to a couple of shops. One shop in particular that I went in to and took Darren with me, sold air rifles and pistols. I asked for two of the rifles to be handed to me in turn to see how I managed with balance, to see if I was able to hold, and support the rifle while aiming. One was really good and looked nice to boot, I am still contemplating it, I would like to get another as I had to sell my air rifle a few years ago which I was gutted about. We shall have to wait and see. A really good day out that was enjoyed by all.
Maralyn came on Friday morning a little later than our usual appointment time, we had our usual catch up but alas no Jeremy Kyle on this occasion due to the time. With my treatment for this appointment finished, Maralyn made another appointment with my Wife for next week, although this is subject to timing as I may well be in Wales as part of Op Nightingale for the day. Maralyn said her goodbyes and I got changed in to my day clothes ready for my `st-roll` to Ilminster with Alison and jack. As it had not been very good weather on Wednesday, we decided to go on Friday instead, we were undecided however of exactly what would happen. Alison arranged for Steve to meet us at the Stonemasons as it was highly unlikely that we would get to Ilminster before my Wife who would be collecting `Pickle` from nursery. Normally we would have a bite to eat when we got to Ilminster and then would load in to the Chucklebus after `Pickle` had been collected and then hitch a ride back to the bungalow. Today though was going to be a little different.
Alison, Jack and I left the bungalow and headed down the roadway to hook up with the cycle path. It is much preferred by me going this way, even though it is a road as the cycle path is a nightmare for the first part, this is the way we had to go when the trees were down on the cycle path and it is much better for me. Alison and I talked as we `st-rolled` along the path and then at around the half way point we met with a friend of mine who was riding his bike to Chard where he would then take the lanes back to Ilminster. He does it when he finishes work on a Friday as he finishes earlier than in the week but said that he is looking forward to the later light nights so he may do it a few times in the week. It was good to catch up with him, we never know exactly where we will bump in to each other on the cycle path when we go for our st-rolls, but he knows that we will meet somewhere along it on a Friday.
We arrived in Ilminster in an hour and ten minutes which is the quickest yet, a time which I hope that I will beat later on, but I don't want it to get to the point that Alison has to run or it defeats the object of the nice walk we have. Approaching the Stonemasons where we would be meeting Steve, we met with my Wife who had just collected `Pickle` from nursery. We spoke and decided that Steve, Alison and I would have lunch and then Steve, Jack and I would `st-roll` back who Alison took the car back. My Wife did not want lunch as she had some things she wanted to do and so I waved good bye and went for lunch. Alison double checked that we were happy to make our own way back and then headed back to her house while we then started our journey back. It is hard work on the way back, it is not easy on the way to Ilminster but is easier slightly than on the return journey. I needed help from Steve by the sewage works as the camber mixed with the gradient of the slope was too much but that was only around ten meters and then again as we came off of the cycle path which was around twenty five meters, other than that I had done the whole ten miles propelling myself.
Steve and I got in to the bungalow and sorted out a drink for Jack and then it was a well deserved coffee and biscuit for us. The `st-roll` back had taken one hour and fifty minutes, I was pleased with this as the last time had taken me two hours and fifteen minutes. I had only been using my standard Castor's then  though so it showed me how much the third wheel helped. Steve and I spoke some more and discussed the journey back until it iwas time for him to go home, as he left I took the opportunity to run a hot bath which I would use with the jets in the bath to try to stop my muscles seizing up, it did not take long before I had nodded off in the bath and woke when my Wife came in to the bathroom to remind me that my Mother and Brother in Law were coming round for chips as my Mother in Law is going away to a wedding.
I really wanted to stay up and play on the console but could not get comfortable in my chair for love nor money and so decided to get in to bed instead where I thought I would write my Blog but could not get comfortable enough for that either so I ended up laying in bed watching NCIS in the hope I would simply fall asleep, at two this morning I realised that I was not going to fall asleep while watching something I enjoyed and so I simply shut the television off. I woke this morning not feeling any tightness in my muscles but instead with my legs and lower body having huge spasms which I wil not deny, hurt to the point I honestly thought I would shed tears. That said though, I managed to get myself dressed and out of bed and so far, although the spasms have not disappeared, they have been manageable. We were visited today by friends of Darren and Tabatha from Bournemouth. The gentleman was the guy who, with his Son, very kindly built the above ground part of the pond for us, now that D&T have moved to Chard, it is likely that we will see more of this Gentleman and his Wife which will be great as they are a wonderful couple who I really hope will feel as though they can pop in when they are down.
I had a brief visit from a few of my TA lads today who stopped in for a coffee while out on a recruiting drive. A massive recruiting campaign has been launched to increase the numbers in the Territorial Army. I'm glad they popped in as it gave me a heads up as to how they were doing, as recruits will be something that I am now dealing with. I would really have liked to have been out recruiting today but it probably would not look great with me being in a wheelchair being an infantry unit, maybe I should go out and recruit for Mechanised Infantry!
Good evening all.