Darren and I went to a model shop on Friday just to see what it was like, and as it turned out it was well worth the trip. I normally have to order the paints that I need for any models I am building which can take up to two weeks or more but this model shop stocks just about every paint colour that Humbrol do, they also have all of the glues, lacquers and weathering dusts which is something that I now want to try and experiment with. I want the models to look as authentic as possible and so rather than the model look pristine with fresh paints and decals I want them to have to staining from exhaust ports and later on as I hopefully get better, general weathering and maybe battle damage. I hope when I have got better later on to do a diorama of maybe a dogfight or a ground crew scene but that is down the road a way yet. I purchased some paint, some weathering paint and picked up a leaflet on how to achieve certain effects, as well as this I bought a `work station`. Happy with what I had bought we headed back to the bungalow.
In the evening my Daughter, Darren, my Brother and I played on the games console until around midnight which is when I told my Daughter she should sleep. My Brother had work on Saturday and so he too went to get some sleep, I decided to watch an episode of NCIS ('cause I love that programme) and finally went to bed around one in the morning which is not unusual for me. I got in to bed and got undressed but immediately started to shake, my teeth were chattering and felt really cold. What the hell was going on? I had been fine all day and night so this was confusing. I lay down and hoped to warm up, this did not happen all night, I woke every three parts of an hour for half an hour then dropped off again. All through the night though I was sweating like I was in the desert again, very strange. I woke in the morning and my Wife asked what she should do, she had arranged to go shopping for a dress in Taunton for a function which is coming up in a few weeks, she had told me that in my sleep my spasms were out of control and that while I slept, my legs would go almost to my chest and then kick out causing me to shout out in my sleep. Consequently she had not slept with me during the night for which I can not blame her I suppose although it does not help with the whole wanting things as normal as possible but it can't be helped, hopefully i will receive some help from the spinal unit at Stoke Mandeville when I have an assessment there in June, until then, it's just a case of living with it. Despite my not feeling 100% I did tell her that she needed to go and try to find a dress and so she should go, I did have people I could call if I needed help and my Dad was coming down to visit so she should be fine. Worst case, I would call her and get her to come home earlier.
Saturday was going ok, still felt a bit crap but all in all I was managing. My Wife called me during the day around two o' clock to see how I was getting on, I had started to shake uncontrollably again, I was sweating like you would not believe, my head was pounding and pounding and pounding, I was struggling to keep my balance in my chair and kept falling to the right, to that end I ran a hot bath to try to warm myself up and get rid of the headache. Three hours I spent in the bath, and then when I finally got out of the bath and on to my bed to get dressed I fell asleep for most of the day until half ten in the night when I felt just like I had not had any problems that I had been feeling all day, it suddenly looked like I may have a day out at Donnington after all.
My Dad came down on Saturday and I was in such a shit state I hardly spoke to him at all, Darren ended up babysitting the kids and the whole day just went to a complete mess. My Wife had not managed to find a dress, and when she came and saw what state I was in she called out a Doctor. I am not really sure what the Doctor decided apart from that if my condition worsened, my Wife was to call out either the Doctor or Ambulance. My Wife had spoken about the Autonomic Dysreflexia with the Doctor but was unsure if the Doctor knew what it was, to that end we did not take my capsules to combat the Dysreflexia as we had not had any confirmation that this was what the problem was.
I woke early on Sunday morning and felt absolutely fine, no problems or any sign  that I had been unwell on Saturday and so I text my friend Piers to let him know that our trip to Donnington was on. Piers arrived at just after seven o'clock in the morning and picked up the things I would need to take with me. He got my Son in to the car and strapped him in and then I transferred in to the car, while I was getting myself sorted he folded my chair and put it in to the boot, finally at around half past seven we were on our way. It took around three hours to reach Donnington race circuit. It was the longest time I had spent in a car without a pressure cushion and I had not experienced any problems, I called Adam when we arrived to let him know where we were and that it would take me around ten minutes to get out of the car and back in to my wheelchair. The timing was nothing short of perfect on his part. He had walked to meet us as we were walking to meet him, we shook hands and I introduced him to Piers who had driven me, his Son and my Son he then started to take us to the Mission Motorsport trailer where we would be able to catch up with James and the team. We had barely walked twenty feet when he received another call from another of the guests which he had to meet. He pointed us in the right direction and within a couple of minutes we had found and reached the trailer and awning of the Mission Motorsport team.
James was not at the awning when we arrived however some of the team was, I said hello and spoke to them for a while until a familiar face was approaching in a mode of transport which is a lot slower than he is used to. James was approaching on a push bike, showing that it is not just the female of the species that can multi task, some of the males can too. This was proven by James riding whilst taking care of a phone call, I was impressed until I saw the colour of the bike, but don't worry James I have no photographs of this so the fact that the bike was a very feminine pink will be kept just between those who were present at the time! With his phone call completed he came over and greeted us, he remembered Piers from our visit to Tedworth just a couple of weeks ago and so it just remained to introduce my and Piers' Sons. We spoke for a short while until the time arrived when James had to get ready to take the Porsche out on to the track. He kindly gave us an orientation and then told us he would see us soon but he had to go. After wishing James luck, Piers and I spotted some cars that the kids might be interested in so we took them to have a look.
And my Son really liked the lorries.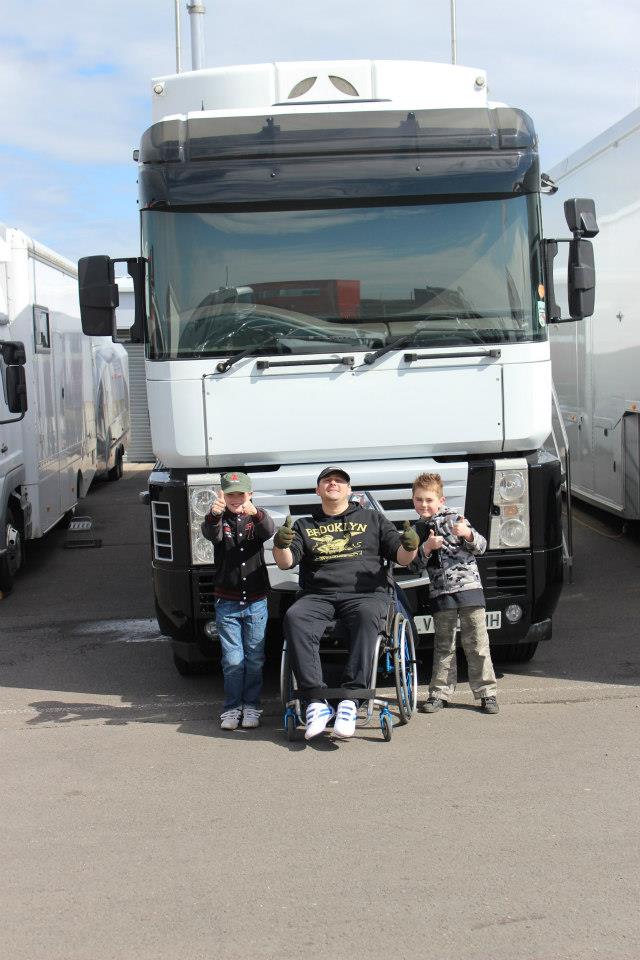 Piers, the kids and I then headed off to an area where we would be able to watch James on the track and give my Son, as I can not speak for Piers, his first real taste and experience of motor racing at a real race circuit, and he loved it. He kept telling me when he had seen James going around the corner which is where we were.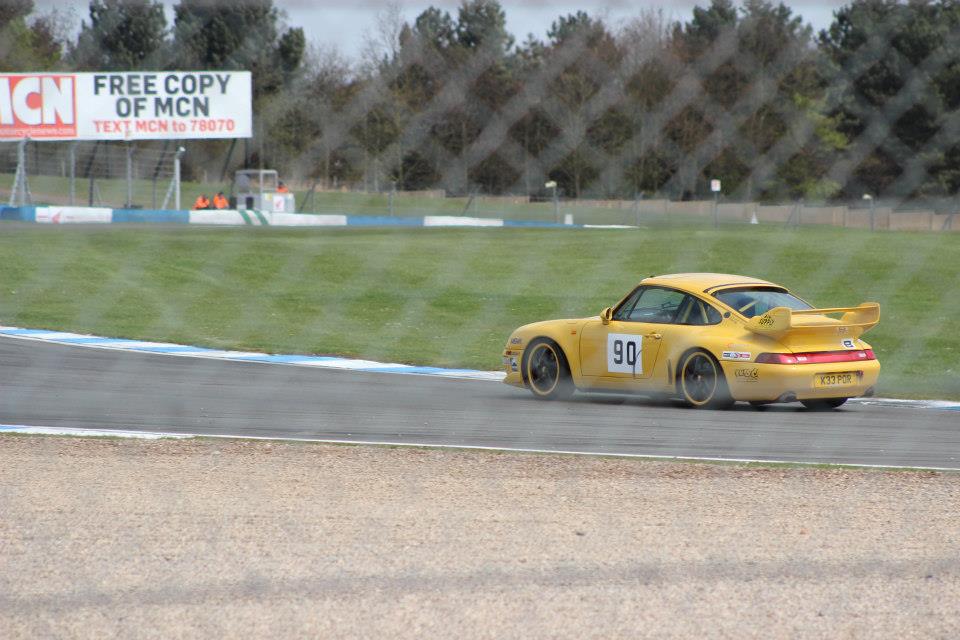 Then Piers kindly took the boys a bit further round which meant they could see the cars coming up the start finish straight, round the corner and down over the gradient where they would lose view for a second or so until they then watched them go up the other side and disappear out of view round another corner. I stayed where I was as it was all loose gravel and very hard work as I had only kept the standard wheels on the wheelchair instead of fitting the off road wheels and third wheel that I use when I go for my st-roll with Alison. We stuck around and watched the race. It was strange to see Clio's racing with Porsche and Nissan `Z` cars but they are different classes of cars that race so although you  may not come across the line first, you may in fact win your class.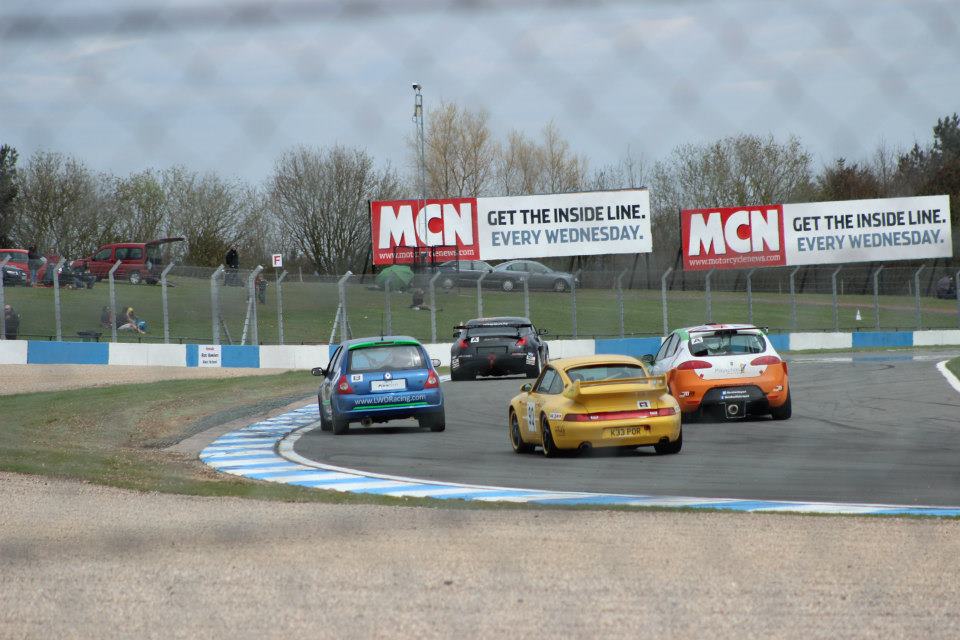 Each lap that passed, each time the cars went passed us the order would change, the car that James was behind was suddenly behind James.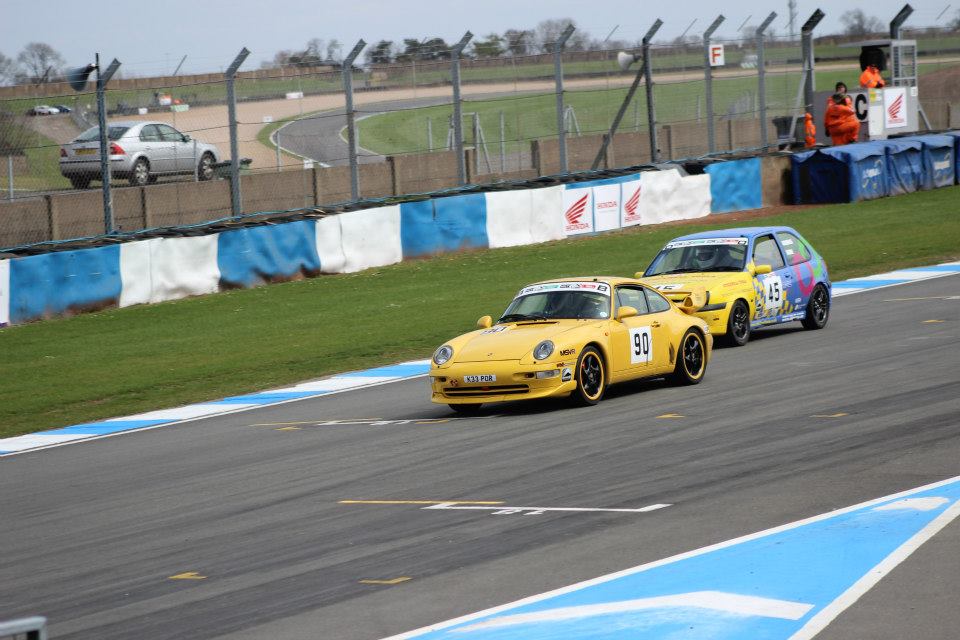 The lap count went up, the number of laps to go went down, the car numbers that James had passed increased until the race ended, now to listen for the results….
It took some explaining to my Son about how although James passed the finish line as the third car he won his class, I was confident he did not understand despite my best efforts but I would see what happened. It was lunch time, we headed over to the hospitality area to get a bite to eat. We were joined by James, Adam and a couple of the team and guests, this was where my Son congratulated James with a `hi five` for his third place! Bless him, I knew he would not have grasped it but it did not phase James, he chuckled about it while I tried to again explain how James had won the race with his type of car. "Ohhh, so you won" said my Son, "Well done!" as he offered his hand for another `hi five`. After lunch we watched some more of the racing and walked around the back of the garages, the kids got to see even more cars.
Another race was the solo seats.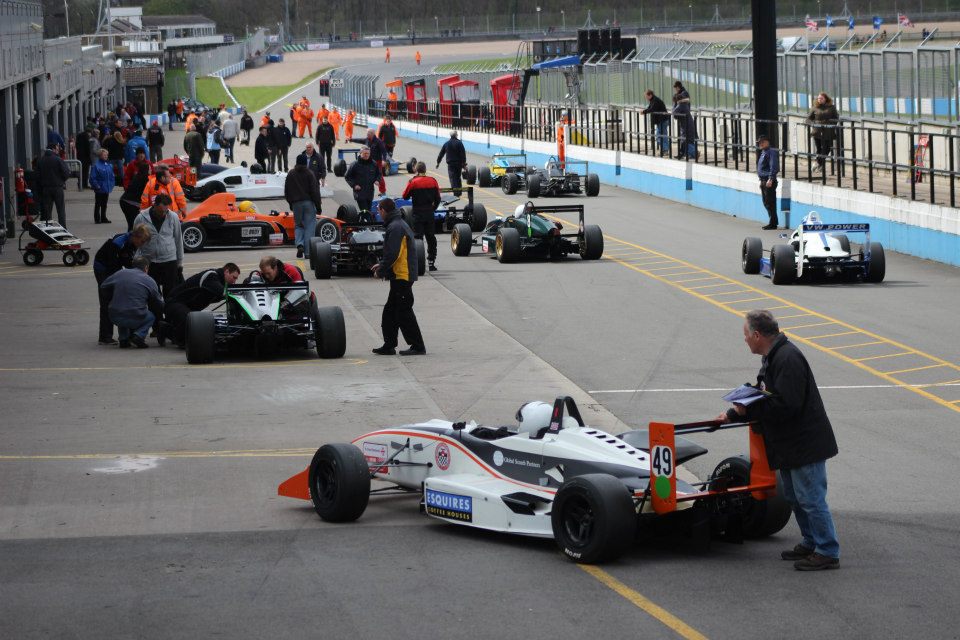 I received a call from Adam to let me know that I needed to get to the pits, so that is where we headed.
Chevron racing team have decided to support Mission Motorsport which can only be a true showing of how Mission Motorsport are doing, you can't help but feel proud of how they are doing, not Just James and the drivers but the mechanics, the support volunteers and Adam with his job searchings for people. I make an apology now for the names I do not remember, it is not that they are any less important in fact just the opposite, the support staff are part of the team, it is the fact that I have more to do with James and Adam than most of the other team members, oh and the fact that my memory is not what it was since my bang on the head! Such an amazing team, a team that I say thank you to again and again for the opportunities they provide, and my visit to Donnington is no exception.
We said our goodbyes and thank you's and headed off to the car for the journey home. thankfully it was a good drive home and took only marginally longer than the trip up. I still am unsure as to who was the more tired, the kids or me! A truly brilliant day out with some great motor racing and some brilliant people. Thanks to Piers for driving me up, I have to rely on people to drive me to different places but some of the things are worth it!
I have not told you all of the results, it was a full weekend of racing, I want you to read my Blog but if I tell you everything, (like the epic task for first time awning assembly), then you will not visit the website of these guys.
www.missionmotorsport.org
I was unable to write the Blog yesterday as I had a minor relapse and my body was not wanting to play ball and so to that end I had an earlier night. I hope that you have enjoyed reading this entry and that you will go to the Mission Motorsport website to view any pictures that they have. I asked other paraplegics if they had ever experienced what I had been unfortunate to endure for the day on Saturday, the general feeling is that it could have been Autonomic Dysrefexia after all, guess we will never know, I do know that I don't want it again though. For now though I am ok so time to crack on. The sun is starting to shine during the day times now so you never know, summer could be on its way! Enjoy the sun while it is here people, and take care of your selves. My letter has gone off to the person I need to ask about my next challenge so I really hope that I will hear back from him soon, if not it will be option two presented by a friend of mine, someone who you will hear about later on when he gets set up.
So I leave you with a little intrigue, what am I going to do for charity and my wheelchair fund next???
Good afternoon all.