Alison and I went for another "st-roll" on Friday to Ilminster, the second trip of five miles in succession but still done comfortably, I am going to try for three trips next week to see if I am able. Darren and I are going to make the first trip on Monday. The plan as I understand it is that my Wife and Tababtha will walk from Ilminster to the bungalow and then Darren, Tababatha, my Wife and I will walk to Ilminster to collect `Pickle` from nursery and then Darren and I will walk back again, a total of ten miles. It will be interesting to see how I get on with the return journey to the bungalow from Ilminster with my new wheel. There is no doubt it helps, but to what extent on the way back will be really interesting for me.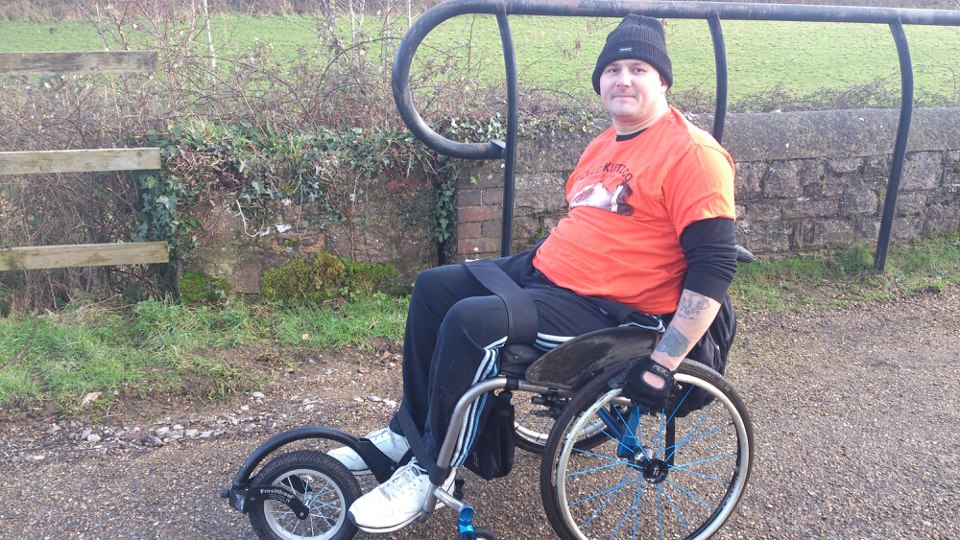 When Alison and I reached Ilminster, we were met by my Wife who was collecting `Pickle` from nursery and Steve who was there to collect Alison as they were heading off for the weekend. The st-roll to Ilminster would tire Jack, Alison and Steve's dog, out so he would not be hyper in the car on their journey. We briefly all chatted and then we left to return to the bungalow and they left for their weekend. I really enjoy the st-roll to Ilminster, even more now with the freewheel as I can look around at the scenery just like anyone else who would be walking. If you are dependant on a wheelchair, I recommend the freewheel, it is expensive but it is worth every single penny if you like    st-rolling, it makes it easier for you to enjoy and look around. After my Wife and the kids had gone to bed I decided to have a quick go on the games console. Unfortunately, Darren asked me on line if I would like to participate in a "quick" game with him, it was two in the morning that we eventually called it a day and switched the game off.
The kids stayed at Darren and Tabatha's tonight which afforded some well overdue time for my Wife and I to spend some time together on our own. We began this afternoon with a trip in to town, we both had a couple of shops that we wanted to go to and so we went to those shops but separately to speed the trip up. Then we returned to the bungalow and watched a little television after which we got ready to go out. We went for a meal but were unable to go to our first choice of the Stonemasons as there was a forty five minute waiting time. We instead both decided on going to the Little Chef, not romantic but it was just about going out to eat and anywhere was good. We had not been to the Little Chef in Ilminster for a very long time but we were glad we did. The service was great, the food was brought out ot us in a very short period of time and when it arrived it was piping hot and very very tasty. Our meal finished, we paid the bill and headed off to the cinema in Taunton.
We opted to watch a film that had shown for the first time in the Taunton cinema on Friday, I went to the counter and sorted out the tickets while my Wife went and got some sweets for us to pick at during the film. I was a little concerned as the film was going to be over two hours long and generally, the wheelchair parking areas are very close to the front of the cinema meaning that you have to look up at the screen. Not massively comfortable and I wondered how long I would be able to keep looking up for before my neck would ache. As it was it was not that bad. I made sure I took my power chair which I tilted back to its maximum meaning I did not have to strain my neck as much. It goes with what I have said before about when people want to talk to you, trying to get them to stand a bit away from you or sit down to make it easier. The film was called "Flight" and starred Denzel Washington as an airline pilot who crash lands his commercial airliner after it develops problems. The story develops from there and I will not spoil it for you but I will say that it was a thoroughly enjoyable film and it did not seem like we had been watching for the length of time we had been. Well worth going to see it. It was almost midnight by the time we got back to the bungalow and after my Wife had finished her drink, she got herself ready for bed. She is going to sleep in our daughter's bed, which is our old bed, as it is seriously comfortable. She does not find our new bed anywhere near as comfortable as our old one and as a result does not sleep as well as she could do. I told her to sleep on her own tonight while the kids are away, I would have liked nothing more than to spend the night cuddled up together, but that can't happen anymore and so why shouldn't she take full advantage of the fact that she can sleep in our old bed. I am gutted, but she will appreciate the comfort of the bed so I am not going to begrudge her that, besides which, although there are no cuddles which don't happen now anyway, she gave me a goodnight kiss before she went to bed, something that I have not had for over a week. As I said, some well needed alone time this evening.
I have stayed up to write this entry to my Blog and have been watching NCIS at the same time, (check me out with the multitasking!), and now I am going to end, finish the episode I am watching and head to bed. Tomorrow night, when you go to bed with your partner, give them a cuddle for you both to fall asleep with and maybe it will last all night. The reason I am encouraging you to do this is because you never know when you will be unable to do it. Similarly, you should work to live, not live to work I have lost count of the amount of times before my accident that I said to myself, I'll do this with the kids or I will do this with my Wife tomorrow. Well, tomorrow is never coming now. Remember this, please, because I can not describe to you how bad I feel for not doing those things. I can never describe to you how it feels to remember the times my children asked me to do things and I said no, but that we would do them later. Time I wasted with petty arguments with my Wife, time I could have, should have been doing other things with her. People say that you can not and must not dwell on the past, well there are some things that you can not help or forgive yourself for.
Goodnight all.