My son went for a day at the local leisure centre today, it started at 09.00. My wife took him, made sure he was settled and then returned home. She had suffered a pretty sleepless night as `Pickle` spent a lot of the night being sick. Quarantine again for me in the hope that this time I will not get it and my wife was left to clean it all up. For the safety of `Pickle`, my wife slept on the floor next to `Pickle's` bed. We called the step mother of my Daughters friend to inform them of what had happened but it was decided that as the girls were doing their own thing and were not having too much to do with `Pickle`, we would take her home at the previously arranged time. To that end, the girls carried on doing what they were doing until just after lunch time, when we took my Daughters friend home.
Unfortunately for `Pickle`, she had to miss nursery today. She was a little upset as it was dress up day and we had bought her an outfit. No point in passing germs or bugs around though so we called to let them know that she would not be in. After we had taken our little visitor home we again went in search of pumpkins for the kids to hollow out, not one in Ilminster or Chard did we find. However, the middle of the pumpkin always goes to the recycling food bin as none of us like it so…..we bought a watermelon! Yeay, we had something to hollow out and whilst it was not the genuine article, at least we were making an effort. This task was undertaken by my Daughter while my Son was at activities day, `Pickle` was chilling on the sofa cuddled up and I was doing a little more to the Liberator model, (assembly starts tomorrow all being well.)
I called my `Wednesday friend` and told her that I didn't think us doing our usual "walk" to Ilminster was a good idea today being as it was proper lashing down with rain, she agreed and instead we had a chat on the phone. After my chat with her, I did some bits and bobs until at around 14.50 we loaded in to the Chucklebus and headed up to the leisure centre to collect my Son and get my Daughter to her swimming lesson. My Son was beaming when he came out of the activities day. He did not stop talking about what a great time he'd had. I got out of the bus and took my Son in to wait for his turn to have his swimming lesson. I watched my Daughter during her lesson and I am always very pleased with how she seems to effortlessly move through the water, my Son is nowhere near the same standard but the aim is for him to be able to swim to survive, not to win Gold medals. If my Daughter is a very confident swimmer then so be it but the same as my Son, it is not Gold medals we are after. The lessons have definitely been money well spent though, after all, we can not take them now.
After the lessons had finished we went up to the car park to meet my wife. She had not yet arrived and so we started to walk the way she would come in, BIG MISTAKE, it hammered down. Needless to say my kids were not feeling the love for the rain but, before they actually kicked off at me for not staying and waiting for my wife at the pool, my wife pulled up and we got in. Back to the bungalow for a change in to dry clothes and Halloween costumes.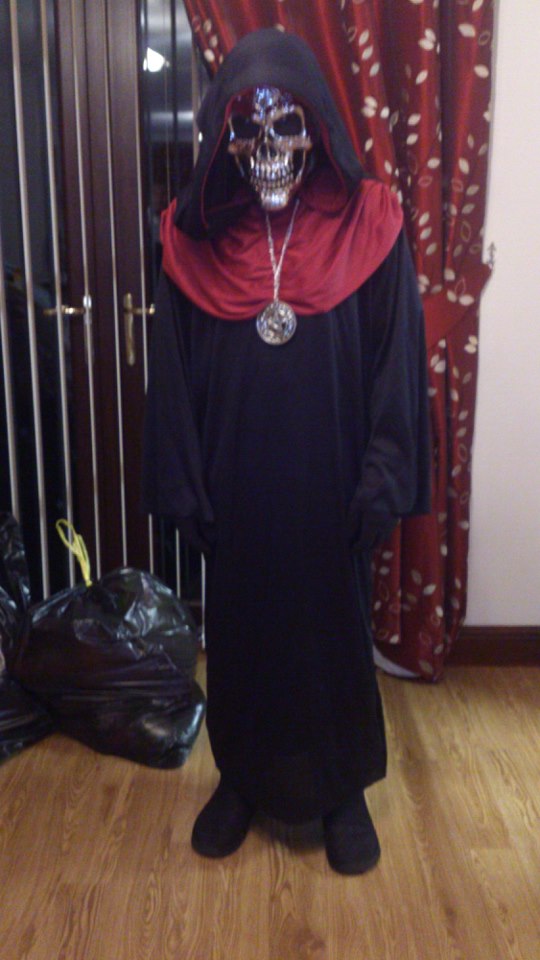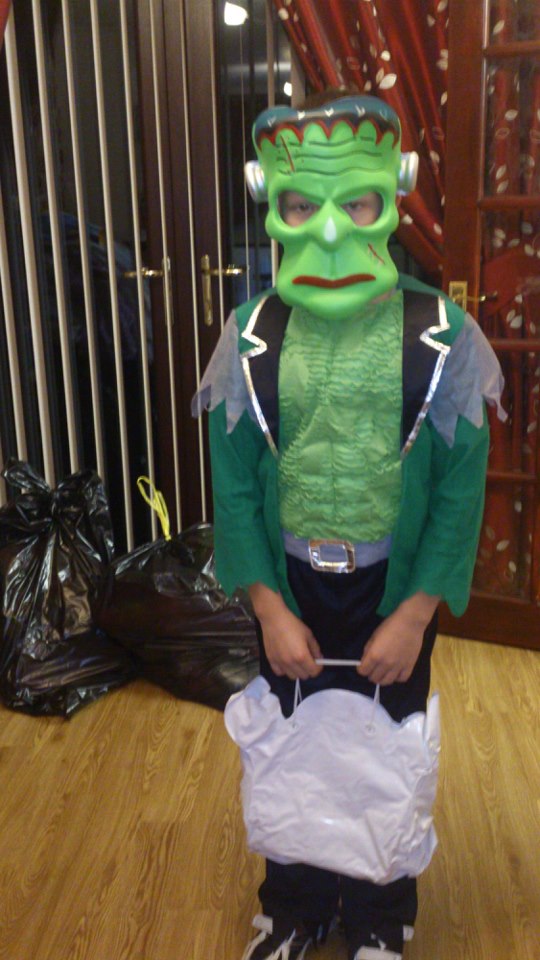 Then back out, over to pick the Mother in Law up and then in to the Rugby club for a Halloween get together organised by the owner of a Hair salon. After spending some time there, (me outside as it would have been broken toes a plenty if I had gone in), but the rest of the tribe inside, we went round the town as some shops had agreed to stay open, not for business but for the kids to go and show off their costumes and get some sweets. All this had been organised by the Hair salon lady, a fantastic idea as it meant that the kids were Trick or Treating in a much safer environment and the older people, pensioners and the like, were less likely to have kids knocking on the door. It was a shame more of the businesses did not take part but well done to those that did, they did make a huge difference though some may not see it. I look forward to what happens next year. Congratulations to the Salon lady also for making it all happen.
Eventually we returned to the Chucklebus, and although it had continually rained at different amounts, we all managed to stay pretty dry. We loaded up and went to get some tea from the chippy. After the kids had eaten their tea on returning to the bungalow, they got themselves in to bed to watch the films they had hired. My wife and I also retired to bed although as `Pickle` did not last the journey to the chippy before she fell asleep, I am in bed and my wife is on the floor again to just keep an eye on `Pickle` in the night…..or at least I think that is why!
So today was a good day. My Son had an excellent day doing various activities, my eldest Daughter had her friend over until just after lunch, `Pickle` was not sick again all day and I managed to get a little more done on my model. My wife unfortunately had very little time to chill but we hope to change that tomorrow. I hope that you all had a good evening of Halloween, and that if you had kids and were with them, you took them out to spend a bit of time dressed up with fake blood and other garish make up in the hope of gaining some sweets for the cupboard. I don't recall doing it as a child, but my kids do every year, it's fun if it is supervised and if you knock only on people you know or houses that have been decorated up. Generally I have found that if the decorations and pumpkins are out, it is an invitation to knock. People who do not, generally do not want to be disturbed. Happy Halloween everyone.
Goodnight all.