Today I woke to be told by my wife that my Daughter and her friend were already playing in the garden and had been since 08.00, so what? you may say, well my Daughter does not get up and out by 08.00. It is a real challenge to get her up on a school day let alone a holiday day. It is good that her friend comes over every once in a while to stay, but today after them being in the garden so early, I have actually contemplated adopting her friend, she is clearly a much better motivator than my wife or I.
Up, wash a bite to eat then load up in to the Chucklebus for a trip up to the town. The girls were going to look for a film to rent, my youngest would inevitably hire a Peppa Pig DVD and my son would look also but not until he had been for a haircut. Having his hair cut is not his favourite thing in the world so I wasn't anticipating it to go particularly smoothly however, it was completely the opposite. No flinching, no moaning and no trying to evade the clippers, I have to say I was very impressed with him and clearly the hairdresser played a big part in it so well done to him also. Once this task had been completed it was time for a little shopping and then back to the bungalow.
On the way back to the bungalow we decided to stop and get the Chucklebus washed by the hand car wash just down the road, they have a really good system going and I am usually very happy with how the vehicle looks afterwards but today I felt that they had rushed it and it was not as clean as I had hoped. It is obviously not until you get out of the vehicle you realise but hey, the first time it has not been spotless so I will wear it this time. While the guys were cutting about cleaning the bus I had a call from a friend who was also recently involved in a road accident, ironically on a motorbike, spookily where someone had pulled in to the path of his bike. It happened a short time ago and he is obviously still recovering but he has popped round to see me not so long ago. He asked about coming round for a cuppa and a catch up so I told him to come over.
He arrived and I made a couple of cups of tea and then we chatted about different stuff for a while as his child played with my kids, it was nice to hear them enjoying themselves, even if it was a little manic for a while! After a good chat and some laughs, his better half came to pick him up to give him a lift home. His leg is a bit knackered so a walk one way would probably be enough I think. So he left and I decided to do some more painting on the Liberator model. It really needed a second coat of green and grey so that is what it got today. Before I knew it, it was time to get out of my power chair and in to my manual chair. The time was approaching when a friend would arrive to have a quick coffee and then take me to the T.A Centre, new uniform issue tonight ready for possibly the most important parade of the year for any serving or ex serving military personnel, Remembrance Parade.
Last year I was in hospital but I made it to the parade not only in Taunton with my lot but also in Ilminster where I have represented my Battalion for around five years laying fresh flower wreaths which I have made by the local flower shop, to remember three of our Battalion lost in combat. Last year I genuinely thought it would be the last time I would wear the uniform at either parade. Not so though, I am still a serving member of 6th Battalion The Rifles, I am getting stronger and stronger and hope to be given a new role as soon as I am a little stronger. I need to be able to stay away from home again but at the moment it just is not possible. Today though, I showed myself and the lads who were trying desperately not to watch me wriggling around on a crash mat on the floor like a beached whale, that I can indeed get changed in to uniform. Whilst I had to be lifted on to the floor and then in to my chair, that was the only help I needed. Even four months ago I would not have been able to do this. So at least I will be parading, in uniform again this year at both Taunton and Ilminster. The down side is that I will not be able to march with my lads from the church, but I will be the tallest and proudest person at the park when I watch them march in.
So what did the new stuff look like then? Excuse me for not getting up and showing it all off.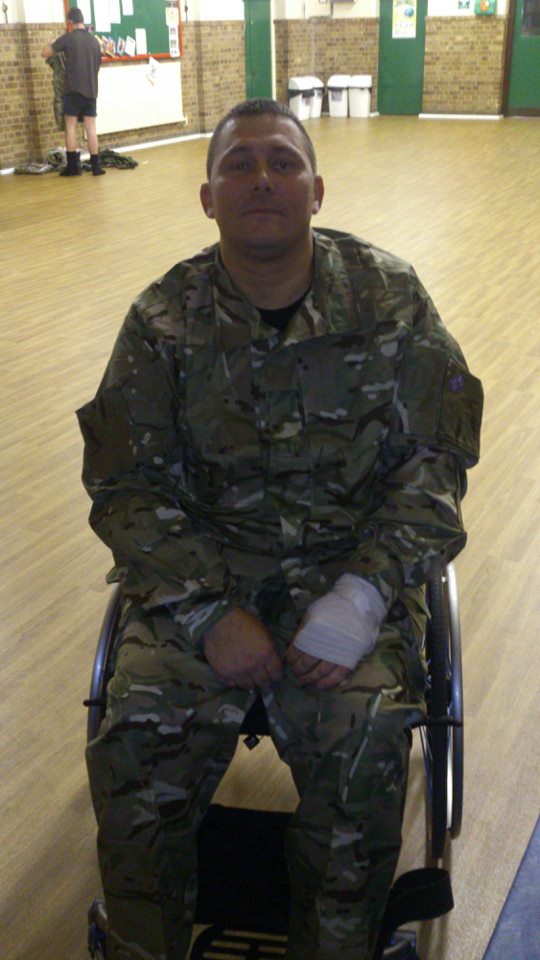 So, hopefully I will be able to serve for a little longer. It was good to catch up with all the lads, and it meant my driver for the evening could too as he used to be in with us. Shame he left really, I know he would have done very well. A quick Coke after last parade and then it was off…..to try to find a supermarket that had pumpkins left. We tried 3, all shut, really? So it looks like it will be a dive round the shops tomorrow to try to get one then, although I have a sneaky suspision that there will be no pumpkins being hollowed out in our place this year.
And so once we had returned to the bungalow, we had a coffee and a chat and then he went home, very grateful both to him and his wife for him driving me in. I took him away from time with his wife tonight, and for that I am gratefull. Untill tomorrow.
Goodnight all.