After my amazing day out at Thruxton on Thursday, it was somewhat of a dull day on Friday. I woke early, or rather was woken early by my loving Wife, as we had a builder coming to do some work on the bungalow and a gas inspection was also being carried out, so I needed to be up. My Wife has been really ill, there is almost nothing that will knock enough out of my Wife that she needs to stay in bed, this however was one of those things. I left her in bed resting, she had been ill for a few days and whilst I had been doing the best I could around the house, I had still needed some help to do things I simply could not do. Tumble drying I could not do as I can not get through the garage to do it and putting cups in the cupboard due to height issues. She did not complain about me going to Thruxton and so I left her in bed while I sorted out the bits and bobs to do with the inspection and do as much of the housework as I could.  She had an appointment with the Doctor as it had really knocked her for six, apparently there is a lot going round and she had been hit with a proper flu virus and to add to that she also had mild bronchitis. She came back from the Doctors and went back to bed, bless her, note to self; it is not the done thing when Wifey is ill to say "Wow babe, you look like shit", maybe "You are not looking particularly well babe, maybe you should take a lie down" would be the better option.
Darren helped out massively by driving the Chucklebus for me, I had to take my Daughter to the Hospital for an appointment. Unfortunately this meant that my Wife had to go out and collect `Pickle`. We were so held up at the Hospital, eventually getting in to see the Doctor an hour and thirty five minutes late. That said though, he was very interested, he gave a referral note and gave some exercises for her to do, she will need to go back in four months so we hope that things will be much better by then. The time it took for the appointment, added to the waiting time it was past lunch time by a long way and as we were all hungry we popped in for a Subway. Why is it that when you only have the 6 inch sandwich you wish you had bought the 12 but when you buy the 12 you wish you had only bought the 6? With the food well and truly finished we got back in to the Chucklebus and headed home. It worked out quite well for time as when we hit Ilminster it was only a quarter of an hour until end of school, we waited and picked my Son up and then headed back home. When we walked in, my Wife was on the sofa with `Pickle` playing on the floor, after a brief conversation my Wife went for a hot bath and then straight to bed. I still can not believe how hard the virus hit her, she had quaranteened herself by sleeping in a different room which was wise, if the virus had this effect on her, it would be devastating for me. Fortunately, so far, I have been lucky enough to miss it.
Saturday left me with nothing to write about. My Wife stayed in bed and I tidied, sorting through boxes that have been moved around the bungalow gathering extra bits and bobs and we sort through the rooms. It's a task that I have been putting off but it is now approaching the time of year that the car boot sales begin, to that end I have been sorting in to items to put on e bay, items for a car boot sale, items to take to the charity shops and items that I am just going to recycle/throw away. Even though I spent a large amount of time sorting through these boxes, there is still so much of them left to do, oh joy!
Sunday was Mothers day but as well as this, the day was special for another reason. It was three years ago that my Father in Law, Ron, passed away after a very long illness. It was decided that Tom, my Wife, the kids and I would all go out for the day with my Mother in Law. Lyme Regis was somewhere that we all used to go when Ron was alive and so this is where we headed off to. The weather was not kind, it was blowing a hooly and the temperature was very low but despite this we got out of our vehicles, donned our hats, scarves and coats(except Tom as the doughnut had not taken any!) and went for a walk along the sea front. It is almost tradition for us to visit the arcades while we are there, the kids are given a pound coin each for them to have a go on a game or a ride and then they are given a pot of two pence pieces to play the games where you have to try to knock the coins in to the win tray. This is played until no more coins are left. Whilst it can be viewed as a waste of money, it is less than a pound each and they sometimes end up staying and playing for what seems to be an eternity. `Pickle` is especially good at it so it would seem and really gets excited and quite loud when she makes the coins fall in to the tray. Once the coins had run out we walked back along the sea front and popped in to a couple of shops, there is one shop in particular that my Wife likes. It is not a tourist shop or anywhere that you would try to look for a souvenir but instead is more like a hardware store with toys and fabrics, while it is a bit of a strange mixture it had the few things that we had been looking for, so it turned in to a bit of a shopping trip. The trip was finished off with the other tradition we have, fish and chips but it was far too cold to sit on the sea front, instead we sat in a bus shelter! Tradition had been upheld despite the temperature, wind and falling SNOW. It would not have been right on the anniversary of Ron's death to have visited Lyme Regis and not had the fish and chips. As Mothers day's go it was a far cry from what we would normally have done but remembering Ron, a Husband, a Father, a Father in Law and Grandfather was the most important thing on the day.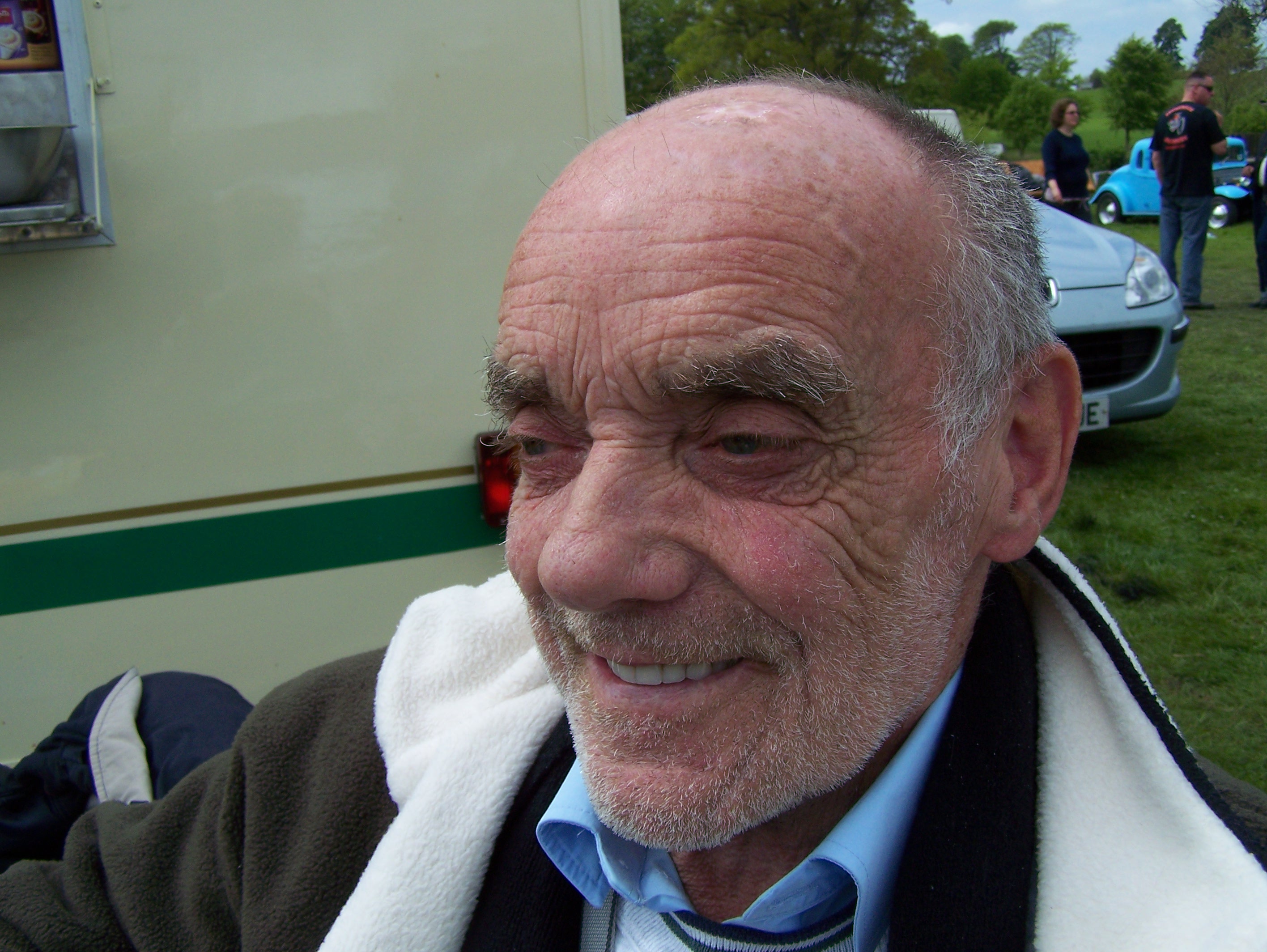 Dedicated to my Father in Law, Ron Barnes.
Goodnight all.