On Monday I met my new Physiotherapist at the Gym in Chard. I was going there to see the gym and if it turned out to be suitable I would have an induction assessment. As it was, we did not stay for very long. The gym had some good equipment but unfortunately there was only one piece I could use and for the amount it was going to cost me it just was not worth it. We thanked the lady at the gym and went out to the car park where my Physio spoke to me to book an appointment for me at my home. We also discussed another gym in Ilminster for me to visit to see if it would be any more suitable. So that would be my next task, to visit the gym in Ilminster and talk to them, so my Wife and I headed straight over there to check it out. Conveniently it is next to the nursery which `Pickle` attends and so if it was a more suitable gym, I would be able to be collected by my Wife when she comes over to get `Pickle`. We went in to look and it was much better. There are more pieces of equipment as well as free weights that I could use and they will even devise a programme for me all for around the same price. I have been given a week to see exactly how I get on as I will need to transfer on to some of the equipment. If it is a successful trial then i will be joining and then I hope they can devise a programme to not only work the muscle groups I need to use now and maybe, just maybe, some exercises to get rid of the circumference I now have.
Alison was not working on Tuesday as she normally would be, due to her being required to work on Wednesday which is our day for a `st-roll` and a bite to eat, because we would not be able to do this we went for a `st-roll` on Tuesday instead. We were unsure of how far we would get, it would depend wholly on weather the debris had been cleared from the road or not and this we would not know until we got there. And so we set off with Jack happily running on in front, to see if we would be able to get to the Stonemasons in Ilminster five miles away. It was pretty warm on Tuesday, the sun was out and the sky was clear which made a really nice change. We got about half way in a really quick time but then we came to a sudden stop. The debris which had caused me to suffer two flat tyres on my wheelchair was not only still there, but had been added to by way of cutting the hedge on the opposite side of the road. I had still not received my return phone call from the County Hall which I had spoken to on the previous Thursday, guess they must be too busy to return a call to someone who had called to report a problem, but just tell me that you have more chance of having a beef lasagne from a supermarket than a return call and I would not be so disappointed, don't tell me that I will receive a call and then not bother as it will just give me cause to write about the massive failure of our County Hall staff on my Blog for people to read! Anyway, moving on, there was no way that i was going to risk the same happening and so we decided to turn back and return to the bungalow. We would still cover five miles or possibly a little more, but there were some difficult slopes on the return journey. I quickly realised that I did not need my hat or base layer of clothing on the return trip, and this was evident and noticeable to Alison by the sweat running down my face. I pressed on as it was going to be excellent exercise on the way back as I would be working really hard to get up the slopes, my hope was to not need to ask Alison for any help. I did manage all of the slopes on the return which was a real test, extremely hard work and more than a little frustrating. To walk up these slopes would be a doddle, easy but in the chair it was seriously hard work. I made it back to the bungalow for a cup of coffee with Alison with a real sense of self achievement, I had not needed to ask for help to get up the slopes even though I knew full well that Alison would help if I asked her, without hesitation but that would be admitting defeat, something which i was not prepared to do. And so, I did it.  Darren drove me in to TA where I spent the evening making sure that the four recruits we have going off to do their combat infantryman's course which if they pass will mean they are no longer soldiers under training, or recruits as I refer to them, but riflemen who will be eligible for call up and to participate on operations. They are more than capable of passing their weapons handling tests, I have told them that it is more about confidence than speed at this point and if they remember that then they should be fine. Good luck guys, and enjoy it. When I eventually got home, after the exercise I had done during the day, I slept really quite well!
My Physio came over on Wednesday for the appointment we had made. I was anxious to show how I could now get from the floor to the step up platform in one go as I had previously done and then I hoped to get on to the wheelchair in one go as well. I set myself up in position next to my platform and then I lifted. I was about to show my Physio and the Physio she had brought to assist how hard I had been working, the trips to Ilminster once, twice and even three times a week at times had made me stronger and as a result I was able to get up on to the platform in one go, I lifted confident that this would be it, but no. I fought with the spasms some of which forced me to lay flat on the floor with no hope of moving until they had passed, I tried again and again and again with the same outcome. Now I was getting angry, I looked a fool, I knew I could do it as I had done it when practicing before, one more try, this time, hands down, fists clenched, in my head I count one…two…three… I lift….. and then another spasm. Eventually I made it on to the platform but only because we reduced the height. I did not try to get on to the wheelchair but instead went straight to the sofa and then to the chair from there. Whilst I was seriously angry and upset that I had needed to reduce the height of the step, I did get on to the wheelchair, so it was not a fail, it was a positive in so far that I did achieve the aim. Always end on a positive or you have achieved nothing.
Today, (Thursday), was the first Birthday of a special charity that has been set up to help injured personnel recover and retrain, a charity who I have written about before and who I have a link to for their website on my links page….MISSION MOTORSPORT.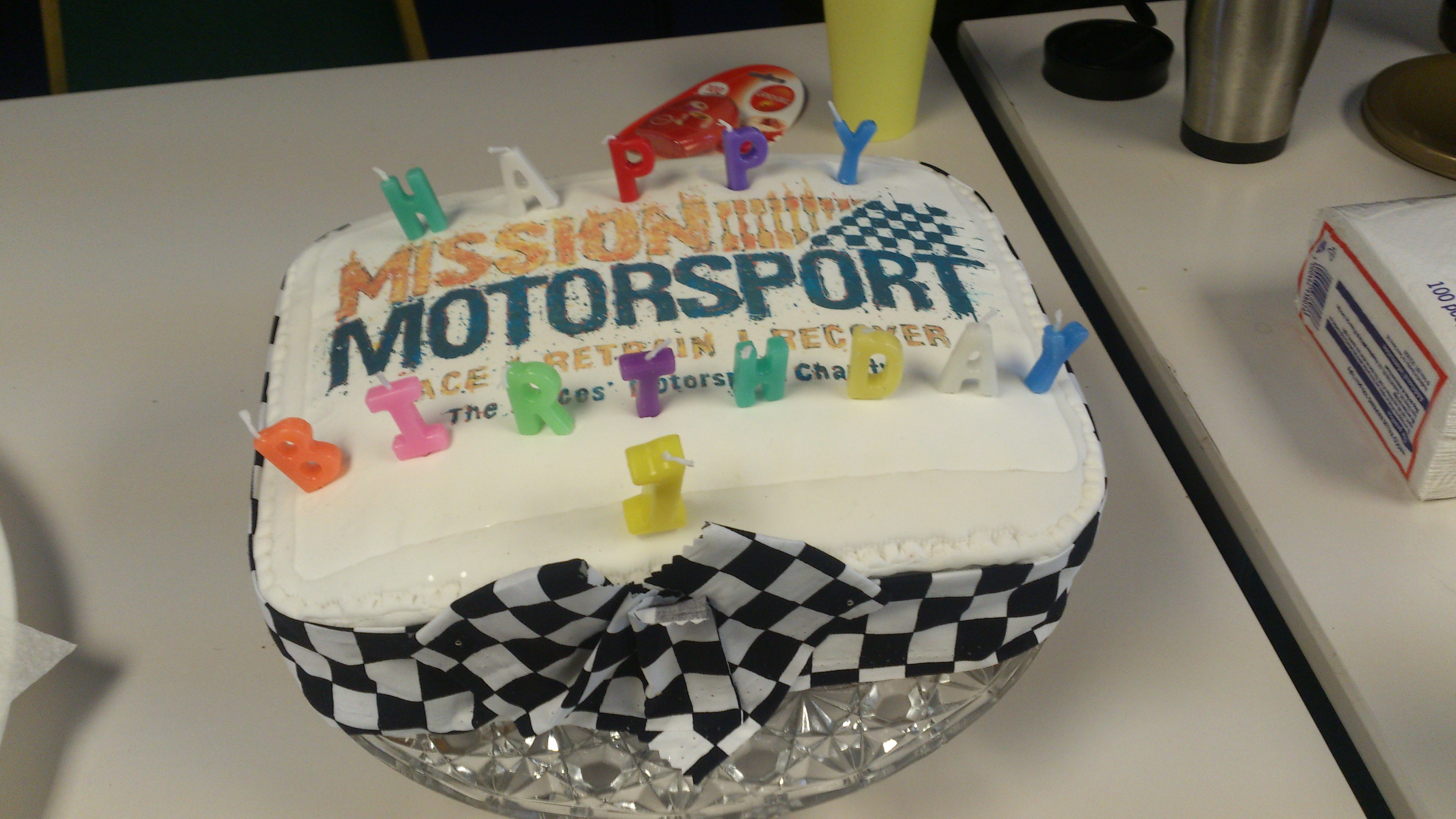 They were holding their Birthday celebration at one of the fastest race circuits in the UK.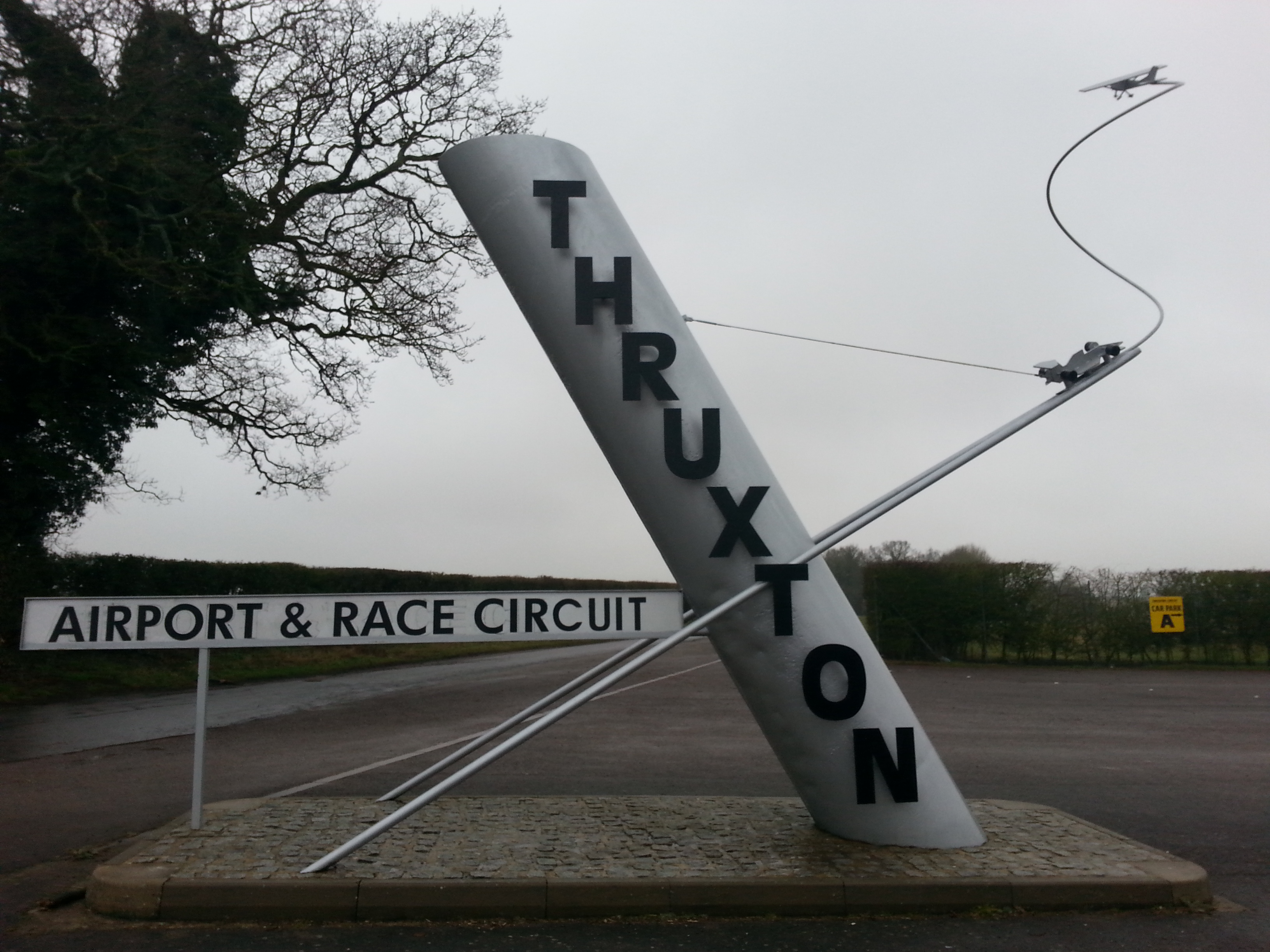 Darren and I left my bungalow at around quarter to seven in the morning after a coffee and me having some breakfast. My Wife had checked that I had everything I would or may need during the day and when we were certain we were set for the day, we loaded me in to the Chucklebus and strapped me in, then finally we were on our way. The weather had taken a turn from cold to wet and whilst part of me was hoping that it would clear, the other part was kind of excited at the prospect of being driven round the track in the wet. When we arrived we had to sign in, this would allow us to be taken around the track in the cars. There was also a form which you could put your name on for a chat with one of the team, Adam, who endeavours to retrain and find employment for injured personnel, I wanted to take full advantage of this offer to talk to someone who knew which directions I could look at for getting back in to employment and so I made sure I signed the sheet.
Major James Cameron addressed those of us who had been fortunate enough to have applied in time for the Birthday party where he welcomed us and gave us some history of the circuit. He let us know how the day would run and introduced some of the team who would be driving, he told us a little about the personalities and which vehicles they would be in. They had a selection of cars which would be driving round the track for us to experience, by using different cars they could demonstrate to us how different they were.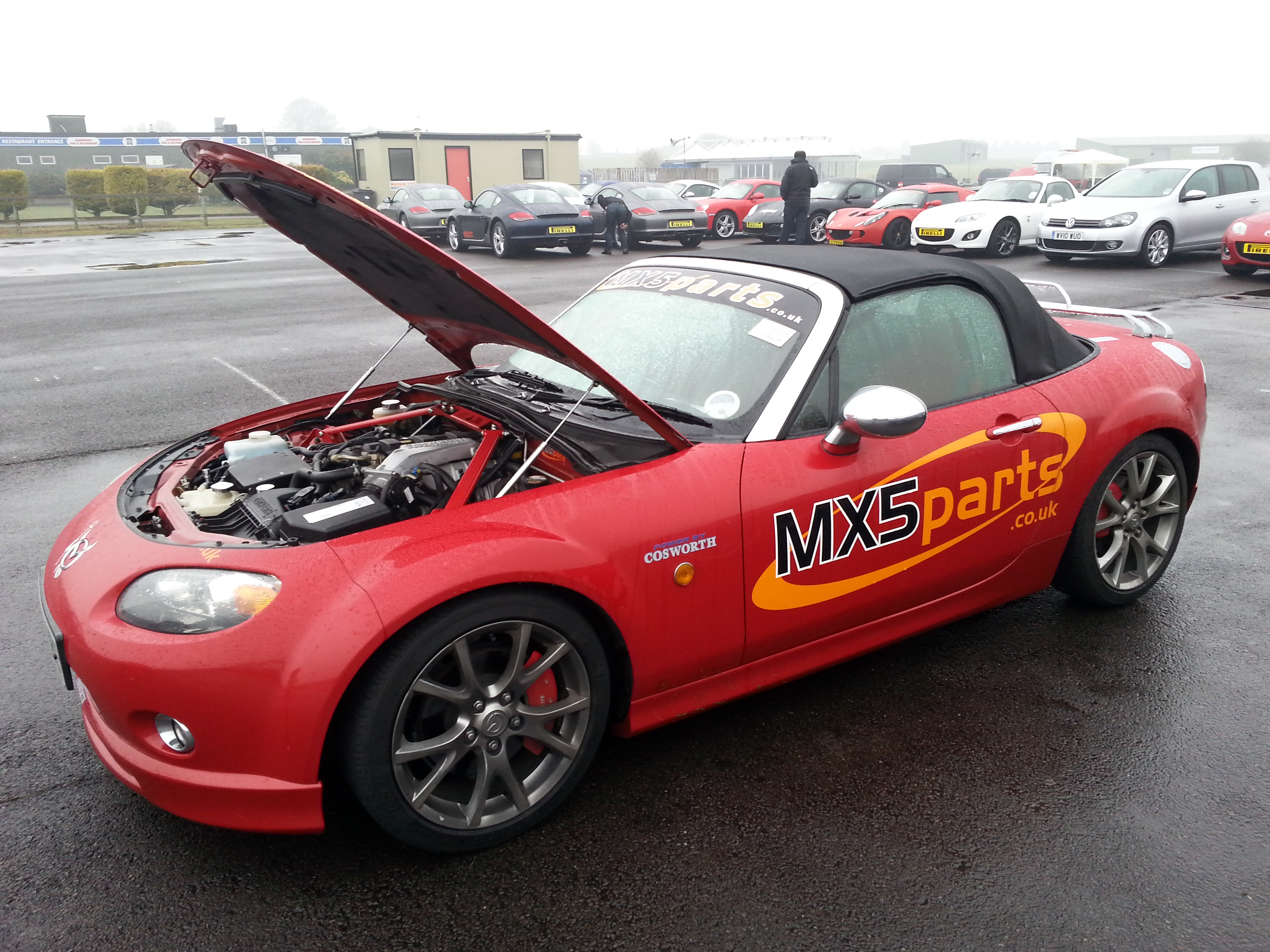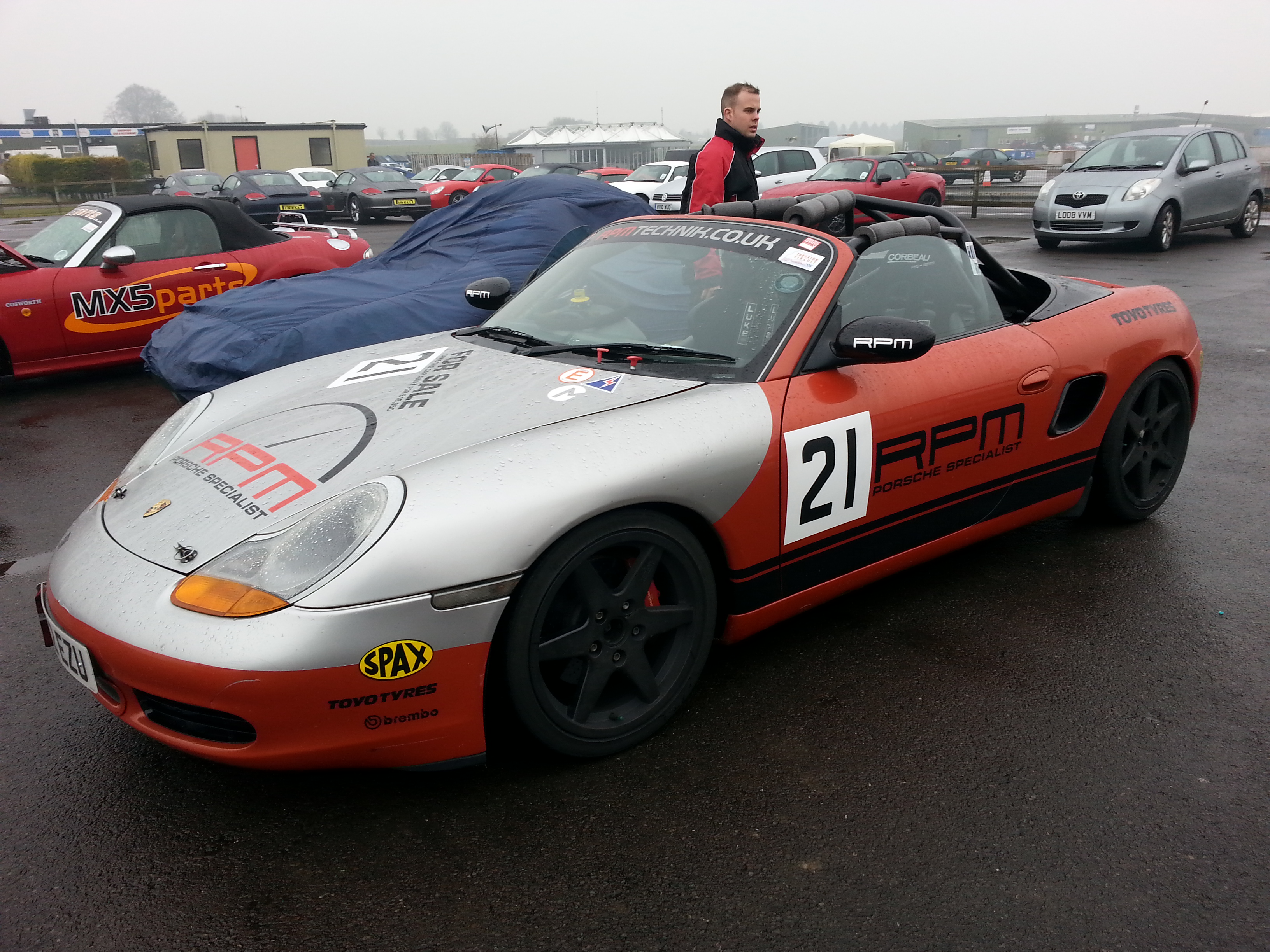 He introduced the lovely lady who would help us with tea and coffee and who had a rather large selection of cakes.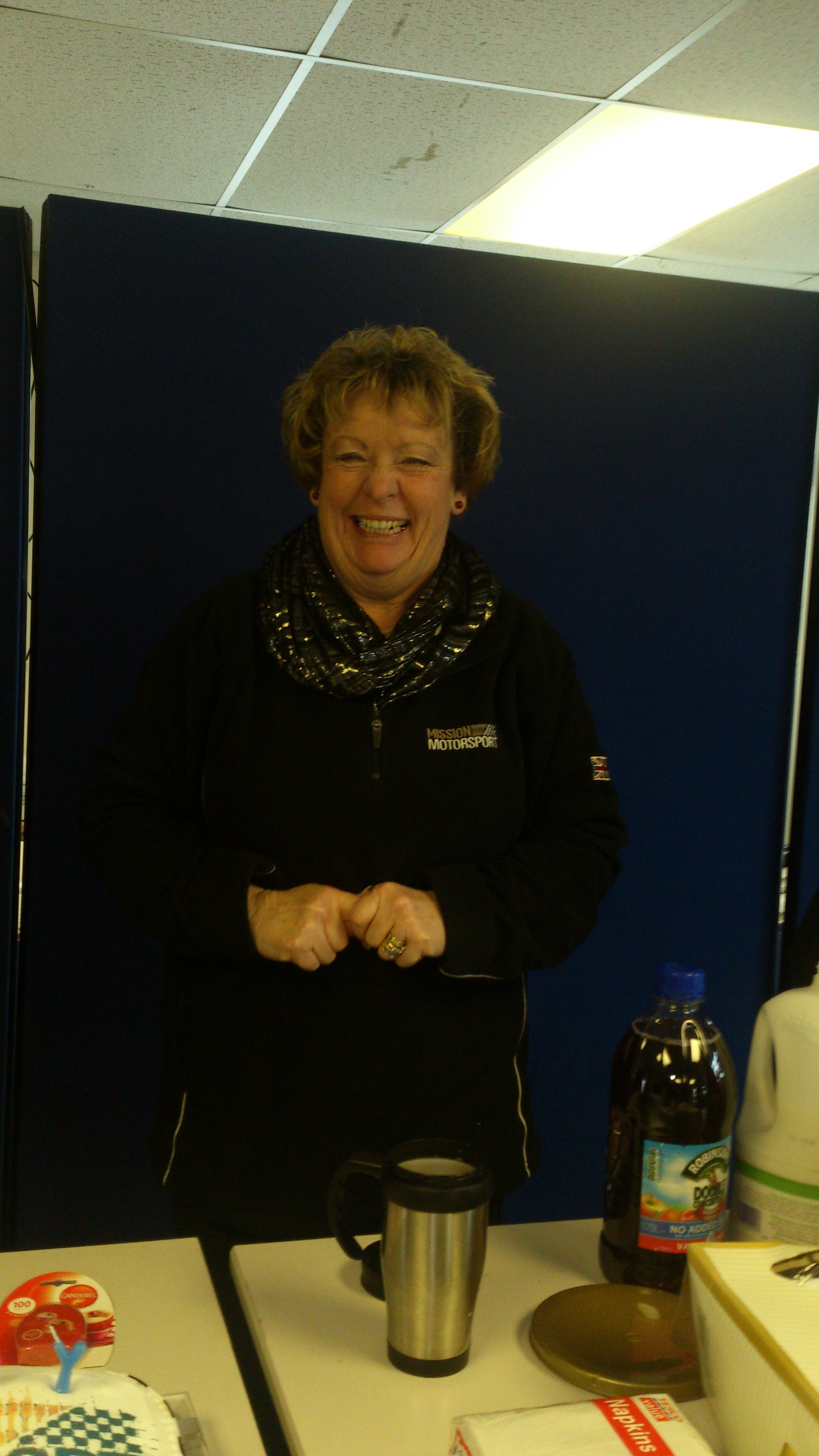 It was a good opportunity to talk to other members of the Band of Brothers, I spoke to a few from Tedworth House and then spent some time in the afternoon talking with two members of the Royal Navy, Emma and Andy. A real pleasure to meet them both and spend time chatting.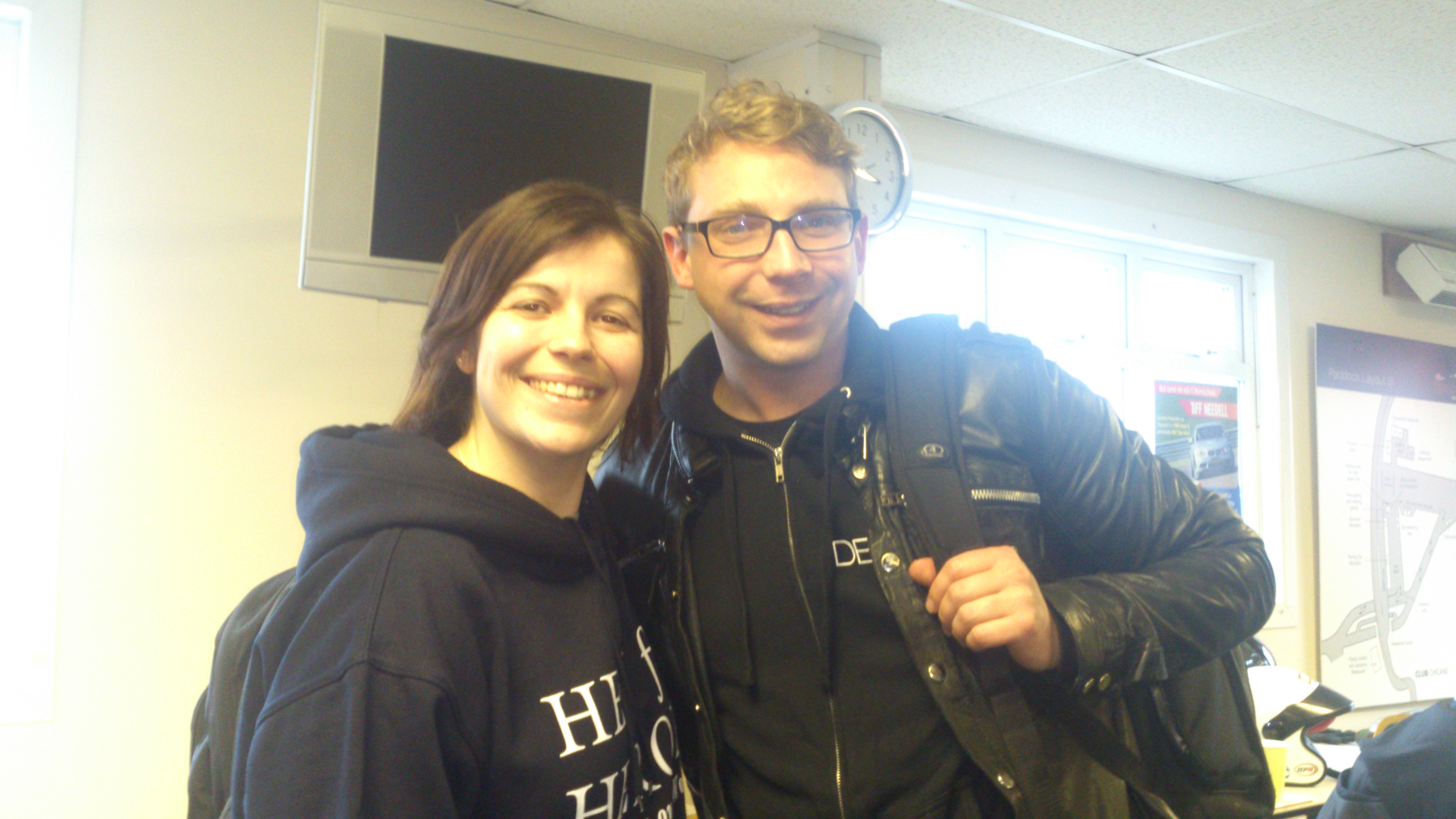 I also finally met Ollie and Stacey from Help for Heroes. They e mail any offers that come along and are responsible for putting names in the hat and drawing them if there are too many applicants. They are lovely, really chatty and really interested when you are talking with them. It was nice to be able to put faces to the names and the voices. I have e mailed and spoken to them on the phone but this was the first time we had met.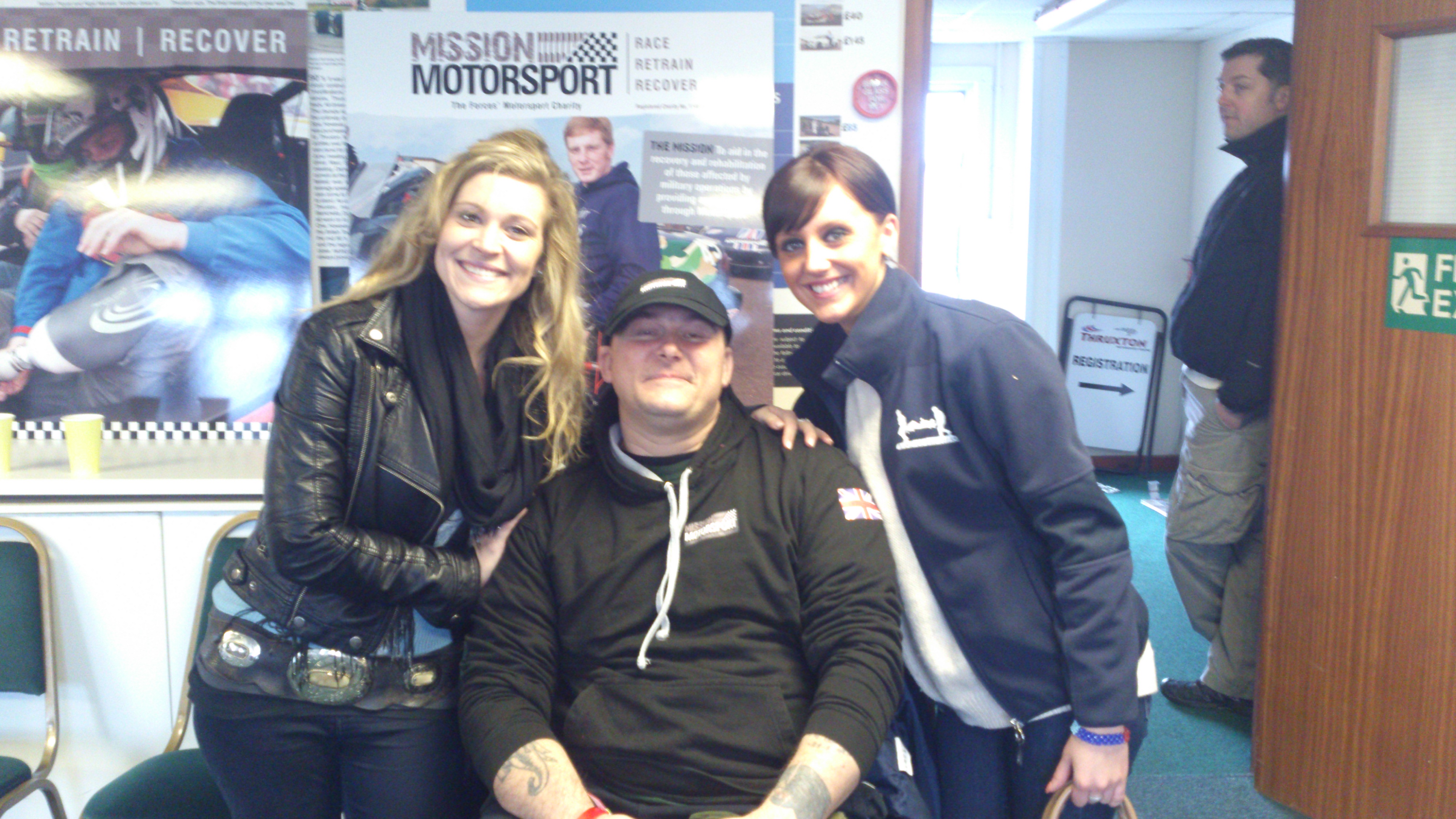 The racing started and much as I wanted to get out on the track, I had to take the opportunity that had been given to speak about directions for future employment. The talk I had was brilliant, really informative and I left the room feeling confident that if an opportunity was to present itself to Mission Motorsport to help me, then I would also have their support. Thank You for the talk, it was really encouraging.
And so with my talk finished I spoke to James and he took me out for my first ever experience in a race car on a real racing circuit.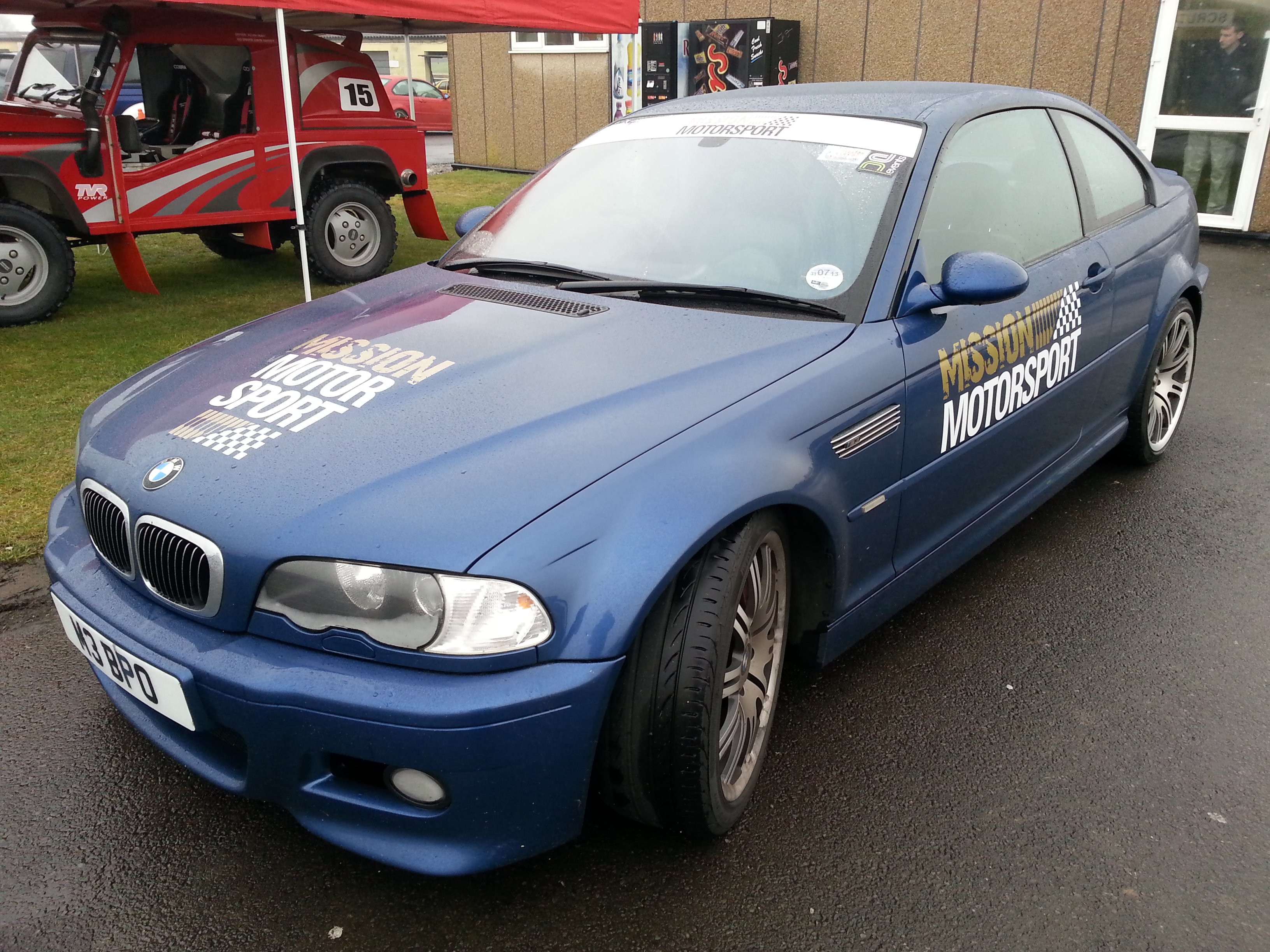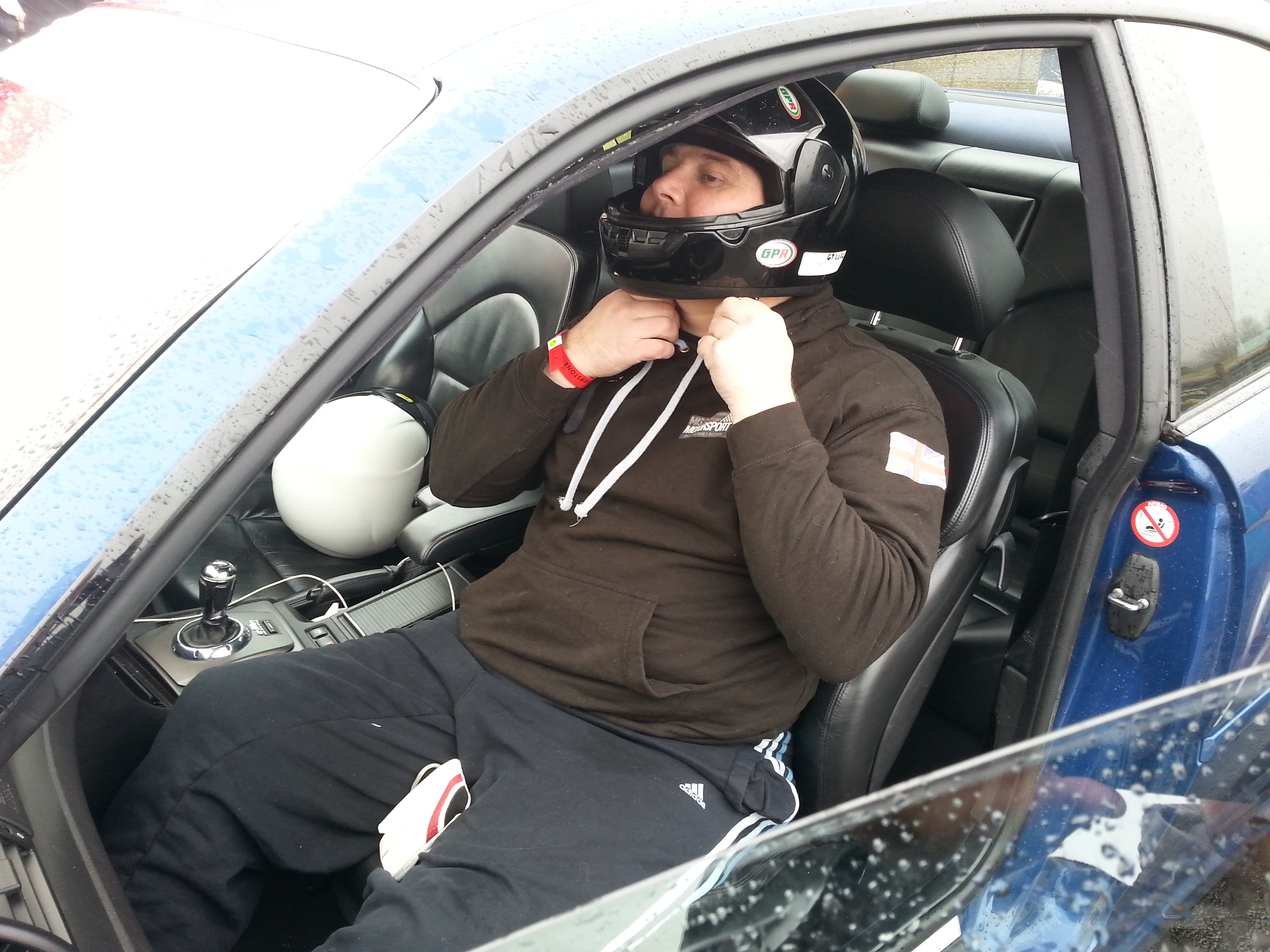 What an incredible experience, James talked me through every bend and straight, every line he was taking, when he was accelerating and braking. I could imagine myself carrying out the actions he was describing, and as he continued round the track I was picking which line I would take to see how similar it was. It took a while for me to get back out of the M3 in to my wheelchair as I haven't got the technique cracked yet but with help from Darren I did it, then it was time for a cup of tea. Through the day there were more opportunities to go it other cars, as well as a hand control car. This especially interested me as I am hoping to receive a favourable reply for the mobility allowance extension which will mean I can get a car which will have hand controls, what better place to try out how I would cope with this method of driving than in an open area marked out by cones.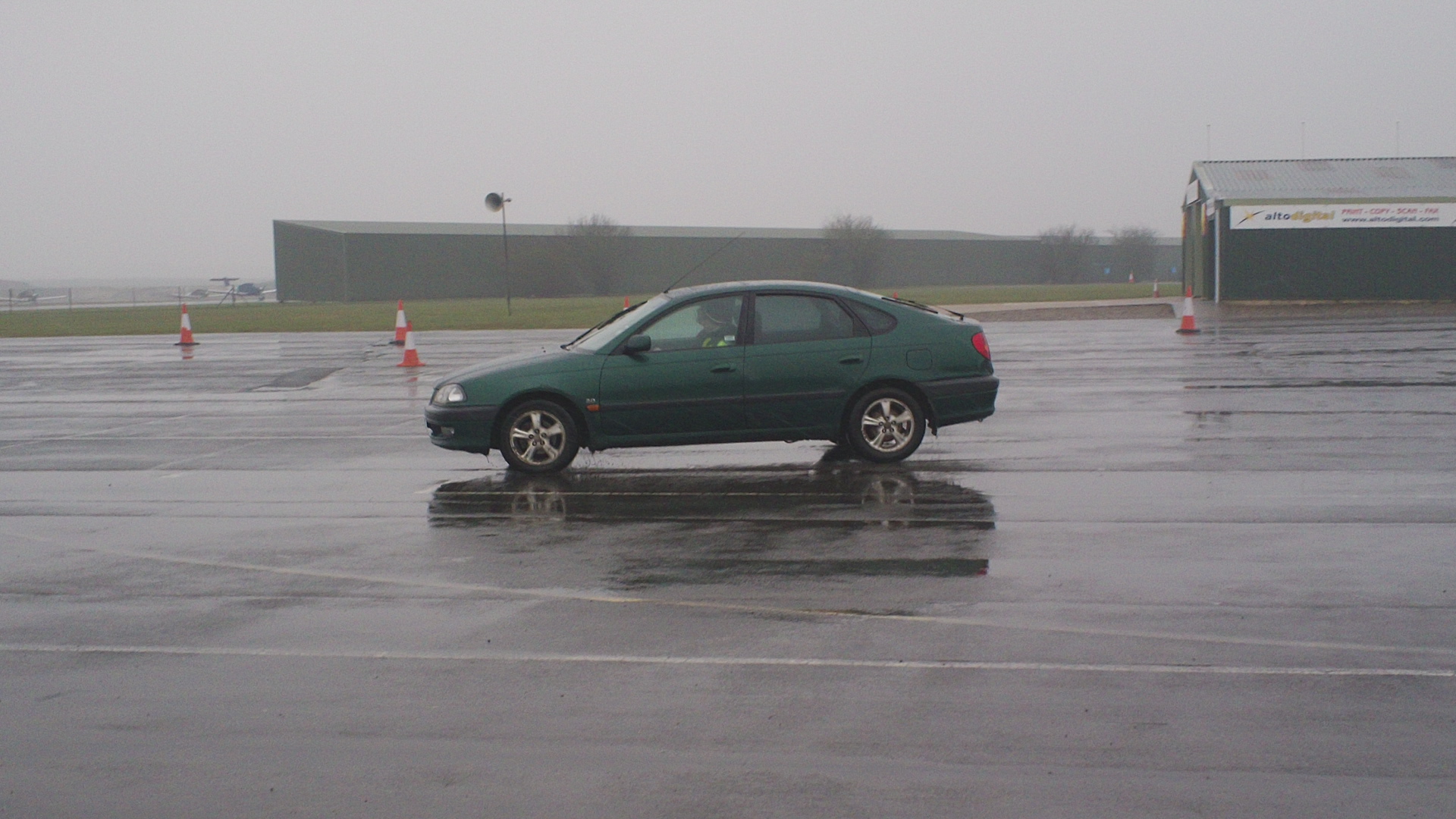 It was surprisingly easy to operate and gave reasonable feedback, I took a couple of goes round the cones to get used to it but it wasn't long before I was driving harder.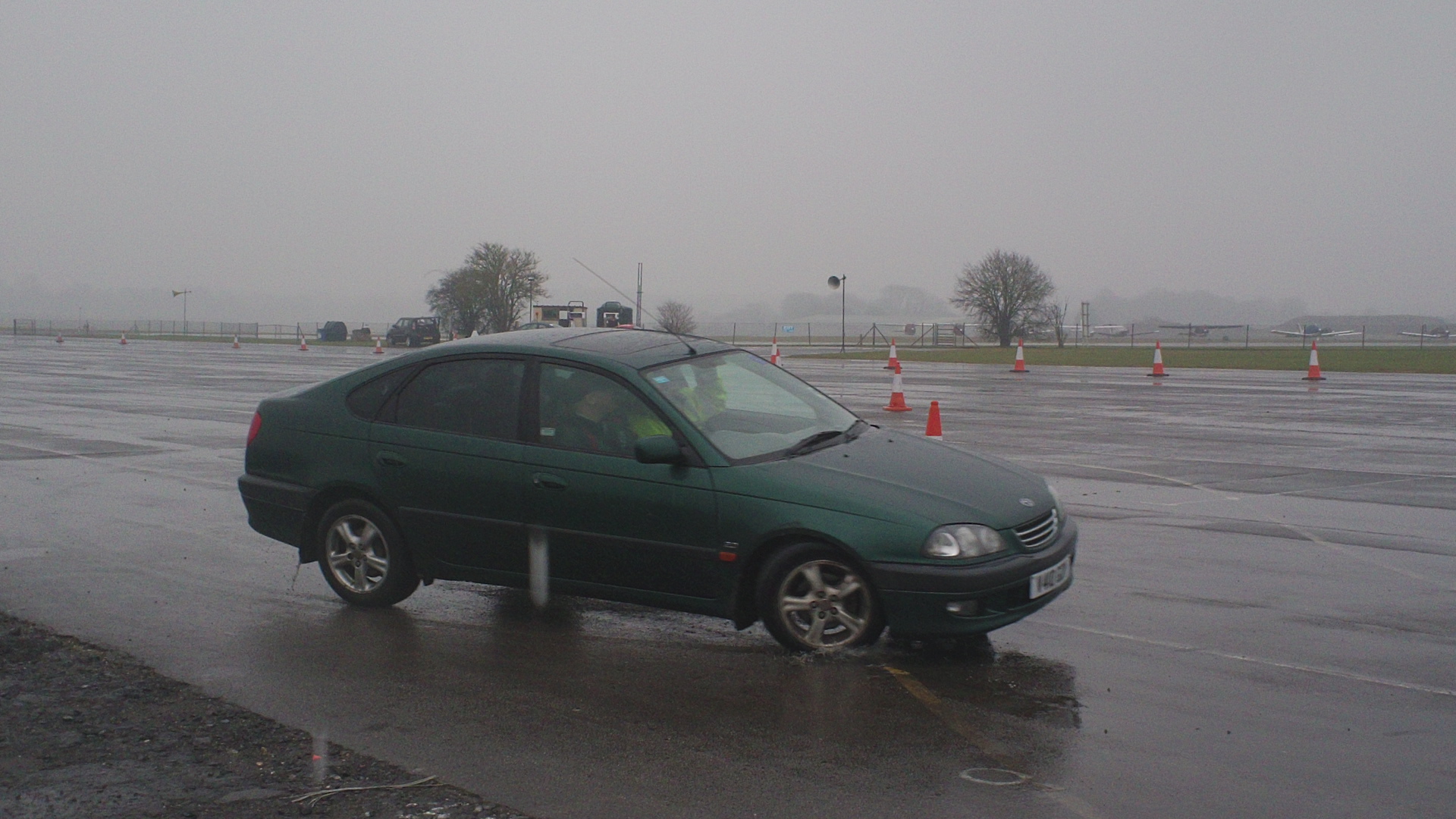 We had a Birthday photo on the grid with some of the vehicles Mission Motorsport use, I don't have the picture of all of us by the vehicles but I will post those at a later date if I get them.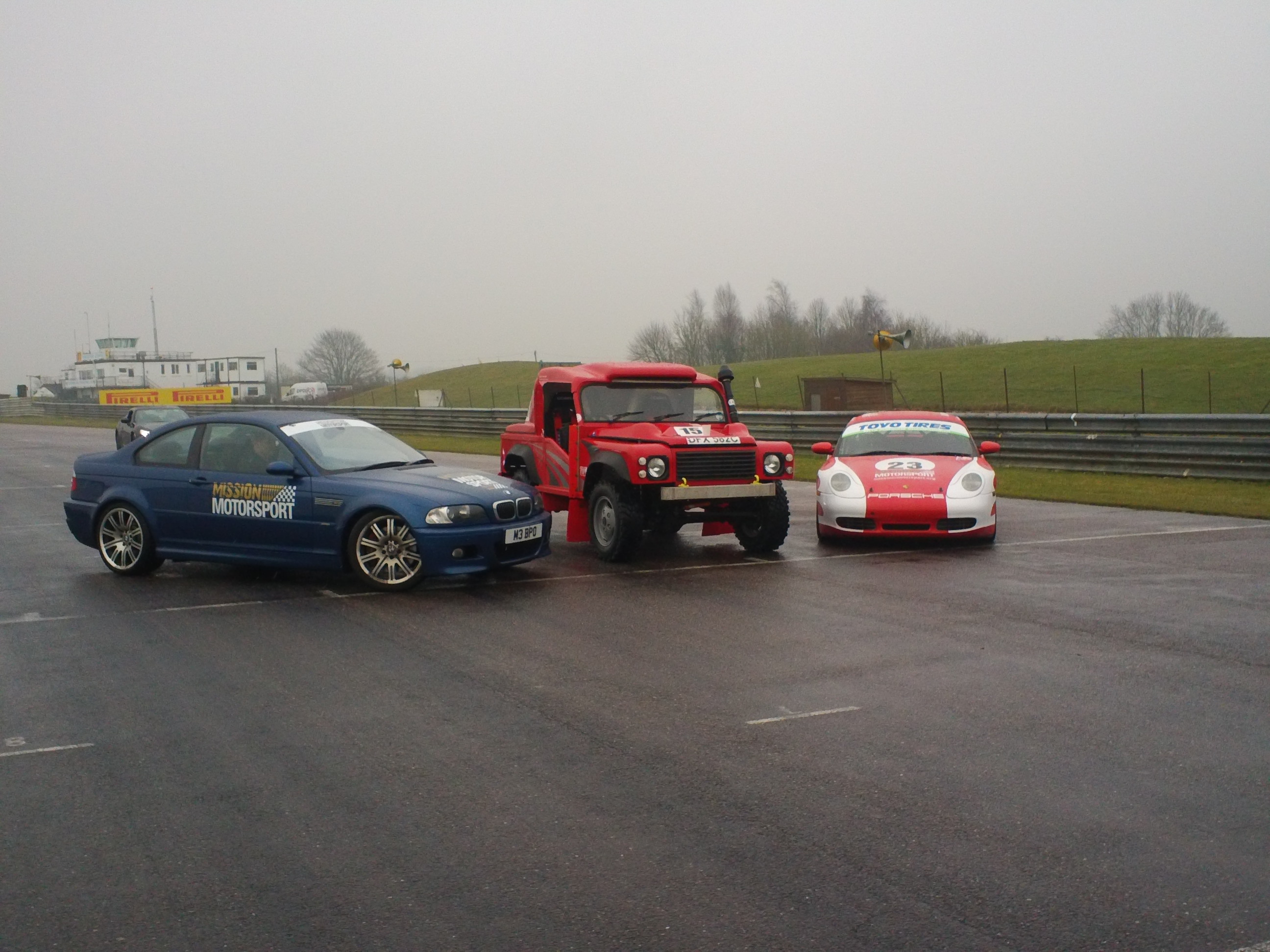 I went out in a works car as well, this took a long time for me to get back out of as it was very very low, but again with Darren's help and the offer of help from members of Mission Motorsport which we actually did not need, I managed to get back in to my wheelchair. It was a truly exhilarating experience with the car being pushed hard by the driver who was an injured serviceman that had been trained by Mission Motorsport to race and then was further helped by the charity as they found him a work placement, he now works for the company who had given the car for the day that he had just driven me in. It was a very surreal moment when, as I was struggling to exit the car, the driver said that his leg had fallen off as must have pressed the release button. I can honestly say that it is the first time I've heard that one!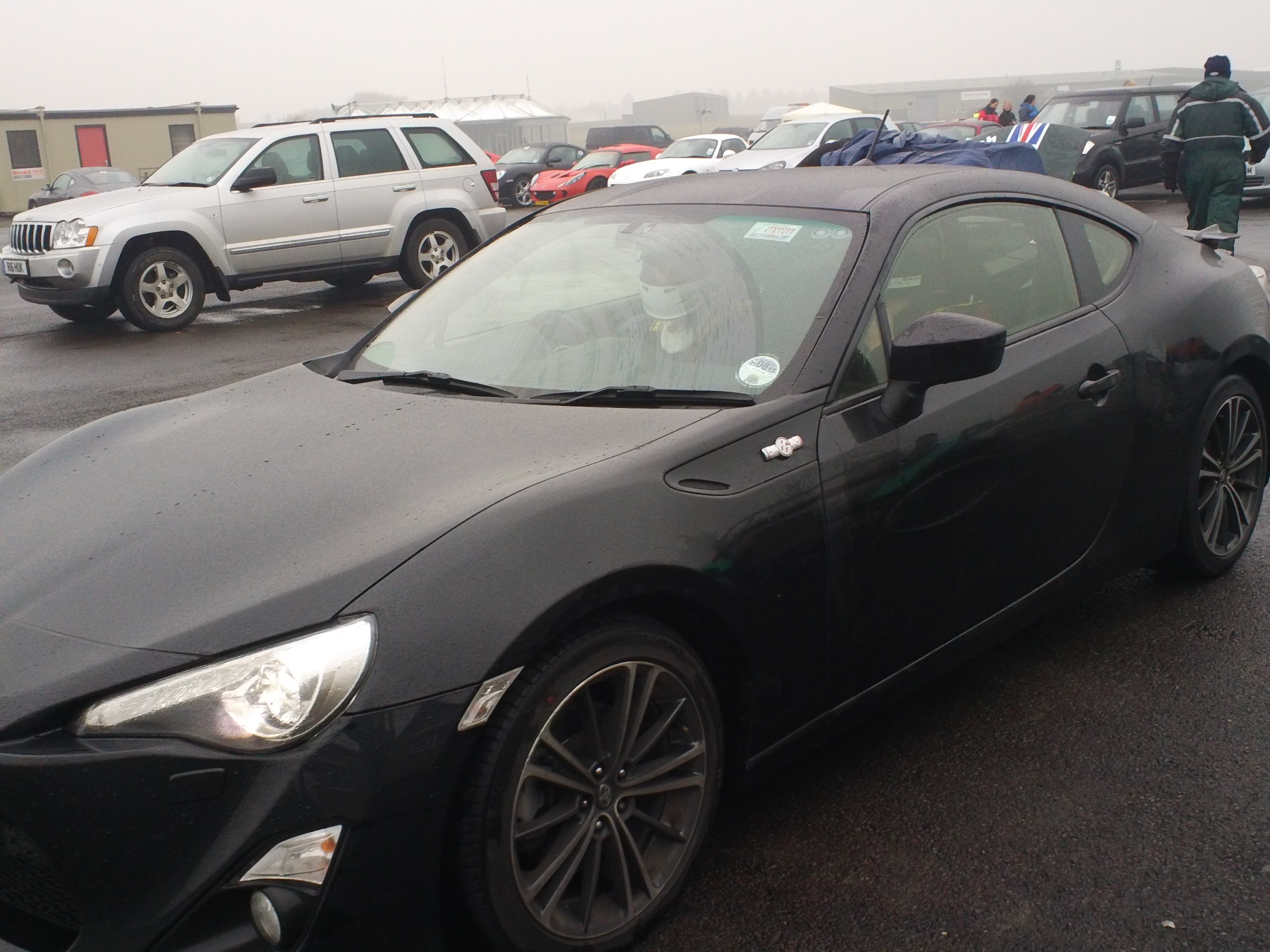 There was also a rear wheel drive car that was being used to let people drive round a cone, sounds mundane but as an unfortunate side effect to this, the back end of the car would come out and as people were trying to control the car while continuing to go round the cone, it resulted in a kind of a drifting motion. It was in the auto test area to avoid any confusion that may suggest that any drifting was taking place!
Darren was fortunate enough to be invited to try a few vehicles which was nice. I have to rely on people driving me around at the moment and so it was great that he was able to experience the day in full. It would have been a shame for him to have been there all day watching, although he had already said that he was just happy to be there. All the same, he went out in some cars and really soaked up the whole racing experience.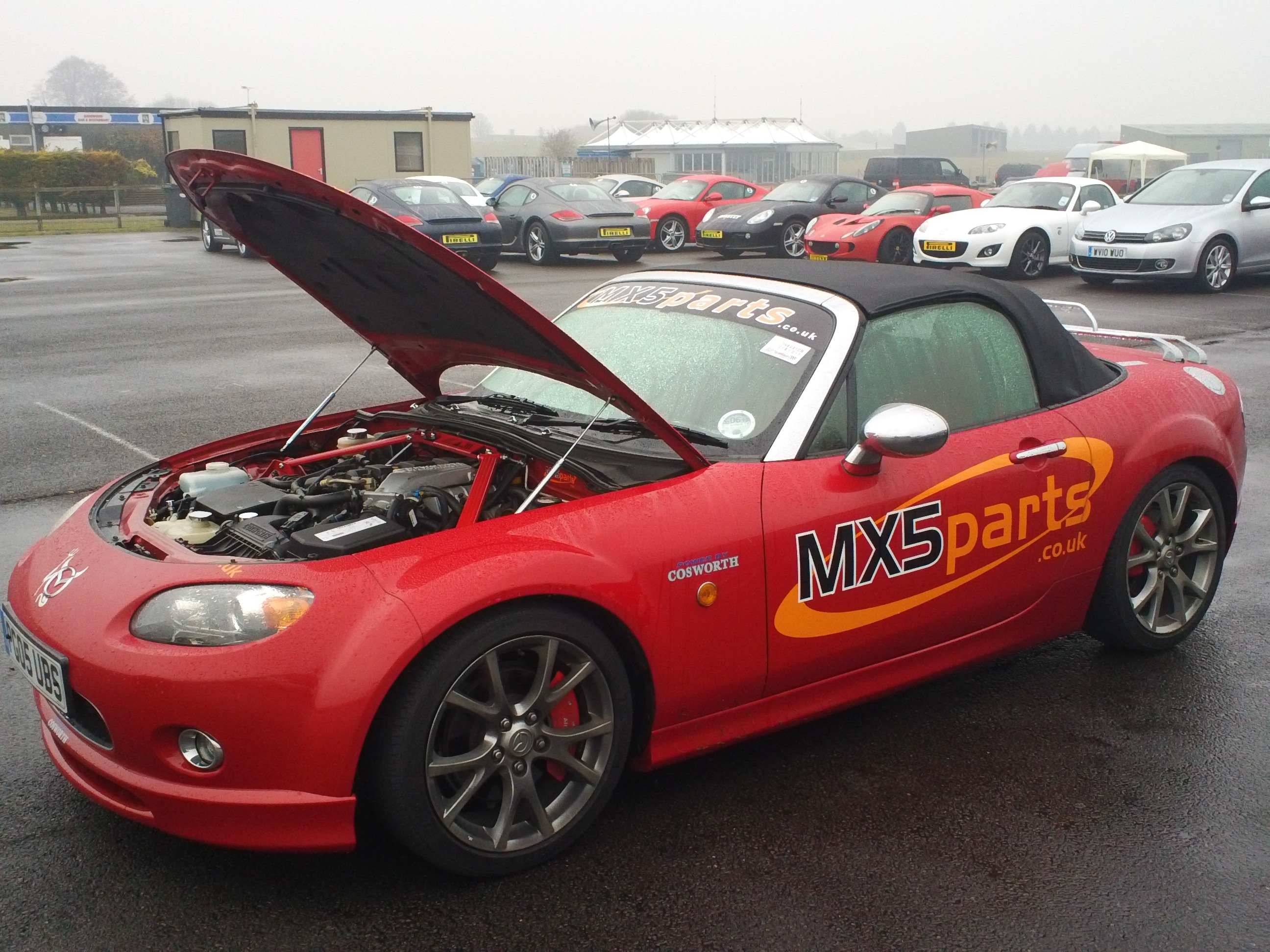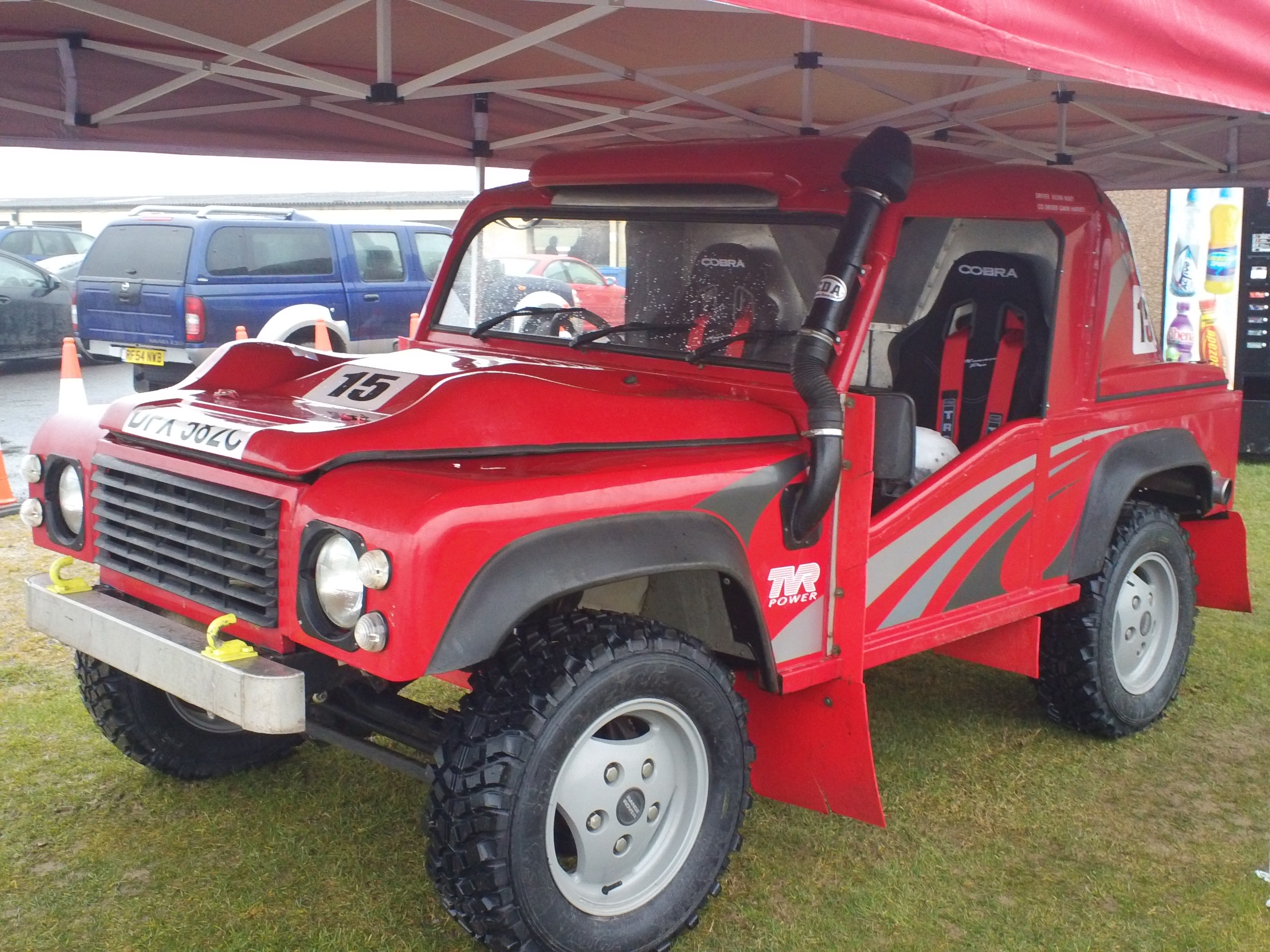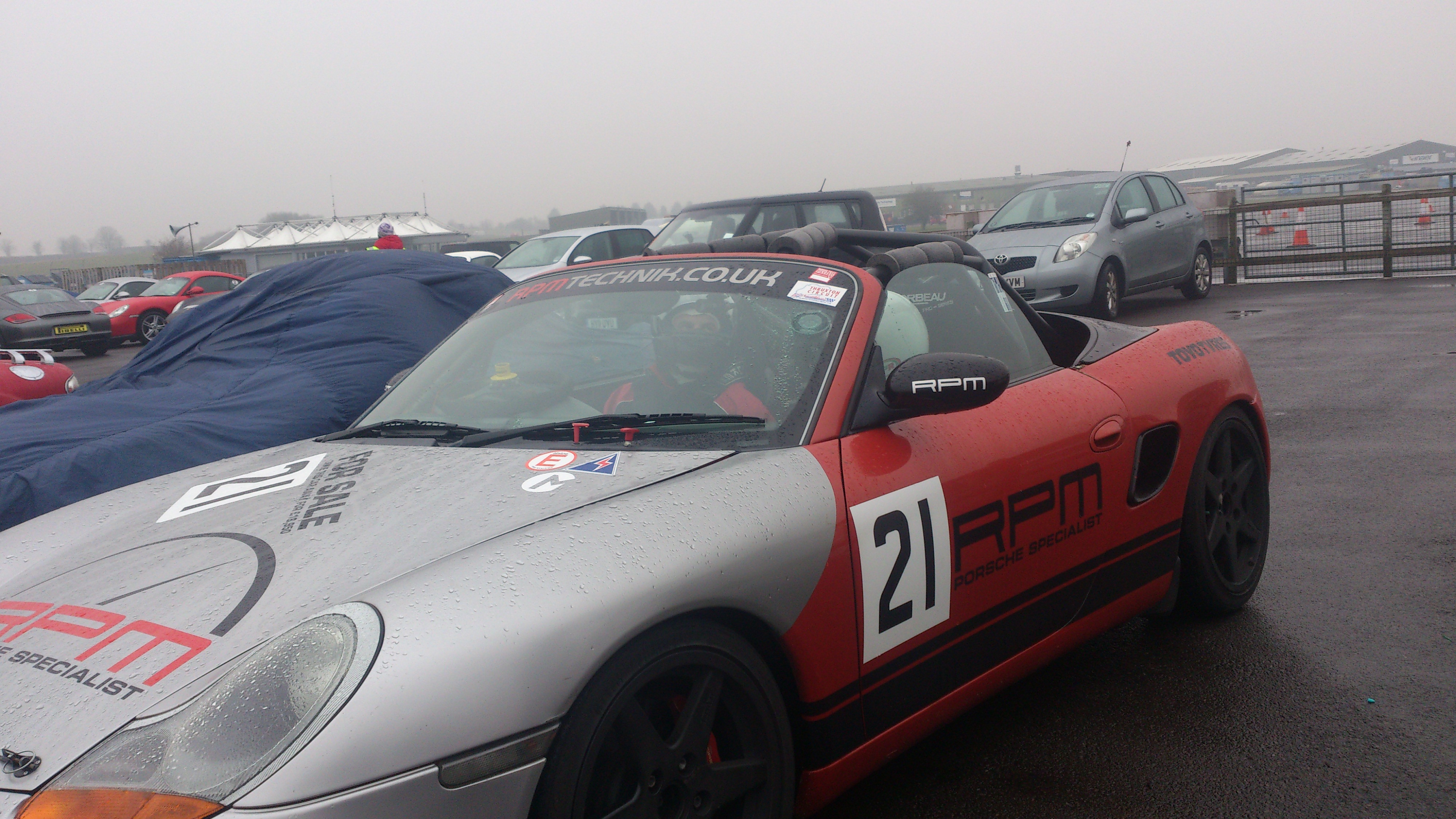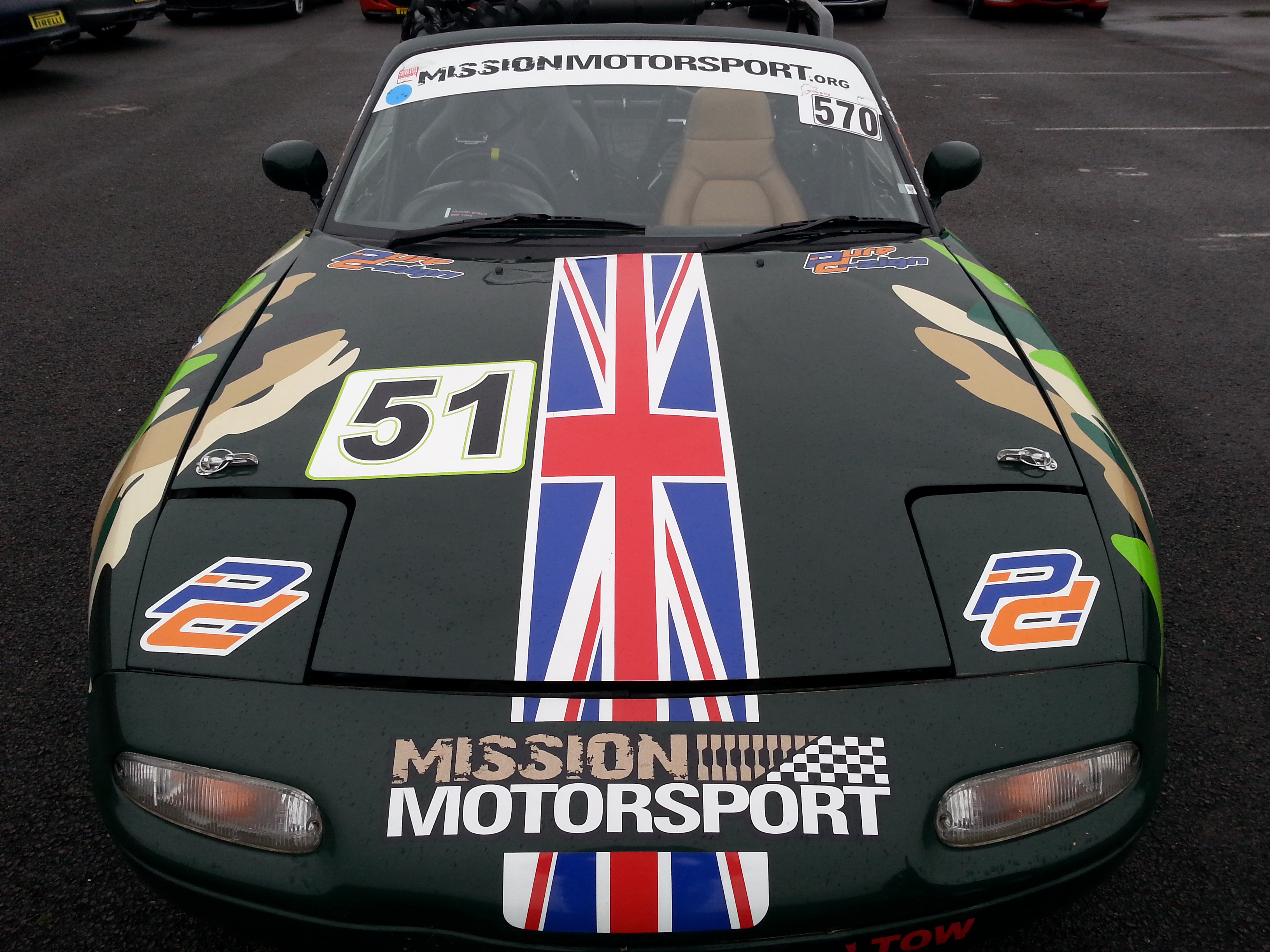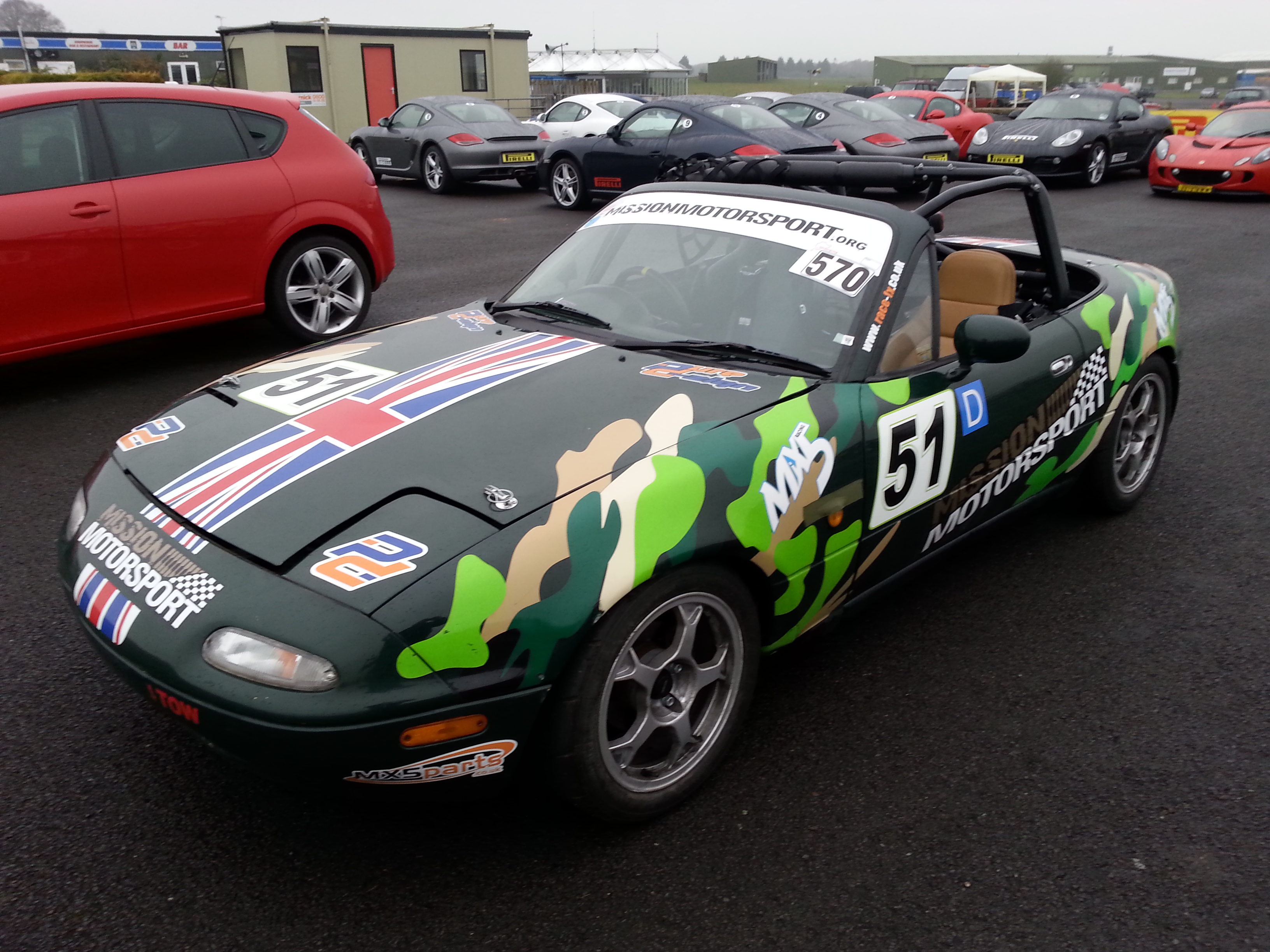 We had an amazing day with Mission Motorsport who I first met at the Brit 24 at Silverstone. It was a real privilege to have spent their first Birthday with them doing what they do. I met some great people and had an absolute blast. Thanks to Sue for the good news that she gave me when she told me that I had been successful in my application to be a part of their special day, a really nice lady who again was a real pleasure to talk to. We left Thruxton at around quarter to five having had a full day of fun. Mission Motorsport is an extremely worthwhile charity, it is not just about racing cars around a track, it is about giving new skills keeping the team spirit and getting injured personnel retrained and hopefully resettled in to jobs within the motor or motorsport industry. Please check out their website, read about what James Cameron has created and the work that they do at Mission Motorsport. Their web address is on my links page, but just so you don't have to look;
www.missionmotorsport.org
Thanks again to the Mission Motorsport team for an amazing day, I hope to see you again soon.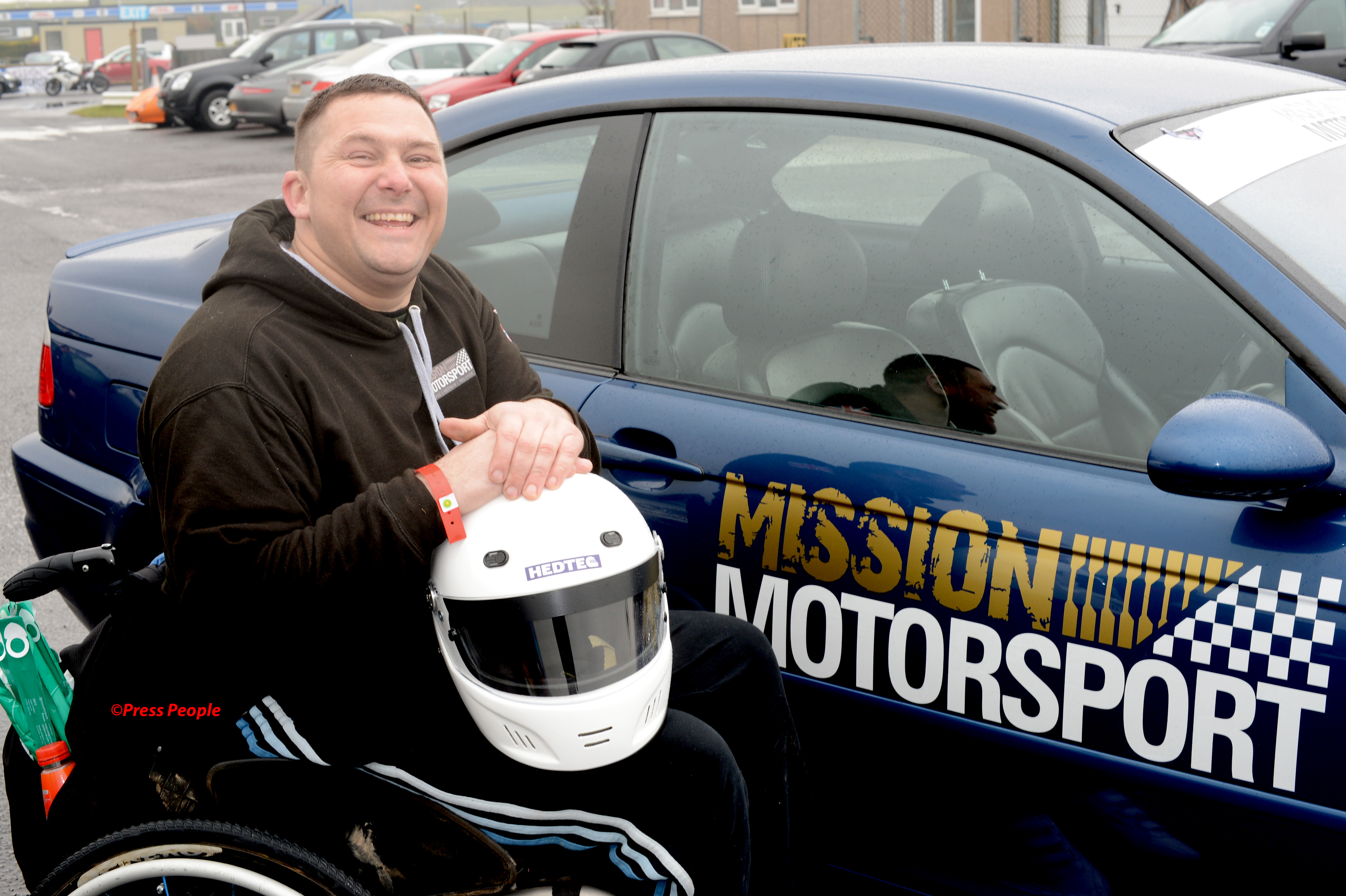 Goodnight all.