So Saturday had seen new worktops and sink fitted in to the kitchen.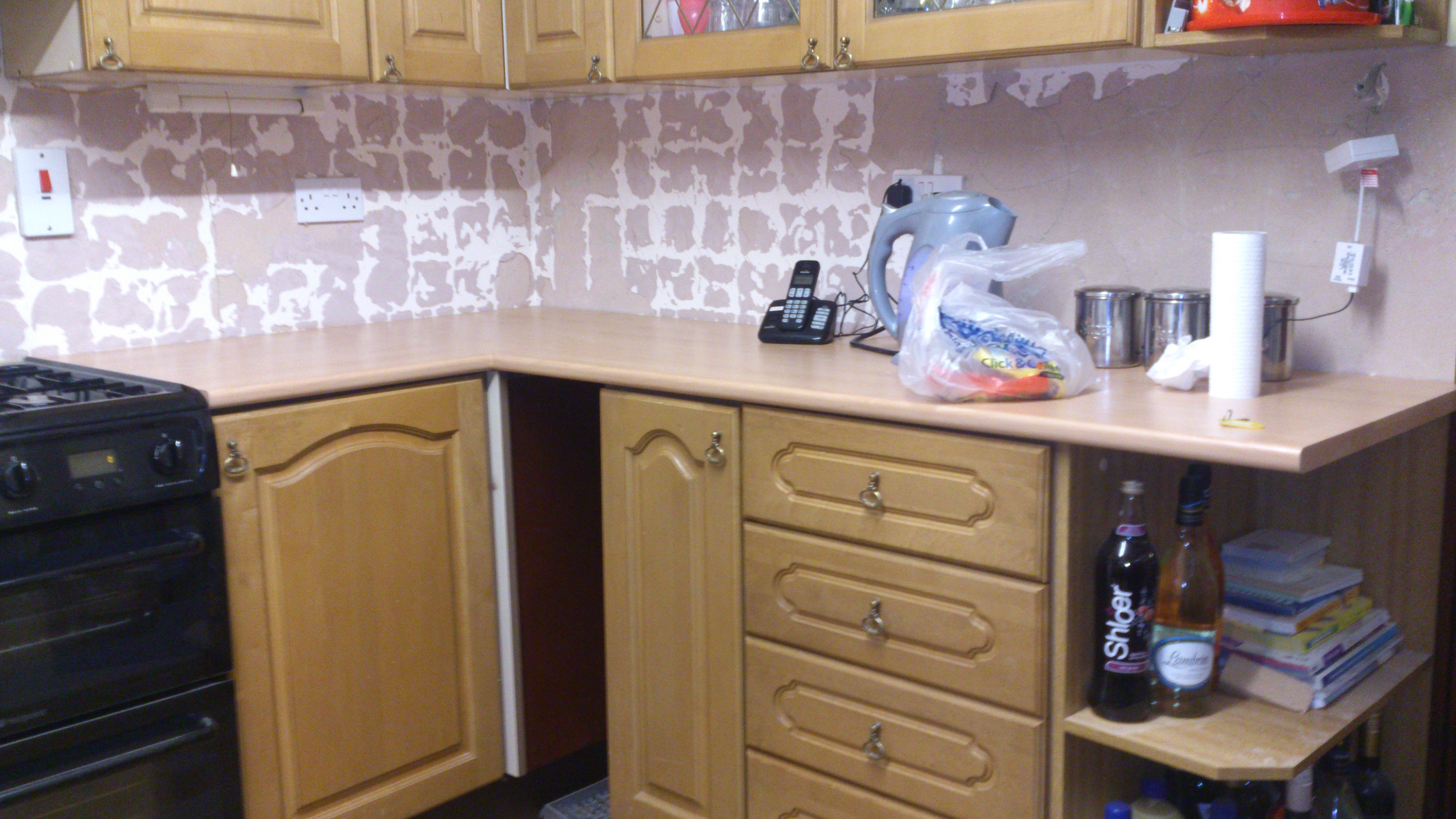 Sunday had been a busy family visit day and Monday was the day that Darren would have his first ever go at tiling, and where better to learn how to do it than…..my kitchen! He was keen to try it as it was not something he had ever done and so I was happy to talk him through how I did things even though I was self taught, it may help. The most important thing was that he wanted to try, worst case would mean that we would have to pull them back off and absolute worst case, I may have to get my Brother or Cousin in to help out, but that said, I did tell him that there was no need to worry about it and we would crack on.
Darren brought the tiles in from the garage where they were being kept and we took a quick trip down to the local B&Q to get tile spacers and adhesive and then returned for Darren to start, and as all good workmen know, the first thing is…..a cup of tea. With this bit mastered it was time to get on with the tiling. He asked where to start and we found the central point of the wall with the cooker on, drew a vertical line and then worked out where the horizontal line would need to be for it to work right when we started to tile on the worktops. This done and checked the first tile went up and was checked for level. He continued first to the right hand corner and then to left measuring and cutting to allow for the power sockets. So far, no real problems. He asked questions about how to do different things and all I could do was tell him how I would do it which would probably not be the professional way but you had to find how things work for yourself sometimes. He did repeatedly get frustrated at how long it was taking to do things which was really frustrating for me because I could not even help with the bits that were posing the questions or difficulties as I could not reach. Remember, a picture paints a thousand words and of course it is always better to demonstrate and then have the task imitated. Clearly I could not do this. In any case, when I felt that there was a need for a break the kettle went on and a cup of tea was served, which clearly fixes everything!
There was one tile in particular that really would not go how it was supposed to and really started to piss Darren off. I told him a few times that sometimes it is better to leave it and then go back to it but ultimately he wanted to finish it. It seemed to me that he felt that it should have not taken as long as it was and I said a few times that he needed to remember that he had never tiled before and that he should cut himself a break and leave it for the night as it was getting quite late. He did eventually say that he would tidy and go back to it. He tidied the worktops and washed the floor after wiping the tops down and then decided to fight the tiles again the following day which was absolutely the right thing to do. He had really done very well considering he had never done any tiling before and I was chuffed that he had wanted to help by doing it so to that end, it was going very well. Darren left to go home and chillax and my Wife went off to bed while I stayed up and watched some television, I bet you can't guess what it was.
So this morning, (Tuesday), Darren returned with a fresh face and keenness to overcome the tile problem that had frustrated him the previous evening. He found the cause of the problem and in no time at all had cut and fitted the new tile, from here on it was pretty plain sailing and in a relatively short period of time the tiling was complete. He again wiped down and tidied and we then had a brew and talked about how much fun the tiling had been and that he could not wait to have another go at tiling something else. Oh sorry, my mistake, he had not enjoyed it at all and would not relish the idea of ever tiling again but at least it was something else that he had tried and despite not wanting to look in the job centre for a tiling apprenticeship, I think he was pretty pleased with what he had done. Next thing to do, grouting.
Unsurprisingly the grouting was not too difficult, all I did was tell him how I ensured the gaps were filled with the grout and that the excess was removed with the rubber scraper. then I explained how I always used a damp sponge to smoothe the grout in the gaps and the importance of not leaving any grout on the tile as getting it off when it was dry would be a nightmare. He was doing the cooker wall when Tabatha and the girls arrived which was a bit strange. They came in and had a nice hot cup of tea and we found out why they had walked round to us. Tabatha's key had snapped off in the door lock of the house, her mobile was inside and she had no way of getting in touch for help. My Wife had collected our kids from school but had gone directly to their swimming lesson and would obviously have missed Tabatha and the girls walking to us due to the route that she drives to the swimming pool. Darren finished the wall he had been grouting and headed home to sort out the key problem. I said I would catch him later as I would probably have left for TA before he got back, that is if he wanted to finish it tonight.
Gerry drove me in to TA again tonight which was appreciated by me as it means that firstly I can go and secondly, I don't have to try to get someone to take me and then come back later on. The lads had their fitness test tonight as well as training. I went to watch them do the run, and there was good incentive to run tonight, the incentive was to get warm as it was minus five! Some good times went in tonight I have no doubt  The run complete it was back to the TA centre and the rest of the evening. It was nearly eleven by the time we got back to the bungalow tonight and the temperature was reading minus six, it had gone up from minus seven a couple of miles down the road but which ever way you look at it, it is a bit on the chilly side. Gerry went home and I went in to see the kitchen to see if Darren had managed to get back, he had and he had done a great job.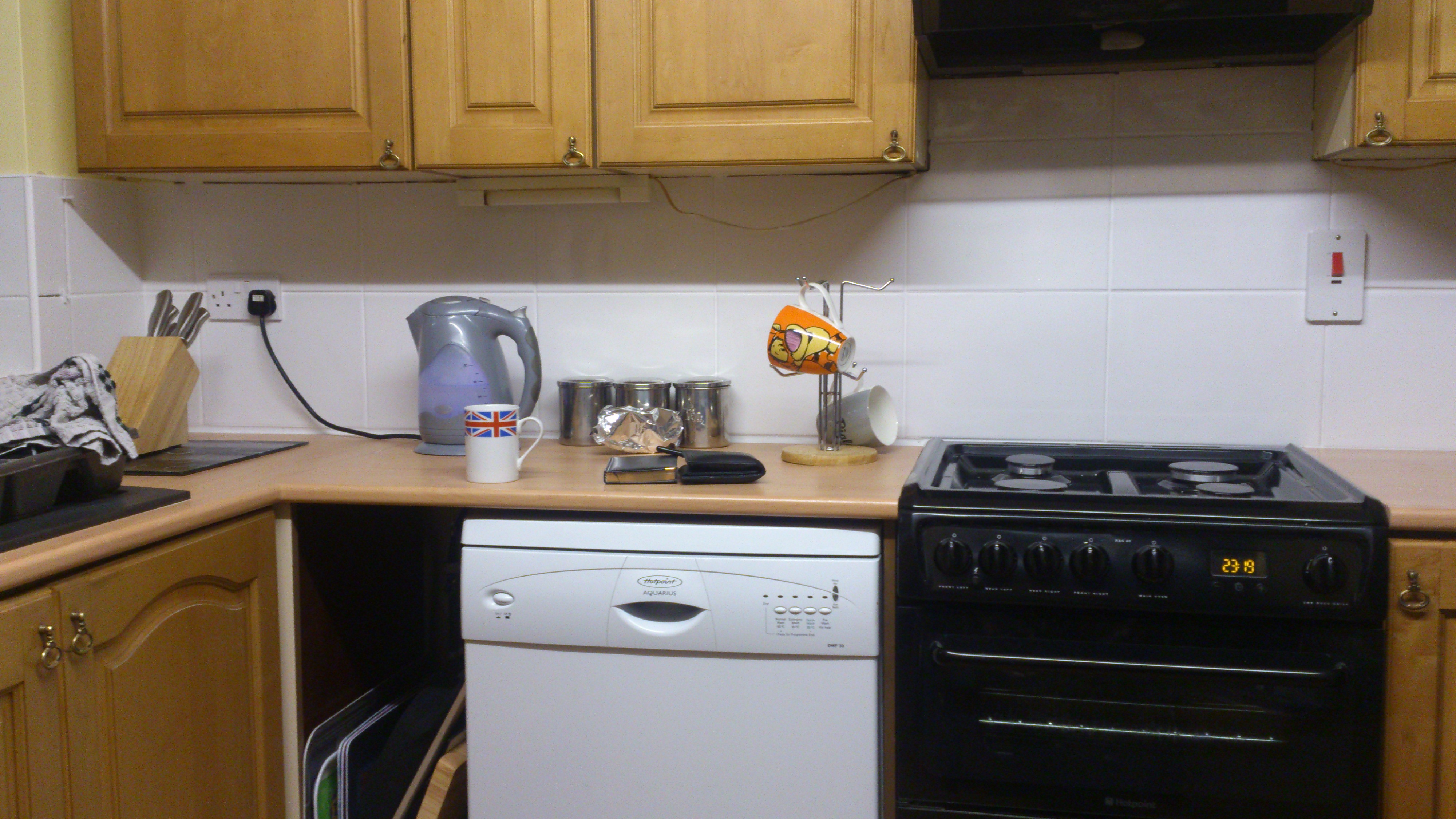 The new worktops, sink and tiling has just helped to modernise it a little and just make it look a lot better. A completely new makeover with new carcases and cupboard doors and drawers would have been good but at the moment it is not affordable, the difference that the things we have just done has made will be fine for now and Darren should be really proud of his first attempt at tiling, it looks really good. Thanks Bruv, we are well happy. Now what can we get you doing next?????
Goodnight all.