On Thursady of last week I was collected by my Commanding Officer's driver for my "Final Interview", this would effectively signal the end of my military career in the Army Reserves. The "Interview" was to be fair more of a personal chat but clearly had the standard "Thanks for your service…" line. It was the first time I had met the CO, in fact I don't recall meeting the last CO more than once which was vastly different from when Col House was in post. He was my CO at the time of my collision and always made a point of coming to visit me in hospital, as did the RSM at the time. This was probably the last time that I actually felt part of the "family", the Battalion that I committed so much time to. My Company, `B` Company which was hands down the best company in the Battalion (everyone believes that theirs is the best but we really were!), was "Removed from the Army's order of battle" and became a newly created unit. 675 (Rifles) Squadron Army Air Corps. This made me smile, when I was 16 I applied for the Junior Leaders Army Air Corps but after three days at Bovington Camp my application came to an end due to exzema. It was ironic then that I would, 23 years later finally be in the AAC. This was not to be though as my medical board decided that, as no request had been made my Battalion to consider my staying in a training or admin capacity, they would recommend my medical discharge. It was expected by me but the AAC wanted me to continue training the recruits but I could not transfer without passing the med board. So the bottom line I was to be medically discharged. Battle Back had offered me the opportunity to ski again and so after talking to my Battalion it was arranged that my discharge date would be pushed right so I could go. On Thursday of last week I was presented a leaving gift from the Warrant Officers and Serjeant's Mess of our cap badge on our colours in a frame for which I am very grateful.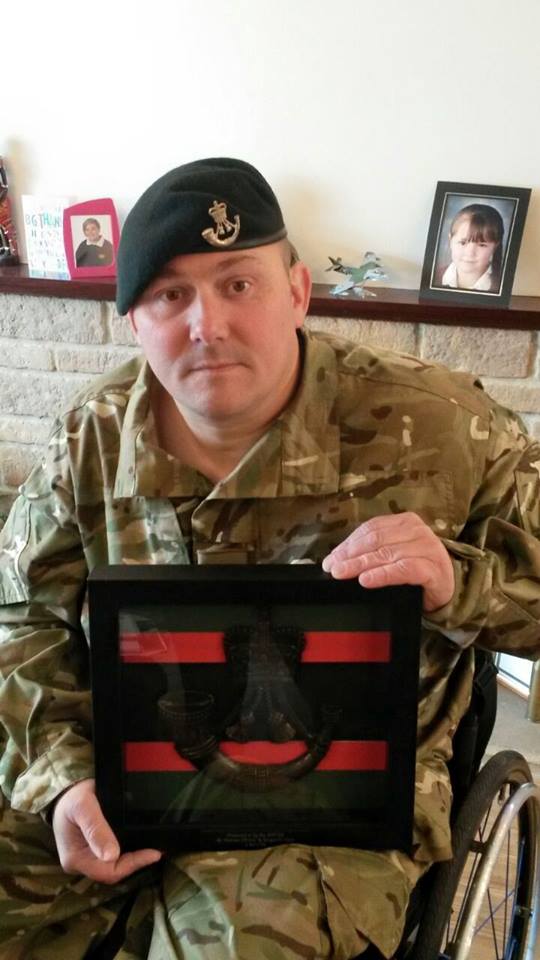 A while ago I was invited out to dinner with the senior NCO's of 675 Sqn, the old `B` Company for a "dining out". They never saw me as anything but one of them, to the point I was also given a blue beret. The members of the Squadron also got me a gift, a bronze statue which I was really taken aback by. It is an amazing statue and was an equally amazing gesture and though I have tried, I have been unable to put the right words together to explain how much it means to me and on the same struggle I can't seem to verbally communicate how crap I feel that my days in uniform are over.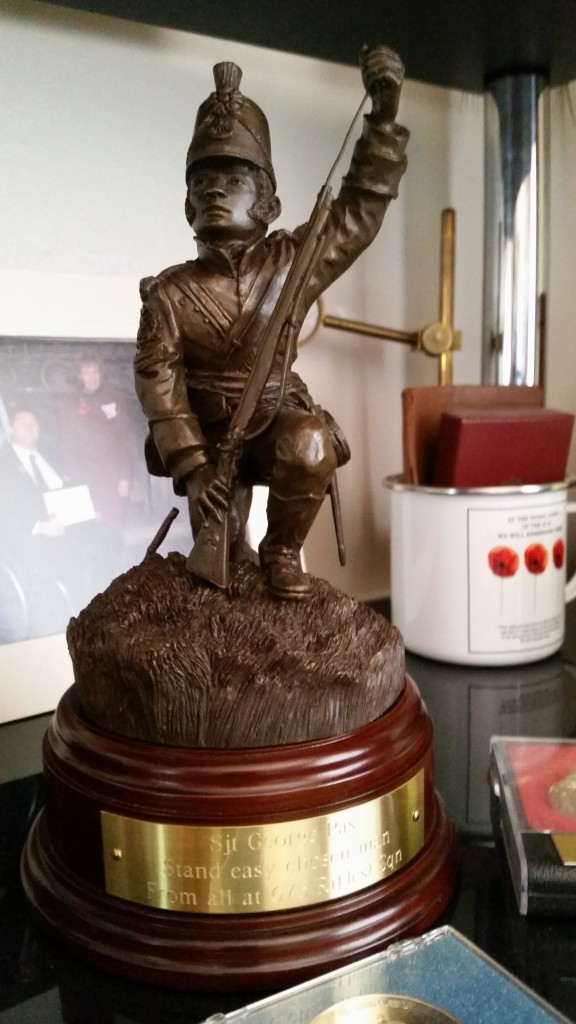 I have hit a bit of a low point at the moment. My left wrist is so painful and has been for four days. My litle finger and the finger next to it on my left hand are constantly cramping up rendering them useless but supplying no end of pain, inside my left wrist is a constant throbbing pain which again is not enjoyable and it is meanng that I am not only unable to dress myself completely on my own but even inside the house I am struggling to push myself around in my manual chair. My concern is that after a couple of days my wrist usually calms down and this time it is not, what if it doesn't sort itslef out? The frustration of not being able to do the simplist things for myself which is something that I have not had since being home from hospital initially, the pain that I am constantly in with my hand, wrist and ribs, the severity of my spasms in my legs when I go to bed and all through the night along with many other things are making it feel like a fight that I have been "winning" is requiring more effort than ever before and I am beginning to feel like I am starting to struggle with it which is not me. On the plus side though, I have finally been able to drive my Challenger, the hand controlls are a little low but the garage are going to adjust it for me in a couple of weeks.
Good afternoon all.