On Tuesday my friend Piers kindly drove me to Tedworth house, a Help for Heroes rehabilitation center. It is a grand old building which H4H have taken over and done some beautiful work to. The ballistrade and beautiful slab, and gravel effect pathways really compliment the old building and inside is just as nice. Wooden floors in some of the building, a grand stone staircase and large open fireplace are just some of the fantastic characteristics of the building. We parked up and I transferred out of the car and in to my wheelchair. I still can't do it well which will hopefully come in time but makes me angry each time I do it because the spinal unit could have taught me how instead of me trying to figure it out for myself. Anyway, I did finally manage to get in to the chair and sort myself out. Just as I had got sorted, a car with two lads in it pulled up and asked if I knew where the parking areas were. To be perfectly honest we had just parked where we had seen a space which was obviously the wrong car parking area but I figured we would be asked to move if they were not happy about the car being there. To that end I simply told the guys that as I had a blue badge I tended to park where I liked! This is not actually how I usually do it but I had to say it. On a more serious note we said that there were another couple of places and so they drove off to park up. Piers and I entered the building and booked in but only after having made our way half way round the estate, only to realise that we had actually been parked just outside of the entrance! Once inside we bumped into the two guys we had speaking to in the car park, a bit more chat and then we booked in. From here we popped in to a room which is like a little cafe where we could get a coffee. As we entered the cafe room there was a familiar face sat at a table to our front. I was greeted with a welcoming smile and handshake by the gentleman that is James Cameron of Mission Motorsport. A very unexpected chance meeting but a pleasant surprise as always to see him. I sat (as I normally do due to my paraplegia!) and talked with him while Piers grabbed a couple of coffees for him and I. I introduced Piers to James and we sat and talked about what he had been up to and things that are coming up in their calender. He showed me some photographs of things they have been doing and spoke about a couple of the success stories of guys that they have found work placements for. Mission Motorsport have done amazing things for amazing people, service personnel who have been `adopted` by the charity and retrained. I know that I do push things on my Blog in the hope that people will read and visit other websites but Mission Motorsport is definitely worth it www.missionmotorsport.org
We sat talking to James for a good twenty minutes or so and then another familiar face came in, a lovely smile, an enthusiastic "Hello" and a hug could only mean that the one and only Ollie had entered the room. I introduced her to Piers and replied to her comment of "Why didn't you say you were coming today?" explaining that I had to tell them I was coming as it was an invitation lunch. She then pointed out that I had actually replied to Stacey which was awkward but easily solved with some good old fashioned flanneling! She went about her business dashing about in her normal bubbly way and after a few minutes of her leaving the cafe room, her co defendant or partner in crime Stacey walked in with another young lady. A hug and "Hello" from Stacey and I was introduced to their newest member who I have no doubt will be an asset to the team and will be as crazy and bubbly as Ollie in no time. They too headed off somewhere and I continued speaking with James until another familiar face walked in to the cafe room, this time though it was a familiar face but not someone I had ever had the opportunity to meet. The gentleman walked over to the table at which we were sitting, I felt a bit rude not getting up to shake his hand but I am sure he understood! He spent around twenty to thirty minutes speaking with James about the Mission Motorsport events but did not disclude us from the conversation. He was really interested in what James and the MM team had been doing and spoke of a few things that he had been up to. The Gentleman left us and James and I finished the conversation which we had been having before we were joined by the familiar face.
Piers and I left James as we had to go and have some lunch, I told James that I would make sure that I catch up with him before I left and headed in to the room which houses the hotplate. A large pork chop, chips and peas was the choice I had made for my lunch with a can of cola to wash it down, Piers kindly carried mine in to the dining area for me and we sat down to enjoy our meal with several other of the Band of Brothers, service personnel with life changing injuries. We spoke about different things Piers and I over our lunch and once we had finished, I head off to the library while Piers popped outside for some `fresh air` (a ciggy). The library was of reasonable size and is more a television and chill out room, I watched the television and waited for the rest of the group to join us. I had already spent some time in the cafe room with the guest whom had been at lunch with us and I was looking forward to having a picture with him and to ask if he would mind signing one of his books for me. I was genuinely excited about meeting this guy to see if he was in the flesh, just as blunt, sarcastic and witty as he is on the television. The answer to my curiosity……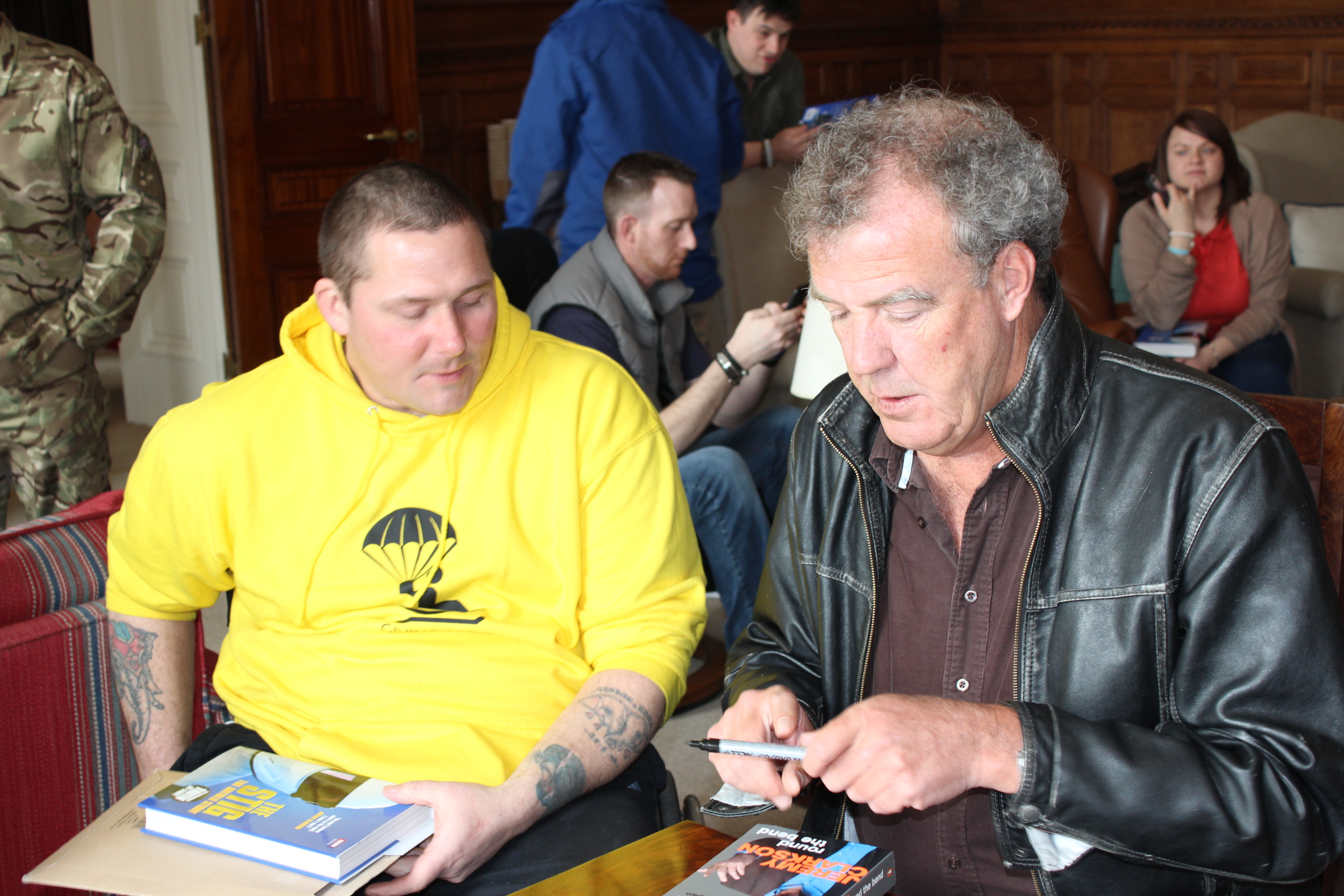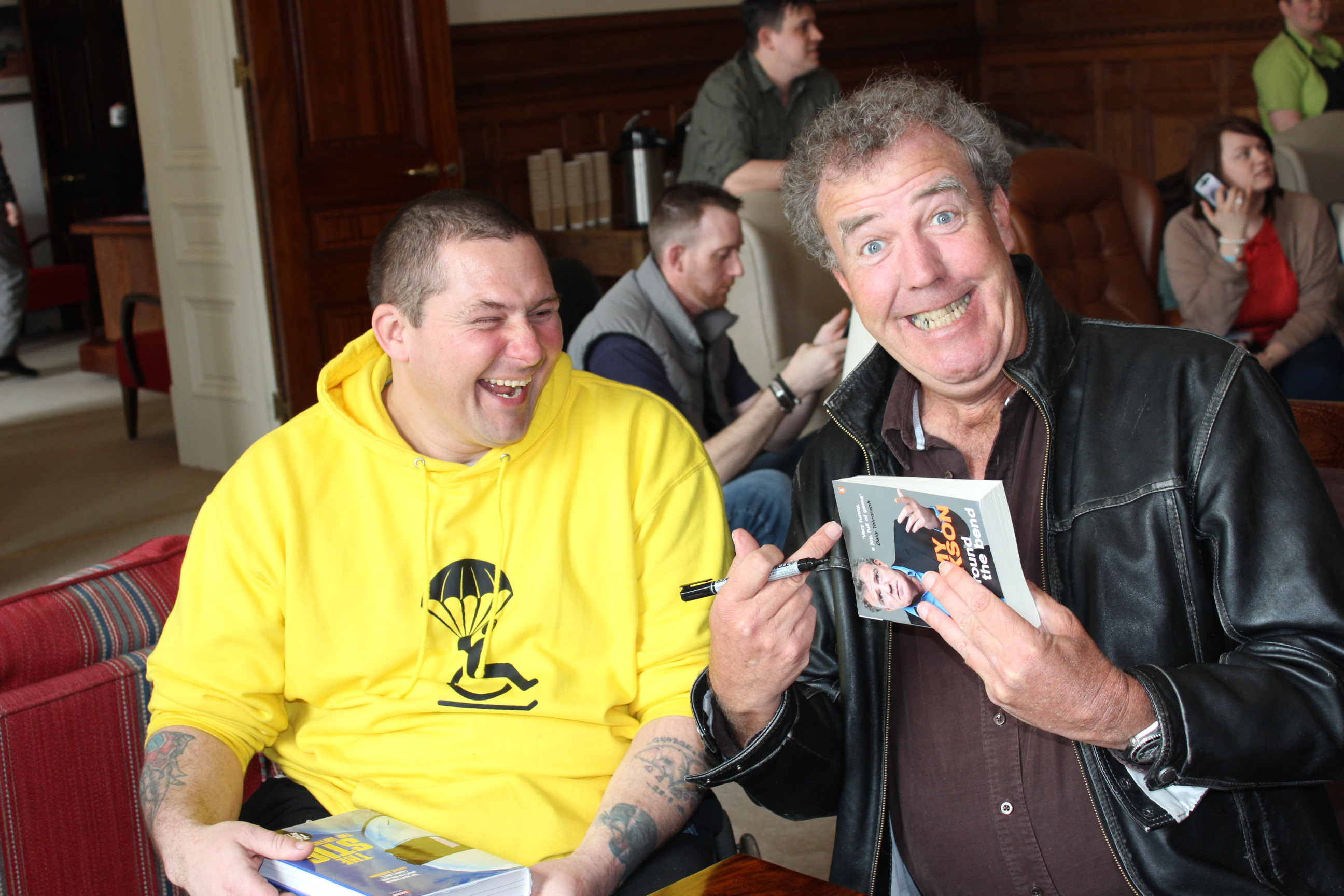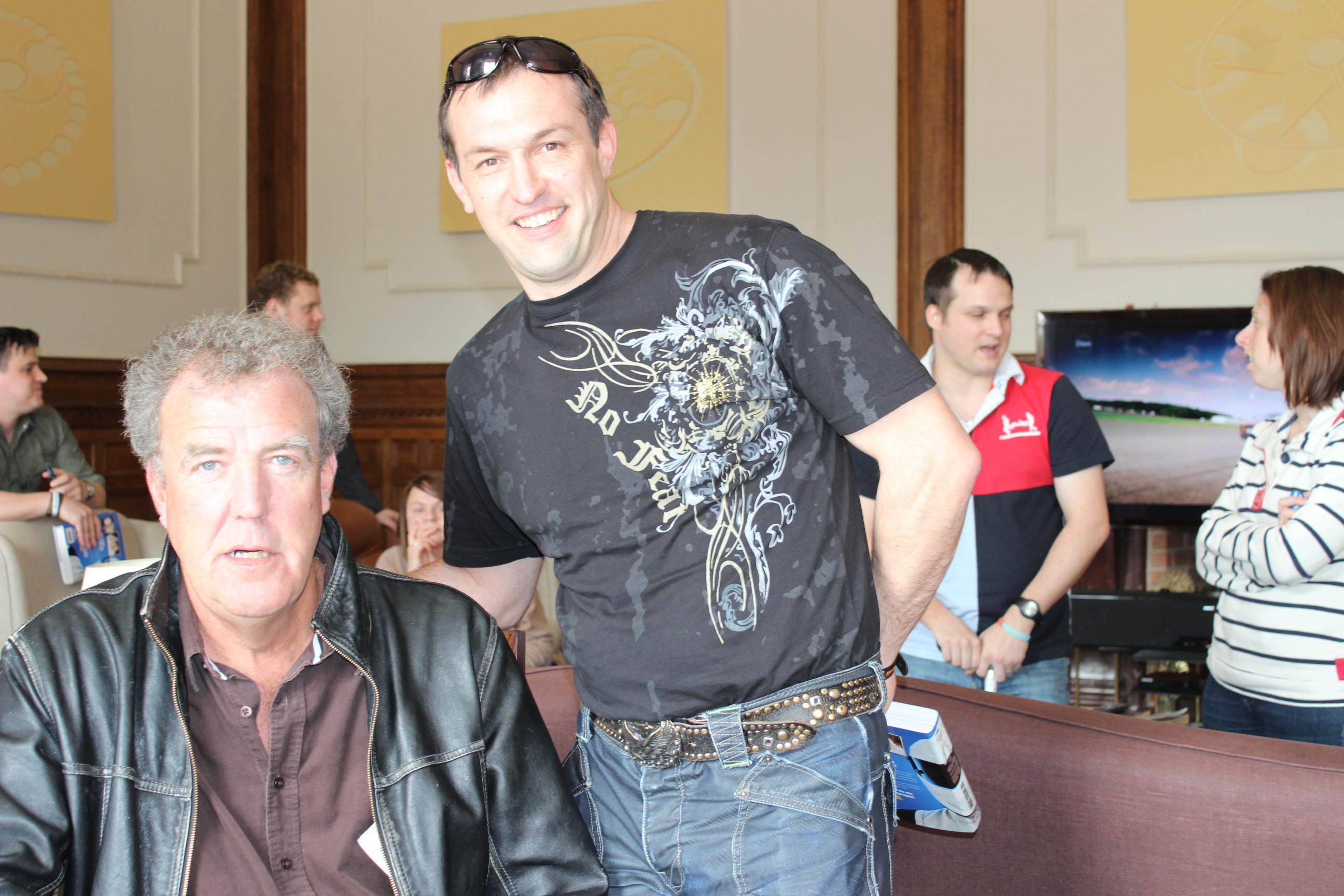 Yes. He is as he is on the television which was nice to know. I had made sure that I had taken one of Clarkson's books with me for him to sign, after all, if I was able to meet him then I should at least ask him to sign something and I figured that it would be good to have him sign a book that he had written. He happily signed his book for me which I really appreciate and then I told him of my web page and Blog and the reason for my writing it. I also told him of my wanting to raise money for the charities which have helped me and my wanting to `Give back`. I had taken some of my stickers with me for Ollie and Stacey and thought I would chance my arm and ask if he would take one. He did take them which was nice, even though there is a chance they will end up in a pile on a desk or possibly be lost somewhere along the line, I do appreciate that he did take them and hope that they may find their way on to a car. After talking with us in the library he headed outside to see a couple of the lads who were on the hand cycle bikes. Not content with just talking with them though, he had a go on one which was really quite funny. Piers took quite a few photographs of our day at Tedworth House.
It was around two in the afternoon that Piers and I were fixing to leave for home having had a brilliant day. I made a point of finding James to say goodbye and when I found him, he was with Aston which was another great chance meeting. After a brief chat with them both I wished Mission Motorsport all the best and good luck in the upcoming event and headed out. Before we left the building though we bumped in to Stacey and then Ollie. Goodbyes were said and then we got outside where we spent a few minutes talking to the lads on the hand cycles. The young lady who was with them was very pleasant to talk to and was yet another new face I had been lucky enough to meet. I had spoken to one of the lady's about various aspects of getting independence back and was offered the chance to stay in the future. This is an offer which I was reluctant to take and explained the reasons to her, however after talking to her I am seriously considering the offer. It is a wonderful place with fantastic staff and some determined people who I could learn from, having had no help from the spinal unit with regards to moving around etc, I know I could get tips from the guys and girls there. Piers and I finally left and headed for home and were back in time for Wifey to head off to collect the kids from school.
I had a really good day and I know that Piers did too. Thanks for the driving me up there buddy, it was good to finally do something together, God only knows how long we've been trying to do something so this was a great opportunity, there has never been time until now with one thing and another and I think after the laugh we had we will both make more of an effort to get out for a beer in the not too distant future. I had TA in the evening, but there really is nothing worth talking about there. I am struggling now if I am honest. I want to be in the field on exercise or out training the lads like I used to. I want to be shooting and coaching the shooting but I can't. I want to be out teaching the camouflage and concealment and moving with the weapons. To teach them patrolling and a whole shit load of other things and my head and mind are already there or on the way there, the problem is that my body can't follow. I never had a problem teaching before because we would progress from the theory in the classroom to the practice in the field and then perfect it on exercise, now though I know that I am going to be unable to take them in to the field and it has now become a niggle inside me. This is going to grow in to an inconvenience and then to frustration. From here it will naturally progress to anger because I can't get out to where my head is. Some serious decisions need to be made in the not too distant future. I think I will be looking toward the training role away from the TAC periodically to see how I feel. Too many emotions going on in my head at the moment regarding this and so many other things which is why I am going to let it settle for a bit.
Today we went out to look at a new vehicle which I will be able to drive, several models were looked at on the intersmut and we went round to the showrooms today to wittle them down. Quite a busy day doing that and i can safely say that we have gone back to the original vehicle we were looking at over three months ago, how annoying. Still a couple to look at though and then it will come down to price. Watch this space.
So that is what has been going on in the world of George Pas over the last couple of days. For now though, thanks for reading and before I sign off please take a minute to sponsor Ollie who is running the London marathon on Sunday, here is the link you need;
www.bmycharity.com/Olliemetcalfe2013
 Also the Mission Motorsport and Race to Recovery guys are taking part in the London Rally for Heroes on the 19th and 20th of this month.
Goodnight all.