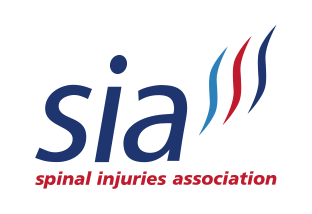 A while ago I recieved a call from a lady who works for the SIA (Spinal Injuries Association) to inform me that I had been shortlisted for an award. Each year the SIA hold an awards ceremony for what they call the Rebuilding Lives Awards. The awards have many different catagories and the catagory that I had been nominated for was the Armed Forces Achievment Award which was for someone with a military background who had sustained a spinal cord injury and had done, whatever it was, that had rebuilt their life. I had no idea that I would be nomilnated or indeed that I had been, but when I was told I had been shortlisted I was shocked.
My Wife was unable to attend the awards evening with me as Thursdays are manic with the kids clubs and tutors so our good friend "Me Val" stepped in at the last minute to accompany me for the evening, not just so that the space was filled but more so that I did not travel it on my own. So anyway, we got our glad rags on and at around a quarter to three in the afternoon we headed off to the Hilton Hotel, just off of the M42 Birmingham.
We arrived at a little before half past six and made our way in to the reception area where we were given our name badges and a glass of orange juice or champagne. It was here that I recognised a face but could not put a name to it or a place where I knew it from which was tits on a fish for starting a conversation but the gentleman introduced himself as Martin from Salisbury spinal unit, it only took about ten minutes and a break for a photo call and then it twigged and I could formally announce that I knew who he was and that I remembered him. I did for some reason associate his name with another nurse called Mark and he confirmed that there was a guy called Mark when I was there but he no longer worked there. I did point out though that it was only a name that had popped in to my head as being associated with the name Martin and that if the guy had been stood next to me I would not have had a clue who he was. Anyway, orange juice was the drink of choice for Val and I and with our glasses and badges we entered a room where people were meeting and chatting. It was here that I quite literally bumped in to a young man who I had played various sports with during my last stay at Stoke Mandeville. Callum is a really cheerful young lad who you never get bored of chatting with. He had been shortlisted for the Inspirational Achievement Award for Young People which was obviously why he was there and he was as shocked about being shortlisted for his award as I was for mine. It was great to chat to him and while we were talking we were joined by two young ladies.
Now I have to confess that I had no idea who they were and simply sat and listened to the conversation that was being had between the two ladies, Callum and "Me Val". I guess that a good combat indictor that they were a couple of famous celebrity types would have been the camera crew that decended on us, but then why would that not be for me? So anyway, Val was kind enough to inform me that they were a couple of actresses from some programme called Hollyoaks so to be fair I didn't stand much of a chance as I don't tend to watch any of those programme types. Still, Val got a picture as she did know who they were.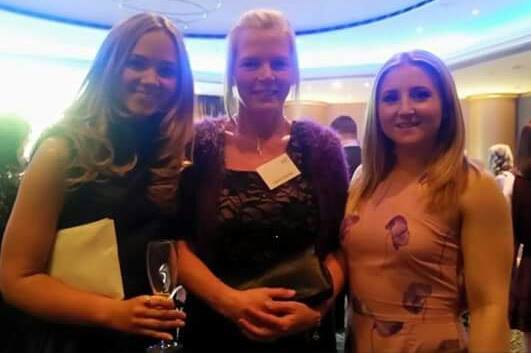 We were finally called to the main awards area where we had our starter and main course before Susie Dent, the lady who looks for words on Countdown introduced the evening and effectively hosted the evening. There were some amazing people who had accomplished some incredible things and whilst I was proud to have been shortlisted for our catagory, having read the short write ups about the three of us, I knew there was no way I could win agains the guy who did win. I had told Val who I thought would win and I was right. The fact that I was unaware I had been nominated and then consequently shortlisted made me proud enough, and I could not be happier for the guy who did win; Having completed 4 degrees in various things, conducted studies in to PTSD amongst other thngs, studying for his fifth degree at the moment and trying to get support groups in to spinal units I am sure that you will agree that he was and is a worthy winner indeed. His overall award was presented by Claire Williams, the Daughter of Sir Frank Williams, the founder of the Williams F1 team who himself sustained a spinal cord injury in 1986.
It was a lovely evening amongst some incredible people and at the end of the evening I spoke to Garath who was the winner not only of our catagory but the overall winner of the evening and I hope that we will stay in touch. A really nice guy who has worked so incredibly hard since his injury. We had a photo together just before Val and I left but as I did not ask him if I could put the picture on my Blog I am refraining from publishing it out of respect. It was around half past three in the morning when I eventually got back to the bungalow and four o'clock before I got in to bed but it was an incredibly worthwhile and enjoyable evening. Thankyou to Captain Gillespi for nominating me for the award. To Staff Sergeant Bartlett aka "Me Val" for writing the information about the things I have done for the application and of course for going with me and to the SIA for the evening.
Good evening all.