My Blog entries have not been consistent like they were while I was in the Spinal unit as not everyday does something happen. It is difficult writing the Blog as I want people to read it and to enjoy reading it. I hope that if people enjoy it, find it interesting, informative or even leaves them thinking about different things in their own lives then they may talk to their friends and colleagues about it and my reading numbers will grow. As I haven't written for a week, I thought I would tell you about some things that have happened and take the opportunity to say some "Thank you's", to that end I will start.
I told you about an award that I had received from the Lord Lieutenant of Somerset, Lady Gass. The award was for Meritous Service to the Reserve Forces, it goes without saying that I was immensely proud to have been nominated and even more so that I had been awarded it. I am so proud of what was written on the citation that I want to share it with you.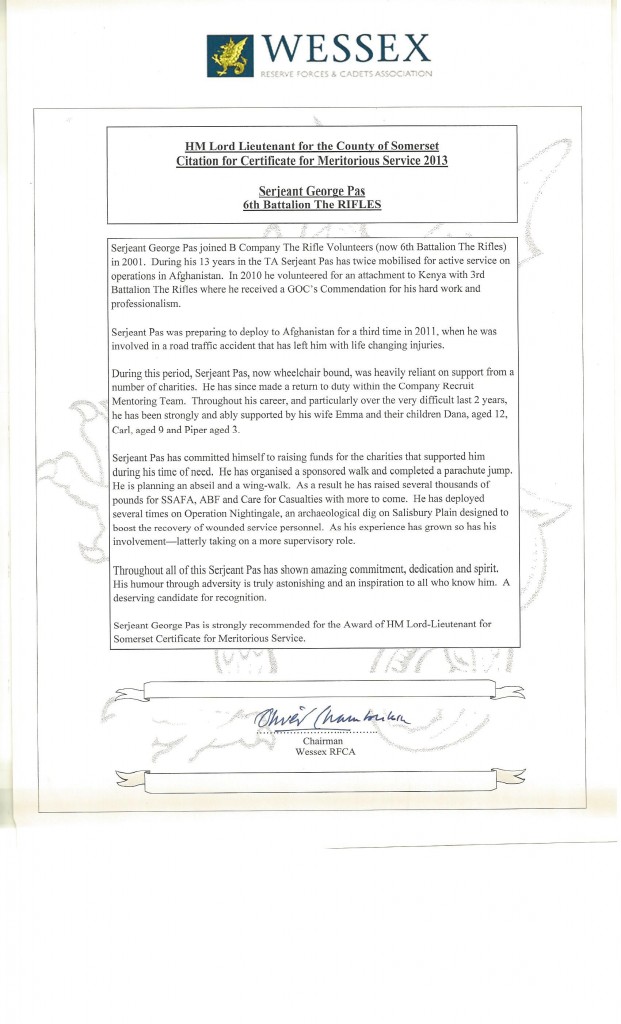 News of my award was printed in the local Chard and Ilminster News newspaper which was nice, this is the write up which I have taken from the Wessex Reserve Forces & Cadets Association        www.wessex-rfca.org.uk
A disabled Chard Reservist has received a top award from the Lord-Lieutenant of Somerset for his service to the Territorial Army.
Serjeant George Pas, aged 38, joined B Company, 6th Battalion, The Rifles, in 2001 and was mobilised twice for operations in Afghanistan. In 2011 he was due to be mobilised for a third time when he was involved in a road traffic collision that broke his back in eight places, changing his life forever.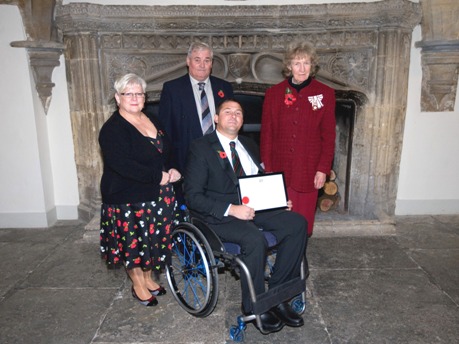 Despite being wheelchair bound, George said that he never thought about quitting the TA.
"Leaving the Reserves wasn't an option for me, I really didn't even consider it," he said.
"I work with the Company Recruit Mentoring Team at the moment but I would be mobilised again out in the field if they let me. Being in the Reserves gives me a lot of things – friendship, a support network and a real purpose in life. When I was in Afghanistan I knew I was doing something I could be proud of."
Since his accident, George has undertaken a number of fundraising challenges for military charities such as Help for Heroes and the Royal British Legion, including a tandem sky-dive. He hopes to take on an abseil challenge and a wing walk later in 2014.
He is also in the beginning stages of starting his own charity that gives disabled people the chance to do extreme sports activities, such as quad-biking and abseiling.
"As a member of the Armed Forces I get the opportunity to do these activities because I'm so well supported, but I know other people in my position don't get the same treatment.
"That's why I want to start up my own charity and give something back to people who may not have the same opportunities I have been given."
During a special ceremony held at the Bishop's Palace in Wells, Serjeant Pas was presented with a Certificate for Meritorious Service by the Lord-Lieutenant of Somerset, Lady Gass, for outstanding service to the TA.
He said: "I really was not expecting this at all, it was a big shock to find out but such an honour and I'm chuffed to bits."
The "Wing walk" that is mentioned is an idea that I had because I want to show that not being able bodied any more does not mean that life has to stop. I have been in touch with a display team who do "Wing walking" and we have conversed about it. Knowing the aggravation I have had trying to do an abseil I do not know if it will happen but I have not and will not give up at this time until all avenues are explored, so watch this space.
When I was in the departure lounge at R.A.F Brize Norton waiting to fly to Cyprus with Op Nightingale I was talking to Phil Harding about things I wanted to do as challenges, we had been talking about the paraplegia side of things for me and the archaeology that he had done, he was interested to know how I would be slotting in to things and how I got on. It was not only interesting for me to find out about some of the digs he had been on but for me was refreshing for want of a better word for someone to be really quite interested in what paraplegia meant for me. I'll take this opportunity to say "Thank you" once more for the assistance that he, the film crew and the soldiers on the dig gave me while we were in Cyprus, Phil and Jim became quite the experts in collapsing my wheelchair and removing the wheels for transportation and then reassembling ready for me to get out of the transport again. Anyway, back in the room, whilst I was talking to Phil a lady approached me and asked if she could talk to me for a minute before we were called to the aircraft. She said that she had overheard my conversation and that she would like to hear from me on my return to the UK and gave me her card. Interesting. Well I contacted the lady on my return and after a few e mails back and forth, she has asked me to apply for a flying scholarship! There is obviously no guarantees that I will be successful in my application but I am excited at being asked to apply in the first place.
Nearly two years ago The Ilminster Lions came to my house in Ilminster and handed me a cheque to start off my saving and fund raising for an off road mobility vehicle. Then, a short time later, an amazing couple who fund raise for a children's hospice organised for a live band called "Old Dogz New Trix" ,  who were amazing, to play at a sixties dance evening that they had organised. At no point during the evening when the band was playing was there not a packed dance floor.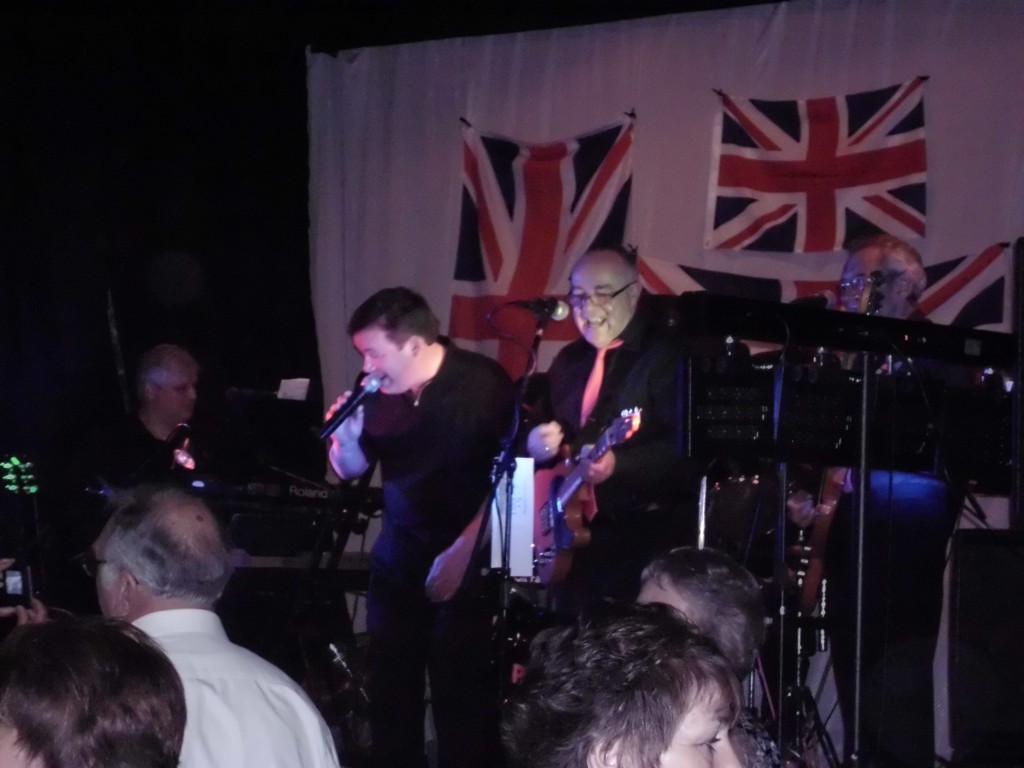 The couple, Carol and Doug had heard that I wanted to save for an off road mobility vehicle so I could not only get out with my family in the fields and forests, but also to try different challenges to raise money for charities. It was a huge success and I was truly humbled that so many people wanted to support me.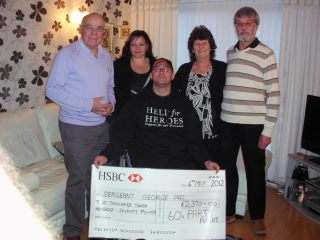 From left to right; Graham Barnes from the band Old Dogz New Trix. Wifey, Me (I'm in the chair! chuckle chuckle), Carol and Doug.
A short time after this I was presented with a cheque by the Ilminster Rotary Club for monies which they had raised at their fashion show by way of a raffle.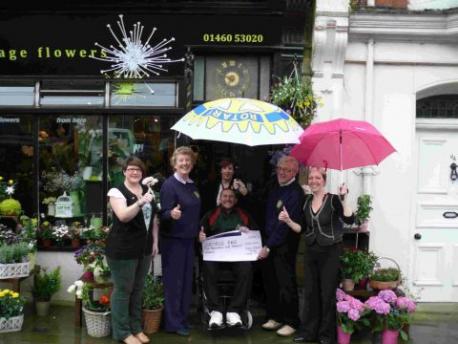 You may remember that in October last year I did a tandem skydive to raise money not only for the vehicle I wished for but for a charity who had helped my family whilst I was in hospital, SSAFFA.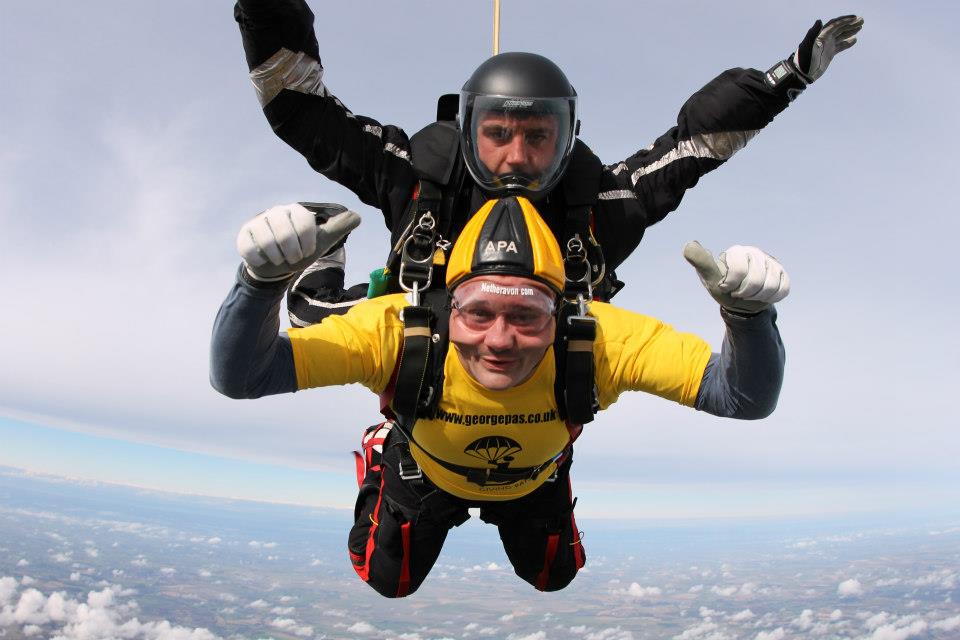 This again was supported so well by people by sponsoring me to do it and not forgetting my Brother in Law, Tom who also raised sponsorship to join me and a friend who just wanted to join in.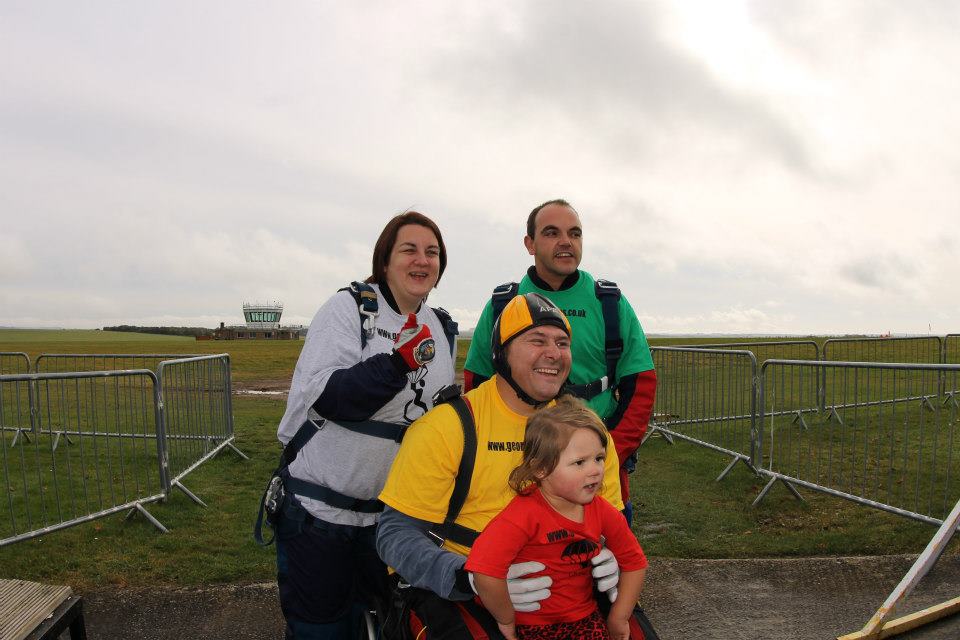 From left to right; Hev, Tom, Me (guess where I am!) and `Pickle.
We had a great day and it was really well supported by people who came to watch. A friend also donated a large sum of money from some money she inherited.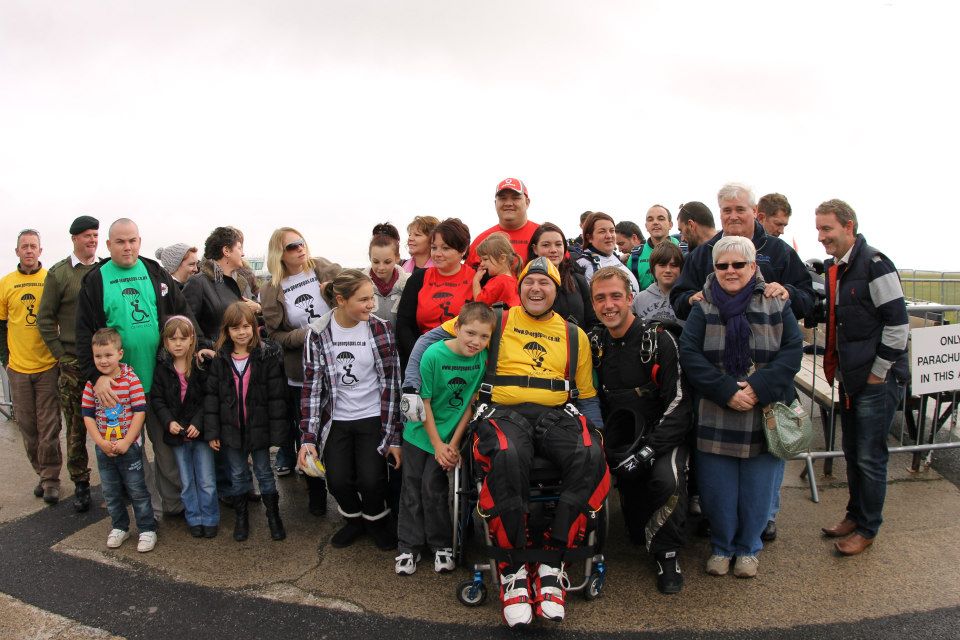 I tried to organise an abseil to again try to raise some money for the vehicle and charity but was refused permission by insurance companies and I therefore had to bite the bullet and ask some military charities if they may be able to assist me. I do not EXPECT help from anyone, but I am EXTREMELY grateful to anyone who does assist and support me. I was over the moon when I was told by SSAFFA that CARE FOR CASUALTIES, JUST RIFLES & The ABF The Soldiers Charity had agreed to donate three equal sums of money to add to the amount I had already raised and had donated to me for which I am immensely grateful.
As well as what I have been able to save here and there, I was taken aback on Sunday (10th Novemeber), when another good friend of mine informed me that he had raised a large amount of money by way of sponsorship for a tandem skydive he had done. I know that this was a huge thing for him to do and again I am eternally grateful. Because of all of these I have been able to order the off road mobility vehicle thanks only to the kindness and generosity of all those who have helped to raise money for me, the charities who have helped me and the people who have sponsored the various things that have made this purchase possible.
Once delivered in a couple of months time it will feature in my Blog and on Facebook and then I can start to organise more ways to raise money for charity.
To that end I want to say "Thanks again" to all who have made this possible.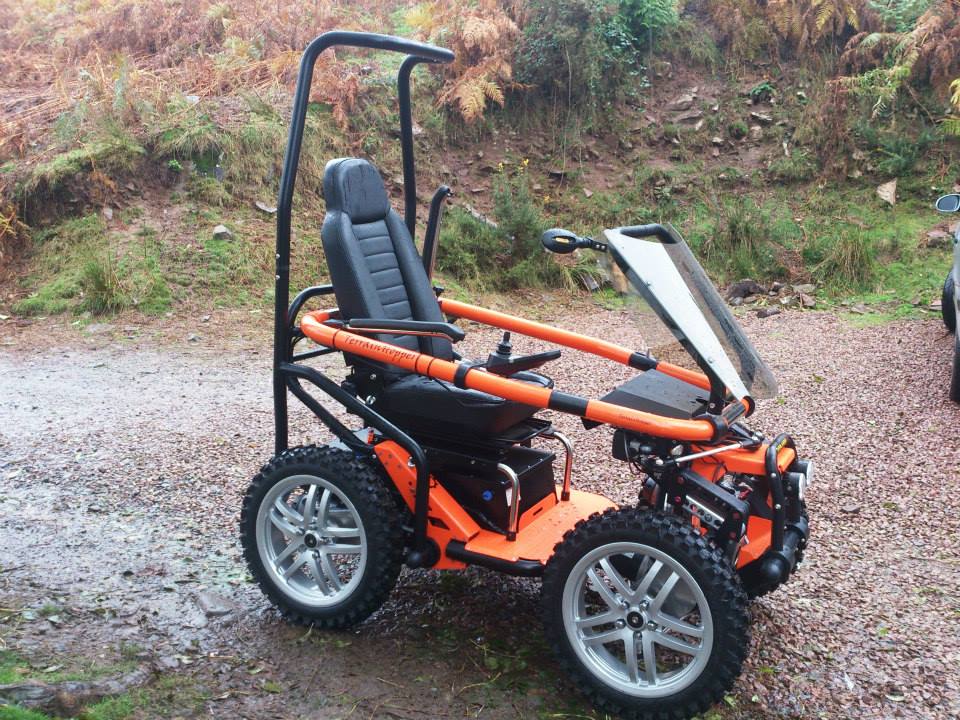 If you are interested in this amazing piece of mobility equipment then get in touch with TerrainHopper and tell them that you have heard about from me.
Have a look at www.georgepas.co.uk/overlander to see more about when I tested it.
So what else has happened? Well, next month, I am being taught to abseil by The Royal Marines at an R.A.F Base so that we can get pictures and document that I am able to do it so that I can arrange to abseil to raise money, hoping that this will stop any insurance companies from abseil centres taking a huge shit in their trousers when they find out I am a paraplegic. Next year I am hoping to abseil from a height that I guarantee I will shit myself as I am not a great lover of heights! Why the hell would I do this? Simple, because I want to raise money for charity and more importantly, show other less-able'd people that they can do things that they thought were out of their reach.
I have been contacted by a guy who has started his own charity who has read my Blog and has mailed me about starting my own which I have written before that I want to do, the reason I have not is because for the past year, again as I have written before, HMRC have been unable or unwilling to help. Now though, down to some information from this gentleman I have hope, especially as I have an invitation to talk to him about how to do it. I hope that I can get this done certainly by the beginning of next year and that I will be able to make it a success. I have already started to research and get support for a challenge next year involving the Overlander and very much hope that I can not only raise a good deal of money but that more people will follow the Blog and the things that I do.
I took a roll up to town today in my power chair which is a little poorly at the moment, (just waiting for Gary the mechanic to come and fit a new bit), and on the way up I had time to think. I started to think about those who I had met at the spinal centre and how they are getting on. I thought about a guy who was only 21 and who had suffered his injuries due to a motorbike accident but who was really not dealing with it well. I had spent a few hours listening to him and talking to him about it hoping it would help. It seemed to but you can never be too sure if it is a front, sometimes you can tell though. I really hope that he is coping better as he was a great guy. I thought of a young lady who I had a suspicion was putting on a front. A keen hockey player, a university student who was clearly intelligent who said the right things about being in the chair but who I just thought may not be coping as well as she was showing. I thought back to a time the night before I left the unit when, after a sports session, I was talking with another young lady in the corridor leading to the wards when the other younger patients, including the young lady I have just been talking about, also entered the corridor and stopped to speak.
I was glad that they had as it gave me a chance to continue the conversation with the young lady I had been talking to but also to try to get the others to engage in it also. Here I was listening to them all talking and tried to see if they were coping ok. Now I know that I am not a psychologist or councillor but I know how it feels and have seen people who have not been coping very well at all at the last spinal unit so I have an idea. Also, because I am just another patient, people will talk. I was worried about the young hockey player and hoped that she may open up a little, what I really wanted was for the group to open up to one another and have their own little support network but first things first. While talking I said something more than a little stupid to see what reaction if any I could get from any one and the result was a good one, the young lady shed some tears and said that "this was shit" (gesturing to the fact she was in a wheelchair), I said a few things which were not said to smooth over the upset and then made my excuses and left. She knew the others there better than me and I would be leaving the next morning and so for them to speak and help each other would be the best I could hope for. I was happy that I had managed to cause some tears, (although no where near enough from the feeling I got), and that hopefully the others may open up to each other as a group.
I thought about Kirsty and Ben and how they were getting on and also Josh who I had a really good laugh with during the sports sessions. None of these people did I leave my details with or get the details of them on Facebook to stay in touch. Possibly an ignorant attitude but I figure that if someone wants to stay in touch with me, they will find me on the internet and ask to be a "friend", we shall see. I also had thoughts of my accident claim go in to my head. I try so hard to just forget about it as it is now just time but I can't. July 29th 2011, 839 days since I was left paralysed and I am still waiting to go to court to prove that it was NOT my fault. The highway code, your driving test and all of the things that you are taught are what I have been thinking about and the bottom line, they don't count if you are a motorcycle. I get lost in my thoughts when this happens and go over the witness statements and photo's. The Police report and photo's. The statements and photo's and Police report and photo's and very quickly get frustrated and agitated and angry and start then to think about the life of the other party and how awful it must be to have had BUGGER ALL change. To have NOT lost the ability to walk. To have NOT lost the jobs that you loved so much. To have NOT lost the ability to run about and cycle and do simple things like cleaning the fish pond filters or cutting the grass. Then I have to fight mentally to quash those thoughts and tell myself that there is nothing I can do about anything and I just have to wait for however long it is that we get to go to court.
I read that the snow is coming, and remember pulling `Pickle` on the sledge. Pulling my Son on the sledge on the way down the hill towards our old house. Waking the kids up at stupid o'clock in the morning to go and sledge down the hill just a snowball throw from our old house, before anyone else. To go and build stupidly big snow men on the way home and then getting home with just enough time for them to get some sleep before school in the hope that it would be cancelled. Remembering the times I had been out on my bike with friends for a ride to the seaside or to the bike shops for coffee and to daydream about the bikes in the showroom. Again, I have to quash the memories so as not to get down. That life is gone, it is never coming back and so I am doing my best to forget a lot of it ever happened. Anyway, sorry about that, lost myself for a minute there.
Tonight we had a really good evening with our normal meal friends. Stuart and Louise, (aka fatty due to baby in belly!), who does not have long left before sprogling is born, and Rob & Bex, (an amazing young lady and Rob who `aint too bad either!). We try to get out once a month or six weeks for a catch up and a break from the norm. The New Inn at Dowlish Wake is the venue each time as it is not only convenient but has a friendly and warm environment, as well as excellent food so go give it a try if your any where near.
Well, that's about it for now. I hope that you are all well and that you are keeping warm in the colder weather. Until next time.
Goodnight all.