On Tuesday my Dad very kindly asked if I would like him to drive the "Chucklebus" (with me in it of course) up to a quaint little place called Godmanchester in Cambridgeshire. The journey is 221 miles each way and according to the route planner would take us approximately 4 hours each way. We hedged our bets that this would be a really nice idea it only taking four hours each way and decided that as it would be a long day anyway, we would set off at around ten in the morning and see what happened. My Dad has to drive around an hour and a half to get to my place so I try to get loaded on to the bus before he arrives as he likes to head straight off. While he was strapping my chair down and me in, I had a text from my friend "Jim" who had a bike accident shortly after me, still requiring intensive care he came off slightly better in so much as he can walk but he did do a reasonable job which required an air ambulance. His was a vehicle pulling across in to his path and was also a low speed collision, it would appear that some car and van drivers have trouble seeing anything with less than four wheels. Anyway, I digress.
He had texted to see if there was room for a passenger as he is not working at present, I told him we were ready to go and he said he would be but a few minutes, to that end, we waited for a short while untiul he arrived. With "Jim" in the "Chucklebus" and us ready to go, we set off. We were very surprised that it did indeed only take around three and a half hours to get there without racing the van, we had to find the industrial unit which was very easy and so we pulled up outside of the unit which is a shop. The shop is called DRAFT WHEELCHAIRS and is run by a guy in a wheelchair called Chris. Chris had travelled to meet me at Tedworth House , a H4H Recovery Centre, to measure me for a hand cycle after I was fortunate enough to have been granted the money by ASPIRE and the Southern Spinal Injuries Trust (SSIT). I will be using the hand cycle to not only build the strength in my upper body, keep fit, lose weight and go for rides with friends and family, but I also want to "Give Back" to those charities by raising money possibly through the hand cycle that they have purchased for me.
So, my Dad gets me out  of the "Chucklebus" and "Jim", Dad and I head in to the shop. There are many hand cycles and attachments, racing chairs and even sit ski's in the shop, many of which are Draft's own make. It really is an Alladin's cave of all things for people who rely on a wheelchair.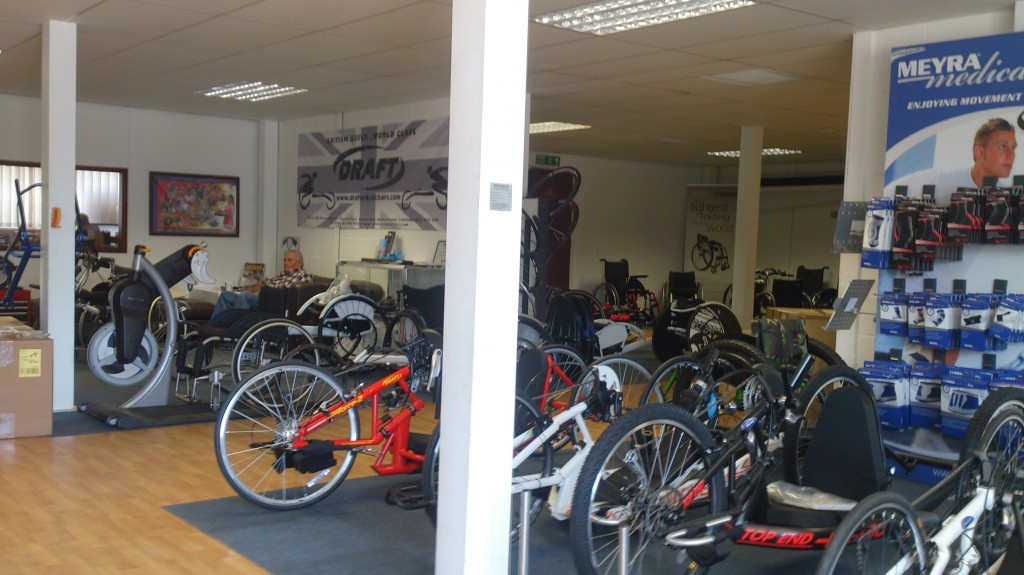 As we entered the shop there was a bright yellow hand cycle, centre stage which I hoped was sitting there ready for me to transfer (a nice way of saying I was going to fall in to it) in to it for Chris and his team to fit to me. There would be adjustments that would need to be done and a test ride to check comfort and have it settle down. First I needed to fall in.
Line up and shuffle forward in my chair, under the expert guidance of Chris.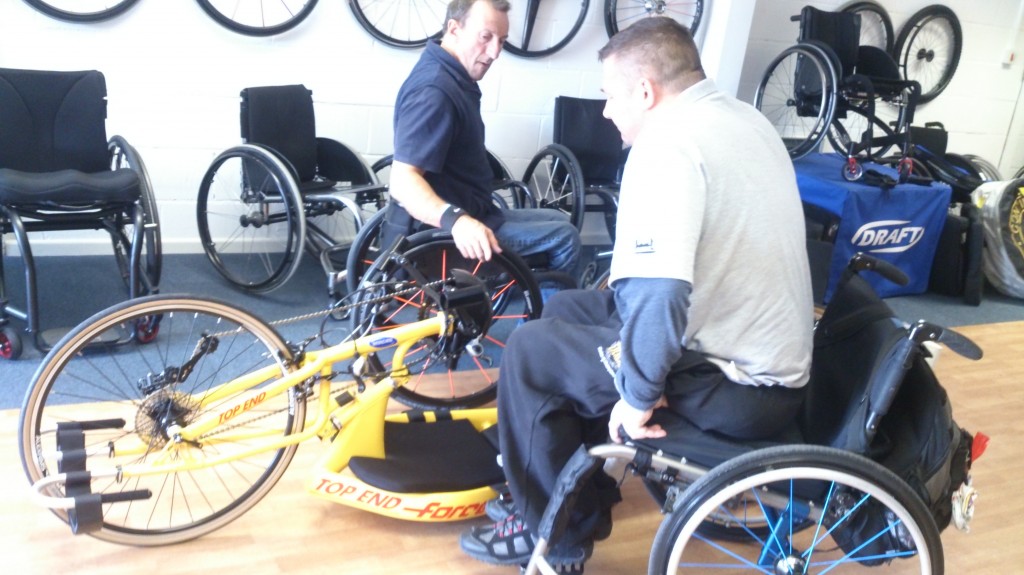 Next was making sure the chair was in the right place and to get my legs in the right place.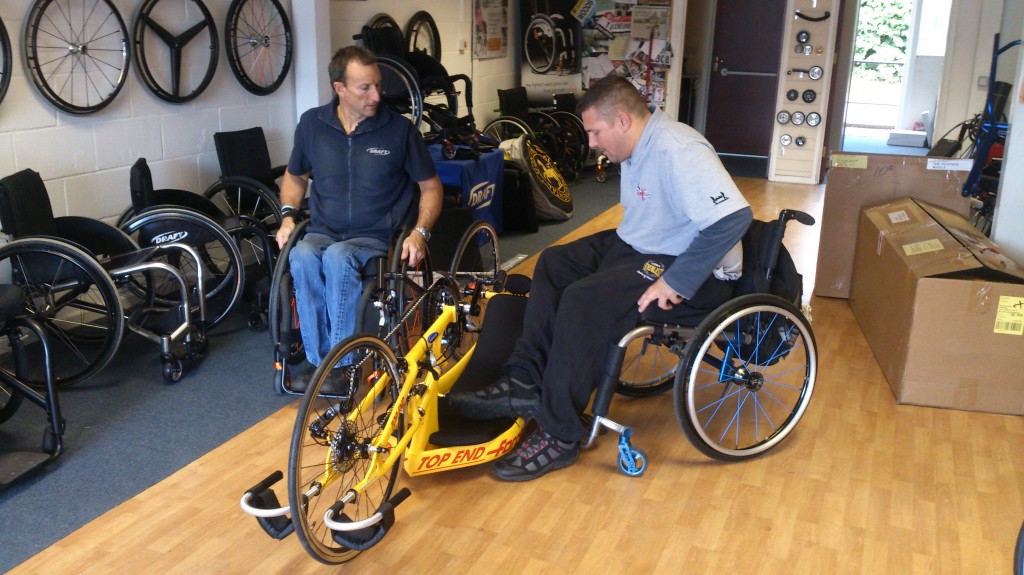 Then the transfer, AKA FALL. Then Chris and his team members, here is Ryan assisting, started the adjustments and fitting.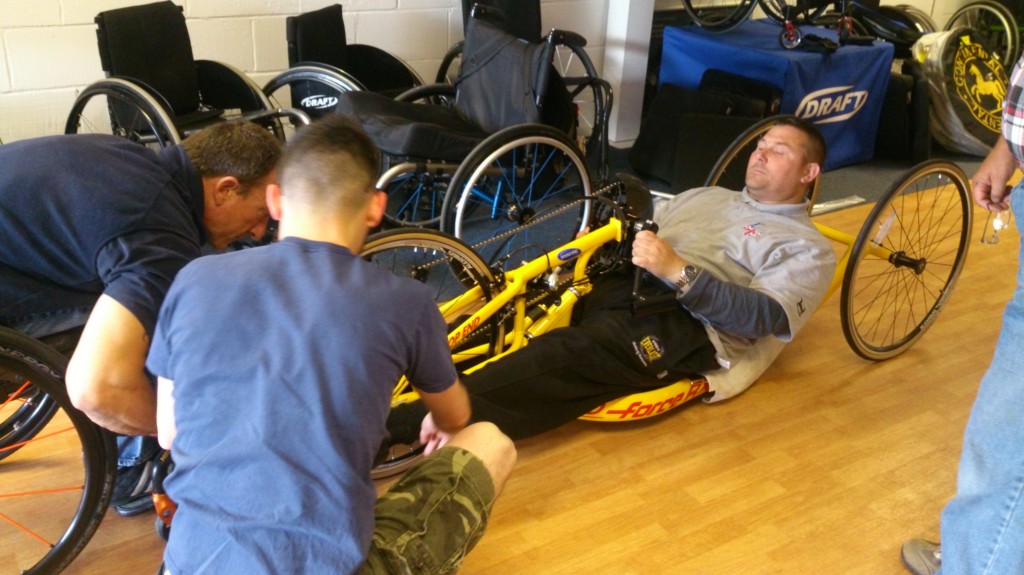 Granted, here it does look very much like I have slammed junior and the twins in to the frame of the cycle but I can assure you that I was in the middle of talking to Chris.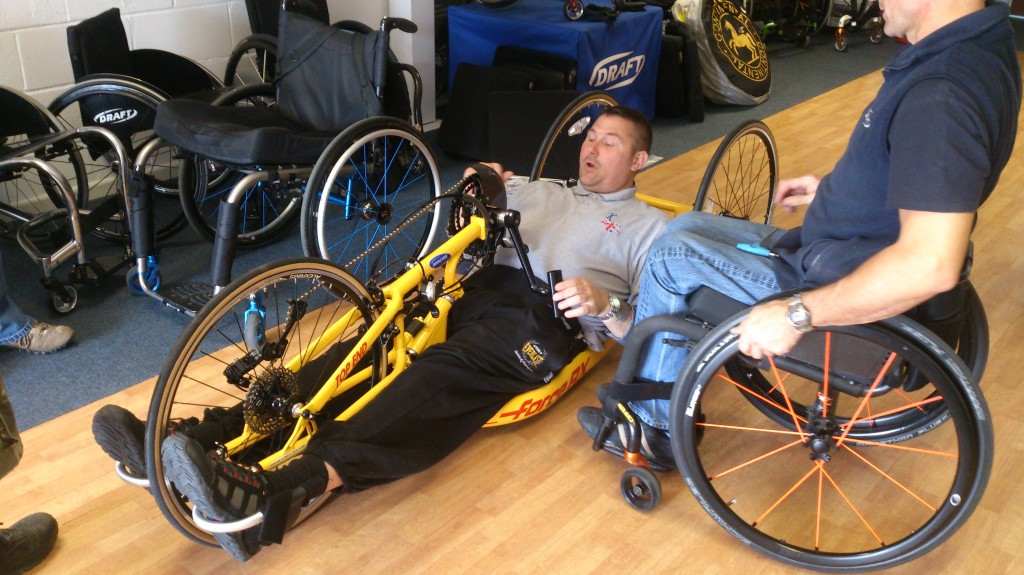 Then Chris and Ryan put the front wheel on to a roller so I could try the cycle and play with the gear system. We had to check that the hand pedals would clear my belly too!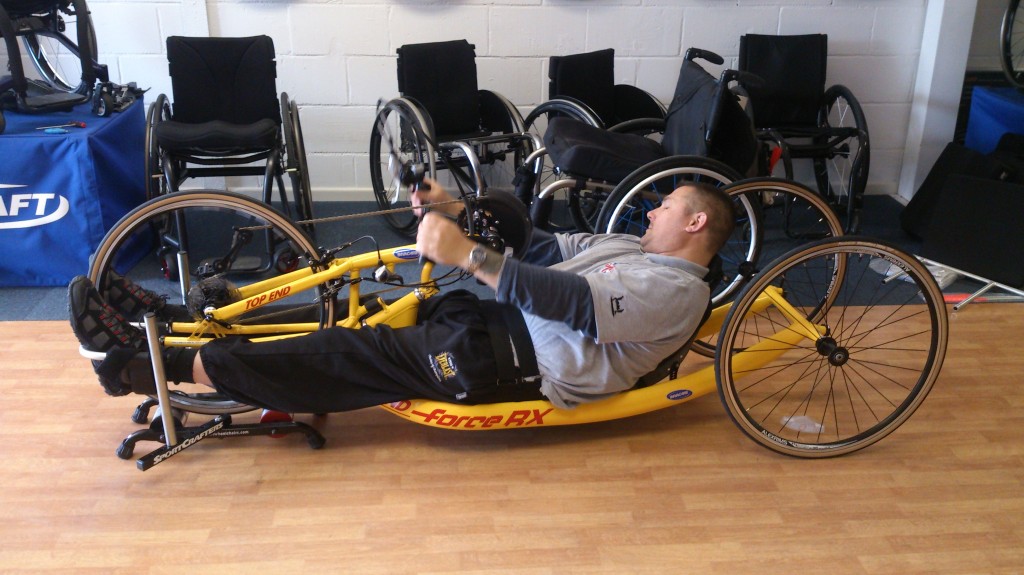 Happy with the adjustments it was time to venture outside.
      Out of the door and on to the car park.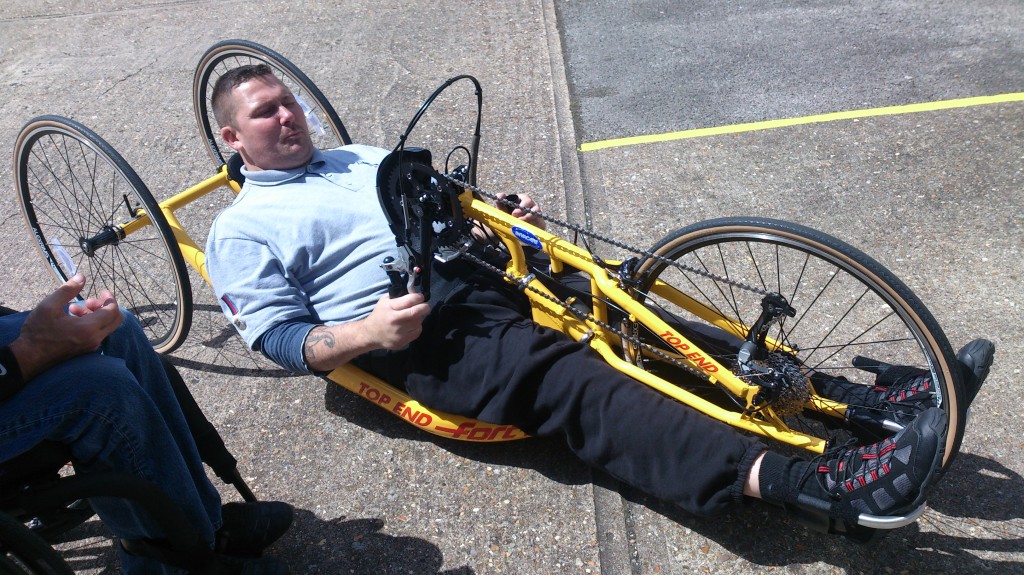 Then it was off for a lap or two of the buildings on the car park and service road.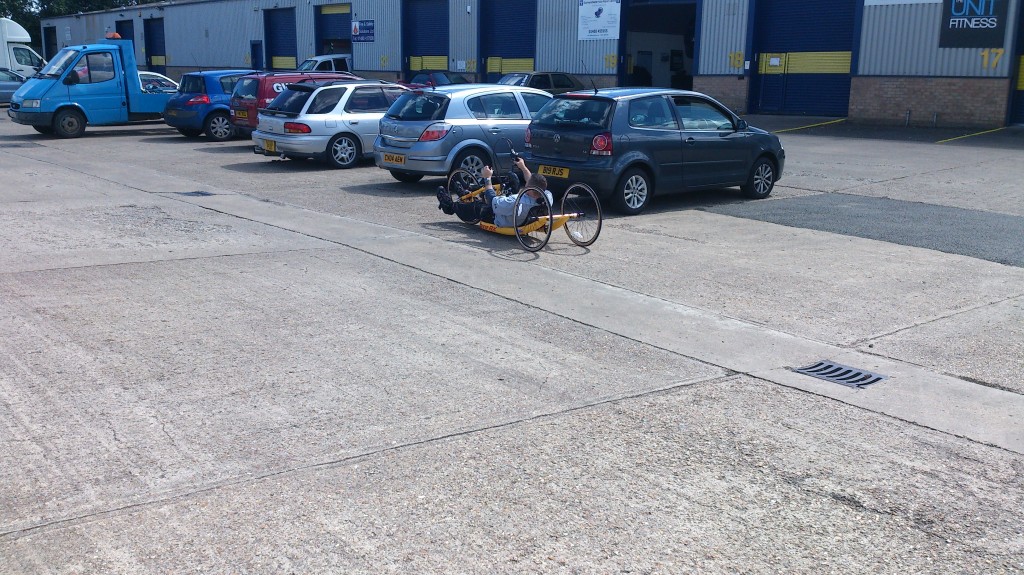 It was really comfortable and easy to work the gears of which there are thirty so hills should be ok. And I know that it goes as fast as you turn the crank but by Christ it was quick for the effort you had to put in.
After spending two hours sorting the cycle out, I purchased two new tyres for my wheelchair as they are as smooth as a freshly shaved shaving model off the tele and had a similar amount of grip to a heavily greased, non stick pan. Then with a "Goodbye" to Chris and his team, "jim" and Dad got me in to the "Chucklebus" and on to the seat of the van, then they strapped my chair and the hand cycle in and finally  it was set the SatNav and head home. I finally had my hand cycle, the Fat Burner, the piece of equipment that would serve many purposes, and maybe get my weight below the "Bugger me he needs a weighbridge!" weight.
The traffic was shite on the way home and it rained in places really heavily, then it would be bright blue sky again, very weird. With the traffic and the weather and a quick stop off to get some take out from the services, it was 21.00 hrs by the time we got back to my bungalow. I asked Dad and "Jim" to just lift the cycle out of the "Chucklebus", get me out and then put it back in the bus and when my Wife came down, we would sort it from there. Dad eventually got away from my place for his hour and a half trip back to Bournemouth at around 21.30 hrs. He had to be up at 04.30 ready for work too. Thanks Dad, I really appreciate it and also to "Jim" as he could chat to Dad in the front better than I in the back!
Wednesday and the workmen came to sort the drains that have all but collapsed on the neighbouring properties which they hope will stop my toilets backing up every time it rains. They were here at 08.00 this morning but as I had been up since 04.00 with problems it mattered not. A cracking couple of blokes who just got on with it, didn't even know they were there to be fair but then, they were in the two neighbouring properties. My Wife bought my hand cycle in to the front room and I "transferred", (using the term looser than a loose thing from the box of things that were not tight at all), in to the cycle. After lying in the cycle for a while talking, it was time to try to get out. This is why I had it bought inside, so I can practice. Needless to say I didn't manage it but I now take my cushion off of my chair which gives me a few inches of grace and I am only around an inch away from managing to get on it. The tyres are as I have previously said, shite which meant that the chair was constantly sliding away from me, so tonight I changed the tyres for my new ones. What a balls ache that was, but they are on and now I simply have to get them pumped up to the 110 psi that is required which will require the electric pump plugged in to the cigarette lighter of the car. I have a foot pump which I managed to pump the tyres up with to 40 psi but that was it, clue is in the title…FOOT pump, so that was never gonna work!
Wednesday evening then and I spent it all on the computer. I started a page on FaceBook with a friend of mine who also has an SCI called the SCI Owners Club. (SCI being Spinal Cord Injury). It is for people who have a Spinal Cord Injury where we can have banter and share experiences and rant and bitch without someone saying what a bloody inspiration we are. I am not an inspiration in my eyes, I am getting on with life which is what I choose to do. I accept however that there are those who find it hard to adjust and so the group can offer support to those in a banter kind of way as well as being serious if the situation dictates. There are no able bodied people in the group either so it is very relaxed. We have had a lot of people ask to join though who are the partners of someone with an SCI which we have had to decline and so I have created a new page called the SCI Owners Club, Partners Division. This is exclusively for the partners of those with the SCI so that they can ask each other things and vent without us being privvy to it. Fair is fair and partners need support too, but then there are friends and family members who also have a hard time dealing with a relative or close friend with an SCI, parents, cousins, Son's and Daughters, Aunties and Uncles the list goes on and on and so I have also created the SCI Owners Club, Friends and Families Division where all can go and chat. This group is more of a chat group but friend ships may be born and grow giving the opportunity to private message to ask questions. This group I admit may not go according to plan as it will rely on people adding close friends who may be struggling to deal with the changes and not a free for all resembling an 18-30's Ibiza holiday, but I hope it will be used and populated sensibly.
And so it has been a busy couple of days. It is already well past my bed time and in to Thursday so I'm going to end now.
http://www.draftwheelchairs.com/
Goodnight all.