Being one of the Help for Heroes Band of Brothers means that we get invited to different things which are offered. For those who are unsure of what the Band of Brothers are, they are all militay personnel who have sustained life changing injuries since 2001. This is not limited to operational injuries which is why I was added as a member and I have been shocked at the amount of amputees due to vehicle collisions. Anyway, back to yesterday (Thursday). My friend "Jim" who you may remember accompanied my Dad and I to collect my handcycle, drove me to Goodwood for the Festival of Speed 2014. The weather report was not good for our area but appeared to be better at Goodwood and the weather men were not wrong, it was beautiful sunshine for pretty much all of the day. We arrived having been stuck in a great deal of traffic which we hit at around four miles out. Needless to say it took and age to get through so we did a bit of car spotting. Ferrari, Nissan GTR and Massarati to name just a few of the more sporty vehicles we saw on our crawl in and obviously a lot more of those cars and more in the car parks as we headed for the disabled parking. "Jim" and I were quite shocked at the amount of Ferrari's in particular that appeared to either be driven by or have passengers who were disabled as there were quite a few of them in the disabled parking area.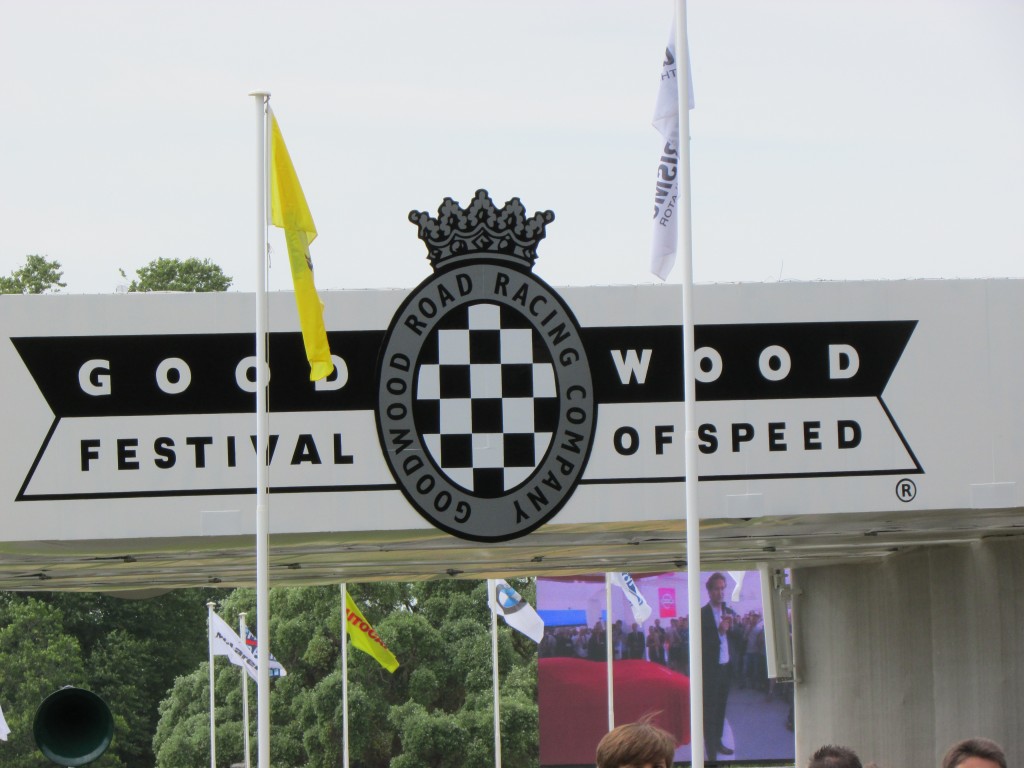 Goodwood really look after their disabled visitors as they send cars and disabled accessible minibusses which take you directly to the entrance gates, this was a real Godsend as I was in my manual wheelchair and the car parks are fields. Inside the grounds they have temporary aluminium flooring as pathways which makes it easier to cut around the place, still makes you work but it is easier than grass. We arrived at the main gate where I called the delightful Sue who is the bringer of smiles to the faces of so many by her charm, happy chit chat, hard work and um, something else. What the hell was it? Oh, that's right….TICKETS and INVITATIONS to some pretty wicked days out. Fair play to her, somehow she mangaed to get away from the Mission Motorsport area long enough to come and get "Jim" and I and show us to the area where we could use as a `base`. Drop any bags that you didn't want to carry around and grab a cuppa and literally a slice of cake. I can only assume that she has managed to get some of the BoB's to teach her some escape and evasion techniques as she is without doubt the most sought after member of the team and rarely manages to leave the Mission Motorsport area at any of the events as she seems to know everything that everyone needs to know, bless her.
We arrived at the area allocated to MM where the founder of Mission Motorsport, James Cameron was addressing a crowd of people and when he had finished speaking, all beit temporarily, some of the guys who are being helped by the work that MM  do fired up an F1 car that they have been working with. Due to the car running there was really no point in James Cameron speaking as you could hear this thing from a considerable distance away. Once the car was shut down James continued to talk to the crowd and introduce those who had been working with and running the car. James stepped down from the plartform that he had used to address the crowd and came accross to talk to me and "Jim". I can not remember the last time that I spoke to James but when I talk to him it is like I have only seen him a week before, and that goes for all of the permanent staff of MM.
Having had a brew and a slice of cake it was time for "Jim" and I to venture off and look around the various stands and displays that the festival has to offer. Instead of writing lots of text I am going to put some pictures up that I took of the day, hopefully you will be able to imagine what it is like, I'll add some words in somewhere but predominantly this is going to be a picture blog. Hope you like cars!
Starting with a demonstration from Land Rover.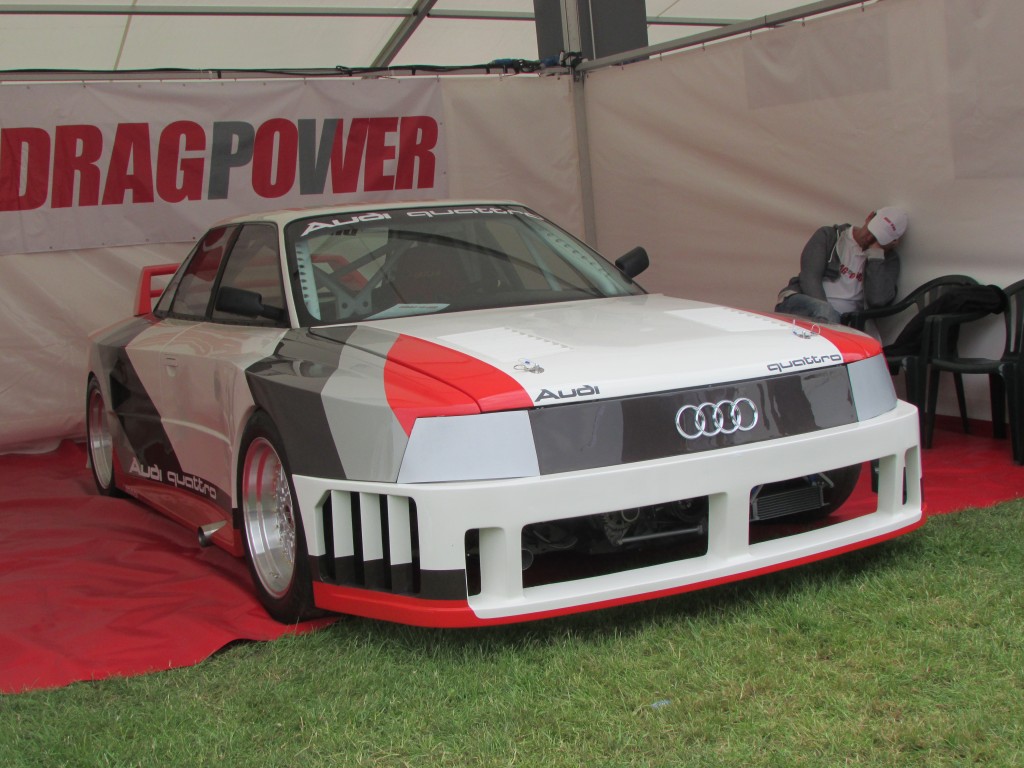 The next picture was taken at a stand who specialise in carbon fibre and airbrushing.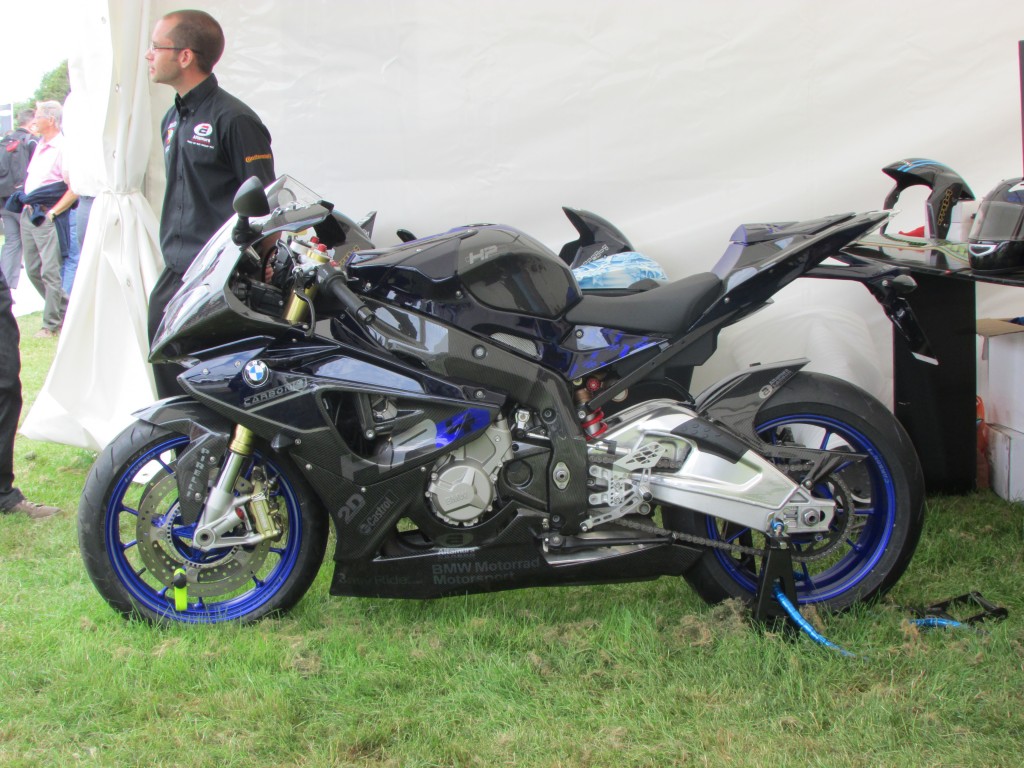 The Aerial manufacturers were there, they build these less than ten miles from my bungalow.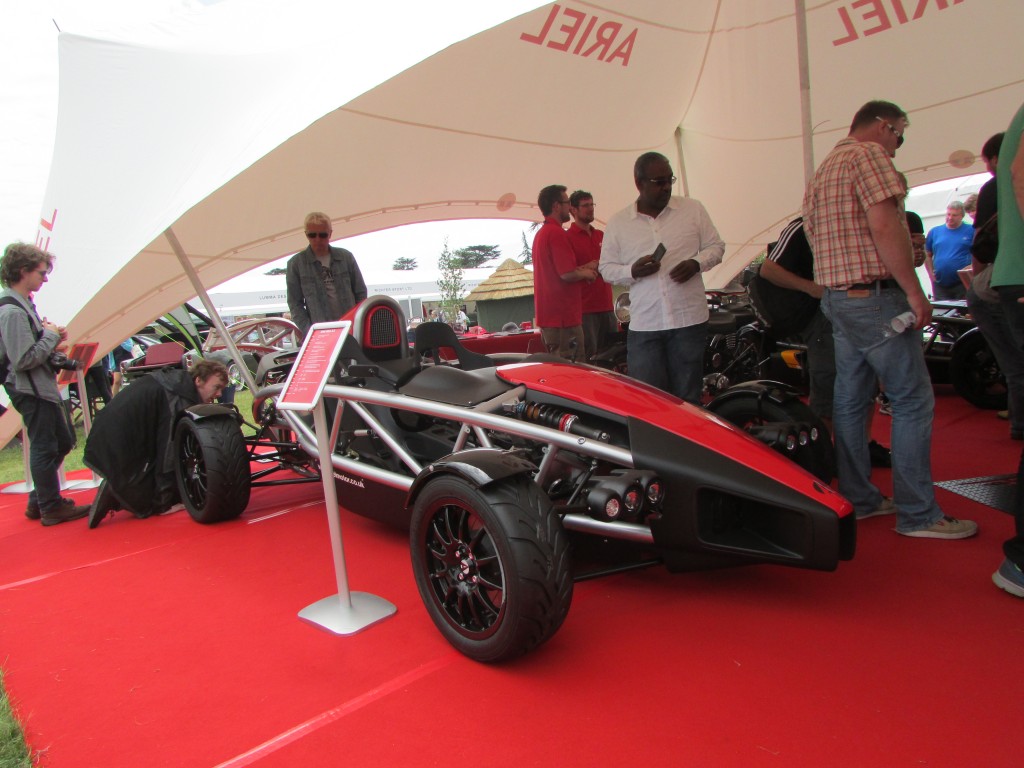 Didn't know they were trying their hand at motorbikes, not my taste but each to their own.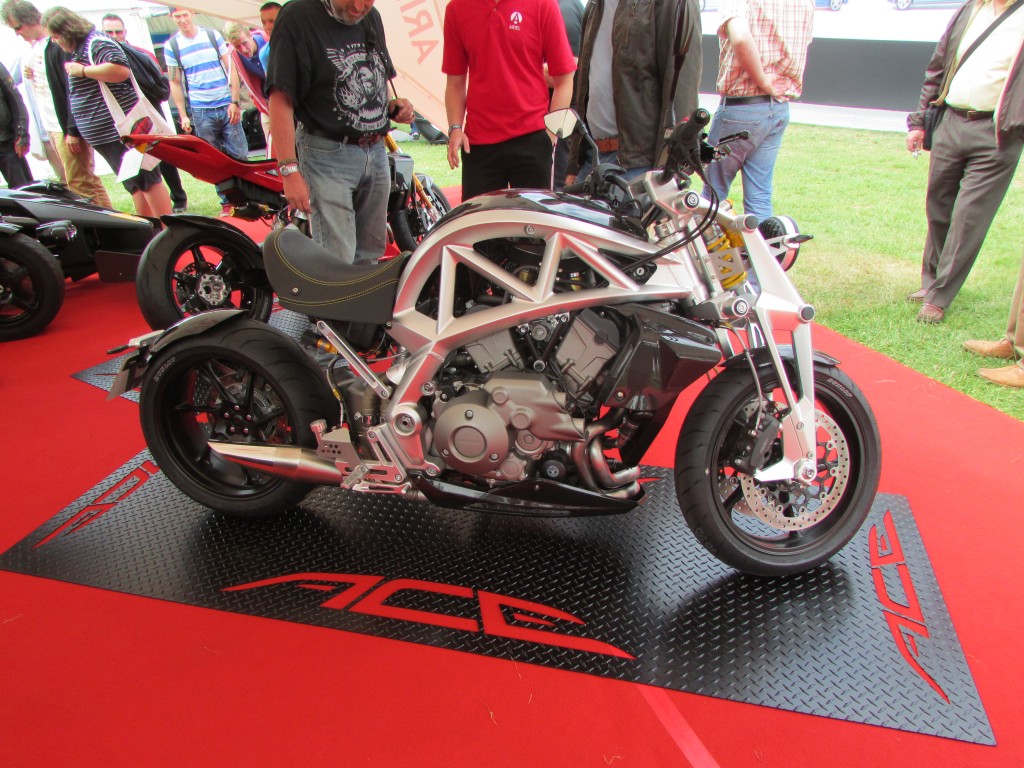 Next picture is a place who simply mod vehicles. A modist £96k will get you this one.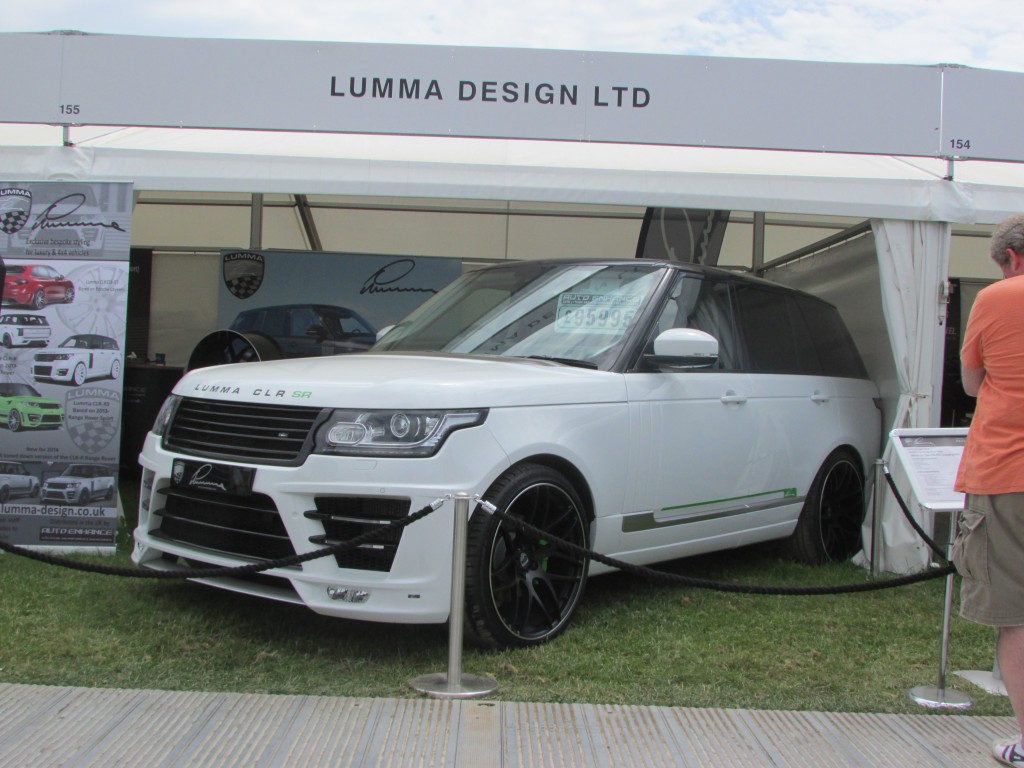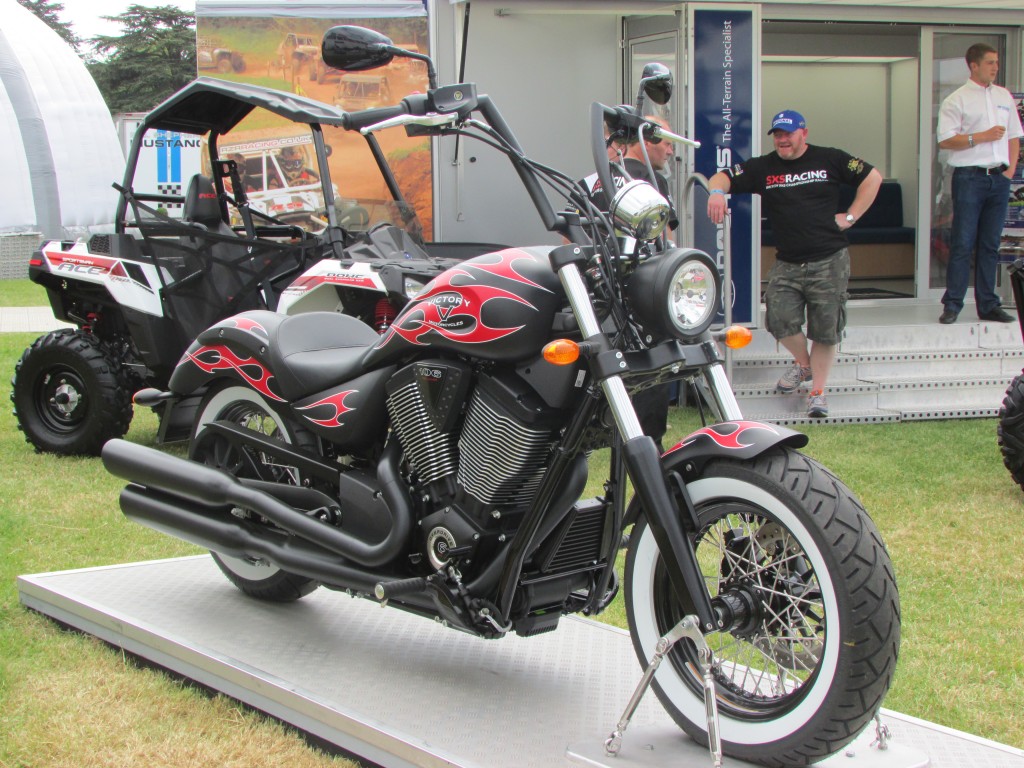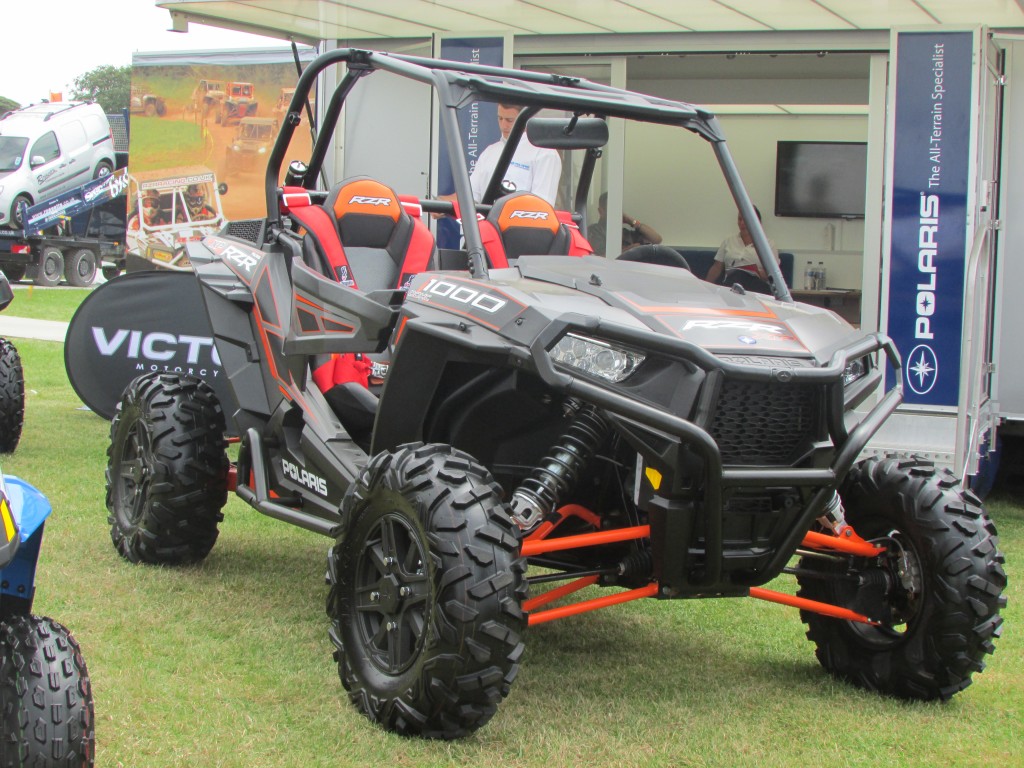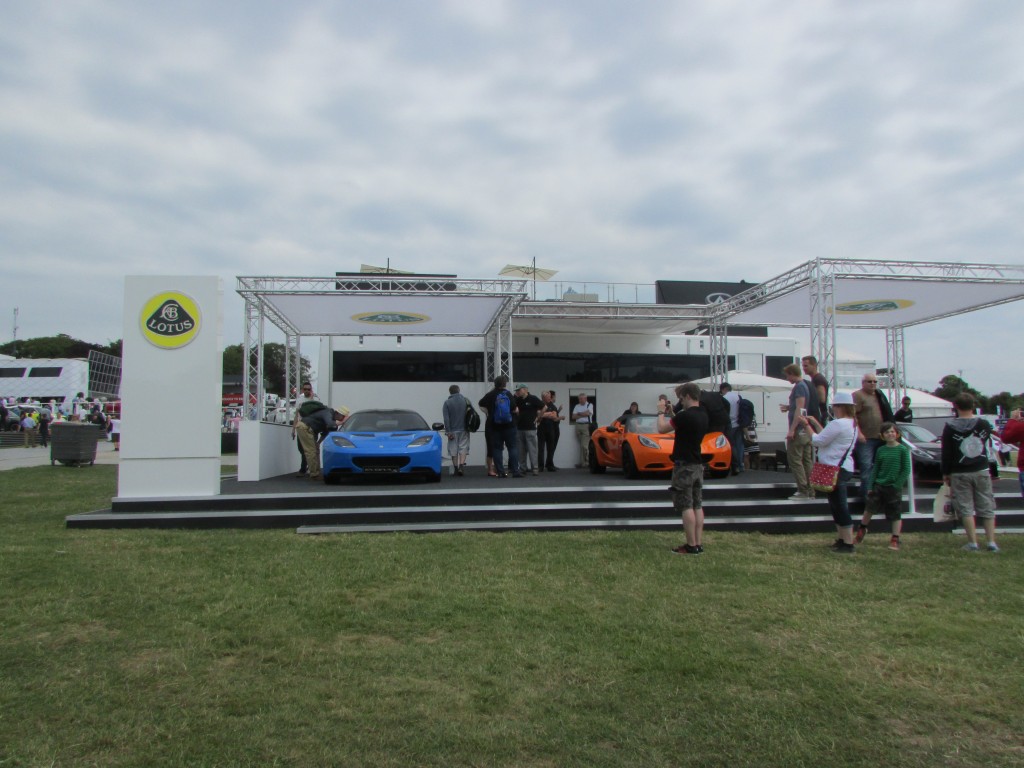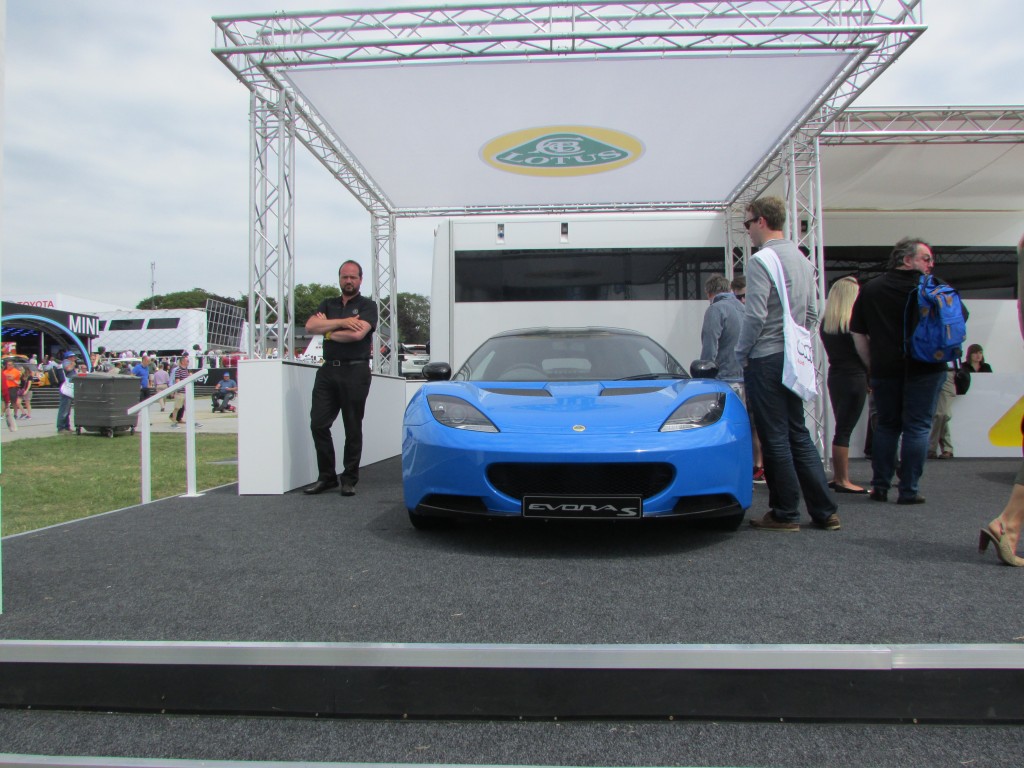 An interesting ornament to have on your wall.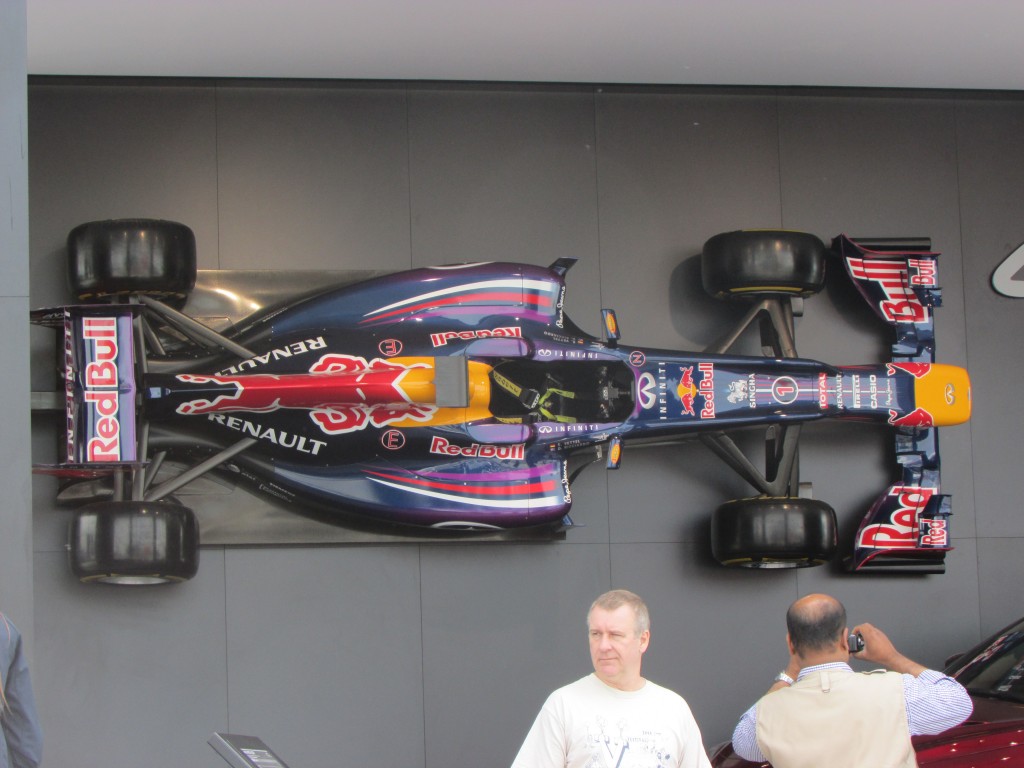 The next picture needs only one word; REALLY????
Know what this is in the next picture? It begins with the letter K and ends in G, but don't ask me to fill in the rest.
I had never seen wavey discs on a car until yesterday.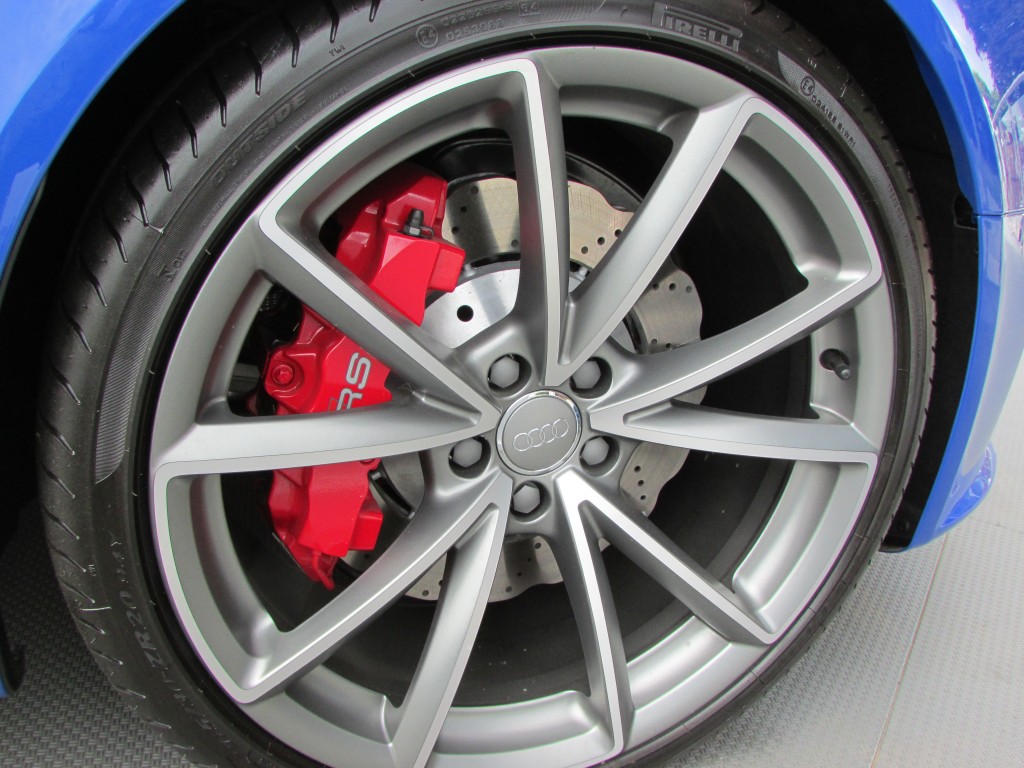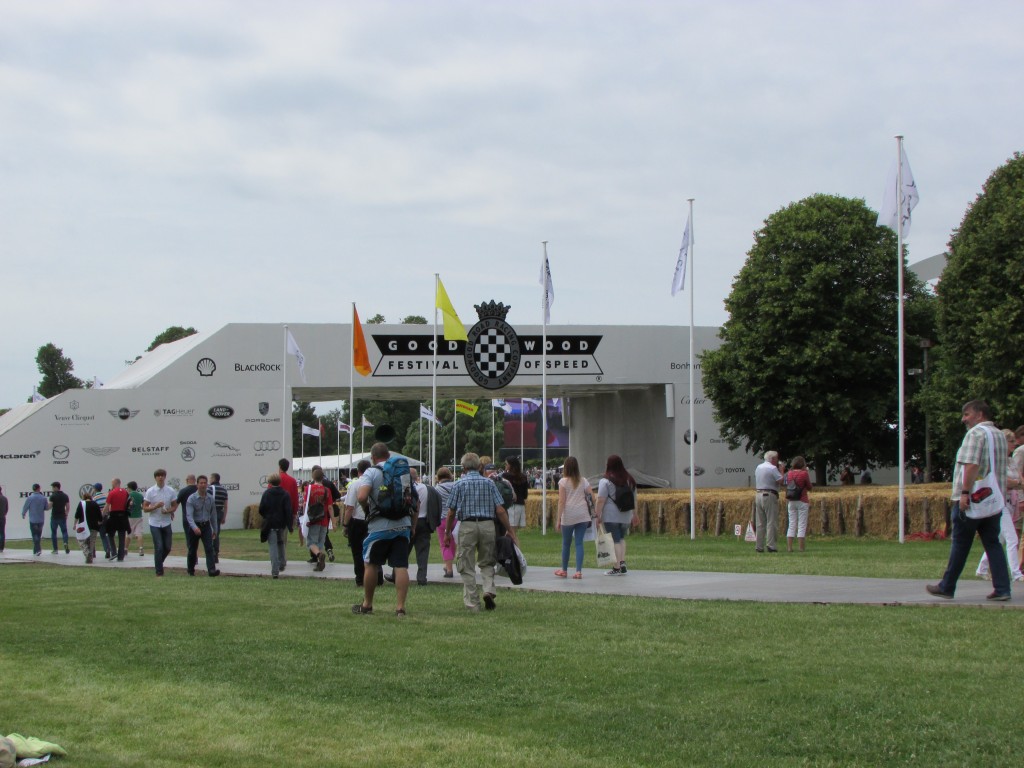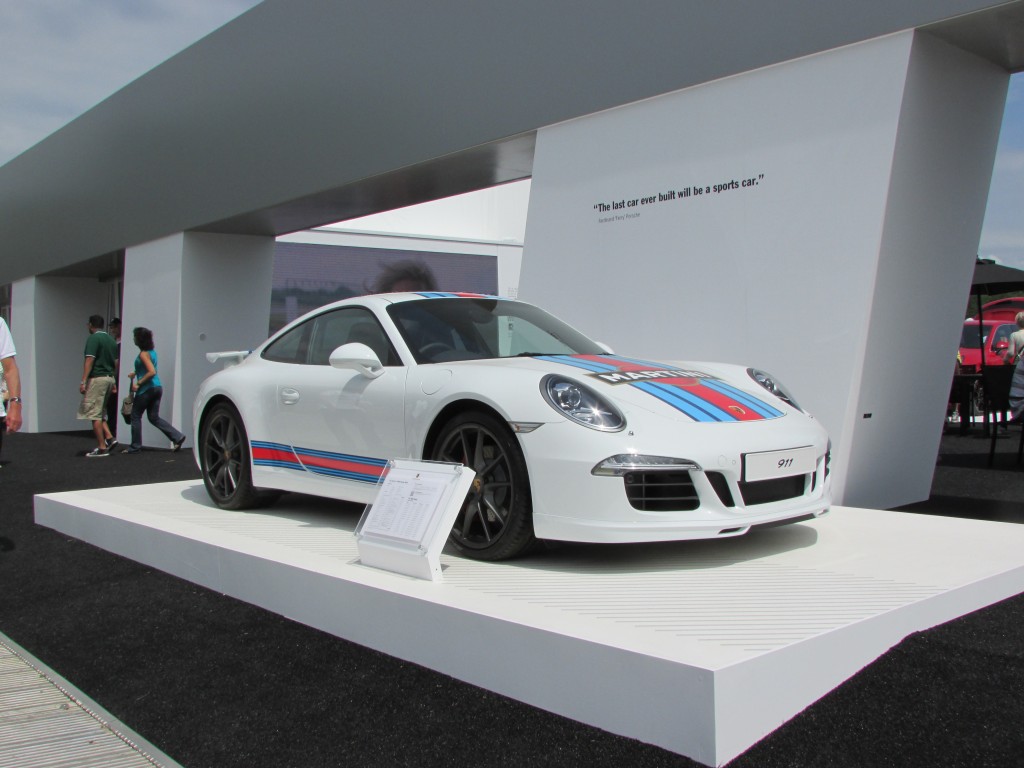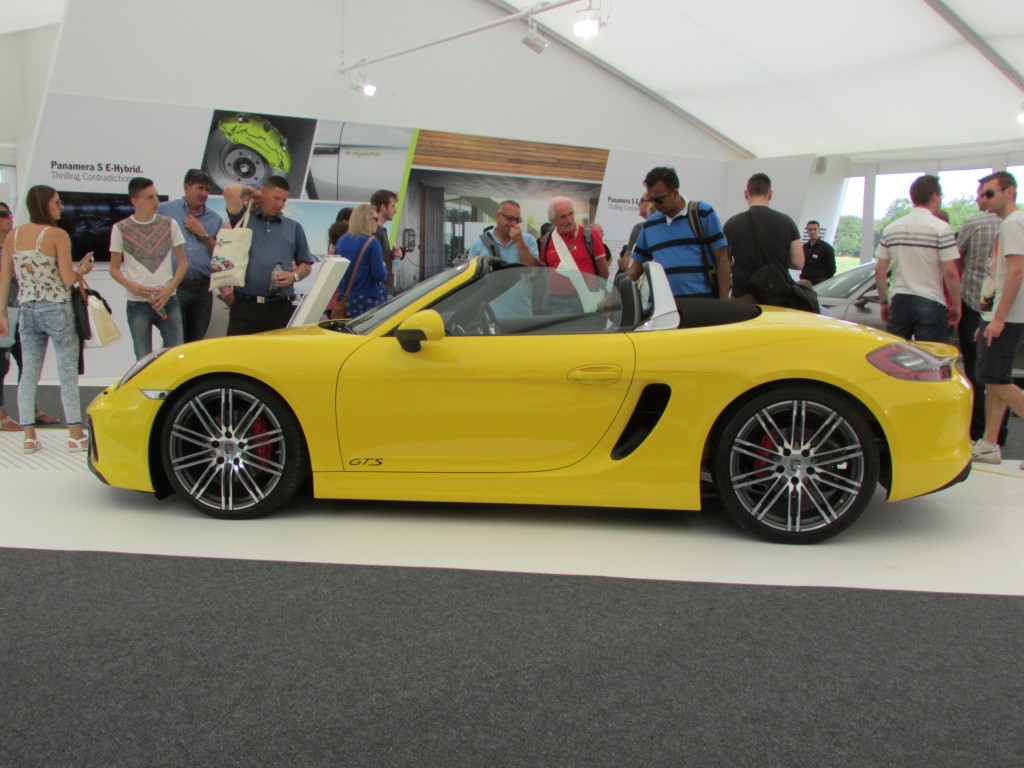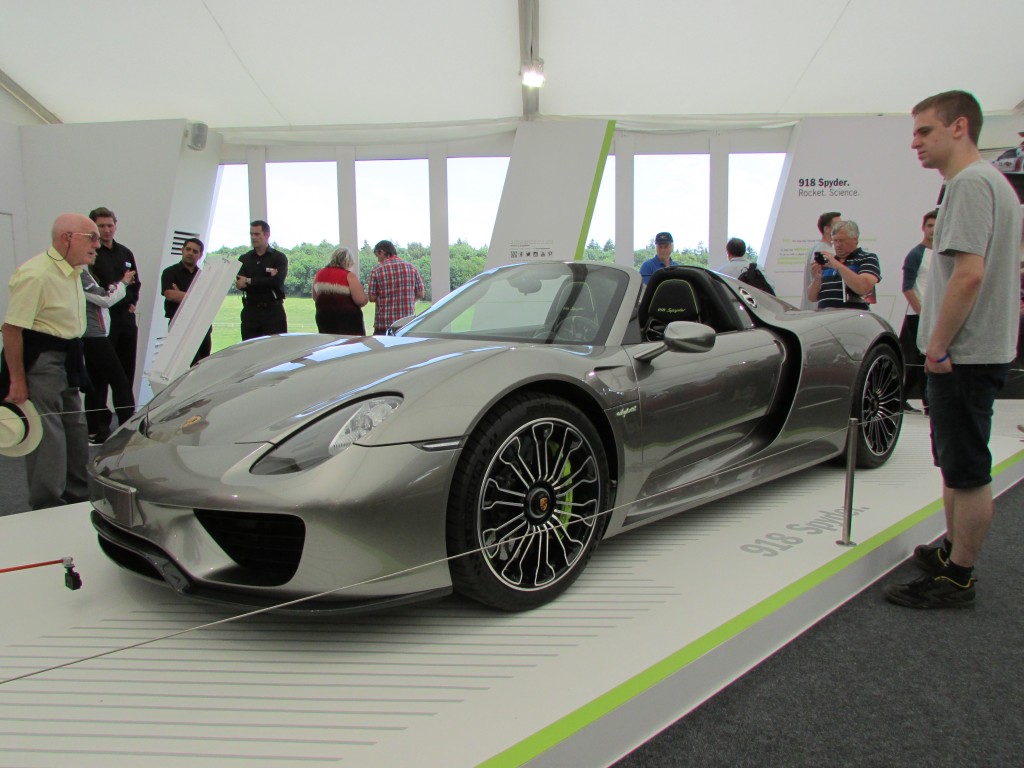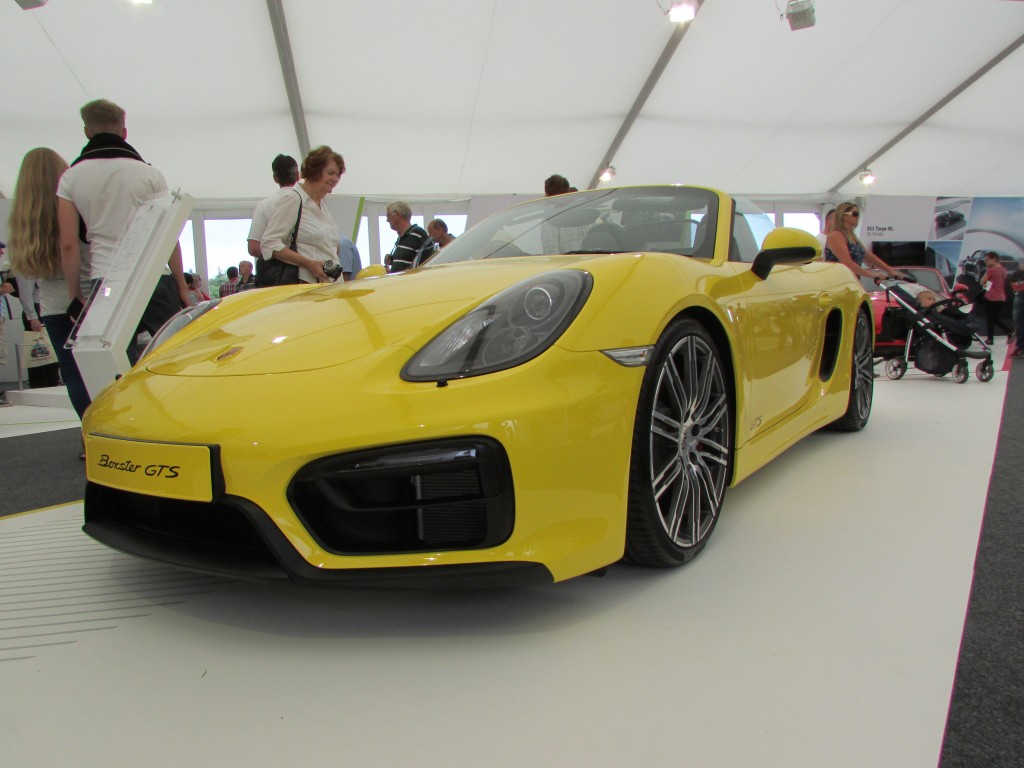 Test drives on the track, a speed limit is in force.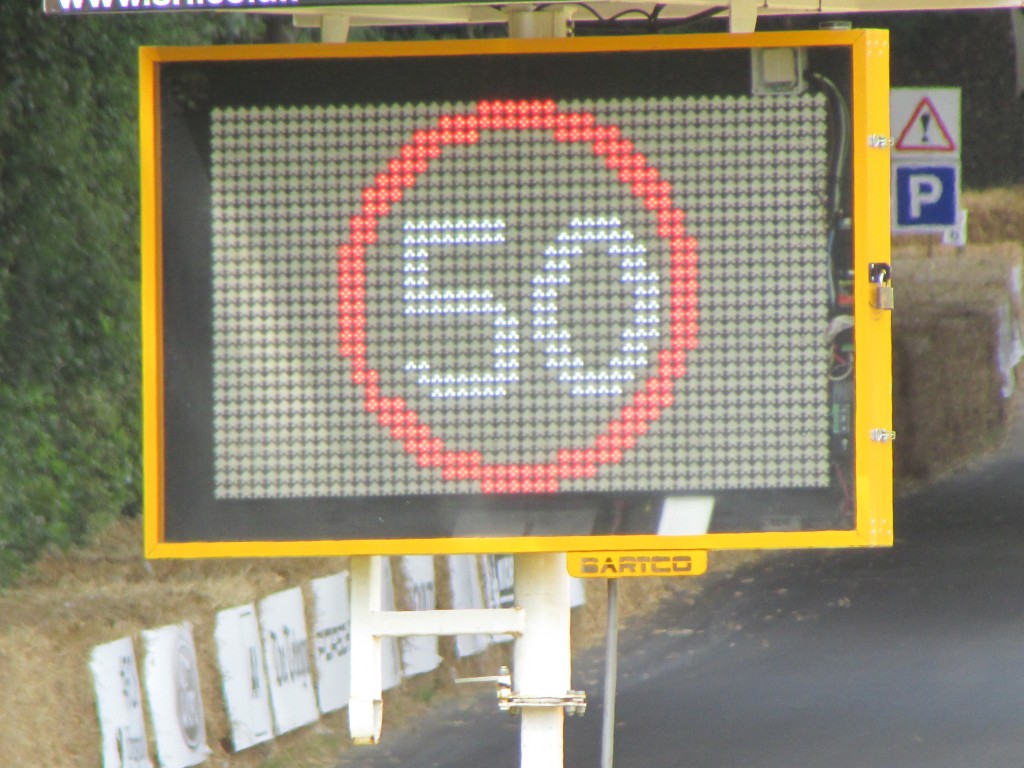 But frequesntly ignored.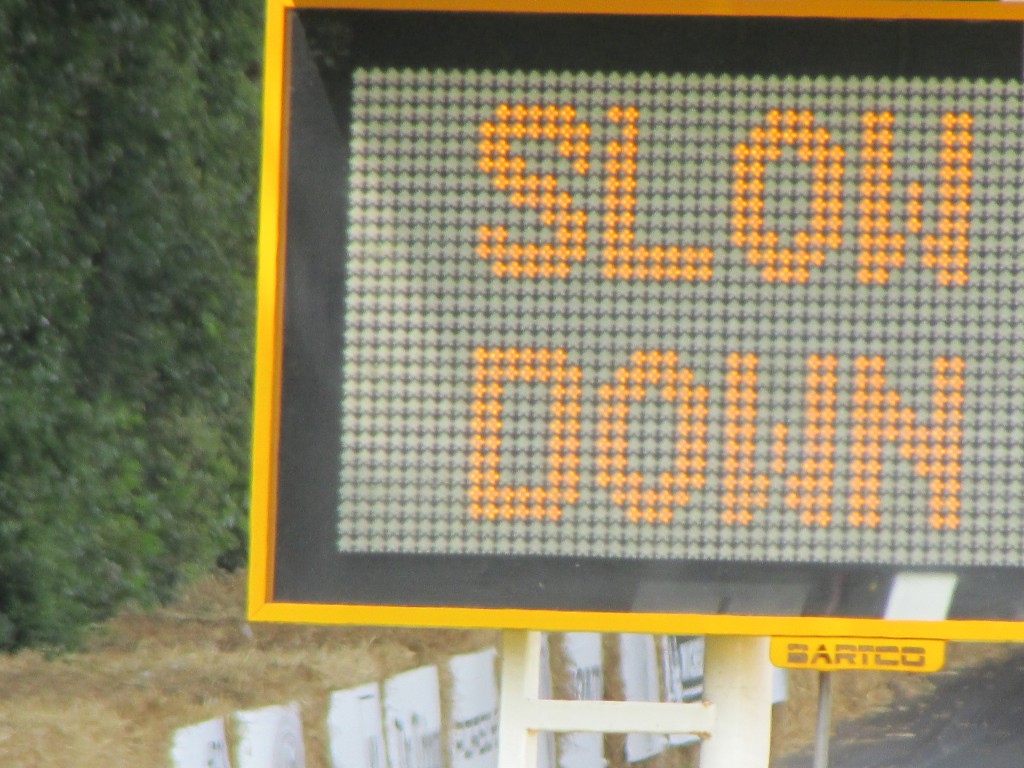 The worlds first ROAD LEGAL flying car. Big kite on the top and an adequate fan on the back to push it along. It has a rudder also although not fitted at time of picture being taken.
The least filmed car in any race, funny that, you'd like to think it was the safest though!
This next picture shows some 3D virtual reality thing. Didn't try it but it was funny to watch the people who did.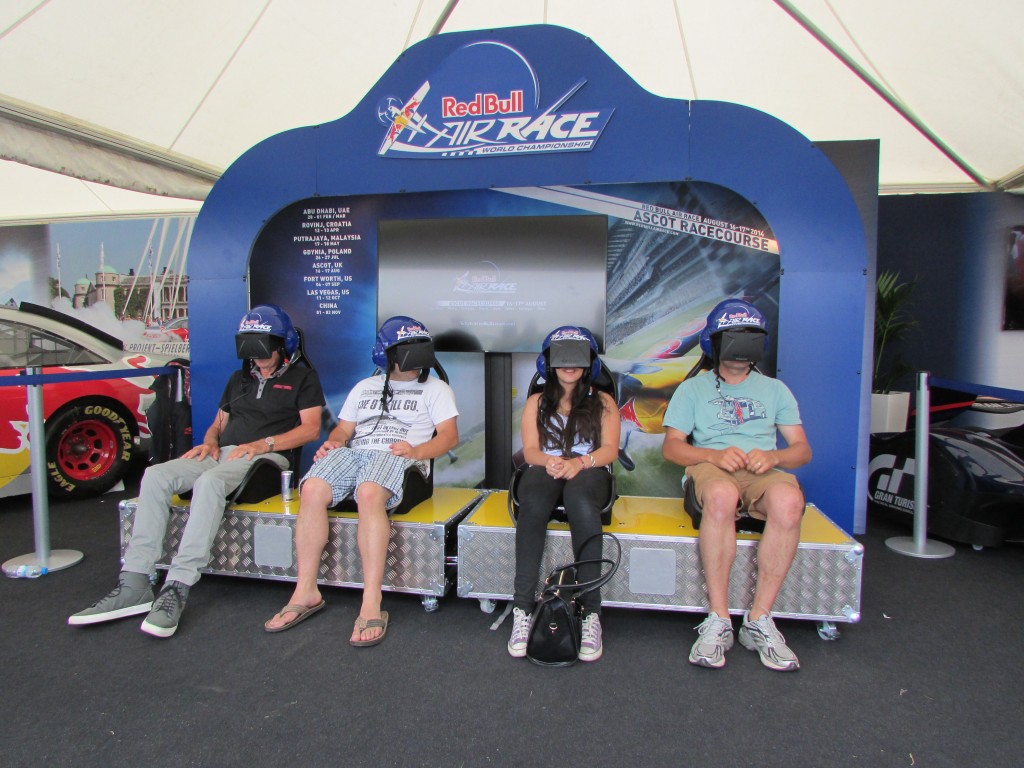 Although mine was a straight 6 and definitely NOT as kitted as this one, I had one of these. Mine was a red 1978 Camero and I wish I had kept it.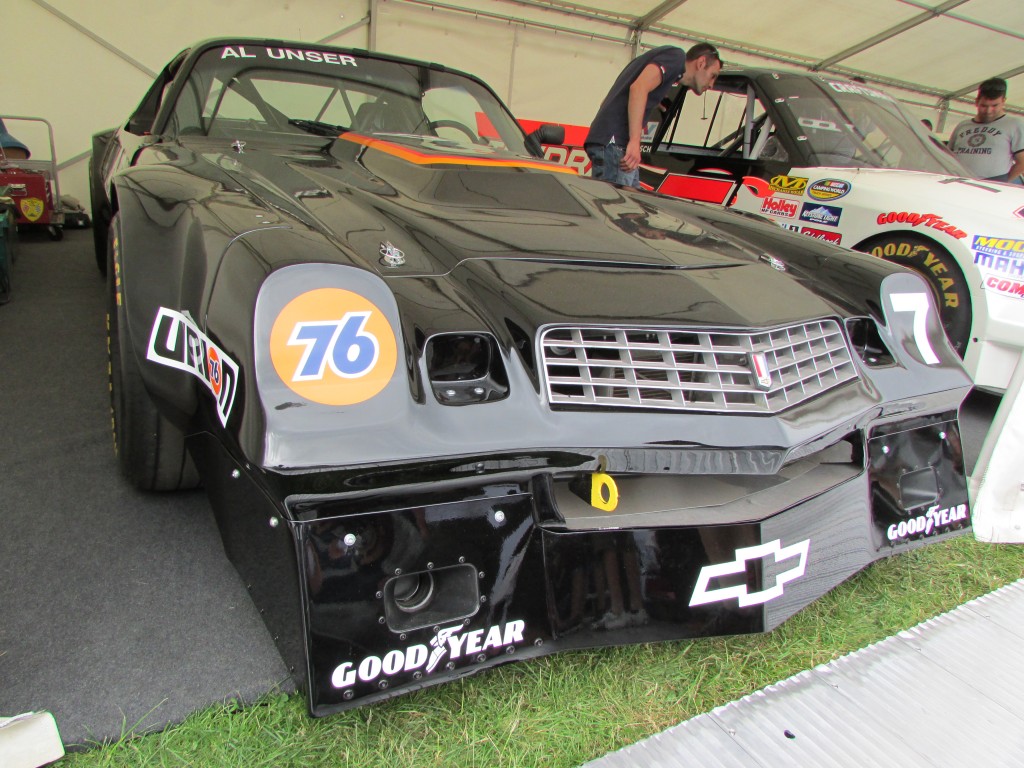 Loved seeing these old girls.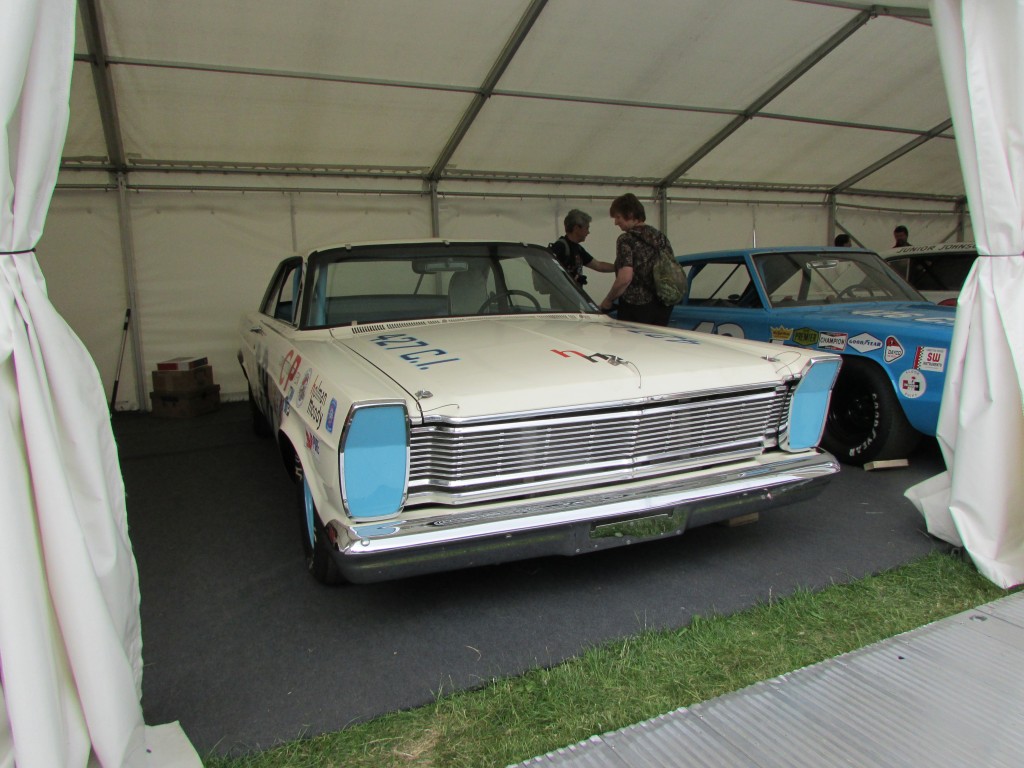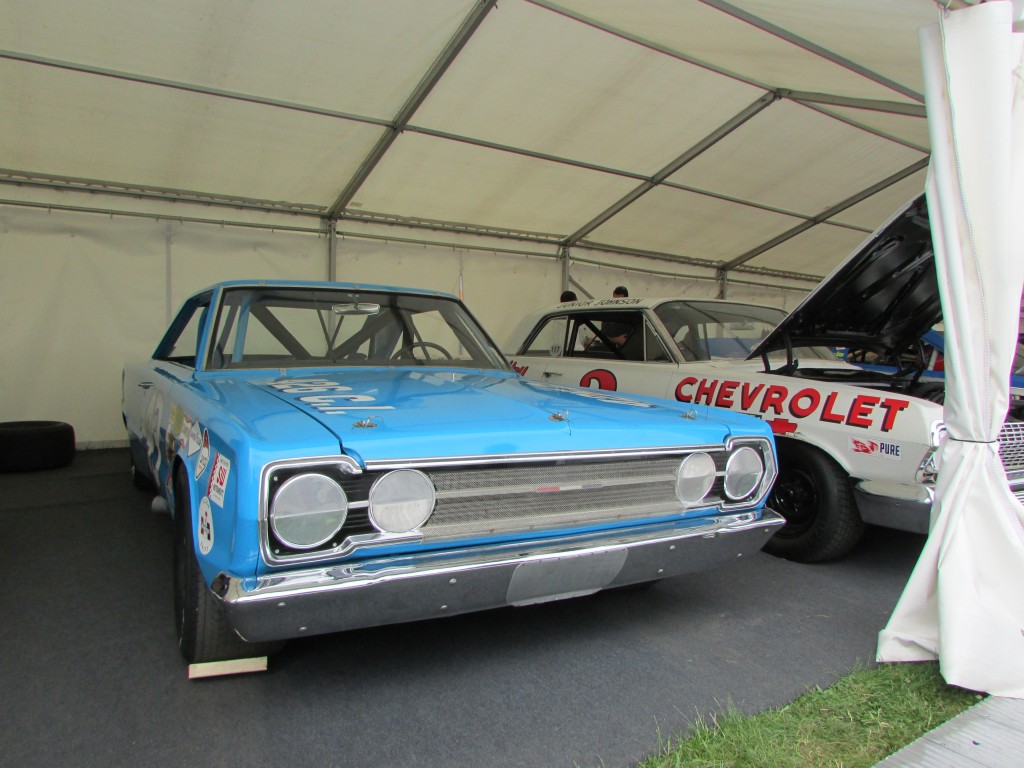 The longest inlet manifold that "Jim" had ever seen.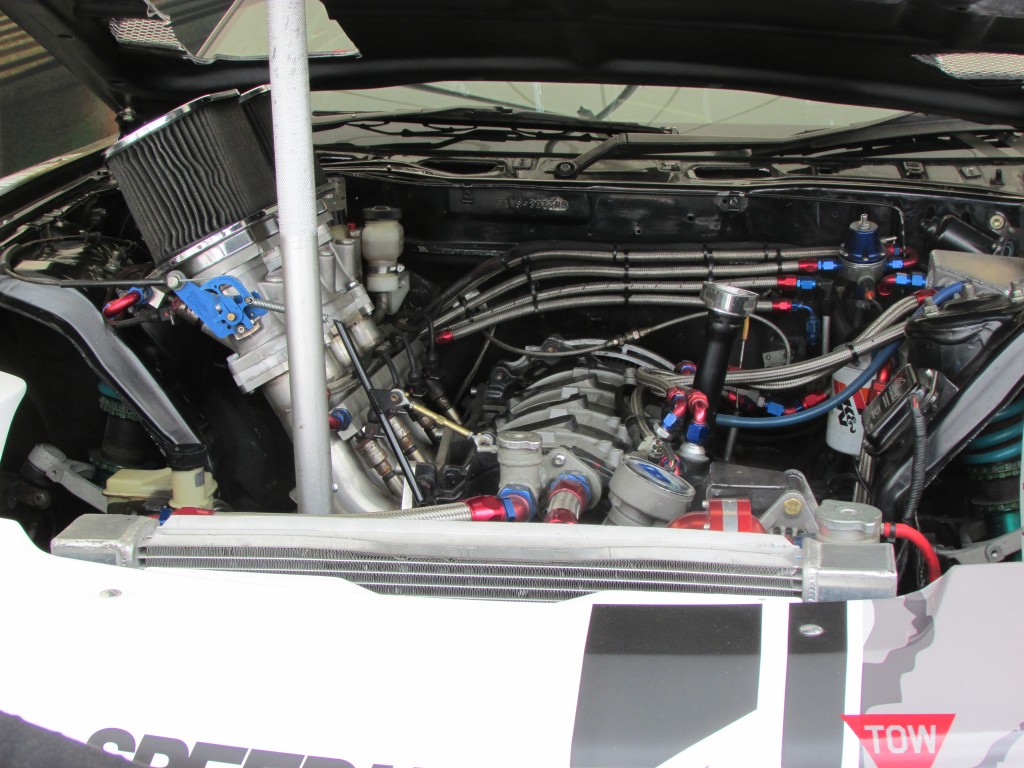 Loving the stick on imitation haed light cluster on the race car below.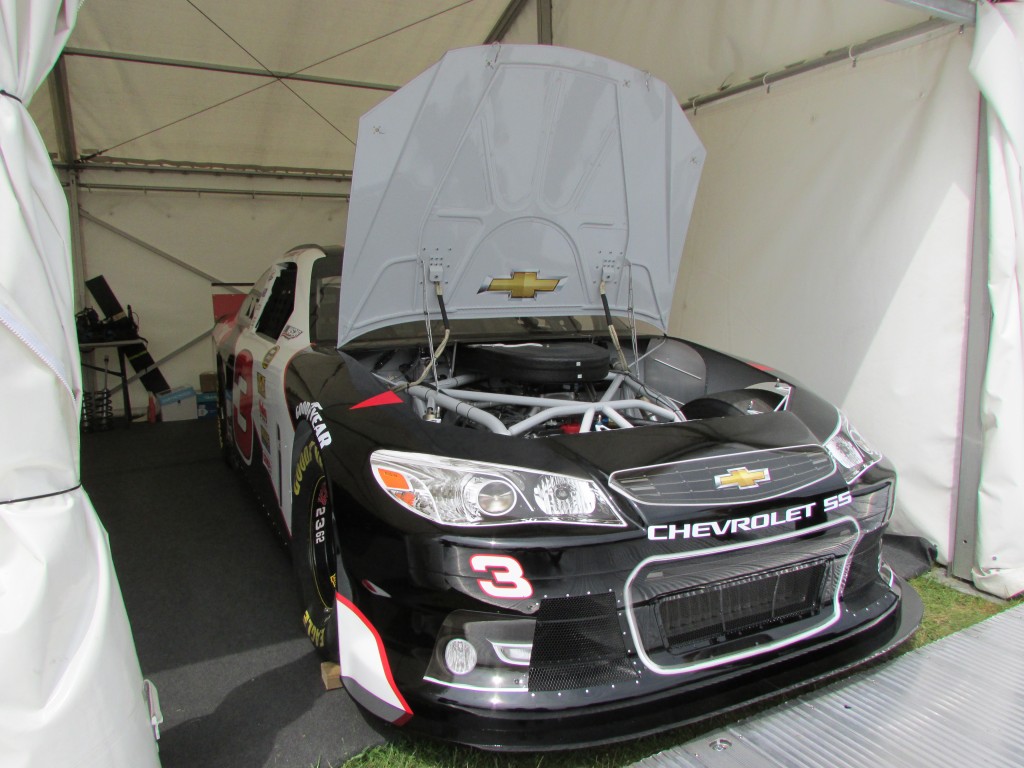 After enduring several people sticking their arses in front of my camera, I finally (with assistance from "Jim" playing `blocker`), I got a picture of this thing, not the best picture but to explain, it is a transporter type thingyamejiggy.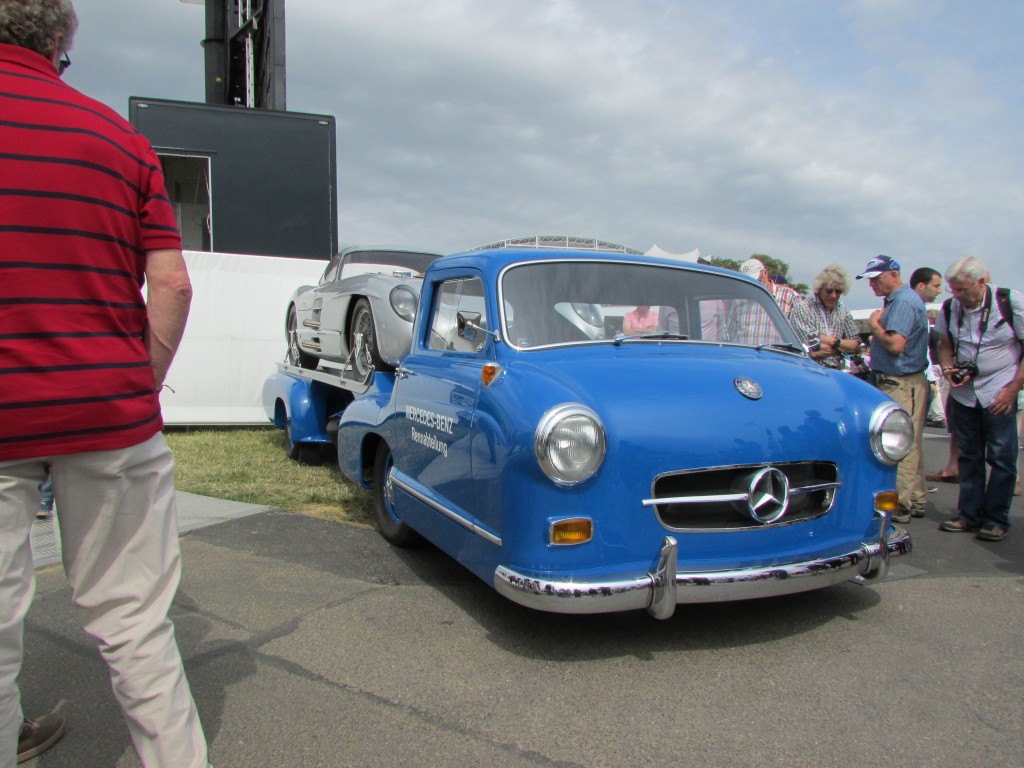 Again, a crap picture below for you to see what I wanted to show but it has 2 rear axles!!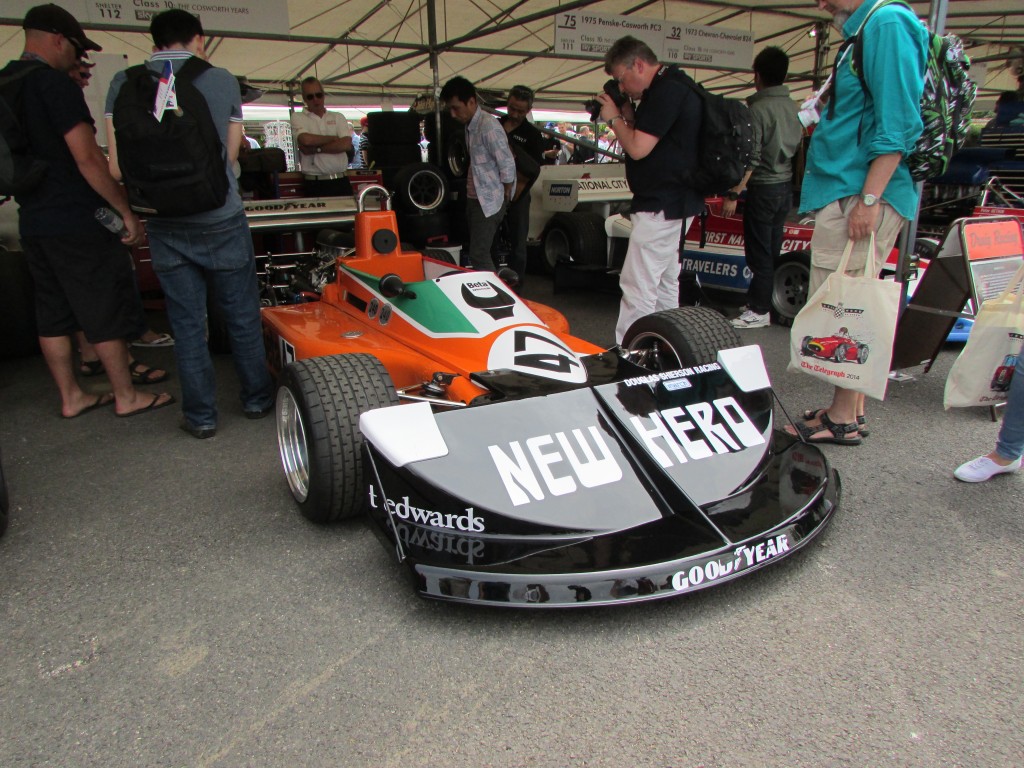 My Scalextric had one of these when I was kid.
The next picture again does not do the finish justice, but it looked like brushed aluminium.
It's a good job I am not a photographer for a job, (maybe I should do a course or something), but this paint job really caught my eye.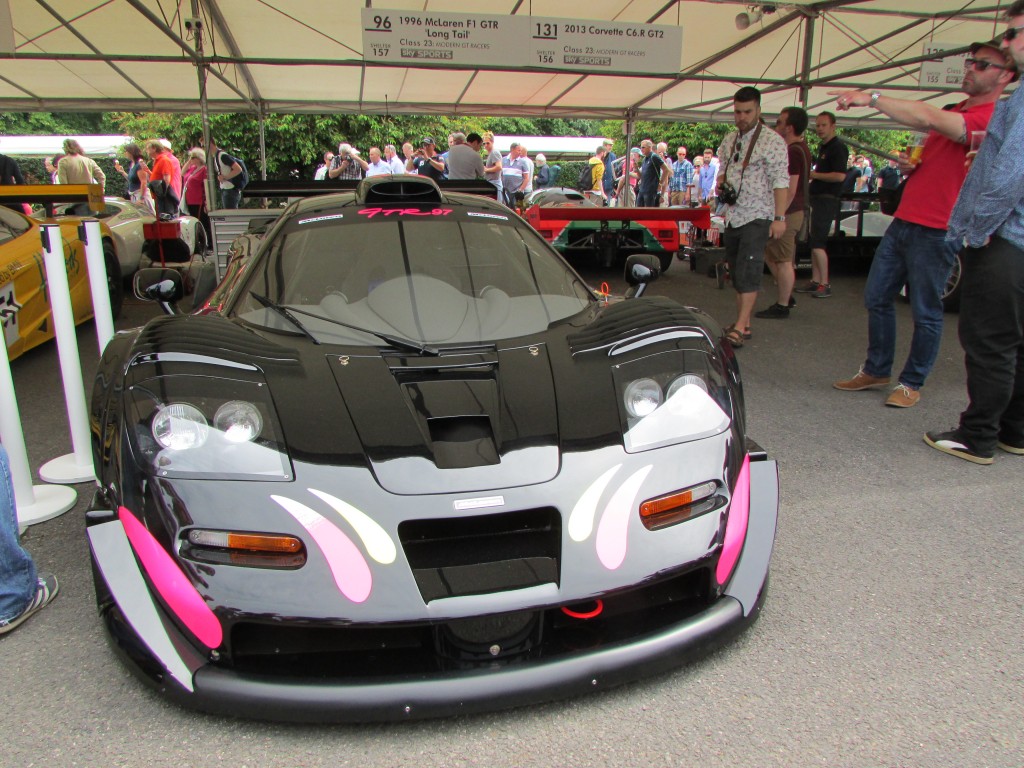 Not what I was expecting to see…
There are only a couple of places to cross the track from the paddock area to the trade stands and they are only open for a few minutes, every hour on the half hour. Signs are posted around and there are stewards who ensure the public don't take their chances and drop the rope at the right times.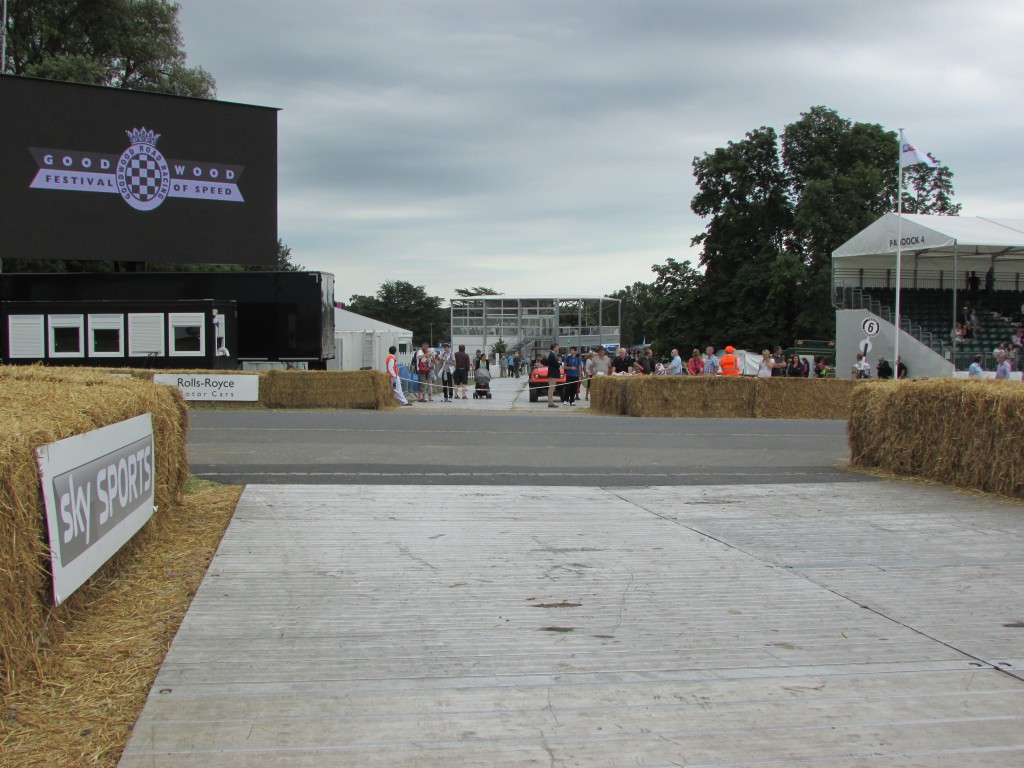 Our gate sentry was Amy. Despite there being signs of the times that the crossing is open, I lost count of how many times she was asked what time it was open. There is a bridge that goes over the track but has steps. Despite this though, people, (who were bitching about the fact that they had to wait for over half an hour), waited for the rope to drop rather than walk the two minutes to the bridge to cross the track which amazed me. There was no such luck for the disabled people though as there was no alternative. I simply sat quite smugly as at least I had somewhere to sit! I took the picture below of Amy after she had just told the 400th person (estimate) the time the gate would be open, having spent a good ten minutes extracting the urine every time someone looked as if they were going to ask her about the timings. I got the impression that she could have done with a board with a list of the times or one that said; Next crossing and then a changable time below it. Fair play though, she was very proffessional and polite to all who asked.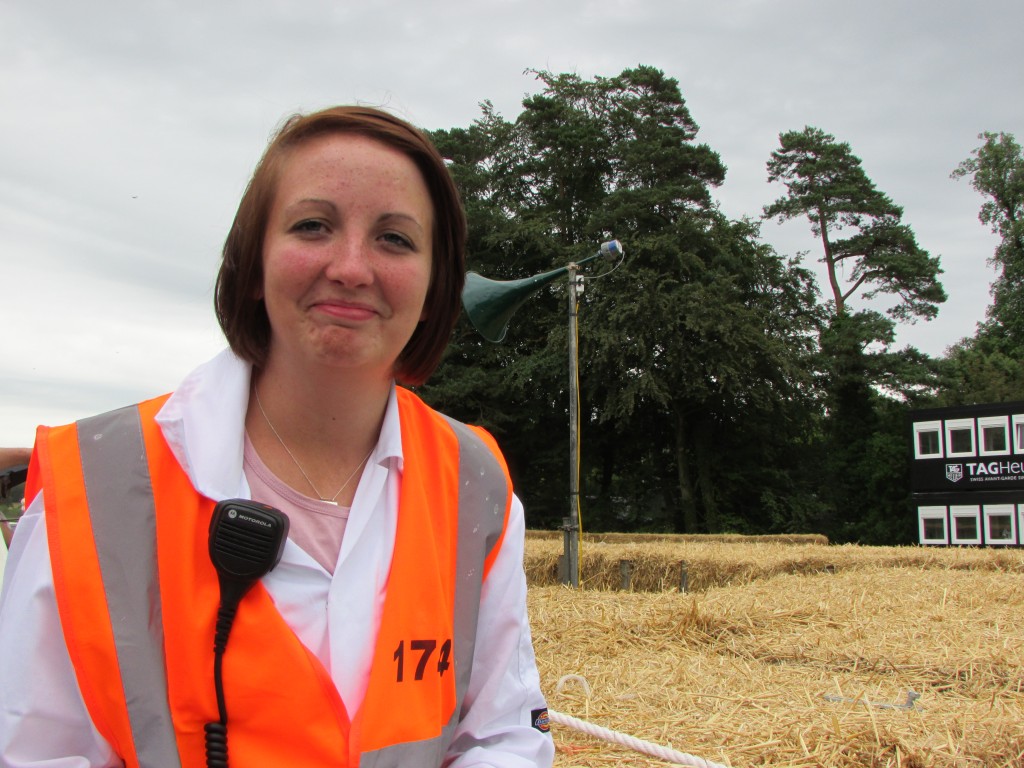 I have no idea what the thinking behind this was! (Opinion of George Pas and not Mission Motorsport).
I didn't get to this lot until we were on our way out which I was gutted about, I would have loved to have got some decent shots of the Wacky Racer cars.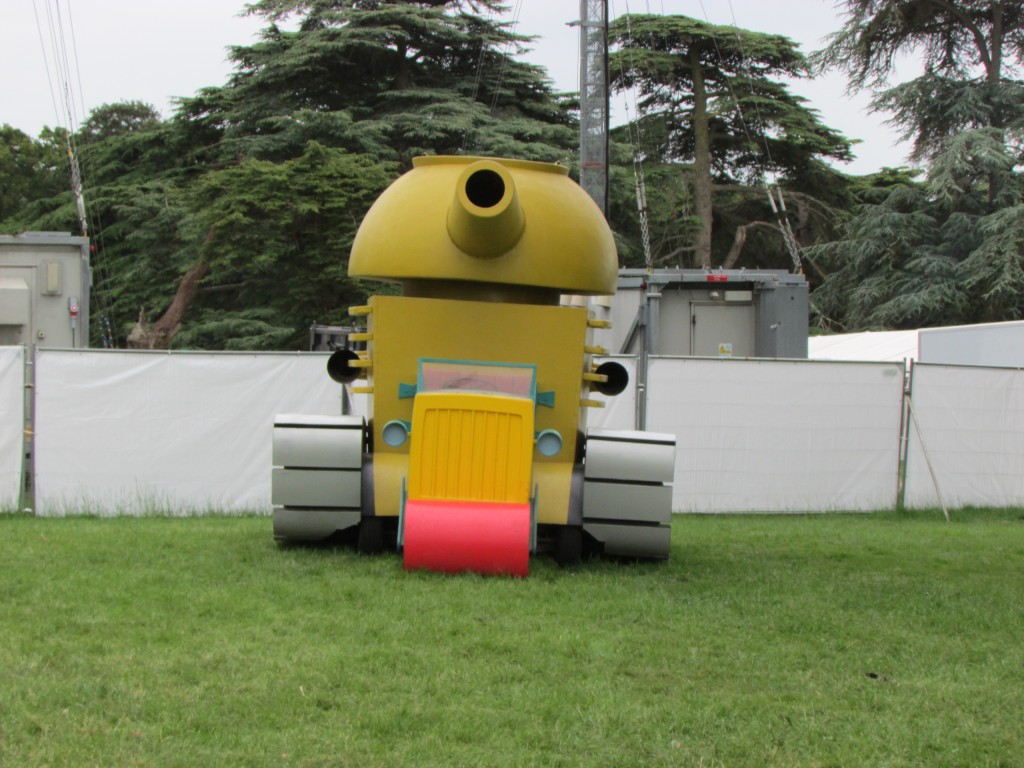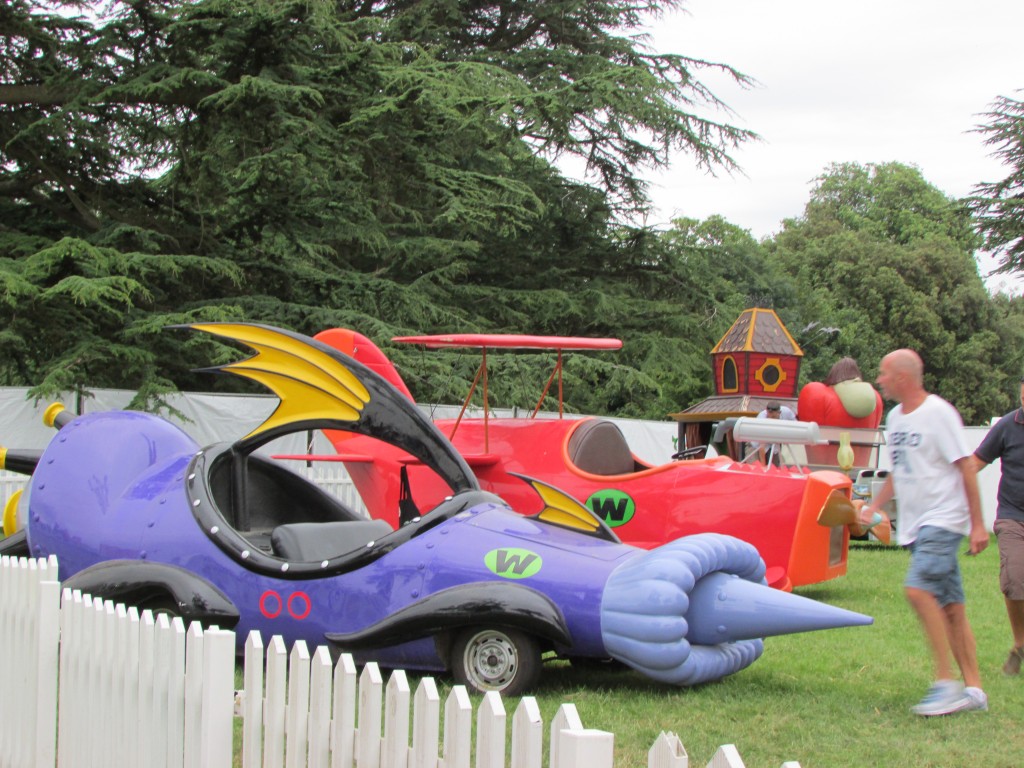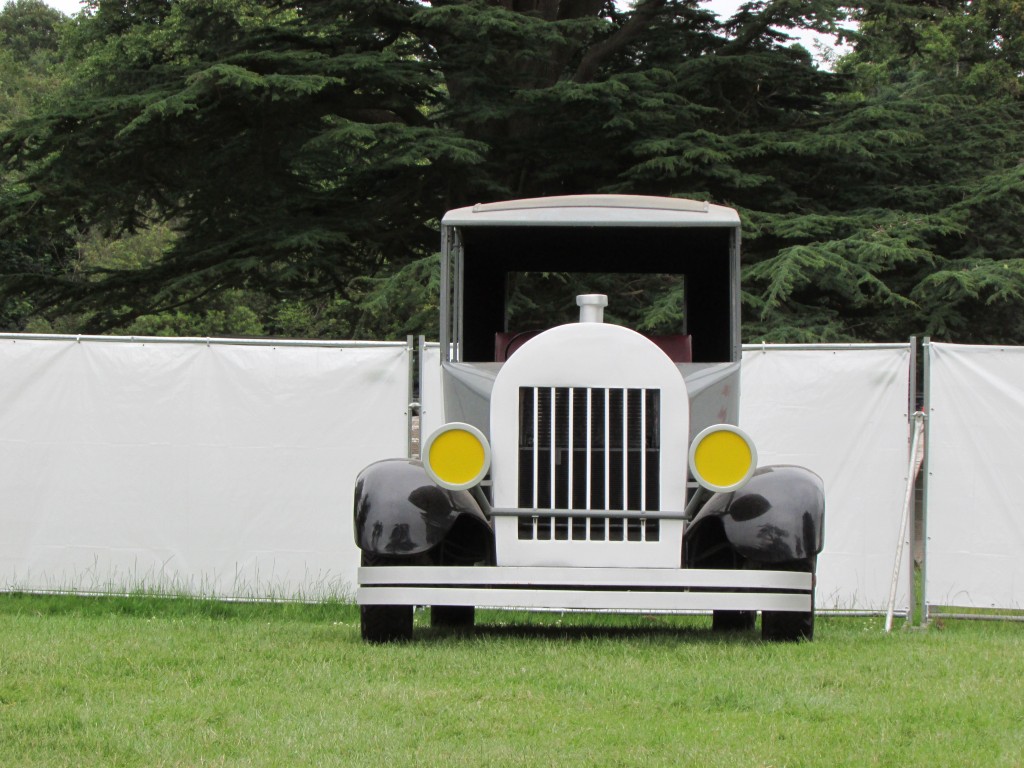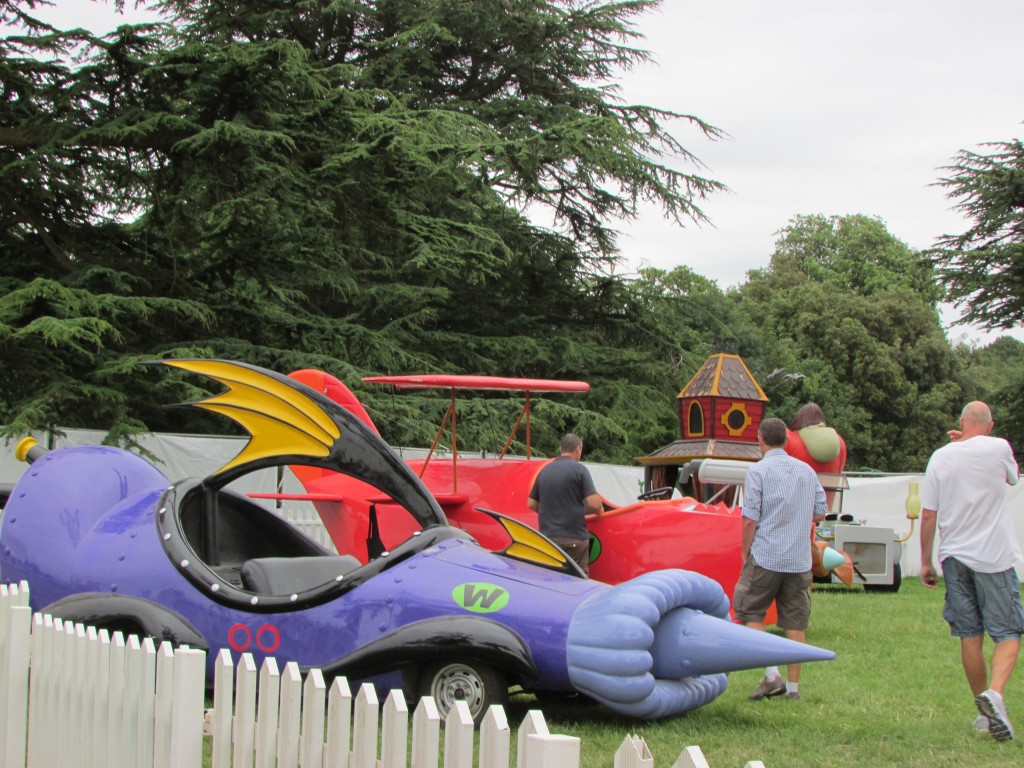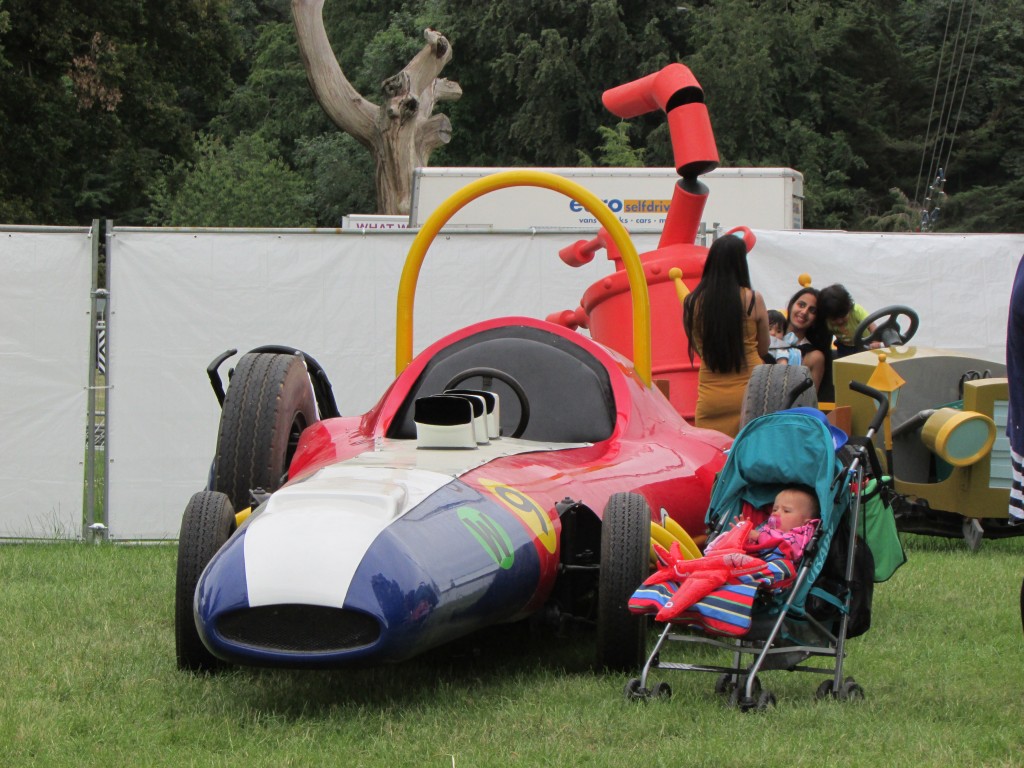 The traffic was horrendous on the way out which was to be expected, and although it took a hell of a time to get back to the bungalow it did not detract from the great day we had, once again given by Mission Motorsport.
Check out their website to find out more about them at www.missionmotorsport.org
My challenge to attempt to reach the tops of Ben Nevis, Scafell Pike and Snowdon in my new off road mobility vehicle is not too far away. I'm looking forward to the challenge which will see my friends assist and will raise money for service charities that have helped me. I hope that you will continue to read. www.georgepas.co.uk
Good evening all.