Yesterday at around ten in the morning Sam and Debs from Terrain Hopper arrived, after a very long day the day before, they had decided to stay at the Travelodge just down the road from me on the Ilminster bypass roundabout. It is only around three and a half miles from the bungalow and so would be an ideal place to stay ready for the delivery first thing in the morning. There were a couple of minor problems with the Overlander when it was removed from the van but Sam and Debs were very up front and honest with me explaining what the problems were and why they were there but also that they would be sorting them out whilst here at my bungalow.  I really felt for them as they had hoped and intended to simply unload the unit and talk me through it allowing them the whole day to return back to their home in plenty of time, this was not going to be the case though. It is fortunate that Sam is a very hands on and talented person. He knows his product well as he has obviously invented and designed it and as such, he is able to sort little problems out. It was early afternoon before they left meaning they did not get home until around eight in the evening. It was really nice to see them again and chat about various things, including the 3 Peaks Challenge that I am planning which they hope to be able to meet up for at one of the climbs. They have spoken about the possibility of some support in some form or another as well but we will speak later. Anyway, after Sam and Debs had left I took it for a brief drive across the road to the trading estate with the family and my Brother and Mother in Law. The main reason was for my Daughter to ride on her mountain board that she got for her Birthday but it also gave me an excuse to try out my new piece of mobility equipment, the Overlander 4 AKA my new toy!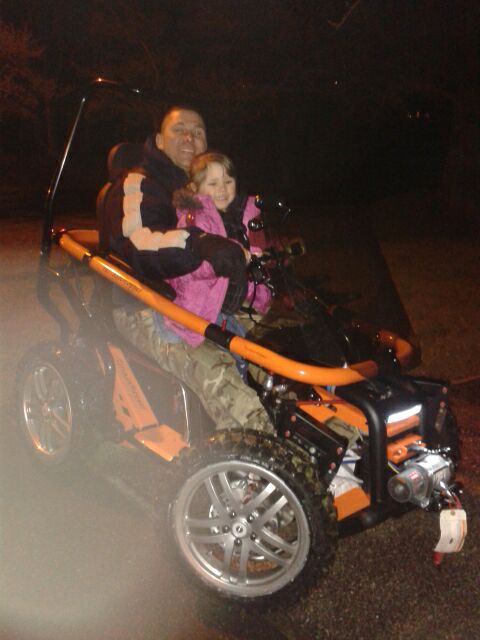 `Pickle` sat with me as we drove to the estate and stayed on while we drove around `playing`. She has become quite attached to the Overlander and was telling me which way I should go for the best part of an hour while Tom and my Daughter were taking it in turns riding the mountain board around trying steeper slopes and riding off of the curbs. While watching we were all waiting for the first one to fall off but fortunately it did not happen, well, not where they hit the floor anyway. After probably an hour we headed back to the bungalow as it was getting close to the time for my Son and `Pickle` to go to bed and once there, all except me went inside. I on the other hand headed up to the town to meet up with a friend of mine to show the Overlander off and I suppose I could be tempted with a cheeky pint, which of course I was and therefore did have one, purely as a social thing you understand. It must have been an hour before I left for the bungalow but that was not spent drinking and drinking several pints, it was just the one and a real good chat, we'll save several pints for another day! When I got back to the bungalow I had to telephone my Wife to get her to come outside and position my wheelchair next to the Overlander and then drive it in to the garage when I was back in my wheelchair. As we have sandbags preventing any running water from the driveway entering the garage, I am unable to get over them in my wheelchair and so I had to ask her to put it away. The Overlander had been kept clean as we had only gone to the trading estate, how long this would be the case though, well, it wasn't going to stay clean was it.
This evening we went for a st-roll around the reservoir and nature reserve which is around a mile from the bungalow. Dogs are not allowed around the reservoir which of course is a popular spot for fishermen, so Duke stayed at home while the five of us went out. `Pickle` again rode with me and we played in and out of the large puddles much to her amusement. I was unsure of how the Overlander would be as we made our way around the reservoir simply because it can get a little narrow and also because there are a couple of raised wooden walkways but it had no difficulty in fitting around the pathways or indeed going through the sodden areas of green which I simply had to play in. Finally, after 2 years and nine months I was back in the shit again. Messing about in the mud which was great and what the Overlander is more than capable of doing it did however leave me a little, er, grubby to say the least.
It was quite chilly when we made our way back through the lane leading to the bungalow,  `Pickle` was shedding her tears and having a little cry as her feet were substantially cold and so as soon as we reached the bungalow, the heating went on and she changed form her outdoor clothes and welly boots to her comfortable and warm onesie and dog slippers. It did not take too long for the cold she had been feeling to fade away while she cuddled up on the sofa awaiting her tea.
Tomorrow I am hoping to take the Overlander out again with one of my friends who put himself through a tandem skydive simply because he was too drunk to realise it was not the kind of thing he would ever do and there fore agreed. He then decided to do it sponsored and donated the raised funds to my Overlander fund. So this is a short entry tonight, I have to get my head back in to my flying book after a two day break to take in the information and so I will read it again to get some more to hopefully stay in my brain. I had a shock today in so much as it is ten days until I go skiing for ten days courtesy of Battle Back which will take me three parts of the way through March and even closer to the April interviews. I have to get the information in before the interviews and feel I may be studying whilst in Germany, time does fly doesn't it!
So I am going to leave you now and get some sleep before tomorrows little excursion and then I need to get back in to some hard studying. Until next time.
Goodnight all.