Yesterday, (Thursday), I had a few visitors and my Step Brother and his family came down to stay the night as they had appointments to view some properties that are to let, with the view to move here. So last night was spent looking at the leaflets from the estate agents and checking the papers and Internet, when that had finished though, my Step Brother and I messed around on the games console until finally at half one this morning we called it a night and switched it off.
Today, (Friday), `Pickle` went to nursery as usual, Maralyn came over for my acupuncture, and my Step Brother and his Wife went to view some of the properties they had arranged to see. This afternoon though myself and a small group of family and friends went to the local forest to trial for the second time, the Tramper. If you recall from a couple of weeks ago it is another mobility `scooter` that will enable the user to venture off of the beaten track. Being as we have had such appalling rains of late it would be a real test as to what it is capable of.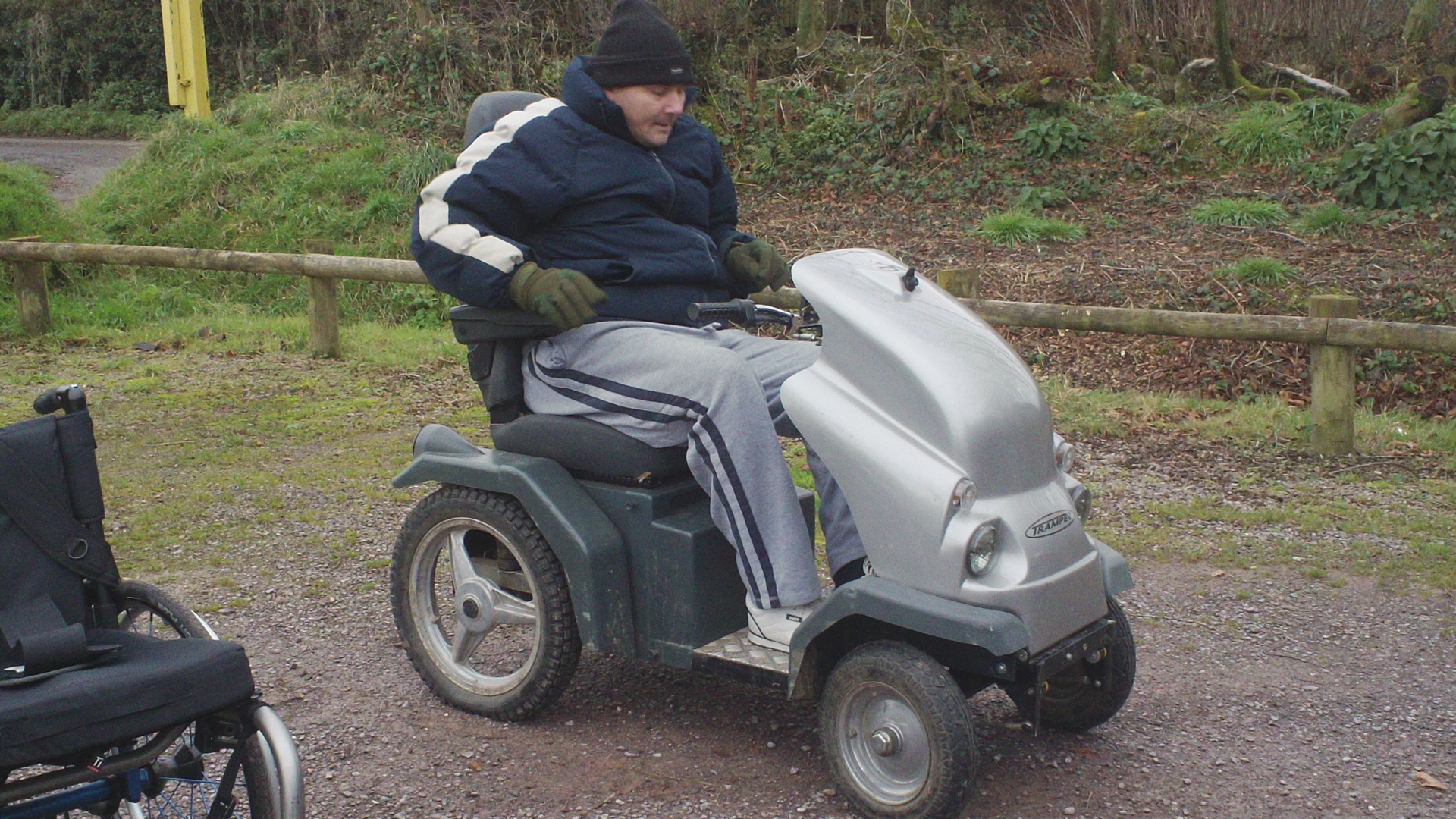 Transferring from my wheelchair to the Tramper was not too bad. I have been having quite bad spasms in my legs this week and so I had expected there to be a bit of a fight between me and my right leg, this was the case but after I had let it calm down for a half a minute or so I was able to pick the leg up and put it on the footplate. I looked awkward on the video we took while I was transferring but my spasms do not help the procedure and it comes a lot down to technique. This of course I am still mastering but overall, considering I have not been taught how to transfer, and I am still a reasonable way off being strong enough to lift myself, especially during spasms, I was happy with how I had transferred across. The seat height was good and you could actually put a reasonable amount of weight on to the handlebars to assist the process. So as far as the getting on to the Tramper, a good start for me and the Tramper too. Height etc was all good. The seat is padded enough that I did not feel the need for a pressure relieving cushion, and whilst it is an upright seat that is quite high, with the arm rests I did not feel the requirement for a four pin harness as I had previously thought. The handlebars are just the right height and distance from my body and the way it was all set out meant that I was not leaning on the handlebars. The switches were all well laid out as well, uncomplicated and uncluttered.
We set out to do a lap of the forest with the aim of testing the Tramper to as many obstacles and different terrains as we could with the area available, without intentionally causing it problems, or attempting things unnecessarily that we knew it would not do. I have to say that I, as were my `entourage`, impressed with how stable the Tramper was despite me being sat up quite high. The variable speed control was key in preventing the Tramper wheels from locking on when shutting the throttle off when the automatic brakes would engage. By putting it in to the `Tortoise` mode and turning the speed switch right down it meant that I could hold the throttle wide open without it going more than a snails pace, this was excellent for the slippery downhill parts. Once I had successfully reached the bottom I could simply turn the variable speed dial up to increase the power and speed but adjust on the throttle.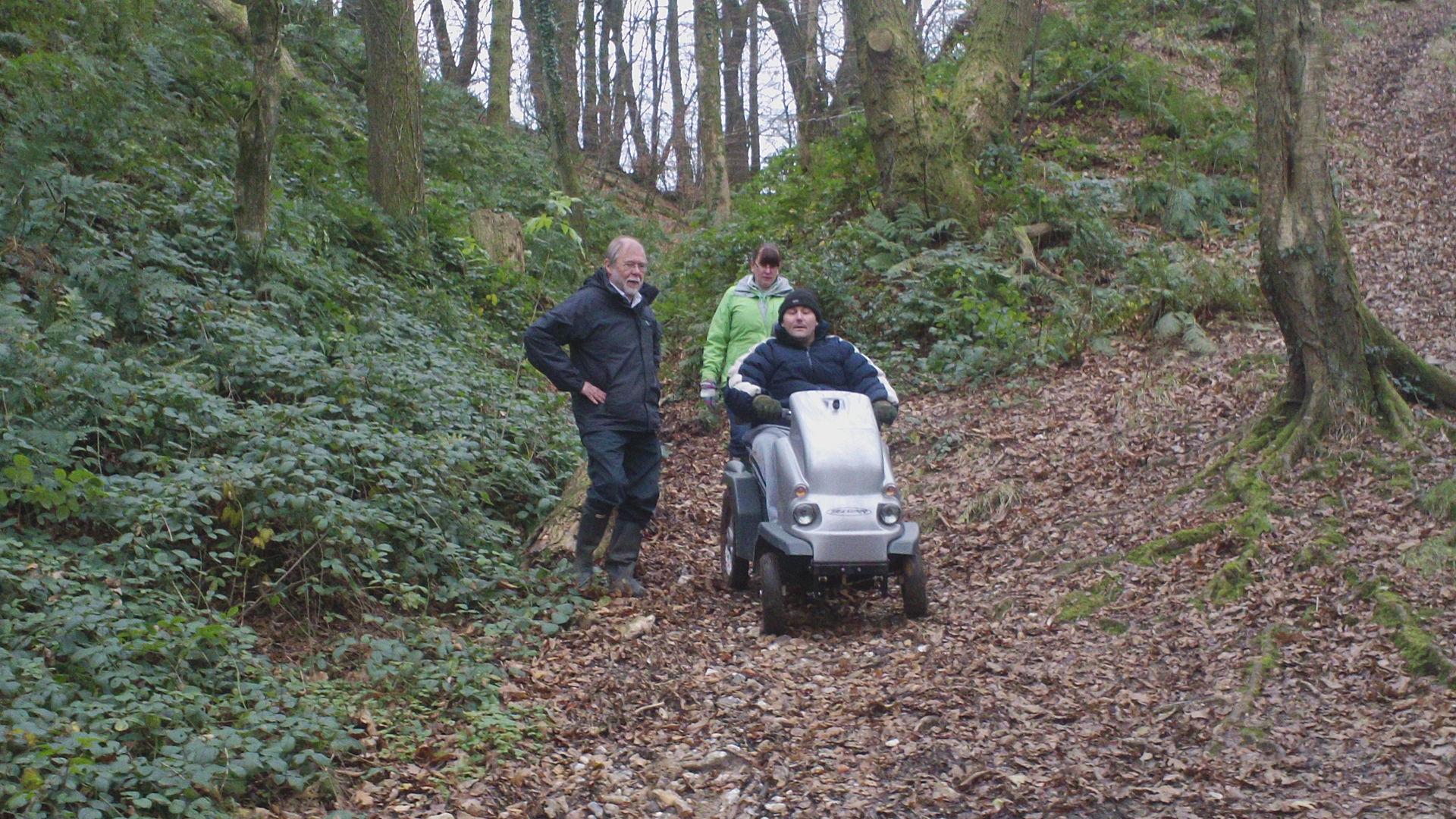 Whilst making our way down this slope we first had to overcome a reasonably deep bog of mud. It was first depth tested by my Brother who informed me that it was just below the top of his welly boot. I turned the power right up on the Tramper and took the plunge. This was after all supposed to be a test for me to see what the Tramper would do. If I were to shy away from the first obstacle I had come across then it clearly would not be worth considering as a means for me to venture in to the fields. Despite the depth it did make it through, so another test was ticked off. So far so good. As we cleared the mud I slowly began the journey down over the hill, as you can imagine the rains we have had recently had obviously turned this hill into a river, and by the looks of what we were finding it had been a pretty fast flowing and powerful little river as the next obstacle we came across showed us.
The water has flowed down over with such force that it has simply washed a substantial piece of ground away leaving a size able hole that was just and just too wide for the Tramper to have its wheels either side of, so here came a problem, until that is my Brother found a large broken piece of tree which fitted in the hole and as it had a flat side to it allowed me to put two wheels on the log and two wheels on the bank. All being well I would be able to keep the Tramper on the bank and the log and overcome the current problem. This was going really well until the Tramper slipped on the bank due to the mud and the right hand wheels left the log and dropped in to the hole. This unfortunately had only one outcome, the Tramper tipped and ended resting on its side on the other bank. We were I would estimate at an angle of around 60ish degrees. This was not fault of the Tramper, it did not stand much of a chance when the bank slipped but from this little mishap came a very good observation. Because of the armrests on the seat, and the design of the footplate and where you put your feet, neither my body or legs fell outside of the vehicle. With a small amount of assistance from my Brother who merely tipped the Tramper toward the upright position, bearing in mind it was in the hole, the Tramper pulled itself out and we continued down the slope. Impressive. At the bottom of the slope it turned in to gravel path with areas of pathway made from mud and grass changing intermittently from mud to stone and in places some quite substantial tree roots. The Tramper coped with all of this merely requiring me to adjust the power on the dial and switch that changed from `Tortoise` to `Hare`.
The aim of today was test the Tramper to see how suitable it would be for what I want to do now. To see how easy or difficult it would be for me to get on to it, how stable I would be, how safe I would feel. How it would cope with the mud and difficult terrain. How easy it would be to correct mistakes such as camber problems or coping with steep gradients. The Tramper is advertised as a vehicle for "less abled" people, to me that describes someone who maybe can not walk for prolonged periods of time, or for short distances only. I am someone who can not walk period, I have tried a few of these now from different manufacturers, at least two of which I would not have contemplated attempting what I have achieved today, one of which I would have not thought twice about doing exactly what I did today and probably more but that is a different animal.
The Tramper from my point of view is a very capable machine. It is not a Land Rover, a go anywhere means of battery powered transport for the less or disabled person. It will not climb ridiculous slopes or drive over fallen trees but that is not what it is about. It is a means for less and disabled people to enjoy the forests and fields with their dog, family and friends. To enjoy the countless nature walks around the country without the noise of an engine to scare the wildlife, in short, to allow people like me to enjoy things that they thought they would not be able to experience again because their legs do not function and a manual wheelchair would be impossible but there is more to the Tramper than just the off road capability. It is road legal with the addition of a flashing beacon and tax disc. You can got in to town, get in to your wheelchair and pop in to the shop and then back on to the Tramper to venture off again and whilst I would not wish to be quoted on it, after seeing mobility scooters for less abled people to borrow in my local supermarket, I would imagine you could simply drive in to and around the supermarket also. So you see in many ways this is more versatile than another I have tried, but it can not be held in the same league. This is an all rounder that is a capable off roader as opposed to being an out and out off road means of mobility. A good piece of equipment though that I can highly recommend, it comes down to what your needs are, what you want to do.
I hope that this may help some people wether they are less abled or disabled, decide on what to try or look in to. Just be sure to have questions ready for the representative that comes to visit you. The guy that bought the Tramper to me twice was a great bloke. Happy to answer any questions I had and to offer advice on how to negotiate different obstacles. He also offered information that my questions could naturally lead on to, a really helpful guy and this is what you need. Buying a piece of equipment like this is a big commitment so ask what you want to know. This is how we get about and the only way to try to explain to a `walker` I have found is this. If you are going to work in the office it is unlikely that you would wear the same footwear for walking in the muddy forest, translating to us `wheelies`, my manual chair is for general home and town use. I could not use that chair to go and play in the forest as it simply would not work. Where a lady may have a wardrobe of shoes, we need several different wheelchairs or in some cases a different set of wheels to change on to the manual chair.
One thing is for certain, this being disabled is a bloody expensive way of life! Enjoy the weekend, my family and I are I believe going to choose the Christmas tree.
Goodnight all.