`Me Val` and I went for a walk to Ilminster yesterday for lunch, a second walk there for me in two days which would be an indication to me as to how my strength was progressing. It took an extra twenty minutes than the previous day but to be fair we did stop a couple of times when we were chatting. The walk was for us to chat anyway and so the extra twenty minutes were neither here nor there to be honest. The weather was overcast but by no means cold and so big heavy coats were definitely not needed. We had a good talk on the way and were both very much looking forward to a meal when we got there. The food was as always beautiful at the Stonemasons and as always we did not have to wait for very long for it to be brought to our table, we continued to talk and were discussing our walk back to the bungalow when my mobile rang, it was my Wife asking if we would like to be collected when she came across to pick the kids up from school as it was raining in Chard. We looked out of the window of the Stonemasons and noticed that the weather had also turned to rain and so we accepted the offer of the lift. One last coffee and we loaded ourselves in to the Chucklebus and we all headed off to collect the kids from school.
Kids collected we headed back to the bungalow and we were certainly glad that we had not decided to walk back. We had another drink and all chatted together for a while until `Me Val` had to go back to her place for tea with her family. It was great to chat, and also to know that I am capable of the trip more than once in a week but I had now made my mind up that I need to purchase something to make the no so smoothe surface a little easier to travel over in my manual wheelchair. I spoke with my Wife and called the company who sell what they call an `off road pack`. It is basically two main wheels that have tyres similar to that of a mountain bike and then a third wheel that attaches to the footplate of the chair which lifts the Castor's off of the ground meaning that it will allow you to move over the stones, gravel, leaves and mud and they say even snow, which would be a lot harder with your standard wheelchair set up. I have not tried it, but have seen the product via the internet. I also spoke with the guy from the company who sell this and many many other products, and he did recommend the set. I decided to talk with Wifey some more about it and would make our decision after our chat.
The whole family had baths last night and reasonably early nights, no later than nine for the kids, and although my wife was in bed by ten, it was nearly half eleven by the time I was ready as it takes a lot longer for me to sort out my bathing. I was in bed by mid night all the same though, no television, no NCIS or anything else as I had to be awake and ready for Maralyn in the morning.
Maralyn was round at nine thirty for my acupuncture treatment. It was decided by us last year that as we had plateaued with regards to any improvements, we would go to once a week and see what differences we could notice after a period of time. This was her first week of her new clinic which she has started in Chard on a Monday and I was very interested to see how she had got on for her first day and as it turned out she had treated seven patients, I am hoping that more will take advantage of her new clinic and go to her for treatment. For any who may be interested, it is in the same building as the hairdressers which is next door to the Autobitz car and cycle shop on the corner of Boden street. She is very good and her acupuncture has quite literally helped me to see the benefits of the treatments. We laughed and watched Jeremy Kyle in more amazement, today's highlight was a woman who had dragged her husband on to the show to bitch about how he had slept with three women during their three year marriage and she wanted an apology. She took a lie detector test where she was asked if she had passionately kissed anyone other than her husband since their marriage, she said "No" and she had lied. Interesting. She was asked if she had, had sexual intercourse with anyone other than her husband since their marriage to which she replied "No", and….SHE LIED! Holy shit that was funny. So just to reiterate, she has brought her husband on to television to slag him off for screwing around behind her back and she had been doing the same. Well, her face was a picture when the audience was laughing at her and I have no idea what the third question was, nor did I care because that had made watching it worth while, seriously you couldn't write the stuff that happens on there.
Treatment finished we put my next treatment in the diary and said our goodbyes, then I got changed from my shorts in to my tracksuit bottoms and hoody and got out of bed. I had a call from my solicitor with regards to the completion of the purchase of the share of the bungalow which we have been trying to complete for over six months now. Last December we were told that the other side could not complete until January 4th. Then we were told that there was another form we had to sign and would be completing on the 11th, today, but today we were told that the bungalow needs to be revalued before we can complete and therefore would be a couple of weeks. As it turns out though, whilst we were slightly more pissed off than the last time we were told we could not complete, it actually did us a favour today. We found a slight problem. We have been wondering why we have had a slightly damp smell in our room, it has smelt like it since we moved in, aside form the smell of paint when we first moved in and decorated, once this had subsided we noticed the slight smell. To be honest we put it down to it being occupied by one old lady and that the heating probably would not have been on in every room and that it is doubtful that she would have been in more than one bedroom. To that end we just thought it would eventually go after we had been in here a while. Today however we had a bit of a nasty surprise.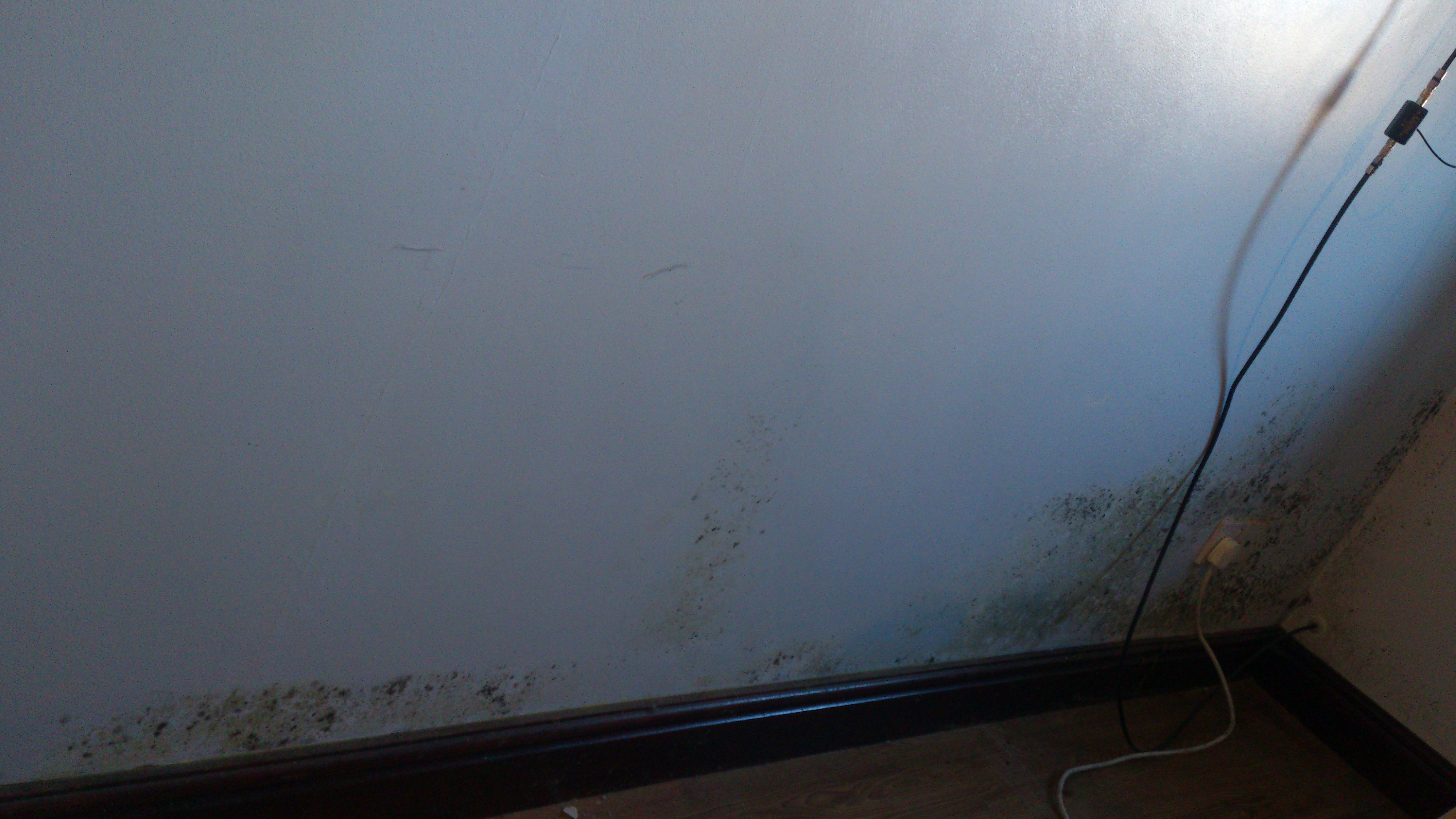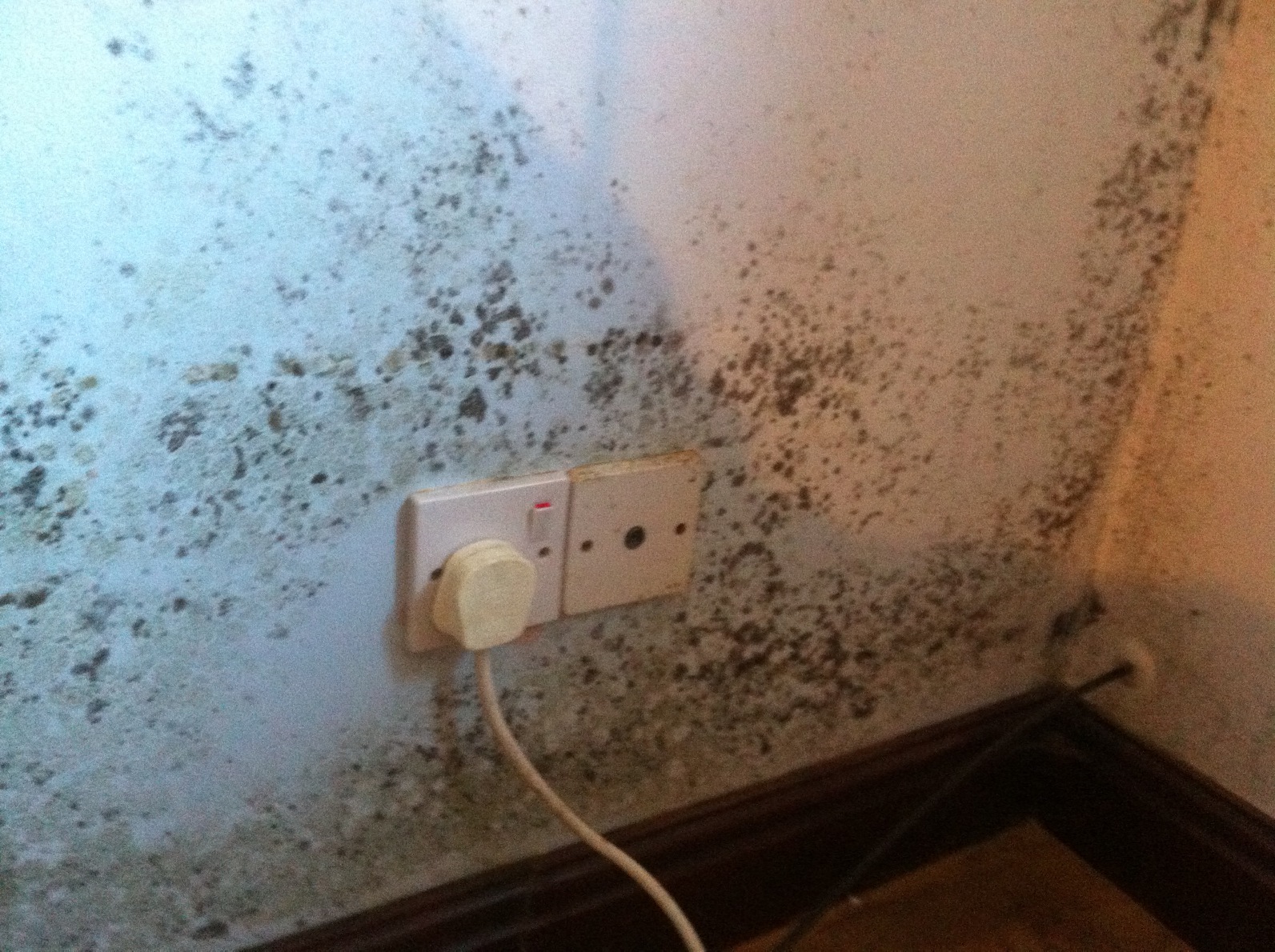 So as you can imagine we were a little concerned with this and so I called the land lords and just made them aware that I had instructed my solicitor to hold off on completion until we could figure out what this cause was. The news did not go down particularly well, and I got the impression that the guy thought I was making the problems up, I ended the conversation by asking if his Christmas had gone well and that we would wait until their maintenance manager had visited as I had not been looking for a confrontation but thought they would want to know that there was a potential problem. I don't like having to contact them about the problems we have encountered, especially as we are privileged to have been helped in this way, but ultimately, surely no one would simply ignore what we found today. Anyway, as Darren had arrived he went to see if there may be a reason for the mould. Ultimately it meant that there was a problem with some damp, so the logical thing to do would be to check the damp course in the area of the mould outside. This he did and this is what he found.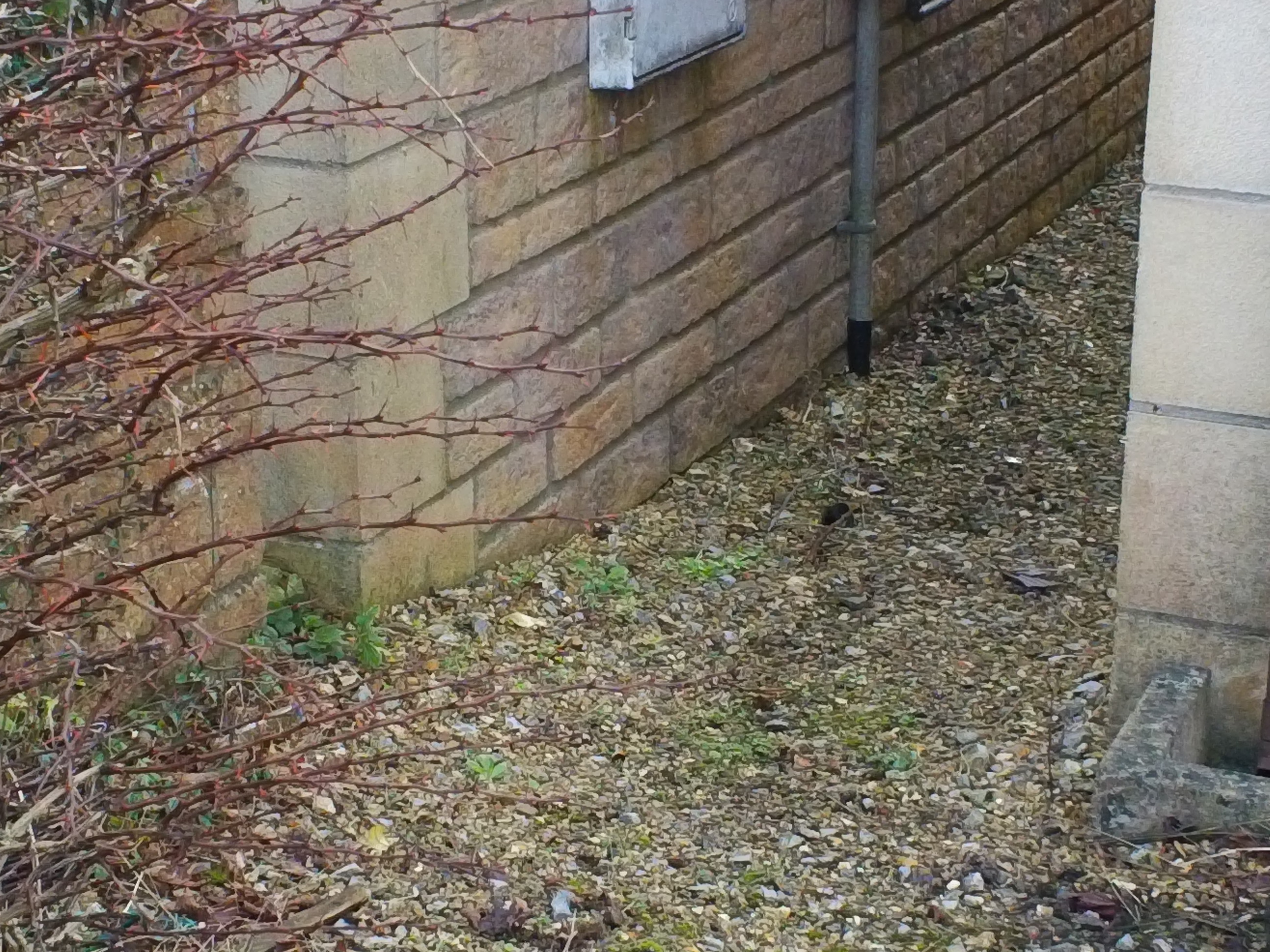 So this was potentially the problem. A gravel pathway that was above the damp course of the bungalow. To that end we would simply move the gravel away and expose the blocks above the damp course and  also an area below it.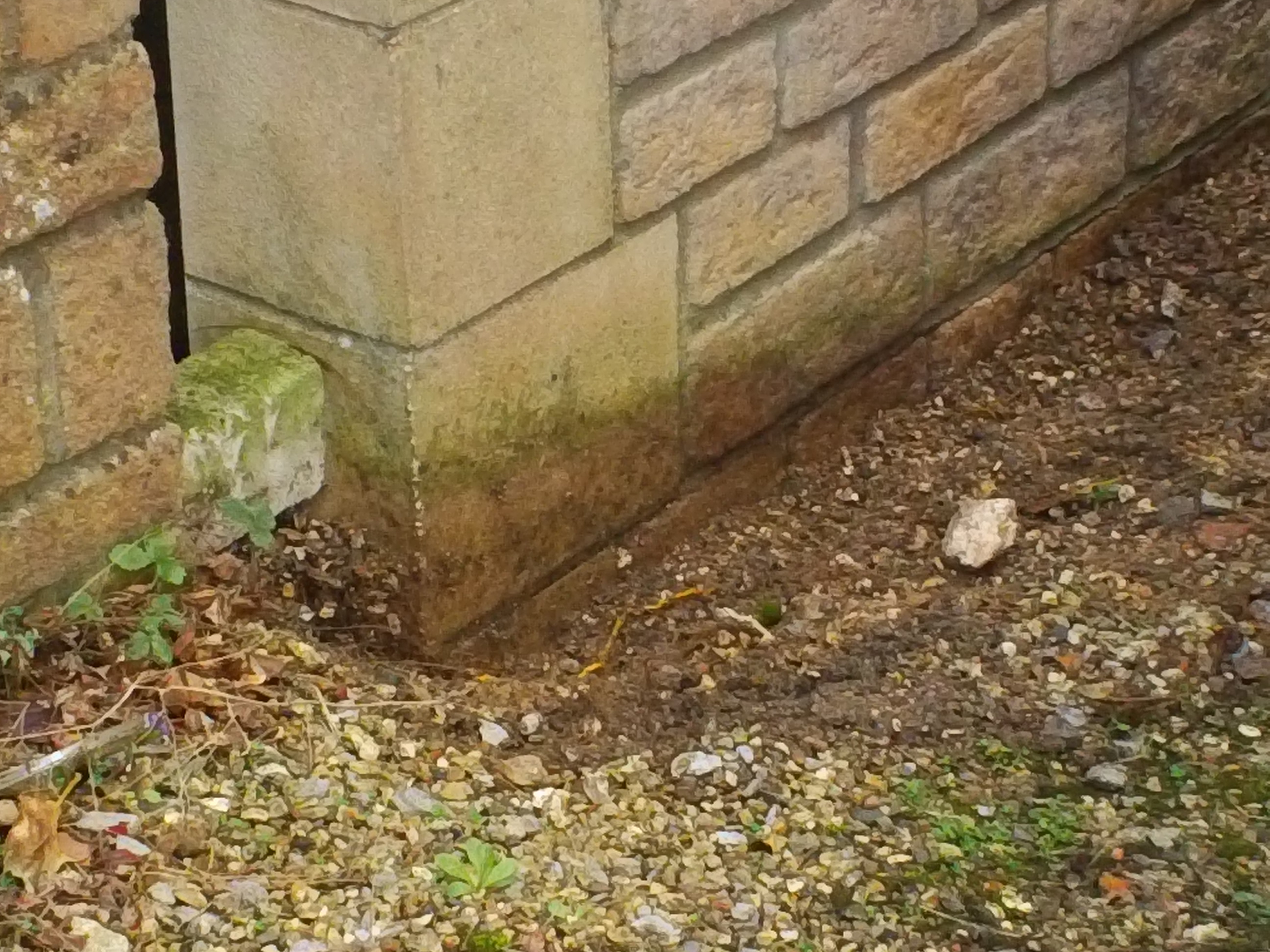 Having cleared a Chanel a little deeper than this we organised a dehumidifier to pull the moisture from the internal walls and also washed the mould from the walls. We need to get some paint when no more liquid is dragged out by the dehumidifier and treat the wall. We can show the maintenance manager the photographs and see how we can go about preventing this from happening again in the future. The roots that were pulled from the gravel as it was cleared from the side of the bungalow showed that it had not been against the bungalow for a couple of weeks as they were quite thick, so the mystery is why had the mould not been a problem before?
My Wife looked around the rest of our room and thankfully found no more than she had found earlier, so we set up the dehumidifier and set it about doing it's job. We then had a dilemma. Tomorrow we are supposed to be having the worktops and sink replaced as the ones that are in are split, the tap continuously leaks despite washers being relpaced and the sink is not exactly in the best of shape and also leaks. To that end we opted to replace it, but do we continue or not with the current situation. We are happy here, and have made so many improvements to the place since we moved in which has cost us a lot of money, we did this yes for quality of life but also because we would be buying in to the property as the intention is to have this as our home. To that end we have decided to go ahead and continue with the works as the worktops, sink and taps are all paid for. Darren has removed the tiles and my Brother joined him after he had got home from work to remove the worktops and sink and adjust the plumbing in preparation for the new sink.
With lots of items ticked off on our to do list, which we are only able to do with assistance from others, tea was eaten, coffees and soft drinks were consumed and after chatting about various things, everyone left a little after ten at which point we tidied away the dishes and cups, put the rubbish out, put the animals to bed and then get everyone else tucked up for a good nights sleep. This accomplished, I caught up on the Dakar rally reports and concurrently I am writing the Blog. Now though, it is time to finish up, try to get one episode of NCIS in and then get to bed ready for the work to start on the kitchen tomorrow.