SERIOUS SPASMS last night, I have joked many times (and no doubt will continue to do so in the future) about being able to give Michael Flatly a run for his money on the Riverdance when the legs start going but last night was really bad. I woke at 05.00 this morning having been awake much of the night watching the Flatly legs giving it large licks to find my left leg tucked under my right leg but with my left heel almost touching my arse cheek. Needless to say this was not the most comfortable position to be in and so from approximately 05.00 until 05.35 I was simply an observer as my legs kicked around until they gave up and I was able to start to get sorted. Finally I was ready to go at 07.10, it can be (and very often is) a complete piss take in the mornings as to how long it takes to get ready, much of the time is spent simply waiting for the body to sort itself out before I can sort myself. Anyhow, at around 07.15 the minibus arrived and James came over to check I had everything I needed for the day before helping me to the minibus where he and two other people lift me in to it. Then it was to the Sergeant's Mess for breakfast after which we would go to the site.
First things first on site, it was time for briefings (which I had last time) for everybody who would be on site. I did not attend simply because it would have taken too long to get me there and so I went and met the two ladies who are two of the three main personnel on site. Immediately they recognised me which was brilliant as I had not seen them since this time last year, the best thing was that after the greetings it was just like I had seen them the previous day. After the briefing was over, the site agent or head archaeologist Alena (I think it is how her name is spent) came over to me with the biggest smile I have seen in a long time and gave just as big a hug to accompany it. I had been told that she had asked if I was going to return as she really wanted me to work on the site again. She is a VERY religious lady and told us last time that she really felt that me working on the Church site was important. In her own mind she felt that whilst I would not be cured of my Paraplegia, things would get easier for me. She is a wonderful lady who you can't help but have a great deal of time for her, and want to be around. We spoke for a while and she asked her male on site staff to set up a sieve and wheelbarrow for a new friend, Karl who is almost blind and myself to sieve the spoil and remove any of the pieces of mosaic, pottery, marble and anything else of interest. The site hadn't changed that much from memory but as we know that my memory is more than a little crappy.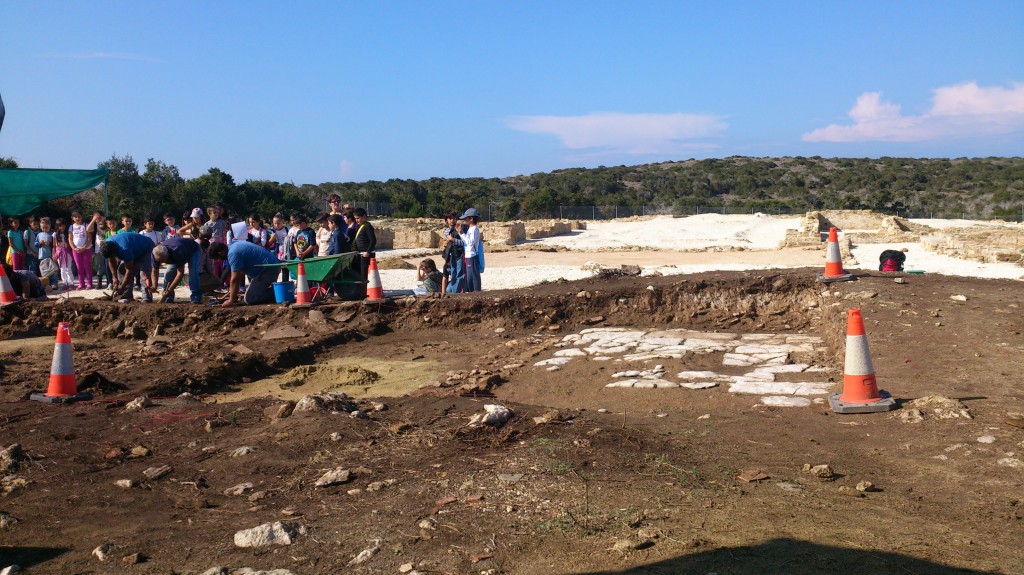 Oh, there was a school visit this morning and whilst I have no idea what was being said, I am sure it must have been very interesting as the children were captivated by the words being spoken to them.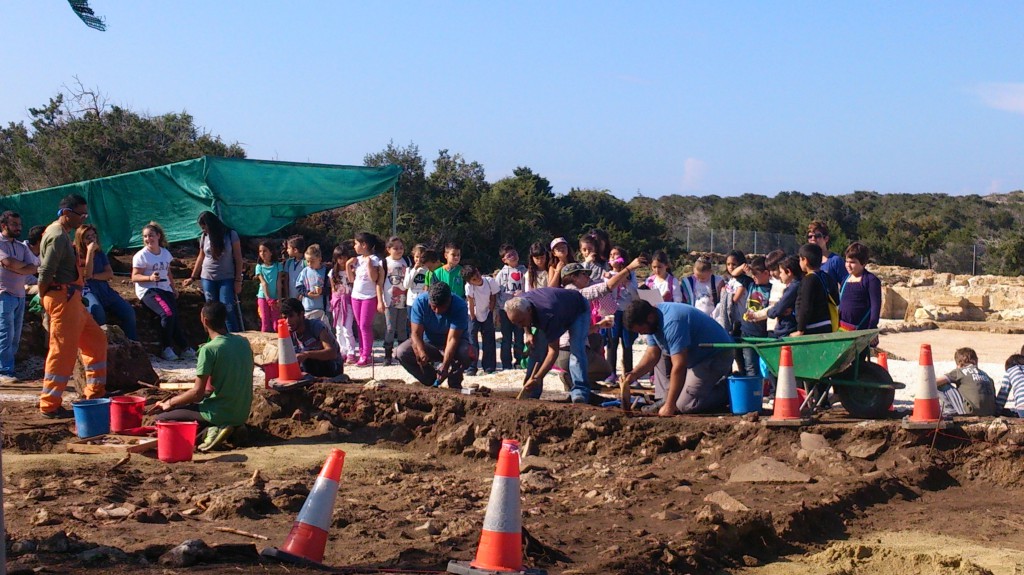 Karl and I picked through the spoil until around 13.00hrs when we vacated the site and again headed to the Sergeant's Mess for lunch.
The sun is shining today and we have beautiful blue skies. The peace and quiet is occasionally shattered by the launching of aircraft, some of which are still shaking the air five minutes after they have taken off but for the twenty minutes where aircraft are launched there is a long period where there is quiet again. Having had lunch I was dropped at the supermarket and then I rolled back to the house I am in accompanied by a few of the others here on the dig. I took the opportunity to use the assistance that was available to shower and then as it has taken so long to get ready again I thought I would write a little. So that really is day two in Cyprus. Tonight will be socialising and then back on site tomorrow morning. I am hoping to get in to one of the towns tomorrow but I'll see what the plan is. Now though I am heading outside to expose some of my Buddah body to the big burning yellow thing in the sky and try not to scare the locals!
Goodnight all.