My Son recieved a Birthday card from his favourite transpot company. No guessing who that was then.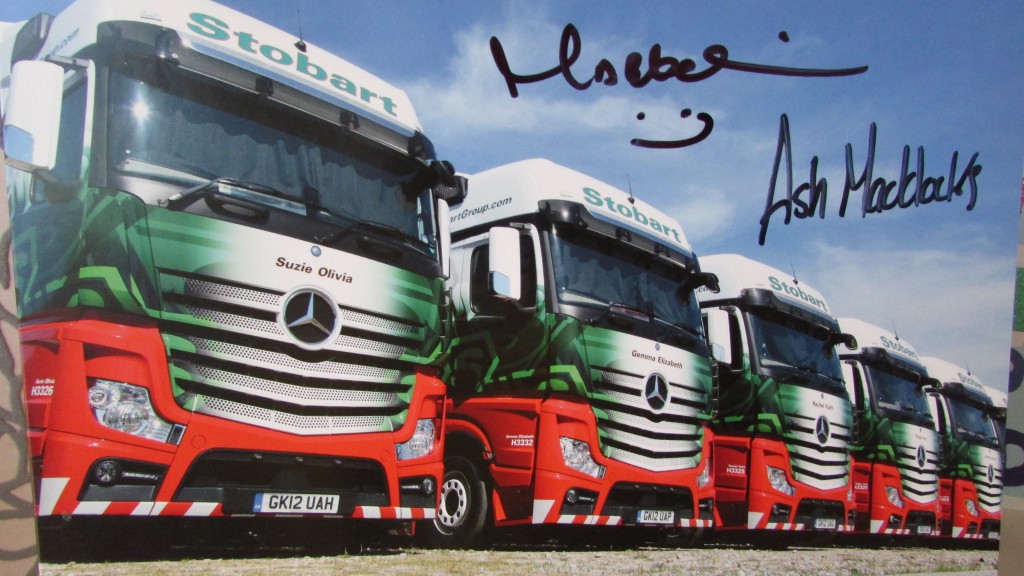 We had a BBQ on Sunday (24th August) at my Wife's house where members of both of our families had also come to celebrate our Son's 11th Birthday, the rain held off at least until I had finished cooking which was good and it was great to catch up with my Wife's Aunt, Uncle and Cousin from London. I should have been one of the last to leave as it was my Son's Birthday BBQ but I was unable to stay because I was really uncomfortable. It happens from time to time as I am always sitting down (lazy bugger), and as I have a degree of feeling in my legs and arse, it can be really uncomfortable at times and the only way for me to "Shake it off" is to lay down. People in wheelchairs will, if they are able, lift themselves and hold themselves up for a short period of time at regular intervals to relieve any pressure from the buttocks, I will lean as far forward in my chair as far as I can which helps but again, there are times when I have to go and lay down.
So on Monday we took a drive to where my Son wanted to go for his Birthday treat. For the last two years he has wanted to go to LEGOLAND, both times it has pissed it down but as it is a long way to travel we have obviously stayed and been on the various rides, we have still always had a great time but this year he wanted to go to Diggerland near Collumpton in Devon. As I am just a spectator now my Brother in Law went with us so as to help with the kids on any of the equipment. It is quite expensive to get in, nearly £20 per person although my Brother in Law went free as my carer but when you weigh up how much the equipment costs, the staff wages, fuel and insurances I suppose it is a figure that they need to charge. Like theme parks, they have to make their money in the holidays and weekends and so I guess that there are weeks or days that they don't make too much. We were one of only five families in the park on Monday, (funny thing, it was pissing down!), so they wouldn't have made too much on that day! I was quite shocked though that the staff have to buy their own waterproof clothing, I was under the impression that the employer was to supply that kind of thing. I can only guess what they wear during the cold winter months, brrrr.
We went to all of the activities, the first one being fishing….with a mini digger. My Son was actually quite good at this.
Next we moved over to a bigger minidigger, this time to dig a hole.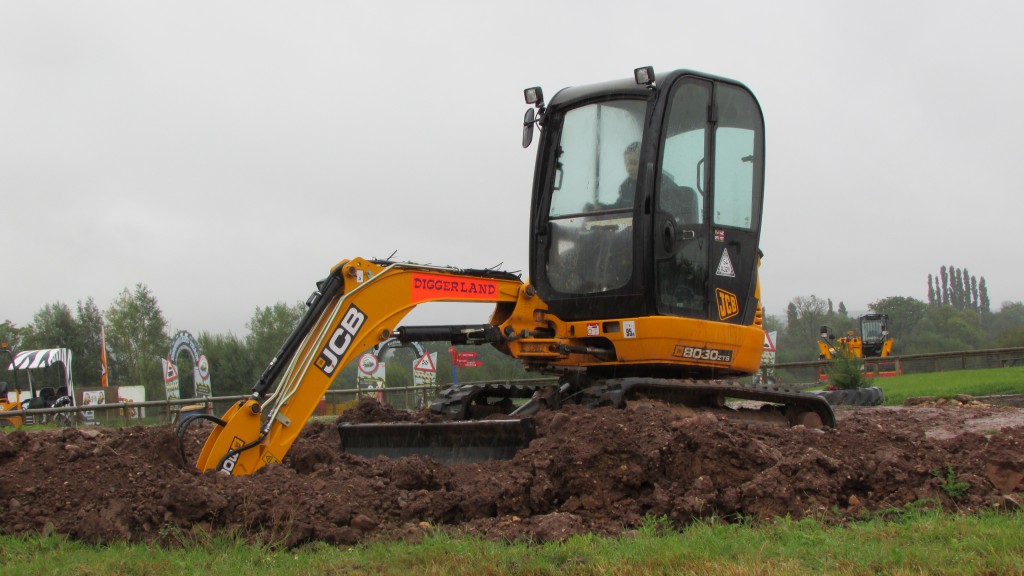 My Son really was having a great time, he loves lorries and diggers and so for him, driving a digger or riding in one was an amazing day out.
The kids can drive everything that is there as long as they are the correct height or age.
Some are obviously just for the staff to drive, but there is a reason for that. For the rides on the ground…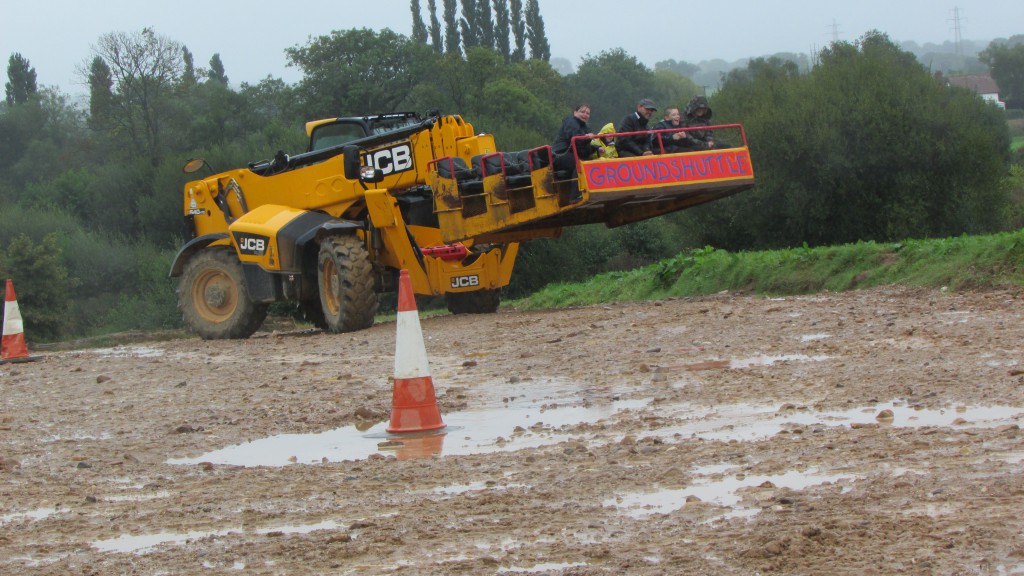 …and in the sky, for a good view.
Oh, and they're not allowed to drive this one but I am sure you'll see why, this looked really quite fast from where I was sitting so I don't know what it was like inside the bucket.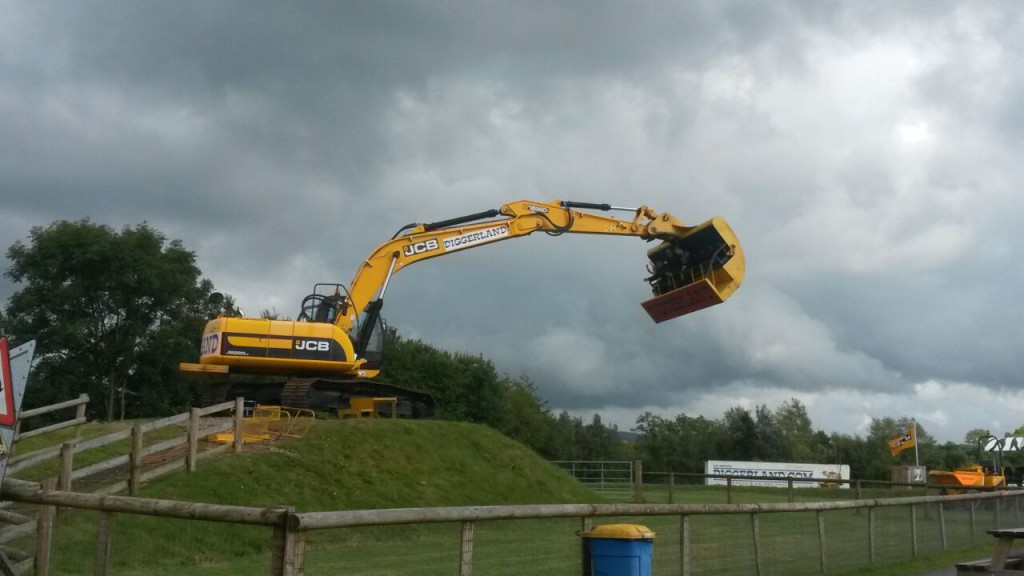 I couldn't believe just how good "Pickle" was with the go carts. They're electric but still seemed quite fast. Funny thing was, when it was time to come in to the pits and stop; "Pickle" was the first one, the guy pointed to where she had to drive, which she did, and then went round again!! Brilliant. The guy just looked at me and laughed.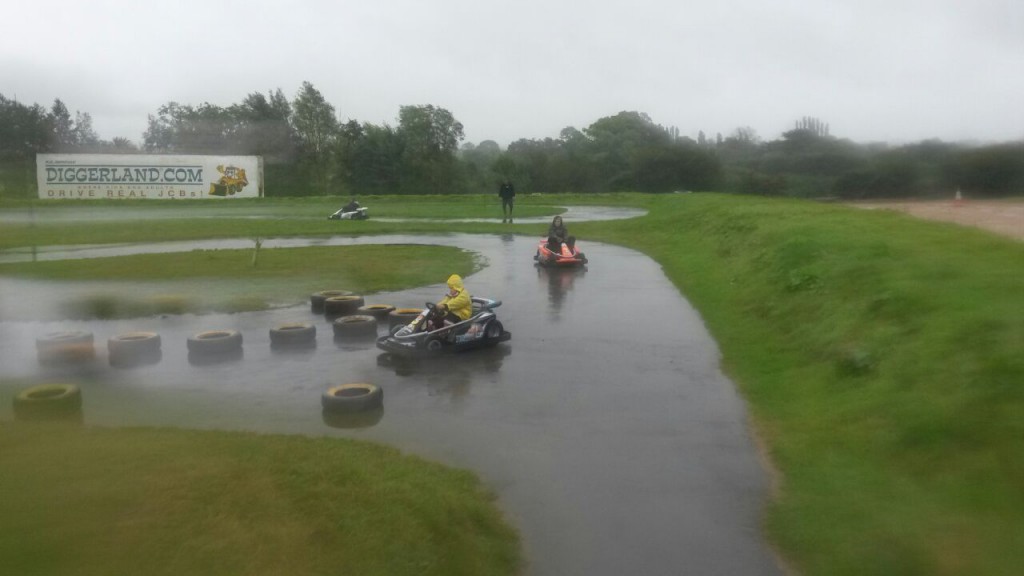 Despite the rain we had a really good day. It is difficult to just sit and watch and not get involved. Itis difficult to see a friend or relative doing the things with the kids that I should be doing, and I don't expect anyone to understand that. In the past I have not gone to do things with the kids and my Wife because it is hard to just sit and watch, I was pleased that I had watched them on all of the activities and machines and it wasn't until mid afternoon that I had to take myself away for a coffee while they were having more goes on the equipment which they had used in the morning. There was a big playfort thing with slides which I went outside for, that was funny, because it had been raining there were puddles on the on the slides which were only visible…when you were going down the slides. My Daughter was the first to go down one of the slides and as she went down the slide to the middle which was flat before it dropped down again, there was a big splash and water was pushed over the side of the slide similar to when you drive through a puddle at the side of the road, very funny.
We ended the day with the sun showing itself for a while which gave the kids a little time to dry out before we headed home. I had a really good day out. Spending the day with my Wife and my kids was great, it's a lovely feeling seeing them all laughing while messing around on the equipment even though on the flip side, inside of me it is still really difficult to watch knowing that I should be on those rides with them. So, my top tip for the day; if you are able to take the family for days out even if it is just a walk in the park then do it. If they want to play football or play catch, then do it. I have said many things that I have and do regret in my life but four words stand out that I hope you will take on board. Four words that could turn you in to a liar. Four words which you really need to think about saying to your kids, Wife, Husband Mother or Father before you actually let them pass your lips. The four words?
"I'll (or) We'll do it tomorrow".
But how could this turn you in to a liar? I told my kids we would go and play football and take "Duke" for a walk in the fields `tomorrow` before my accident, well my tomorrow is never coming now, please take the time to do the things that your family want to do.
I am reminded of my first tour, Kabul, Afghanistan, Camp Souter. A bright young man with a smile that never left his face was walking from the showers as I was walking towards them. I had spoken to him the night before and during the conversation he told me that he had tried to call his parents but that they had not been home as there was no answer. I had asked if would try again later that evening and he said; "No, I'll do it tomorrow." He was killed by a suicide bomber the very next day and never made that call.
Goodnight all.