Paul arrived at the bungalow at around 16.00 on Sunday (17th August 2014) with his trailer attached to his car, this was to house my chairs and all things required for me to stay away for another archaeological dig with Op Nightingale. I really wanted for the Overlander to be my vehicle of choice so that I could really get around the site but as it had not been returned from Terrain Hopper it was not to be. Instead it would have to be my trusty power chair; it had coped with a lot of the terrain on Salisbury Plain before so hopefully it will be ok on this dig. Paul loaded the power chair in to the trailer and strapped it in followed by the shower chair and some of the other things that I needed until finally I myself got in to the car and we headed off, destination; Lullworth Camp, a school for military students to learn how to hit targets using Armourd Fighting Vehicles (AFV). This would be our home for the next week while we try to unearth and recover as much of a downed World War 2 Messerschmitt as we could find, that had been shot down by the Royal Air Force in 1940.
We met with Richard Osgood, the man who is in charge of the archaeology for military land, and also two people who I met first on the dig we did to try to recover what we could of a crashed B-24 Liberator bomber, also of World War 2. Two guys for whom nothing is too much trouble to assist me in getting to places, to get my chairs and required equipment to wherever I need it and two guys who I really have come to regard as good friends Graham and "Pux" who are part of the RAF. One other guy for whom getting me to the dig trenches, and again who I only ever see on these digs is "Daz". Those three guys "Daz", "Pux" and Graham really work their asses off when on site not just digging, but also (from a logistics angle), getting me around. Believe me, some of the terrain that they get me over even if it means carrying me, is a real physical effort and yet they don't think twice and more to the point prefer not to accept "No" as an answer. Anyway, getting back on track; the scoff house had stopped serving and was closed by the time we got to camp and so after unloading the car and trailer and moving in to our respective rooms, it was down to the local pub for evening meal…and a pint….and another pint…and then back to the camp where we had some tins…
Monday morning arrived and breakfast was very much welcomed by my rumbling stomach, I had not really made the right choice for food the previous night as the portion was pretty dire to be honest but filling up on the fried breakfast sorted that out. We loaded in to the vehicles and headed to our dig site, the view from which I am sure you'll agree, was beautiful.
On arrival at the site the finds tent was erected and the survey teams went to work marking out hits with the machine to let people know where they should try to find things as well as the GPS marker plotting the site and making images of the ground. Monday was all together a slow day as is with any first day dig but it ended with a couple of good sized bags of airframe remains that had been collected from the surface of the area without so much as de-turfing anywhere. There was a piece of propeller which had a bullet mark on it as well as couple of pieces of engine block, if this was what was found on the surface then this could go one of two ways. Either the teams would find a great deal of airframe and engine parts and pieces as they de-turfed and dug down, or they would only find what is on the surface. For now though, day one was over and so we would not know how this would develop until the morning.
It was a visit to the pub again for a bit of socialising as most of the Op Nightingale crew had missed tea. I met with "Captain Paul" at the pub who again I hadn't seen for a while and whilst I was sitting and drinking my orange juice and lemonade (??? Yeah really!), or rather my pint of lager top a lady appeared next to me who I have exchanged e mails with on a few occasions but have not seen or spoken to since I met her and her Husband, who is a great bloke that I really got on well with, in Cyprus last year. She was on her own though having made the long drive from Liverpool, on her own because her Husband has just come out of surgery on his foot. It was brilliant to see her but I was really gutted he was not there too. In Cyprus and even more so when we were flying back to the UK including when we landed right up until he handed me over to my Dad and Step Mum at Brize Norton, her Husband had not Mothered me but was never too far away in case I needed help. Two more people who I have met through Op Nightingale and class as great friends, I will however see both of them in Cyprus later this year when we return to continue the work we were doing on our last visit, good times.
On Tuesday I took my position in the finds tent as is common place for when I am taking part on one of the Op Nightingale digs and I was joined by Ann, for her it was her first dig with Op Nightingale but as she had worked as an aircraft engineer in the RAF and had worked on the crash investigations while serving, it made sense for her to work in the tent with me.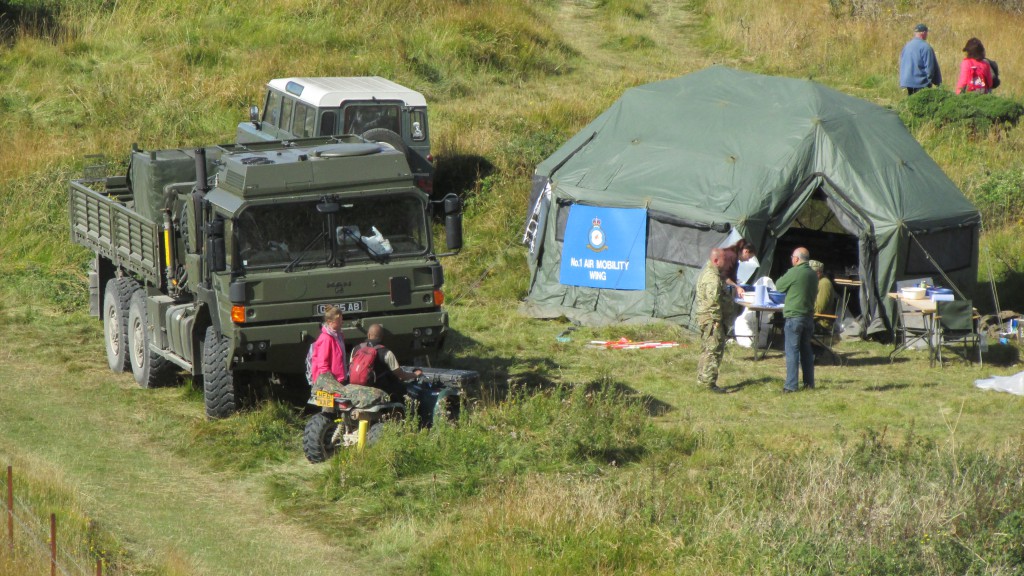 I knew right away that working with her was going to be not only interesting but we had a similar sense of humour and so there was definitely not going to be any dull moments. As this was her first dig though I knew that there was a real possibility that she would also want to try the other aspects of the archaeology such as the digging and retrieval, metal detecting or even hooking up with and working with the survey teams with their ground penetrating radar. We also had a dedicated ATO (bomb disposal) team from the Royal Air Force with us. They are there because we are on a range that is currently closed down for the week for us to investigate the crash site. If anybody finds anything that looks like it may go bang then they are on hand to check it, mark it or blow it up (although that is to be a last resort!). The guys are a great bunch; I have had a really good laugh with them as well as some good chats with them about various things. They also cannot do enough to help me. I have needed to get back in to camp a couple of times now and they have not hesitated in bringing the 4×4, having an extra guy there in case I have a problem getting in to the vehicle and after loading my manual chair in to the 4×4, running me back to camp and after waiting for me, returning me to the site. One thing that makes Op Nightingale so good aside from the friends you make that although you may only see them the next time you both do a dig together, is the way that everyone helps each other. A bonus for today, aside from meeting with friends I have met on previous digs and not seen for a good while…. Dave Hart arrived. The evening saw the group head to Portland cemetery which is also where crews of downed German aircraft are buried. I sent my camera to capture some pictures of the visit but I myself did not go, I had some admin issues I had to deal with and so used the time to try to sort those issues out. I would have really liked to go and see the head stones but I will visit in my own time at a later date.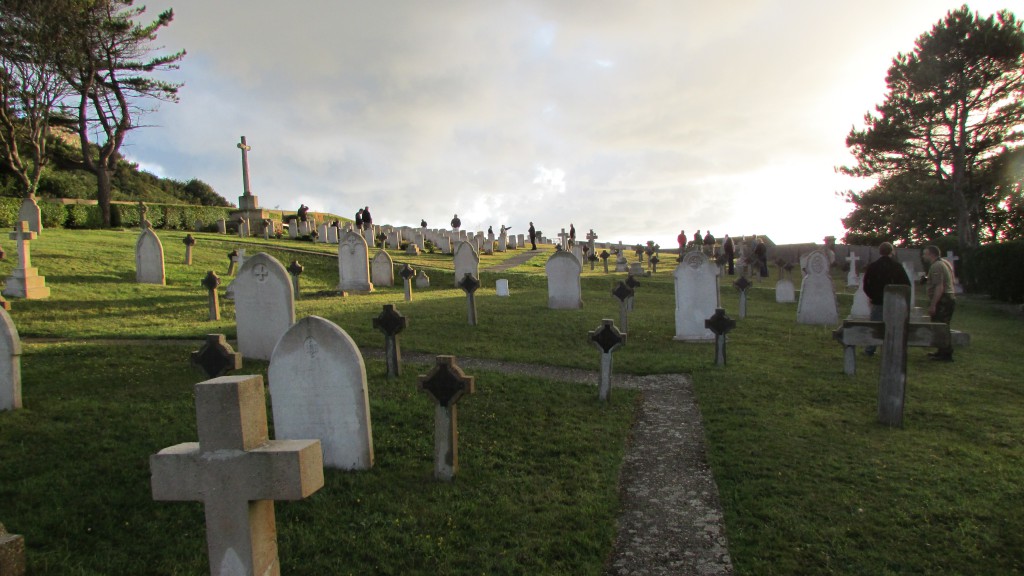 Something that is difficult to do, is to put in to a descriptive text, the words which would even come close for you to really feel what I feel when handling the pieces of aircraft. Every piece that I clean was handled by a man or woman over 75 years ago, while they manufactured parts which in turn were assembled by other men and women to create an aeroplane. That aeroplane was then delivered to a squadron and allocated to a pilot and gunner. That pilot and gunner then flew from an airfield in France to carry out a bombing raid on a target in Great Britain. It may have dropped its ordinance and been on its way back to France or it may not have reached its target but whichever way it played out, it was someone's Son, possibly someone's Husband or Dad and because they had been ordered to fly to Great Britain to release bombs, they had met with the fighter pilots of Great Britain's Royal Air Force. Who knows how long they exchanged fire? We certainly never will but one thing we do know is that by following those orders they did indeed find themselves exchanging bullets with the pilots who were defending our country and that before they could escape to the shores of France, they were shot down. Their aircraft was no longer capable of flying and it came to meet its fate on the cliffs of Dorset at Lullworth. As a result of this engagement, the Sons, Fathers and/or Husbands lost their lives. Their bodies never finding their way back to their families. With all of this in mind, I am now cleaning each individual part of this aircraft, the aircraft that on a certain day in 1940, two brave men had climbed in to and flown to Great Britain and not returned, a very humbling thought and experience.
And so we come to Wednesday. Wednesday the 20th of August. Another day started with an early morning briefing by Richard just outside of the finds tent at the dig site. Then it was in to the finds tent for Ann and I to start again our system whereby Ann sorts through the bags that are bought to us that have been filled by those that are digging and as an aircraft engineer by trade pre discharge from the Royal Air Force, she sorts in to engine, airframe and ammunition. Here it is passed to the cleaning table where I will have another look at the items and decide if it will be cleaned, logged and photographed, logged and photographed, put in to a bag of similar pieces and then logged and photographed or simply placed in the bags of engine or airframe with other pieces that will not be logged. Ann has done a really good job of looking through but despite this I have still narrowed it down further as there is simply so much stuff. With just Ann and I in the tent and the bags of finds being dropped down to us it became quite a task for us to sort, clean, log and photograph but we worked together well enough for this to not get back logged. We took time out of the work we were doing though in the morning to speak to a visitor. A visitor who actually saw the aircraft shot down and crash.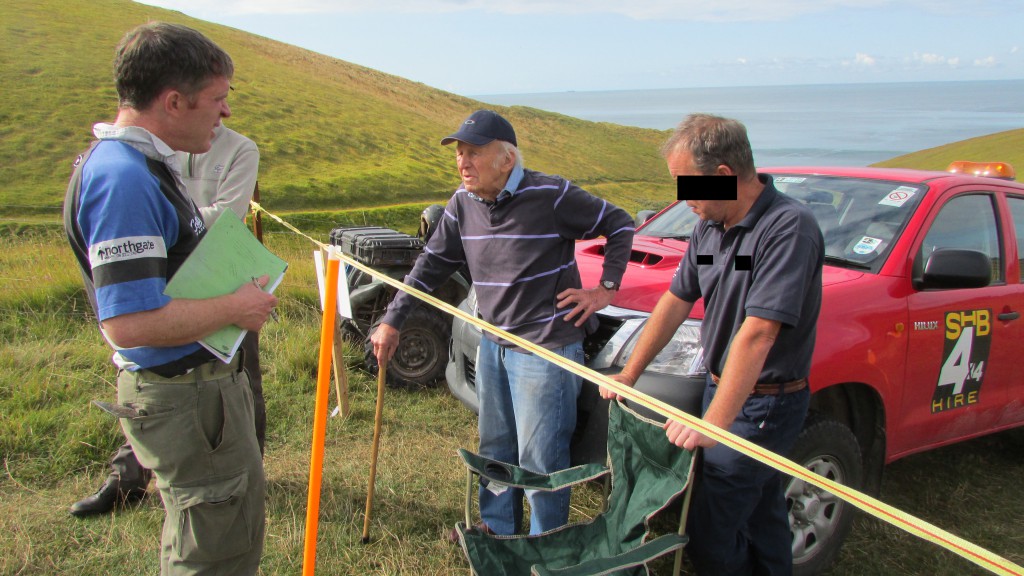 The Gentleman's name is Mr Tim Meaden and on the day that the aircraft was shot down he was a 12 year old boy enjoying the sunshine whilst playing on the beach. He told of looking in to the sky and seeing what looked like a black swarm approaching; "I was playing on the beach, I think it must have been a sunny day because I was playing on the beach but I do remember that you could see the aeroplanes clearly. I looked in to the sky and there was a black swarm, it was the first day of the Germans carrying out mass daytime raids on Portland and there were a lot of German aeroplanes coming. I started to run home to Lullworth and thought it would be safer to stay in the fields rather than the road. The fighters came in to intercept the Germans and the sky was full of vapour trails. You could see the aeroplanes really clearly while they were fighting. I saw the plane you are digging up get shot down. It wasn't on fire when it was falling, I was about two miles away from it but I watched it fall from the sky. On the same day, around four or five miles from where I was, I saw an HE110 also fall from the sky having been shot down at Winfrith." Being able to talk to an eye witness was brilliant, and for him to know of other aircraft that had also met their fate on that day and where they came down was incredible. It also made me think that people who lived through the war and saw the aerial action are slowly coming less and less as age takes its toll, another reason to take the time to talk to those people so that their experiences and the history is not lost.
Due to Ann having to leave for an appointment and me having an issue of a personal nature requiring me to lay on my bed for the afternoon, the finds tent was effectively closed on Wednesday afternoon which meant a lot of work for Ann and I. The day started with Ann playing Mother and sorting the tent out while "Daz" pushed me up to the trench that he, "Pux" and Graham have been working on. Now this is no easy task as the photograph which I took from the beside the trench that "Daz" pushed me up to will aim to show.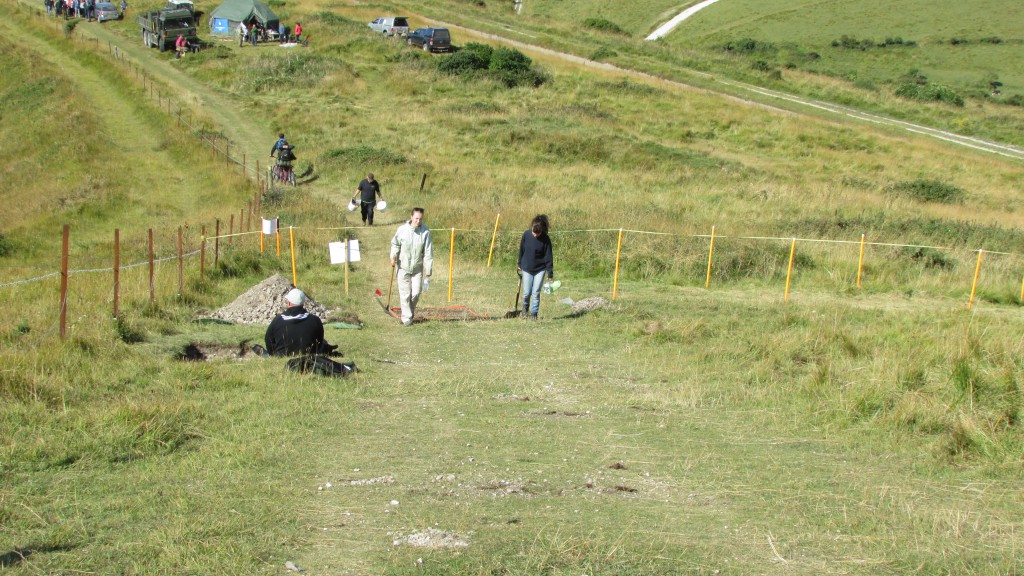 I helped as much as I could by propelling myself as much as possible and fair play to "Daz", he had to work bloody hard to get me even as far as we did when he stopped briefly before going AGAIN! Unreal. Another few meters and we again stopped, and then "Pux" ran up and between them, they got me to the trench that they were digging.
As I said previously, these are three guys who I only ever see when we attend and take part in the aviation digs but they will not have it that I simply stay and log everything. No matter how difficult it is to get me to the areas that have been dug, if it is possible they WILL and DO achieve it. Although I do thank them for the effort that they make to ensure I get to see the areas I'm going to say here, now, Thank you "Daz", Graham and "Pux" for all the effort you put in to getting me places, for the `can do` attitude and for the help that you never fail to give me irrespective of what it is, it means I can do so much more than I would be able to do and allows me to see more of the dig than I would ordinarily see. Cheers guys. When it was time to get back to the tent "Daz" had to reverse me back down the hill as it was simply too steep for me to go forwards or on my own but once down I returned to the finds tent and started to photograph and log the finds we had been given after they had been cleaned.
As I started I was given a helper, someone who wanted to see what I did. Ironically he holds a forensic degree but by his own admission, bodies he can do, aircraft are a whole different ball game. I was introduced to the guy by Richard although it was not necessary. The guy who was going to be working with me I had not seen since our tour of Helmand Province in 2006-2007, it was really great to see him and meet his (better) half! "Coops" sustained an injury on his last tour of Afghanistan which has changed his life. I can't actually tell you how great it was to talk to him and catch up, there was so much to tell each other and we spent the entire afternoon talking while logging and photographing finds. This is another reason for people taking part in Operation Nightingale digs. You never know who you you will bump in to but also the friends you make, which to me is the MOST important thing. The RAF bomb disposal guys acted as Taxi for me at lunch time again which is a real help for me and also again, I get to chat to them. Cracking lads who are just as happy to help with the chair or anything else I need. The dig has shown me something else which has not gone un noticed with a few of the guys that were on the Spitfire dig. On said dig I had to be lifted by the guys in to the 4×4. Now I am transferring myself from my chair in to the Ford Ranger and the Toyota HiLux which is a massive achievement for me showing that I am getting stronger and also that Jo, Katie and Liv have worked wonders as my physioterrorists at Stoke Mandeville.
When the dig was finished for the day and we had finished tea, we met at the scoff house building as we were going to a local village called Tyneham. Now Tyneham was an inhabited village until in 1943, the military went to the village to advise the villagers that they had to leave their homes as the military need the village for training purposes. This was not an isolated case and indeed another village called Imber was also commandeered by the military. Imber is situated on Salisbury Plain. When the ranges are closed however you can visit the village of Tyneham which is brilliant.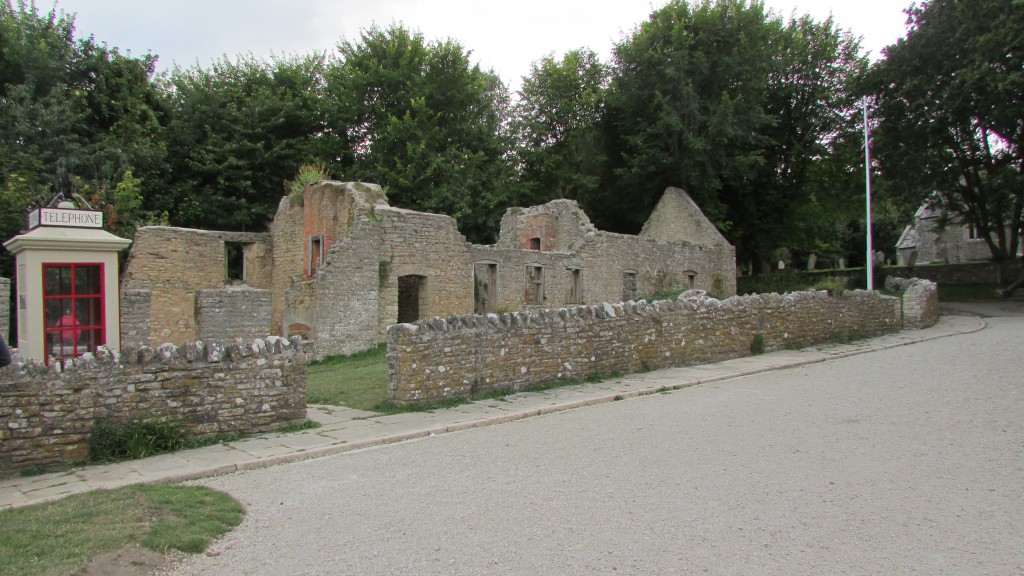 The remains of the houses have plaques in them telling you who lived in the houses at the time of the military taking over. The plaques even gives you pictures of the occupants.
The Church is as it would have been;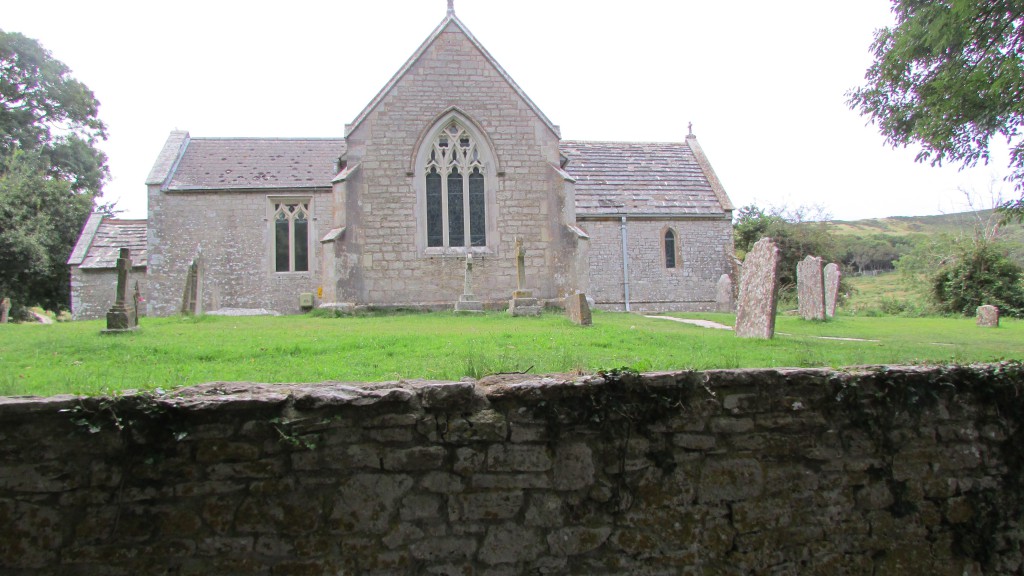 As is the school right down to the desks which is really surreal. The telephone box has even been restored to how it would be which was obviously a telegram system back then;
The village is tiny but it makes you think about how the children would have entertained themselves. How they really were isolated but also, why the military evicted everyone. Hopefully the pictures will intrigue you sufficiently to maybe pay it a visit. I am so very glad I did and I may well visit again.
Friday was the final day of the dig, the last chance to recover finds which happens for the morning but then the big clean up operation accurs in the afternoon. The trenches have to be back filled with the the spoil that was dug out and we must leave the site area as close to how it was before we started our dig as we possibly can. And so the clean up.
And the site as we left it.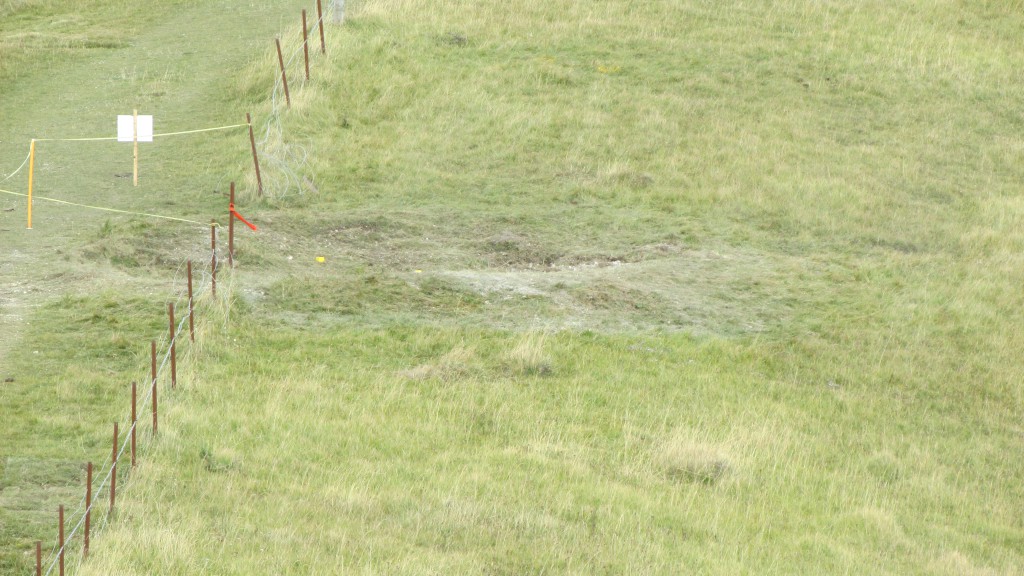 We were treated to a night out in the evening using the money given specifically for that purpose. A curry, a money behind the bar drinks night and a game of skittles against the pub team was how we spent the evening, and it was a great laugh. It really was the perfect end to an amazing week spent with brilliant people. So publically on this Blog entry on behalf of all who took part this dig named "Exercise Adler Tag", thank you Richard Osgood for the work you put in to arrange this dig, we look forward to the next one!
Oh, by the way, we only lost skittles by 3 which I thought was pretty good actually!
On a different note, please visit my page and donate what you can to my attempt to complete the three peaks.  www.virginmoneygiving.com/Giving-Back
Goodnight all.